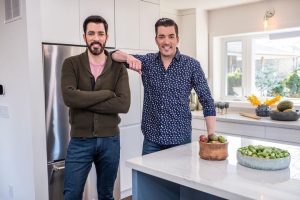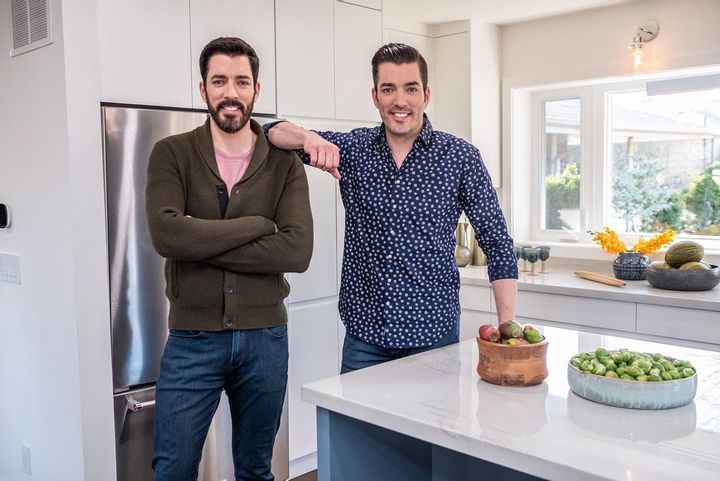 Behind-The-Scenes Secret Events From HGTV's Property Brothers
By Yuri S.
---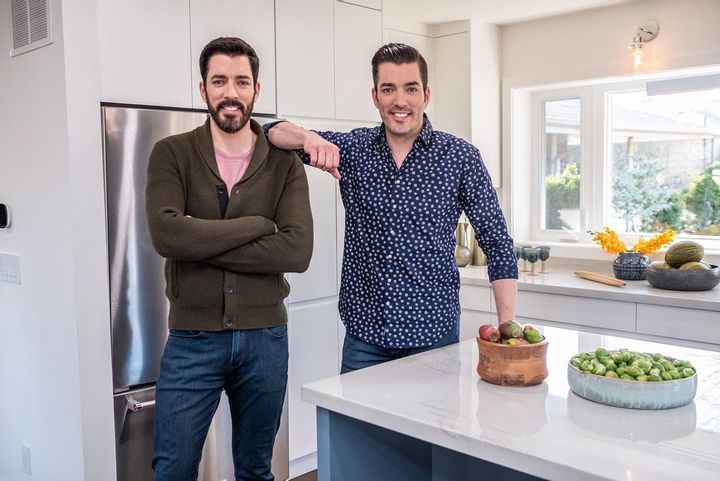 It is no secret that Property Brothers is one of the most-watched TV shows. The highly-rated HGTV home improvement show follows twin brothers Jonathan and Drew Scott as they use their skills to help homeowners buy and renovate broken-down houses and transform them into dream homes.
Despite the show's popularity, things aren't always as they seem. While the twins replace broken cabinets and add new closets to the homes they refurbish, it turns out there are some skeletons they didn't clear out. Read on to find some secrets about the renowned show!
The Scott Brothers' Early Days
Jonathan and Drew Scott may be best known for their roles in Property Brothers, but Drew's true passion has always been acting. That is why he chose to blend his real estate expertise with his passion for entertainment by pitching shows revolving around real estate.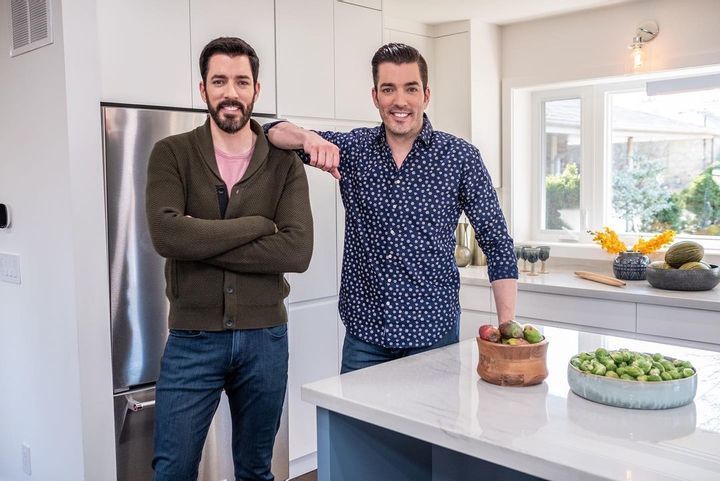 But he was mostly requested to co-host events. Before Property Brothers, he was offered a real estate competition show that didn't work out and other series such as Realtor Idol and My Dream House. Things changed when Cineflix learned Drew had a brother in the real estate industry.
Baby Steps into the Entertainment Industry
When the production agency learned that Drew had a brother who worked in real estate, they asked the brothers to create a demo reel. So, they uploaded a video showing them remodeling their older brother JD's sitting room. But they got no feedback for six months.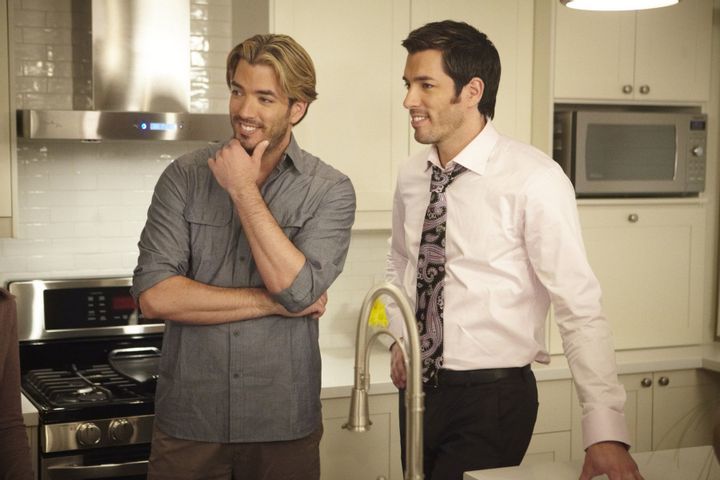 They waited, unaware that Cineflix was already creating a show about them. Then they started shooting a Property Brothers pilot. However, things were not always easy for the brothers, and they had to put in a lot of effort before their show could run.
Not the Fastest Start to the Industry
Upon completion of the pilot, Cineflix offered it to networks, but they all declined. For another six months, no one expressed interest. Cineflix even offered it to HGTV, but they declined the show. At long last, the W Network in Canada liked what they saw and ordered a full season.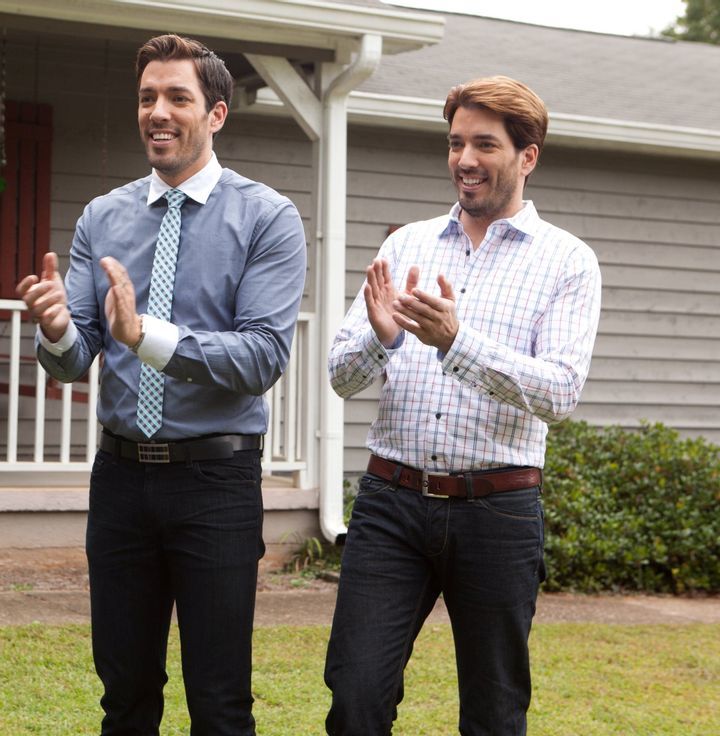 When HGTV saw how successful the show was, they decided to give it a shot. The previous episodes were trimmed to 30 minutes and shown on trial. The show soared to number one in the ratings, and the network picked it up.
Jonathan and Drew Grew to Superstardom
On January 4, 2011, Property Brothers premiered on the W Network. It was shown on HGTV Canada during the 2017–2018 broadcast season. But that was only the beginning. Property Brothers is now broadcast in more than 150 countries, including HGTV in the United States.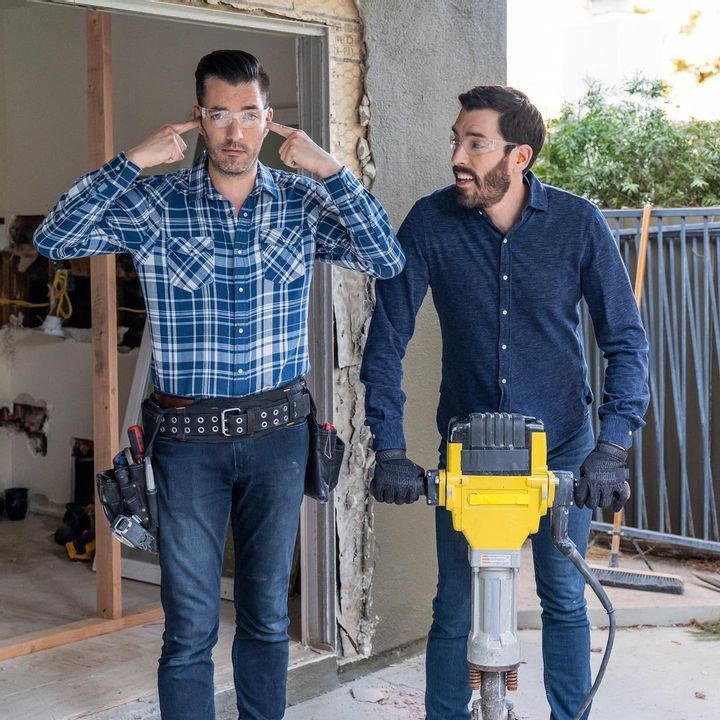 Three weeks in, and the show reached #1 in the US! The Scott brothers became HGTV's highest-paid stars. According to People, they earned more than $500 million in one year. They have ten spin-off shows, including Property Brothers: At Home; Property Brothers: Forever Home; Buying and Selling; and Brother vs. Brother.
From Magic and Fairy Tales to the REAL Estate Business
Although the Scott brothers have enjoyed great success, their journey to the top wasn't as smooth as the surfaces they decluttered. Jonathan aspired to be a magician but was forced to file for bankruptcy after being mugged and having his custom trailer with props stolen.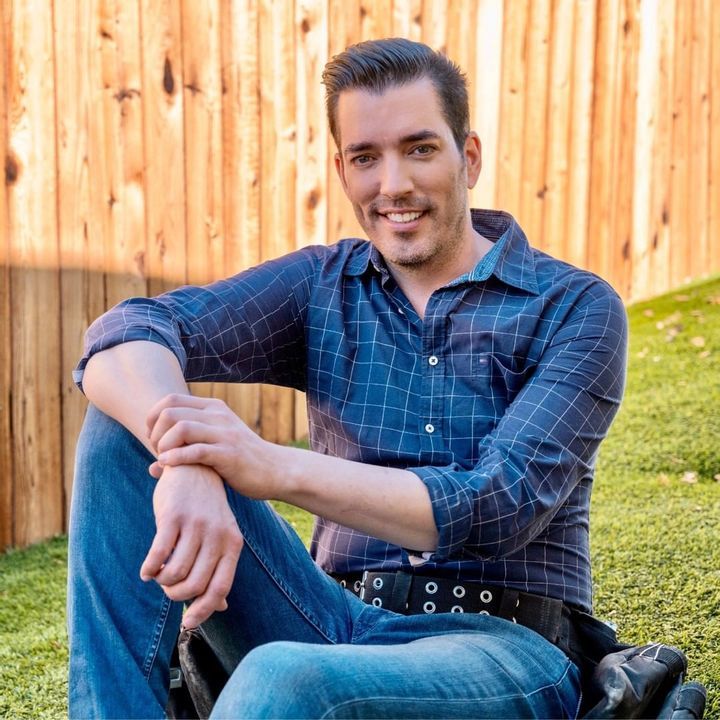 It was then he decided to venture into real estate. Jonathan said to People: I will admit today; I think it was the worst mistake, financially, of my life because I think that I really could've held out and, over maybe five or six years paid that off.
Brothers in Debt
Jonathan wasn't the only brother with other ambitions besides real estate. Drew, who was already working in the industry, had a passion for acting. But he admitted to People that while pursuing his dreams, he racked up a $100,000 debt. In his interview, he said:
I went to Vancouver to pursue that, and I was taking acting courses, networking, and doing all the things I had to do to make sure that I was being seen. In the end, that experience was important because it created the buzz for our first auditions, which got us on TV and made it worth it.
One Too Many Drinks in the Bar
The Scott brothers have had to deal with a variety of issues besides financial problems on their way to stardom. Even though they appear to be pleasant, charming, and easy-going on television, Jonathan was involved in a bar brawl in North Dakota in 2016.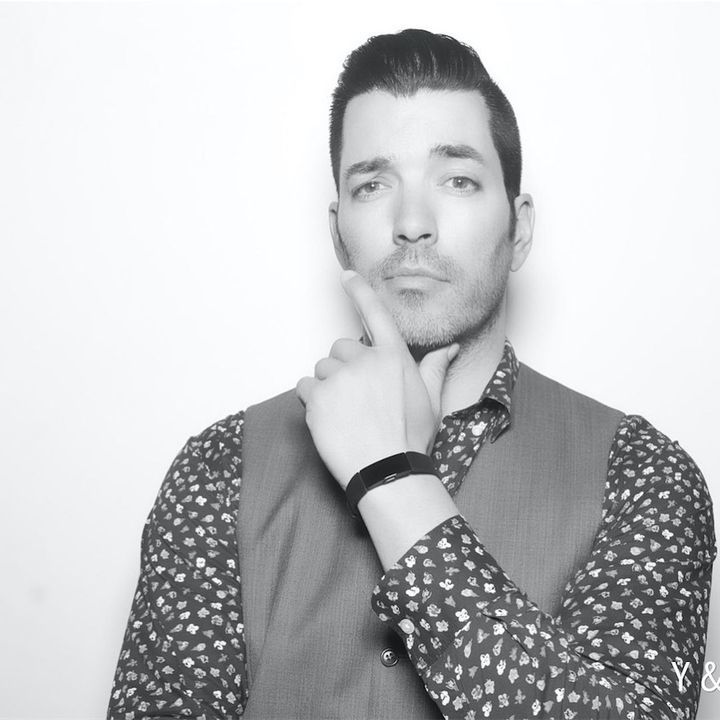 Jonathan and his buddies were irritated when their drinks were taken away after closing time, which resulted in a brawl. In the footage, there was shoving, and one of the bouncers choked Jonathan. After an investigation into the incident, USA Today reported that no charges were filed.
The Property Brothers Scam
When a television show reaches a certain degree of success, it is frequently targeted by fraudsters and swindlers. In this regard, Property Brothers was not exempt, and the highly-rated show became the victim of a hoax that came close to destroying its integrity and reputation.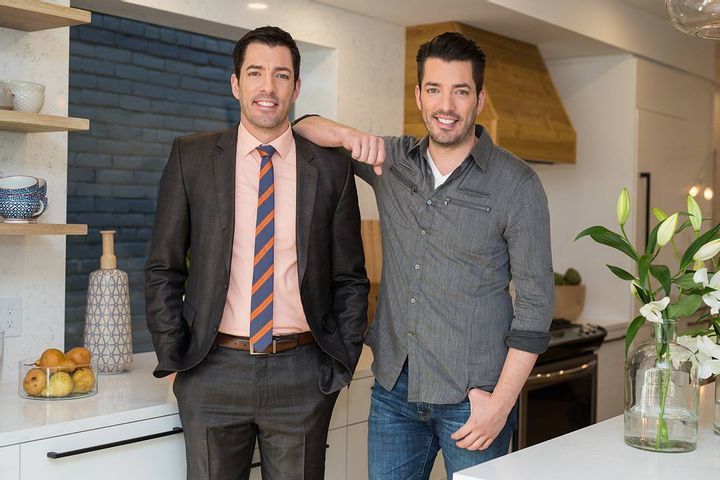 In 2017, a couple from Colorado said they received a Facebook message from a "representative" guaranteeing them a spot on the show. But the scammers' grammatical blunders and repeated requests for money raised suspicions. In response, the brothers and HGTV warned viewers about the risks of exposing personal and financial information.
Clashing with Fixer Upper Stars Chip and Joanna Gaines
The brothers have not only been victims of scams but have also gained notoriety for a feud with Chip and Joanna Gaines of Fixer Upper. The New York Times claimed that the Scott brothers said the Gaineses were offered a guest appearance on Property Brothers but declined.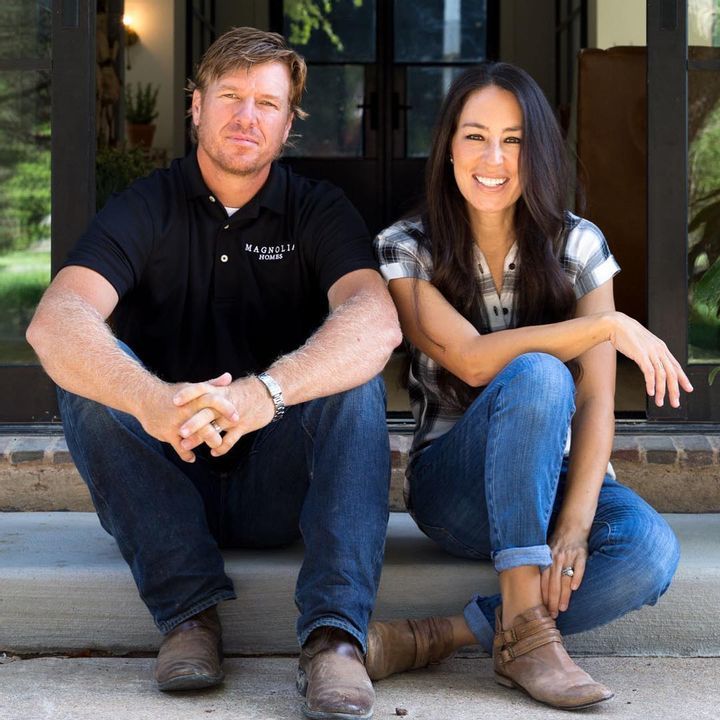 Drew denied this and told Fox News: "We're one big family, which is why we love bringing [fellow HGTV stars] in to judge us.… We know a lot of the [HGTV] talent really well…we've met [Chip and Joanna] once or twice. They were really nice."
Wait! Is the Show Even Real?
Although Property Brothers has become a major hit reality show, the Scott brothers' road to fame hasn't been easy, and they've had to overcome several obstacles to get here. Although their show is still going strong after ten years, viewers have observed some suspicious patterns.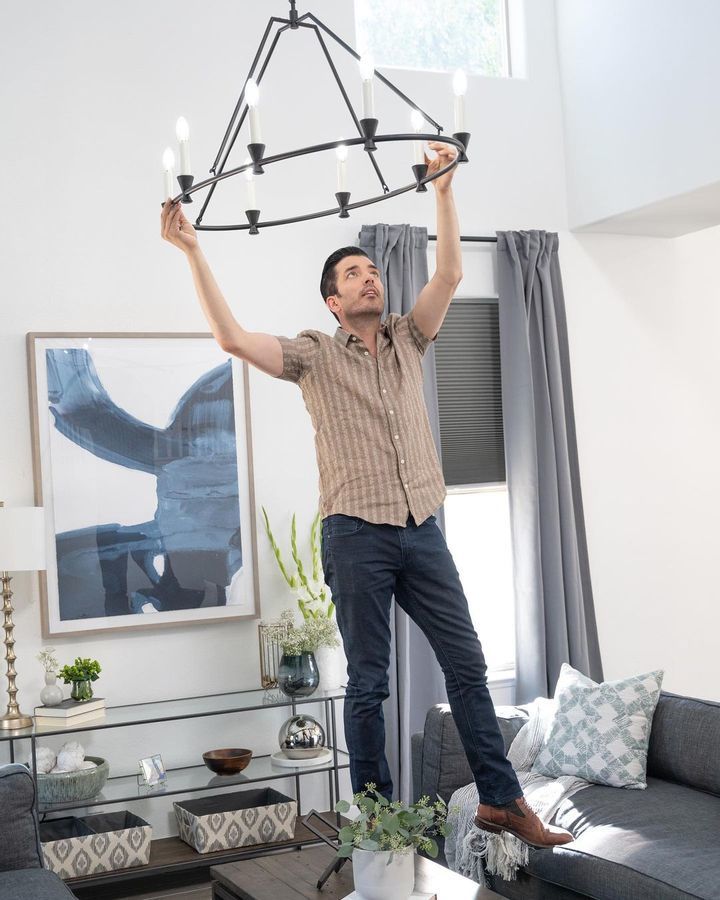 Jonathan disclosed to Popsugar that the house hunting is fake: "We have homeowners who have identified a house that they already like. Because everything moves so fast for the show, we have found that it doesn't work well for people who haven't even started searching."
So Does That Mean the Show Is Scripted?
Just about all reality TV shows are scripted, so it's no surprise that Property Brothers has some scripted parts as well. It's almost impossible to catch every moment because things are happening in real life. That means some of the scenes must be recreated.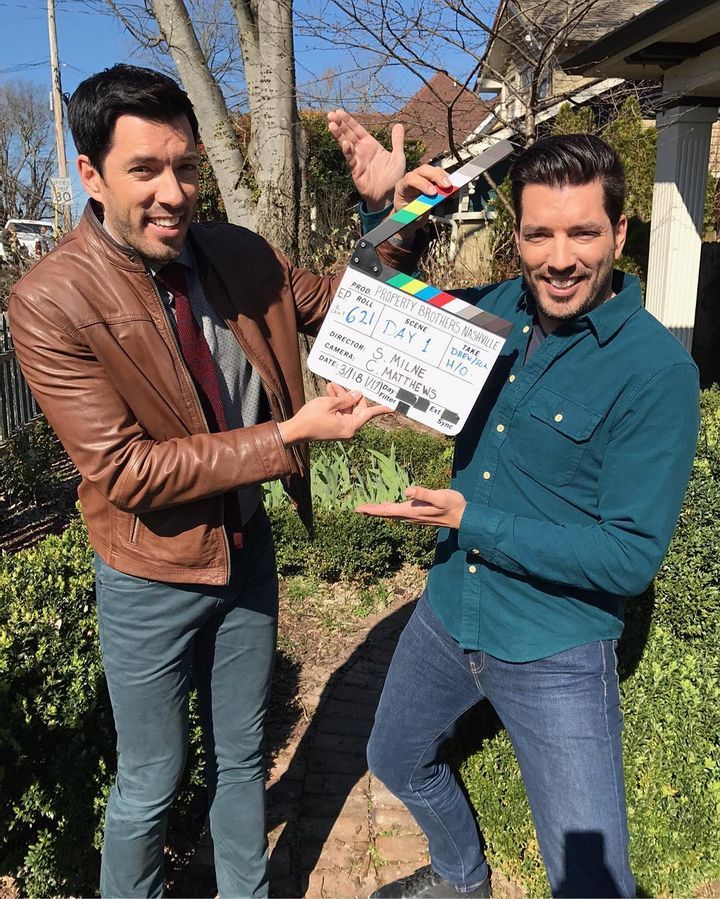 For example, there was the time Jonathan had to lift a toilet out of the floor, and the producer urged him to repeat the take. Another example is when Drew pretended to warn personnel on the set about the threat of wind when the wind damage had already occurred.
Reality TV Shows Aren't Always Real
The Scott brothers are incredibly charming, and much of their appeal stems from their desire to be themselves even while on-screen. And when it comes to the homeowners, they should also be genuine and natural because the show is not looking for actors.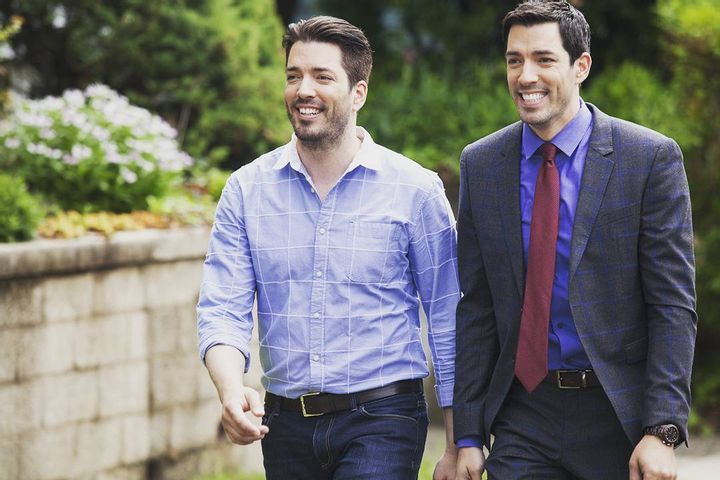 However, there are occasions when the homeowners' emotions are fake, and the producers must pause filming or reshoot a scene because the participants are overacting. "We just want homeowners to be themselves. We don't want any acting. Just literally be yourself," Drew said during a Q&A on YouTube.
License and Registration, Please?
We all know that to practice in many industries, you need to be licensed according to state regulations. But wait a minute…the Scott Brothers buy homes in several states on the show. Yes, we know exactly what you're thinking. We're thinking that too.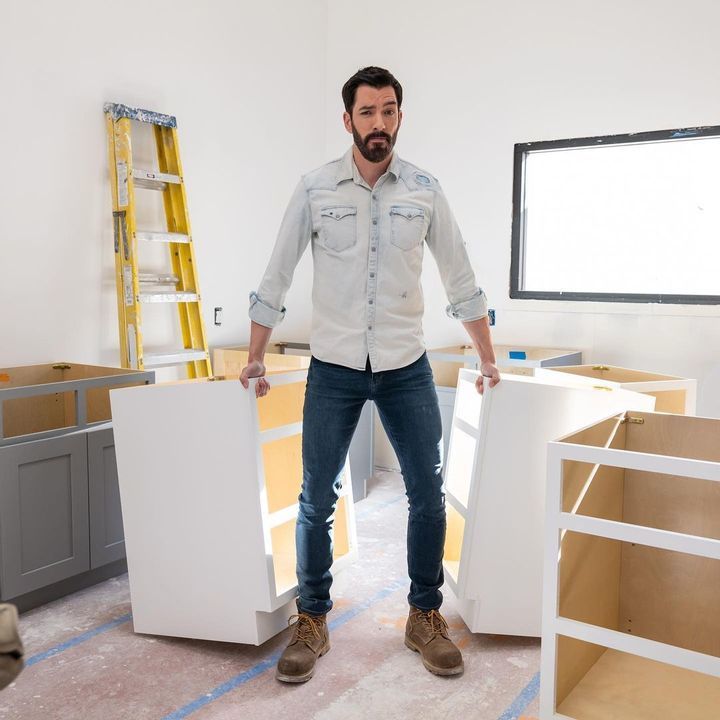 Is it possible that the brothers are certified to practice real estate in all these states? Each season of the show takes us to a new state, including New York, Georgia, Nevada, and Tennessee. We think it's unlikely that Drew is licensed in all these states.
Participants Only See the Scott Brothers Eight Times
Every time you watch an episode of the show, the relationship between the homeowners and the brothers looks good. It always seems like the brothers care a lot and are always there with the homeowners every step of the way. They aren't always together.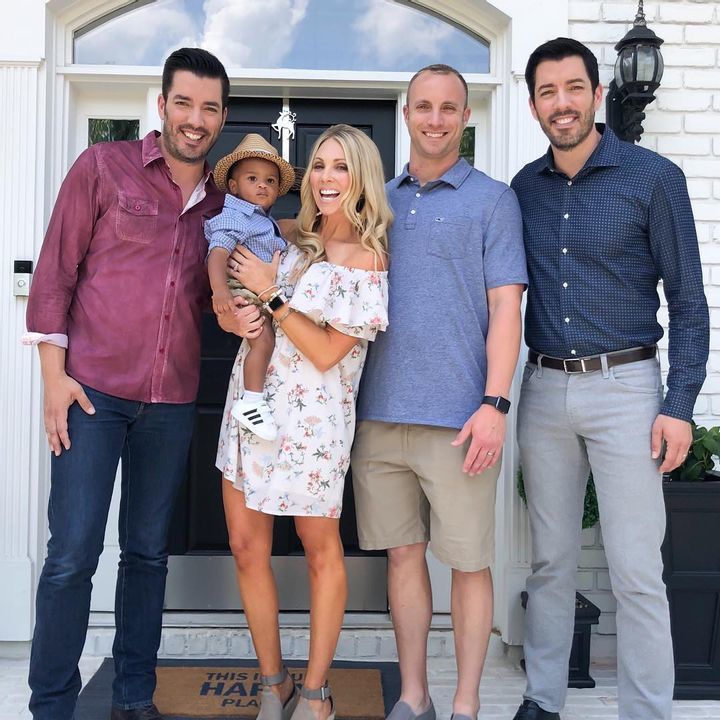 Participants need only be present eight days out of six weeks of filming. That's not all. While speaking to People, Jenny Reimold, who appeared on one episode of the show, said there was a 7:00 a.m. call time and five hours of filming for a five-minute piece.
Are There Homes Without Family Photos?
If you've ever watched Property Brothers, you'll notice one odd thing about the houses—no family pictures. That's because before the homes appear on the show, the producers want the homeowners to prepare the house by removing any items that may cause copyright issues, including family pictures.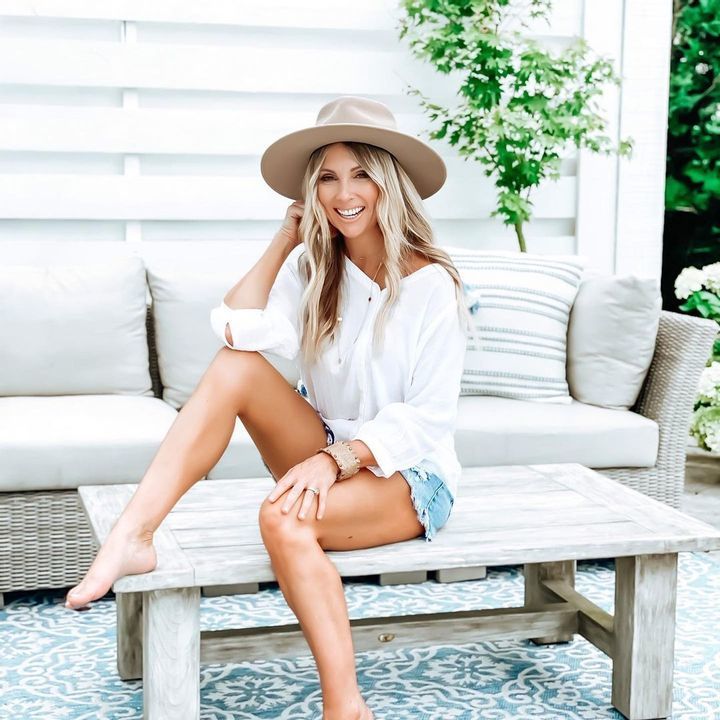 Things are also occasionally removed from homes to make them seem better on television. Jenny Reimold told this to People: We also had to scale back specific areas like shelves, dressers, the bathrooms, and any countertop décor, as we were told that minimalist styling filmed better.
Looks Can Be Deceiving
If there's one thing we've learned so far, it's that things aren't always as they seem, especially on reality TV. Not only are items taken away, but they are also rearranged to meet a specific style. "We were told our home needed to be a bit more 'coastal country' [in style]," Jenny Reimold said.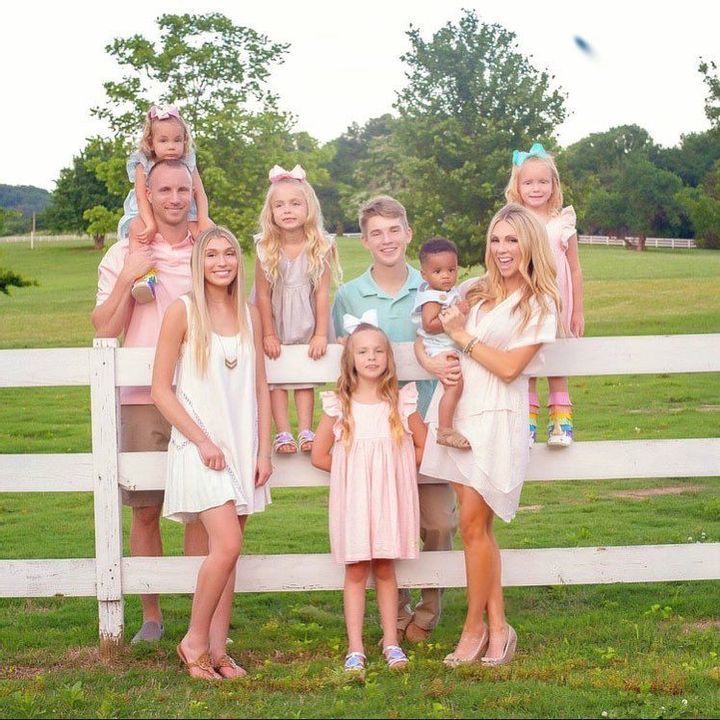 She also admitted that the backyard seen in the edit wasn't hers. "When we first saw that, we were a bit shocked because we didn't see that edit coming. Although we like to think our yard was a bit more aesthetically pleasing than the one shown, we imagine the other yard was used because they had a tall, wooden fence that offered more privacy."
Not All the Rooms Are Renovated
The big reveal after all the trouble of house hunting and negotiation is one of the most thrilling aspects of the home improvement show. However, while in the end, it appears that the entire home has been remodeled, that is not the case!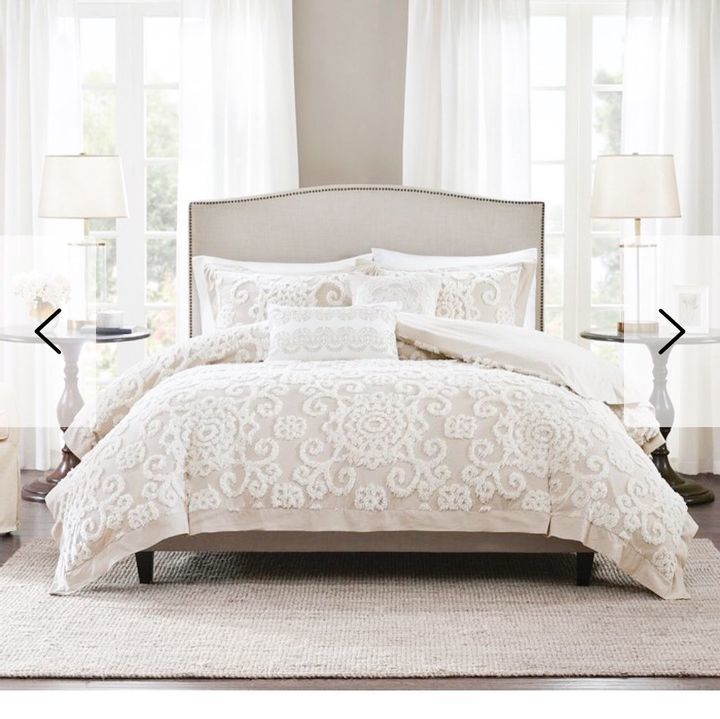 Only four rooms are renovated. So the show must decide which rooms are most important. Drew revealed this via Twitter: "So when you're watching Property Brothers, the budget and timeline that you see are just for the three to four rooms that we show you."
Business Starts When You Show the Money
Although the brothers have stated they are not involved in casting, all the participants have one thing in common: their finances are set before applying. Jonathan echoed this while speaking with Popsugar: "Some people use a cash down payment when they are buying or for their renovations."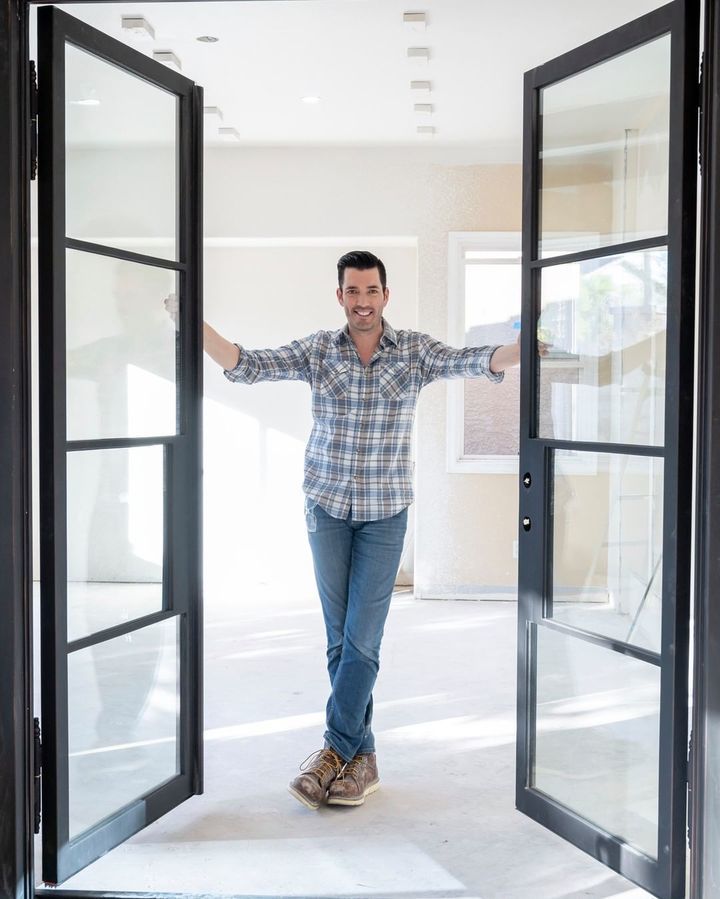 Some people borrow from family, and some people have a line of credit. It just depends, and we are really at the mercy of who applies to the show for who has all of their ducks in a row. So participants need to put their finances in order first.
Whopping $90,000 Design Budget
Not only must the couple's funds be in place, but they must also have a home improvement and design budget that is worth at least $90,000 before they can be eligible to apply for the show. And without mincing words, that's a whole lot of money!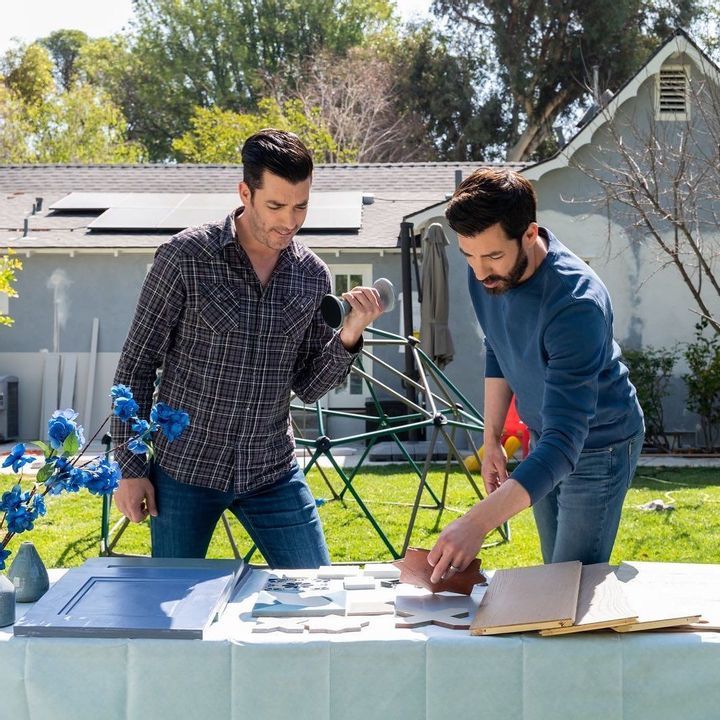 Although it's not cheap, the brothers revealed on Facebook Live that the participants get a good return on investment (ROI): "You would probably never be able to renovate for the same price that we do on our shows because anytime we get a wholesale price we pass those savings along to the homeowner."
Reality TV 101: Expect the Unexpected
You have to expect the unexpected on reality TV because things don't always go as planned. So it's important for homeowners to keep backup cash available just in case. Things like poor insulation and uneven floors may throw things off the pace and even cause an episode to be scrapped.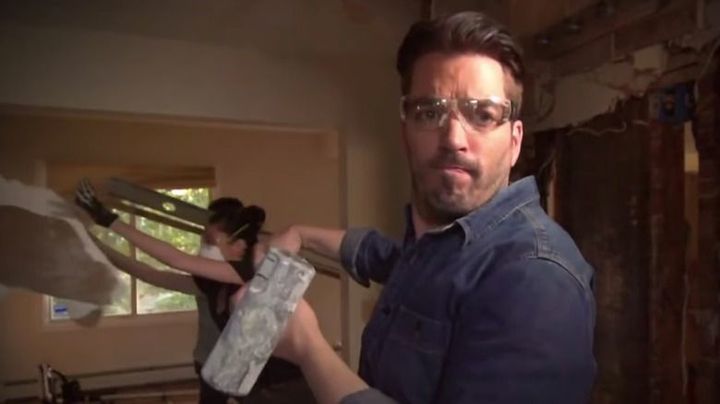 The show had to remove one episode because the brothers got into a hitch with a sinking floor. Drew disclosed at the Television Critics Association press tour that a cast member "wanted Jonathan to cheap out and say… level the floor" instead of taking basic safeguards.
Sorry, No Single People Allowed
Have you noticed that all the homeowners on the show are in twos? Well, you don't have to be married, but you must be a couple or a pair. Whether you're spouses, partners, friends, or family members, it doesn't really matter. The only prerequisite is that you have a "sidekick."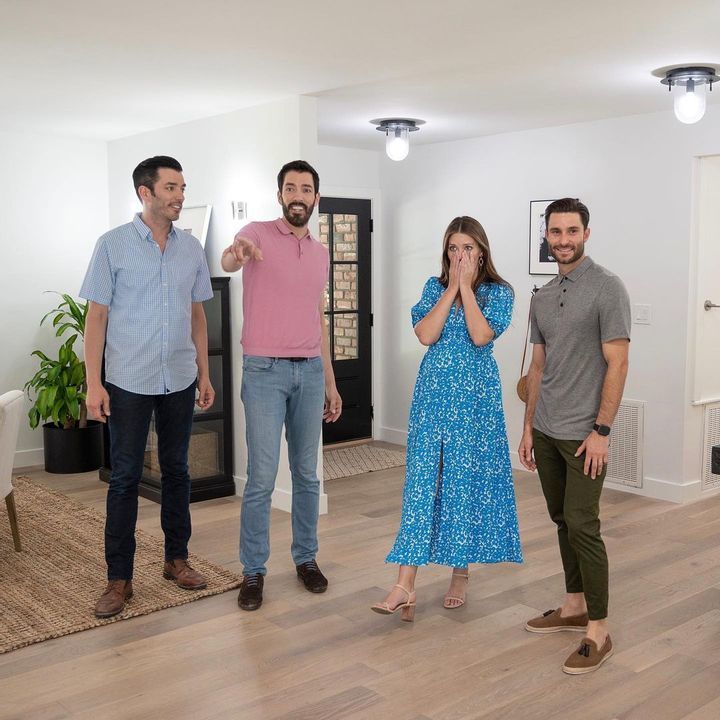 The brothers' memoir, It Takes Two: Our Story, reveals this: "You don't have to be a married couple to get on the show, but if you're single, you need to have a likable sidekick such as a best friend or relative, so there's someone to discuss your decisions with. "
The Squabbling Between Homeowners Isn't Real
Property Brothers features a lot of bickering between the homeowners, which makes reality TV even more interesting to the audience. While we can continue to debate whether the show is scripted or not, the squabbling we see among the characters is pre-planned to some extent.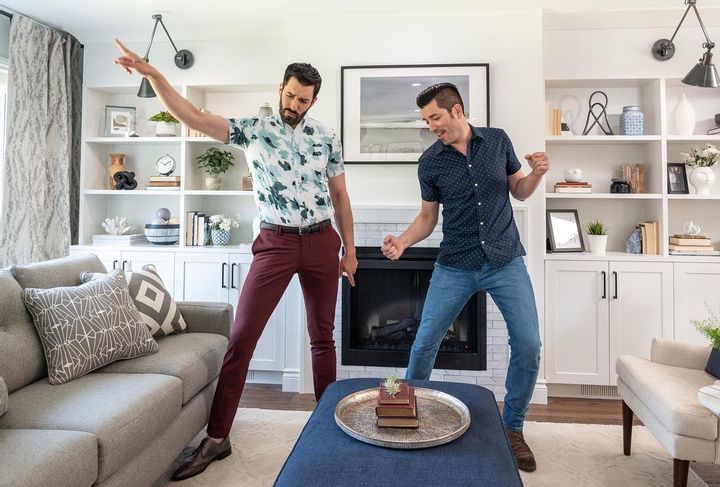 During the application process, homeowners are asked questions about their house-hunting experience, buying decisions, and the most stressful parts of their house-hunting. They're also asked to provide details about their budget and goals. The producers know what they're doing when it comes to creating drama and high-tension scenes.
Not All the Couples Are Happy With the Work
When the dream home is unveiled, the couples always seem overjoyed with the improvements. But during the episode, they may be upset about something. It could be Jonathan putting a damper on their expectations and bringing them down to reality or some pricey add-ons.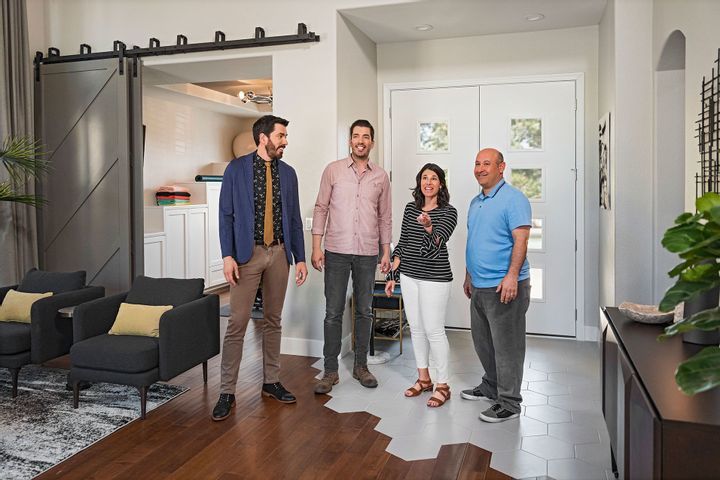 It's the lash-outs that keep the show so interesting. Some of the many reasons participants have been upset at renovations include irregular-sized windows, choosing between a garage space and a laundry room, not getting double ovens, and many others.
So Unhappy, the Show Got Sued!
While the majority of the couples are overjoyed when the big reveal occurs, some are disappointed with the final work. That happened to a couple in Las Vegas, Nevada, who were so upset that they sued the show's producers and a local construction firm.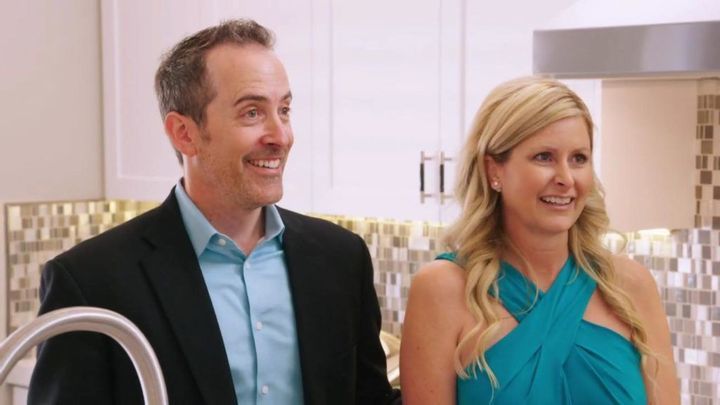 The couple revealed to KTNV that the makeover cost more than $193,000 and that cables were exposed, doors weren't correctly hung, the wrong material was used, the baseboards weren't level, and the repairs weren't up to code. "So we totally feel that we were bamboozled and tricked," said the wife.
Jonathan Doesn't Do All the Renovations You See
Jonathan is often seen getting his hands dirty while overseeing the reno, but in fact, most of the work is done by a local team contracted in each area. The local construction team oversees the work, while the Scott brothers remain in the background.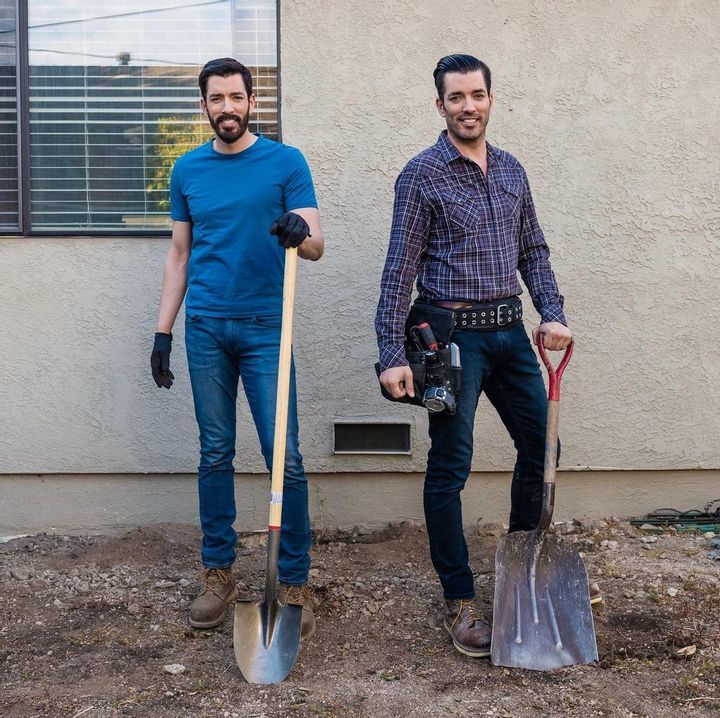 "Every city we go to, I hire local general contractors, and I assign a local construction and design lead as well to every project so that nothing gets missed," Jonathan told Popsugar. So actually, he doesn't do the work like the show would make you believe.
The Crazy Cat Lady
The Scott brothers have dealt with some odd people throughout the course of the show, and the drama is usually amplified to make the popular show more interesting. None of them, however, were as insane as the cat woman on their spin-off show, Buying, and Selling.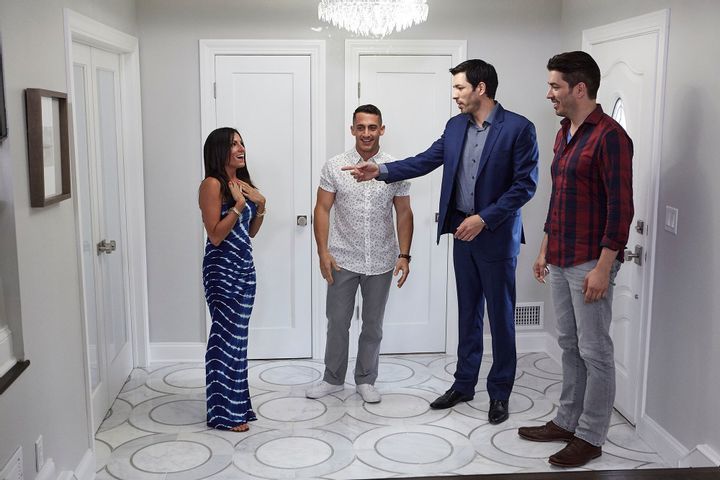 Jonathan said at their book launch: "When we were working, construction team and everything if her cat walked into the room while we were working, she said we had to stop everything until the cat decided to leave on its own. We were like, No, it's not happening when we have two weeks."
Yet Another Crazy Guest: The Fireman
Do you think the crazy cat woman was crazy? Well, wait until you hear about the fireman who didn't know that an important part of the show was trusting that Jonathan and Drew knew what they were doing. The fireman wanted his fellow firefighters to help build his house.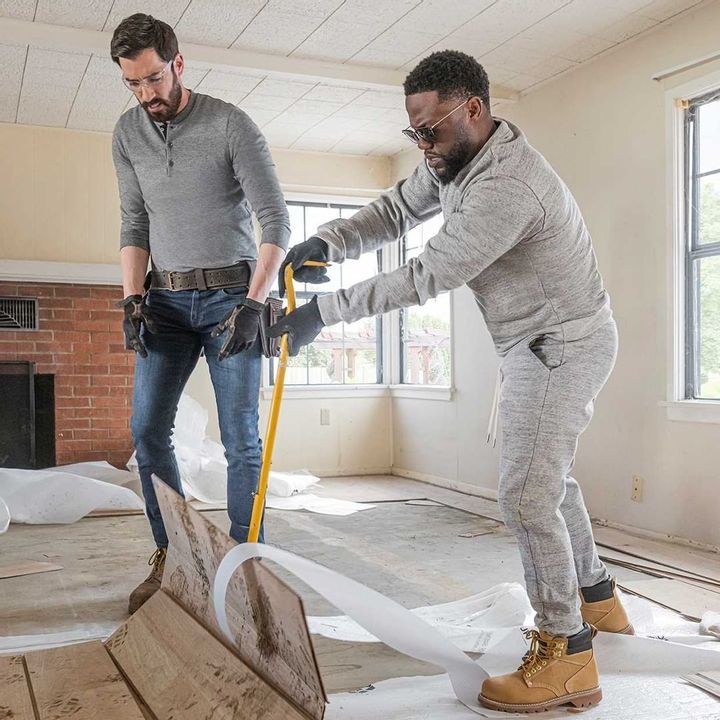 The fireman went against Jonathan and Drew's advice and built a house on a sinking landfill. Instead of fixing the problem, he intended to level the floor. The show had to halt filming. "We said, 'No, we won't do that,'" Drew said. Jonathan added, "HGTV would never air that anyway."
Discovering Hidden Treasures
The insane homeowners aren't the only things that make Property Brothers an interesting show. The Scott brothers have also discovered some very strange stuff hidden inside the homes. One of the most bizarre were vintage Playboy magazines hidden in a secret bathroom cabinet!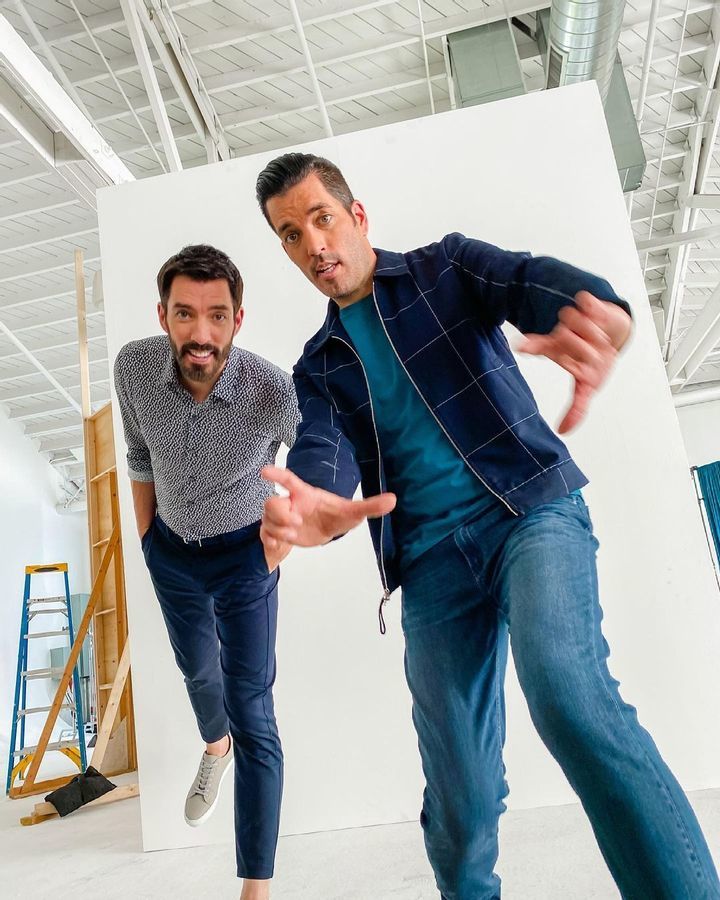 Jonathan revealed this to the NPR radio show Wait Wait…Don't Tell Me! We've opened walls up to find the craziest, most disgusting things you can possibly imagine. On the more pleasant side, I found an entire hidden antique Playboy collection. On the less attractive side, I've found petrified rats who had chewed through electrical and met their demise.
From Property Brothers to Santa Brothers
Besides the strange stuff the brothers have found, they've also discovered some pretty adorable things, such as time capsules. In fact, the brothers have hidden some of their own for kids to find! Aww. I've found time capsules in the walls before, cute little things.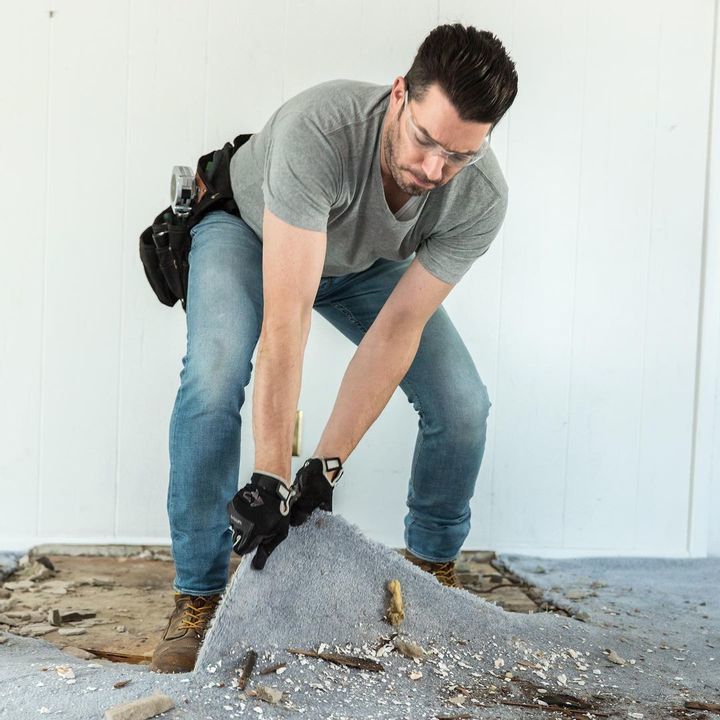 Jonathan shared with Popsugar: "I've planted a lot of time capsules too. If I've got a family who's really nostalgic like that and they really want to take part in something a little extra, or if there's kids as well and the kids want to do something kind of cool, then I'll make a project."
Jonathan Kept the Details of His First Marriage and Divorce Hidden
While Property Brothers is successful, the brothers' personal lives and relationships haven't always been smooth sailing. Before he became famous, Jonathan didn't reveal much about his previous marriage and divorce from long-term partner Kelsy Ully. In the brothers' memoir, It Takes Two: Our Story, he even kept her identity hidden.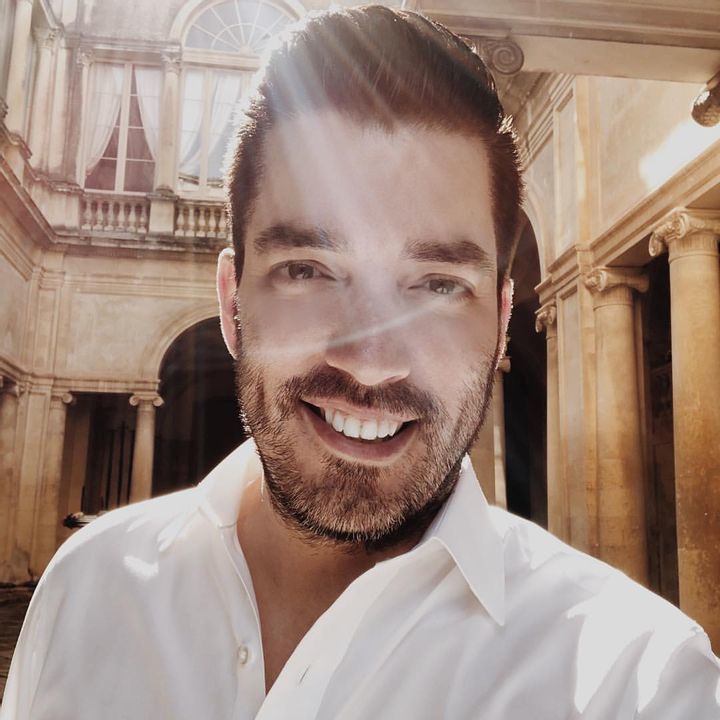 In the memoir, Jonathan had the following to say: "The pain ended up outlasting the marriage. The split isn't something I dwell on anymore, but for one too-long, too-dark period of my life, that's practically all I did. It shook me right to the core."
But His Relationship and Break-up with Jacinta Kuznetsov Was Public
Although we don't know much about his relationship with Kelsy Ully, we do know quite a lot about his relationship with TV producer Jacinta Kuznetsov. Their relationship started in 2016 after meeting at a charity event. It seemed perfect until fans were stunned by their split after two years.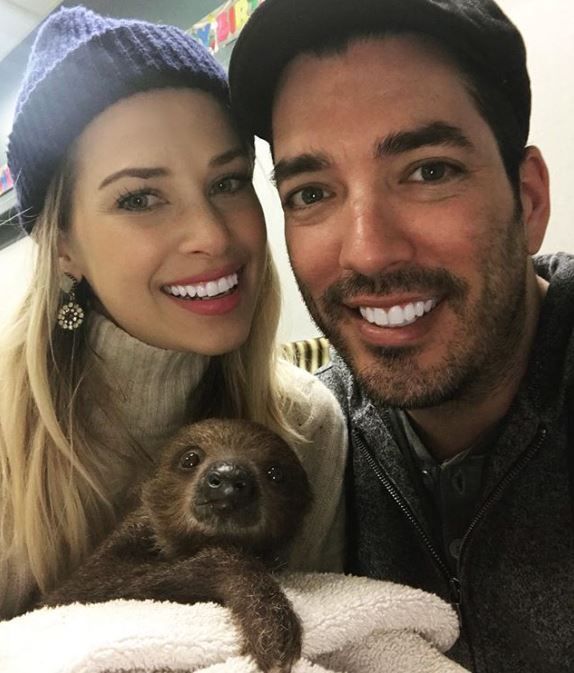 Jonathan announced their split via Instagram, revealing there was no bad blood. The post read: "There's no drama or negativity; no jealousy or hate. Not even sadness or sorrow. Our memories are filled with joy, and we will continue to advocate for each other as friends wherever we go."
New Girl, Who's This?
Jonathan began making news a year after his unexpected split from Jacinta Kuznetsov when it appeared he had a new woman—Zooey Deschanel. They met in August 2019 while shooting a Carpool Karaoke piece with Jonathan's brother Drew and Zooey's sister Emily Deschanel.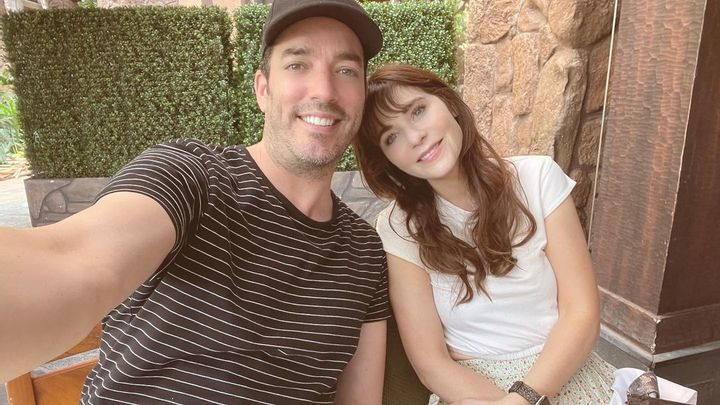 Despite the fact that the pair had a romantic connection, they kept their relationship private at first until making it official on Instagram. "This amazing person makes me truly happy every single day and fills my life with love and joy," Zooey wrote about Jonathan on her Instagram page.
Drew Also Has a Love Life
Well, Jonathan is not the only Scott brother with public love life. Drew Scott met his wife, Linda Phan, in 2010. They lived in the same home with his brother Jonathan and later in 2014 with Jonathan's now ex-girlfriend, Jacinta Kuznetsov.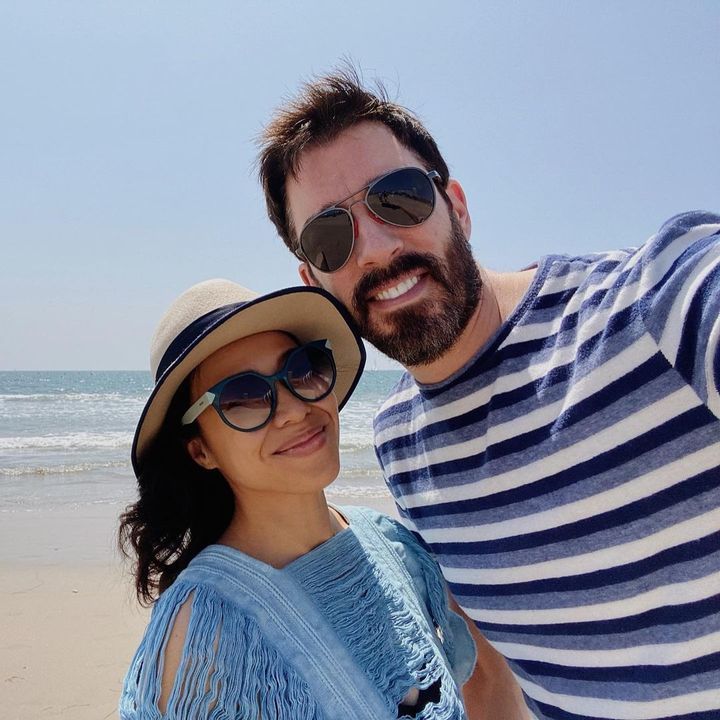 However, unlike their housemates who split up, Drew and Linda were engaged in December 2016 before having a destination wedding in May 2018. The event was captured on Drew and Linda Say I Do. It is safe to say the twin brothers' love lives aren't identical.
It Wasn't Easy Getting to the Top
Another thing we've learned so far is that while the brothers have been hugely successful, things weren't handed to them, and they had to work hard for what they now have. Things were not always easy for the Scott brothers. While speaking to Country Living, Drew said: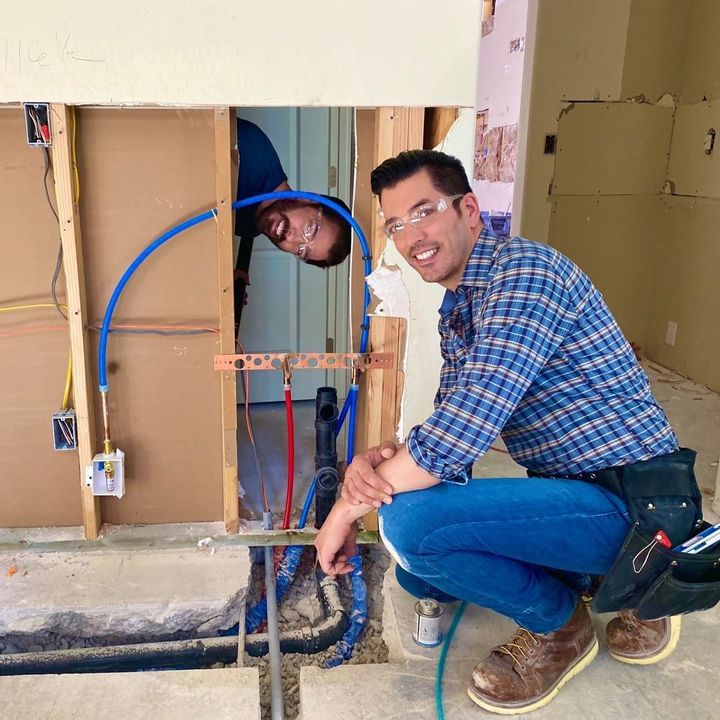 We didn't come from a wealthy family or anything like that. We had to work hard for every single penny. That's something that can show people, through the good times and bad times, if you have a good support net and you do really stick to your guns and go hard after your goals, you will achieve them.
Became Businessmen from Age Seven
Jonathan and Drew were destined for stardom, and at the age of seven, they founded their first company! They produced fabric-covered wire hangers. The brothers began by selling them to friends before reaching out to a wholesaler in Japan who purchased the goods in large volume.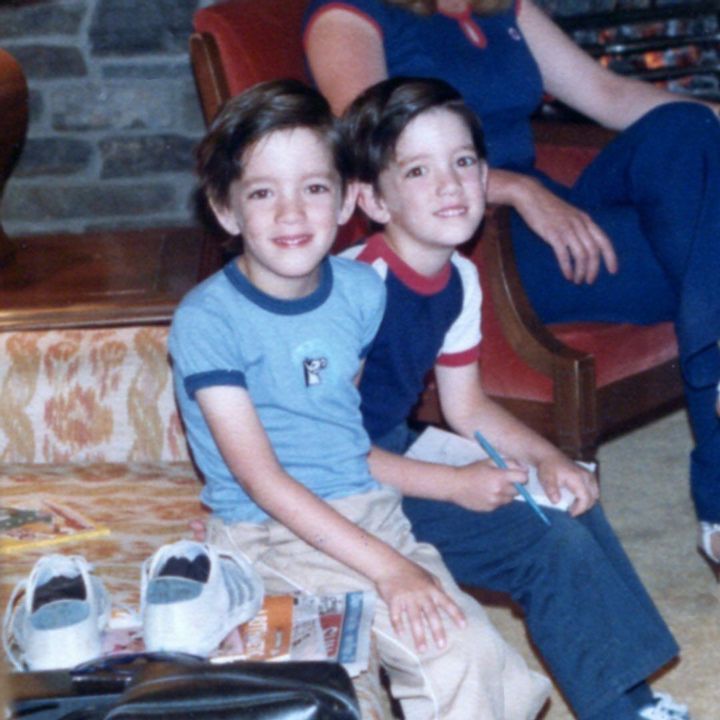 While recounting their experience with their first business to People, Drew said, "We would look at our bank accounts, and there would be $15,000 in there. We were savers, big time." Isn't it amazing, considering how young they were?
The Famous Clown Twins
The brothers not only began their first business at the age of seven but also enrolled in clown school at the age of eight. They began performing at parties for up to $100 an hour. Clowning at parades and birthday celebrations was their first engagement as entertainers!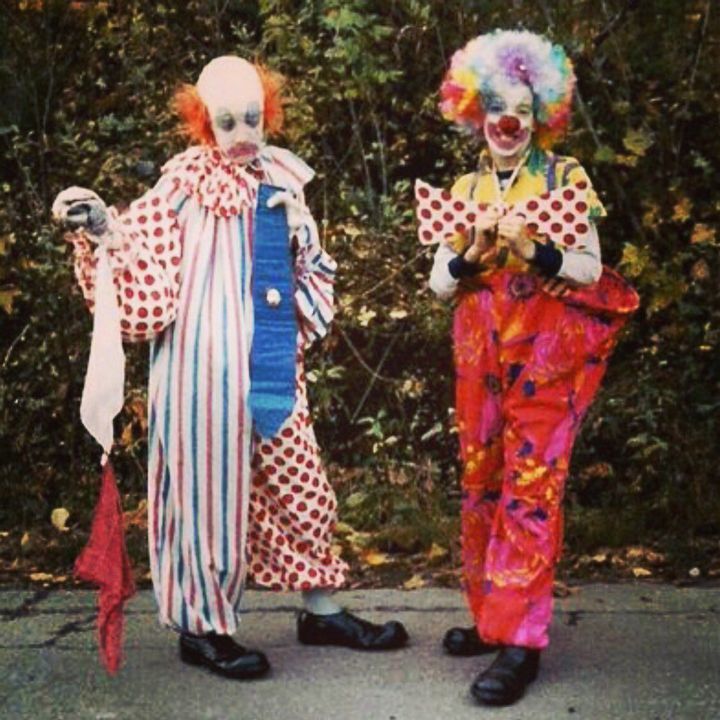 Jonathan said in his interview with People: We were always looking for something that we could do. It couldn't be a paper route. It had to be something that we felt was scalable. That's stuck with us even now in adulthood.
They've Been in the Real Estate Industry Since They Were Teenagers!
The Scott brothers were budding entrepreneurs at a young age, but they were also real estate prodigies. They purchased their first home at the age of 17! They chose to get into real estate after struggling as entertainers and then seeing an advertisement by Carleton Sheets.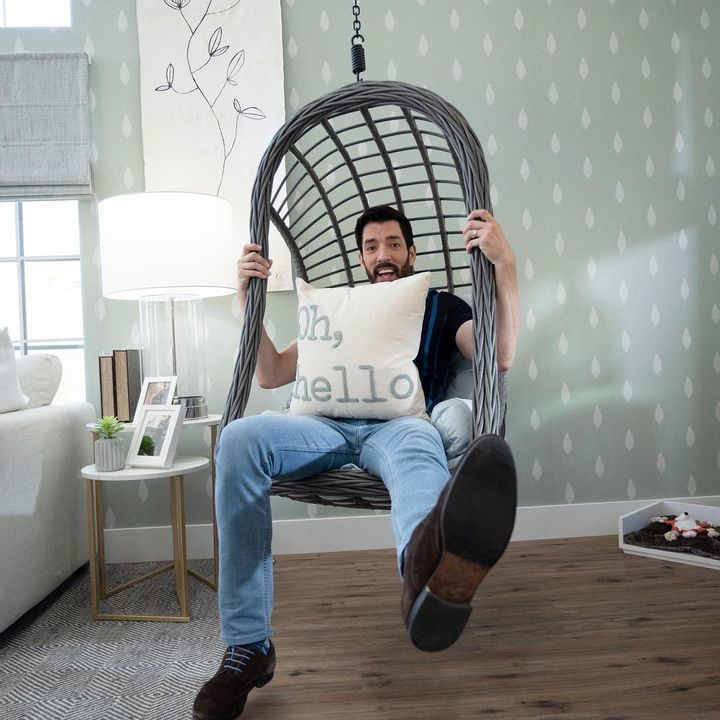 They took over a seven-bedroom rental property across the street from their university, renovated it, and then sublet five of the bedrooms. According to HGTV, they ended up selling the house for a $50,000 profit! Can you believe how industrious they were?
On to Reality-TV
Property Brothers isn't the first time the brothers have appeared on a reality show; they've also appeared on America's Next Top Model and Hell's Kitchen. Drew competed on Season 25 of Dancing with the Stars and made it to the finals, finishing fourth with his partner, Emma Slater.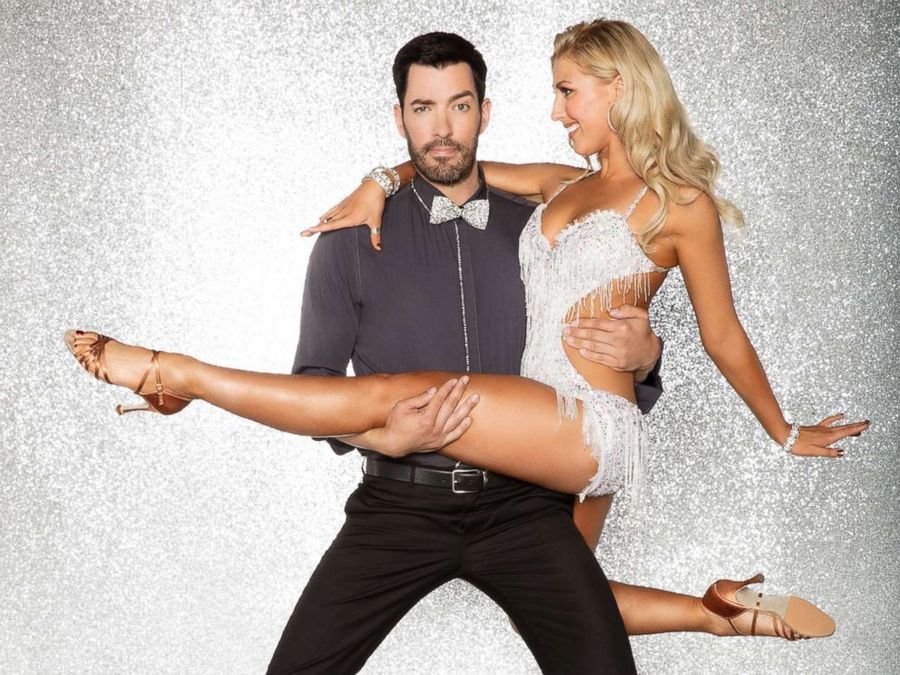 One of Drew's performances even included Jonathan, who stunned the audience by joining in! Drew was also offered a position on the television show The Bachelor, which he turned down. We don't know why.
Drew Appeared in a Nude Zombie Scene
We mentioned earlier that Drew always wanted to act but ended up with hundreds of thousands of dollars of debt while pursuing his passion, which made him turn to real estate. It turns out he was desperate to actualize his true dreams. He appeared nude in a zombie movie!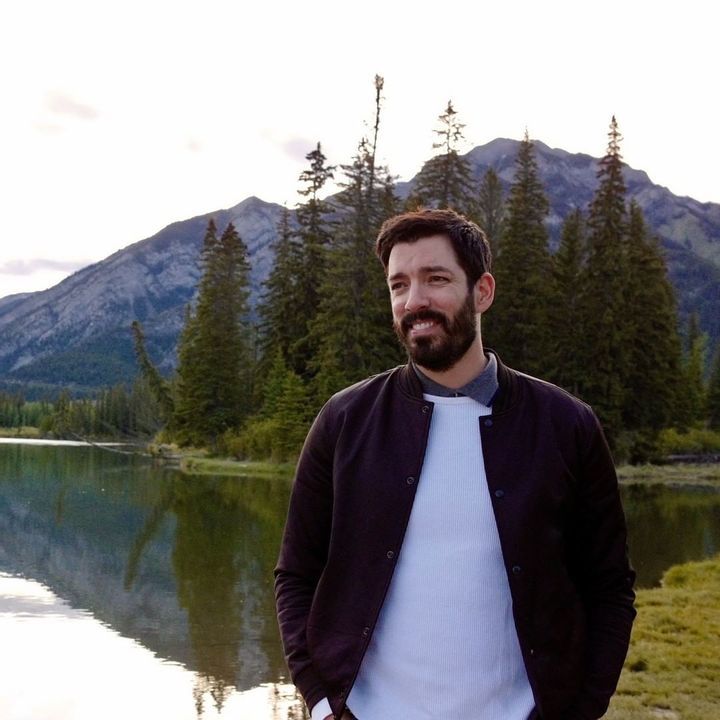 Drew wrote in the brothers' book, It Takes Two: Our Story: The cinematography was on a par with proud parents shooting their kid's recital with a video camera that requires them to hiss, "Is it on?" back and forth for an hour. My bare a– made its screen debut right in the middle of this terrible film.
Drew's Acting Career
Drew's initial ambition was acting, and before becoming renowned for Property Brothers, he had a variety of minor TV roles as a teen and young adult. They included the renowned Smallville, Breaking High, and Madison, in addition to starring naked in the zombie film we just mentioned.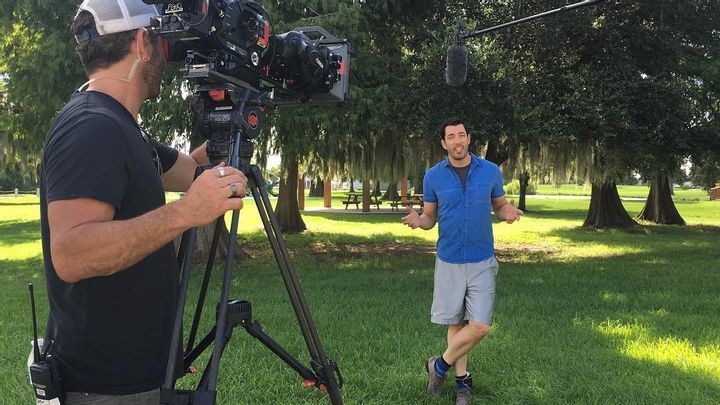 However, it appears that Drew Scott's brief appearance as Tom Welling's body double in Smallville was deleted from the final cut of the show. But you'll soon find that nothing could stop the industrious and charming twin—not even being cut from a popular show like Smallville.
The Brothers Were Also Underwear Models!
As we can see, Drew is definitely at ease revealing all in front of the camera, as we know from his nude zombie scene. Well, as it turns out, both brothers dabbled in modeling before becoming super famous through Property Brothers. But wait, there's one more thing…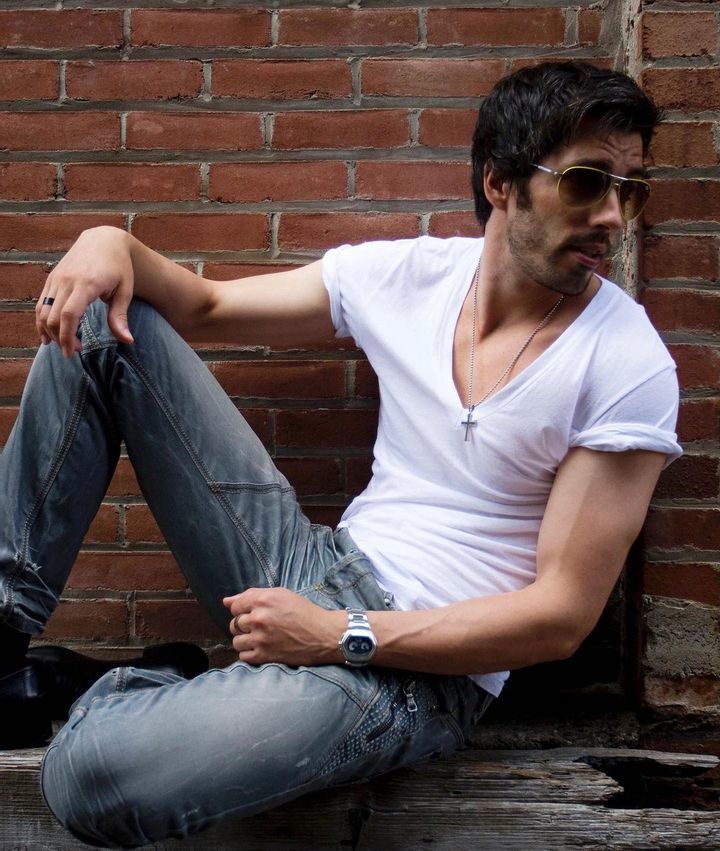 They weren't just any kind of models; the Scott brothers were underwear models! Yes, you read that right. "Drew and I both modeled for years, and we did underwear model for a while. . . . brace yourselves," Jonathan shared with OK.
The Property Brothers Were Cowboys
Despite their polished appearances and city looks, the brothers grew up on a ranch. Their father moved to Canada from Scotland and wanted to be a cowboy. As a result, he fostered in his sons a love of the outdoors from an early age.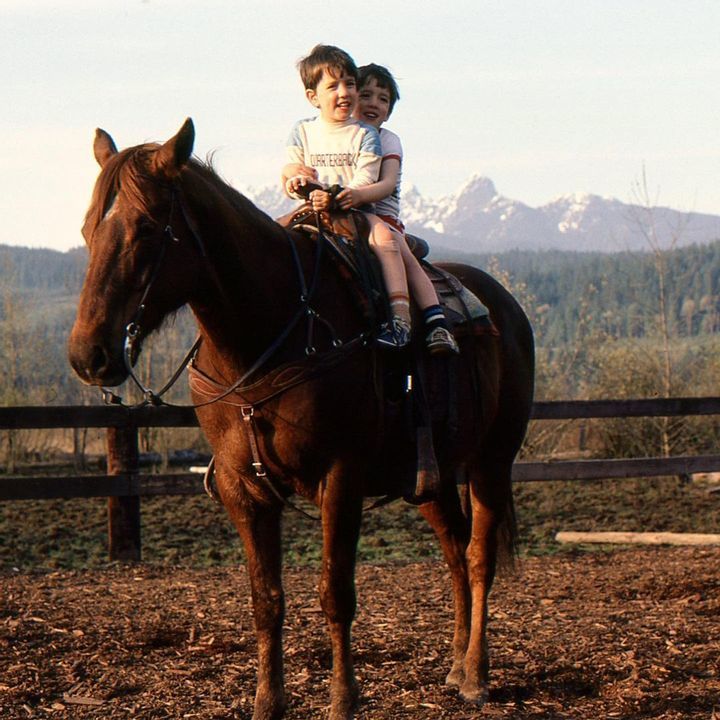 The Scott brothers grew up on a ranch in Vancouver, British Columbia, and began riding horses at the age of three! It's no surprise that they feel so at ease filming Property Brothers: At Home on the Ranch, which was shot where they grew up.
They Love Playing Bagpipes
The Scott brothers have a variety of latent skills. One of them—a liking for bagpipes—stems from their father's Scottish ancestry. They were not only horseback riders, business owners, and clowns at a young age, but they were also expert bagpipe players!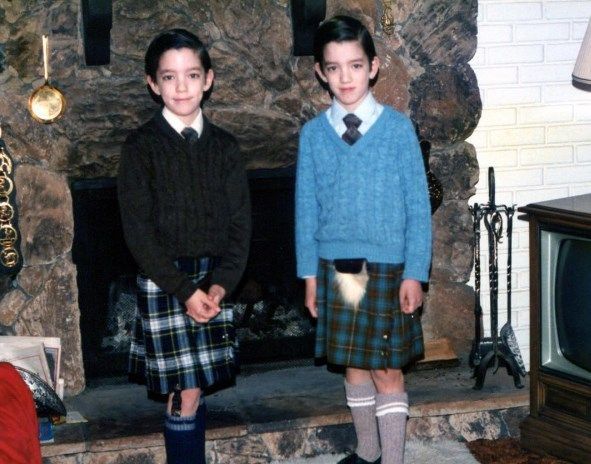 Jonathan claims to have brought home all the medals from their bagpipe competitions and still as they continue to compete as adults. Who knew these two brothers we see renovating houses were brimming with so much talent? And it appears there's still more to unravel!
The Karate Brothers
We believe at this juncture; it is safe to ask, "Is there anything the Scott brothers cannot do?" Besides their many talents and skills, as well as how industrious they've proven to be, the brothers are also karate champions! They are genuinely filled with so much talent.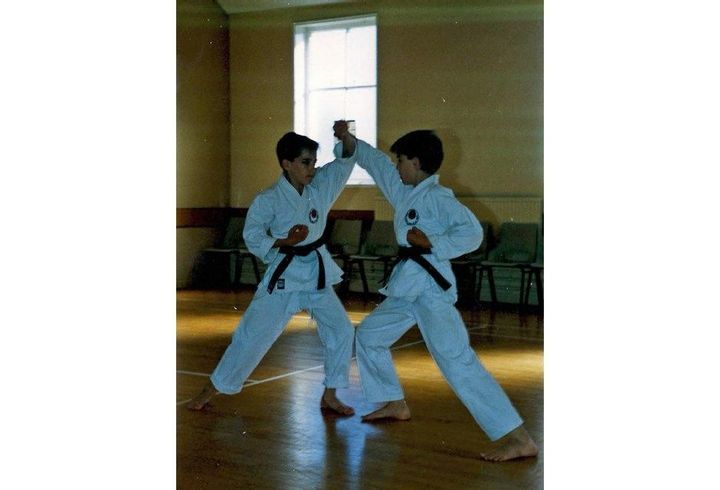 Drew and Scott are both Shotokan Karate 2nd degree black belts who have won many Canadian National Championships. They may look cute, charming, and polished, but you don't want to mess with them because you'll get your butt kicked! So many talents, but is that all? Not quite.
The Comedy Kings
When you watch any of their shows, you'll immediately find out that the Scott brothers are quite funny. But like their many talents, they've done something about their comedic personalities! The brothers formed an improv sketch club and performed stand-up sketch comedy.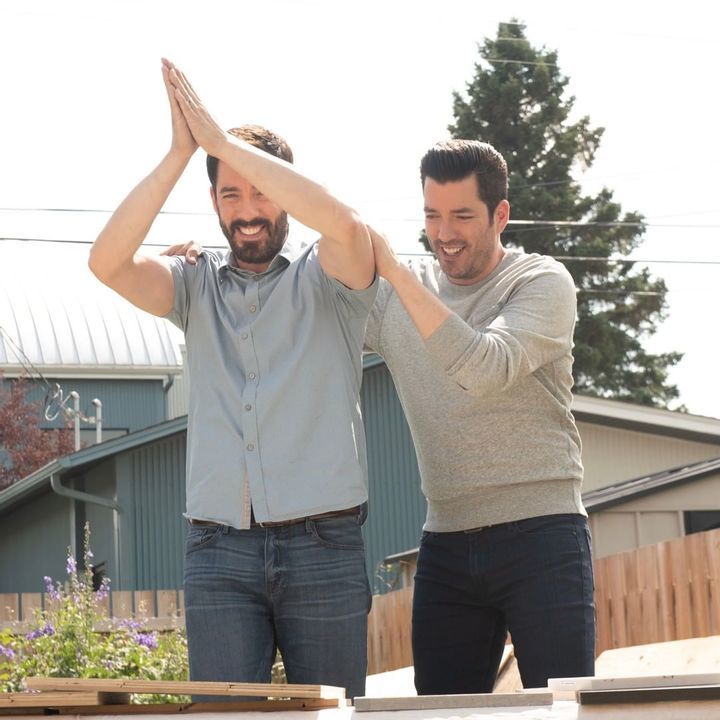 If you're interested in seeing more of their hilarious side, there are webisodes and bloopers available for you on HGTV.com. There's even a fantastic bit where Jonathan plays a real estate agent and Drew plays a contractor in a reverse audition. That one is hilarious!
They Even Had a Band
The Scott brothers were clearly born to entertain, and in addition to competing in bagpipe competitions, they also had a country band called Western Union that played alongside their older brother JD. But don't hold your breath for any videos or recordings of them in action.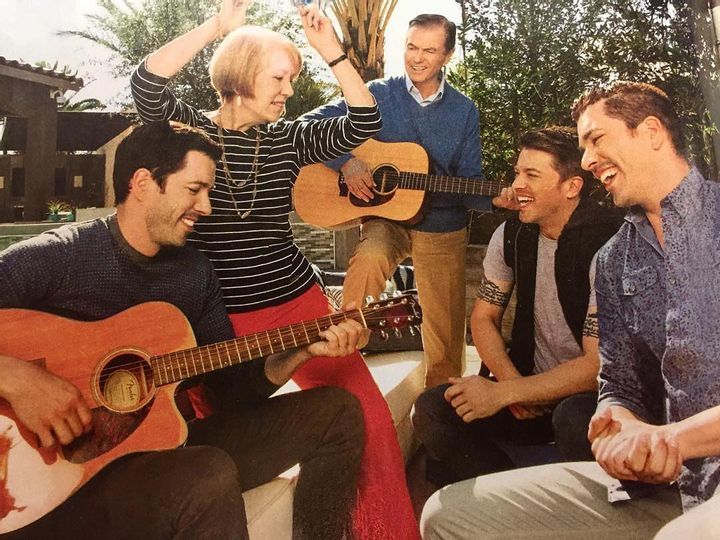 While speaking to MyFixitUpLife, Jonathan said he "destroyed every bit of evidence," adding that "maybe one day we'll do a rendition." But the brothers still have budding musical careers. It looks like we will never see the end of the endless talents the brothers have, will we?
They Have Musical Careers
Even though the Western Union band is no longer active, the brothers continue to make music. In 2015, as part of Property Brothers: At Home on the Ranch, they co-wrote and recorded two original songs—"Hold On" and "Let the Night Shine In." "Hold On" alone has had more than six million views on YouTube!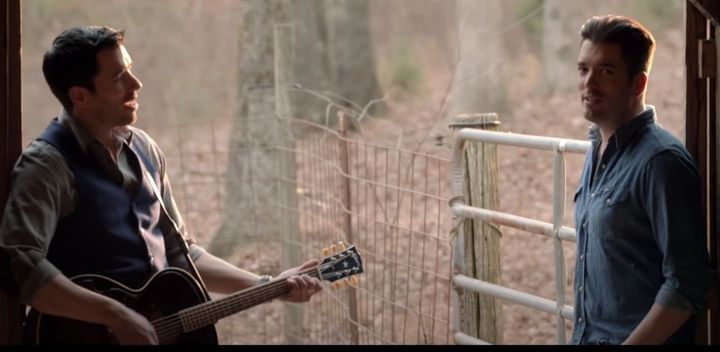 They also remade Flo Rida's "My House" with Eric Paslay in 2017, putting a unique country touch on the song and donating all the revenues to charity. Stars Carrot Top, Lindsay Ell, and RaeLynn all have bit parts in the song.
The Brothers Featured in Bob Dylan's Music Video
The Scott brothers have blended their passions for music and acting and have done so effectively. They have collaborated with some of the world's popular artists, including Bob Dylan. Yes, you read that correctly. They are part of Bob Dylan's official music video "Like a Rolling Stone."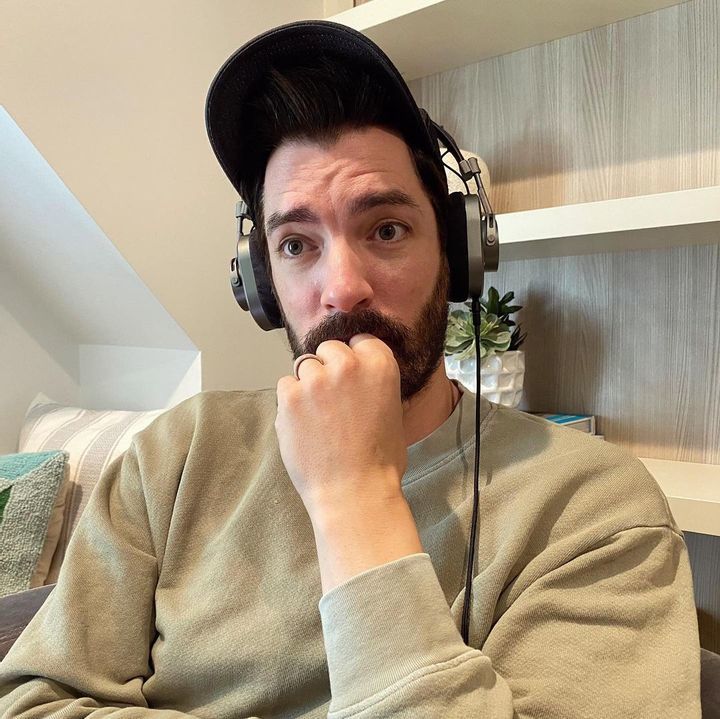 The video was used on Dylan's website to promote the release of his 35-album box set in 2013. Jonathan and Drew lip-synced the lyrics with other celebrities, including Drew Carey, Rick Harrison, and Austin "Chumlee" Russell from Pawn Stars.
Their Parents Did Not Anticipate Having Twins
Drew's birth surprised the Scott family, who weren't expecting twins! Joanne, their mother, was surprised because she had expected only one child. Well, it is safe to say she was, indeed, shocked. And she showed how stunned she was in the labor room!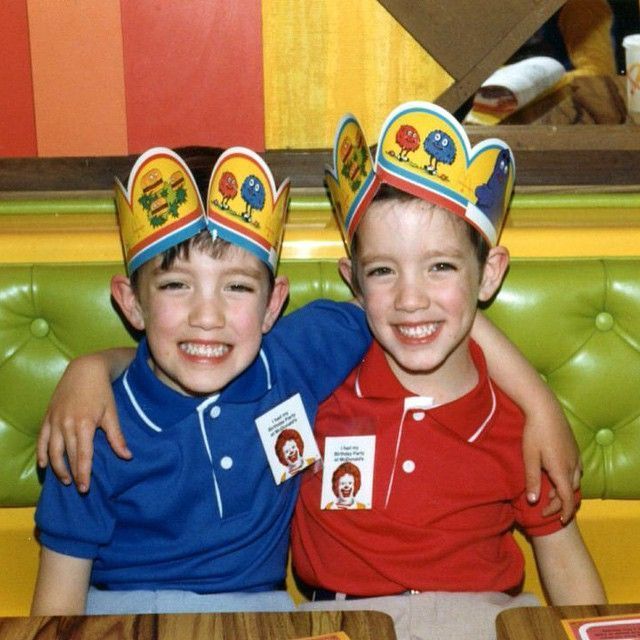 Drew told Glamour: "They didn't do an ultrasound, and the heartbeats were in sync. The doctor said it was one big baby. Jonathan came out with a flat head, and I guess I was sitting on his head in the womb and gave him a nice a– print. The nurse said, "I think there's another one!" My mother said, "Oh sh-t," and then I came."
Jonathan and Drew Scott Are Identical Twins
While this may come as a shock to some people, it wouldn't be to fans of the Property Brothers show. Most of the fans can differentiate between the Scott brothers due to their different hairstyles, fashion, and of course, personalities.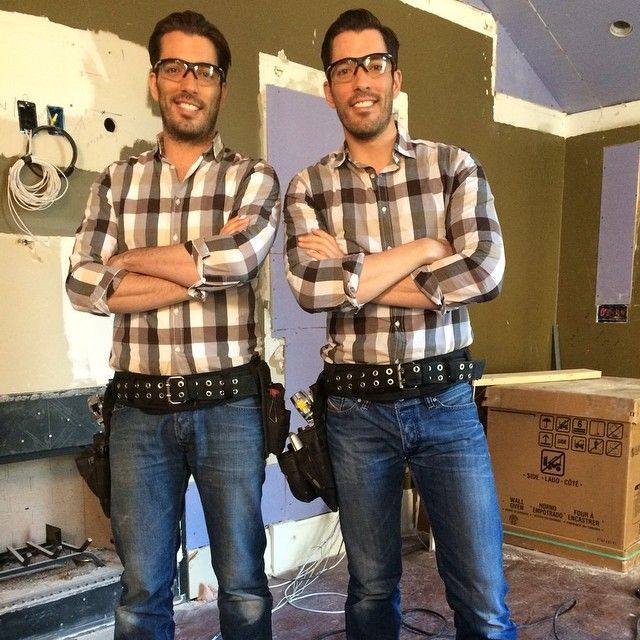 Jonathan is not only four minutes older than his identical twin brother, Drew, but he is an inch taller as well. Jonathan stands 6'5″, while his younger brother is 6'4″! Yes, we are surprised by how tall the brothers are as well!
Fans May Be Able to Identify Them, but Not Their Mom!
Despite the fact that Jonathan and Drew don't look exactly alike and the majority of their fans can distinguish them, their mother has trouble differentiating the twins by their voices, especially over the phone. She does, however, have one means of recognizing them.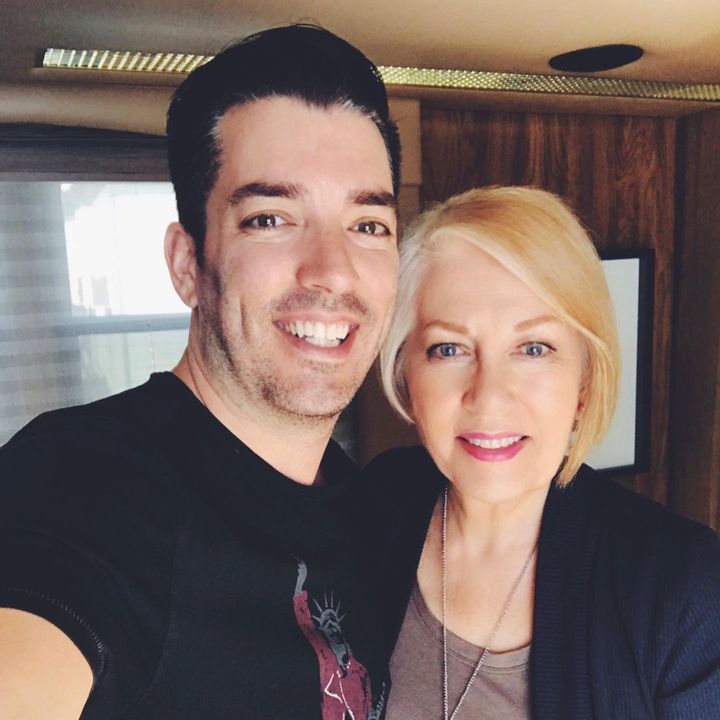 "She said I use bigger words," Jonathan explained to Glamour. "I've been seeking therapy ever since," Drew said. "If you want something special, in Mexico and in Spain, we're dubbed in Spanish, and we have the sexiest Spanish voices, let me tell you!" Jonathan laughs.
One, Two, THREE Scott Brothers
We've always known the two brothers, but did you know there's a Scott brother number three? His name is JD, and he is the twins' older brother. JD works for Brothers Entertainment, Jonathan and Drew's production company, and has experience in both entertainment and construction.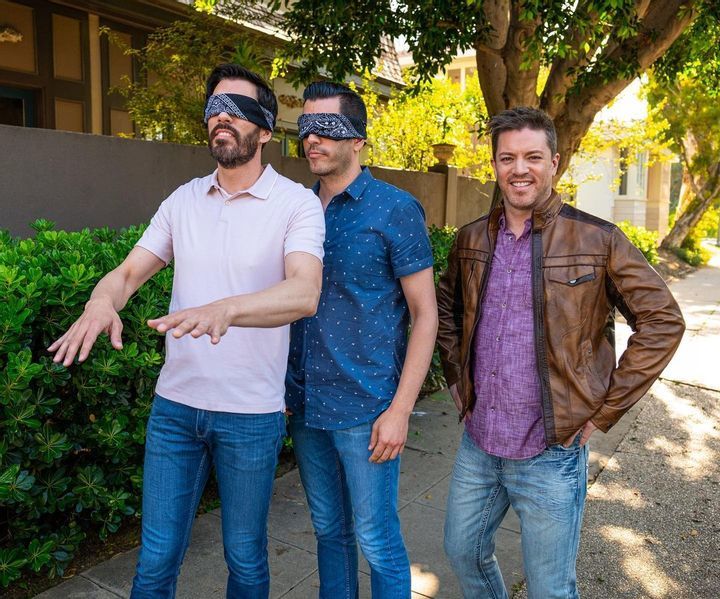 In fact, he's even participated in shows alongside his little brothers, and he's also the host of HGTV's backstage coverage for the Brother vs. Brother reality competition series. In addition, JD hosts a show called All-American Amusement Parks on the Great American Country network.
The Twins Were in Love with Twins
While both Jonathan and Drew are currently out of the dating pool, they were previously very appealing bachelors who dated identical twins in high school!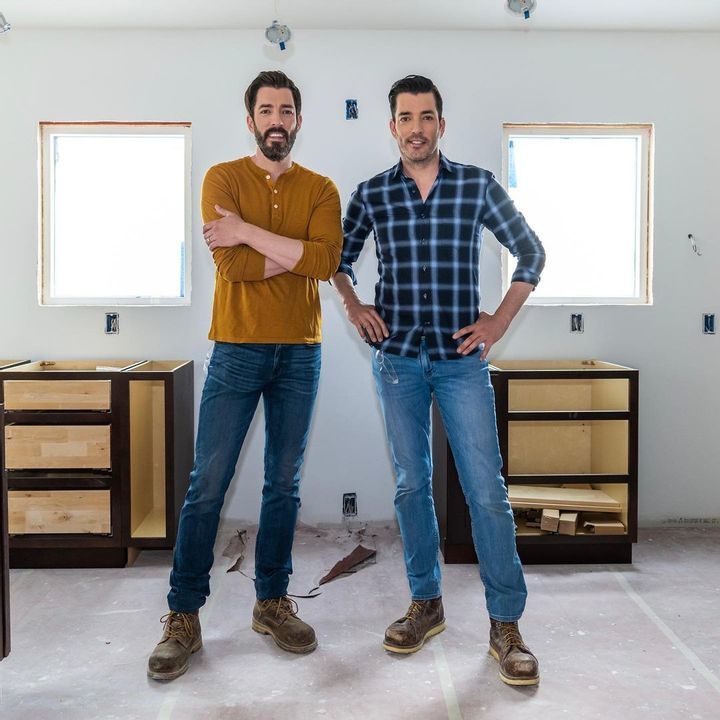 But considering they both have different love lives now, with one of them married and the other one dating, it is obvious that their relationship with the twins in high school crashed. As Jonathan told Fox News, "It got weird." Yes, Jonathan, we can only imagine.
Jonathan Is a Dog Parent
Jonathan does not have children yet, but he is the happy owner of two pups, Gracie and Stewie, a Chihuahua and a Yorkshire Terrier. He adores his small dogs and claims they do not make him feel insecure about his masculinity.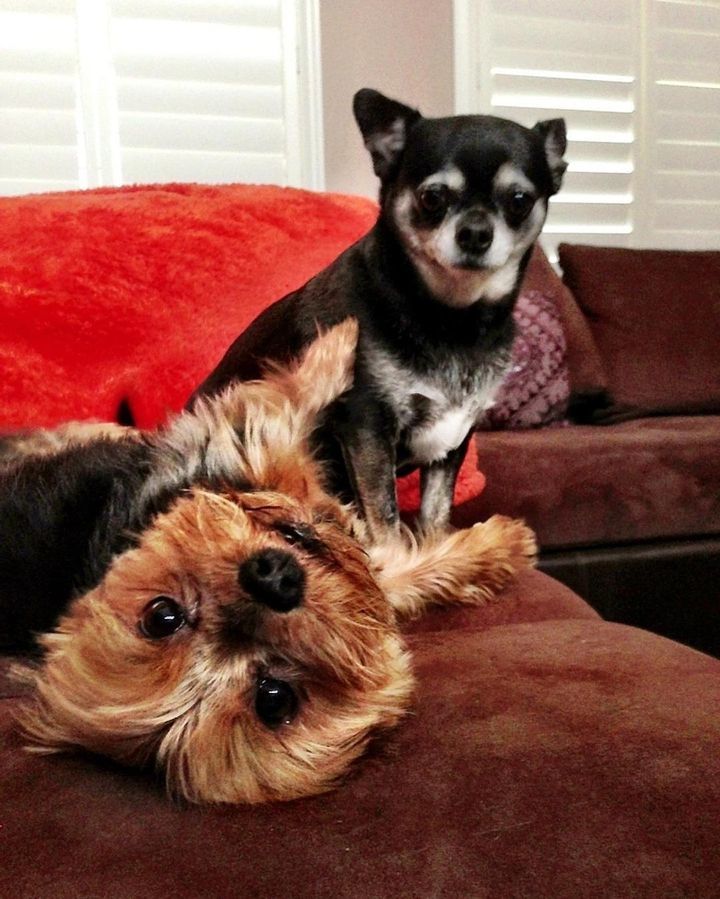 Jonathan told Modern Dog: "For all those guys out there trying to be macho, I can honestly tell them, I have more women at the dog park come up and talk to me! The smaller the dog, the bigger you look…I'm 6-foot-5, and they are my kids."
The Property Brothers' First Home Improvement Project
The brothers began remodeling before they bought their first house in college. Their first job was their childhood bedroom. Because they grew up in a conservative family, they weren't permitted to put up posters of their crushes, so they moved furniture around without their mother noticing. Drew revealed to Glamour: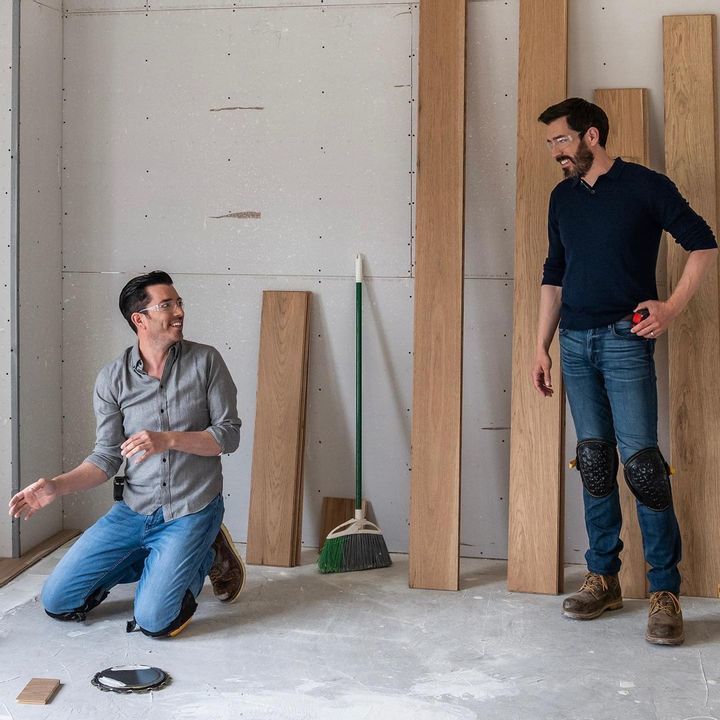 "We would move things around and move the furniture. My mom would just be in there and go away for like 20 minutes and come back, and there would be a completely different look in the room. Jonathan and I would still be sitting there playing with the same toys and pretend like nothing happened. We loved it."
Does HGTV Really Pay for Renovations?
The brothers are each given a budget of $500,000 in Brother vs. Brother, the second spin-off of Property Brothers, but many fans assumed that HGTV paid for improvements. That is not the case, however. According to Drew, the brothers pay for everything they do on the show.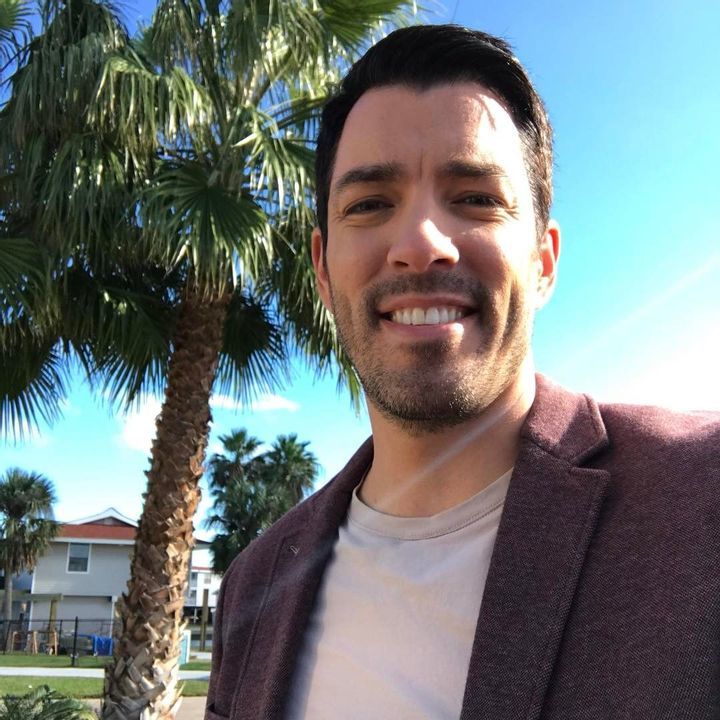 That includes the house's purchase price, remodeling, and any other unexpected costs that may accrue. And as we well know, that happens quite often on reality TV shows like theirs. "People don't realize we actually spend our own money on that show," Drew revealed.
Rumor Has It That Couples Don't Keep Final Decorations
Not only are only four rooms remodeled on Property Brothers, but the furnishings, accent pieces, and other design elements may be merely for show! According to E! Online, some house construction shows don't let couples keep their décor, and most families don't like them. Jonathan has, however, squashed the rumors.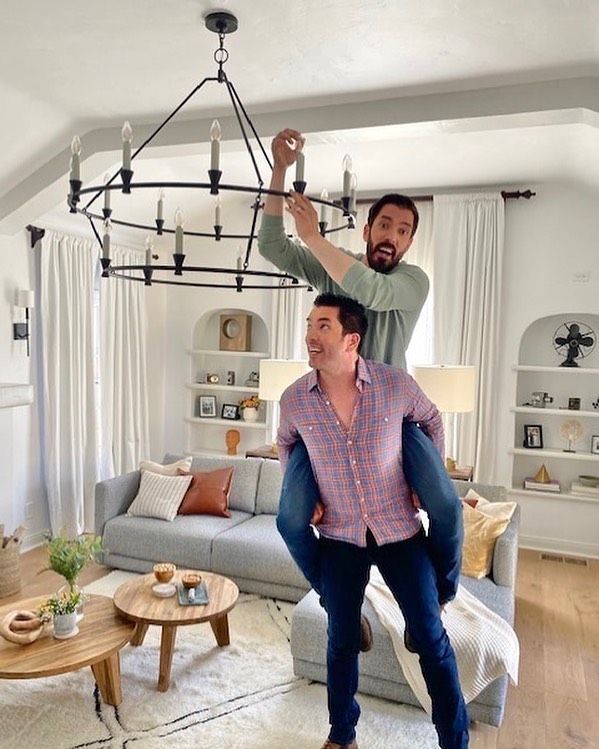 Every one of our shows, where it's a homeowner moving in, they all keep the furniture. I've heard that some other shows take it all away, and I was like, "Uh . . . That's a jerk move." You get someone to fall in love with a room, and then you're like, "See ya!" So no, everything that you see on TV stays.
Their Home Improvement Projects Are Super Fast
While the renovations appear to be completed quickly, that is because the show has taken care of all the details before it even begins. People always say, "You finish the renos so fast. Well, obviously, that's TV. Even though we do finish fast—we finish in eight weeks outside of the show.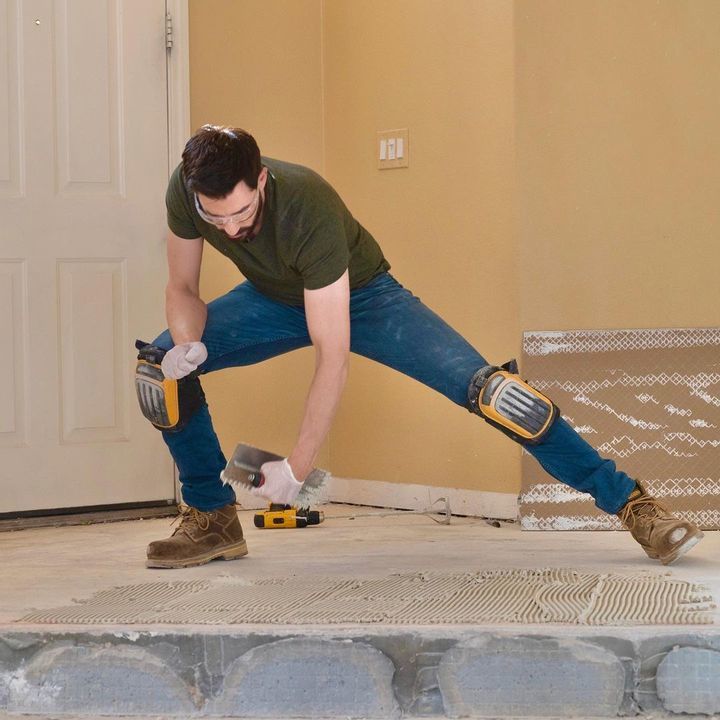 Drew shared with Country Living: "Because we get expedited timelines from being the first in line for permits and everything else—that same project might take 13 weeks. But there is a lot that goes into it: inspiration boards, meetings with the homeowners, that's the non-sexy show, but we still do that."
The Participants Look Bad
From the crazy cat lady to the fireman who wanted to do it all himself, the brothers have dealt with some odd clients on Property Brothers. The drama is often amplified to make for good television. At their book launch for It Takes Two: Our Story, Drew said: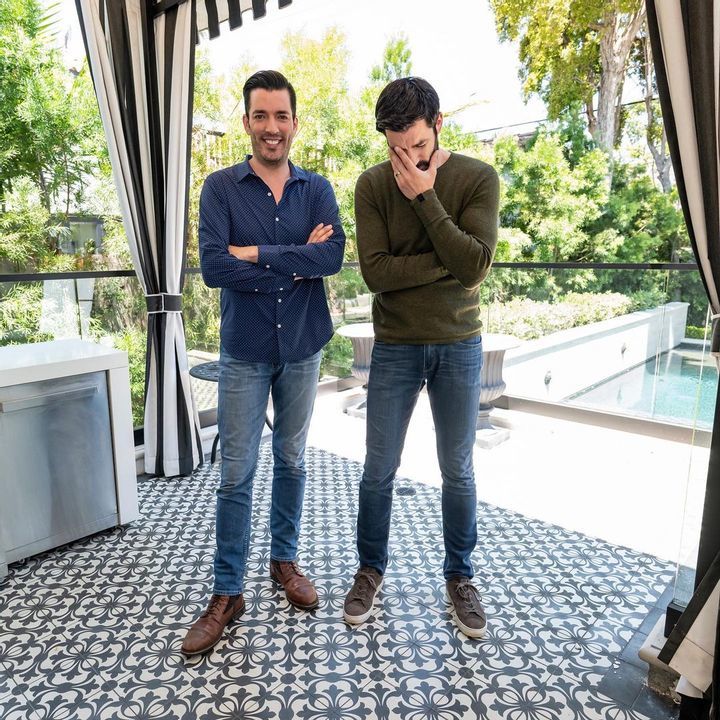 "Because we're taking two or three months of renovation and cramming them into forty minutes. You see the highs and the lows, so it's not quite as stressful. The ones that usually get frustrating … at the end of the day, I'll tell them, "You're bringing us in as professionals. This is what we do day in and day out; you have to trust us."
Couples Are Free to Change Their Minds
Although the couples choose their homes before meeting Jonathan and Drew, they have the option to change their minds once the show begins filming. The Scott brothers show the couple other houses that are available, and the couple can decide to switch from their earlier choice.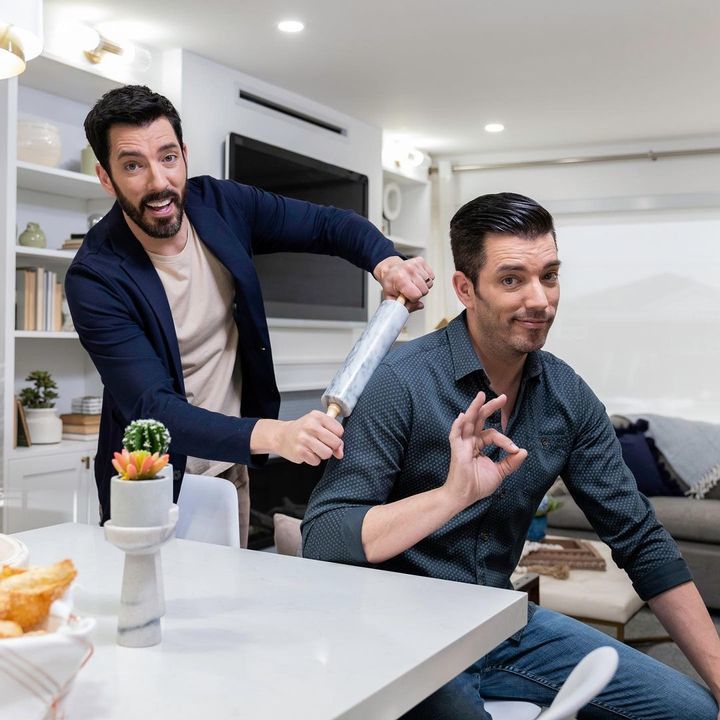 Jonathan told Popsugar: We'll show them other houses, and sometimes they'll pick another house because there will be a house that they didn't know was available or would have potential. Or sometimes when we're showing them other houses, because of the resources that we have, we can do more than they would have ever been able to.
Warranty for the Homeowners
Although Jonathan is regularly seen getting stuck in the home improvement work on the show, most of the work is handled by a local construction team. While it may be misleading to viewers, there are certain advantages that come with such an arrangement.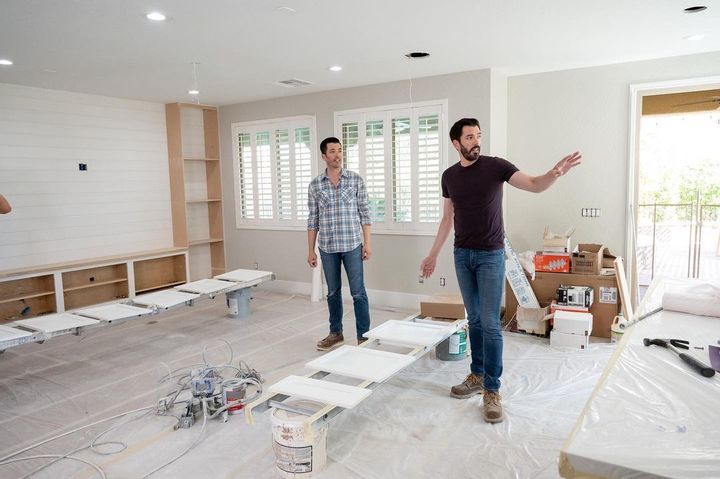 If the couples aren't content with anything that's been done or something comes up after the Scott brothers have left town, there are professionals around. The work of the local contractors is also covered by a warranty. So the couples have little to worry about.
The Brothers Own a Production Company
As we've already seen, the Scott brothers are multi-talented and very hardworking. They have also founded their own production firm. Their company, Scott Brothers Entertainment, is a television, film, and digital content production company created in 2010. One of their projects is the web series Toddler vs. Toddler.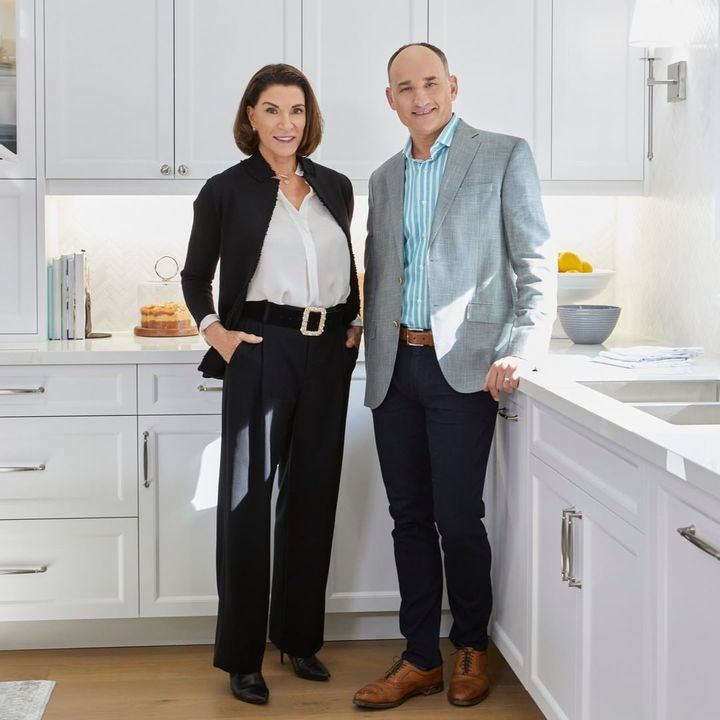 Others are the webisode Makeover Manor produced for Funny or Die and features Love It or List It stars David Visentin and Hilary Farr, Ty Pennington, Scott McGillivray, Bryan Baeumler, Sandra Rinomato, and Candice Olson. It also features Jersey Shore stars Ronnie Ortiz-Magro and Sammi Giancola.
Spin-Offs from Property Brothers
The Scott brothers have undoubtedly become popular due to the success of Property Brothers, which has spawned ten spin-offs! They include Buying and Selling; Brother vs. Brother; Property Brothers: At Home on the Ranch; Property Brothers At Home; Brothers Take New Orleans; and Property Brothers: Linda and Drew Say I Do.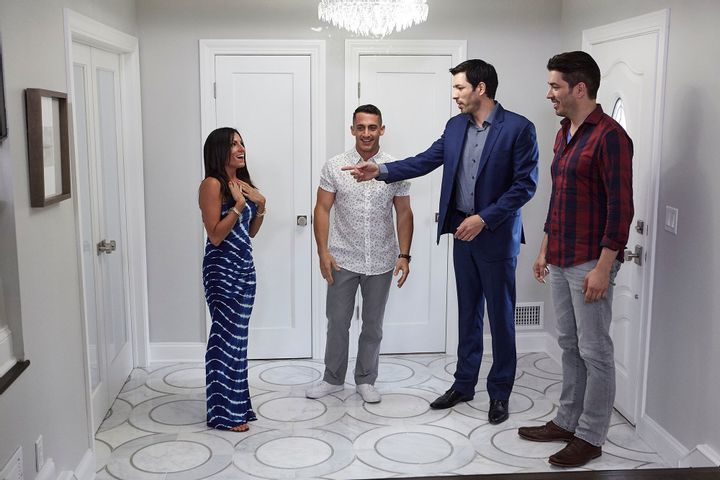 Others include Drew's Honeymoon House, Property Brothers: Forever Home, A Very Brady Renovation, and Celebrity IOU. They also have a web series, a radio show, a how-to-book, and an app! The brothers hope to host a talk show soon. How do they keep up?
Making History with HGTV
The Scott brothers have made HGTV history with the success of Property Brothers and its ten spin-off shows. With Property Brothers and the spin-offs Buying and Selling, Property Brothers: At Home on the Ranch, and Brother vs. Brother, the brothers now have more airtime than any other HGTV celebrity.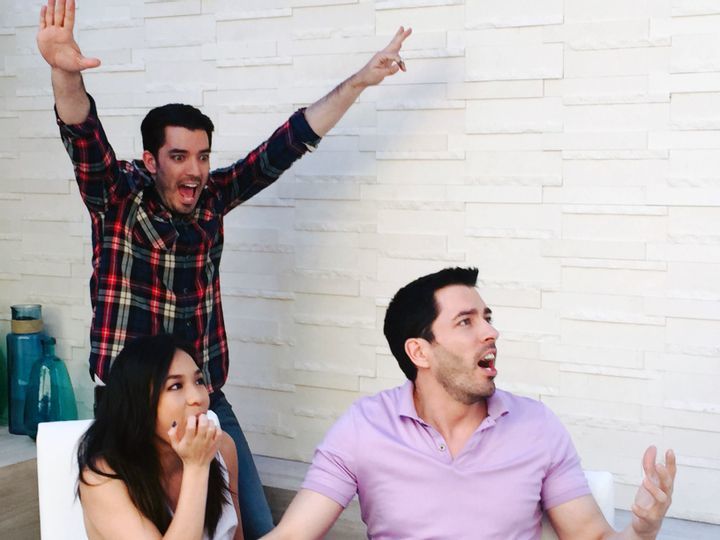 They also produce more original episodes per year on the network than any other personality. Besides the Fixer Upper show, Property Brothers has the highest rating on the network. For all their hard work and talent, it is safe to say that it is well deserved!