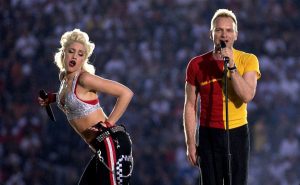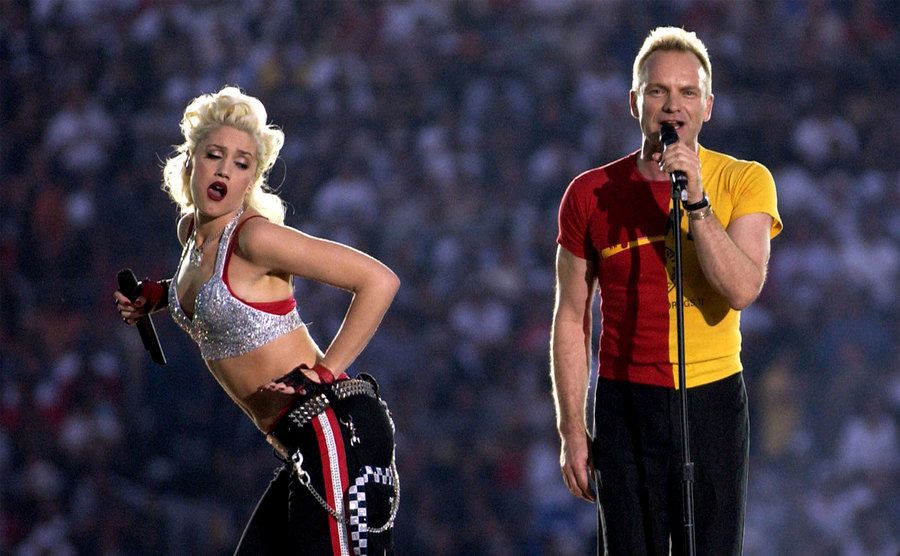 Breaking Down the Best and the Worst Superbowl Halftime Shows
By Yuri S.
---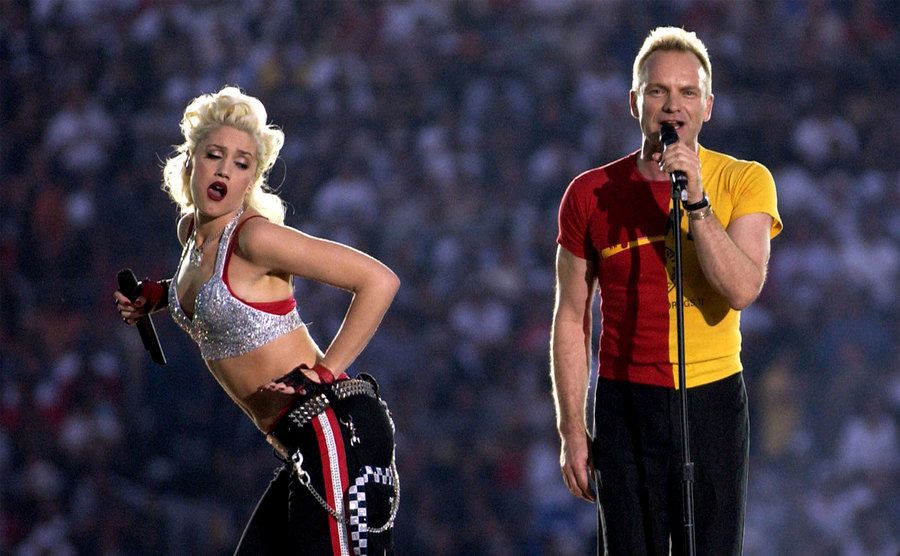 The Superbowl halftime show is one of the biggest and most anticipated performances of the year. Millions of people tune in to watch fifteen minutes of glory or fifteen minutes of misery, and that means one thing: whoever is doing the show better not blow it.
People are glued to their seats to watch the world's most famous artists put on a show of a lifetime. Most viewers cannot be bothered by the score, so the halftime show is critical for these artists. We're kicking it off, starting from the worst to the best of all time.
34. Dre, Eminem, Snoop: Superbowl LVI 2022
OGs Snoop Dogg and Dr. Dre performed with Eminem, Mary J. Blige, and Kendrick Lamar. It actually marked the first time hip-hop artists were the main performers of the halftime show. Making history is always fun.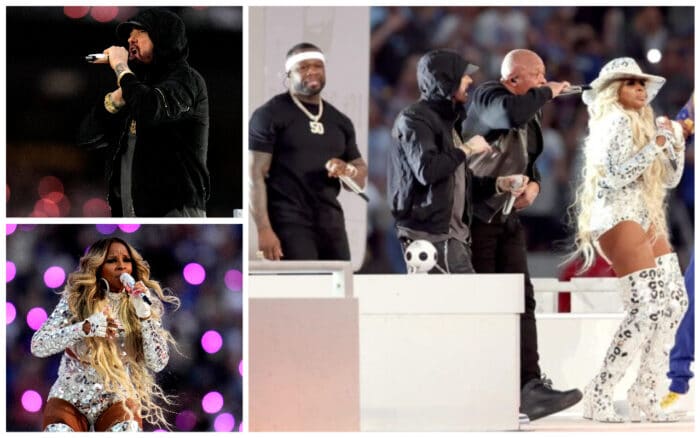 50 Cent surprised everyone when he showed up hanging upside down. The most controversial part of the show was when Eminem took a knee, in protest. But we can only expect so much from a rapper who lives and breathes controversy!
33. The Black Eyed Peas: XLV 2021
It wasn't the group's greatest moment, to say the least. The performance took place on February 6th, 2011, at Cowboy's Stadium. I think people caught a slight shrug of cringe as they came out with their robotic costumes. The Bleacher report called them "pathetic or mediocre at best" some even called it dangerous.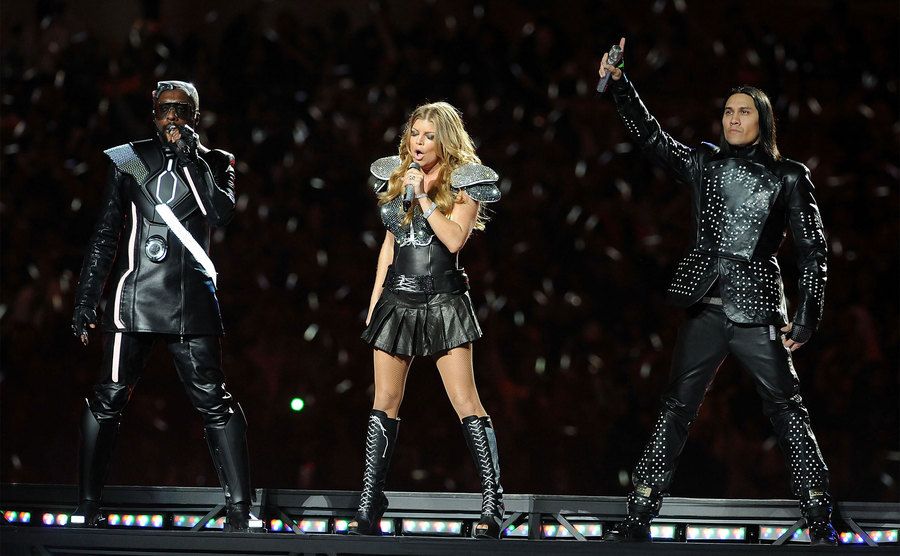 At least Usher showed up momentarily to take some of the bore away. Then, something unexpected happened, Slash showed up. Most people in the audience were probably wondering what on earth were they thinking when they listed a duet of "Sweet Child of Mine" with Fergie.
Opening Number
It seemed like the show was doomed from the beginning. Let's not forget Christina Aguilera's interesting interpretation of the national anthem, with her forgetting the melody and words. The famous burlesque singer with massive vocal cords had an off night, and people noticed.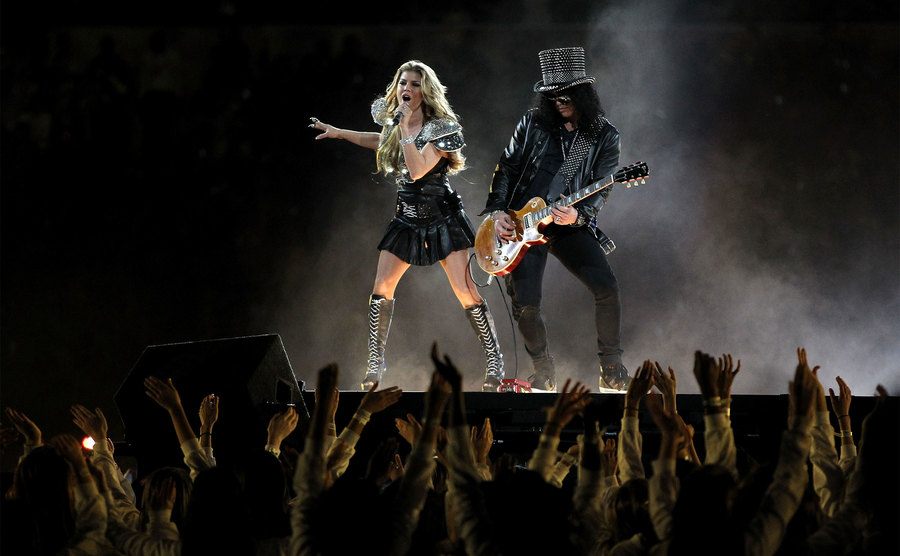 The Black Eyed Peas had a chance to turn things around, but sadly, they couldn't redeem the night. At least they were able to bring some …" Youth, but little else," said The Associated Press. At least they played a hit song that everybody loved−"Where Is the Love?"−to give the audience a moment of nostalgia.
32. All the Shows From 1967 to 1989
The '90s is when the Superbowl halftime show began taking things seriously. Before then, it was a bunch of college marching bands. People didn't consider it a "show," as it was time for people to rid themselves of all the beer, hot dogs, and nachos they were eating during the game.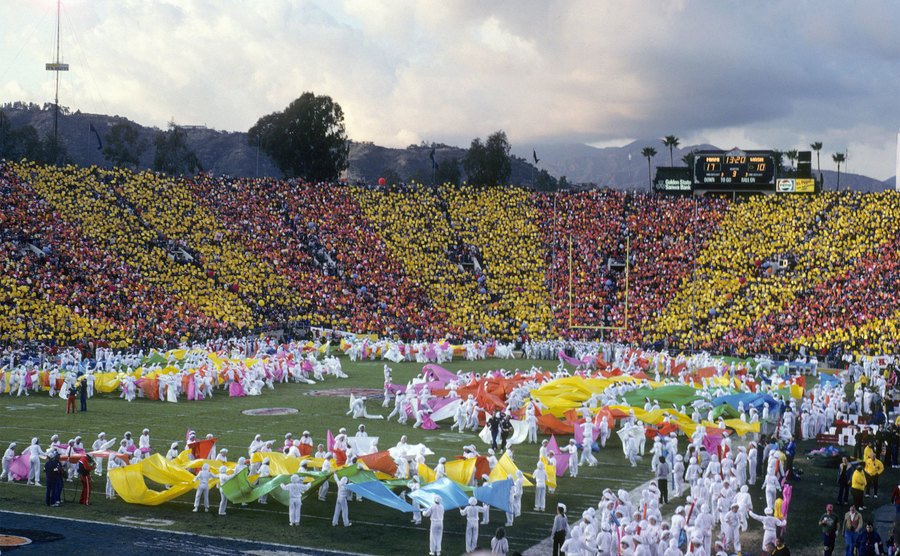 Take, for example, the 1977 halftime show. The theme was "It's a Small World" and was evidently produced by Disney. The highlights of the era were the Rockettes, George Burns, and some random Elvis impersonators. Don't get me wrong; it wasn't terrible; it just didn't have the hype we have today.
31. New Kids on the Block: XXV 1991
This was the first time the industry realized that they could actually use the halftime break for performances. However, the timing was a little off, not blaming New Kids on the Block. They sang "This One's for the Children," which was a little mushy and not the most interesting to watch.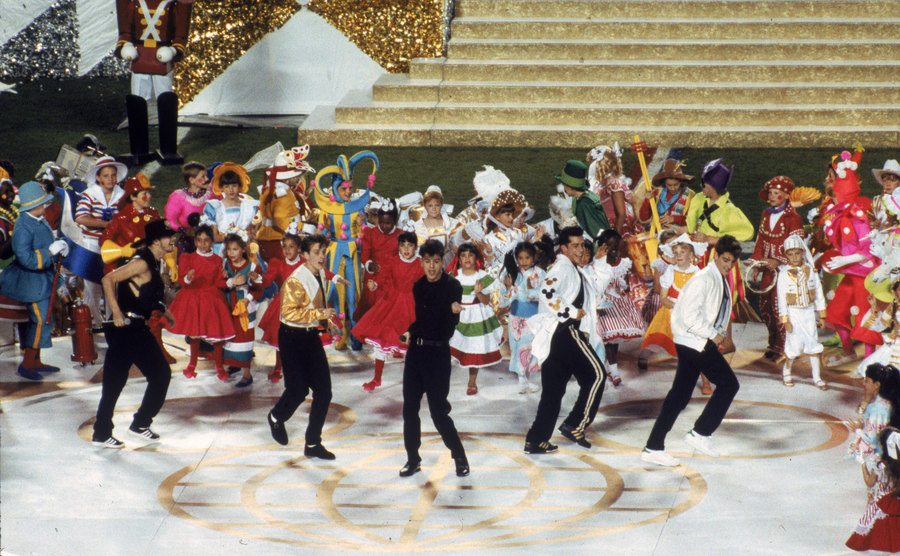 During the Gulf War, the show was geared towards the challenging period of the time. Afterwards, however, it seemed like the broadcasting networks understood that they could bring some truly incredible voices on stage, and that's what they did.
30. Phil Collins, Christina Aguilera, Enrique Iglesias, and Tony Braxton: XXXIV 2000
The year was 2000 at the Georgia Dome, and big names were finally hitting the stage. However, much to our disappointment, they didn't perform the songs we wanted to hear.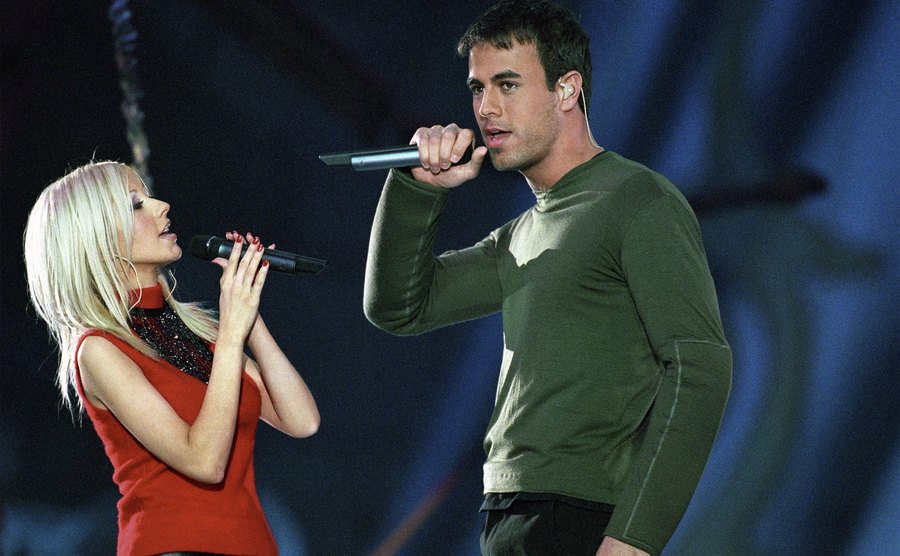 People were expecting Phil Collins to sing his hit "Sussudio" and Christina do a revival of "Genie in a Bottle." Instead, we got Phil singing "Two Worlds" wearing a backwards Kangol Hat. I would have loved to watch the Latin superstar Enrique live; however, we got a weird rendition of "Celebrate the Future Hand in Hand" by Xtina.
29. Olympic Figure Skaters: XXVI 1992
It was a winter wonderland on stage. At least the location was right; the game was held in Minnesota, where cold weather is no stranger. It wasn't all bad, though; the show was credited with being a turning point in how performances were arranged.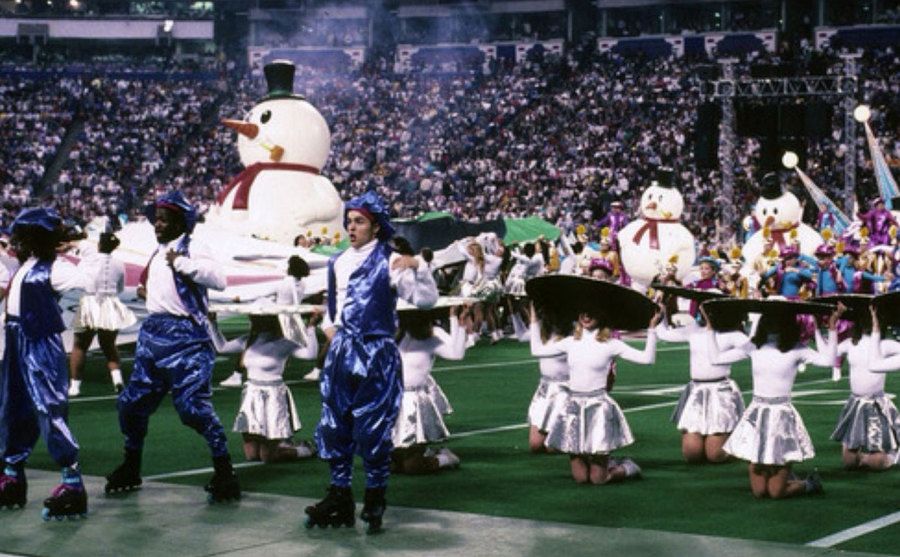 Highlights included dancing to "The Frosty" with Olympic figure skaters Brian Boitano and Dorothy Hammill. It was undoubtedly a step up from the previous shows, but boy, oh boy, some serious work still needed to be done.
28. Clint Black, Tanya Tucker, Travis Tritt, and The Judds: XXVIII 1994
Country music has undoubtedly caught the hearts and minds of many people, but not all of them tune into the Superbowl. The genre certainly has been respected, but it wasn't quite suited for an audience of different backgrounds.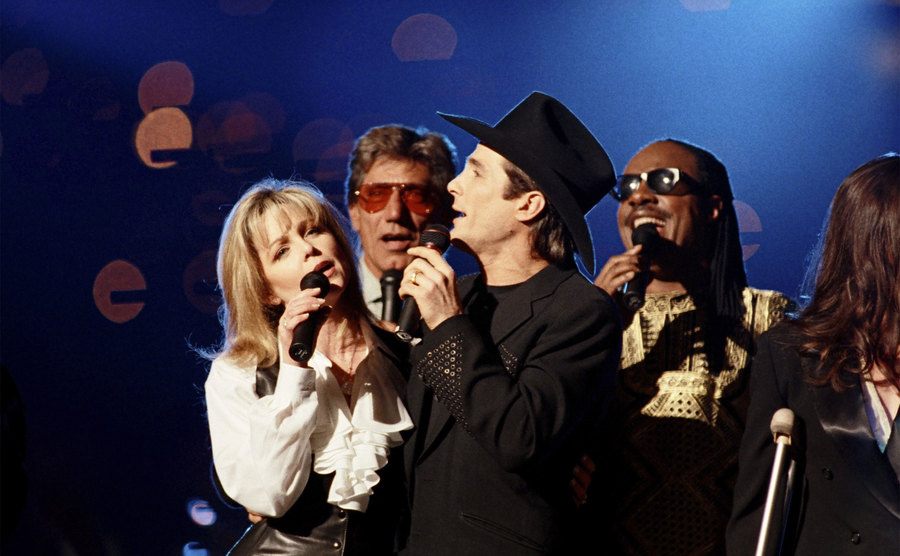 With people dressed in cowboy hats in the audience, this was a show with classic America written all over it. At the time, these were some of the best country music stars, except the Judds were on one of their late farewell tours. It wasn't anything extraordinary but a decent performance overall.
27. Patti LaBelle, Tony Bennett, Teddy Pendergrass, and Miami Sound Machine: XXIX 1995
The best word to describe this performance was simply an utter MESS! There were shirtless dancers, Indiana Jones flew in out of nowhere, Pattie LaBelle was dressed as a bedazzled goddess, and spikes everywhere. Harrison Ford certainly wouldn't have wanted to be involved with the franchise during this performance.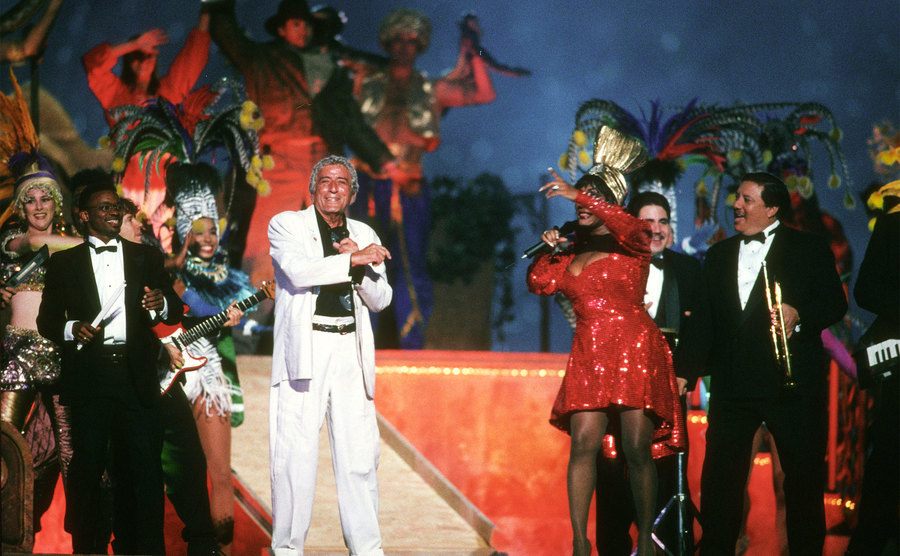 Tony Bennet did sing, and with the finale of "Can You Feel the Love Tonight," audiences were simply out of breath from the chilling experience. It was certainly one to remember.
26. Pete Fountain, Irma Thomas, Doug Kershaw, and Snoopy: XII 1978
The combination of the New Orleans theme and the comic strip "Peanuts" was unusual, but hey, at least we got to see Snoopy singing "When the Saints Go Marching In." That must count for something. The Mardi Gras costumes and overall theme complemented the marching bands.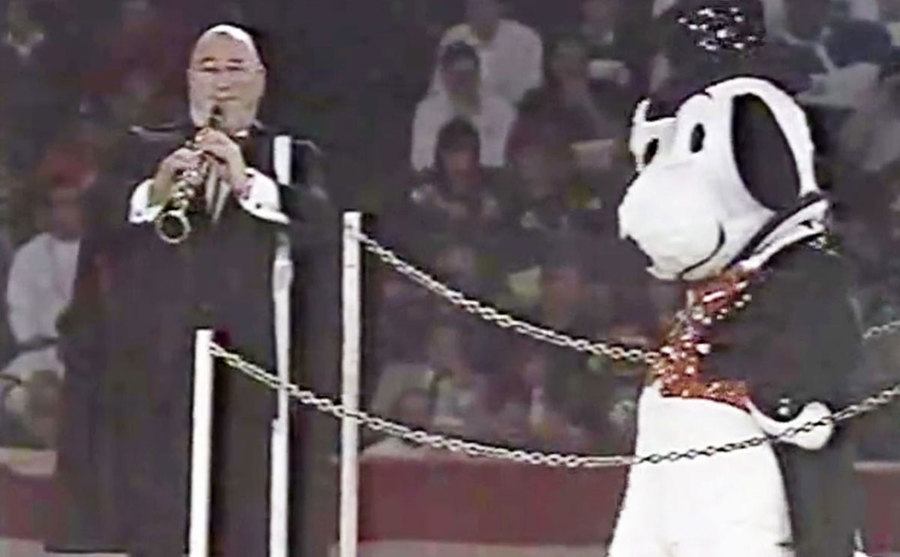 Fun Fact: The steamboat Delta Queen, a historical landmark, celebrated one hundred years of Mississippi river cruising, and it was Charlie Brown's 40th anniversary. The crowd did seem to enjoy the catchy music and ended the show by singing Happy Birthday.
25. Dan Aykroyd, John Goodman, James Belushi, ZZ Top, and James Brown: XXXI 1997
An admirable attempt by the Blue's Brothers to bring back the soul to the stage, this performance began with a special news Fox report stating that the trio was saying that they were on a mission from God to perform at the halftime show.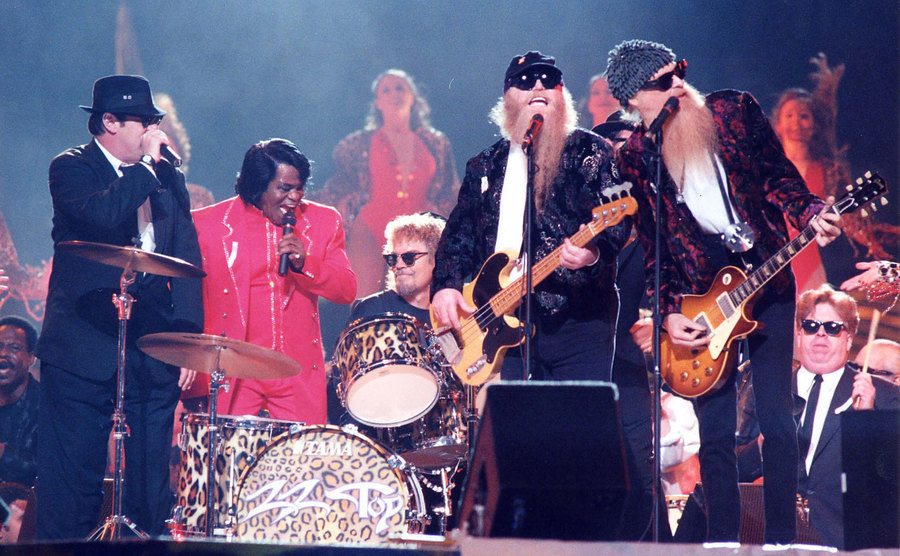 Remember, John Belushi wasn't alive, so they decided to let James Belushi do a Karaoke take on "Soul Man" and "Gimme Some Lovin." The dancing also seemed to be just a step-off beat, but at least we got to hear real hits of artists this time.
Blues Brothers Bash
It surely highlighted the Blues Brothers, and they probably should have given the King of Soul, James Brown, more stage time; he probably would have done a better job than James Belushi, that's for sure.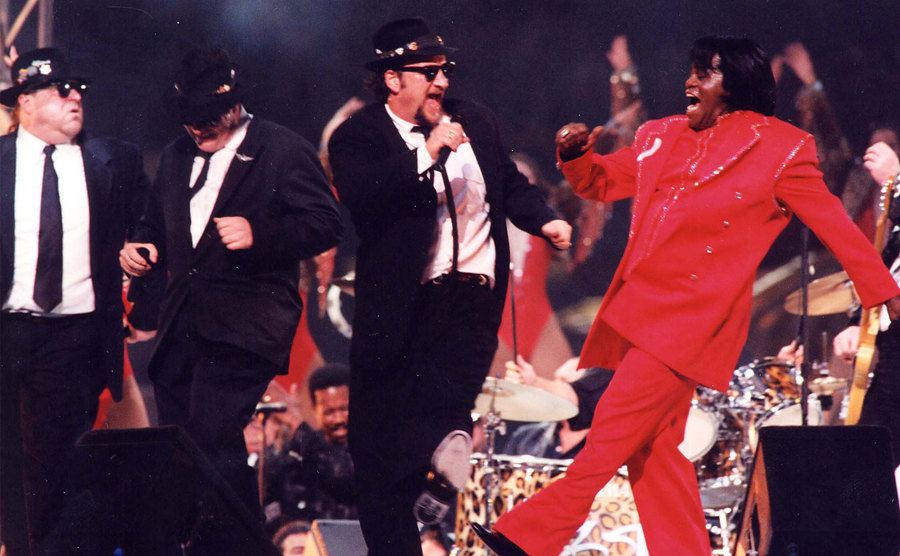 He added the rhythm, the spunk, the energy, and the backup dancers to wrap up the show. Let's not forget his incredible red and shiny outfit. Better late than never, as they say, but the show was missing just a little more "oomph" to make it a worthy performance.
24. Maroon Five and Travis Scott: LIII 2019
Political opinions and responses flooded the NFL franchise in 2019 as Colin Kaepernick was blacklisted. Many artists straight-up turned the Showdown, such as Cardi B and Rihanna. Maroon is recognized as one of the best bands of all time, but their music doesn't quite suit the atmosphere of a Superbowl.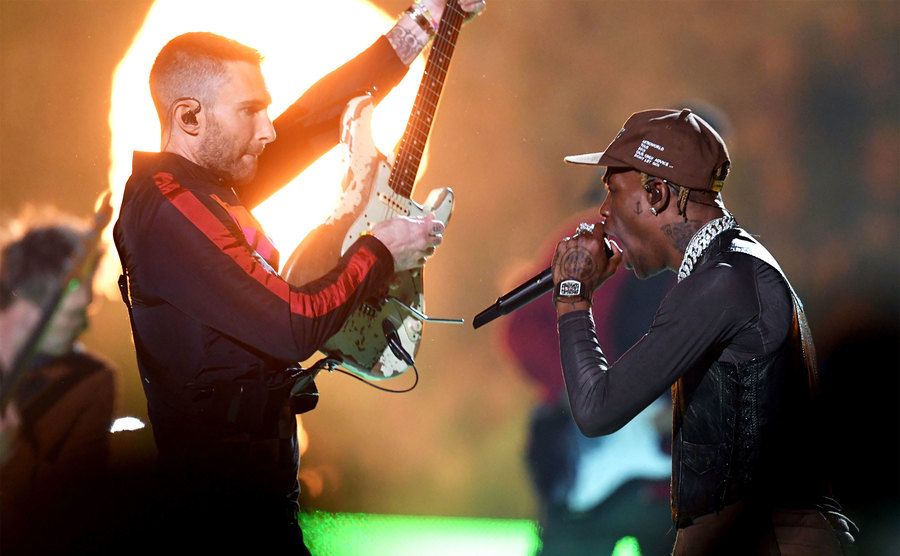 Nevertheless, at least we had Adam Levine to look at. The crowd closest to the stage seemed to love it as it was primarily girls screaming. Adam yelled, "Can I play some guitar for you right now?"
Travis Scott Added to the Mix
The introduction taken from SpongeBob SquarePants was hilarious as Travis Scott appeared coming out of a flame ball. Travis put on a great performance, but Adam's guitar playing next to him seemed a little unrelated.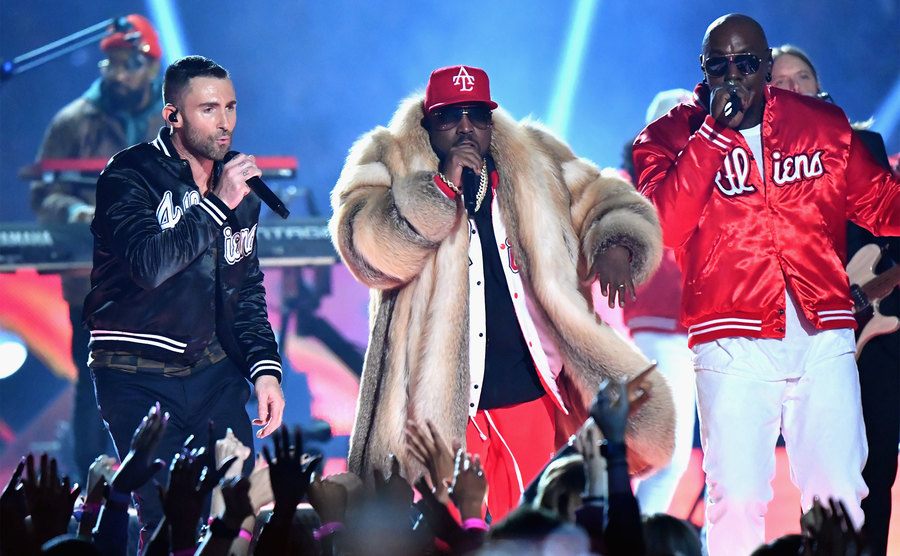 Maroon Five's performance expectations weren't high, so I guess they lived up to what people wanted to see. At least Big Boi showed up in a fancy car to bring some swag back into the show. Overall, the performance was cute, but it wasn't up there with the best of the best.
23. Gloria Estefan, Stevie Wonder, Big Bad Voodoo Daddy: XXXIII 1999
This show was criticized for combining two great artists and, well, Big Bad Voodoo Daddy. ET was creepy and adorable at the same time, passing by all the awaited performers. Swing Dancing kicked off the show highlighting Big Bad Voodoo Daddy's Superbowl Debut.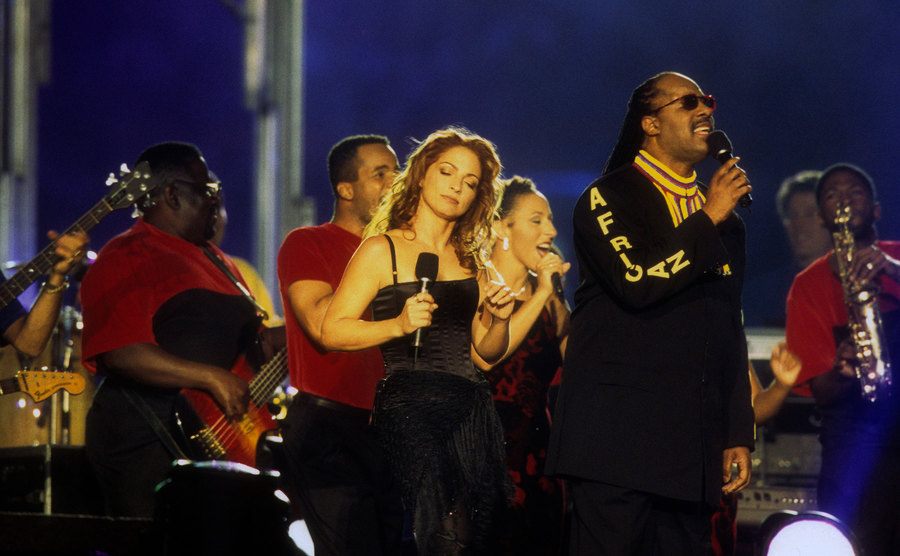 Stevie Wonder sang "Sir Duke" and "You can feel it all over" phenomenally as he made his way to the stage. He kept the funk and energy going as he always does while playing the keyboard. However, out of nowhere, a tap dancer arrived that seemed a little out of place.
Latin Vibe
Gloria rocked the performance at center field. The dancing band made you want to get up and shake. She brought tremendous energy with "Celebration for Soul, Salsa & Swing." Uniquely enough, Gloria has had the incredible opportunity to perform three times at the halftime show. Once in 1992,1995 and most currently in 1999.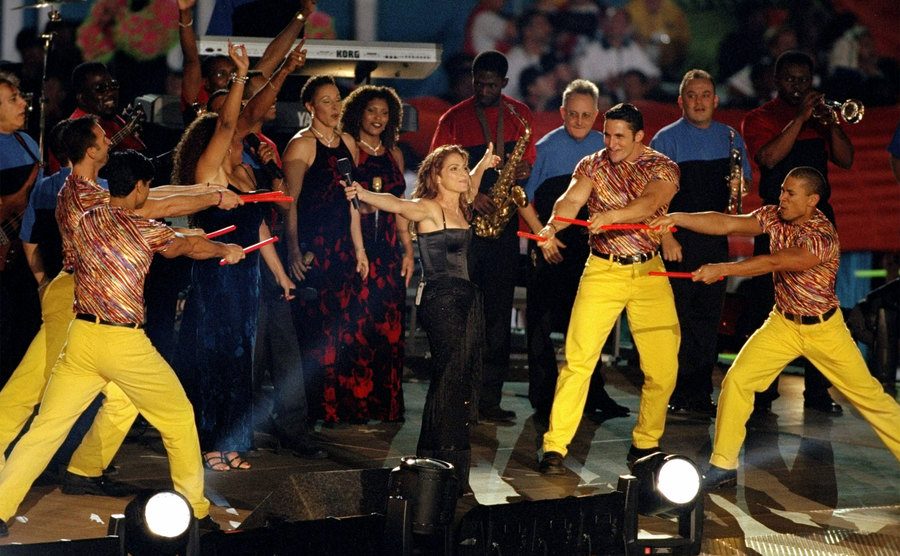 Overall, the performances were admired as two of the world's greatest superstars were present. However, Gloria later congratulated other Latin singers for having their chance on the show, "Big Congratulations to our Latin Queens, Jennifer Lopez, and Shakira…."
22. The Who: XLIV 2010
It is a famous band for sure but, they didn't address the entire audience. They were just a little bit too old and not well known enough for everyone to rave over the show. The band covered a medley of songs from "Won't Get Fooled Again" to "Baba O'Riley."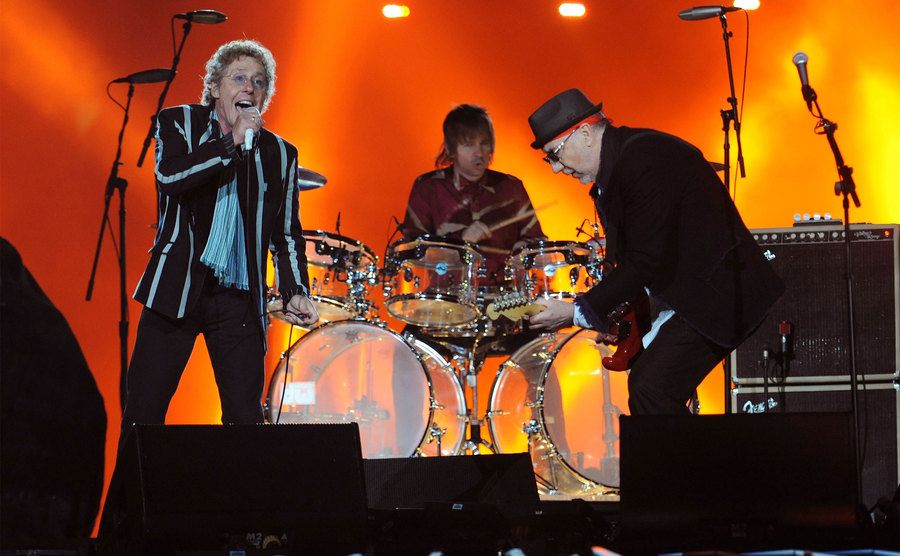 The sing-along in the background didn't sound like the audience in the stadium. The band gave an excellent rendition of their songs, but the general performance was a little boring. The Superbowl is meant to be one of the most significant performances of the year.
21. The Rolling Stones: XL 2006
The show kicked off with a back-and-forth sequence of the football scenes and the band's performance over time. The energy was certainly there as the band danced on a tongue-shaped stage. The people in the audience held a long red banner that even resembled a moving tongue−very rock and roll.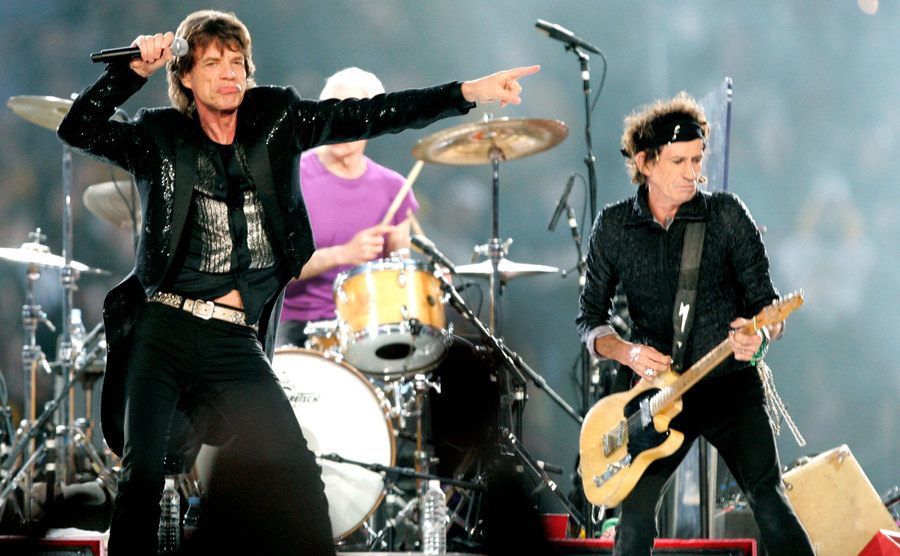 They performed only three songs in the whole show, "Start Me Up," "Satisfaction," and their latest album song, "Rough Justice." This was a representative and vintage performance by the famous rock and roll bands.
20. Shania Twain, No Doubt, and Sting: XXXVII 2003
It began with Shania's less acclaimed performance of "Man! I Feel Like a Woman" and "Up!" Her costume was shining with rhinestones as she sang across the stage, but again this wasn't the superb performance people know now. Perhaps she was warming up the next set of performers.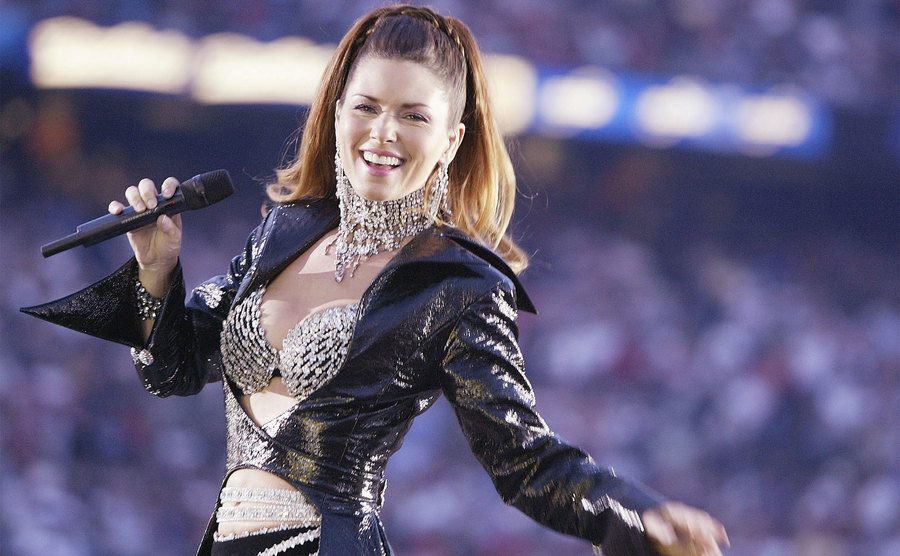 She walked down the stairs to join the crowd dancing on the field of the Qualcomm Stadium. She was lifted with fireworks appearing to welcome the following awaited performers: No Doubt featuring Gwen Stefani.
"I'm Just a Girl at the Superbowl."
The excitement built up as Gwen was lifted into the arena while doing push-ups. She sang No Doubt's smash hit, "I'm Just a Girl." Sting then took the stage to sing "Message in a Bottle," joined by Gwen.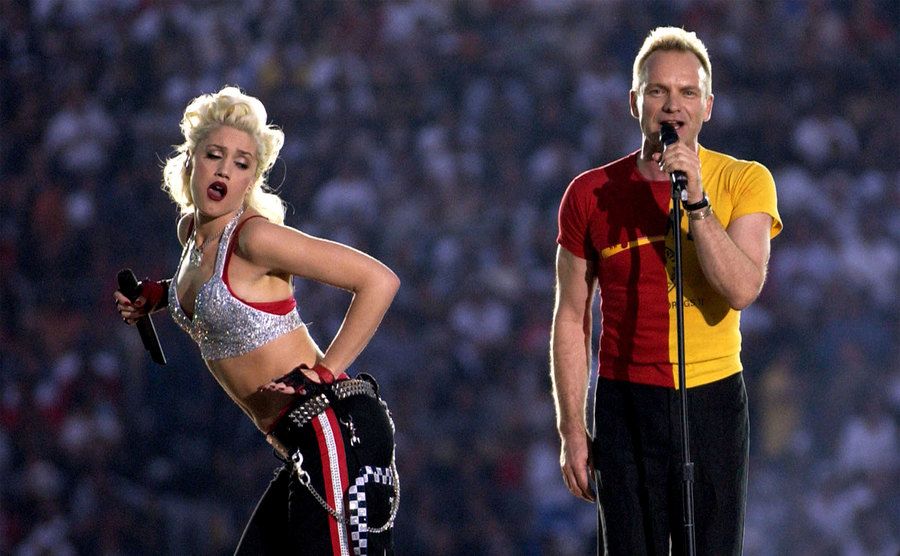 Some people even commented that instead of Shania being the show's highlight, she was overshadowed by No Doubt and Sting. This was also the last time a country music star performed at the Superbowl halftime show. Fox News did notice the female empowerment, calling it a "girl power" moment.
19. Tom Petty and the Heartbreakers: XLII 2008
Glendale, Arizona, was where Tom and the band displayed some of their best music. Some people said that his performance was underrated. Yeah, many of the performers have flown over the stadium, choreographed incredible numbers, and done backflips, but Petty did what an artist does best, he played his music flawlessly.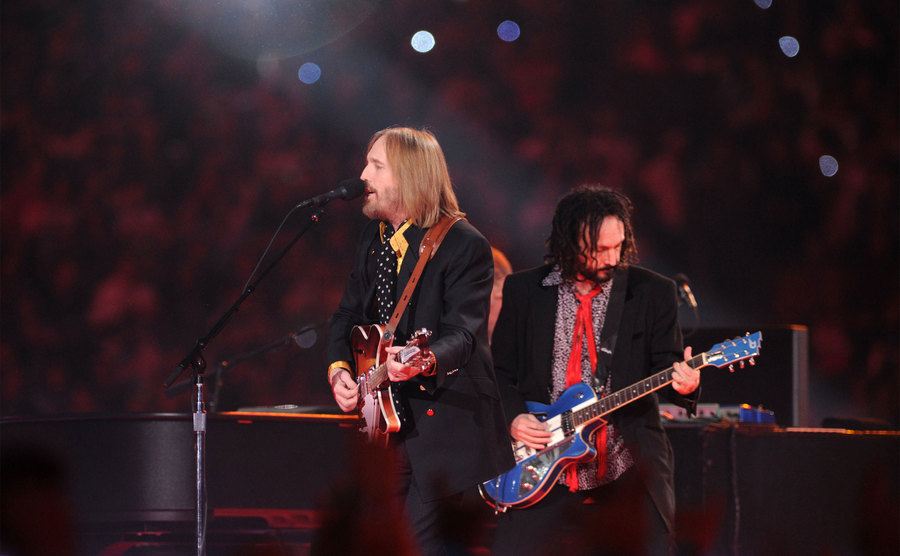 He played "American Girl, "I Won't Back Down," "Runnin' Down a dream," and who could forget "Free Fallin." Maybe adding some backup dancers would have spiced things up a little bit, but, hey, perhaps that's not his style.
18. Justin Timberlake: LII 2018
Justin Timberlake is probably one of the most likable stars ever. Not only was he in NSYNC, but he also dated Britney Spears, is married to Jessica Biel, and has taken on movie roles and an Emmy award for his skit on SNL.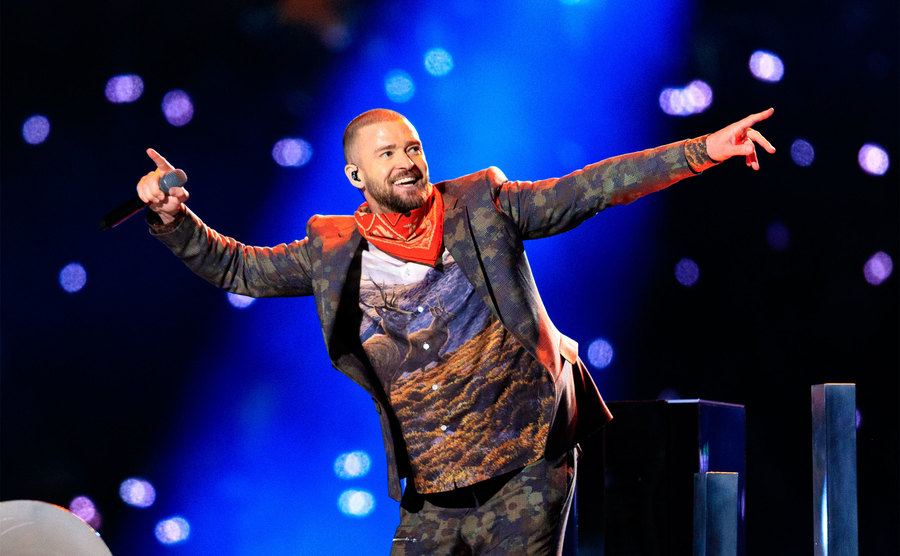 He kept the performance pretty basic. It wasn't the scandalous performance with Janet Jackson or a surprise appearance from previous boy band members.
Clean Choreography
Jimmy Fallon introduced him while drinking a Pepsi. However, his choreography was on point with crowd favorites like "Rock Your Body" and "Sexy Back."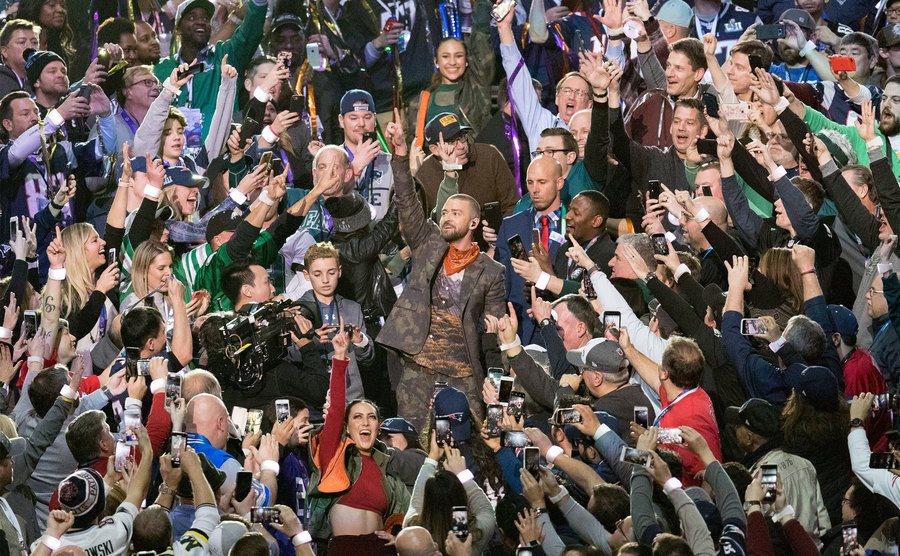 He then sang "Senorita" and "Cry Me a River," among other hits. He won the crowd over as, at some point, they joined him in clapping as we walked onto the field. Not to mention that he headlines phenomenally as a solo performer. One of the biggest highlights was the tribute he gave to Prince.
17. Boys II Men: XXXII 1998
In this overall feel-good performance in 1998, Boyz II Men were featured with Queen Latifah, Smokey Robinson, Martha Reeves, and The Temptations. Initially, it looked like a look back at some older music, but then hip hop hit the stage.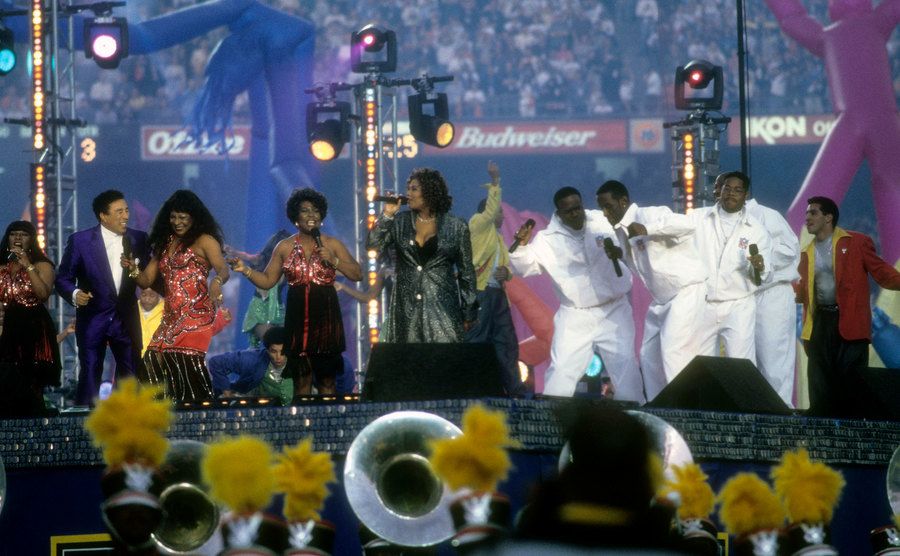 The year was celebrating forty years of Motown as Whoopie Goldberg and other celebrities did a quick revival to introduce the show. The Temptations killed it with their 1960's performing style, followed by the legend himself, Smokey Robinson.
Moving to a New Era
After Smokey and The Temptations sang the beautiful "My Girl," Martha Reeves took the stage. Her singing sounded slightly off-pitch for lack of a better description. Then, the female rap star Queen Latifah showed up with all her coolness.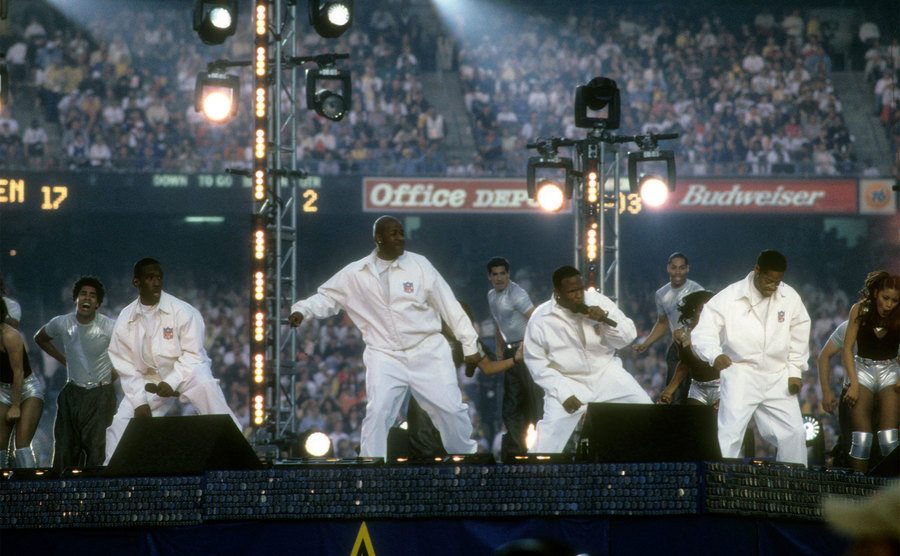 She then introduced Boys II Men, who got the crowd buzzing with their catchy song and smooth style. They sang "Motownphilly" and then brought down the energy with "A Song for Mama" Ultimately, this Show was remembered for combining the old with the new.
16. The Weeknd: LV 2021
During the pandemic, the stadium audience was reduced by about 2,000 to 3,000 people. The performance featured a mask-wearing choir with red, glowing eyes standing in front of a neon cityscape backdrop as The Weeknd walked out of a car.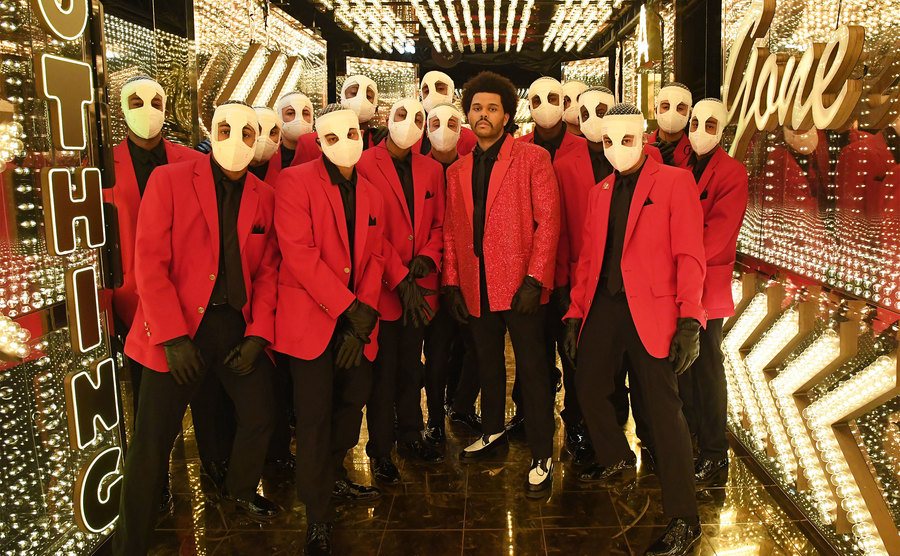 The lights were bright; the sound was good as The Weekend sang his hits "Starboy" and "The Hills." He then disappeared into the maze of lights singing "Can't Feel My Face," and he was then joined by dancers dressed in the same red jackets and black necktie he was wearing.
Good but Not Great
The show, unlike previous modern shows, didn't have any guest performances. It had all the "pazzaz," the production, the special effects but, it didn't really capture the halftime show excitement that previous artists were able to bring. Also, the part where he sang in the labyrinth made me a little dizzy.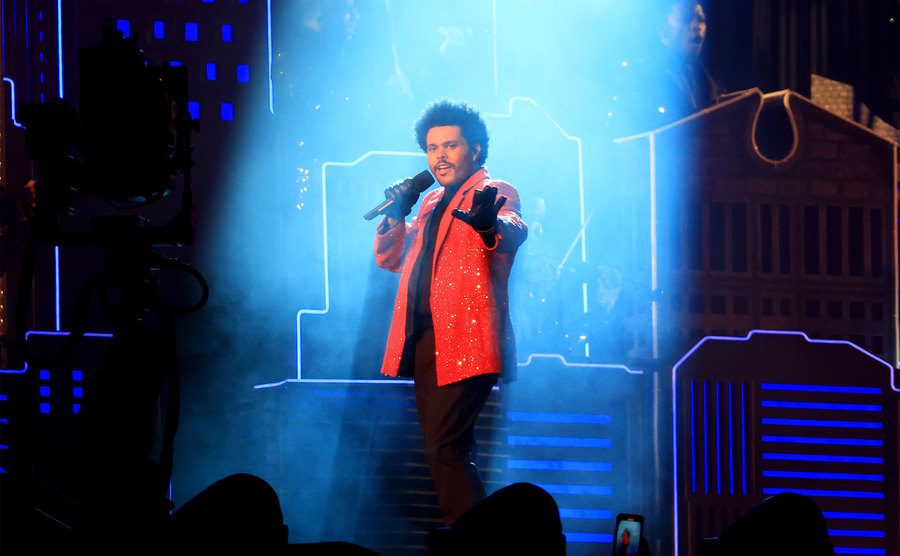 A reporter from USA Today called the performance "charismatic." Technically, it had the things necessary for an excellent performance but was lacking the passion and enthusiasm that other performers had. Simply put, he wasn't in the same league.
15. Bruce Springsteen and the E Street Band: XLIII 2009
A medley of football players introduced the performance that was both musically entertaining and funny as Springsteen yelled out, "I want you to step back from the guacamole dip! I want you to put those chicken fingers down". He asked if "anybody was alive out there," and they indeed were.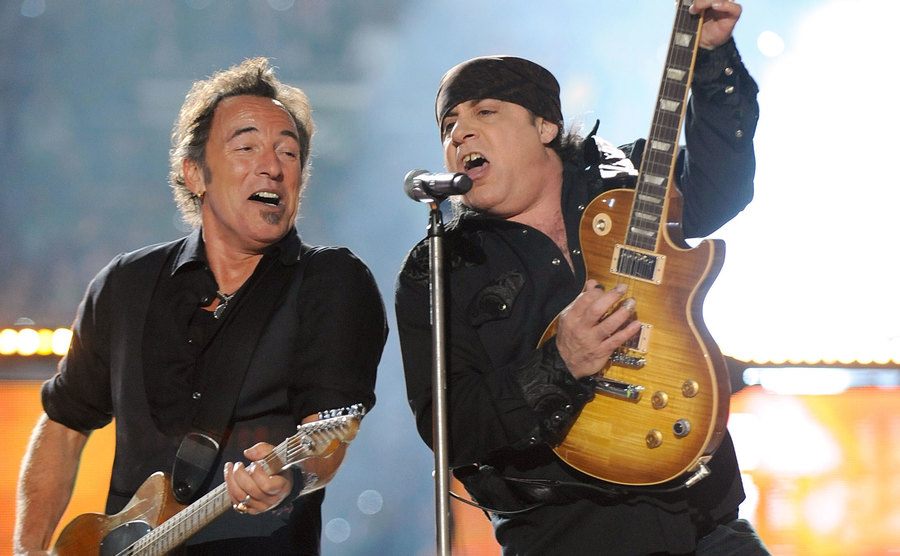 The list of songs he was able to cover would have usually taken a full concerts time but, he managed to sing "Tenth Avenue Freezout, "Born to Run," "Glory Days," The crowd loved it.
Bruce Put on a Show
Let's not forget the knee slide that ran him into the cameras as the audience helped him up. It didn't seem to bother him, even though it looked like it kind of hurt. Bruce loved it, and so did America.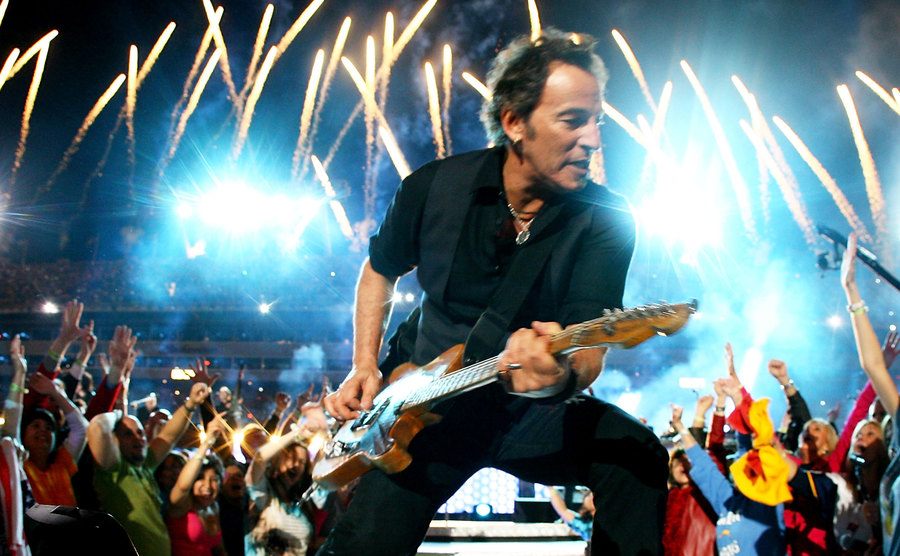 It seemed like people didn't touch their game snacks and drinks until his performance was over. The whole band felt his energy elevating the sound, especially the guitar. Even for the younger generations out there, the performance was like no other, and who could forget how Bruce couldn't stop smiling.
14. Shakira and Jennifer Lopez: LIV 2020
What made this show unique was that two influential Latina artists were headlining the show was the first time. Shakira got the crowd going with spicy choreography and red sparking outfits singing "She Wolf."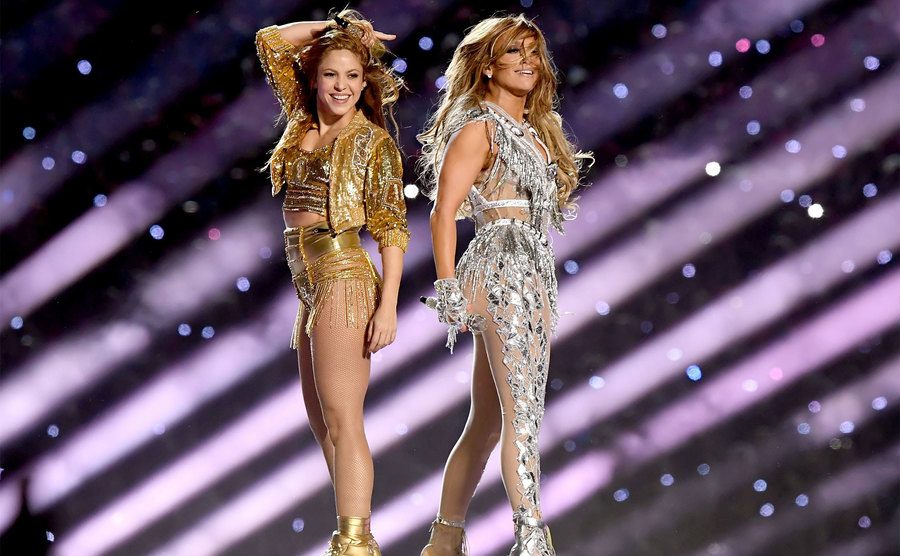 She then moved to whip a guitar out of nowhere and sang "Empire" with her classic Shakira singing voice. Then, we saw her working those ab muscles to the song that everybody was waiting for, "Whenever, Wherever." The fabulous Latin theme kept going as Shakira was joined by Columbian star rapper, Bad Bunny.
Still Jenny From the Block
We got a glimpse of Jennifer Lopez Hustler's sequence as she danced on a pole with her "Jenny from the Block" singing entrance. She killed it by proving both her incredible vocals and flawless choreography. She also got the fantastic chance to perform with her daughter Emme as Shakira played the drums.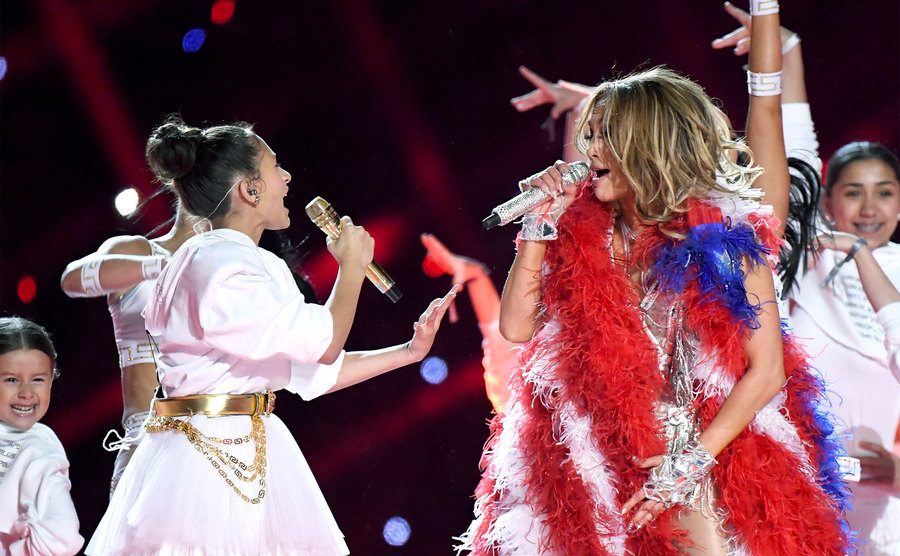 Lopez represented Puerto Rico (where she was born) in the U.S with a massive, feathered cape. In the finale, Shakira rejoined Lopez to sing one of the world's most beloved sports songs, "Waka Waka." It was a show for the ages.
13. Coldplay, Beyonc, and Bruno Mars: L 2016
This year everyone awaited the legendary British band Coldplay at the 2016 halftime show. It was a spectrum of colors, as Coldplay headlined with "Yellow" then moved on to the fan-favorite "Viva la Vida."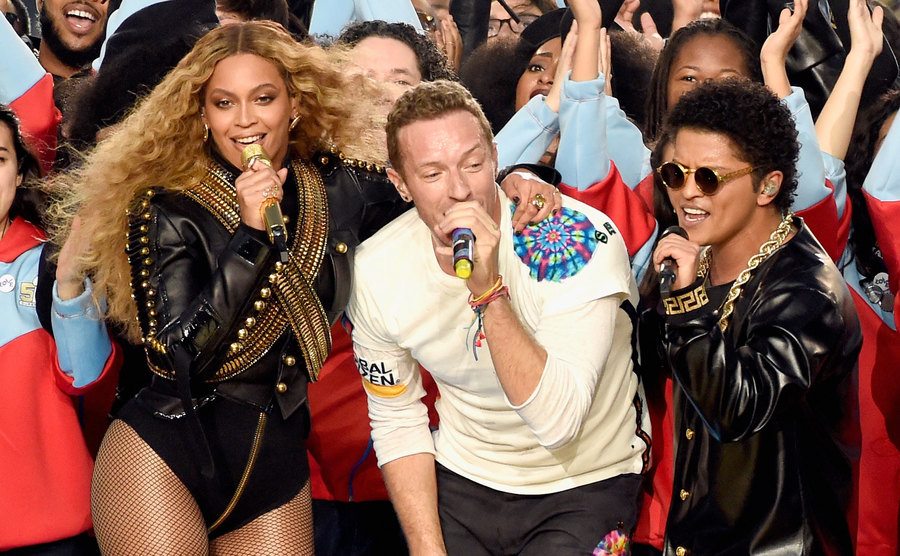 Chris Martin brought his A-game as he ran across the walkway and kicked his legs up in the air, followed by their great hit that made you feel like you were in "Paradise." "Adventure of a Lifetime" was complemented by the Youth Orchestra of Los Angeles and the University of California Marching Band.
Dancing Duo
When Bruno Mars and Beyonce hit the stage, things started taking off. Mark Ronson kicked him off as he killed it on the DJ set, and Bruno did what he did best; brought the funk in "Uptown Funk."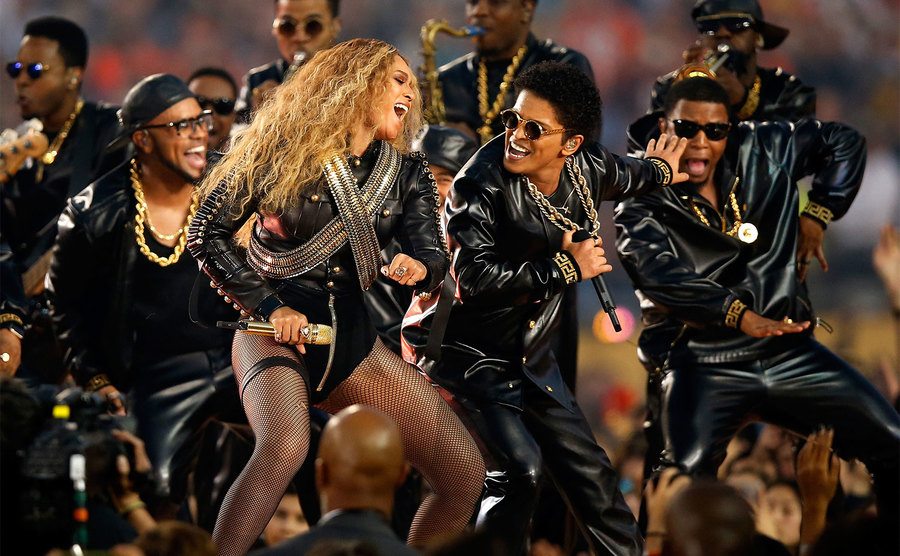 The show then switched to an all-female band as the Queen showed up with her black panther backup dancers. She showcased her new hit, "Formation." Beyonc, as usual, doesn't disappoint. Dressed in a Michael Jackson outfit commemorating the legend, she put on an incredible performance.
12. Bruno Mars and the Red Hot Chili Peppers: XLVIII 2014
The intro was incredible, with short videos of hands playing all over the city as if they were instruments. The first song, "Millionaire," sung by the kid choir, was beautiful. Bruno Mars and his crew put on the show, bringing back the old-style funk with his R&B hits, sparkling James Brown suit, and incredible band.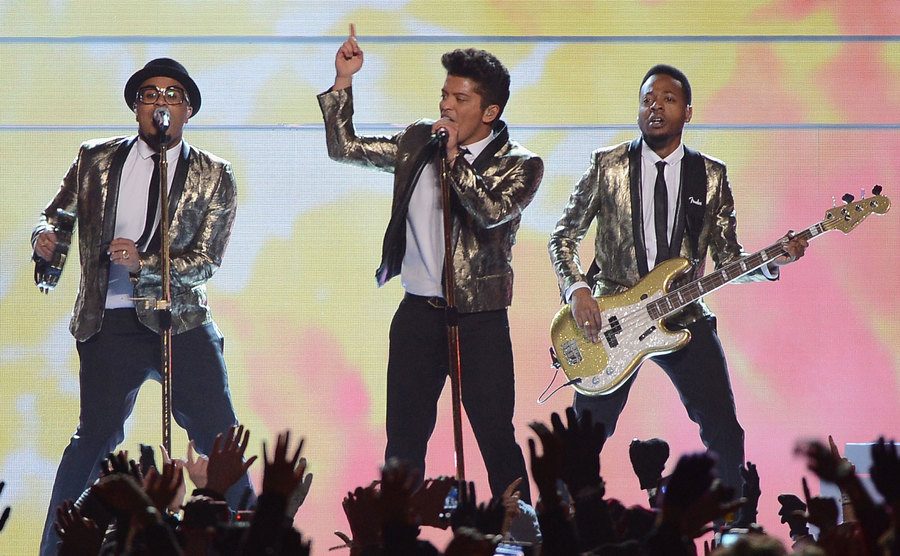 What is unique about Bruno Mars as a performer is not only his singing talent but his ability to reel the crowd in with his groove while his whole band are playing instruments.
The Shirtless Addition
Entertainment Weekly reviewed the performance and said, "there's no question the kid is talented." Watching Bruno and the Hooligans, there is no way you could sit there and just watch.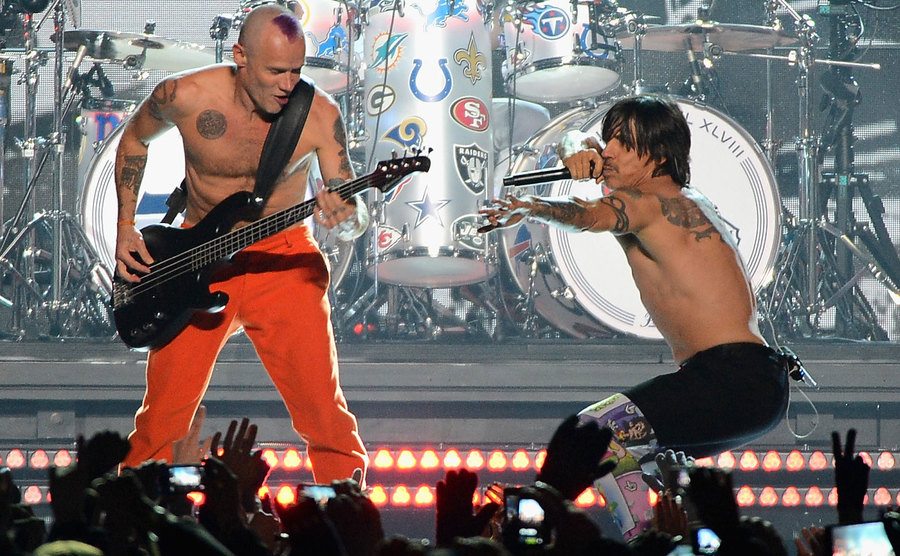 When the Red Hot Chilli Peppers appeared, you knew the energy would reach an all-time high. When The Red Hot Chilli Peppers perform, the band usually takes their shirts off. Bruno Mars duets also completed the round admirably. Overall, the 2014 halftime was stocked full of entertainment and joy.
11. Katy Perry and Missy Elliot: XLIX 2015
This was probably one of the most memorable halftime shows because of the technical aspects it presented. Katy Perry entered the show on a giant electronic lion puppet as she sang "Roar." Her flame costume was bright and sensational. Katy was truly on fire.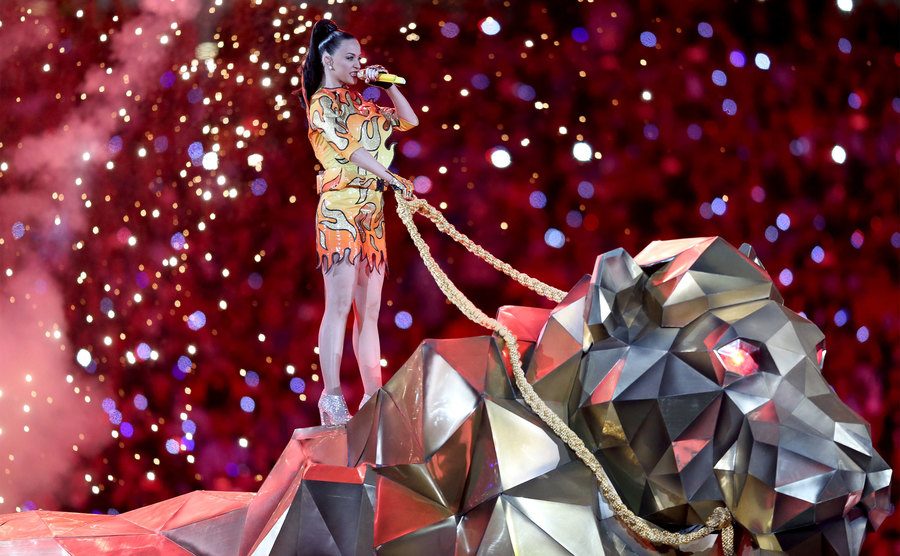 The performance then moved onto a chessboard game stage when Perry moved to sing "Dark Horse." She was then joined by the amazing Lenny Kravitz, whose vocals didn't fall short as he sang "I Kissed a Girl" with Perry.
Critically Acclaimed
The vibe then converted into an airy beach setting with dancers dressed as palm trees, sharks, and beach balls while Perry entered the setting with a new costume singing "Teenage Dream" and "California Gurls."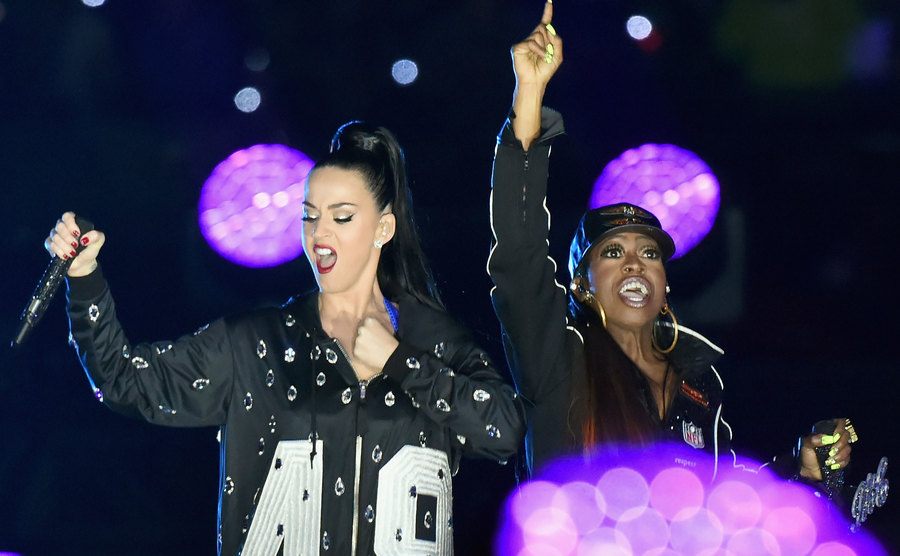 Katy was later joined by legendary female rapper Missy Eliot who sang "Get Ur Freak On" and "Work It" as Perry turned into her hype girl, having done another costume change into a Super Bowl 49 jersey. This was undoubtedly a career highlight for Katy Perry, and it was described as one of the best shows she's ever put on.
10. Diana Ross: XXX 1996
It was probably one of the best solo performances of the '90s for the Super Bowl halftime show. She arrived on a sparkling platform as her name was spelled out in lights on the field, singing "Stop in the Name of Love."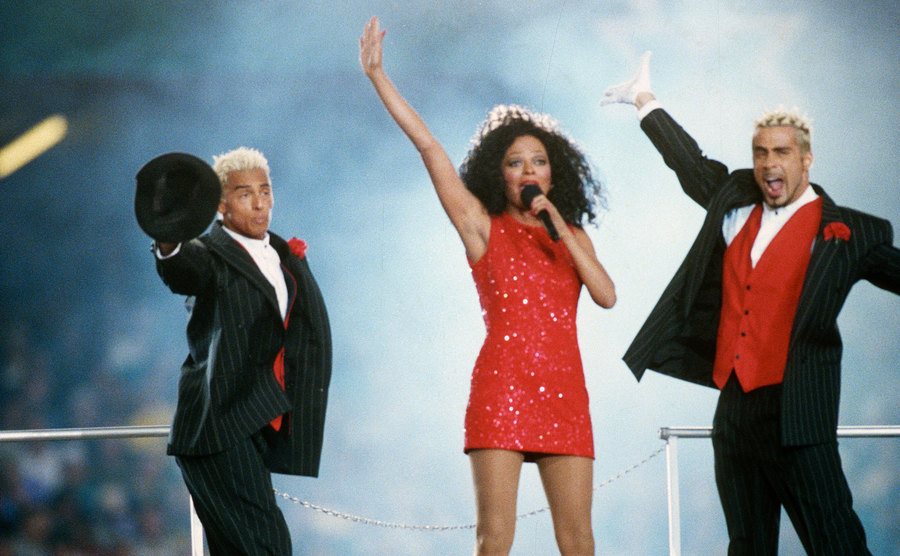 Her extended medley included songs "You Keep Me Hangin' On," "Baby Love," "You Can't Hurry Love," and "Why Do Fools Fall in Love," some of the most popular songs of all time.
Setting the Bar
Before her costume change, we saw hundreds of thousands of balloons being released into the air. She sang "Chain Reaction" while wearing orange and purple dresses. She also had a round of dancers display a chain reaction.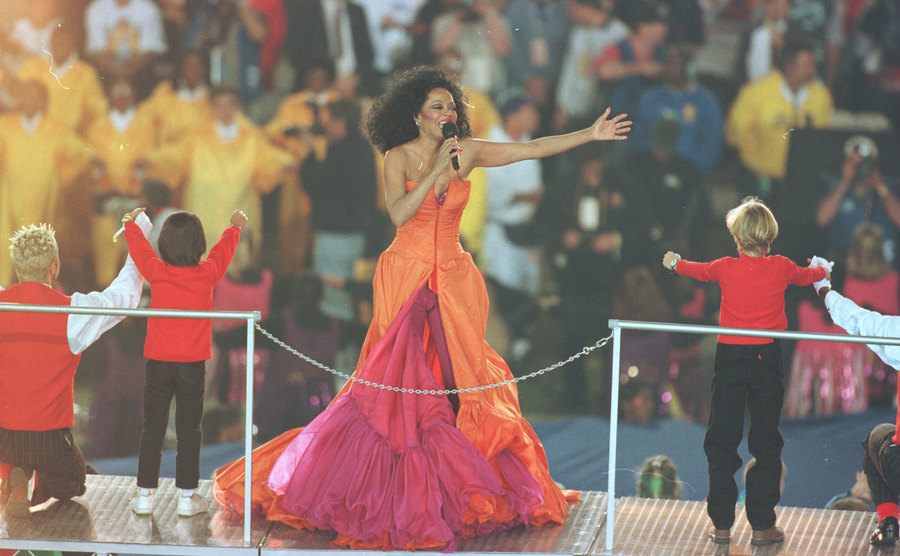 A yellow-robed choir joined Ross for "Ain't No Mountain High Enough," leading to her finale of "Take Me Higher." The biggest surprise was when a helicopter showed up to pick her up after her performance. She set the standard and inspired future performers such as The Weeknd.
09. Janet Jackson, Justin Timberlake, P. Diddy, Kid Rock, Jessica Simpson, and Nelly: XXVIII 2004
At the time, this was considered one of the most memorable and controversial halftime shows. This lineup of singers is never-ending was epic. Jessica Simpson kicked off the with the marching band yelling out, "Houston, choose to party." Janet Jackson then appeared, sliding down a stage elevator.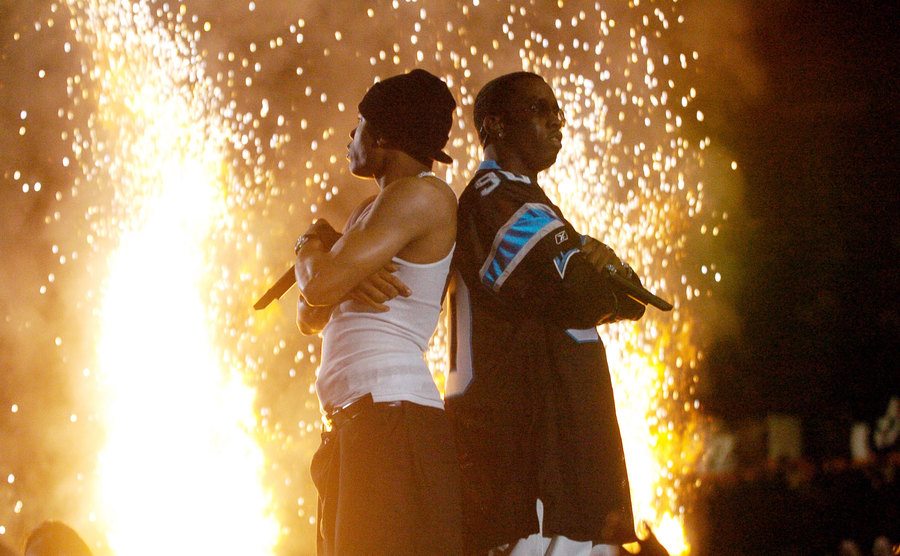 P. Diddy arrived in a cloud of smoke as "Bad Boys for Life" came into play. He brought in the rap montage as he slid his way across the field. Cheerleaders then joined the stage singing "Mickey," which was replaced by Diddy's name. They switched over to hip hop for Nelly's "Hot in Herre."
All the Genres
P. Diddy and Nelly rocked the stage to "Mo Money, Mo Problems." Later, on a separate stage, Kid Rock, known for combining all genres into his music, such as rap metal, hard rock, and hip hop, arrived wearing an American flag poncho.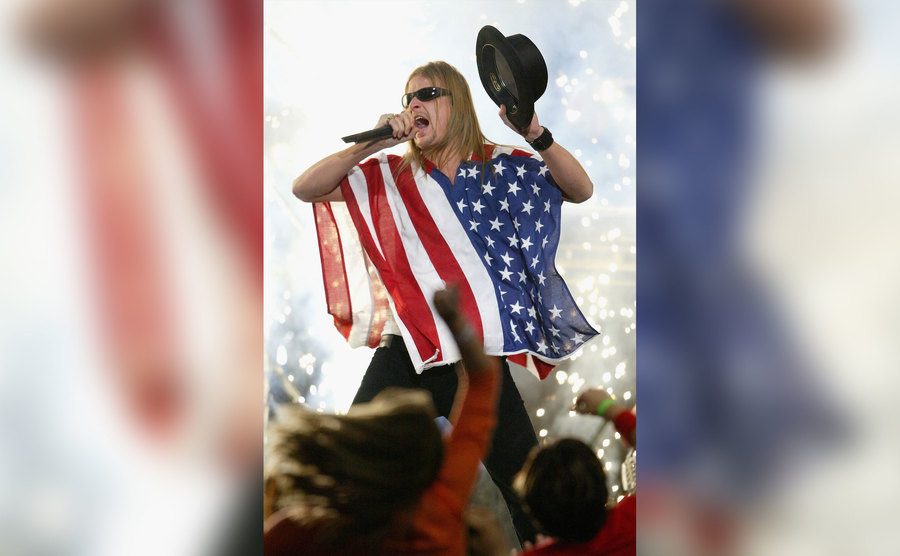 The crowd took off, banging their heads as the band joined him. He sang "Bawitdaba" and "Cowboy." He gave a taste of old-school America as he sang his second song, wearing a yellow cowboy hat, "Proud to Be Made in the USA."
Costume Mishap
Janet Jackson came back with a fierce appearance as acrobats and dancers were awaiting her arrival. Her choreography mimicked the original music video with a giant sign in the background with Janet written on it.
Justin Timberlake then joined the performance with "Rock Your Body" No one can forget that this is the part where when he ripped off her shirt to reveal her nipple. Much discussion followed of whether she was shocked or if it was planned. Either way, it looked like a wardrobe malfunction.
08. Paul McCartney: XXXIX 2005
It seemed very appropriate that Paul McCartney would play the halftime show that featured the New England Patriots. This was also the first time the Super Bowl was played in Jacksonville, Florida. It was rumored that the NFL took a "safe choice" with Paul McCartney.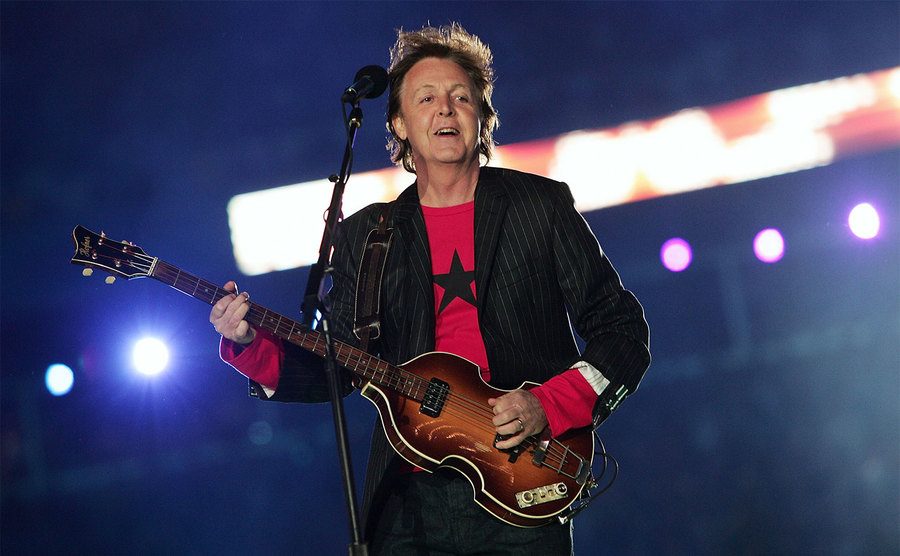 This was noted as the previous year was filled with overwhelming lash back due to the Janet/Justin Incident. He sang "Drive My Car," "Get Back," "Live and Let Die," and "Hey Jude." His performance was appreciated for the good, clean fun it brought and the LED lights on stage.
Didn't Fall Short
He had incredible energy on stage, singing some of the most internationally recognized hits at the not-so-young age of 60. A highlight was when fans gathered around his piano when he sang, "Hey Jude."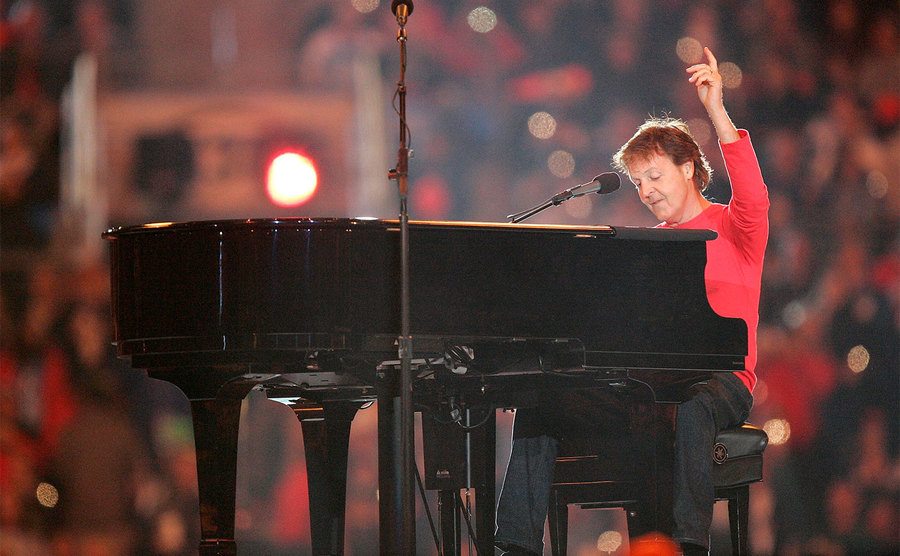 The audience rocked from side to side while holding flashlights in the air. He was noted for giving an incredible rock performance at the Super Bowl. He complimented the historical game with grace. Not bad for a Brit on the American stage.
07. Lady Gaga: LI 2017
Curiosity surrounded Gaga's performance. People weren't sure if she would keep her performance calm or go all out with her mischievous costumes. They also wondered about what political statements she might make.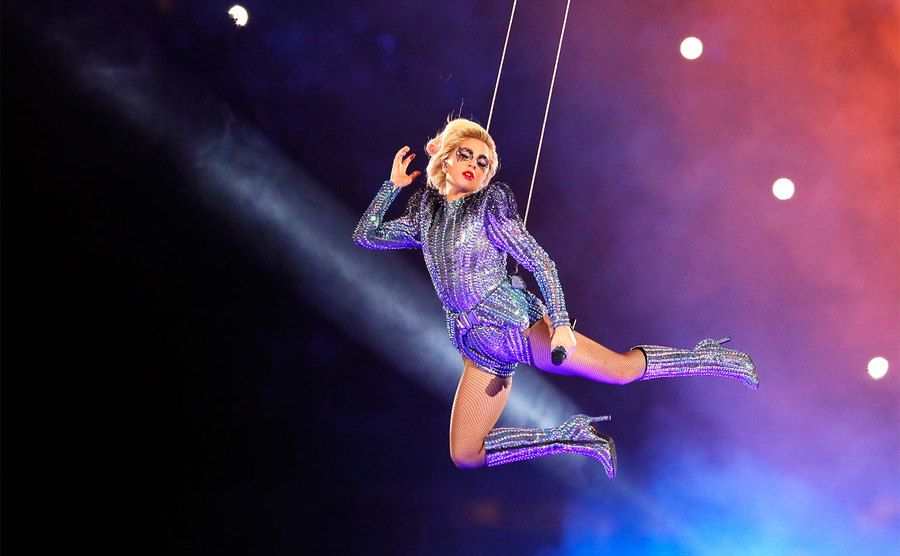 She began the show singing some of America's patriotic songs, such as "God Bless America" and "This Land Is Your Land," moving to quote part of the "Pledge of Allegiance." She jumped into the stadium as the American flag was created behind her with the help of drones.
A Real Talent
She stood on a gigantic pillar hung by wires as she flew around singing "Poker Face" with fireworks exploding in the background. Dancers joined her for her eccentric choreography in "Born this Way."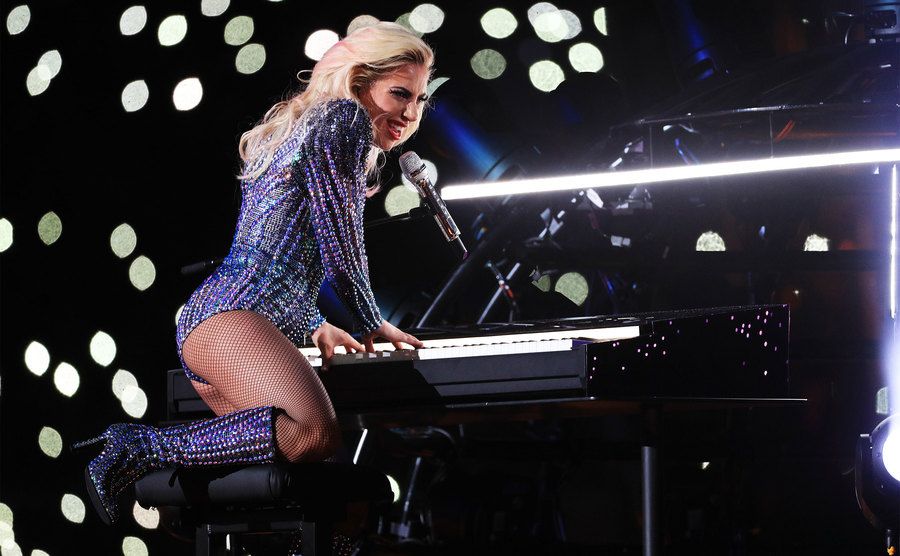 She then moved to sing Telephone even though Beyonce wasn't there. She then added a spikey golden jacket as dancers threw glow-up batons in the air. Lady Gaga communicated with the audience as she played the piano, assuring the audience would feel good during the show and saying "Hi" to her mom and dad.
Million Reasons
Gaga made the audience feel connected with the show as she hugged a fan while finishing her song. She also paid tribute to the actual Super Bowl as her last costume featured a sparkly top in the shape of pads that football players wear underneath their jerseys.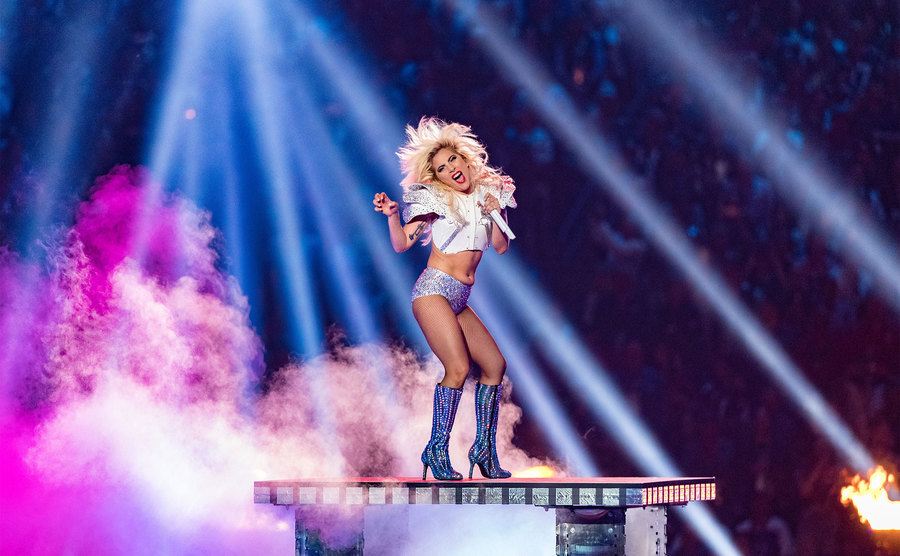 It wasn't a wild performance that made people gasp with shock from bizarre additions. Gaga put on a show full of class and energy, highlighting her artistry and talent. The New Yorker called her performance "an astute, intense, and disciplined performance."
06. Madonna: XLVI 2012
The world-renowned Cirque de Soleil contributed to Madonna's performance, and we expected no less. She was pulled into the stadium by an ancient Egyptian-themed chariot and dancers as she began singing "Vogue."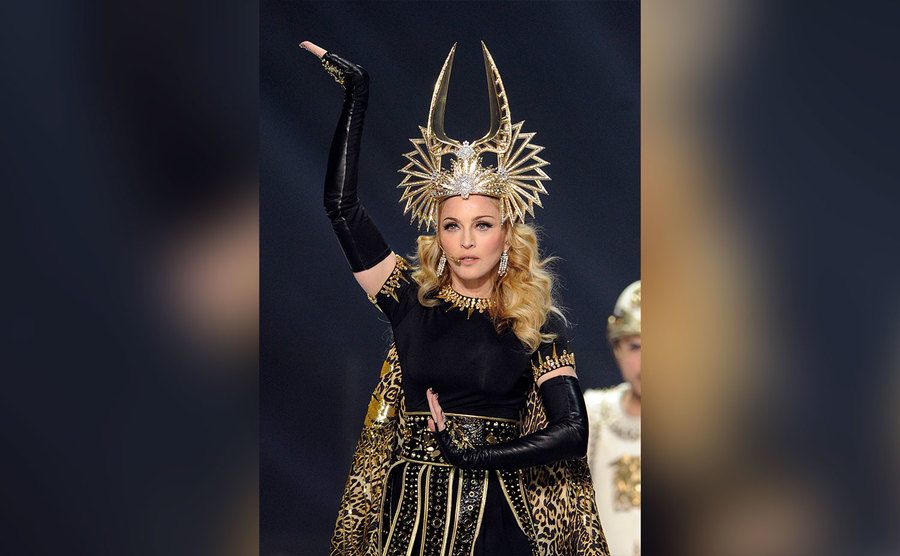 The costumes and props were royal and glorious. The stage also featured Vogue Magazine covers of Madonna. She then moved to sing "Music" as she approached an acrobatic slackliner who added to the stamina of the show.
Always a Star
"Are You Sexy, and You Know It?" Who could forget the wild duet to LMFAO with their nutty and hilarious dancing? It indeed suited Madonna well. Madonna sat on RedFoo's shoulders; they did a medley of "Party Rock Anthem" and "Music" and then shuffled their way across the stage.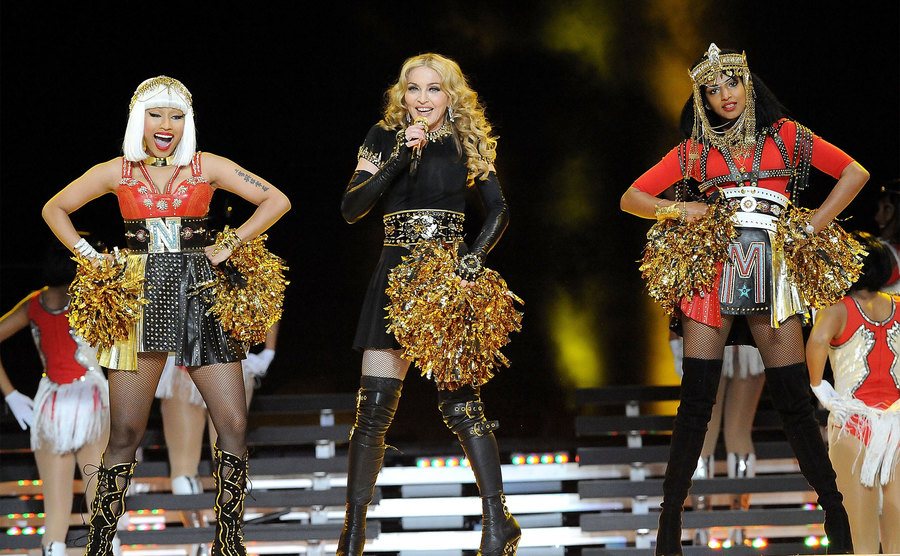 Nick Minaj and M.I.A joined in cheering Madonna on as she sang, "Give Me All Your Lovin." She finished the showoff with CeeLo Green singing "Like a Prayer." Her performance was a pure spectacle and one to remember.
05. U2: XXXVI 2002
The band kicked off with their performance "Beautiful Day," which was a recent hit single. During the first part of the song, Bono walked down the stage escorted by a cameraman as screaming fans slapped him on his back.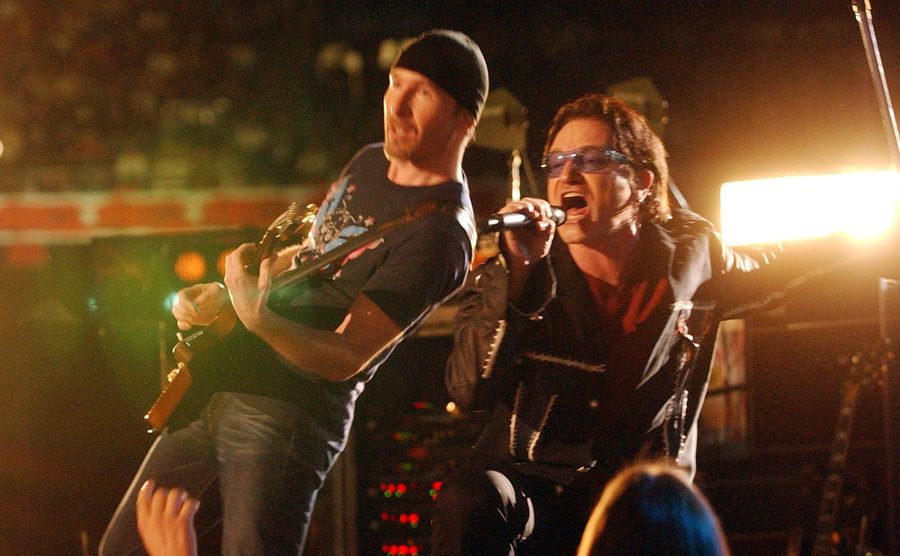 Bono recalled that having the wire in his ear was critical because he was singing live during the whole performance. If one person had accidentally grabbed him, the show would have ended in front of millions of people. What a disappointment that would have been!
Challenging Times
The band then moved on to sing MLK as a list of victims of 9/11 was displayed. As the names were scrolling on the screen behind the bar, they began "Where the Streets Have No Name."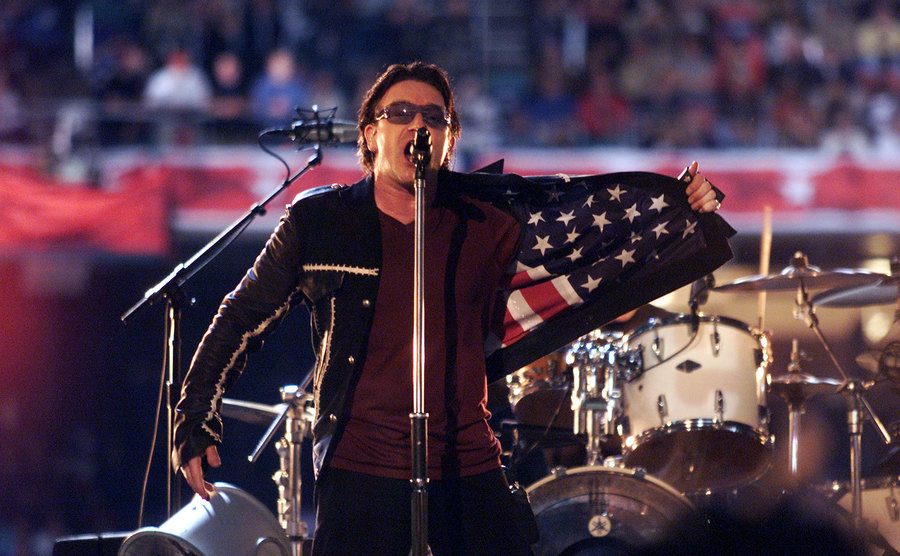 The show was received with mixed reactions as it was a challenging time for America following the terror attack, and it wasn't necessarily a time for celebrating. Others felt the tribute was sentimental; The Indianapolis Star called it a "touching tribute," while The Hartford Courant called it a "perfect fit" for the timing.
The National Anthem
At the opening of the game, Maria Carey sang the national anthem. People didn't expect her to perform a routine and average rendition precisely the way it should be sung because it is, well, Mariah Carey.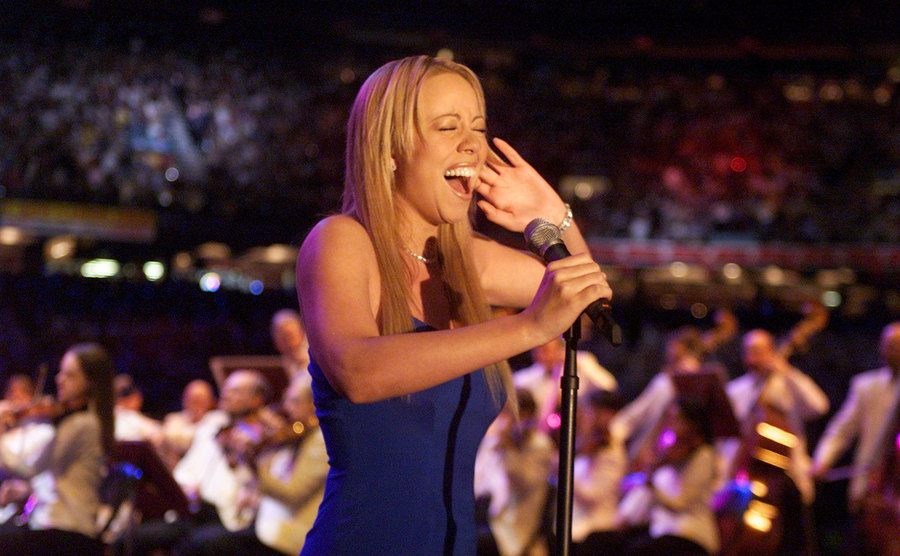 Overall, her performance was calm, dignified, and classy. However, she made a five-octave range high note at one point that probably caused someone's window near the stadium to crack. There were some moments where she switched it up a bit, especially fine-tuning the end.
04. Aerosmith, Britney Spears, 'Nsync, Nelly, and Mary J. Blige: XXXV 2001
This year, the show was unique in allowing fans to stand on the field that surrounded the stage and feel part of the show. Nsync then took the stage to perform "Bye Bye Bye." Aerosmith took over with "I Don't Want to Miss a Thing."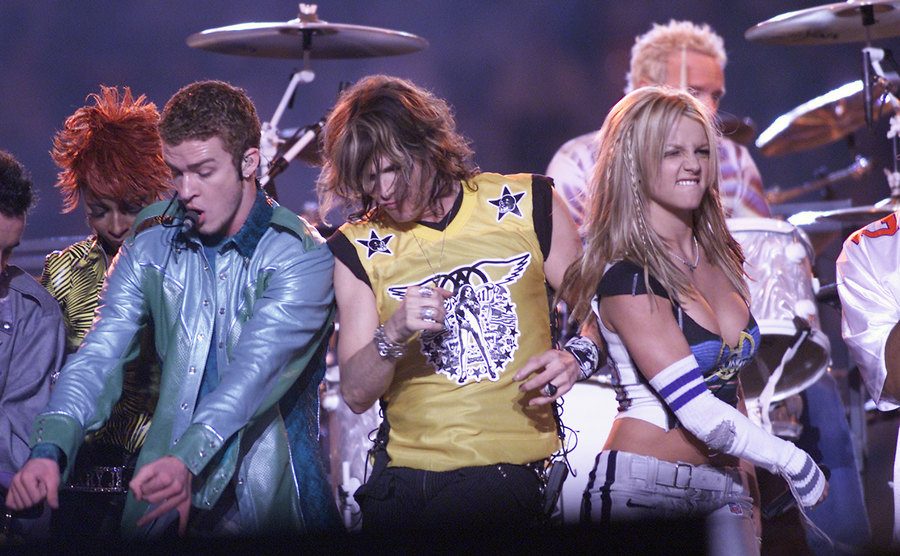 NSYNC reappeared, joined by Earthquake Horns as Justin led "It's Gonna Be Me." They broke it down for us as Perry screamed the last word "Me" into the microphone. Nsync added their dancing to the classic, joined by Britney Spears, Mary J. Blige, and Nelly.
03. Beyonc: XLVII 2013
There isn't much to say other than Beyonce is simply the Queen. She dominated her performance. Expectations were high, and she delivered. A Vince Lombardi's speech started playing in the background enveloping Beyonc's aura of perfection: "Excellence must be pursued; it must be wooed with all of one's might…."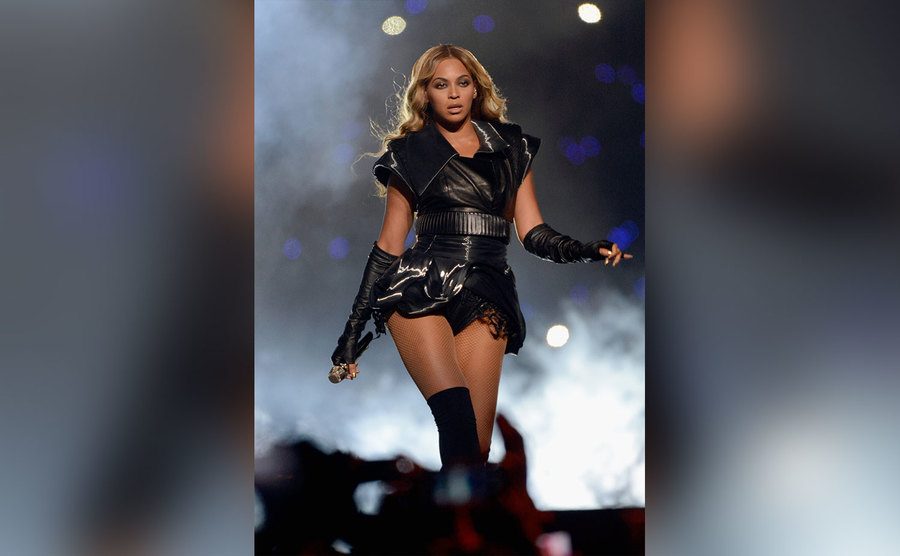 She walked down the runway stages with slight dramatic pauses as fire popped in the background. Beyonce yelled out, "Superdome," and her show opened with "Love on Top."
Dirty Wind
Beyonce then moved to play "End of Time" with backup dancers stomping on the stage with her. She screamed "Whoa" in the microphone with ferocious presence. As she winded away to "Baby Girl," duplications of herself appeared on the screens behind.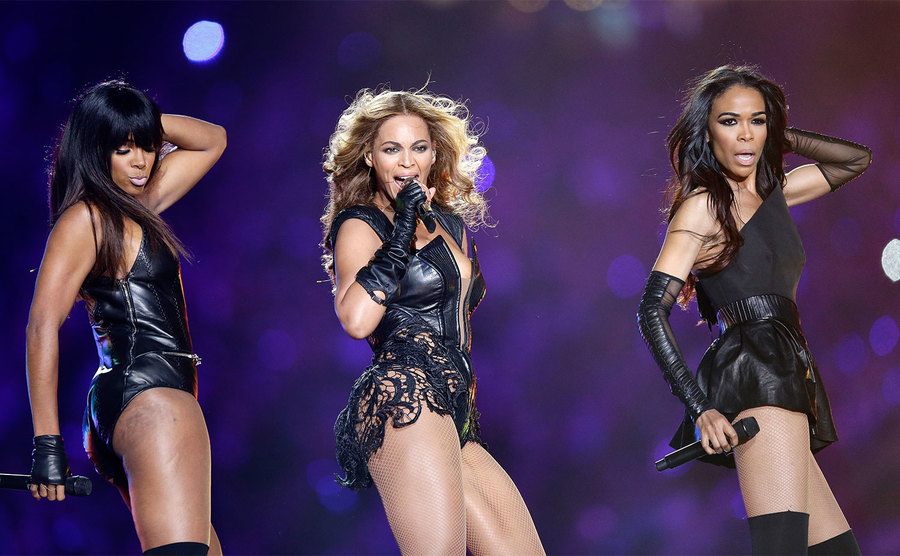 Beyonce did it right by having Kelly and Michelle pop onto the stage to reunite Destiney's Child. The trio killed it, harmonizing to "Bootylicious" and "Independent Woman Part 1," capping it off with a Charlie's Angels stance.
Queen B
What would a Beyonce show be without female empowerment? She acknowledged that with "Single Ladies" as Michelle and Kelly joined her. Beyonce thanked them for their appearance, and then she continued asking, "Where My Ring?"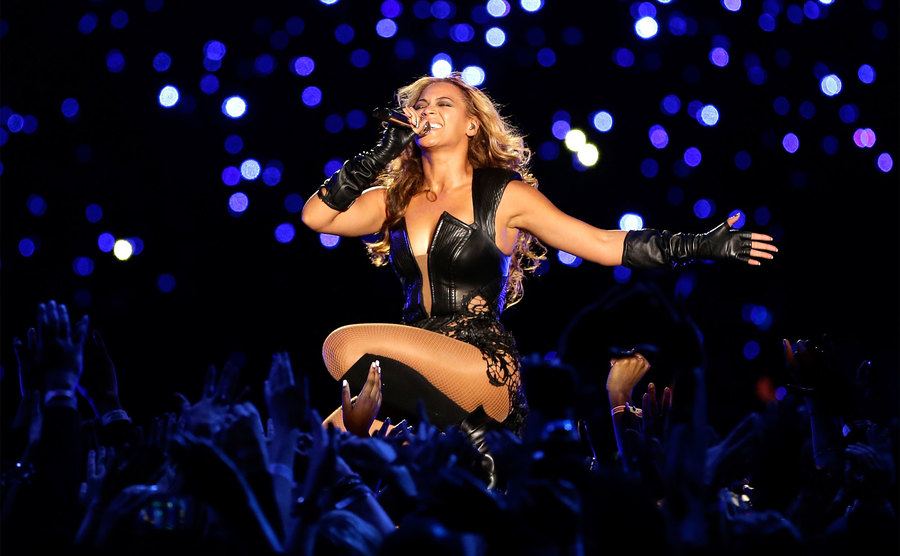 Beyonce connected with the crowd not only because she finished her performance with "Halo" but also because she said, "Everybody put your hands toward me – I want to feel your energy." Don't worry, B; everyone was in awe of the energy you put on the stage. Beyonce deserves this spot as one of the best female performers.
02. Michael Jackson: XXVII 1993
We're narrowing it down to some of the legends that we were so lucky to watch on one of the world's biggest stages. Who other than the King of Pop, Michael Jackson, represents the essence of the grandstand itself? Remember how Michael stood on stage for a mere two minutes before his guitarist started playing?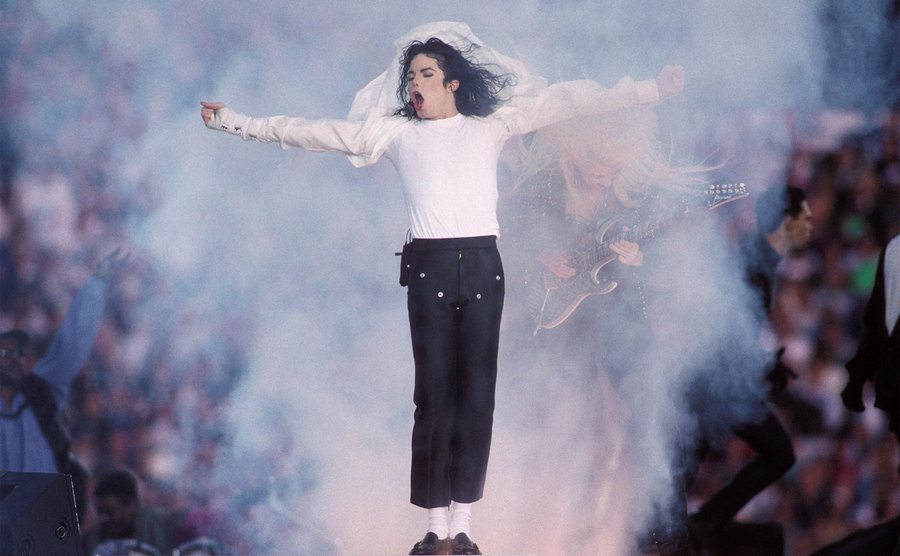 He kicked us off with the "Jam" with his famed dance moves leading into "Billie Jean." Jackson's dancing is so unique you couldn't help but keep your eyes glued to the performance as he sang "Black and White."
Humanitarian Efforts
Smoke appeared in the background as the act showcased "Another Part of Me," ending with Batten's guitar solo. The audience carried large banners hinting at the song's message as we saw an image of black and white hands shaking.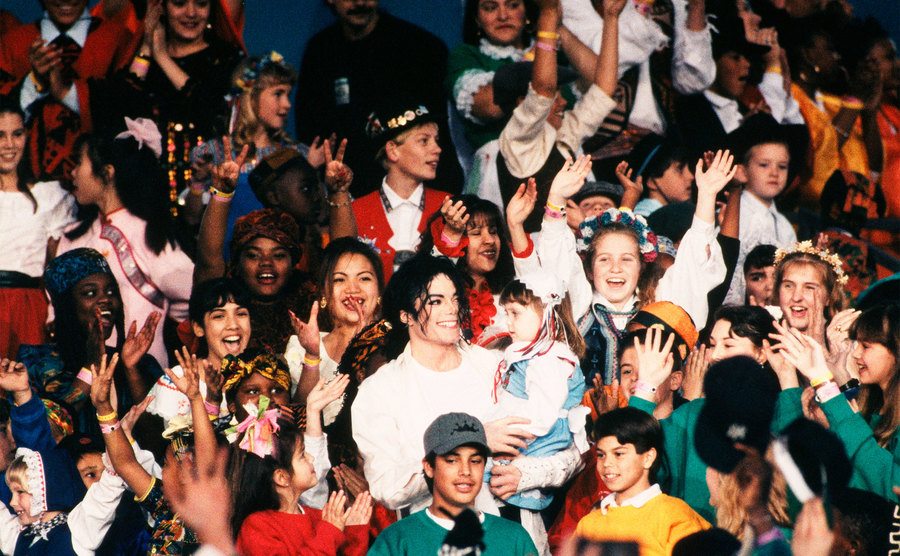 Michael made a tribute to his humanitarian efforts as he pointed to the crowd and people held up signs that displayed pictures of children as "We Are the World" began playing. This show reminded us that Michael Jackson was and will always be one of the greats.
01. Prince: XLI 2007
We have finally reached the number one most-recognized performance in the history of Superbowl halftime shows, and there is no better number one spot than Prince. The opening segment began with Queens's "We Will Rock You." He exploded onto the stage wearing a turquoise suit and black head wrap.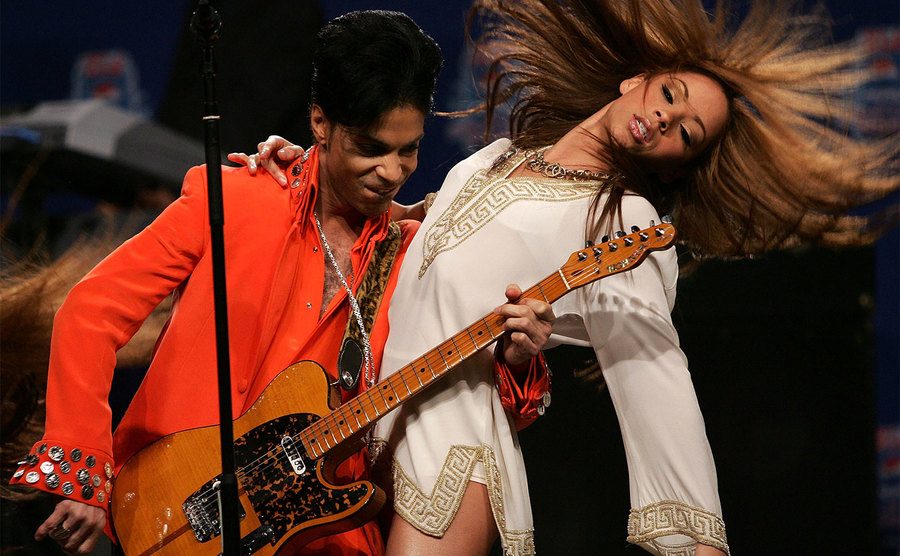 He was joined on stage for "Let's Go Crazy" by his band New Power Generation and dancing duo Maya and Nandy McClean, who toured with him. He walked across the stage, jamming on his bright and orange guitar.
Legendary Presence
Next, we saw the marching band grooving to "Baby I'm a Star" as the stage lit up in neon lights and continuing with "Proud Mayr" by Creedence Clearwater. Prince tasted all genres and incredible artists from "All Along the Watchtower" by Bob Dylan and "Best of You" by the Foo Fighters.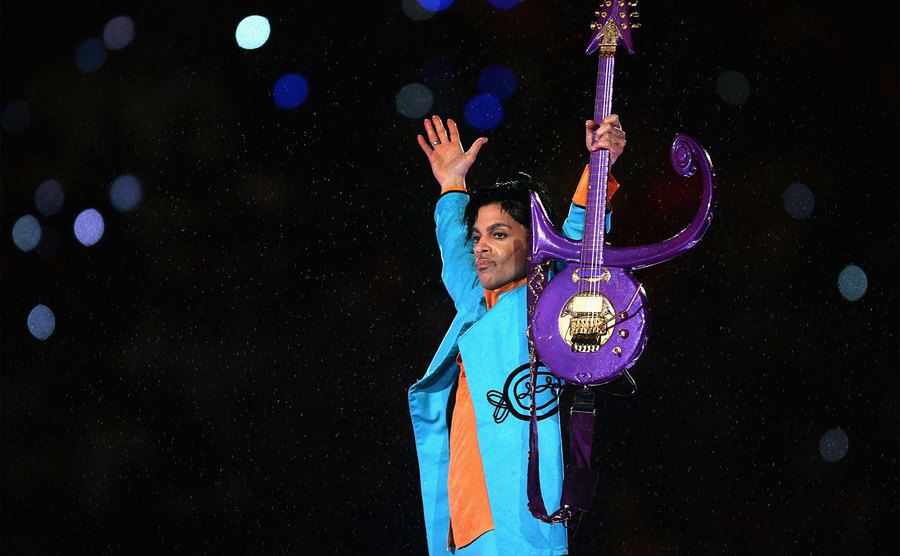 What made Prince's performance special wasn't just his presence and vocals, but the fact that his songs choices were utterly unexpected, and he took them on and made them exceptional. It also rained during the performance, which contributed to his "Purple Rain" rendition.