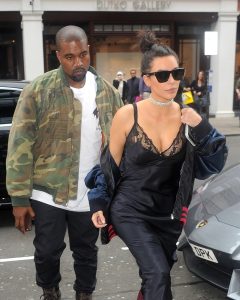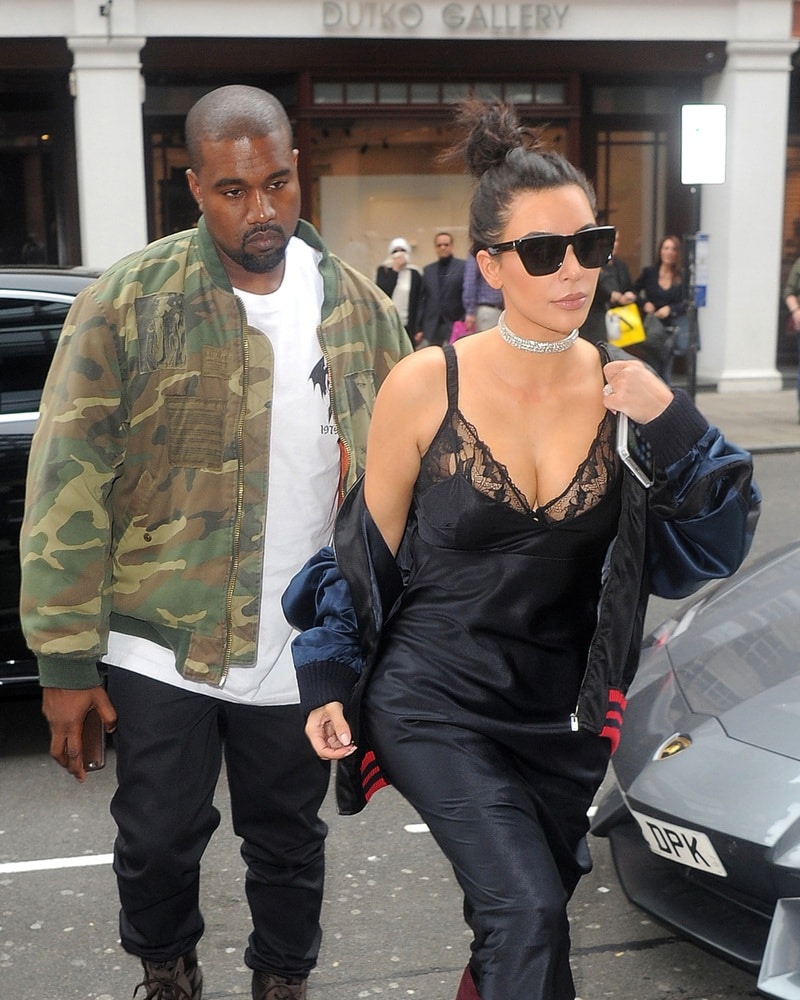 Call the Fashion Police! The Kardashian Family's Outfit Fails
By Yuri S.
---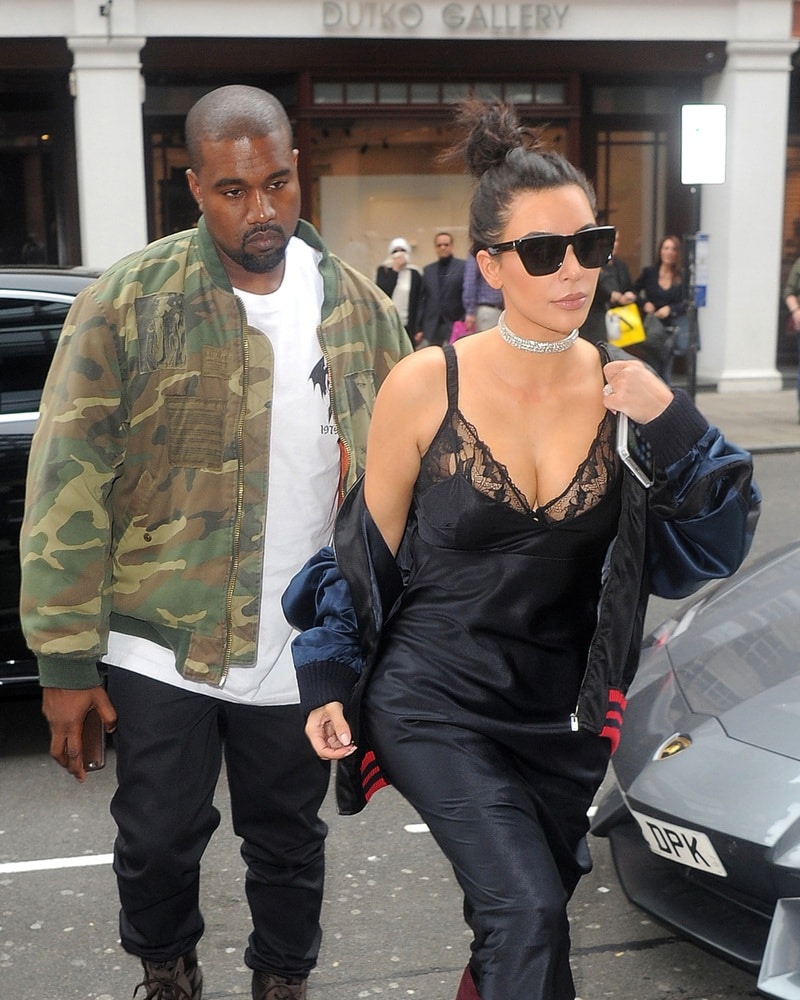 The Kardashians have been around for over a decade, meaning there are a ton of photographs of them in the early 2000s. If you don't know, fashions and trends have evolved immensely, and we all have embarrassing photographs of outfits we wish never existed, but they worked at the time for whatever reason. The Kardashians can't bury the past like the rest of us, so there are pictures of them rocking styles that have since gone out of fashion.
Even these days, their chic fashion sense can be a bit much. With their extravagance, money, makeup, and status, you'll be shocked to see the Kardashians look like ordinary people, dressing the way I did in high school. I am, by no means, a fashion police nor have any qualifications to ever become that. That said, I'm going to judge some of the craziest Kardashian outfits. Disclaimer: This is all just for fun. I'm obviously in no position to give fashion icon Kim Kardashian real fashion advice. Now that we've got that out of the way, let's take a trip down memory lane.
Before Skinny Jeans
We all know Kim Kardashian is a fashion icon nowadays; that's why it's particularly fun to see what she used to wear in the early 2000s. We had to start with these denim jeans! You can tell this picture is old because it's a Tori Spelling event, and Kim was in the early stages of her career.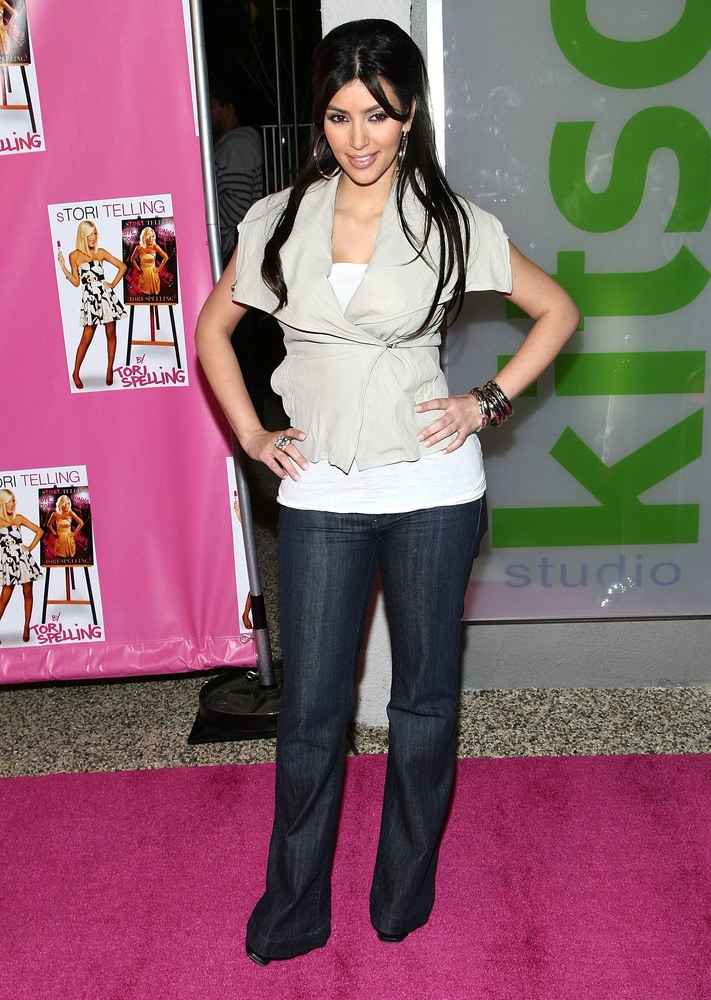 It's just funny because she is wearing jeans to a red carpet event. Seeing the extravagance and effort that goes into each and every one of her super-high-end-brand-name dresses, this one photograph is pretty ironic. I'm not even going to get into that 2000s hair, but I do like the hoop earrings!
A Family Photo of Fashion Fails
This photo includes the whole clan, and it's shocking to see how different the Kardashians all look. Even Rob looks different! I don't know if it's the incredible makeup, expensive clothes, or the rumored plastic surgery, but they all look like glamourous stars these days. Back in their early Hollywood days, they looked like an ordinary family.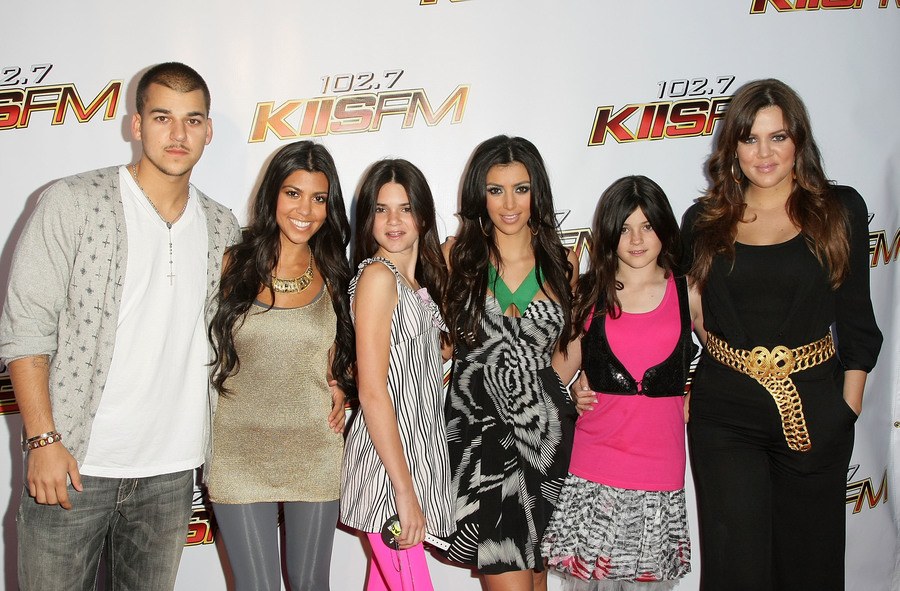 Don't get me wrong, they are all beautiful, but we have to talk about these outfits. I have got to start with Kourtney; is she really wearing grey leggings and a grey tank top? Kim is wearing that beach top which somehow used to be in style. Then there is Kylie wearing a bra top over her shirt. I think Khloe is the best dressed in this photo.
Going for the Bumblebee Look
I am definitely not a member of the fashion police, but I do have a slight problem with this outfit. It's just not flattering on Kim. The yellow shirt and black leather skirt are cute, but they would probably look better separately. Kim just has a stunning body and has learned to show it off through the years.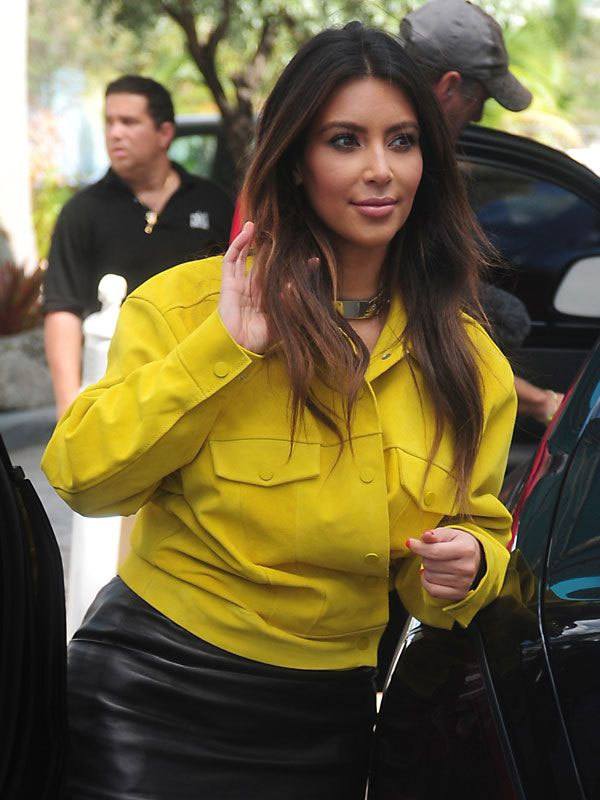 I mean, if I looked like that in an outfit, I would be more than thrilled. However, Kim is so gorgeous and looks incredible in almost everything. But that leather skirt really isn't doing her justice. A lesson we can all learn here is: dress for your body type!
Hey Kim, 2007 Called
Oh wow! This dear outfit is certainly taking me back in time. The white tank top is paired with bootcut jeans, and let me tell you, this look was in style! I remember wearing those vests, and you can tell Kim thinks she looks amazing! And she did… for the time. She probably wouldn't be caught dead wearing that now.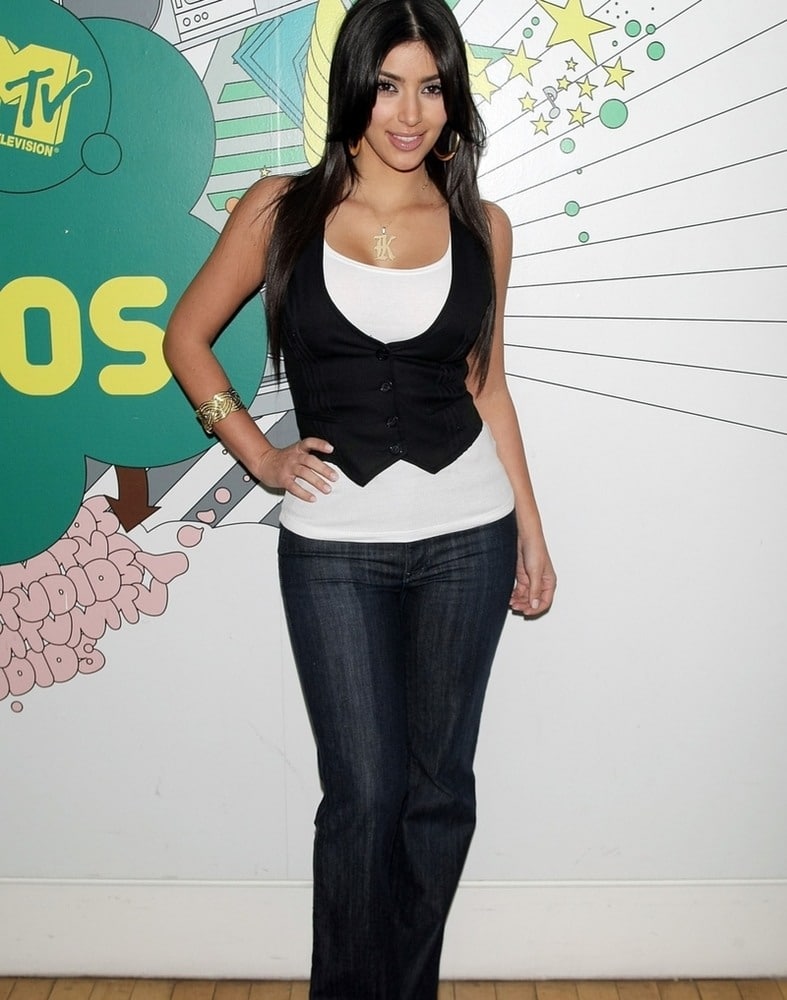 But we all experienced those jeans, and we definitely enjoyed them while that style lasted (at least I did). But that doesn't mean we should go back! But that necklace totally completes the look!
Sporty but Fancy
Umm. I don't even know where to start. I love wearing activewear as much as the next guy, but this takes it a bit too far. I get it; celebrities like to wear activewear, or should I say, athleisure wear, a mix between athletic and loungewear. I'm all for it! But I'm sure you have your own opinions about this.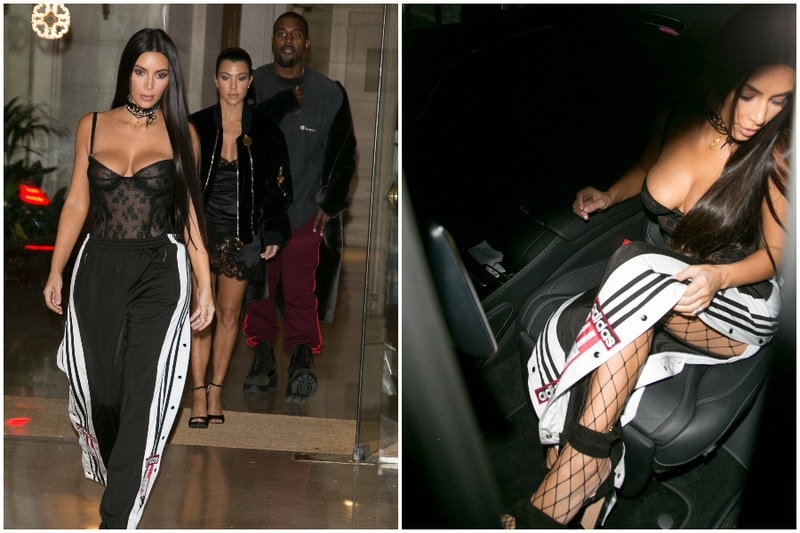 As awkward as it looks to wear Adidas pants with a fancy lace tank top, I have different issues with this outfit: the open side buttons reveal her fishnet tights and heels. It's almost like she is trying to look comfortable without feeling comfortable.
Those Leggings, Though
These days, Kim would never be caught carrying a handbag on the red carpet. I mean, she definitely has assistants for all that. But the purse is the least problematic aspect of this picture. This dress and belt combination takes me way back to 8th grade.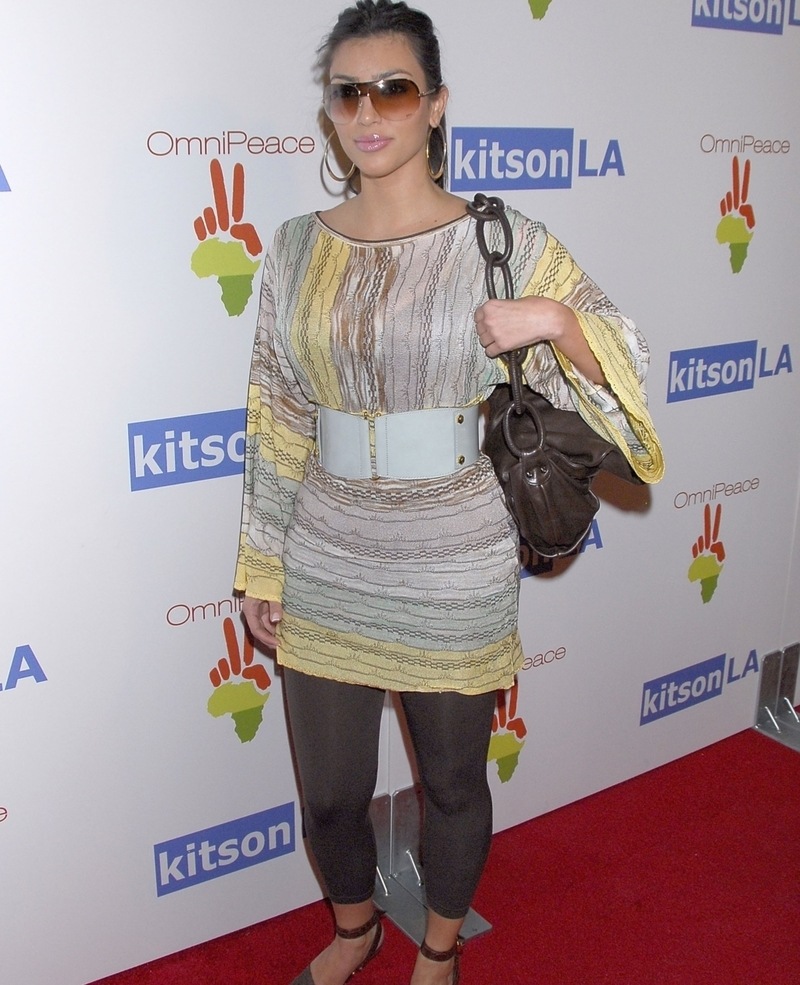 Remember when we all had those thick belts in pretty much every color? I don't know why we thought it looked good but pairing it with those tights truly embodies the fashion era of 2007. Don't even get me started on those sunglasses and ponytail!
Velvet and Lace?
Oh wow! Where do I even begin? Lace and velvet don't sound too bad… as long as they are on their own. It's really hard to get away with wearing both of those fabrics together. I do want to note that her hair and makeup are on point!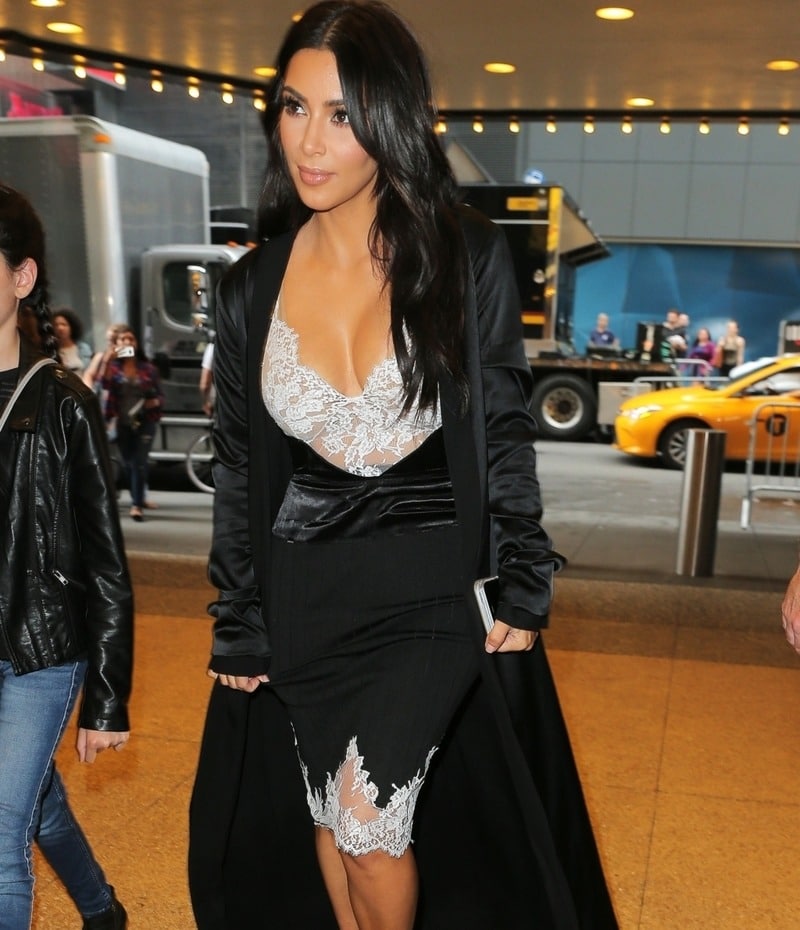 I don't know what it is about this outfit. Maybe because the top of it looks like lingerie, but then it turns into a skirt? And a cape? It's just too much! This is definitely not her worst look, but it's also not her best. There is just so much going on, and the look is confusing.
Alligator Skin Belt
Here we go with those belts again! But to be fair, I kind of like the dress… just not with that low braided (is that alligator?) belt. If Kim wore this today, her family would arrange an intervention because this outfit is a cry for help.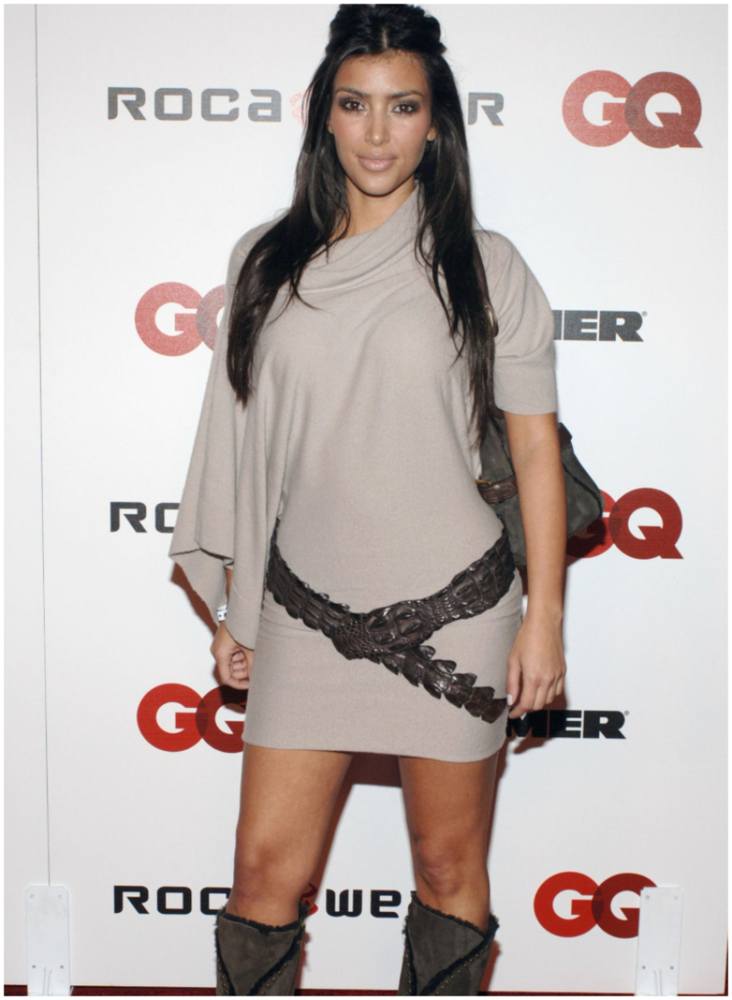 And should I even mention the boots? I get that the shoes match the purse, but all these neutral colors don't look great together. Again, it's interesting to see Kim wearing what looks like a Forever 21 dress. We're used to seeing her rock Prada and Versace.
Hot Pink Isn't Hot
Yowzers! Okay, this one is more recent, but wow! The whole thing is uncomfortable to look at. And don't get me wrong, I would probably love this look if it were in black, but sometimes an outfit can be ruined with a bad color, and that's exactly what happened here.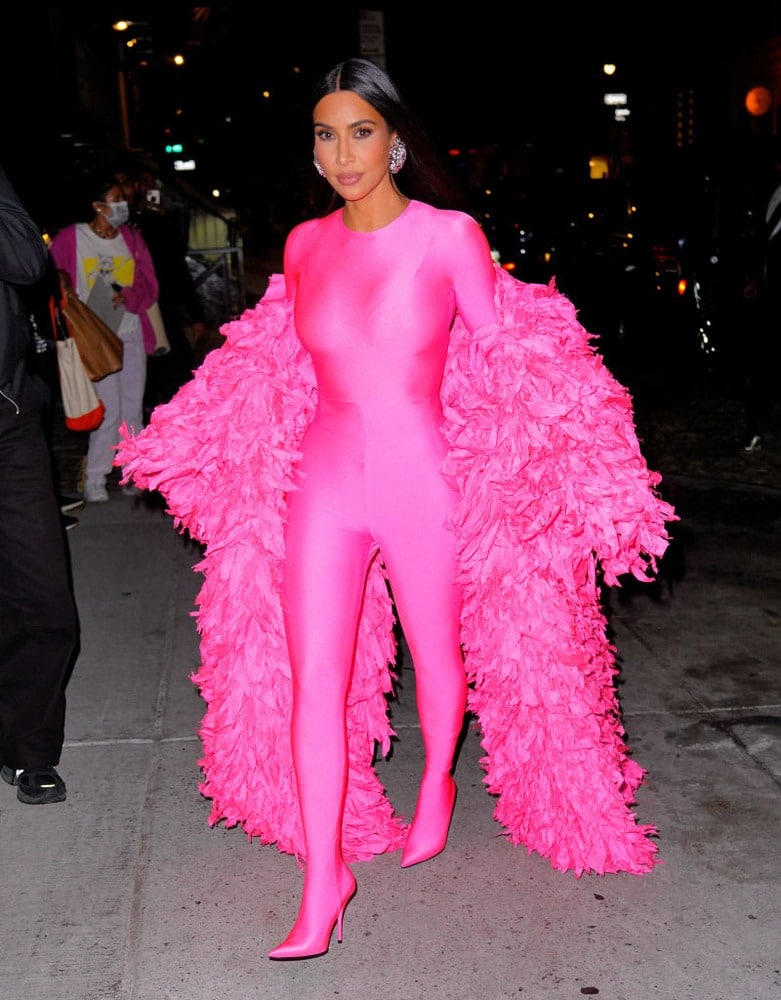 Hot pink is not hot! This looks like a costume. I mean, feathers aside, I'm trying to figure out how those shoes work. They look attached to the pants! These days, Kim is barely caught wearing an outfit more than once, so this hot pink onesie will probably never see the light of day again.
Who Needs Eyebrows?
For this special occasion, Kim Kardashian wanted to see what she would look like without eyebrows. Personally, I think eyebrows are natural and belong on the face, and although we can see them slightly… it looks like Kim really tried to hide them.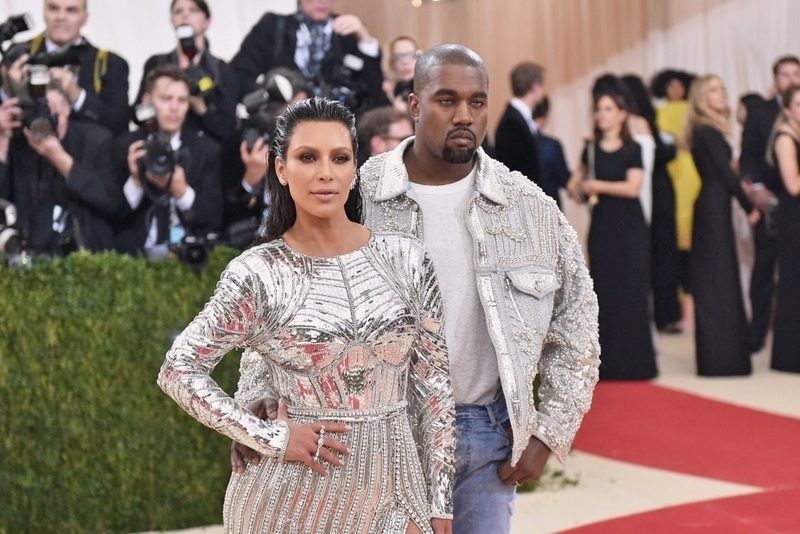 If we're being honest, it's probably that makeup. She needs a bit of makeup remover and maybe an eyebrow pencil. Let this be a lesson for all – don't remove your eyebrows! Even if it's for a makeup look. Luckily, her stunning (and very expensive) dress makes up for the eyebrow disaster.
Got Milk?
A fur coat?! What is going on here, Kim? The perfect winter day is probably not spent running away from paparazzi, but they caught her wearing this! A winter coat can make or break a look. Cow prints were never really a good fashion choice, but cow print on a fur coat truly cheapens the look.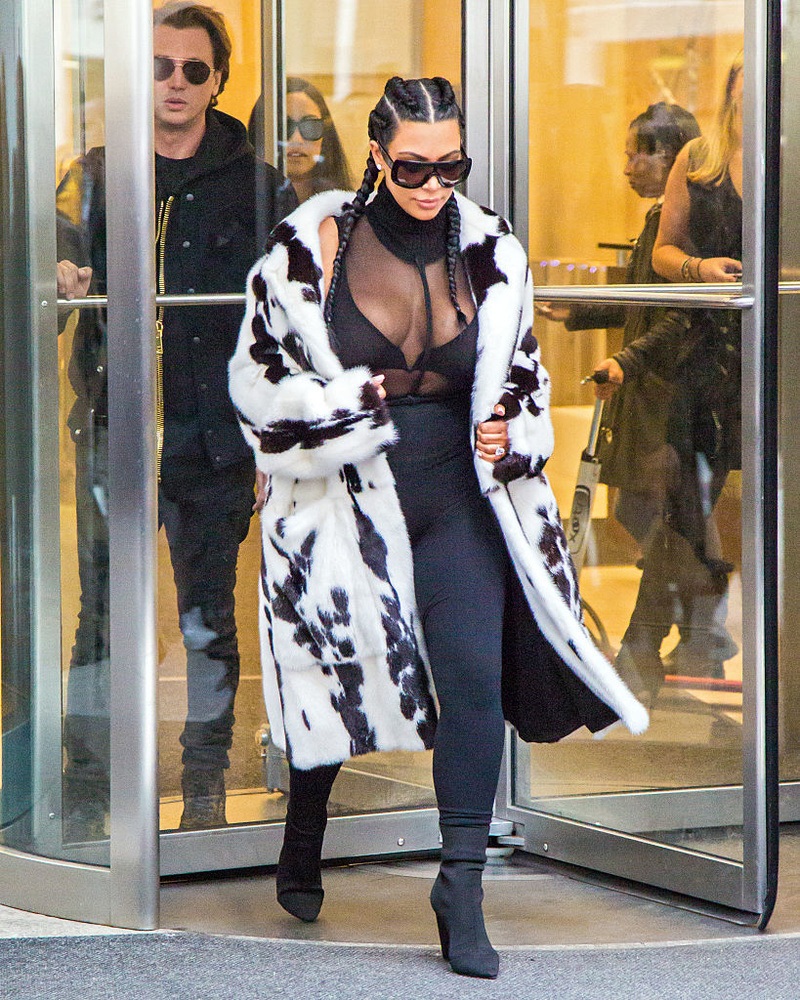 But the coat aside, the outfit she is wearing underneath isn't the most flattering either. All that money, and she goes out wearing this? I guess when you're as rich as she is, it doesn't really matter what you wear. I do love the hair, though!
A Blast to the Past
Well, well, well… look what we have here. I literally spent all of 10th grade wearing these types of outfits, and this is making me feel very nostalgic. However, I would never expect Kim to wear something like this to a Victoria's Secret red carpet.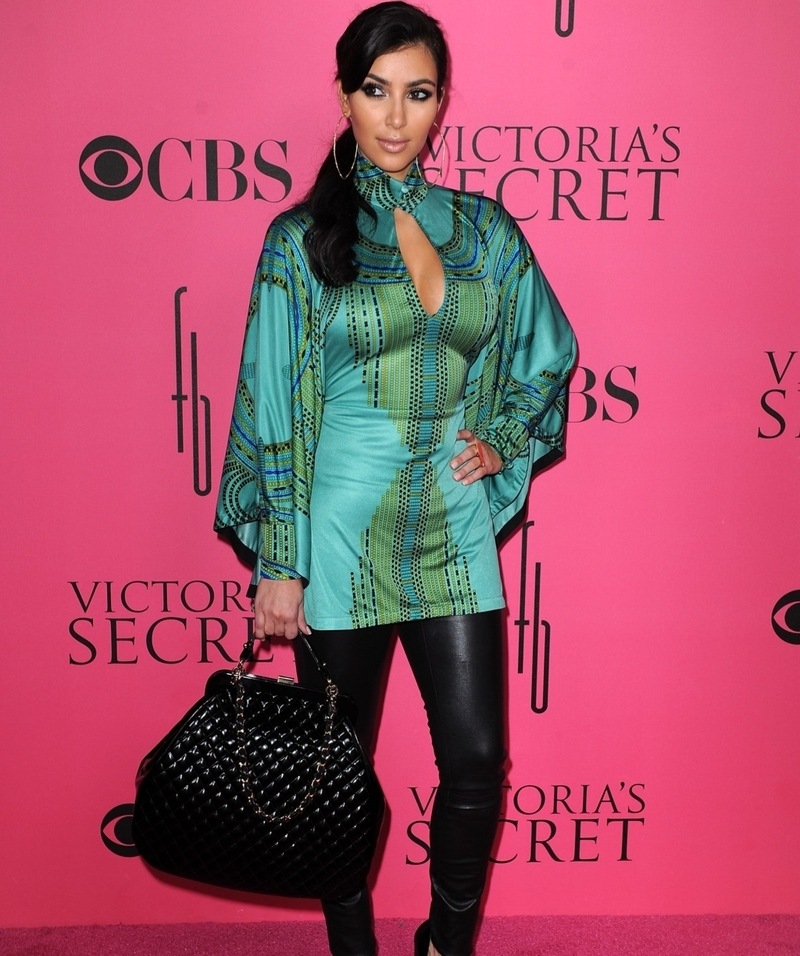 Sure, she has a cute purse and Louboutins, but I'm not sure how I feel about those leggings. I mean, that outfit would have been perfect for the movies or the mall in the early 2000s, but I expect more for a Victoria's Secret event.
What's With the Acid Wash?
A super famous, glamourous beauty icon who is constantly being photographed probably shouldn't go out wearing acid-washed jeans. I'm just saying. I would wear those jeans while cleaning the house, and since Kim has people to take care of her household chores, there is no reason for her to own those.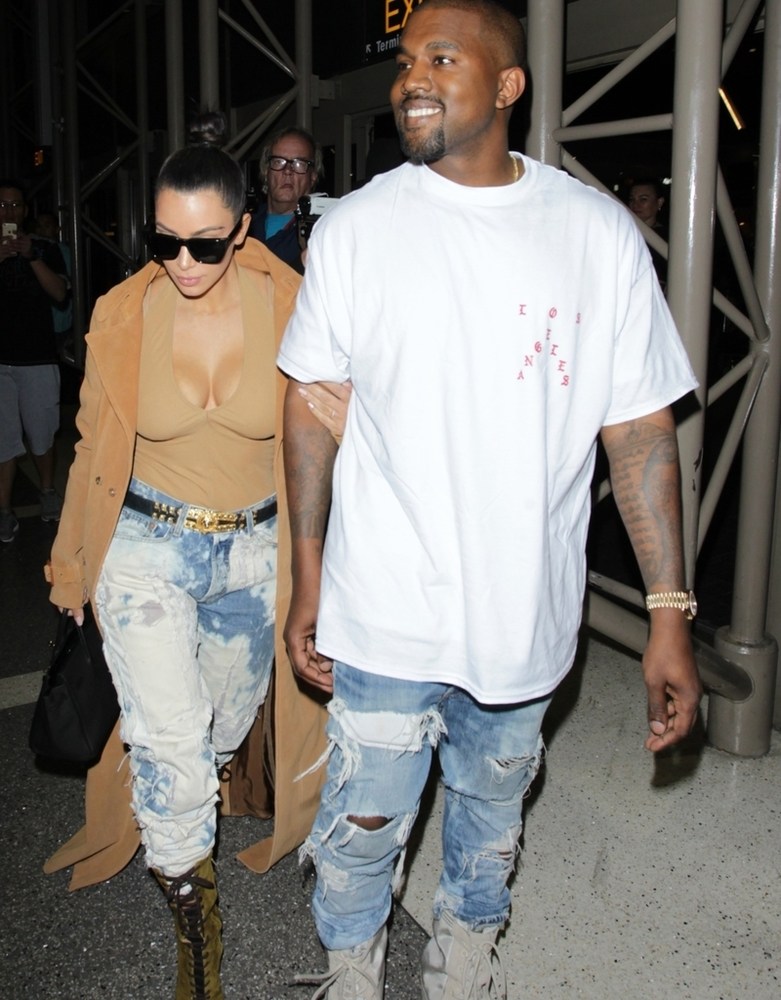 She almost saved it with the slick hairstyle and black sunglasses, but it didn't really work. Those boys ruin the outfit even more. The boots are cute; they would look nice with pretty much anything else, but it's the mismatching colors that bothers me the most.
Kris Is Coming
We can bet that this famous "momager" has a wardrobe that most people would die for – with the sheer multitude of clothing, brand names, and a gigantic closet; having Kris's wardrobe is a far-reaching dream. But I just don't know where she pulled this outfit from.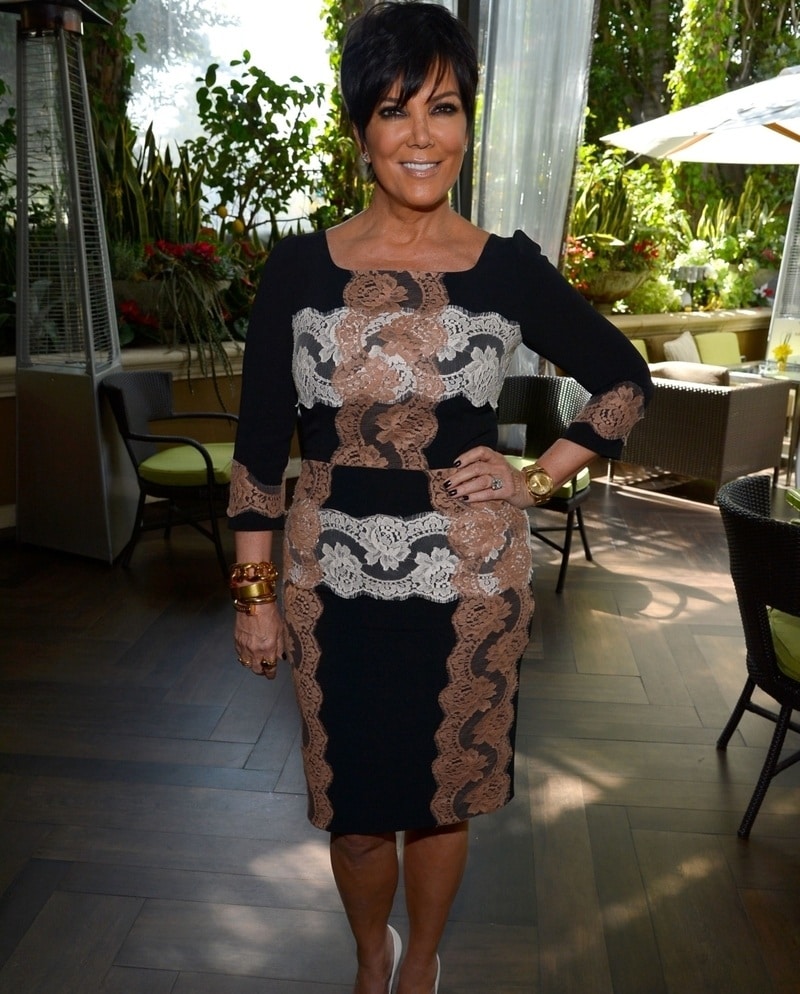 I mean, this is what my grandmother used to wear. I get the bodycon and the lace, but I'm very confused. Why horizontal AND vertical strips of lace? It looks like the person who designed this messed up. Anyway, Kris has probably gotten rid of this thing by now.
Sesame Street Called
Well, this is a shade of yellow I never thought I'd see on Kim Kardashian. Trying to ignore that, she doesn't look too bad. I mean, those bracelets definitely stayed in 2008 where they belong, but we can't deny that this outfit was in style back when Kim wore it.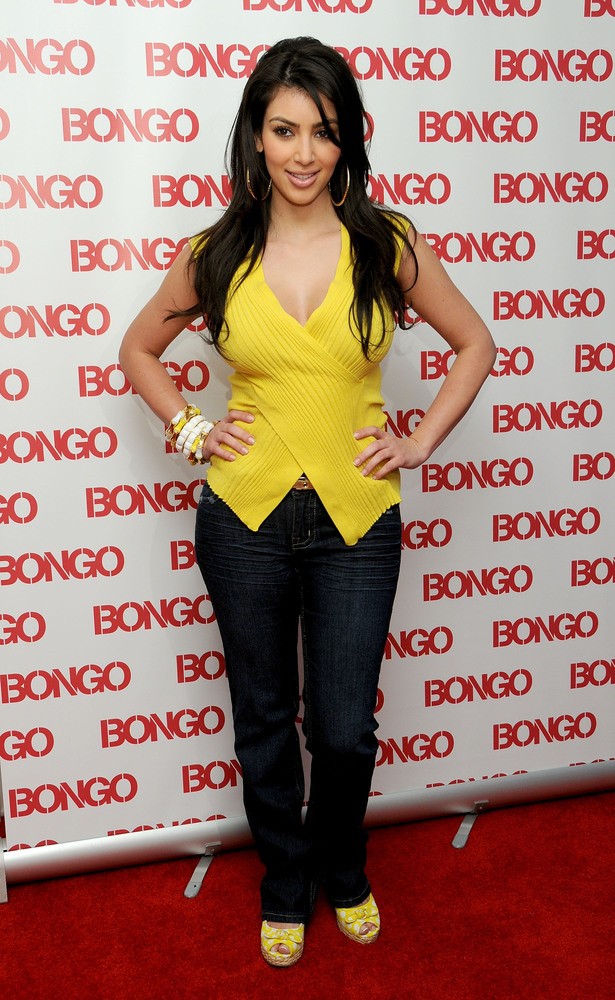 Those jeans came right before the skinny jeans era, and I definitely owned a pair. And those yellow heals with the little hole revealing just one or two toes are from the good old days. There was a time where it was acceptable to wear jeans to the red carpet.
How the Rich Dress
I have so many questions. First of all, what look is she going for? As I mentioned, I love seeing celebrities in athleticwear, but that's not what's really going on here. The Adidas sports jacket is great, but why wear a dress over it.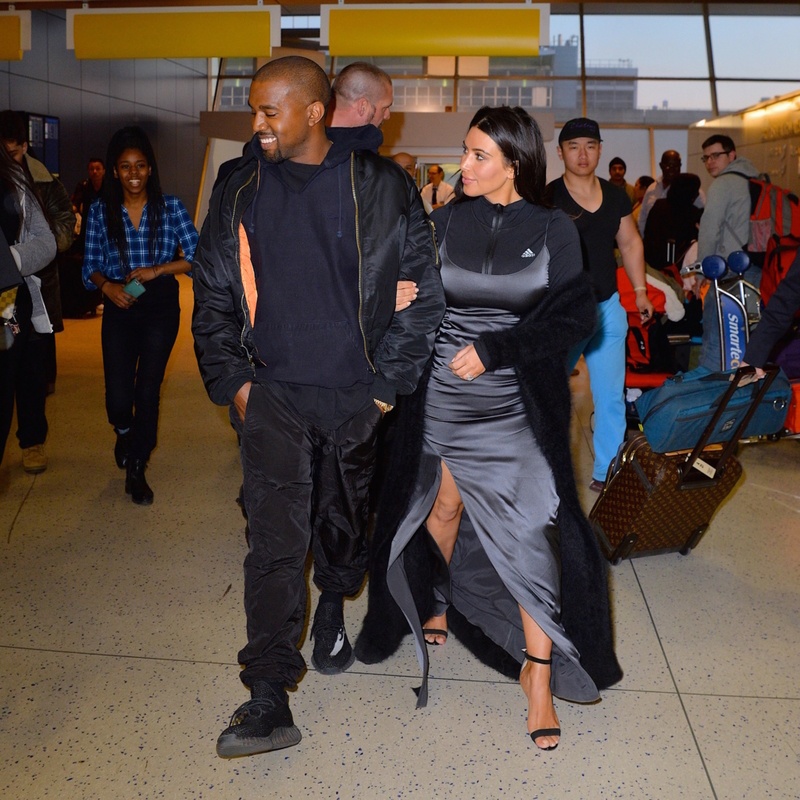 First of all, that dress doesn't need anything under it. But if you're going to wear fancy heels and a nice dress, why don't you wear a cardigan over it if you're cold? The Adidas shirt honestly just doesn't go. I know I'm the last person who should be giving Kim Kardashian fashion advice, but she's allowed to wear leggings and go for the sporty look all the way.
Not Half Bad, Kimmy
Honestly, I'm not mad about this outfit. The black and white dress that Kim is sporting here actually looks great on her. I am curious (and slightly worried) about how it looks from the back, but this outfit didn't age as badly as some of her others.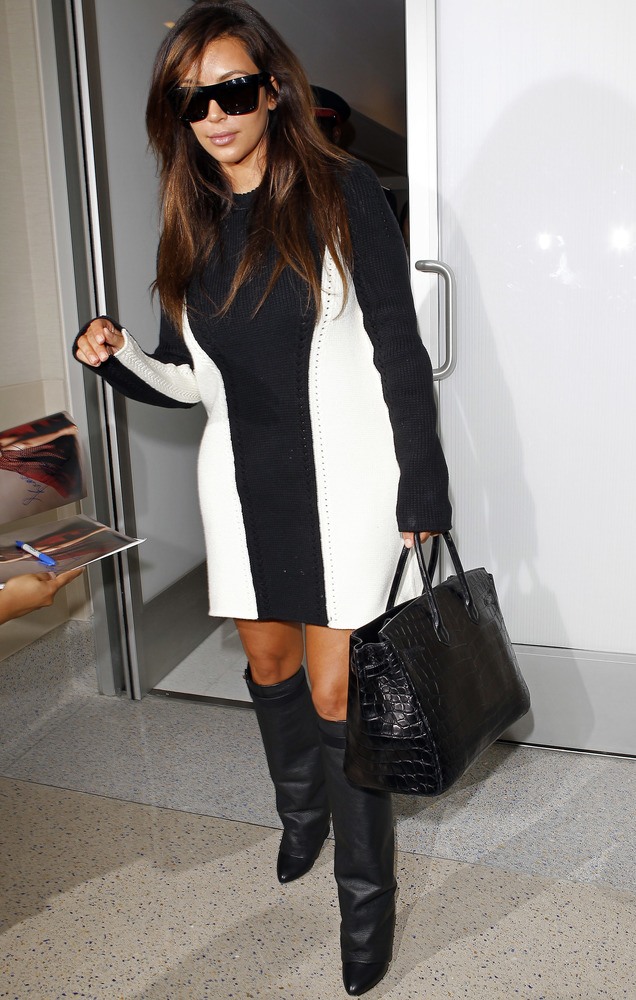 I like the brown hair and glasses, and her makeup looks great! If we're being honest, Kim probably wouldn't wear that now, but you don't always have to look fancy. Sometimes a casual, flowy brunch dress is the way to go!
Yes, I'm Wearing Me
I can't with this jacket!! Which Kim face do you like better? Not only did she get her face plastered on a jacket, but it also says the word "chill" on it. I'm not going to lie; this whole thing is kind of creepy. To be fair, she's Kim Kardashian; of course her face is on a jacket.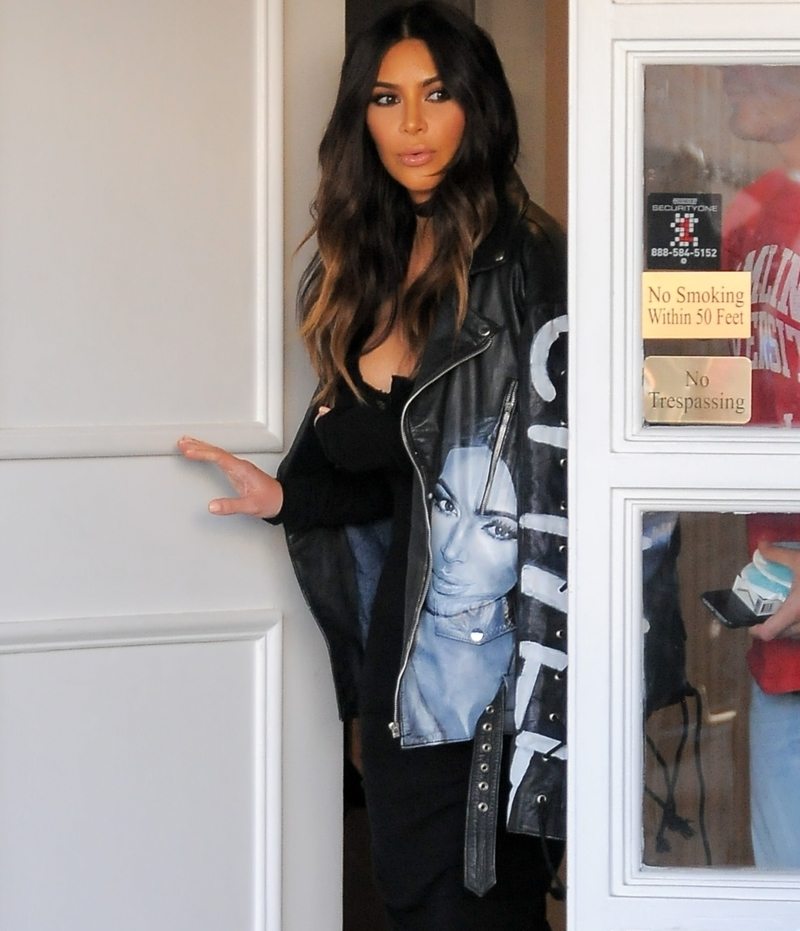 With that said, I wouldn't wear it out in public. Wearing your face just seems like such a narcissistic thing to do. We all know the reality star is obsessed with makeup and selfies, but it takes a certain lack of self-awareness to walk around wearing yourself.
What Is This?
What in the world are you wearing, Kimmy?! This Nickelodeon red carpet moment is probably something Kim wishes would be swiped away from our memories. Let's start with the outfit… I'm pretty sure it's all the same color- a very pale greyish silver.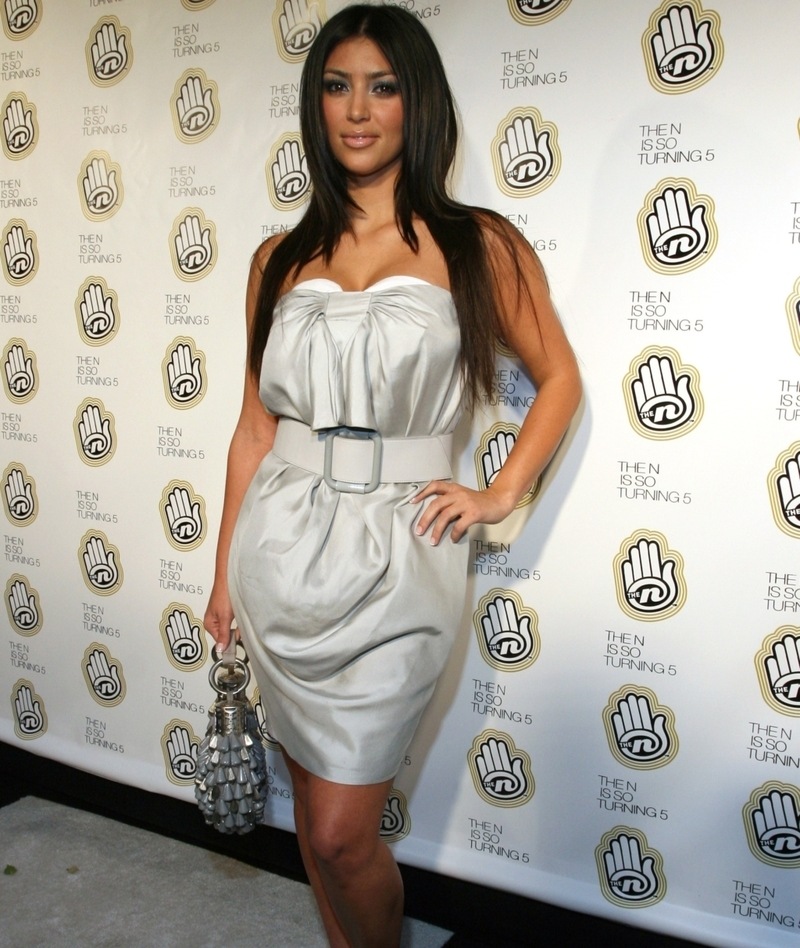 It's the white things poking out of the top of her strapless dress that confuse me. And, of course, we got that thick belt again. I'm just going to take a second and talk about her makeup. Since she wears a ton of makeup these days and still manages to look natural and effortlessly beautiful, it's strange to see her wearing cakey, visible makeup.
Pencil Skirts Are Never Coming Back
Remember when this was a look? Who could forget the high-waisted pencil skirt paired with a tucked-in shirt? Other than that pink SNL outfit, we don't see Kim wearing much color these days. She's into neutral shades and is often seen wearing black.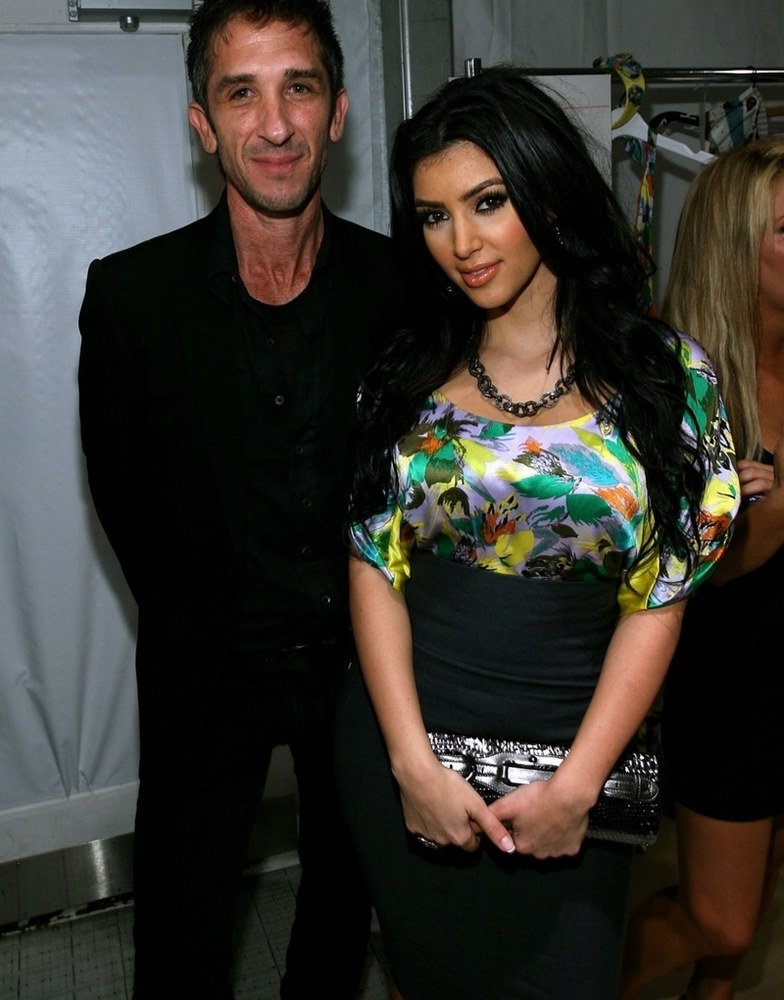 However, the pop of color adds a lot. Let's be real; none of us wear pencil skirts anymore. But back when this was in style, Kim pulled it off wonderfully. This isn't her best moment, but it's not her worst either. It worked at the time.
Eww, More Pink
Here we go again. You know how I just mentioned that Kim sticks to neutral tones. I meant neutral plus pink. The sleek bob haircut with those sunglasses gives me bank robber vibes, but those boots make her look like a Power Ranger.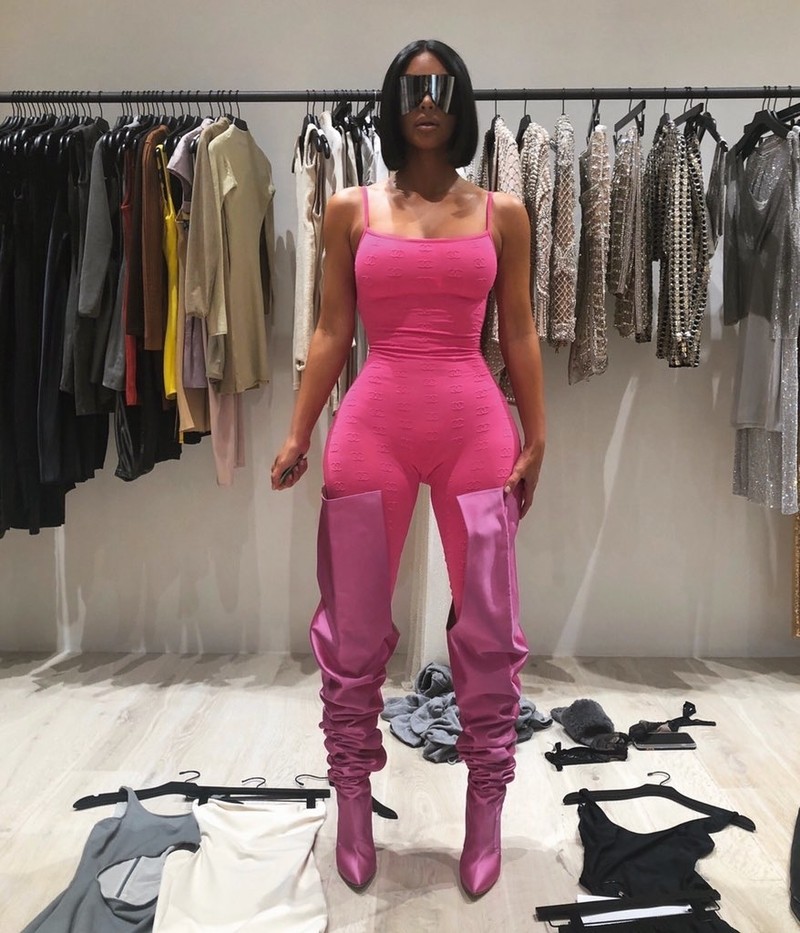 As I mentioned, Kim (and everyone else) should only wear hot pink if she's going to a costume party or a festival. If this was on Halloween, it would be absolutely perfect. However, if she wore this out to dinner, someone should notify the fashion police.
She Looks So Cool
Kim really has a thing for Adidas, and in this case, I don't hate it. In fact, I actually like this look. Sure, she is wearing that black lacy dress and stunning necklace, but the Adidas sports jacket really dresses it down, which I love.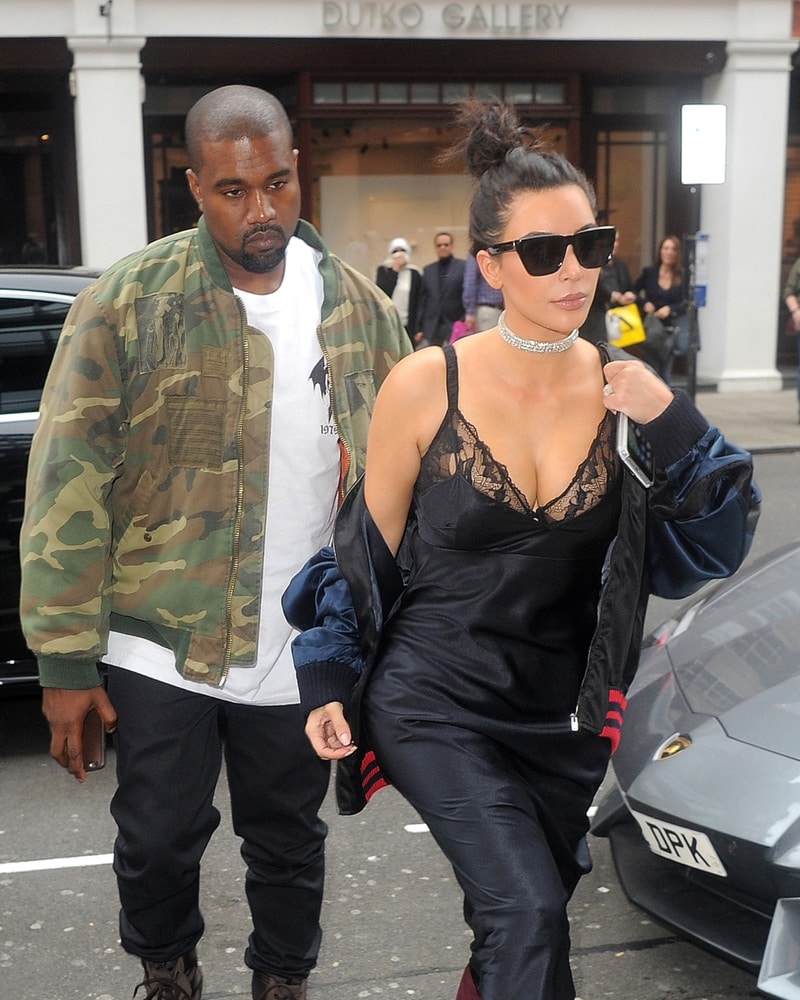 I think the way to wear fancy and sporty together is to bring down the elegance of athletic wear. Not try to elevate the sportswear by pairing an Adidas shirt with a fancy dress. Anyway, she looks expensive yet chill. I know this is supposed to be fashion fails, but for some reason, I'm obsessed with this look.
Kim Kardashian Doesn't Get Dirty
Before switching to beiges, greys, and browns, Kim used to be the queen of wearing white. I honestly don't understand how she doesn't get dirty. But, anyway, this off-the-shoulder white outfit is an example of Kim's old style.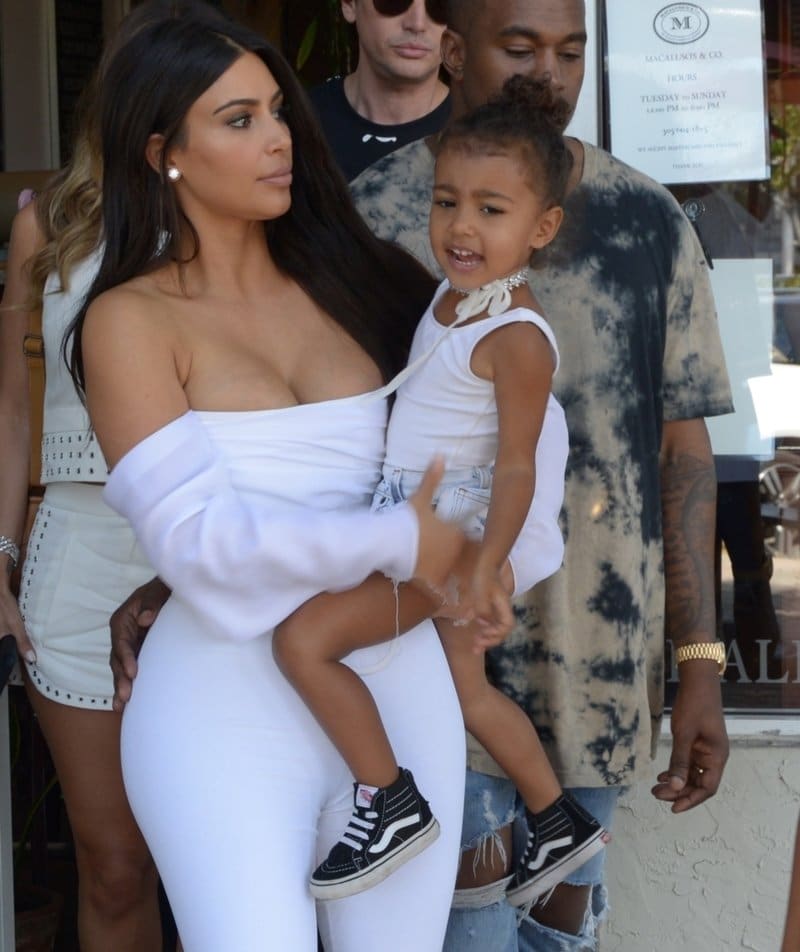 It's also how you announce to the entire world that you're not on your period. North looks adorable as always. Although she is kind of matching with her mama, I prefer her outfit, especially the shoes.
Marshmallow Kim
And she's back in all black! That's the Kim we know. However, you kind of lose the black effect when you're covered in white fluff! She topped it off with a basketball cap, but why? What bothers me more than the hat are those shoes!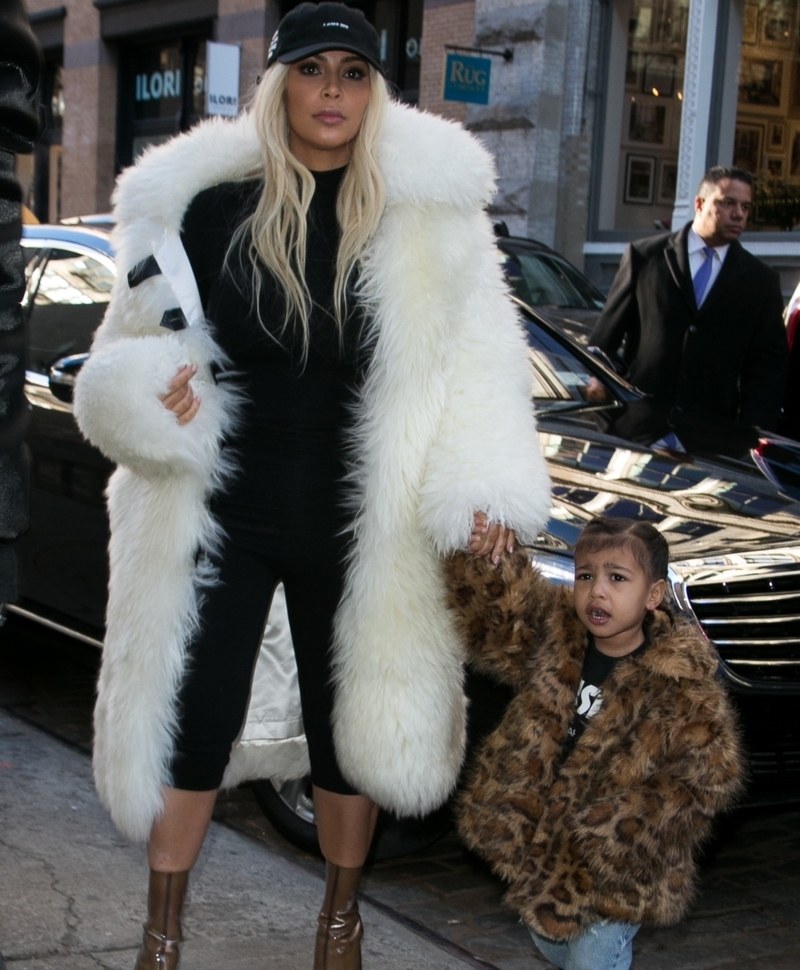 I absolutely despise the gap between the bottom of her leggings and the shoes. Considering the coat she is wearing, I'm assuming it's cold outside – her calves are probably freezing. This is definitely not her best look. I do love the blonde hair, though.
Lose the Bracelets
I actually think this color is gorgeous and looks amazing on Kim. The deep, rich green looks stunning with her skin tone. With that said, you know I have to mention those ruffles. Plus, she definitely should have gone with a black purse instead of white.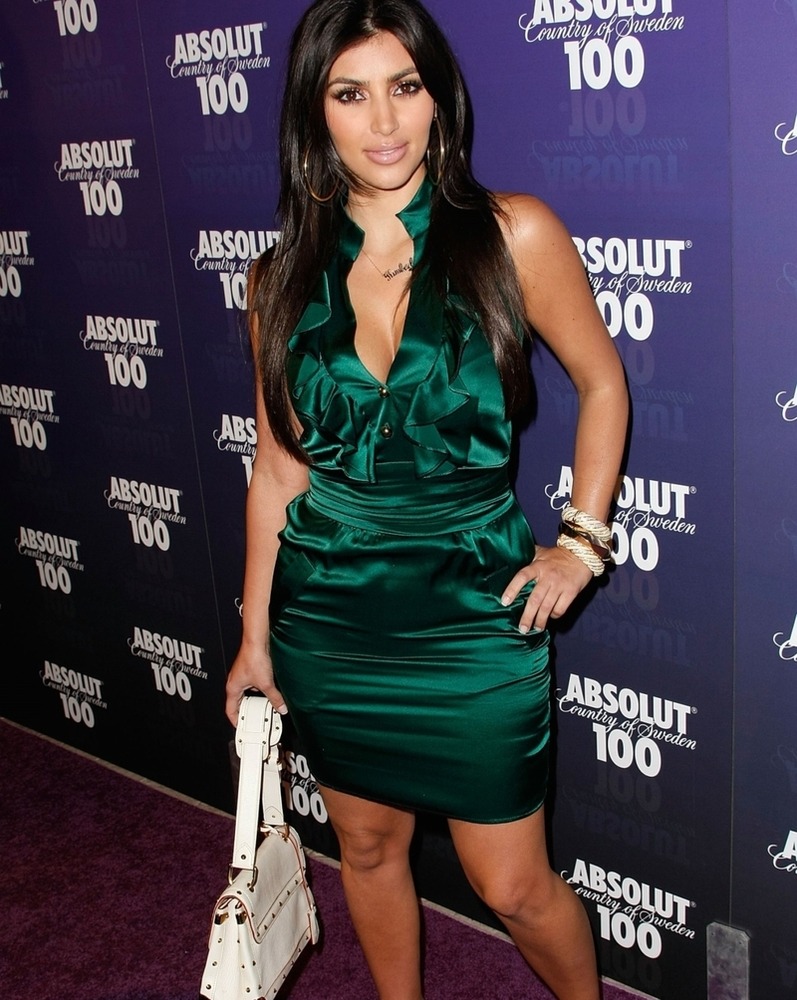 I don't think Kim really worries about her handbags these days since, as we know, she doesn't carry them. Ah, it must be nice to be rich. Although the dress is nice (for the 2000s), the accessories ruin the outfit.
Major Flashbacks!
This time, Kim decided to tuck the jeans into her boots, which is a slight improvement. The problem with the outfit is whatever is going on with her top. I hate to criticize this outfit because I wore those weird vest things with those ugly pointless belts all through high school. I'm also pretty sure I owned that purse.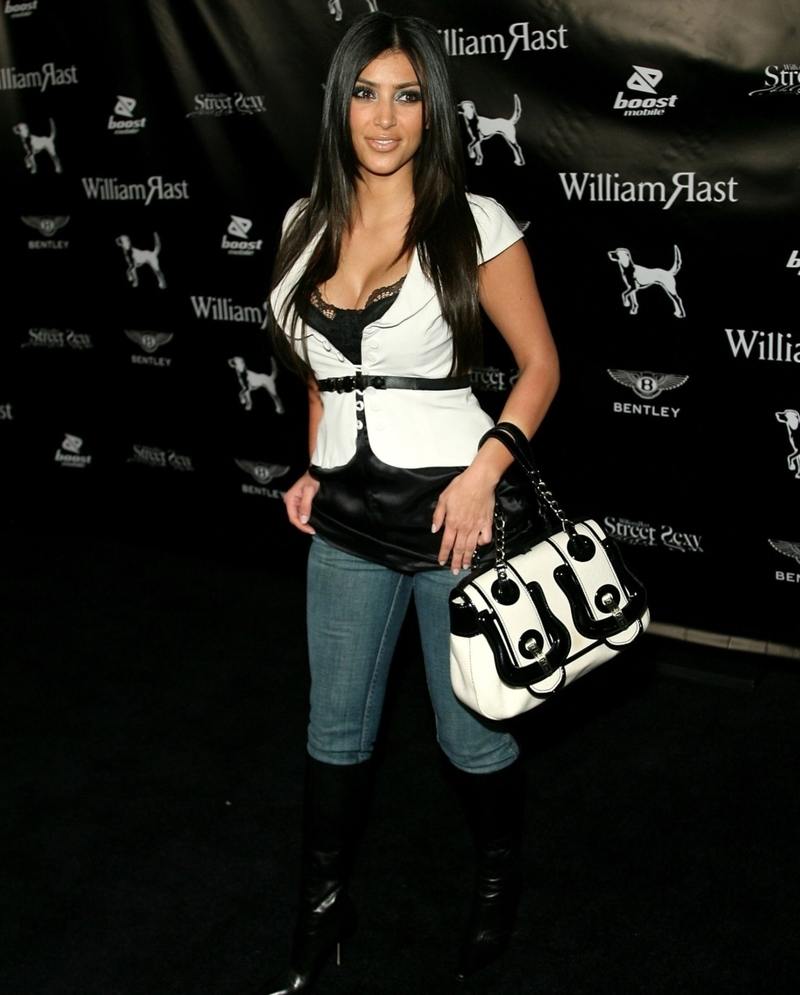 It's just that the bag and shirt look way too similar, but this was cool back in 2004. Despite the fashion trends, you can always tell how old a picture is by Kim's makeup. This one was definitely taken pre-glam. And the makeup isn't bad… it just looks like she did it herself. Nowadays, she gets it done professionally.
Oh, Kimberly
Not many people can get away with a sleek bob, but Kim pulls it off! It's so chic, and I love the curl on the bottom that bounces as she walks. The hair and makeup are on point; it's everything else that I don't really understand.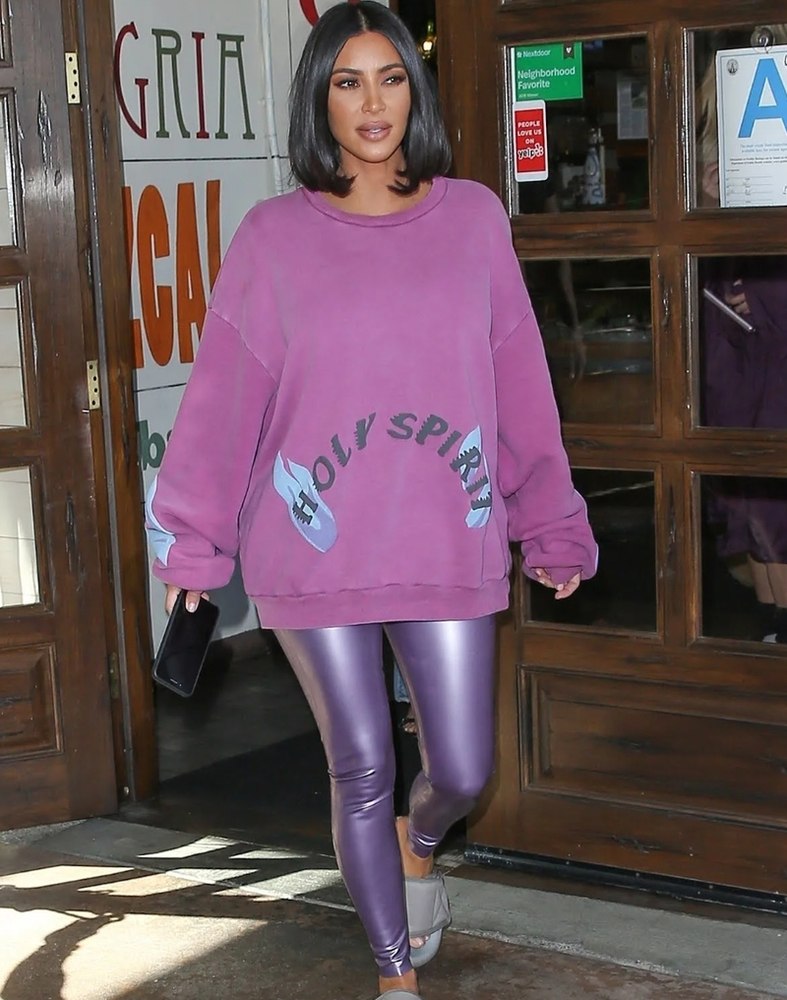 We don't see Kim Kardashian wearing sweatshirts very often, but the fact that it says Holy Spirit is an interesting twist. It says Kanye West all over it if you ask me. Anyway, if she is going for a cozy look, why is she wearing metallic leggings?!
Soccer Mama
We all have embarrassing moments from the early 2000s but we're not as famous as Kim Kardashian. Therefore, our fashion fails to stay in a photo album in our parents' attic, and Kim's are circling the web. But this look is one Kim probably wishes everyone would forget about.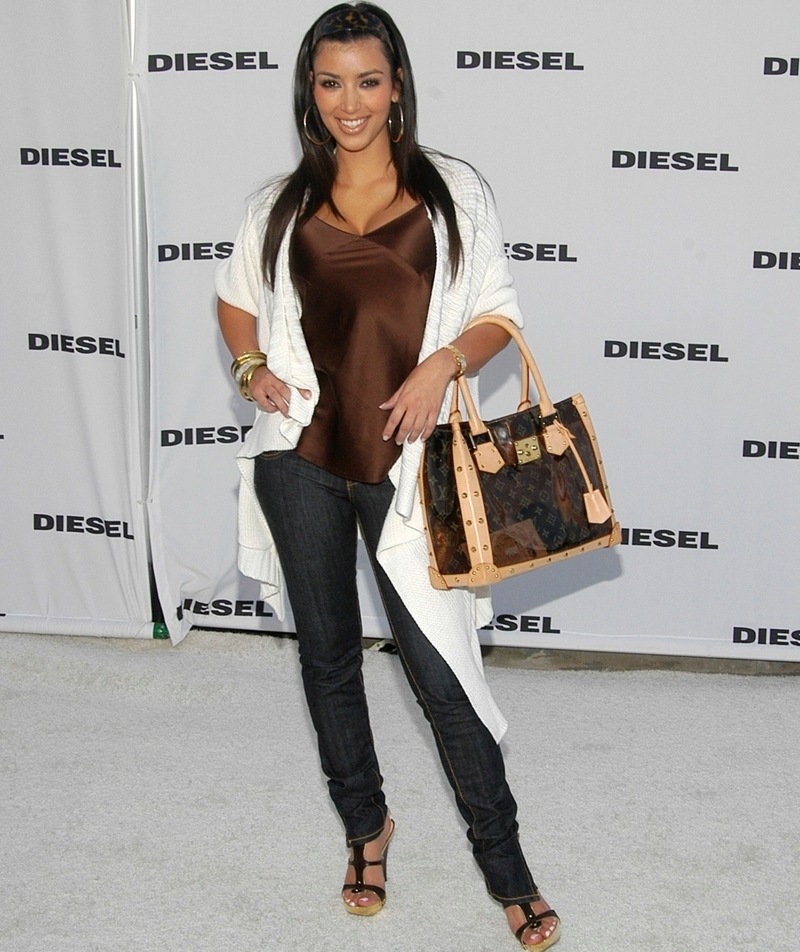 Again, it was in at the time! I would have worn that. It's just funny because the whole outfit screams "soccer mom!" Not that there is anything wrong with that. It's just not what you'd expect to see Kim Kardashian wearing. But I do remember when everyone wanted that see-through Louis Vuitton purse.
Just… No
Kendall Jenner is a gorgeous supermodel, and she was fortunate enough to miss out on the 2000s fashion trends. However, that doesn't mean all her looks are perfect. This one is specifically confusing. The whole thing is pretty bad, but where the heck did she find that hat?!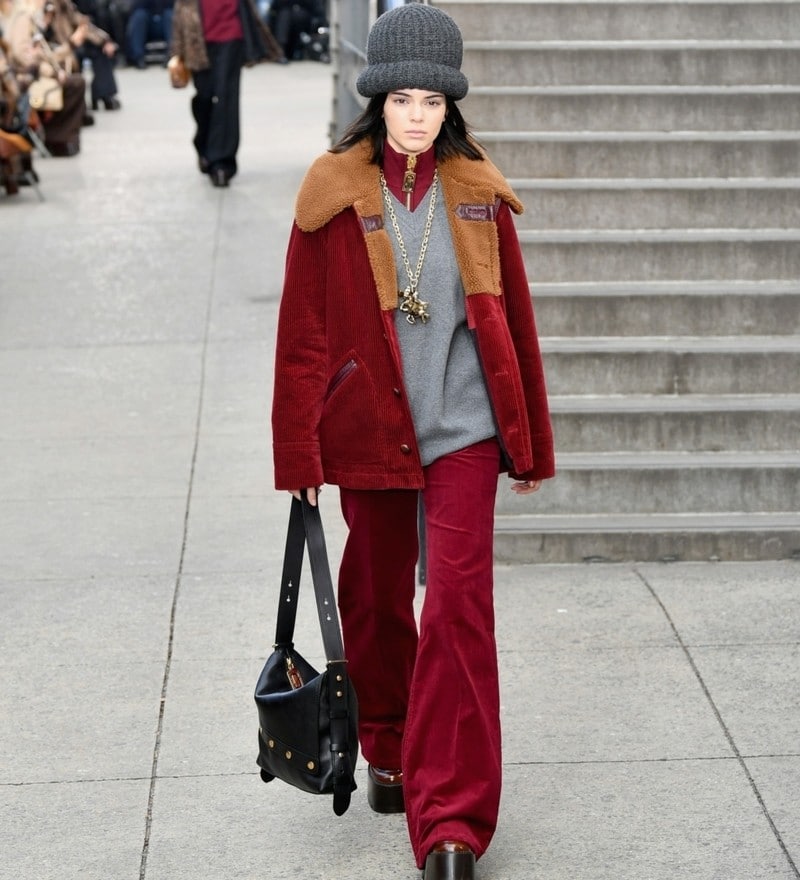 Maybe she was cold. However, a beanie would have been a much better choice. Maybe this hat is some rich-people-expensive-chic fashion statement that a muggle like me doesn't understand. But what's her excuse for that necklace?
Maybe They Won't Notice I'm Pregnant
I get it. It's hard to be pregnant when you're Kim Kardashian. She is famous for her perfect body and flawless look, so when she was carrying a child, Kim needed her outfits to distract attention away from her baby bump. But in this case, I wish she had worn something else. First of all, she has a gorgeous pregnant body and should embrace it.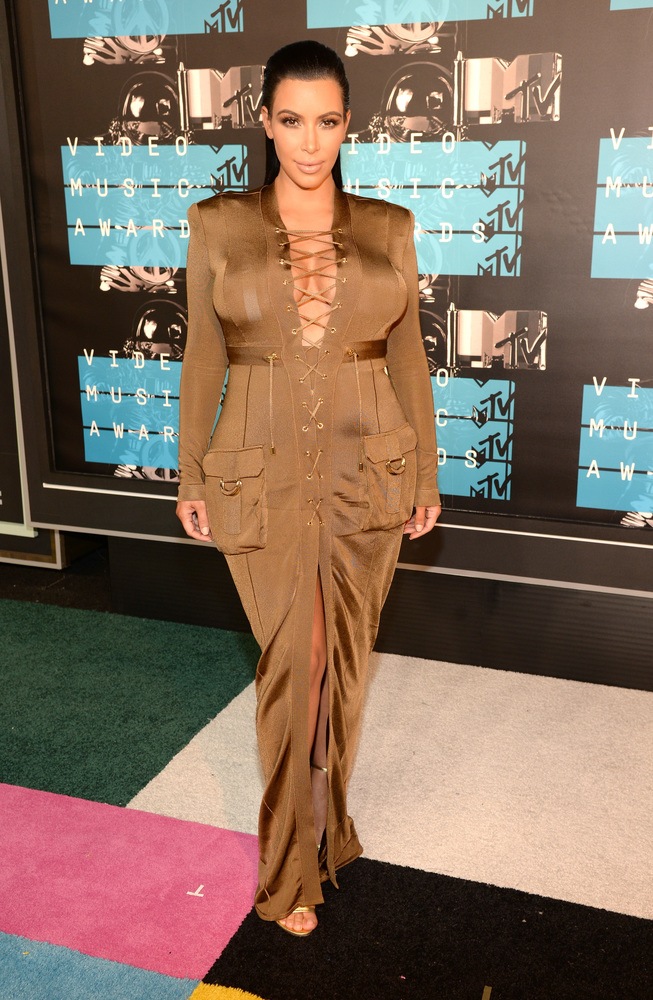 If she was trying to distract us from her stomach, it worked… but not in a good way. It's just not flattering. Those straps and pockets are a little much, and I personally don't like the color. And why is she wearing heels when she's about to pop? It's okay to wear flats when you're eight months pregnant.
Looking Cute
Okay, so this outfit looks like a bridesmaid's dress from the '90s, but for some reason, I don't hate it. It's kind of… dare I say it, flattering. It looks nice, and the deep V really accentuates Kim's beautiful body shape.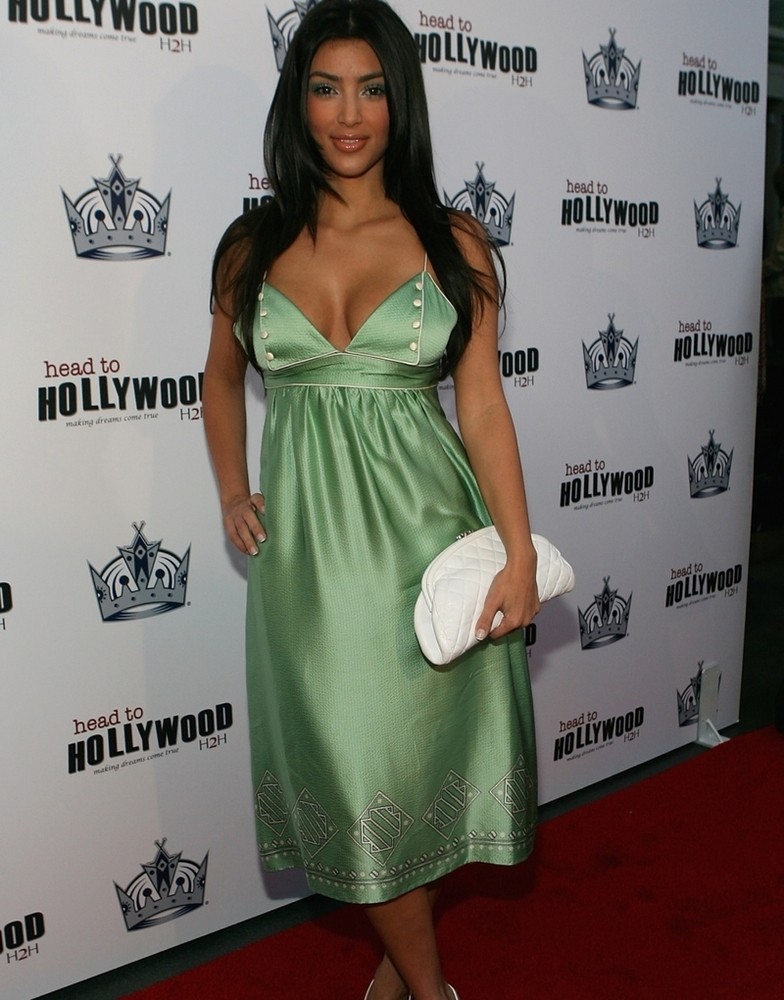 The color is quite pleasing as well, and I could work with the silk material. The only issue I have with this look is Kim's makeup. Again, it's not horrible, but I'm not used to seeing Kim with such visible blush and eye shadow. Ironically, she uses a ton of makeup to create the "no makeup" look.
What the Heck?!
So, I'm sure you're wondering, what the heck is going on here?! Honestly, I don't know how to answer that. I get unique fashion trends, but does she really need to wear a bathing suit as the top half of her dress?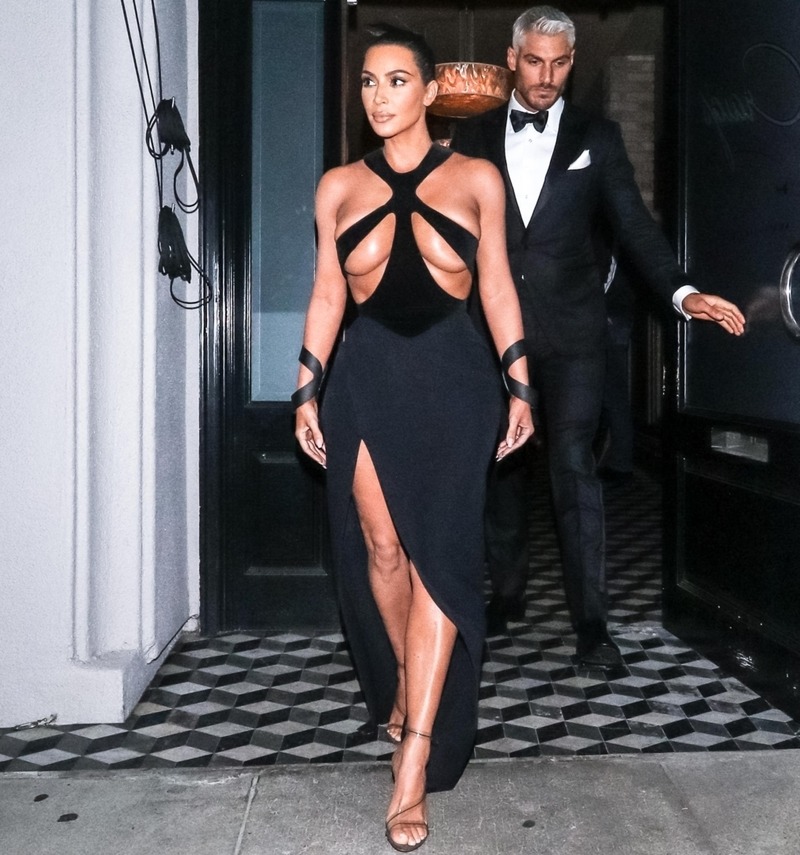 I mean, wear what you want, who am I to judge? My question is why someone would choose to walk around like that. She practically looks naked… except for the bottom half. This one is just confusing. If I were Kim, I would be so nervous about having a nip slip in that thing.
Four Finger Scandal
What do we have here? This post went viral after Khloe shared this outfit on Instagram – and not for good reasons. Like many of Khloe's photos, this one got a lot of attention because of how edited people think it is.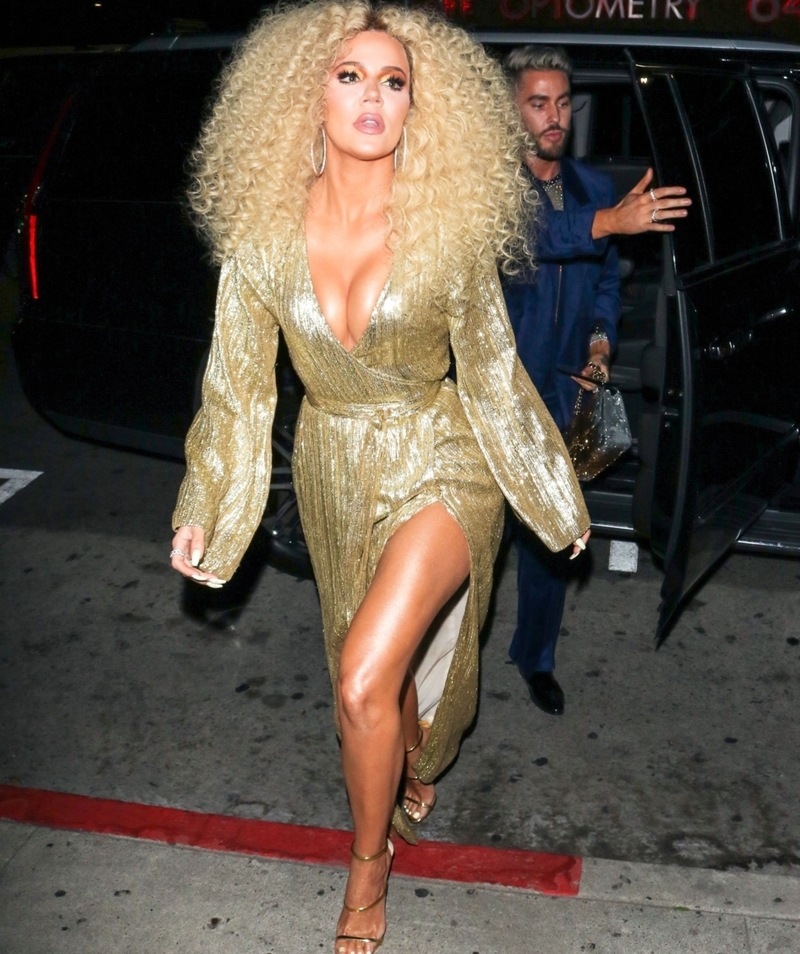 The main thing people noticed about this picture is that the editing made it look like Khloe had four fingers. Crazy, right?! We all know that celebrities (especially the Kardashians) edit their photos. It's the people who have the time to find these editing mistakes that I'm worried about.
Jean on Jean
It's time for the one and only Kylie Jenner to show up on this list. This is the time she wore double denim, otherwise known as the Canadian tuxedo. I don't have a problem with her. I personally love denim on denim which is why people shouldn't be taking fashion advice from me.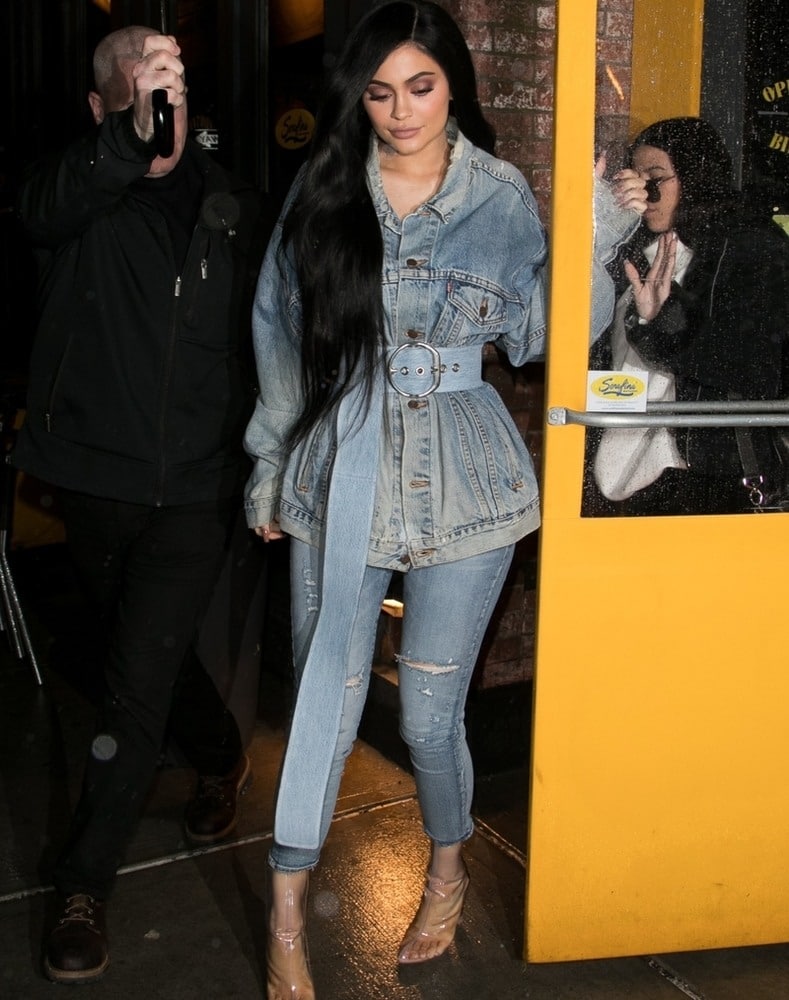 I know everyone says not to wear denim on denim, but the only thing I hate about this look is Kylie's belt. It honestly looks like a leash. I don't love the heals with it either. With all that said, her eye shadow looks incredible, and I always love the long black hair on Kylie.
Kim the Cupcake
I don't care if Kim wears long shirts with leggings or dresses with vests. Honestly, she can bring back all the 2000s fashion trends as long as she never wears this dress again. It's difficult for Kim to look bad in anything, so this one is shocking.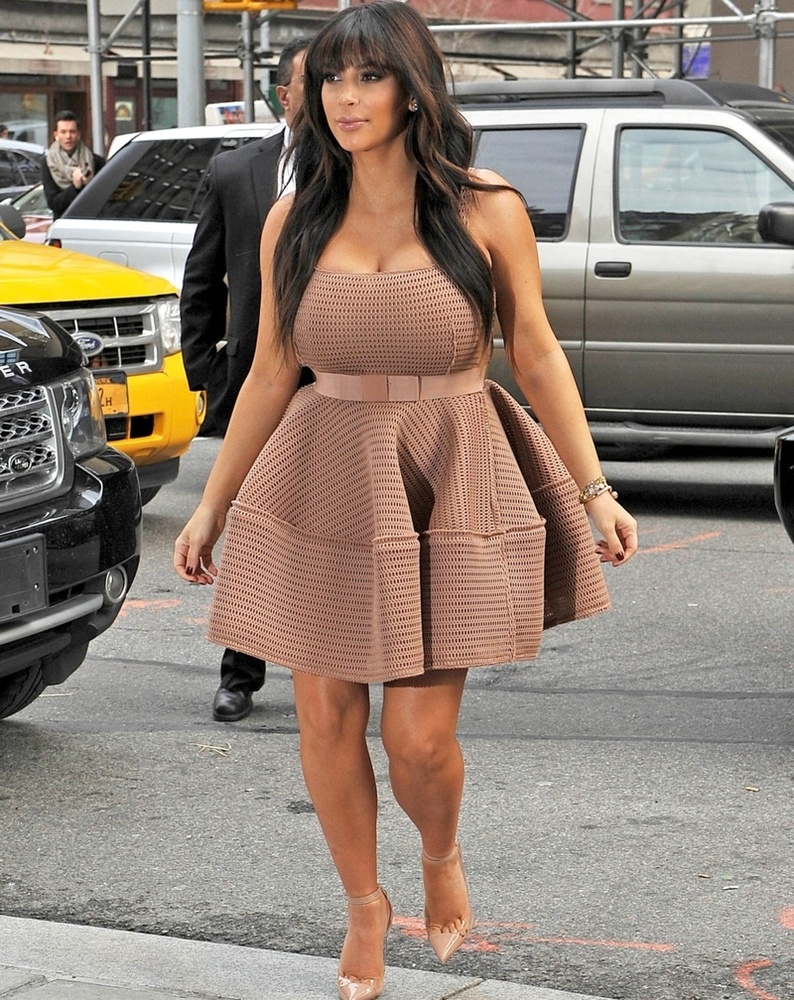 She looks like a cupcake, if you ask me. The proportions are all wrong, and it's just not flattering. I'm just worried about it flying up in the back. Also, her heels look super tight and painful. In Kim's defense, I think she was pregnant here.
Kourtney From the Future
Fashion rule number one: don't wear brown and black together. Honestly, Kourtney usually dresses for her body and knows how to pick a flattering outfit. However, this brown, skin-tight jumper is a bit much for me.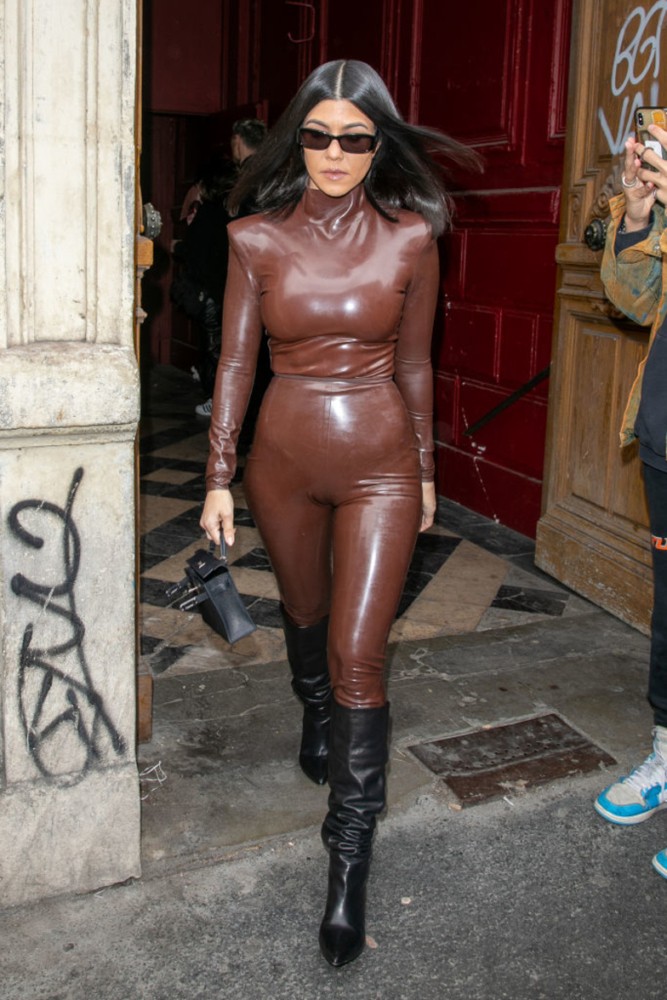 Don't get me wrong; I'm grateful the boots aren't brown too. But isn't it like, a known thing that you shouldn't wear brown and black together? The shoulder pads, sunglasses, and hairstyle make it look like Kourtney is from the future. Point is, this isn't her best look. And somebody should probably tell her that her purse is open.
Look at Me!
Khloe has never been shy about experimenting with outlandish outfits. Sequins and sparkles could look amazing on a red carpet dress. However, this sequin tracksuit is very umm… noticeable. This eye-catching outfit seems too bedazzled… even for her.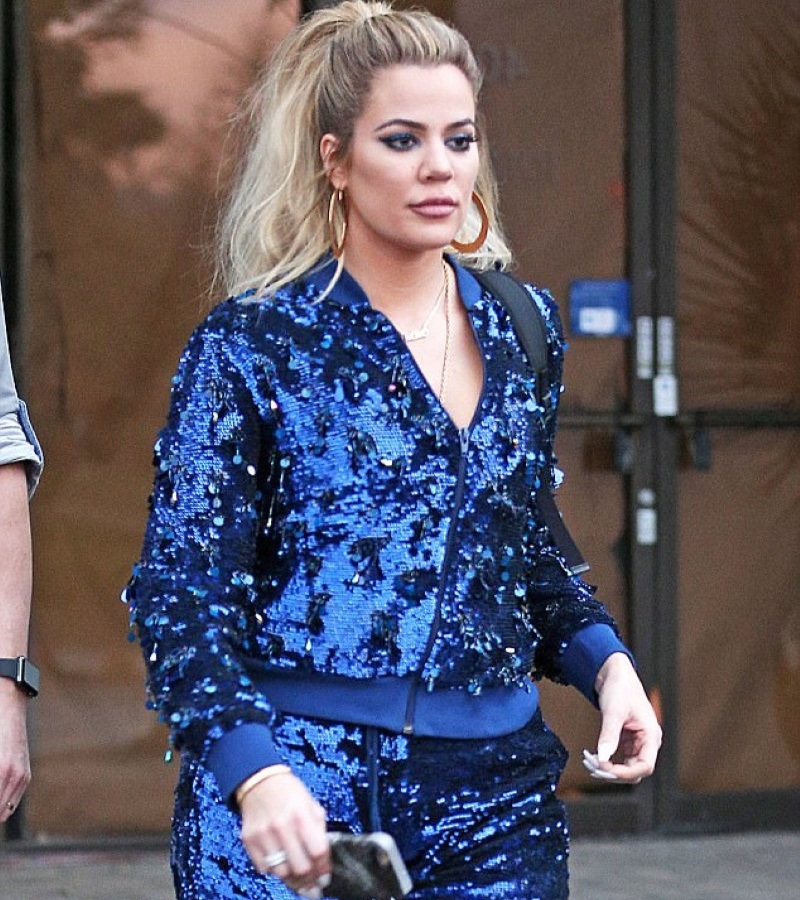 I will say, the messy pony tail tells me she was on her way to either a photo shoot or an appointment. As long as she's not wearing this on the red carpet, she can get away with it. I know this tracksuit isn't velvet, but it definitely gives me 2000s Juicy Couture vibes.
Khloe's Natural Look
Here we go again with the pink. Maybe it's because I hate pink, but Khloe looks like she is on her way to a Barbie-themed party. And as far as I know, that's exactly what she might have been doing. However, I do like the dress… I just wish it were black, or blue, or basically any other color.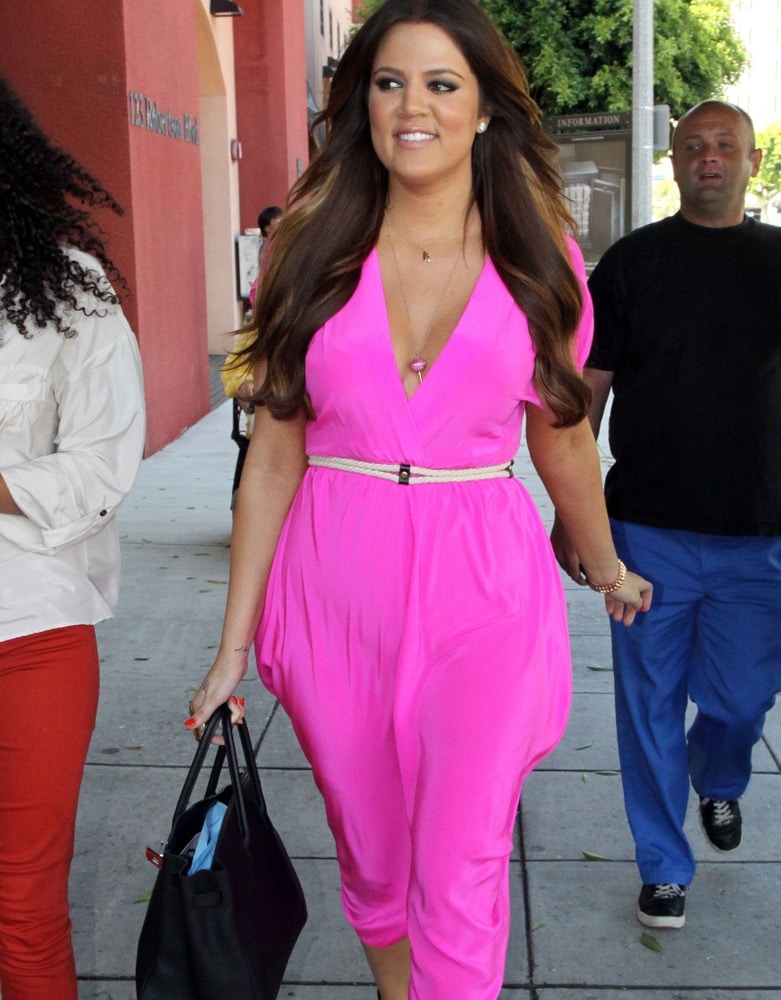 Khloe does look wonderful and fresh here, though. Her skin looks amazing, her hair looks great, and that fabric is quite flattering on her body type. It's the little belt that reminds me how long ago this was. Although I'm not really a belt person, I kind of like this rope one.
Someone's Getting Fired
Yikes! Most of these fashion fails were in style at some point; there is usually a reason behind what they chose to wear. But in this case, Kris probably had no idea how see-through this dress was. It doesn't look so bad from the front, which is probably why Kris didn't notice.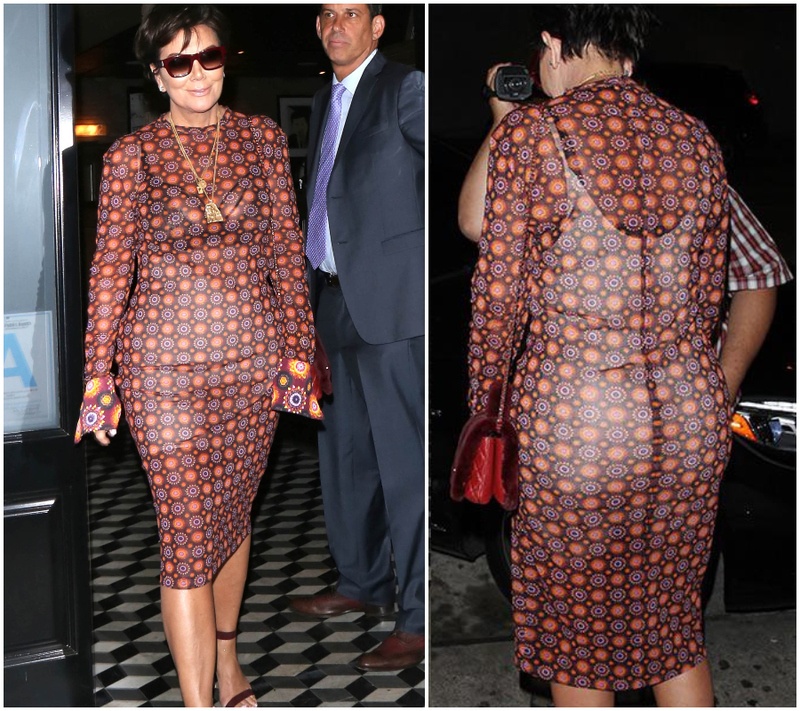 All I can say is thank goodness she is wearing a slip because the entire back is basically clear. Kris probably should have thought this one through because she is wearing mesh material. Either way, a stylist definitely got fired once these photos surfaced.
An Animal Print Princess
For the 2011 Teen Choice awards, Khloe decided to grace us with this black and gray leopard print dress. But honestly, I love it! I think Khloe looks stunning. First of all, that dress is extremely flattering, her hair looks shiny, and her makeup is perfect.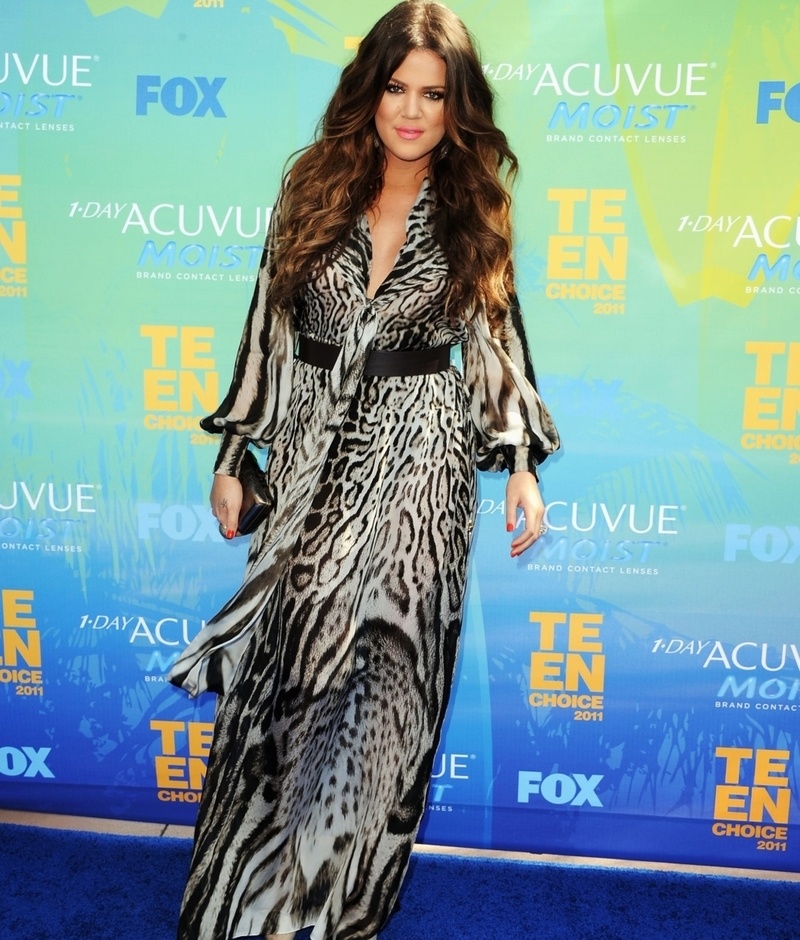 You may disagree with me. This is my not-so-expert opinion. I think she is ready for a photoshoot on the beach, especially with those waves in her hair. Although animal print maxi dresses went out style several years ago, I wouldn't object to seeing it come back.
Too Many Holes
This is a pretty basic outfit, right? A hoodie and jeans are difficult to mess up. That's why it's my go-to outfit. But all those rips, man. It looks like she literally slashed her jeans, and the holes reach the top.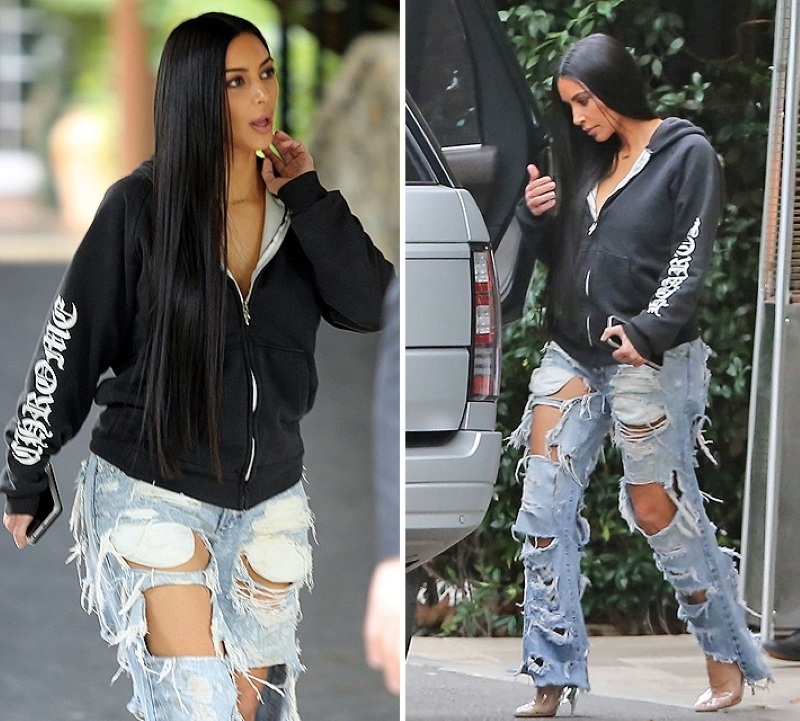 I don't mind ripped jeans; it's the heals that ruin the outfit. Why can't Kim ever look fully comfortable? The hair and makeup look lovely, as usual. I like seeing Kim in a zip-up sweatshirt; I just hope to see her pair it with sneakers one day!
Never Again Please
Wow! I definitely didn't see this one coming, especially on Kourtney. It literally looks like she robbed a flock of birds to make that skirt. I remember the period when the feathered skirt was kind of a thing, but why the heck would she wear it with that shirt?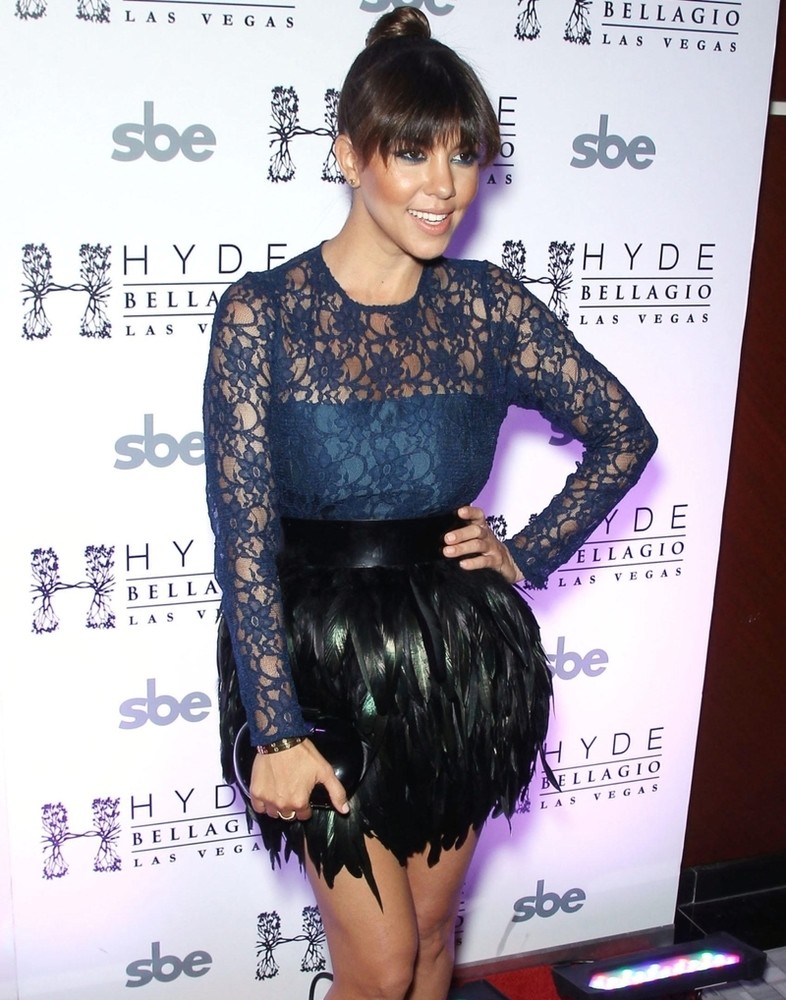 The skirt is a lot on its own; the lace top is unnecessary. The two materials don't complement each other; in fact, they look really bad together. I don't know; maybe you like it, but there is way too much going on for me. I'm also do not loving the bangs with the bun. Thankfully, I don't think we have to worry about seeing Kourtney wear this ever again.
Double Trouble
Oh, my goodness! Look what we have here! The white tees, black bra overlays, and black satin skirts. Both sisters chose to walk out of the house wearing this, so we know it was in style at the time. And seriously, they look like twins here.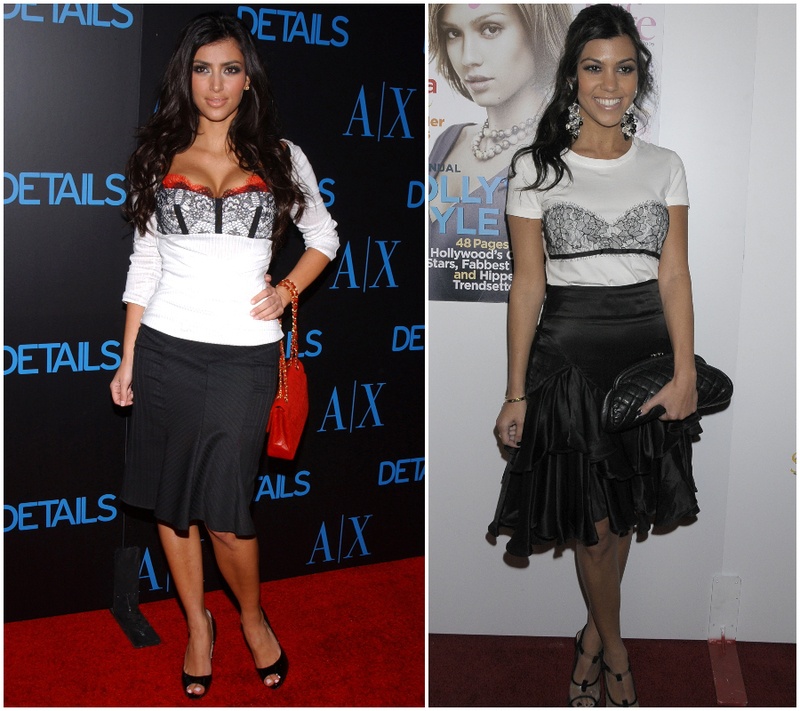 Although it looks like they are wearing the same outfit to separate events, they aren't exactly the same. Kim has that splash of red popping out of the top and a red purse to match. I like the color pop. Kourtney went for a classier look, sticking to black and white and no cleavage showing.
What's Wrong With Her Face?
We already know Kim walks around in clothes that include her face – like that leather jacket. So, it comes as no surprise that Kylie does the same thing. However, Kim looks stunning in the photo she posted on her jacket, and Kylie just looks like she is sleeping in this photograph printed on an oversized tee-shirt.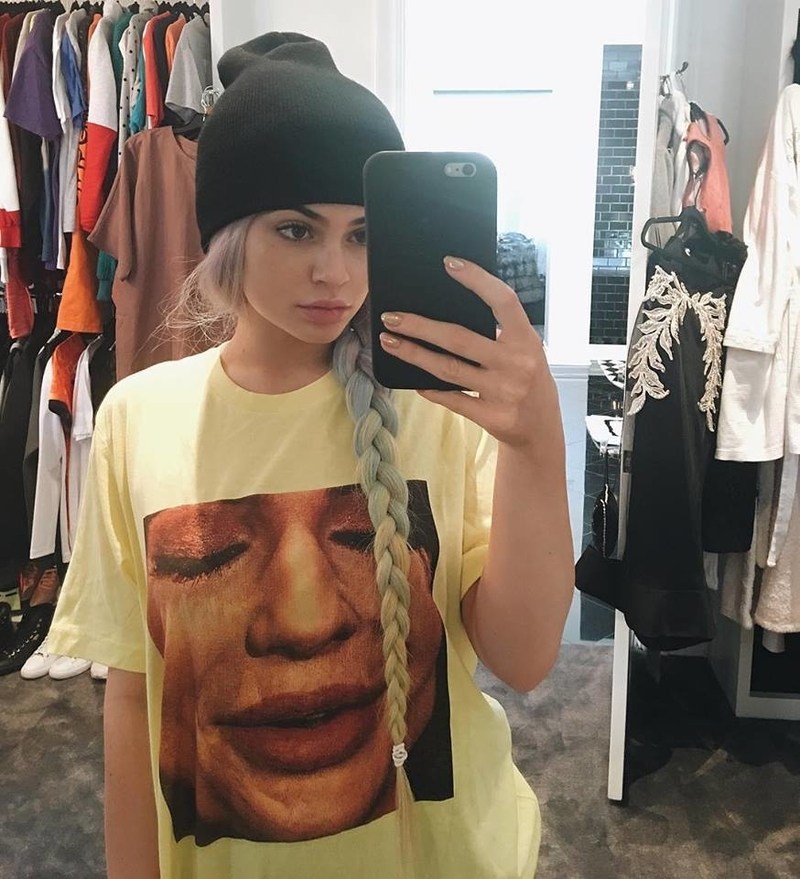 Maybe it's the lighting or the makeup, but this is a very unflattering picture of Kylie. It looks like there is something wrong with her face. Clearly, she is not lacking in confidence and likes the picture enough to wear it on a shirt. Good for her!
I'm Just Confused
Huh? What is going on here? As much as I hate pink, this shade is quite soothing. Everything else about this outfit confuses me to the extreme! First of all, how the heck would you even put that on? It probably took five stylists just to dress her.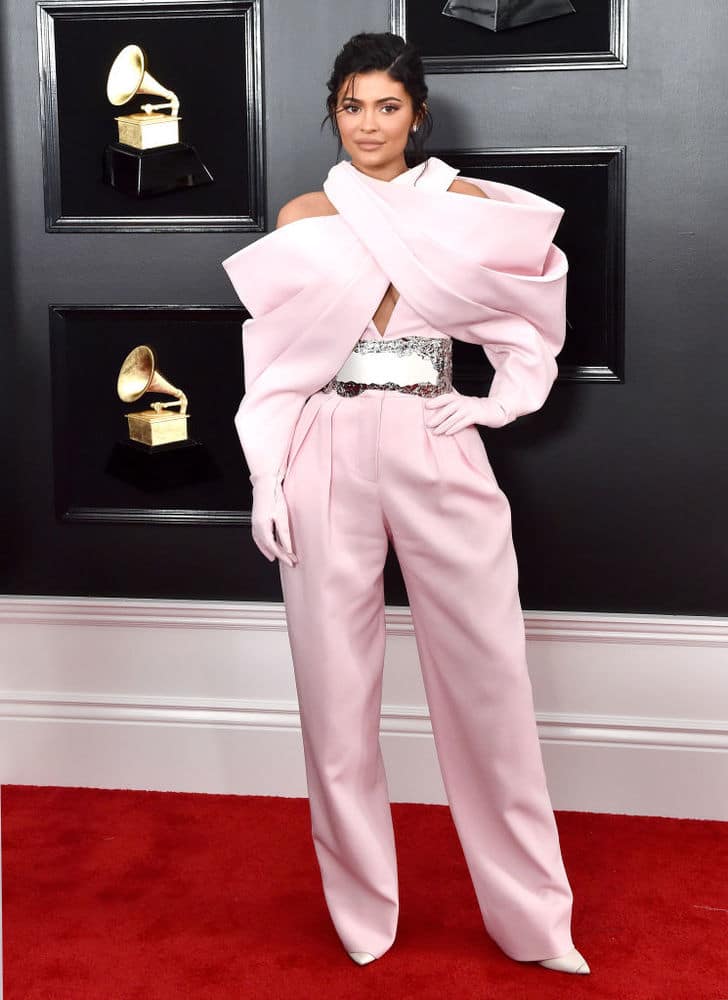 I'm not quite sure if I could ever get on board with this design. Also, why in the world would you wear gloves if you don't have to? Unless it's 10 degrees outside, gloves can be very limiting. But then again, when you're a billionaire, you don't need to use your hands much.
A Ruffled Disaster
If you thought Kylie's outfit was confusing, get a load of this. The black jumper is nice; it's everything else I have a problem with. First of all, where does the jacket end and the ruffle cape begin? Also, just, why? All that money, and you insist on wearing ruffles?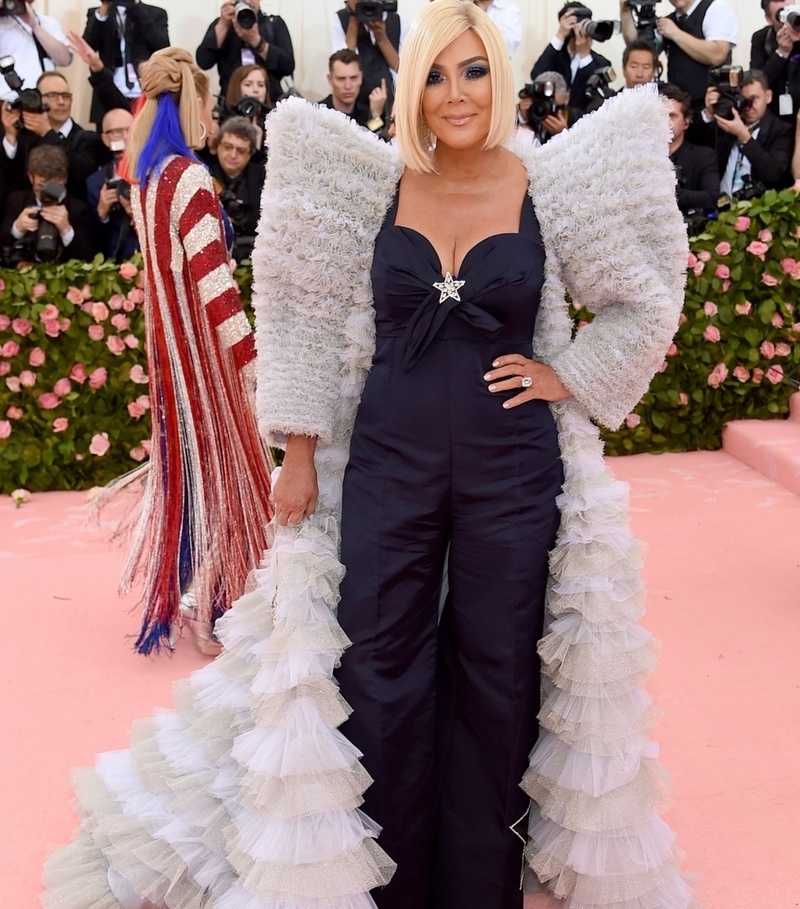 This outfit is so outlandish that you might assume Kris Jenner was at the Met Gala, but I couldn't guess the theme for that particular year. I didn't even mention those exaggerated shoulders. Anyway, I do like her makeup here, especially the eyeshadow.
What's the Point?
What a bold outfit. As I mentioned, the denim on denim really doesn't bother me. But first things first: let's talk about the bra. It's basically clear… what happens if her jacket moves? I guess it's nothing we haven't seen before, but still!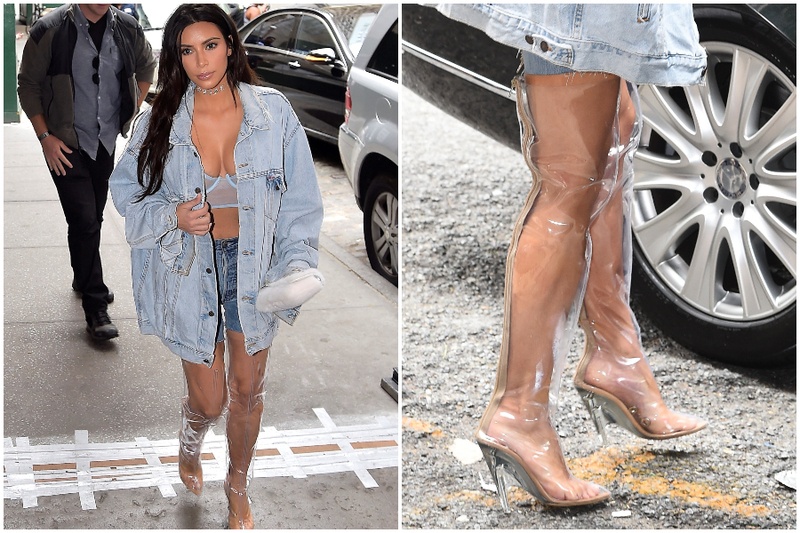 Now let's get into the real issue here. The clear shoes to match her see-through bra. Not only do they look extremely uncomfortable, but what is the point of them? I'm sure they cost a fortune, but you can barely tell she is wearing shoes if you're not up close. But her hair and makeup look amazing.
At Least She's Wearing Flats
Please tell me it's Halloween. We already established that anything with cow print is unacceptable, so you can only assume my opinions on these furry boots. They are flats, and they do look cozy, which is rare for Kim, so I'll definitely give her that.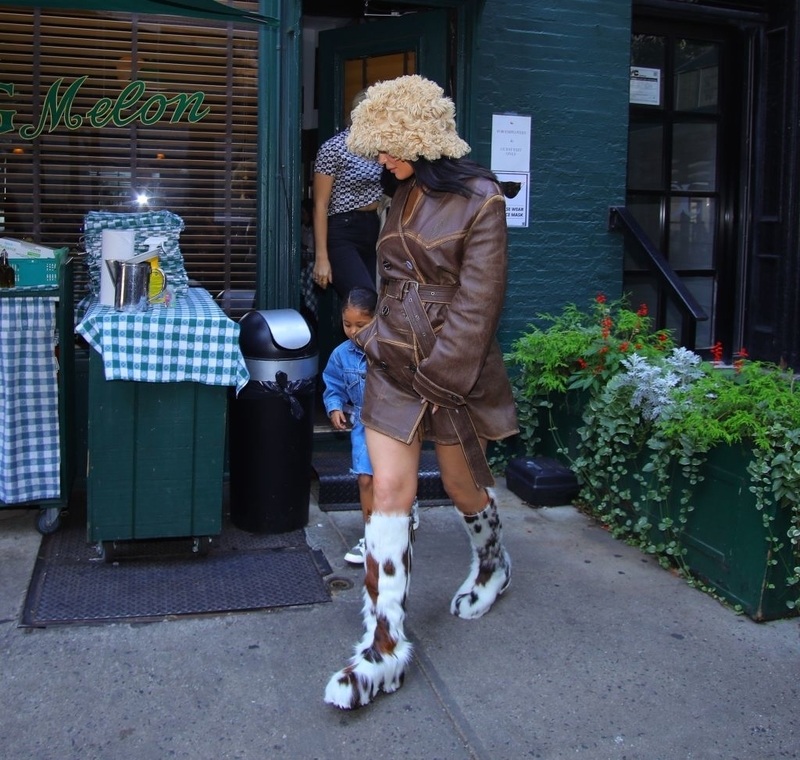 I personally love the brown trench coat that functions as a dress. I'm sure most people don't agree because my sense of fashion isn't great, but that won't stop me from stating my opinion. And can we just talk about this hat for a moment? It looks like a wig!