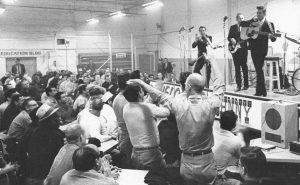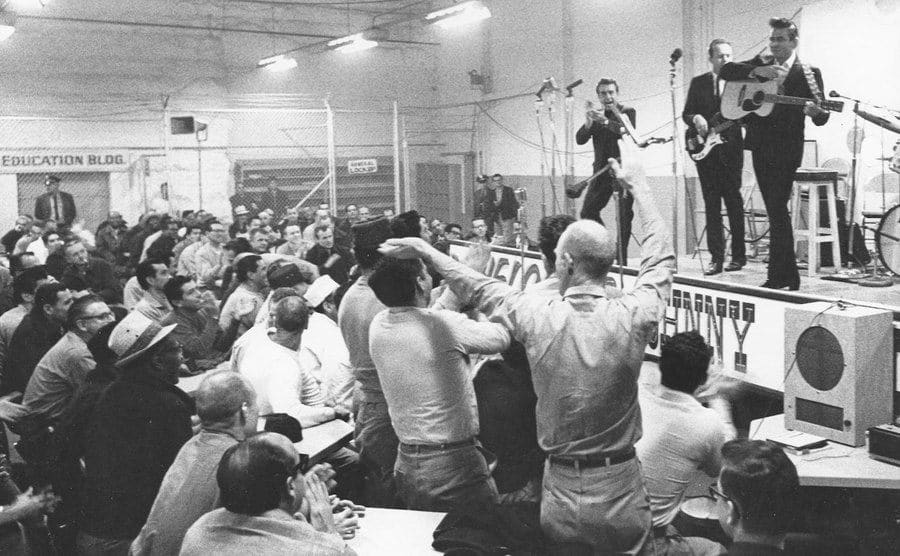 Concerts in the Slammer: From Cash to Kanye
By Yuri S.
---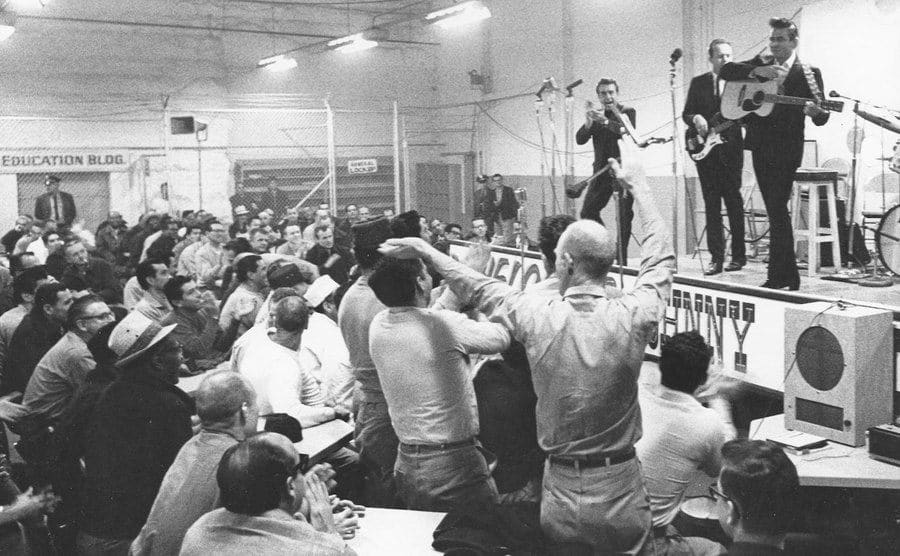 Who said prisoners don't deserve some live music once in a while? Musicians have different reasons for performing in jails and prisons; some are political, while some just seem to want the publicity. Back in the 1970s, Bob Dylan made a protest in the form of a prison contest.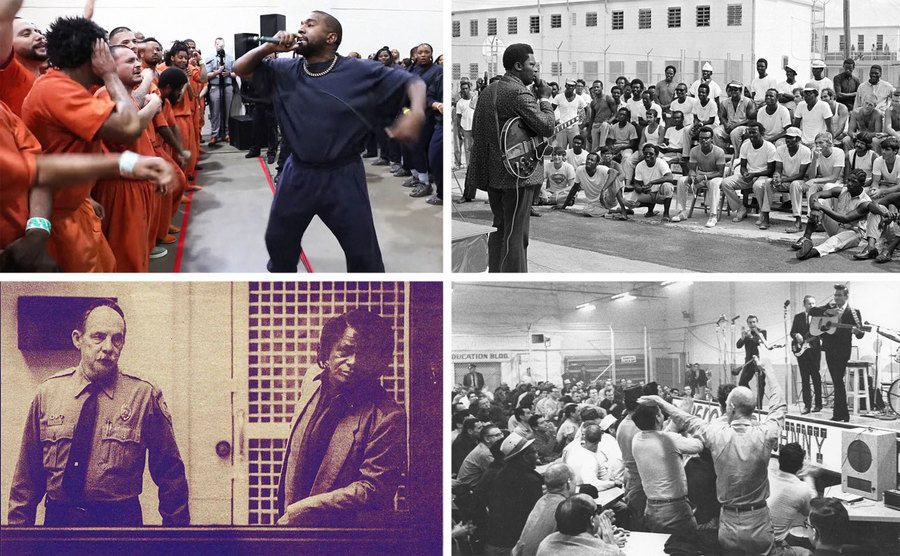 Today, artists like Kanye West (or Ye) and Justin Bieber are lending their talents to men behind bars, giving them a taste of what it's like to feel free for a moment. Whatever their motives might be, these artists have chosen to make their music heard on the inside, too.
2003: Metallica Performs for "Souls" He "Loves"
In 2003, Metallica played a show at San Quentin Prison, which also served as the set for their music video for St. Anger. $10,000 went to support the San Quentin Giants baseball field. Frontman James Hetifield, for one, has nothing against the guys in uniform.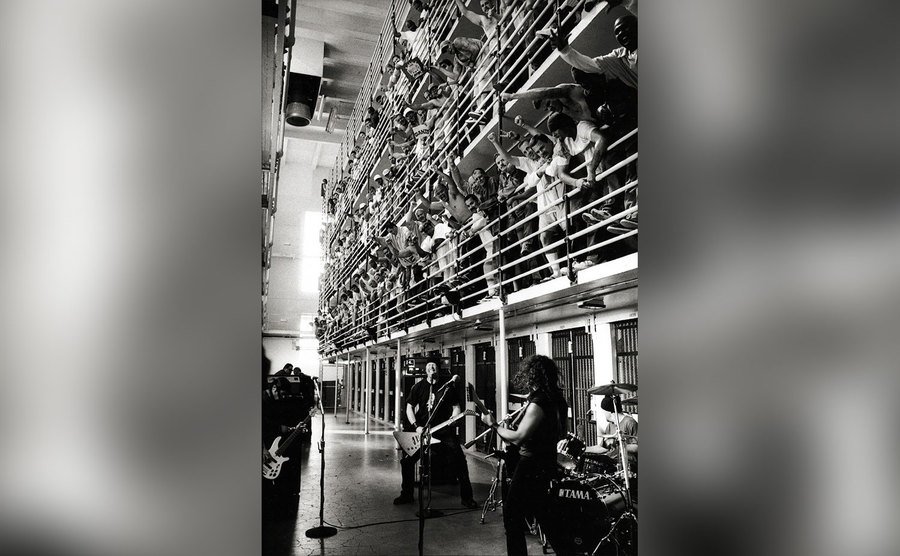 He said during the set, "There are lots of souls here. And I'm not afraid to say that I love you guys." One of the souls in San Quentin was notorious serial killer Richard Ramirez, aka the Night Stalker, who was on death row at the time. The thing is, Ramirez didn't get to see the show, seeing as how he was on death row and all…
The Night Stalker Was Furious That He Missed the Show
Kirk Hammett recalled how he received a souvenir that was linked to the killer. "I got a really cool thing from one of the correctional officers," he explained. ​"It was a magazine with us on the cover and the subscription tag said ​'Richard Ramirez'– the ​'Night Stalker' killer who was at San Quentin while we were playing."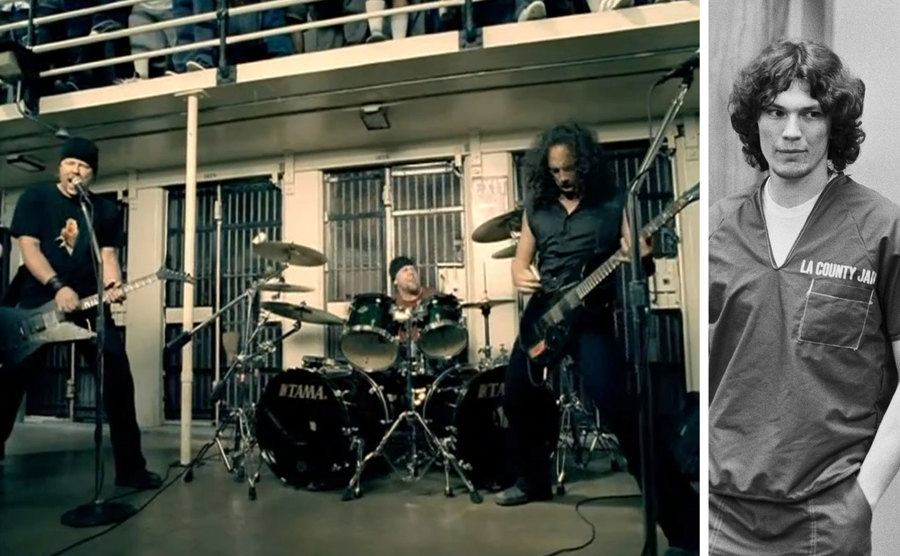 Turns out Ramirez was a Metallica fan, but since he was on death row, he could only hear them. Apparently, he was furious that he didn't get to witness it. The guards said Ramirez was "pissed off and pacing his cell."
A No Hostage Policy
The music video director, Emmett Malloy, shared that the prison concert was unique in that they had a "no hostage" policy." He explained: It "means that the guards aren't obliged to rescue you if you're taken hostage by a prisoner, which was different!"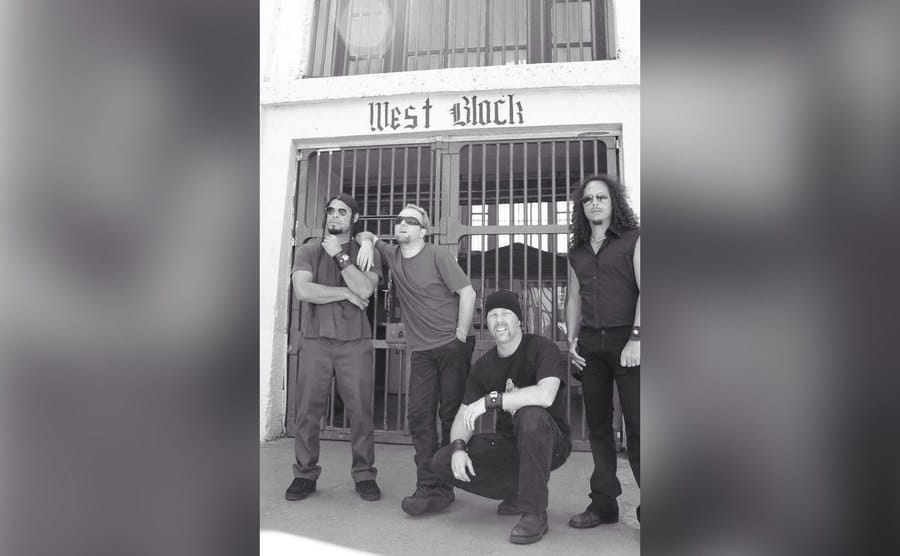 When they scouted the maximum-security area before shooting, it felt like being in The Silence of The Lambs, Malloy said, with inmates screaming passages from the Bible. Hammett shared how there were some women who came with them to the show/music video set, but precautions had to be restricted to a certain area as it was simply too dangerous for them to be seen.
1975: Bob Dylan Performs for Hurricane Carter and His Fellow Inmates
In 1975, Bob Dylan hosted a concert at the Correctional Institution for Women at Clinton in New Jersey. He assembled a backing band that he called the Rolling Thunder Revue, but these were no background names. His band included Joan Baez, Joni Mitchell, Allen Ginsberg, Roberta Flack, and more.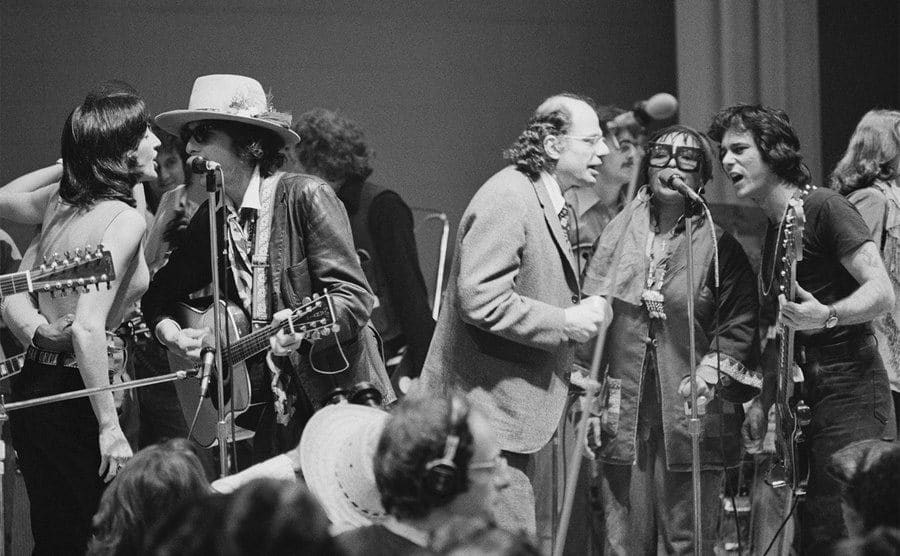 The concert was meant to be a tribute for Rubin Carter, the boxer who was wrongly convicted and became the subject of Dylan's song Hurricane. Carter was one of the 100 men and 200 women incarcerated at the medium-security prison, which was described as more of a farm.
Like Rolling Thunder, Fighting the System
The prison concert was held one day before Dylan and his troupe held a benefit for Carter in Madison Square Garden. Dylan told a friend at the time that the prison concert was "a protest against the State of New Jersey."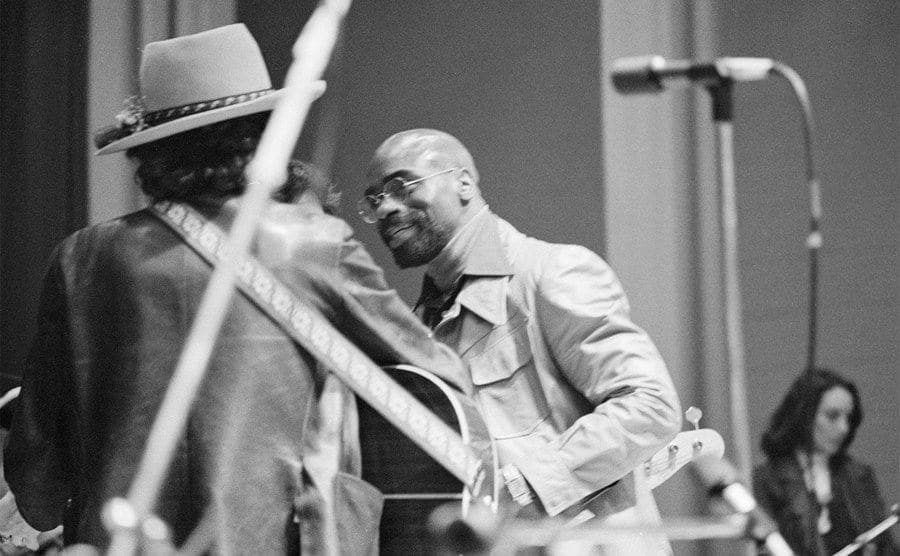 Baez, who was then in a relationship with Dylan, went so far as to state, "I don't believe anybody should be in prison," while Flack added that "This is how a performer can still help." The show was officially called The Rolling Thunder Tour.
2019: Kanye West Surprises Inmates With Impromptu Concert
Kanye West's surprise concert at the Harris County jail in Houston, Texas left some inmates in tears. Ye wasn't alone; he had his choir with him and they performed the song Jesus Is King from his gospel album. Many of the prisoners knelt in prayer and waved their hands.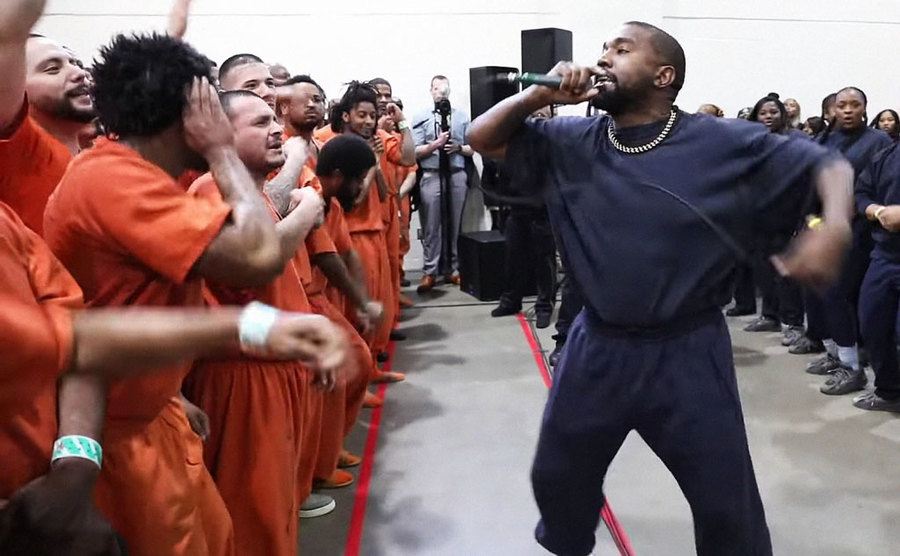 West announced that his visit was "a mission, not a show." First, he did a show for over 200 male inmates, afterwards heading through an underground tunnel to get into a separate jail to perform for a smaller crowd of female prisoners. His presence had a profound effect on these people.
It Might Even Get Them Out Earlier
"Say what you want about the man," said Jason Spencer, of the Harris County Sheriff's Office. "But Kanye West and his choir brought some light to people who needed it today at the Harris County Jail." And say what you want about Ye, but he knows how to get a crowd going.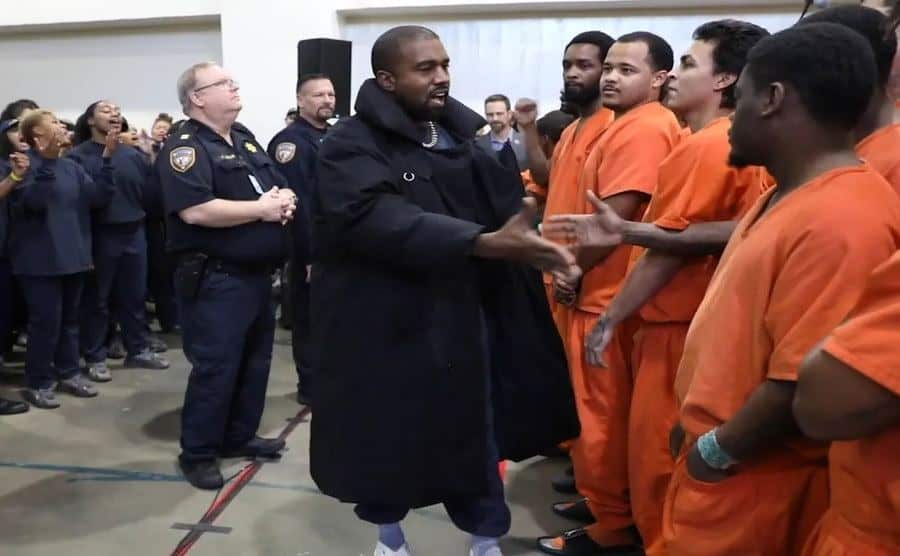 Texas Governor Greg Abbott tweeted: "What Kanye West does to inspire the incarcerated is transformative." Abbott added that "Inmates who turn to God may get released earlier because of good behavior and may be less likely to commit future crimes."
1976: The Sex Pistols' Concert Wasn't Epic at All
The Sex Pistols' 1976 gig at Chelmsford prison is looked upon as an epic and truly chaotic show, because people think Britain's favorite punks played for 500 prisoners who were welcoming their rage against the machine message with open arms.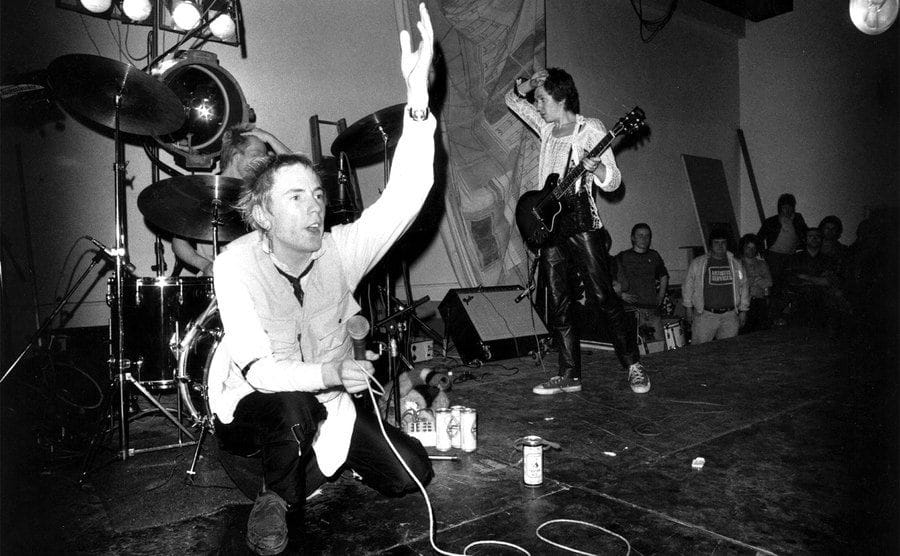 And if you listen to the live album, Live at Chelmsford Top Security Prison, which was released in 1990, you might assume it was an epic sh*t show – a real punk rock exhibit. After all, the band was right up their alley – anarchistic and unhinged. But that isn't what went down at all.
The Roars, Sirens, and Bass Were All Fake
It's a surprise they were even allowed inside the top-security prison. It was said that the state sent cops to come stop the show (sirens are even heard in the background on the track). But as it turns out, the Sex Pistols' prison show wasn't nearly as epic as people thought.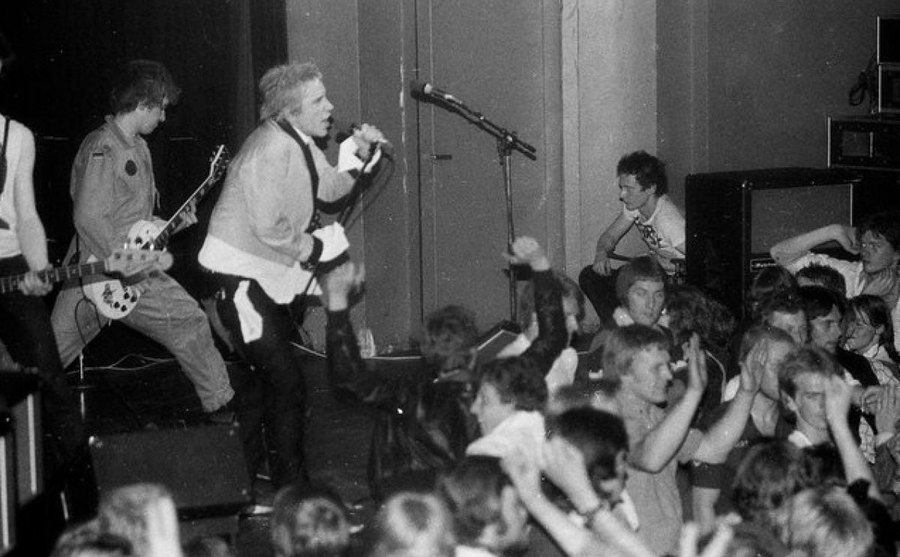 In reality, it was all some post-production magic, with the crowd noise, sirens and all that bass being overdubs. The original recording, like the show, was a disaster. It was the band's soundman, Dave Goodman, who made the executive decision to include all the overdubs.
Catcalls and Boos
Their recording system wasn't good at all; it didn't pick up any of Glen Matlock's bass. And the crowd was overwhelmingly indifferent to the band. Indifferent might even be a nice way of putting it; there were reports of boos and catcalls.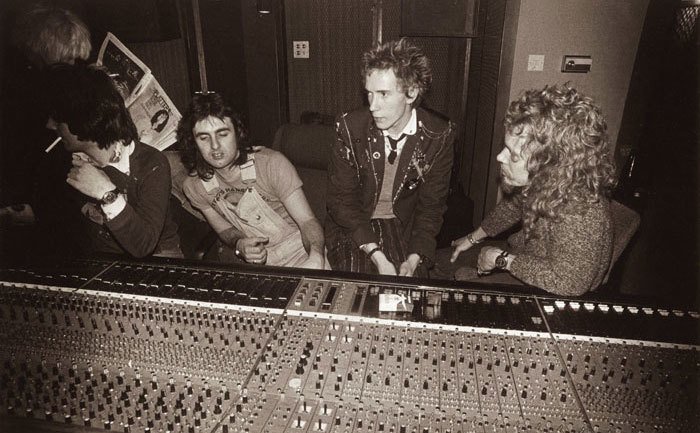 The liner notes of the CD edition says: "Their opening number was 'Anarchy'… at the end of the number, there was a barrage of catcalls, boos and screaming." Inserting the angry crowd and sirens only fed into the mythos of the Sex Pistols, and basically gave people what they wanted to hear.
2021: Justin Bieber Sings for Californian Prisoners
Justin Bieber decided to swap the massive stadium shows for a small group of prisoners when he performed for a California state prison last year. Bieber was actually visiting the prison with his pastor. He sang an acoustic version of Lonely and several other songs.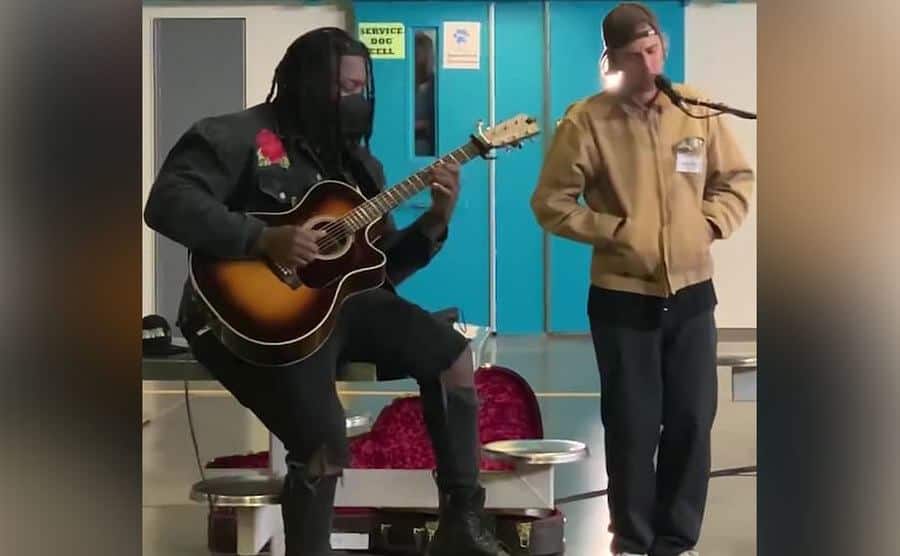 You might instinctively think that the last thing prisoners want is a tattooed-up pop star singing them acoustic songs, but the inmates were reportedly pleased with the intimate performance. The kid is no Johnny Cash (who was known for his prison shows), but at least he's widening his fanbase… I guess?
1972: James Brown Makes Rikers Go Wild
On March 16, 1972, Brown made New York's Rikers Island his audience, specifically 16-to-20-year-olds, most of them in jail awaiting trial. "'The inmates asked us to come to Rikers, and we're going!'" he announced at the time.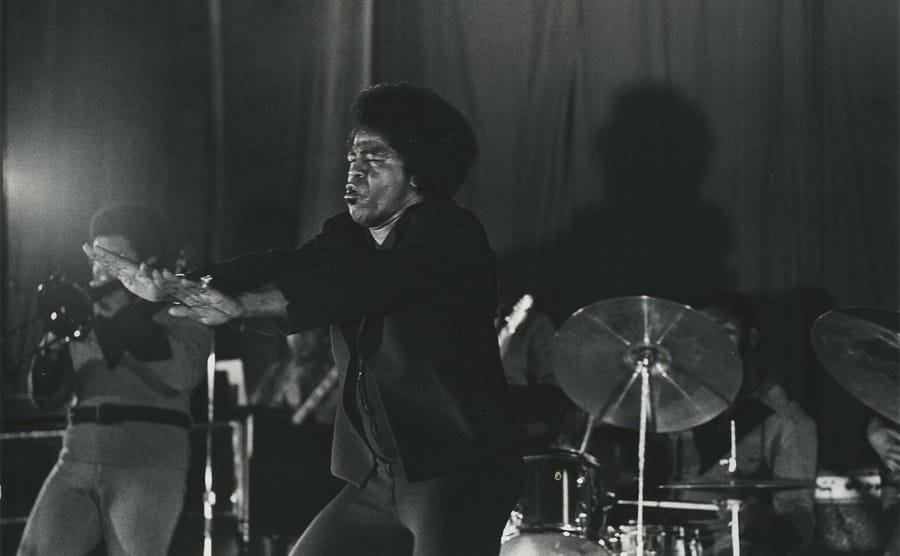 As you can probably imagine, the kids went wild. John Brickman, the executive director of the New York City Board of Correction, said the roar reminded him of the reaction he heard on Johnny Cash's live album, At Folsom Prison (which we'll get to soon). Brown apparently had a soft spot for incarcerated youth, considering he had been one himself.
The Jail Was in Need of a Pick-Me-Up
Brown was 16 when he went to jail for breaking into cars. "He could relate to the unfairness in the justice system and the conditions in our prisons," his road manager explained. His 1972 single King Heroin is one that began as a poem by Manny Rosen, a former Rikers inmate who showed it to Brown one day at a deli where he worked.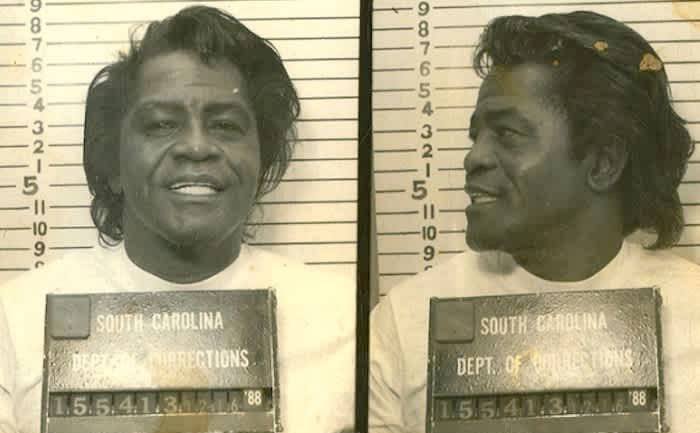 Over half of the young inmates at the Adolescent Remand Shelter at Rikers were there for drug-related crimes. And the conditions were dangerous. Earlier that year, before Brown's appearance, Rikers was rocked by a riot, and five correction officers were taken hostage.
The Whole Shebang
It was bad news at Rikers. Then, one day, a woman named Gloria Bond, who worked at the Board of Corrections, offered a pick me up in the form of James Brown. The agency had previously brought in Harry Belafonte to give a show.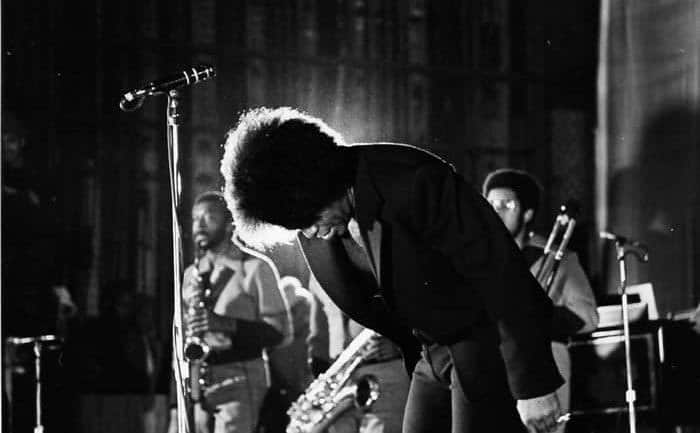 Brown ended up performing two shows at the jail since so many of the young prisoners wanted to get a glimpse of the Godfather of Soul: one for a crowd of 500 and another for 600. "He acted like he was on Broadway or someplace," a corrections officer recalled. He brought his band, backups – the whole shebang.
Look at Me, Kids
"The inmates were totally into it," it was reported. "They just grooved on it and had a wonderful time." There were also no incidents with the detainees. Brown's message was "Look at me. Look where I came from and look where I went."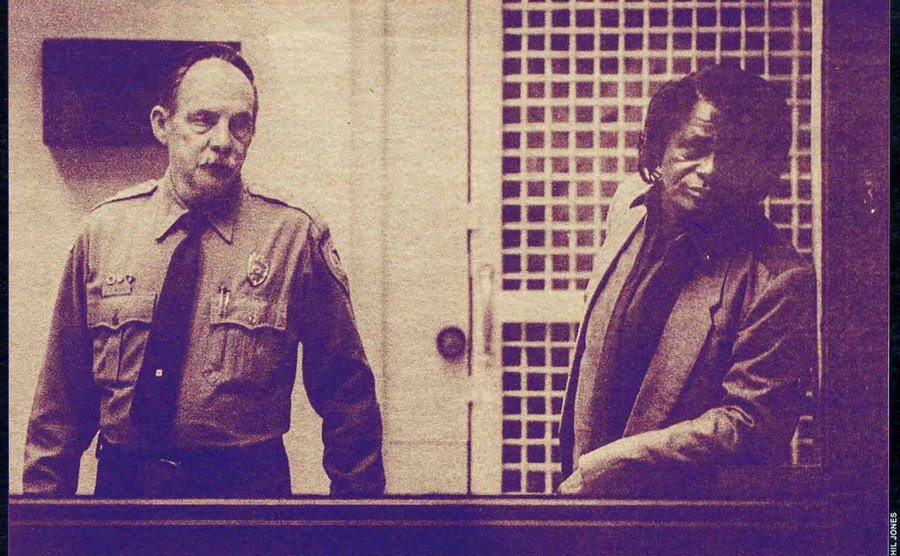 Before he went into Please, Please, Please, he told his crowd, "When you leave here, you can have a good life or you can have a bad life. However, you do it when you get out is up to you." He never got paid for the gig, either.
1957: Johnny Cash Starts a Trend
Johnny Cash is known is just as much known as the Man in Black as he was the prison performer. Some of his most famous albums – At Folsom Prison (1968) and At San Quentin (1969) – were these kinds of shows. Cash was a strong advocate for prison reform and even took his opinions to the Senate in 1972.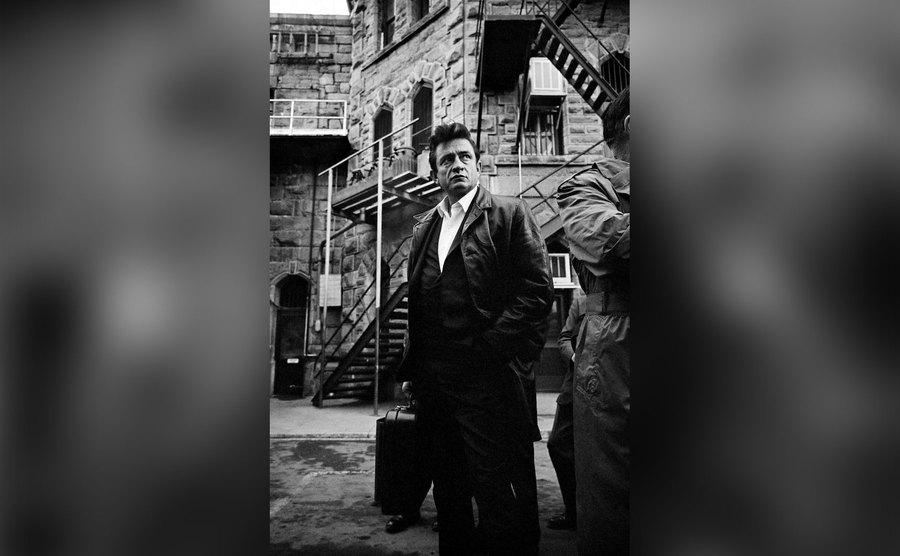 Cash first performed for inmates in 1957 at Huntsville State Prison in Texas. He spent the following three decades devoting his time and talent to do shows at prisons for free. The inspiration came while he was serving in the US Air Force Security Service.
Inspired by a Film He Saw in the Army
In 1953, Cash's unit watched the film Inside the Walls of Folsom Prison, which led to an aha moment for the country singer – one that proved to be career-defining. The film also inspired him to write his classic song, Folsom Prison Blues.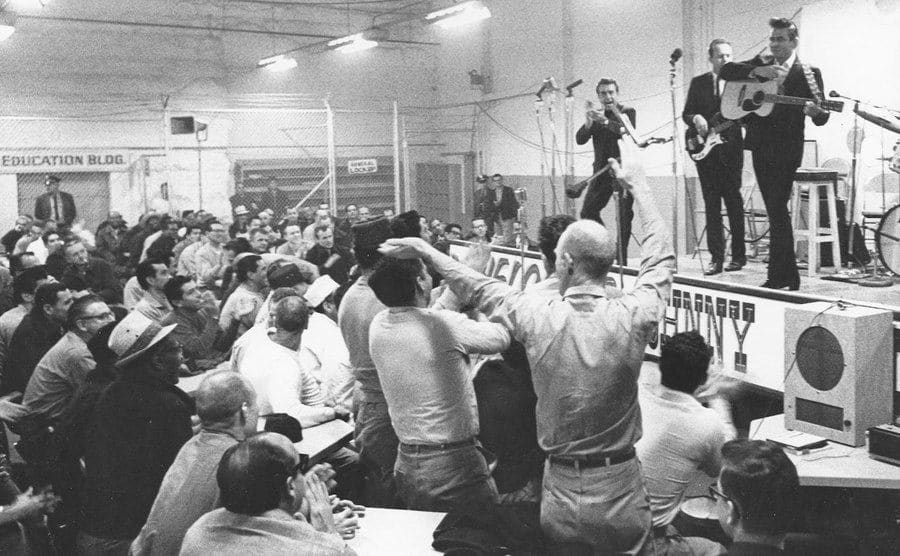 The song was hugely popular with inmates, and many even wrote to Cash asking him to perform for them in prisons. Two years later, he showed up at Huntsville. The 1969 Folsom album put Cash back on the map (after a bit of a lull). He sold 6.5 million albums… during the Beatles era, mind you.
Guns on Ramps
When Cash showed up for the show at Folsom, it was not long after a guard had been taken hostage. For the show, inmates were warned not to stand up. Guards were walking around with guns on ramps above the audience.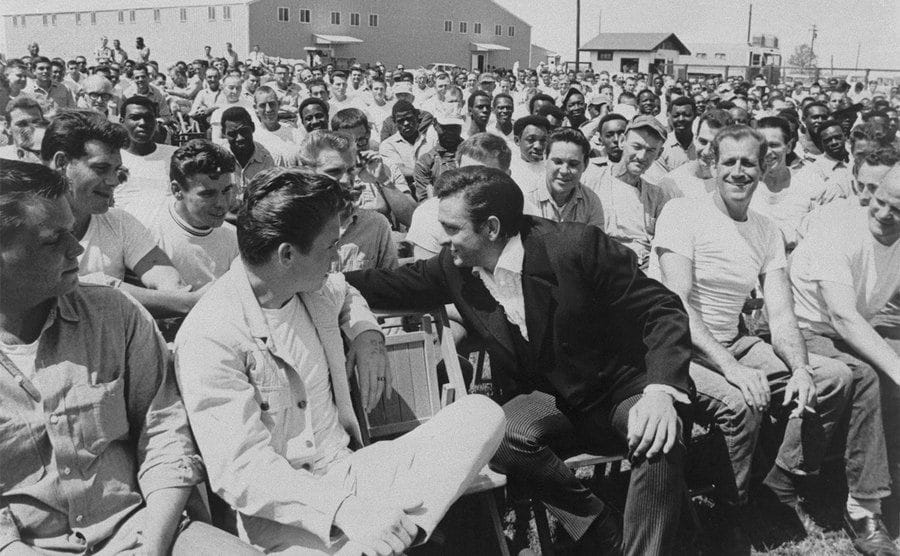 The stage was set up in the cafeteria, behind death row. It was a tense situation, but Cash seemed calm and collected. "He didn't just do a greatest-hits show that day; he designed every song for that audience and their emotional needs," biographer Robert Hillburn stated. Many prisoners wrongly assumed that Cash was a former inmate.
They Were Eating Out of His Hand
Cash indeed spent some nights in jail from time to time, but mostly to "dry out." He was also once arrested for picking flowers on a stranger's lawn, but that was about it. Still, prisoners related to him. "Once the music started, you could see people were eating out of his hand," Hilburn said.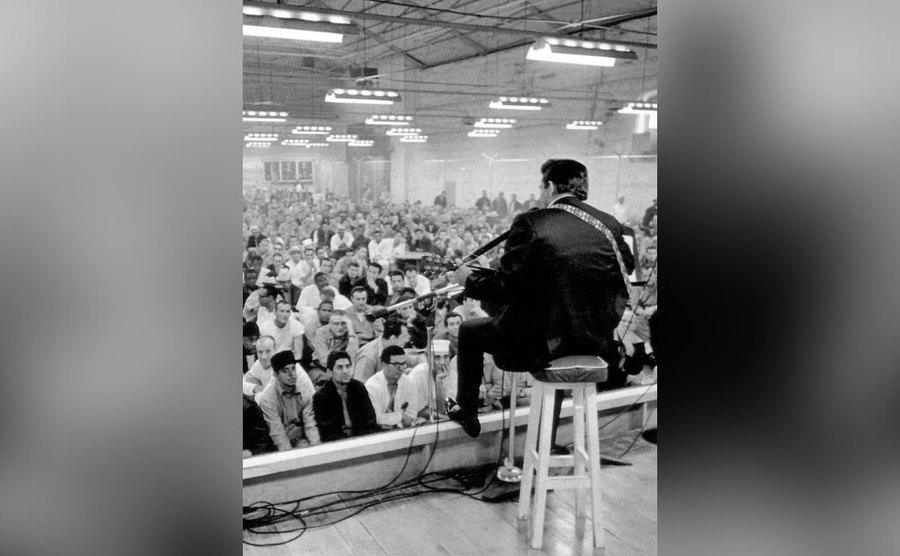 Although they were warned not to stand, some did anyways, and Cash shook hands with those in the front row. The cheers heard when Cash sang the line "I shot a man in Reno" were amplified on the post-production recording.
The Kids Locked Up With the Killers
Cash was especially bothered by the idea that young, first-time offenders were thrown into a broken system that housed hardened criminals. "The population was mixed, kids and killers. This was his thing; he was really bothered by that," historian said Mark Stielper noted.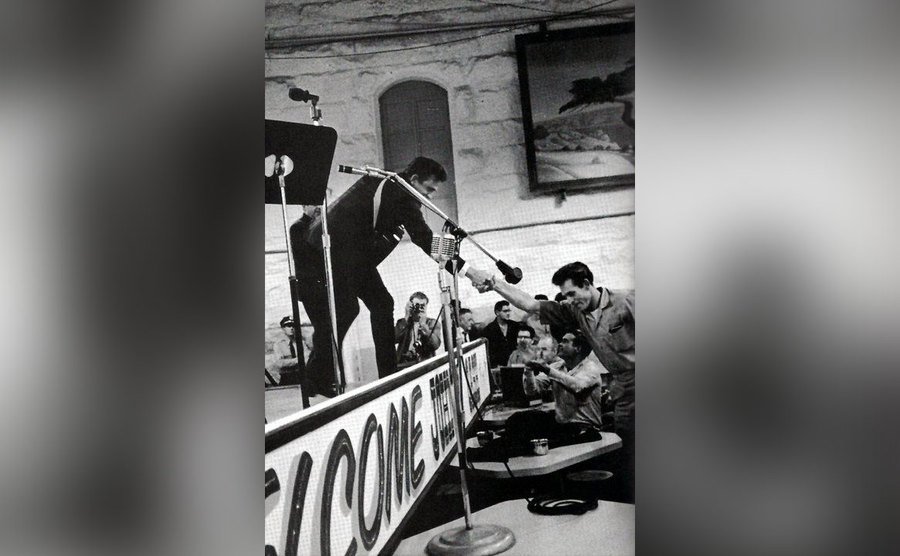 With his prison shows, Cash "made mainstream society aware of the need for prison reform," Stielper added. "There was nobody at his level of prominence who was doing the same thing." Cash also advocated for the release of Glen Sherley, a career criminal locked up for an armed robbery charge.
The Prison Reformer
In 1971, Cash succeeded in convincing a reluctant Ronald Reagan to free Sherley, who was serving a life sentence. Cash himself picked Sherley up and took him on the road as a songwriter at his publishing company.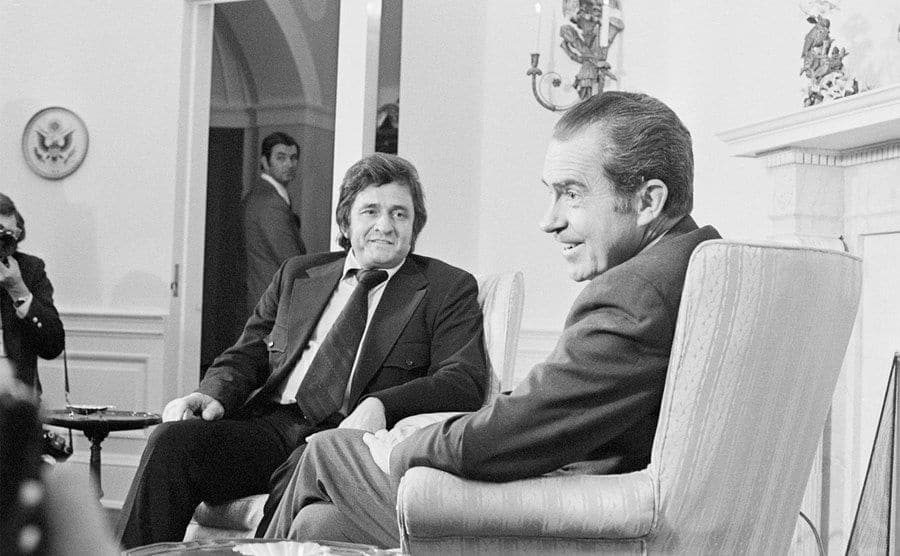 But the prison reformer and former prisoner relationship didn't totally work out. Sherley became erratic and struggled to write decent songs. He either showed up late or not at all to shows and clashed with bassist Marshall Grant, who eventually fired him. Sherley eventually shot himself at age 42. Cash paid for his funeral.
1978: The Cramps Enter a Mental Institution
New York's punk rockers The Cramps liked to sing songs about nightmarish subjects with images you might see in a horror movie. That said, they thought it would be fitting to play a concert in a mental hospital. It's technically not a prison, though. Well, depending on who you ask.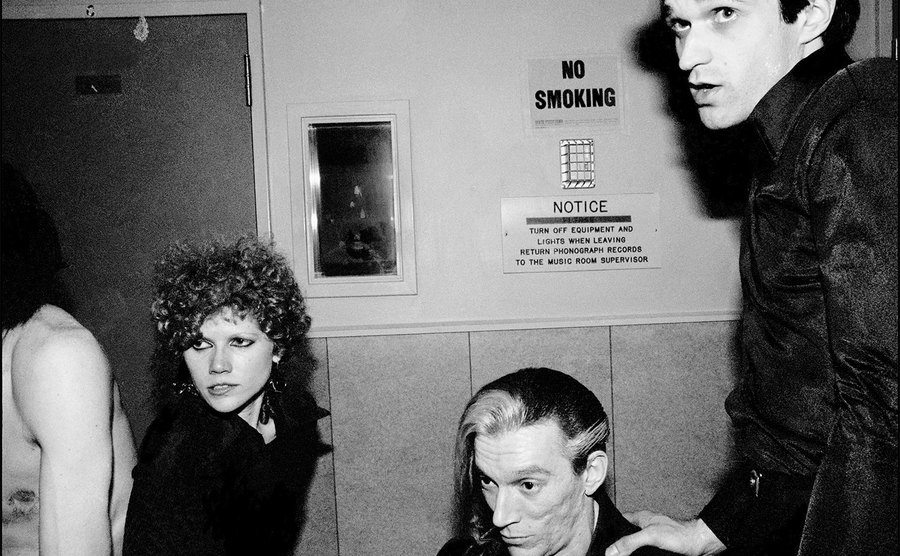 In 1978, they went up to Napa State Mental Institution to perform one of the strangest and most controversial gigs in music history. Playing in a raised patio in the courtyard, the Cramps played a passionate set to a small crowd of a devoted punk fans, 100 or 200 patients, and staff.
As Patients Wandered the Courtyard
The good news is that there actually exists a small reel of footage in a pixelated black and white, to fit the eerie atmosphere perfectly. As for the audience, some patients wandered around the courtyard while others were engaged.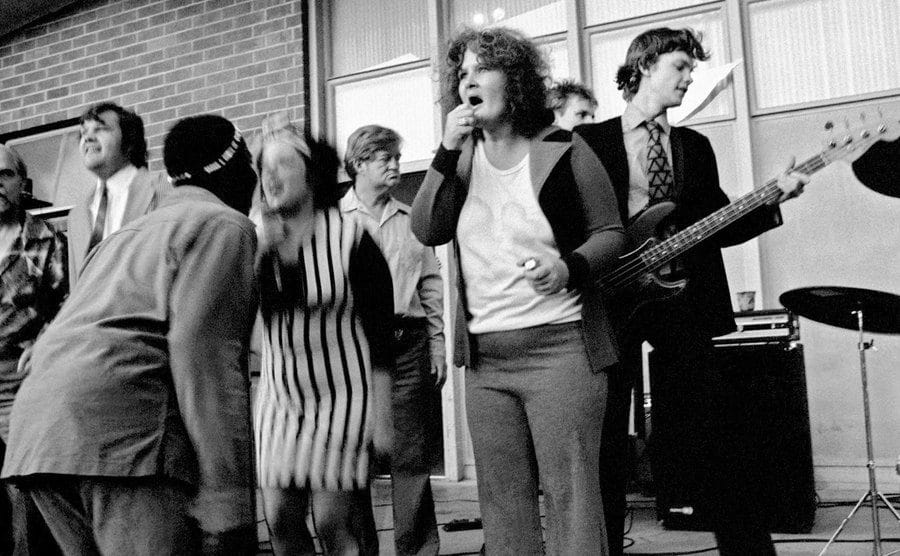 Then there were those who were oblivious to their surroundings and even wandered onto the stage area. Guitarist Bryan Gregory couldn't help but show a slight grin through the whole set with a cigarette stuck to his lips. Meanwhile, frontman Lux Interior yelled out, "We're The Cramps, and we drove 3,000 miles from New York City to play for you."
1965: Frank Sinatra Made the Female Prisoners Swoon
Back in 1965, Ol' Blue Eyes made an appearance at an all-female prison, Lorton Reformatory, together with Count Basie and Ella Fitzgerald. The inmates were loving every minute of it, shouting, "Sing it, Frankie, sing it!"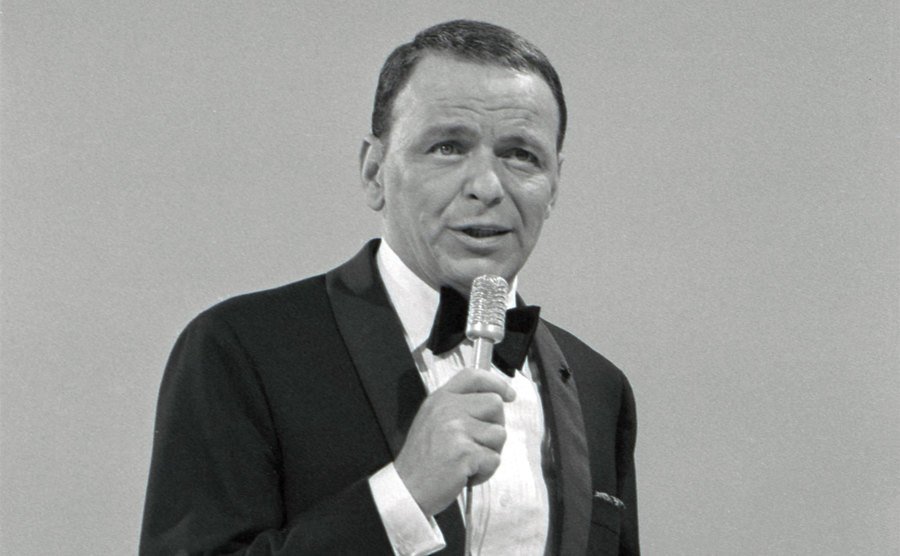 Of course, Sinatra arrived in style, having driven up in a Cadillac, hit the inmate-constructed stage, and launched straight into I Wish You Love. He sang with the Basie band behind him for 45 minutes before 3,000 prisoners. It was a full band performance, like you would see in a 1960s Vegas casino.
1971: Grateful Dead Play for "Bear" and Other Inmates
You might have heard of Owsley "Bear" Stanley, the Grateful Dead's supporter, soundman and one of the largest LSD suppliers in the world in the late '60s. Well, he just happened to be incarcerated at the Terminal Island Correctional Facility in 1971 when the band showed up to play a free concert for the inmates in August.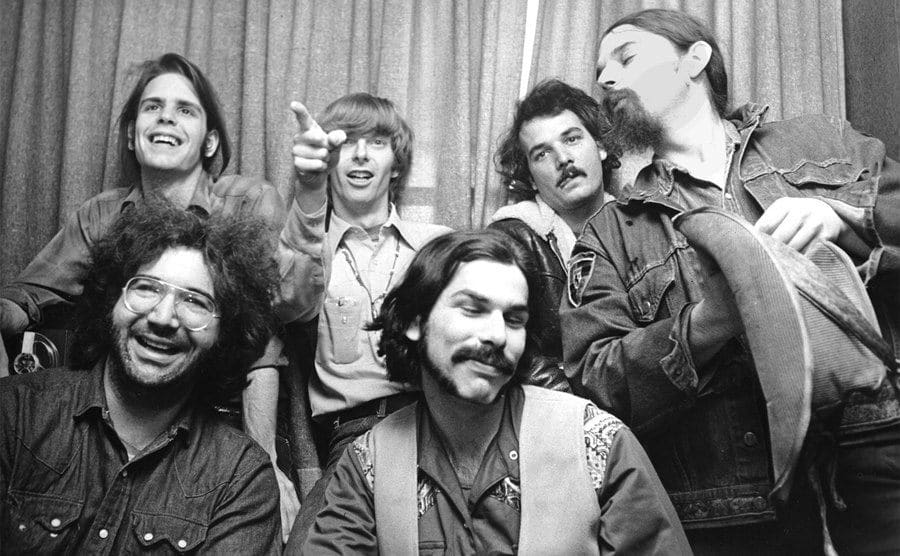 Bear and his fellow inmates got to see a "very well-played" show that had to see some tweaks. When playing Lovelight, for instance, Pigpen didn't do his normal rap about grabbing ladies and taking them home.
They Dead Sings the Gospel
The Dead revisited the prison scene in 1992 when they organized a gospel concert at San Quentin State Prison. Why? Good question. Apparently, it began with a feeling some monks had. The band's manager Danny Rifkin was driving past the prison with the Gyuto Monks.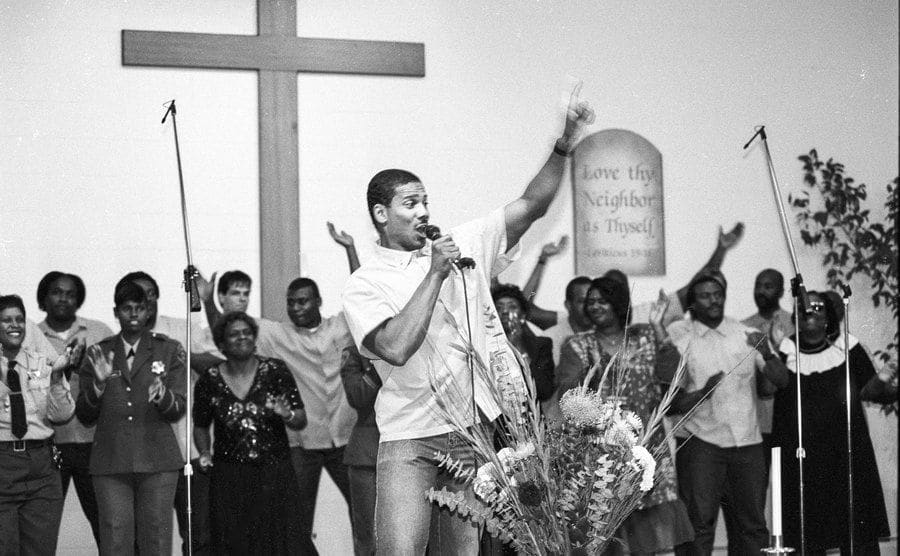 According to publicist Dennis McNally, "The monks saw the building and said, 'We sense a lot of pain over there.'" Rifkin told them it was a prison, and so they asked to pull over for a healing prayer. Rifkin later spoke with the prison chaplain to see if they could get inside San Quentin.
All They Needed
The chaplain told the manager that what they could do was "Convince these guys that they're not here isolated for the rest of their lives, and that they still have a connection to the rest of the planet and society." The concert saw "a mix of staff and inmates doing what had never been done before."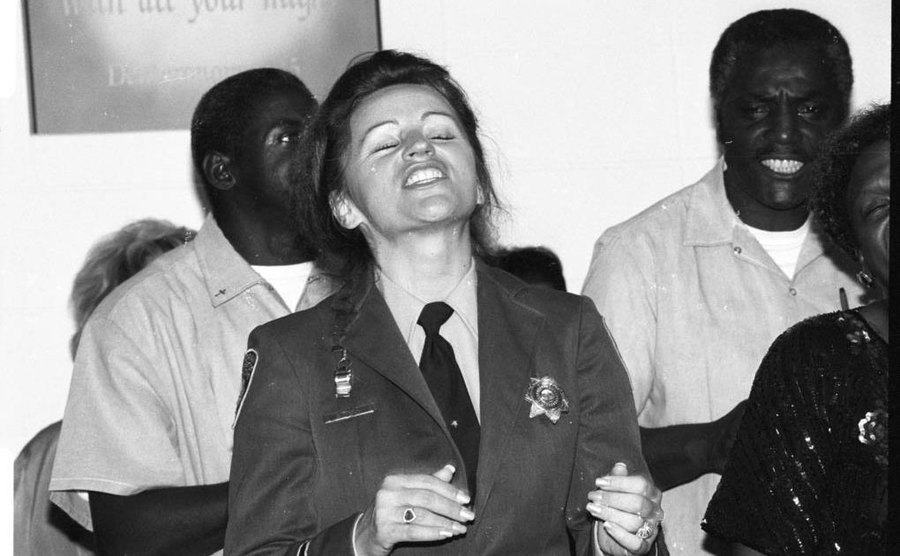 "We had female staff members join the choir, and correctional officers playing the organ and drums." The audience in the prison chapel was "seized by the moment and the music." A recording of the concert, called He's All I Need, was released in 1993.
2019: Common Raps for Rehabilitation
Common visited the California Rehabilitation Center in Norco and stopped to talk with one of the young inmates. On the top of his metal-frame bunk bed was a portrait of Common that the prisoner painted himself.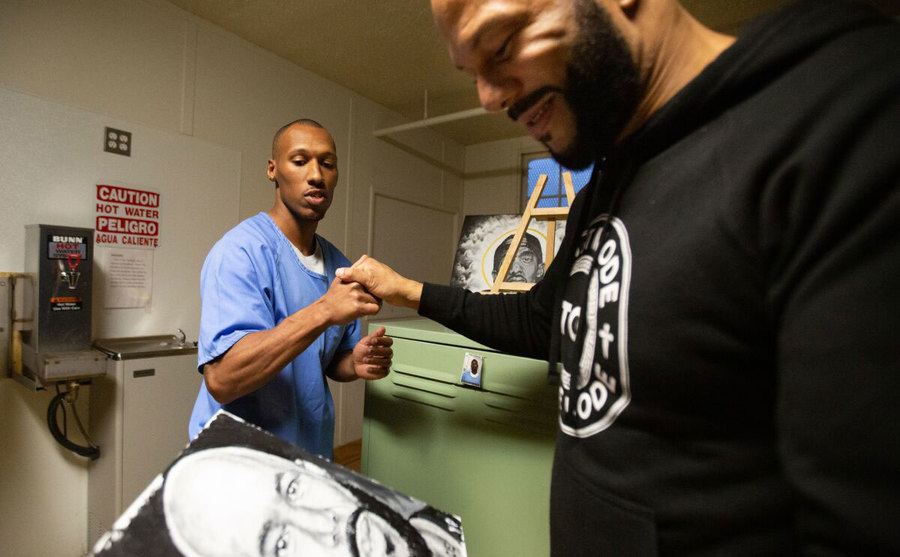 Common performed a concert there that day – his ninth in two years. This particular prison show coincided with the movie Just Mercy, about a Black death row inmate who was wrongly convicted. "The goal behind all of this is to give people hope," Common shared. "We need to make sure that we recognize these people as human beings."
1972: B.B. King Sang Sang at Sing Sing
B.B. King performed at the infamous Sing Sing prison and said to his crowd, "I was told that some of you dudes don't know anything about blues, so I wanna say this to you: I came to swap some with you. I imagine that quite a few of you dudes have the blues already."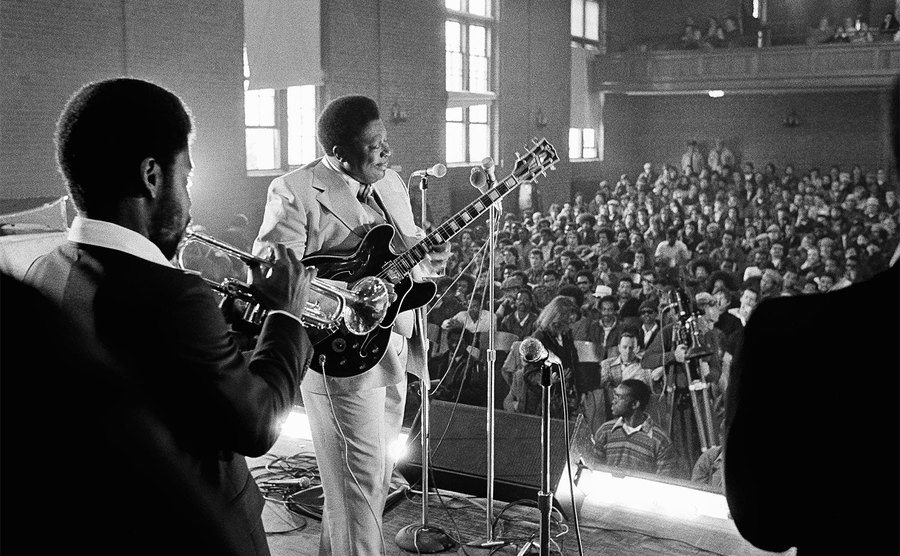 At the time that this classic was recorded in a Chicago jail, King was at a career crossroads. He gave it his all in that show, backed by a crack band and horn section, which he performed for both the inmates and their wives (who came for the show).
The Beginning of a Bad Era
It came three years after Johnny Cash performed at San Quentin and a year after Nixon declared the "war on drugs." It was the beginning of a period of mass incarceration. That's why these prison shows during this time were so significant.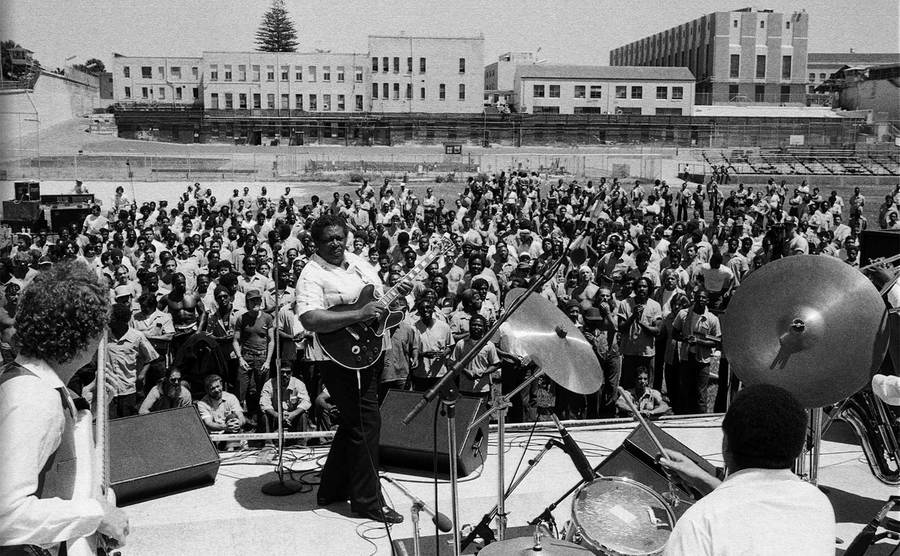 At King's show at Sing Sing, other artists like Jimmy Walker and Joan Baez took the stage. In between performances, inmates put on a play and recited poetry they themselves had written. The entire show was shot by documentary director David Hoffman, who taught film at the prison and who organized the show.
He Played Cook County Jail
Unlike the common perspective of the times, King saw prisoners as human beings who made mistakes rather than as evil animals. King had performed at a prison the previous year at Chicago's Cook County Jail and the record of it made Rolling Stone's 500 best albums list.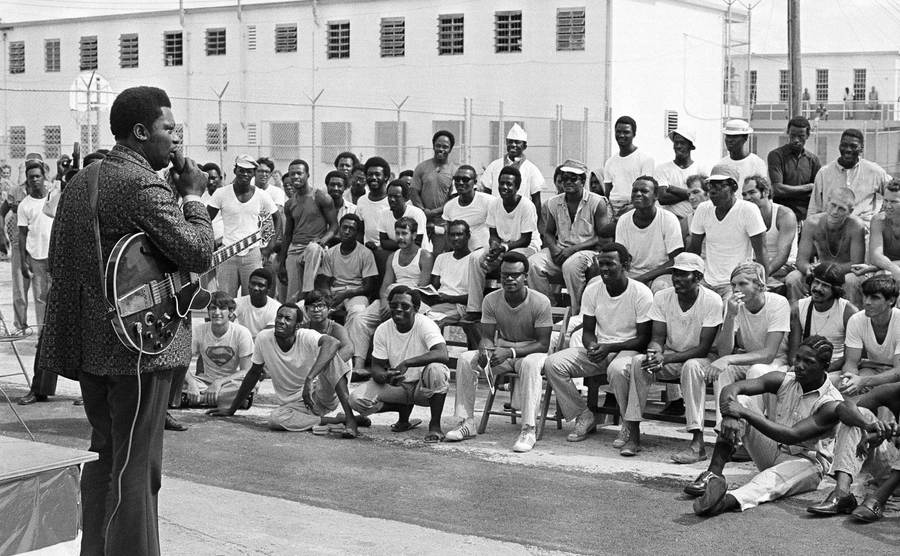 King's keyboardist Ron Levy said, "If anybody had the blues, it was those people incarcerated. And B.B. really felt compassion for those guys." King was more than just a musician. "He's a human being, a humanitarian. He cared," Levy remarked.
2022: R. Kelly Gives Free Concert to a Fan While in Jail
R. Kelly is in jail for the heinous acts he committed (racketeering and sex trafficking), but some fans still appreciate his voice. A TikTok fan shared a video of the incarcerated artist performing a mini show for her over the phone from jail. Reportedly, the young woman's father is detained in the same federal detention center as Kelly.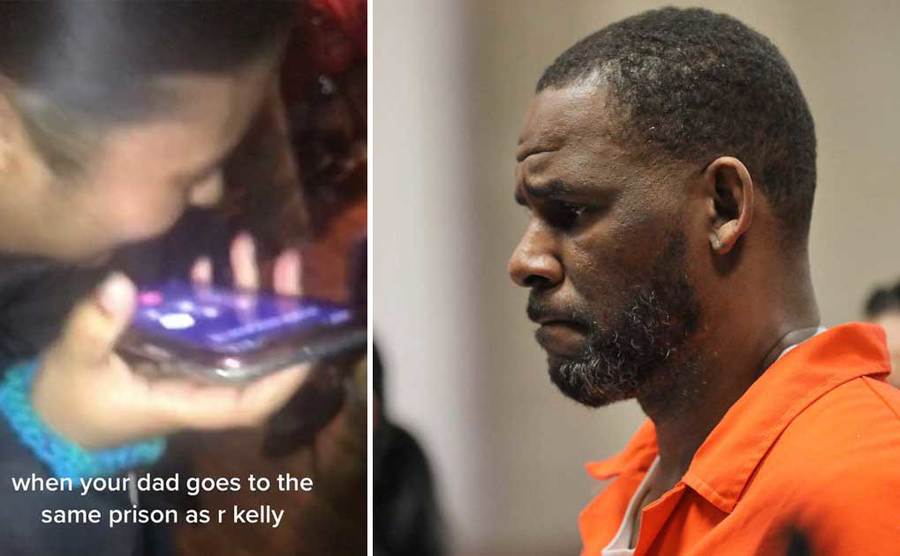 The father managed to convince him to perform for his daughter over the phone. (If you're wondering how prisoners have cell phones, this is news to me, too).
The Video Went Viral
She asked him to sing The Love Letter. The 55-year-old singer then let out a big sigh before giving a short performance of his song. The fan and her friend couldn't stop laughing. "Thank you," they cried to Kelly, and he said, "You're welcome."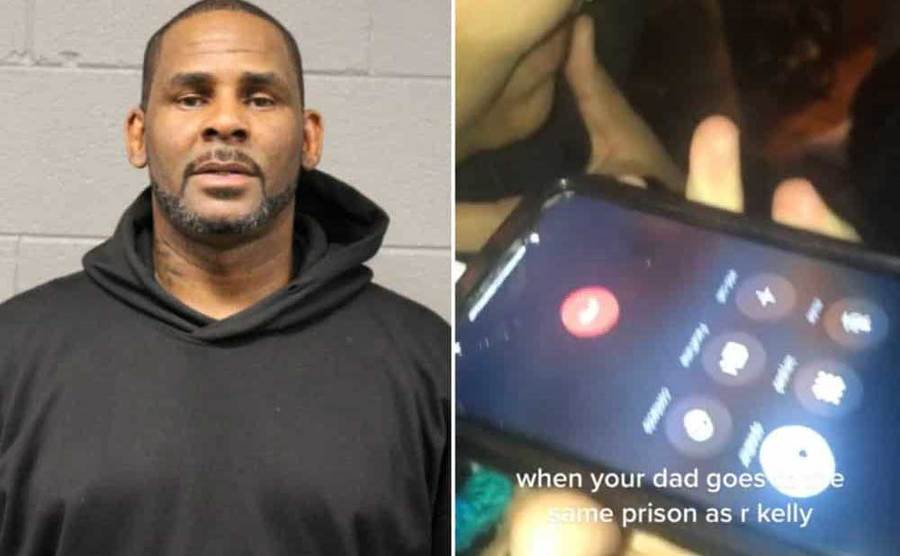 The video went viral quickly, and rumors began that he had played the song for money, but that theory was swiftly debunked. In her Instagram Story, the fan he sang for stated, "R Kelly did nothing for commissary. I just asked him to sing, and he agreed."
When Prisons Inspire Singers
Many artists are captivated by the concept of prison, whether they experienced it first-hand or not. And many prisons have come to inspire artists to create certain songs. Take Johnny Cash's Folsom Prison Blues, for example.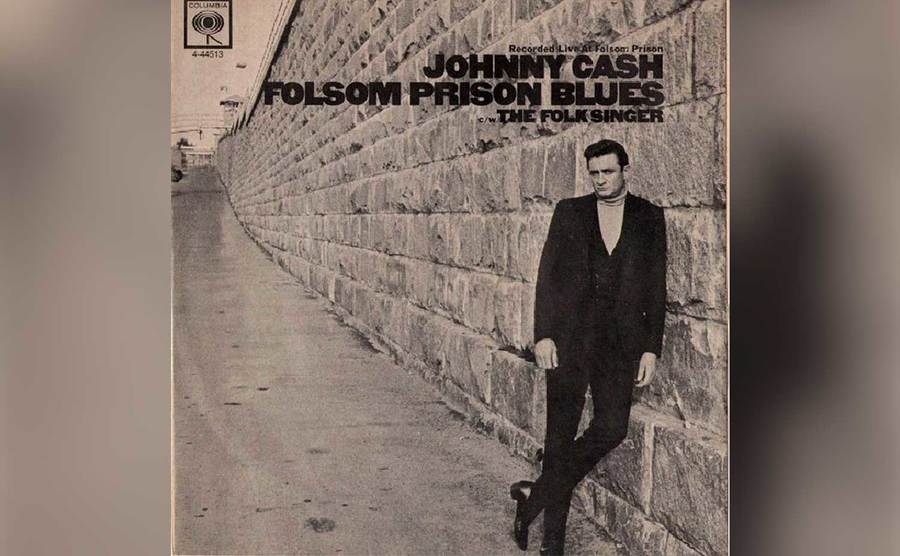 The 1955 track is probably the most iconic song out there inspired by prisons. It also started a trend where the country singer penned songs about some of the most famous prisons in America, adding to his mystique of being The Man in Black.
Jailbreak by Thin Lizzy
Ireland's Thin Lizzy recorded their 1976 song Jailbreak which became one of the best songs inspired by prisons. Not only that: it's also one of the best classic rock songs of all time. It could be the verses frontman Phil Lynott delivers – some of his most revolutionary lines – or the anthem of a chorus.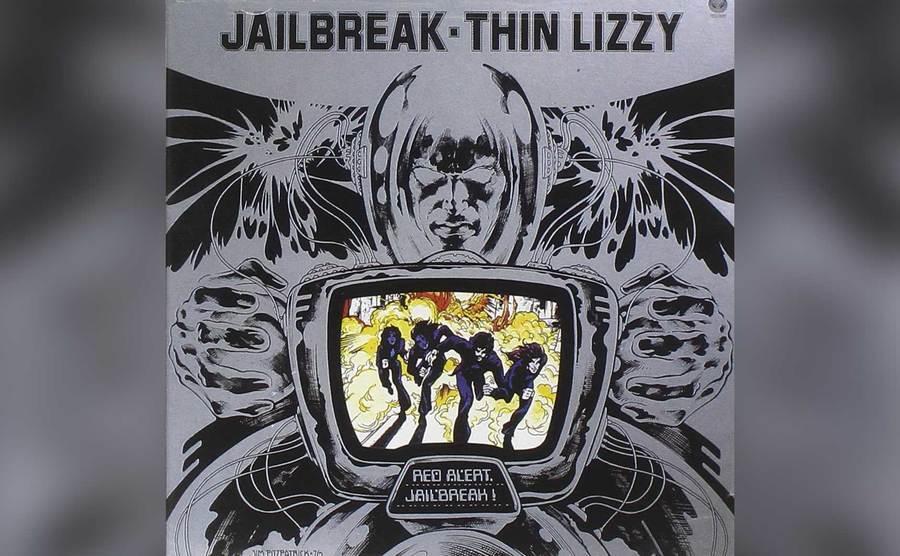 The band was always into all things macho, like their single The Boys Are Back in Town. However, with Jailbreak they go one step further, creating a scene of a jailbreak and the escapees' hunt for female company.
Jailhouse Rock by Elvis Presley
One of the most famous songs about prison in history is Elvis' 1957 hit Jailhouse Rock, which is right up there next to Cash's Folsom Prison Blues. Written by famed duo Leiber/Stoller, this classic rock 'n' roll piece was an accessory to Presley's film of the same name, which came out that same year.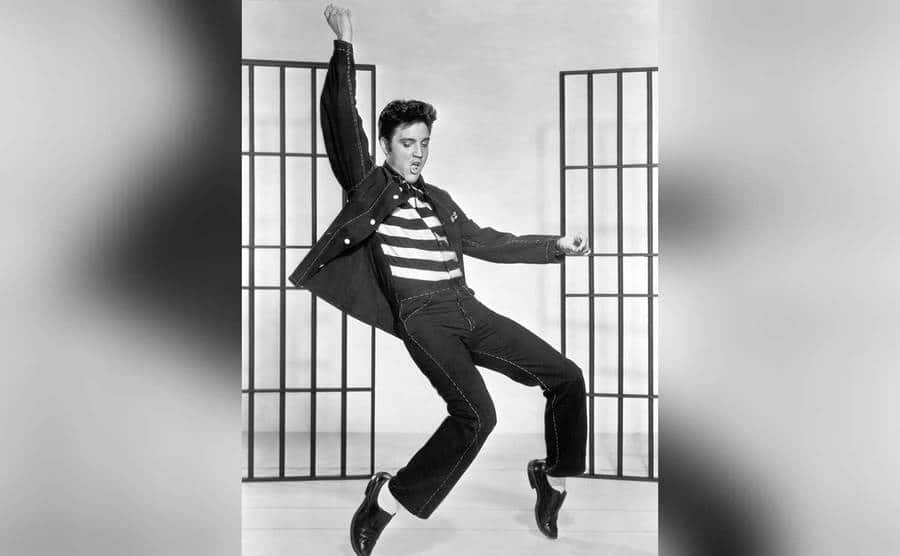 The song tells the story of the film – how Presley's young prisoner character, Vince Everett, discovers his talent while in prison. Whether you love the song or not, the introduction is classic.
Jail Guitar Doors by The Clash
Jail Guitar Doors is one of The Clash's best songs from their early period, as the B-side to Clash City Rockers. Mick Jones took the lead on vocals, but it was written by Joe Strummer, who pays homage to three iconic rockers who notoriously found themselves on the other side of the law.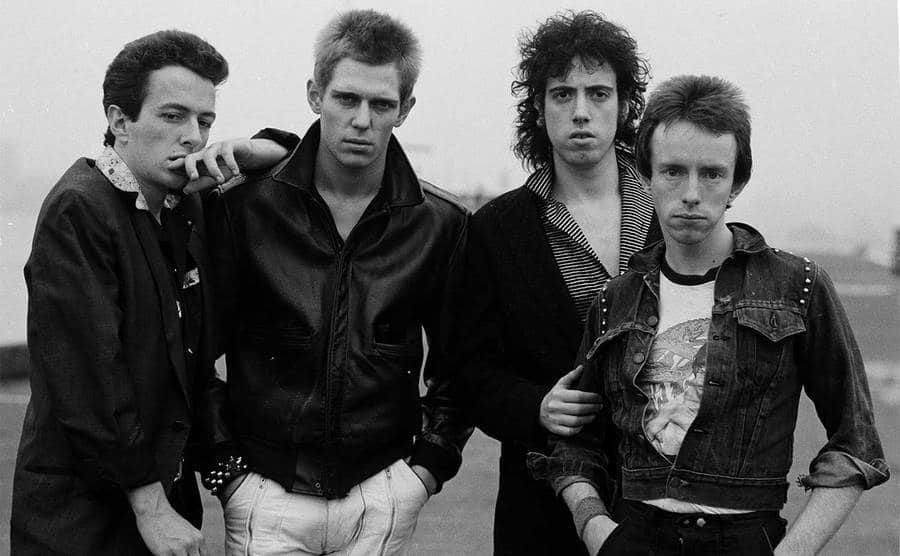 He gave a nod to Keith Richards of The Rolling Stones, Peter Green of Fleetwood Mac, and Wayne Kramer of The MC5. After the release of the song, Kramer teamed up with Billy Bragg to develop the Jail Guitar Doors initiative, giving prisoners musical instruments.
Hurricane by Bob Dylan
Bob Dylan's finest protest song is also one of the best songs he made in the '70s. It's the story of boxer Rubin "Hurricane" Carter and the fact that he was wrongfully convicted for a triple homicide in 1966. Racism was the main factor involved here.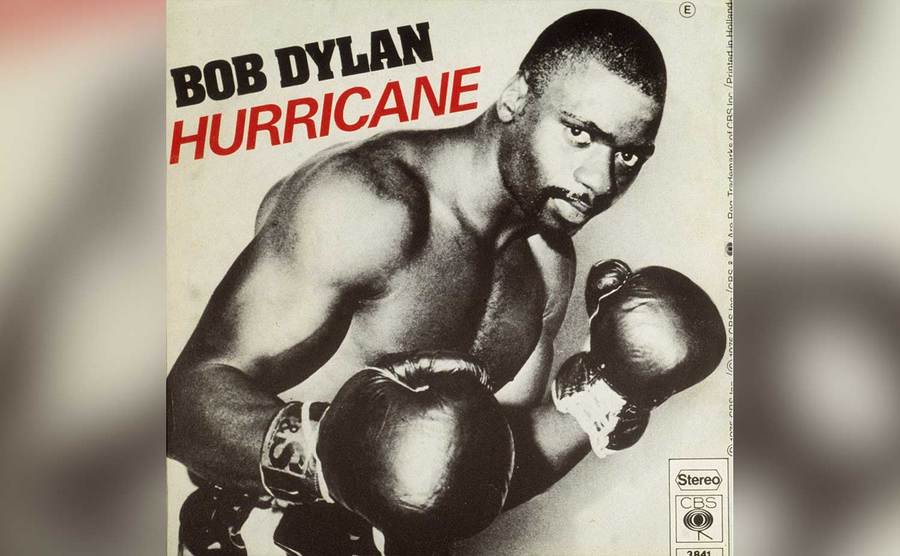 It's well documented that there was little to no evidence linking Carter to the crime, yet the jury still convicted him. The song re-stoked interest in Carter's case, leading to a new trial. So really, how much more of a success can a protest song be?