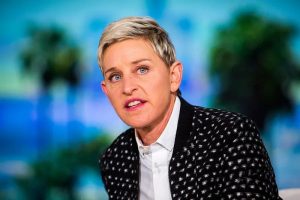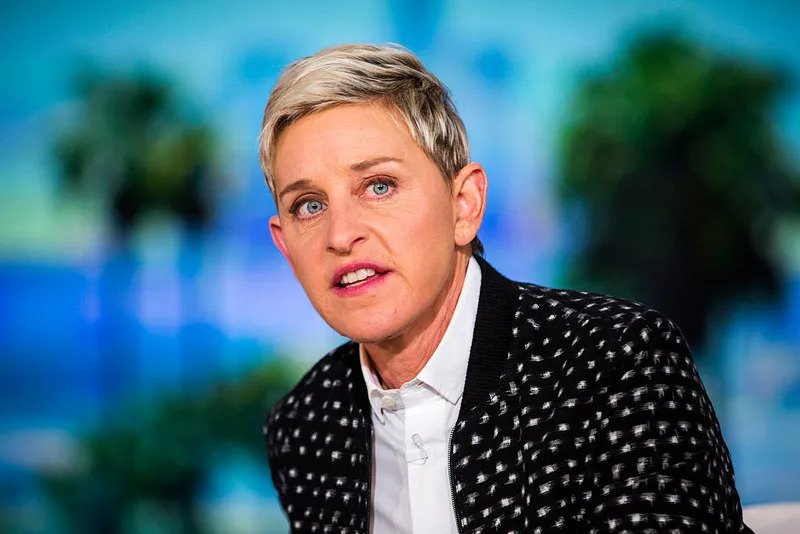 Ellen DeGeneres' Mean Behavior Went Viral Because of This
By Yuri S.
---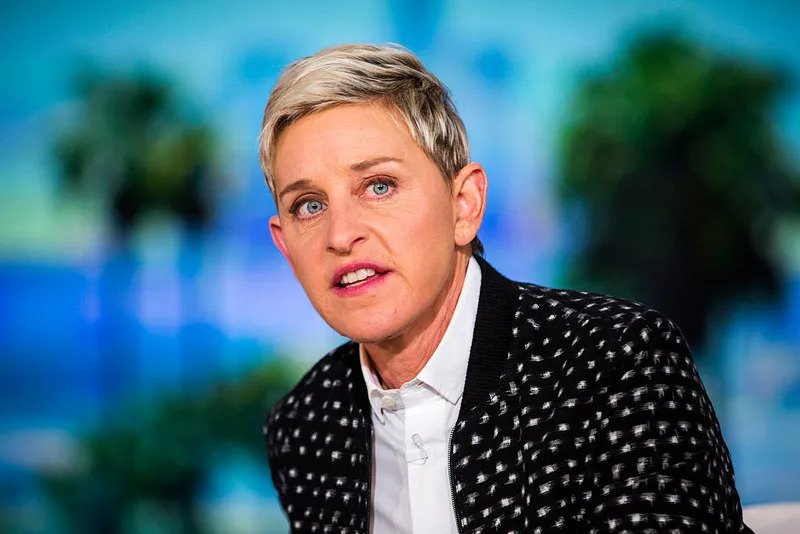 Howard Stern kissed Ellen DeGeneres on her show as a publicity stunt to counter the negative media coverage that the lady had been receiving. The idea was that people would forget the past and start talking about the kiss. Unfortunately, that didn't work.
Stern then came up with a new suggestion during his weekly SiriusXM radio show. He advised Ellen to give up the persona of the kind and helpful lady that she had created for her show and instead be aggressive and mean when interacting with her guests.
Trouble for "The Ellen DeGeneres Show"
At that time, Ellen didn't heed the advice because her namesake show, "The Ellen DeGeneres Show," was already mired in controversy. Many of her celebrity guests and employees of the production house were publicly spreading stories of her disparaging behavior on the sets.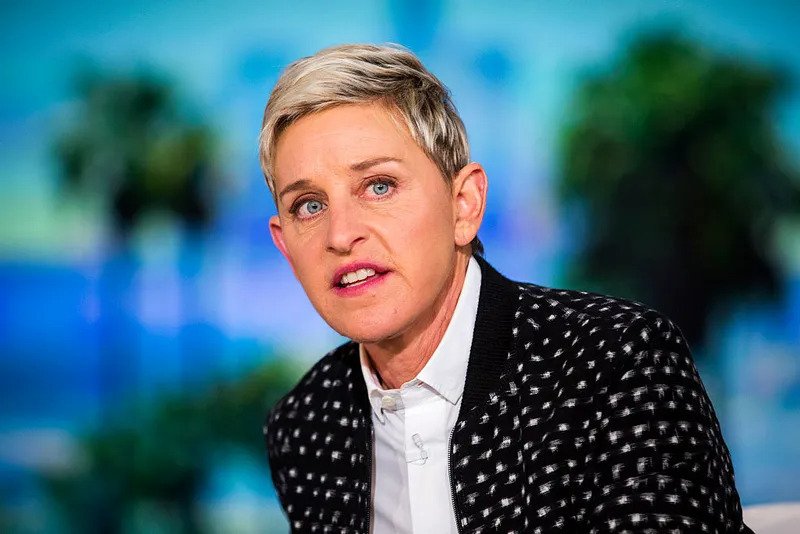 The result of this negative publicity was disastrous for the show. The television ratings dropped 37%, and the advertising sponsors began to withdraw their support. Ellen's staffers were finding it difficult to convince celebrities to appear on the show as guests because no one wanted the grime to rub on them.
The Scandal Affected Everyone Involved
Many people have a stake in a popular television show like the one Ellen hosted, and the bad publicity affected all of them in some way or the other. The immediate ramification was that publicists refused to book their clients on the show.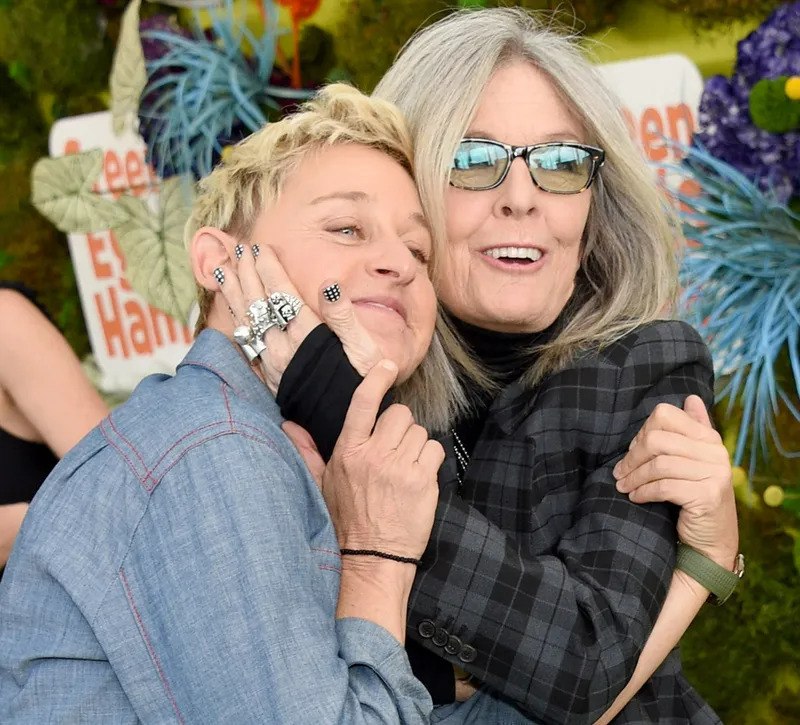 Ellen was losing her stellar reputation and also taking a financial hit. The production house financing the show also wasn't happy at the turn of events. It may seem surprising, but there were people whose lives changed for the better.
Let Us Start at the Very Beginning
"The Ellen DeGeneres Show" launched in 2003 and was soon showered with critical acclaim, high ratings, and prestigious awards. Top stars were queueing to be on the show. Ellen was the epitome of goodness, lending an ear to her guest's woes and comforting them with kind words.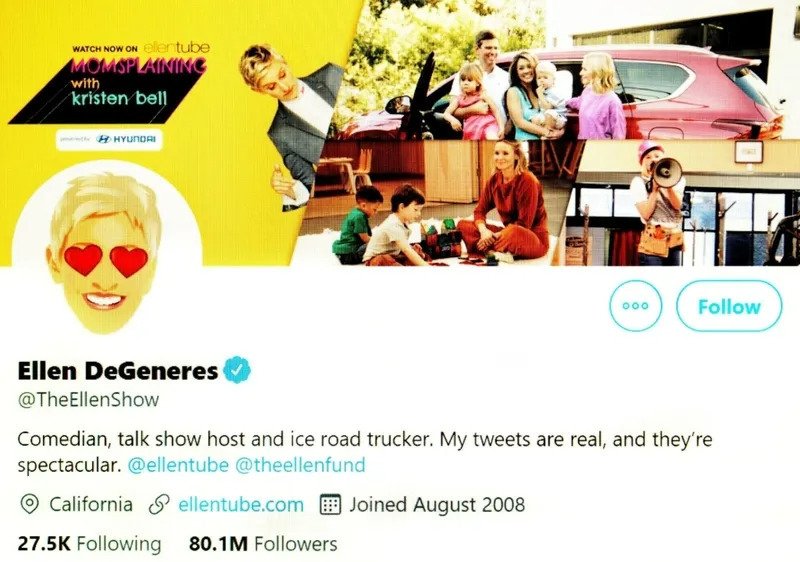 The fans could not have enough. Ellen had more than 80 million Twitter followers. "The Ellen DeGeneres Show YouTube Channel" ranked in the top 50 worldwide based on the number of subscribers. For over a decade, Ellen seemed to be in the seventh heaven.
Then the Allegations Began
Allegations of unbecoming behavior on the sets began to flood Twitter and other social media platforms. Ellen's fans couldn't believe that the kind lady they adored so much could be capable of meanness. Some were shocked, some were confused, and some were angry.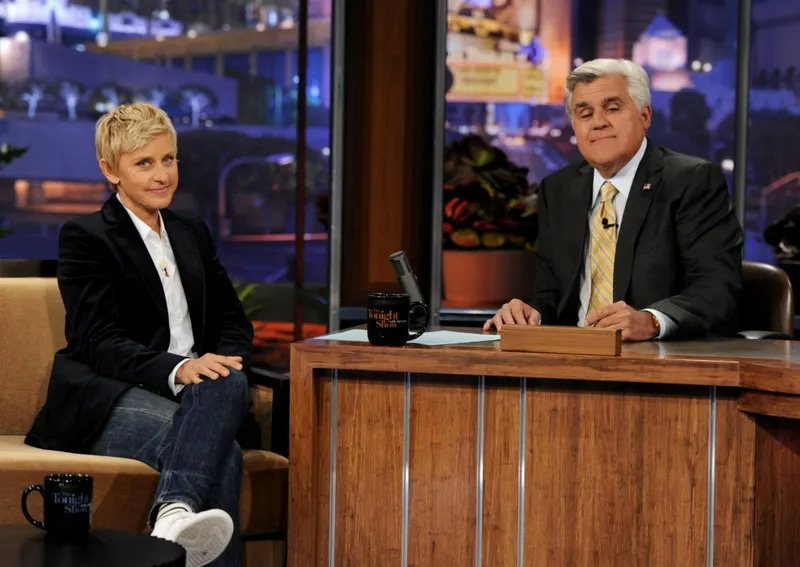 Ellen's show biz colleagues took sides – some for her and some against her. The veteran talk show host, Jay Leno, called Ellen on his talk show to field her defense. Andy Richter, s Conan O'Brien's sidekick, spoke out against Ellen.
Jay Leno Was a Friend in Need
Leno's support to the shaken Ellen came quickly and was as warm as a hug. Leno dismissed the Tweets flying around with one of his own. "I don't discard a 40-year friendship on hearsay," tweeted the talk show expert whose opinion carries weight with the public at large.

Leno pointed out some of the tangible contributions of Ellen that go beyond a television persona. He added, "The Ellen I know has raised over $125 million for charity and has always been a kind and decent person." Leno turned out to be a "friend in need."
A View From the Other Side
Andy Richter spoke out against Ellen. Replying to a Tweet from Ashley Black, he responded, "I agree, although there's toxicity tolerated by higher-ups in every industry, few of those workplaces are controlled by a manager whose entire brand is being 'nice.'"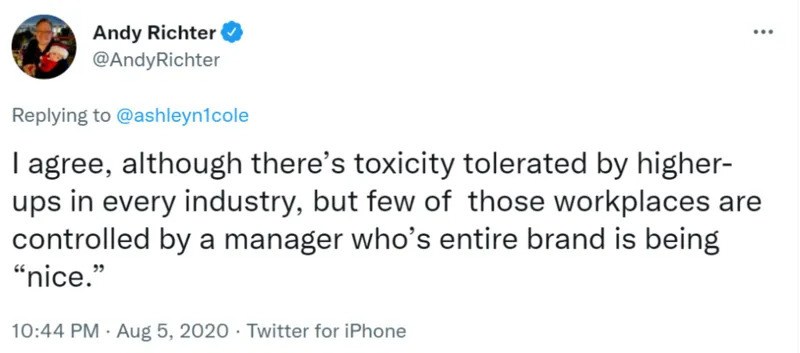 Black had tweeted that production houses are willing to overlook unhealthy behavior in workplaces as long as the episodes are delivered on time and within budget. Ironically, this exchange seems to imply that if Ellen had created a bad girl image, then her misconduct would be acceptable.
A Close Colleague Goes Against Ellen
Brad Garrett, well-known for his role in "Everybody Loves Raymond," has a deep connection with Ellen. Garrett has appeared on "The Ellen DeGeneres Show" as a guest six times, and the two loaned their voices to "Finding Dory." It stands to reason that Garrett would know the inside story.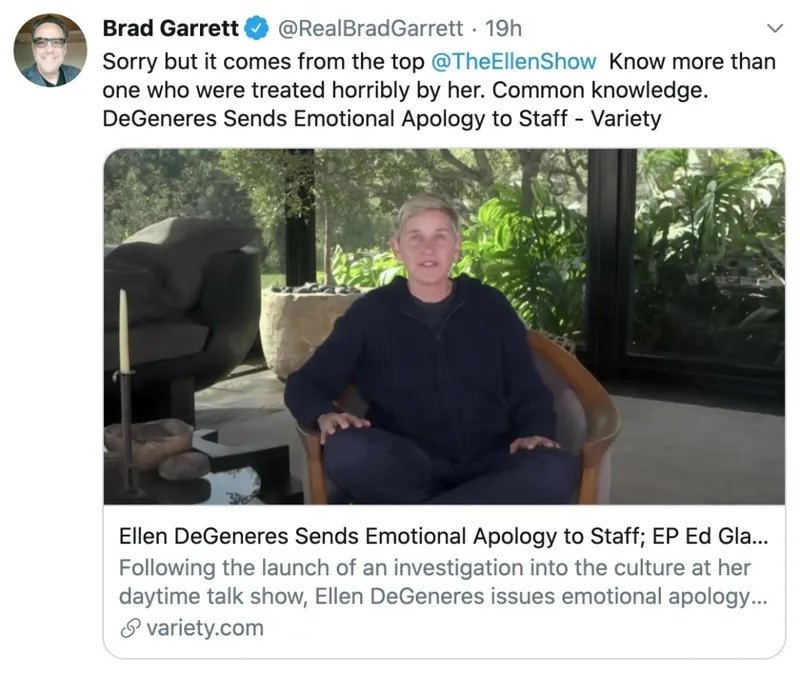 Reacting to the Twitter storm surrounding Ellen, Garrett tweeted that Ellen was personally responsible for the unhealthy atmosphere on the sets. He stressed that he personally knew more than one person who Ellen mistreated.
More Support for the Allegation
The Ellen DeGeneres affair was at its peak in July of 2020. An article in People magazine publicized Garrett's Tweet. Ellen had issued an apology about some untoward happenings on her show, which Garrett refused to accept because Ellen was the alleged perpetrator.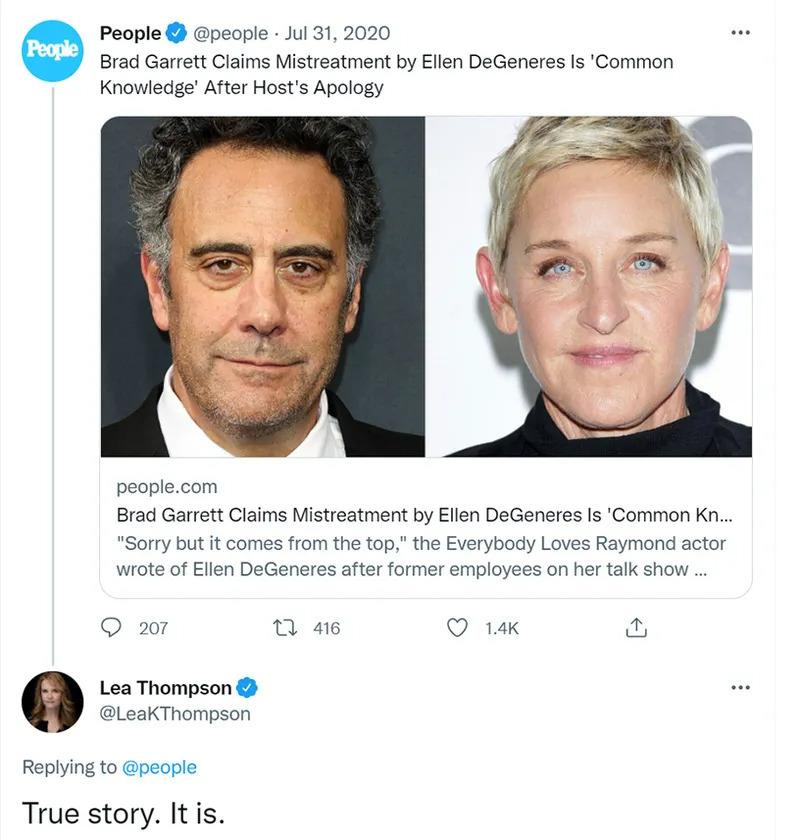 It was then that Lea Thompson entered the fray. She retweeted Garrett's allegation with her own confirmation. "True story. It is." They were just a few words, but it cut like a sharp knife, and things began to look murkier for Ellen DeGeneres.
The Sordid Details Are Revealed
Thus far, the allegations had been of a general nature, but then BuzzFeed decided to carry out an investigation. On Twitter, it revealed specific and unsavory incidents that prompted many others associated with the show to come out publicly.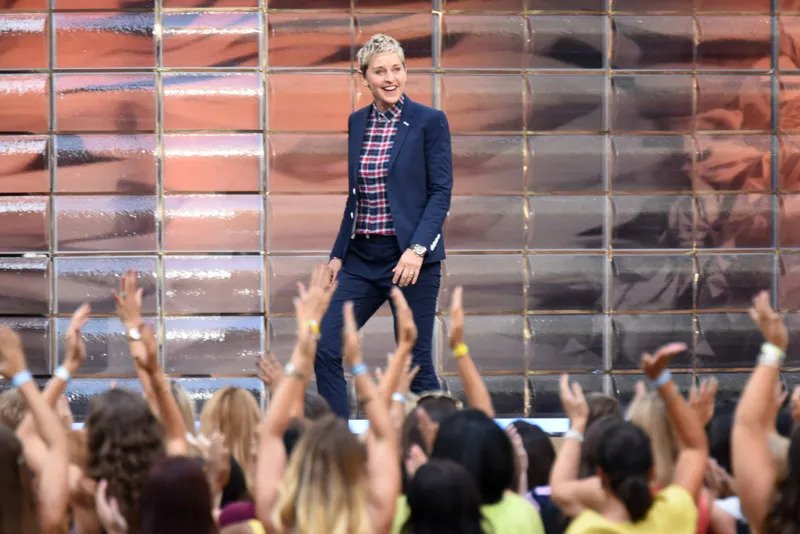 The alarming story in the BuzzFeed release was that the production house's employees and celebrity guests alike had been subject to disparaging comments from Ellen. The goody-goody environment of the show was a fake veneer for the taunts and abuses that were commonplace.
The "Ellen Show" Employees Speak Out
In the initial stages, employees of the show were unwilling to speak out about the atrocities Ellen subjected them to. This was understandable because their jobs were at stake. BuzzFeed assured them of support and convinced a fair number of the employees to recount their experiences.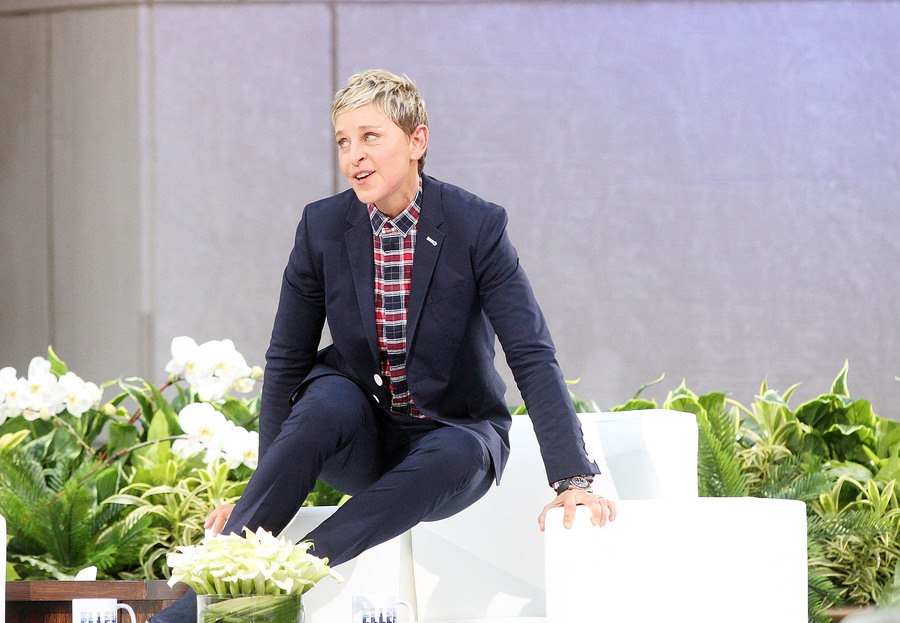 Most of those who spoke to the reporters were former employees. Only one of the current employees found the courage to go public. "Be kind to the world, not your employees" was a telling observation that referred to the sham kindness exhibited by Ellen while on air.
Warner Media Is Compelled to Step In
A similar accusation was, "That 'be kind' stuff only happens when the cameras are on. It's all for show." The harm suffered was not restricted to the workplace. Some employees felt so traumatized that they had to stay away from work and were fired as a result. A few of the production crew indicated that they faced racist remarks.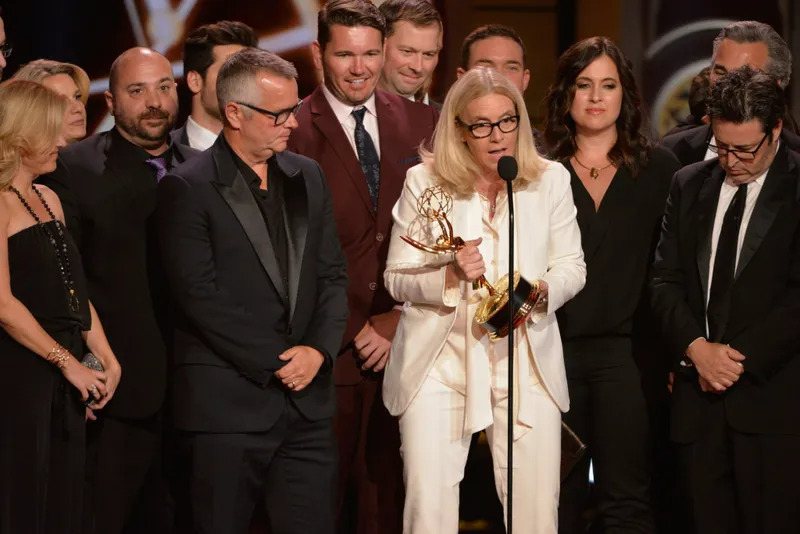 When this report reached Warner Media, the top bosses could no longer ignore the accusations. They initiated an internal investigation, which ultimately led to the firing of three high-level personnel.
The Show's DJ Speaks Out
People connected in various capacities with "The Ellen DeGeneres Show" have added to the allegations throughout the saga. One of them was Tony Okungbowa, who was the DJ of the show for ten years, from 2003 to 2013. He needed a fair bit of convincing before he posted on Instagram.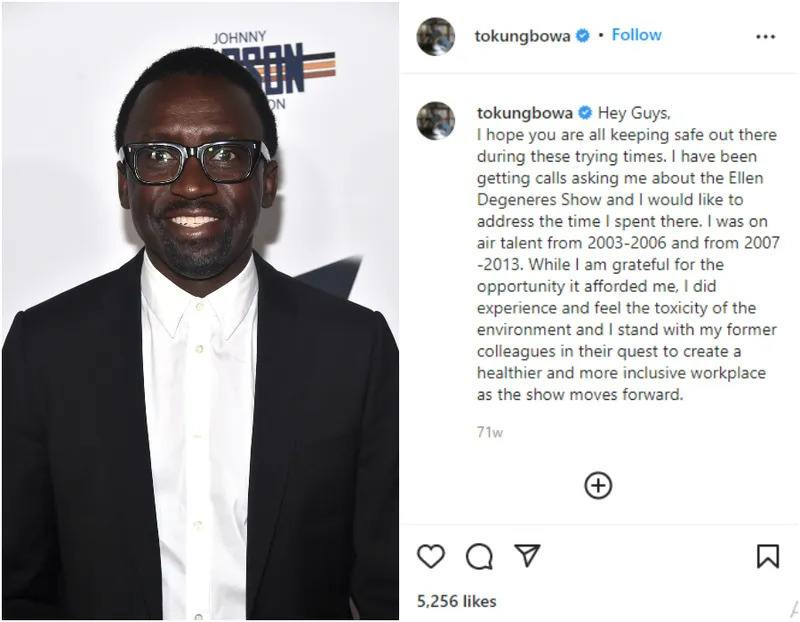 Okungbowa first expressed gratitude for the opportunity to be on the show. He added that he also experienced the toxicity of the environment. He lauded his former colleagues that had battled for a more inclusive workplace.
The Next DJ Spins a Different Tale
Stephen "Twitch" Boss took over as DJ of the show after Okungbowa left. He was still employed, and his contract legally prevented him from being forthright, so he was guarded in his response. However, he did admit that some issues needed addressing.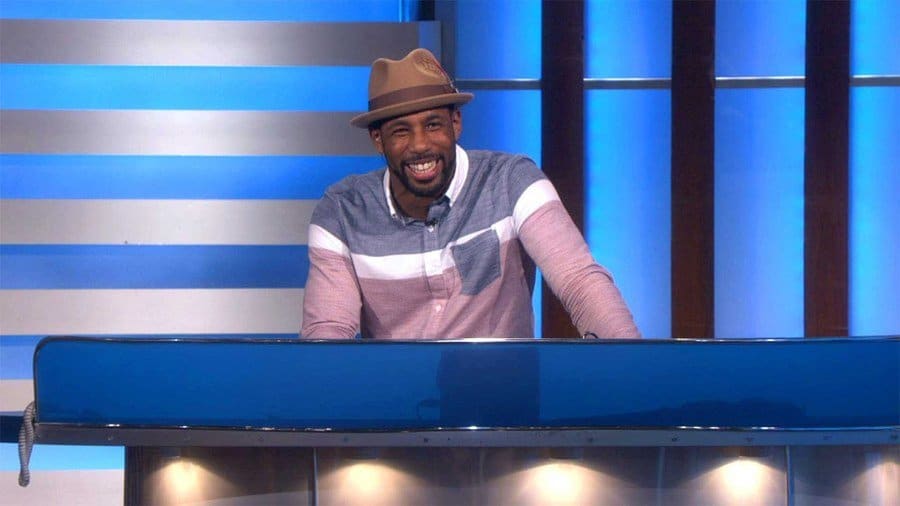 The larger part of Boss's statement showed Ellen in a good light. He said that he had received love in the workplace, and "it will continue to be like that." Boss received due reward for supporting Ellen. She later promoted him to co-executive producer.
A Pertinent Question and the Answer
It is now evident that the instances of verbal abuse date back to the early days of the show. Then, why was it more than 15 years before the first allegations went public? Why did the victims suffer in silence for many years?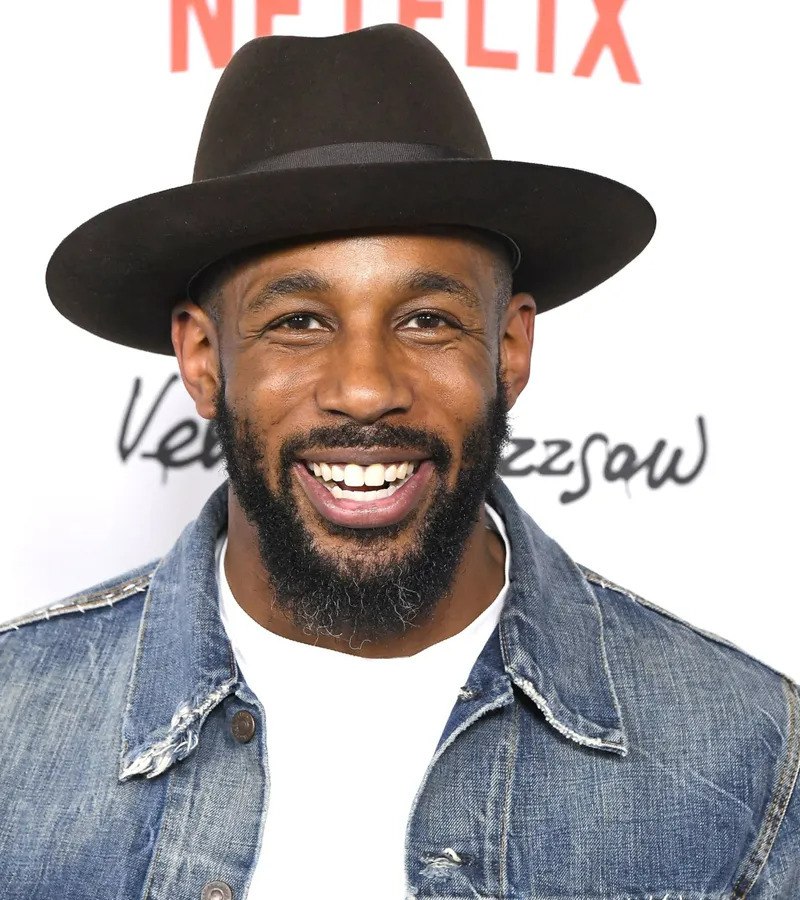 The answer lies in Boss's testimony. Employees are compelled to sign nondisclosure agreements when given jobs, including specific terms preventing them from talking to the media about the workplace environment. They are left with no choice but to suffer in silence.
The "Me Too" Phenomenon Picks Up
Once employees leave the job, they understandably want to forget the trauma and get on with their lives. It was only after a few spoke out that others added their voice. One of those voices is Hedda Muskat, a producer of the show's first episode.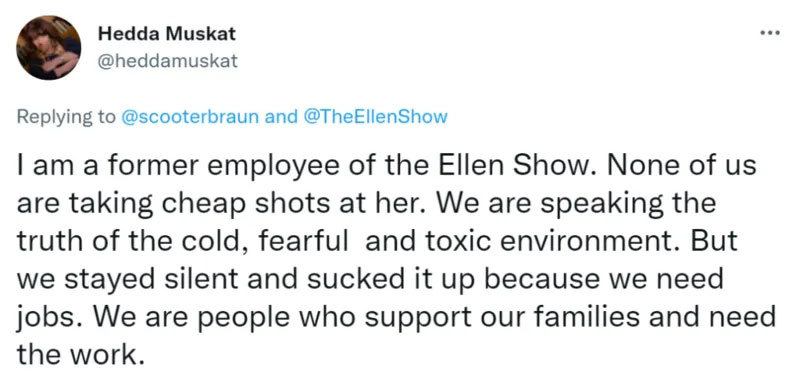 Muskat also pointed out that the abuses got worse after executive producer Ed Glavin joined the team in 2006. She rejects Ellen's apology saying, "It's pretty shocking to come out 16 years later and say that she wasn't aware of it."
Hedda Reveals the Horror in Detail
Muskat refers to the host as "two Ellens.". One is the kind-hearted lady of the show, and the other is the despicable real-life woman. Discussing the show's content with Ellen was a traumatic affair because of the snide remarks and abuses that were the norm.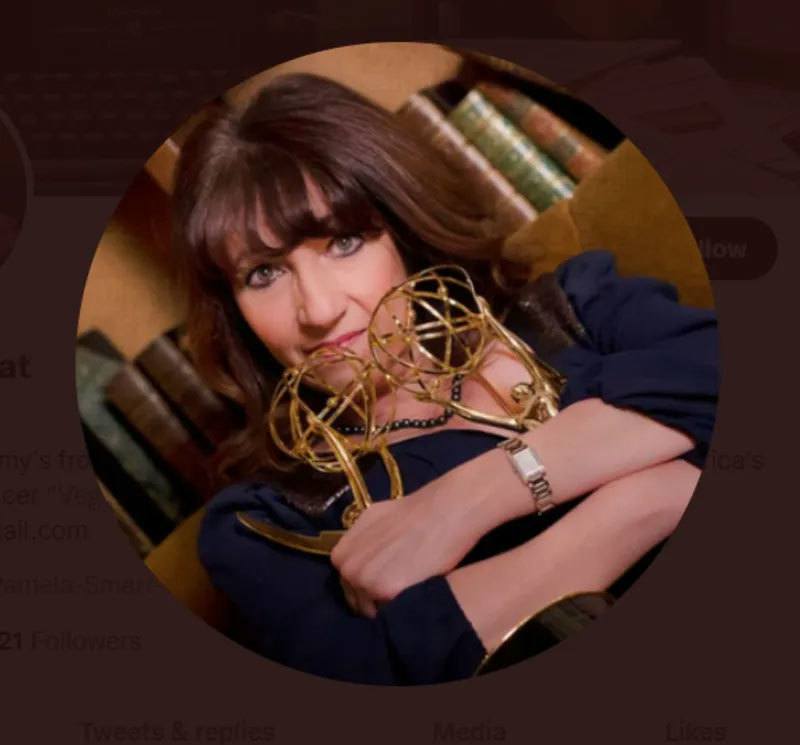 The staff members were equally afraid of Glavin, who wouldn't think twice before yelling at them and intimidating them. Ellen witnessed it and looked on with an amused look, so her denial is an utter lie. She supported Glavin's behavior, saying, "Every production needs their dog."
The Show Responds to BuzzFeed
In July 2020, Warner Media stated that a third-party investigation would be carried out to probe the BuzzFeed report. However, before that, "The Ellen DeGeneres Show" executive producers Andy Lassner, Mary Connelly, and Ed Glavin were asked to submit their version of the events.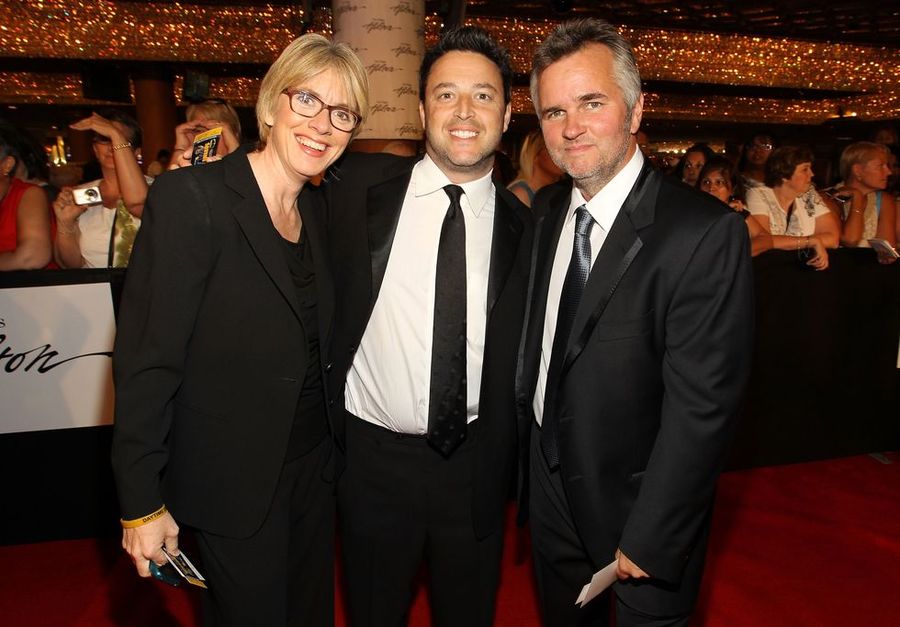 As expected, their response was nothing more than a cover-up. A key part of their statement read: "We are truly heartbroken to learn that even one person in our production family has had a negative experience." Some vaguely worded wishy-washy stuff that was added on as an attempt to seem credible.
The Aftermath of the Independent Investigation
A report of the investigation was released in the middle of August. It supported the allegations made by the employees and pointed fingers at three members of the senior production team. The investigative team called for the dismissal of executive producers Ed Glavin and Kevin Leman and the co-executive producer Jonathan Norman.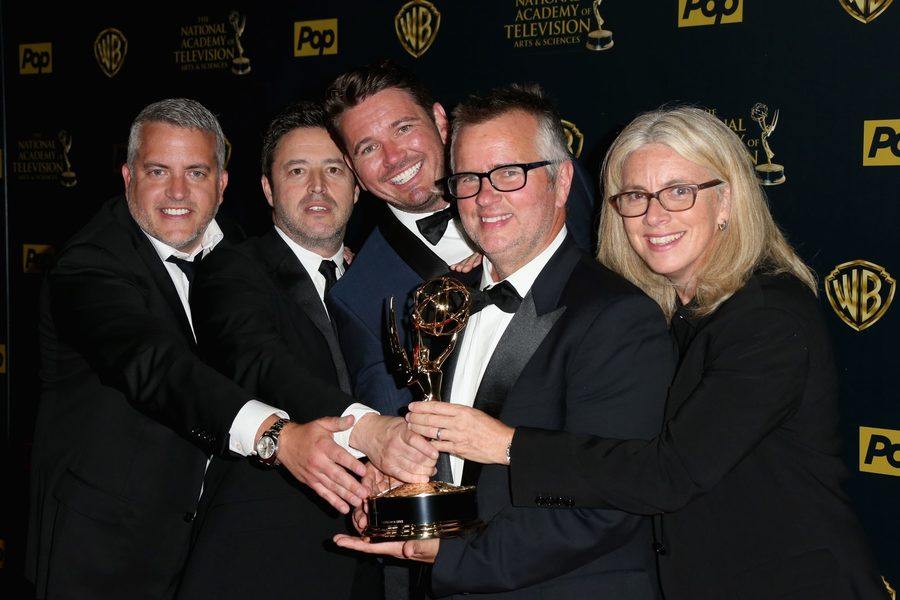 One could sense the palpable joy and relief among the 200 staffers that received the news via videoconference. Ellen shed crocodile tears admitting that she wasn't perfect and that it was "heartbreaking" to read the report.
Misconducts by Glavin and Others
Glavin was reported as being the worst of the tormentors. The accusations went beyond abuses to touching inappropriately. He refused to comment on the allegations. Leman was said to indulge in horrendous acts that are unfit to be described here. He denied the allegations made against him.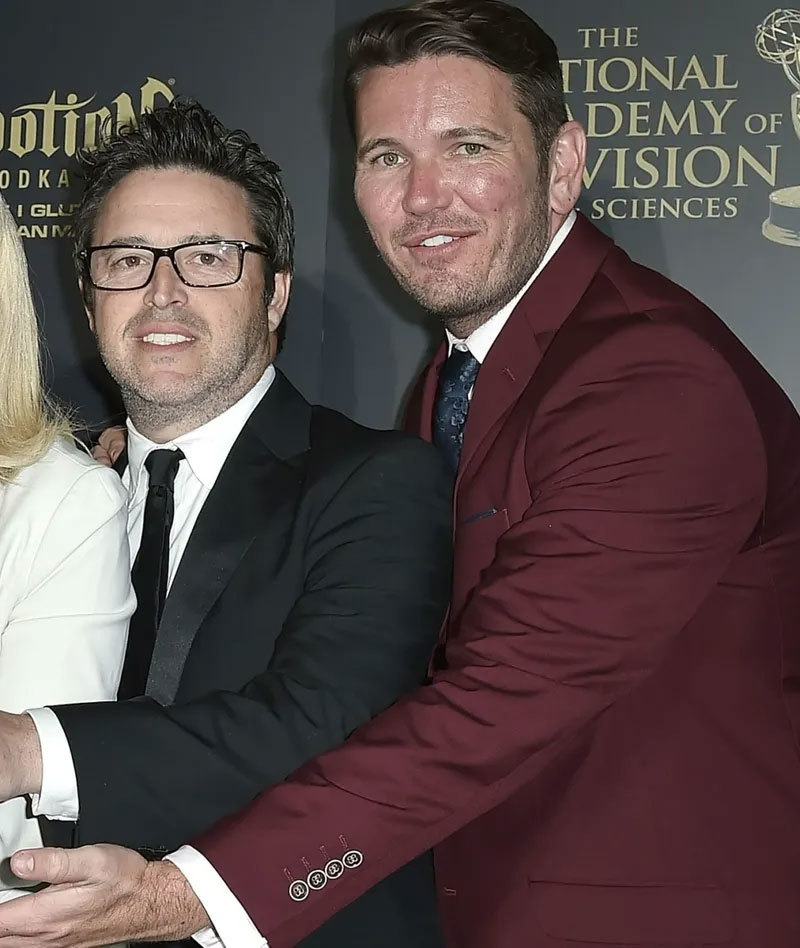 The victims usually were the most recent recruits just out of graduate school. Obviously, they were the most vulnerable and too scared to complain. The sad part was they were exposed to toxic views in a professional workplace and would likely base future career expectations on their experiences on the set of "The Ellen DeGeneres Show."
Ellen Gets Support from her Spouse
Ellen was in an openly lesbian relationship, and her partner, Portia de Rossi, extended complete support to Ellen. De Rossi, a model and actor, was familiar with the industry. Her Instagram statement was released on August 4th, by which time, calls for cancellation of the show were gaining traction.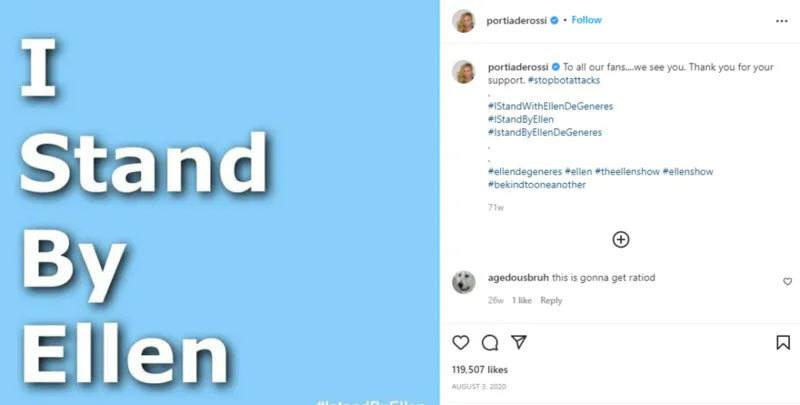 De Rossi's strong statement was posted on a baby blue background with the words "I Stand By Ellen" in bold white text. "Be Kind to One Another" was in smaller print in the corner. Ellen and de Rossi had been together since 2004 and solemnized their marriage in California in 2008.
Kris Jenner Follows Suit
Media personality Kris Jenner immediately responded to de Rossi's Instagram post and lent her support to Ellen by "liking" the post. Jenner had attended the launch party of de Rossi's art company, General Public, and a friend of a friend often becomes a friend.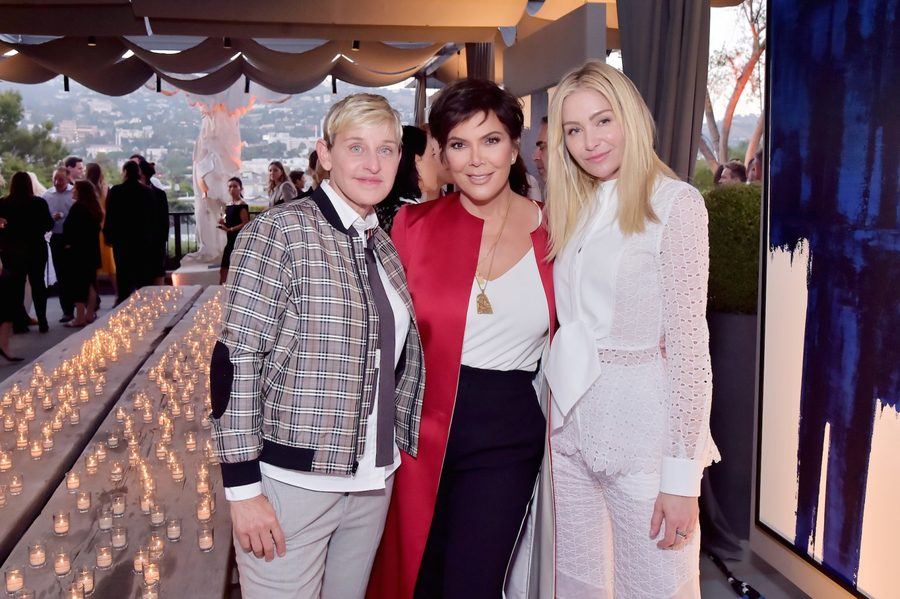 Jenner has enjoyed celebrity status, and her support is much more than one vote of confidence She is best known for the television series "Keeping Up with the Kardashians," which has completed 18 seasons. For those in the younger generation, she is Kim Kardashian's mother through her first marriage.
Ellen's Career Is the Envy of Many
The present controversy apart, Ellen's career has been the envy of her competitors. She started as a stand-up comic on Johnny Carson's popular show, and in 1984, was named Showtime's funniest person. She had her own TV sitcoms, "Ellen" and "The Ellen DeGeneres Show."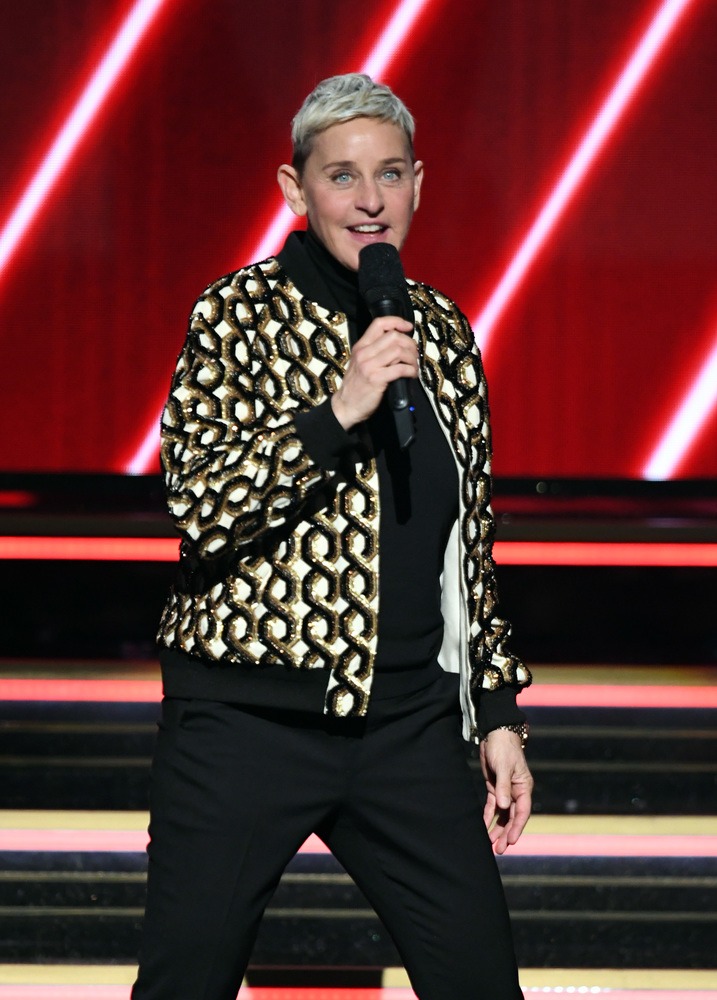 Ellen is perhaps one of the most awarded television personalities. She has won 30 Emmys and 20 People's Choice Awards. She was nominated for the Carol Burnett Award at the Golden Globes in 2020. Ellen has also hosted the Golden Globes, the Primetime Emmys, and the Oscars.
Christmas Giveaways on Ellen's Show
"The Ellen DeGeneres Show" has 12 days of giveaways during the Christmas season, which is a high point of the year for "Ellen Show" fans. A part of it is based on corporate marketing, but Ellen does outrageous things, like giving away lottery tickets for California's Mega Millions when the jackpot was $1.6 billion. "With a b," Ellen clarified.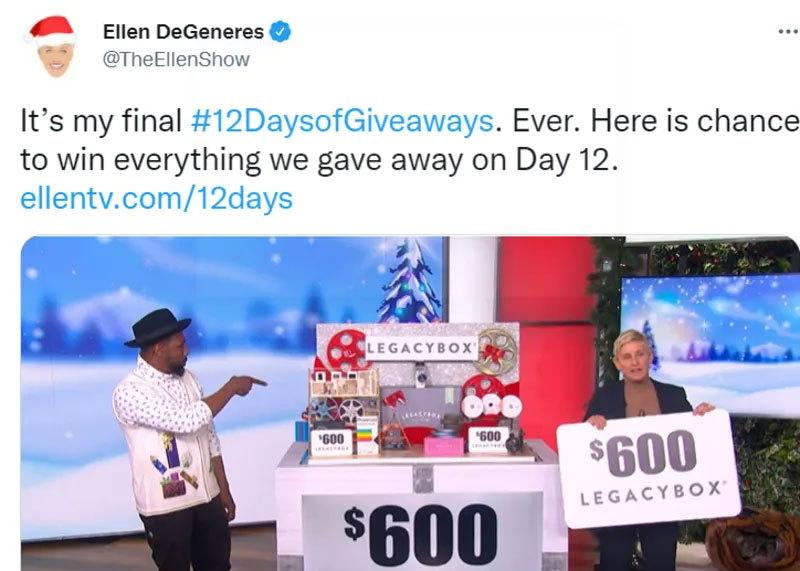 The fans didn't have to wait for Christmas to witness Ellen's generosity. In keeping with her TV persona, for her 60th birthday, Ellen split $1 million amongst invited people who had done "acts of good."
The Pandemic Hits "The Ellen DeGeneres Show"
The onset of the pandemic in March 2020 impacted everything in the world, and "The Ellen DeGeneres Show" was no exception. The show was taken off the air for two weeks ending April 9. The staff was under deadly suspense because their future was at stake.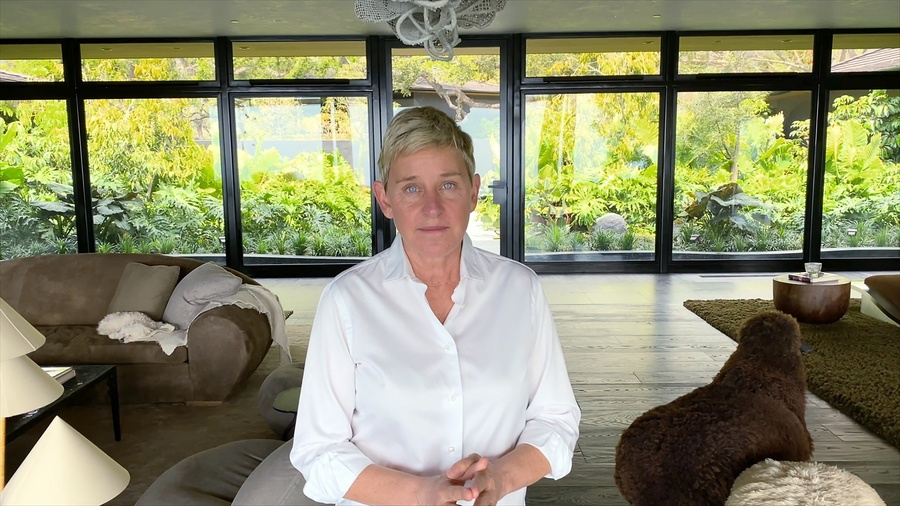 Finally, the show resumed, and revenue came in, which was good news for the employees, but there was bad news as well. During the deadly pandemic, the staffers had to accept a 60% pay cut and faced uncertain healthcare conditions.
The Show Shifts to Ellen's Home
The show was shot at her home to protect Ellen and her guests from the pandemic. The production staff was not told about the move beforehand and learned about it from social media. The production assignment was awarded to a nonunion tech media company.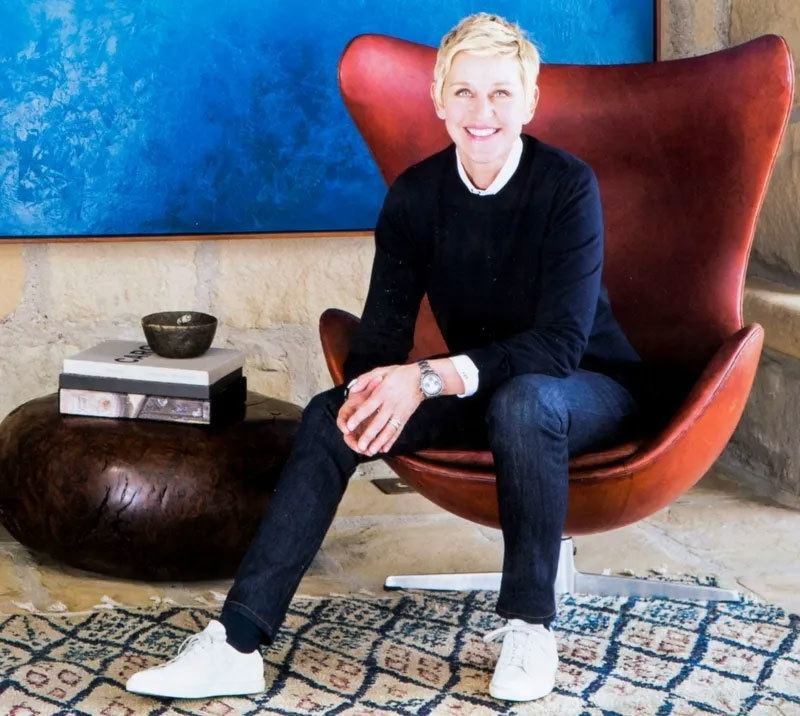 The employees were outraged because a few of them could have done that work. Many of the crew had been with the show since its inception 17 years ago. Meanwhile, other talk show hosts gave full pay to their staff out of their own pockets. It just wasn't fair.
The Show Content Nosedives as Well
Before, Ellen had a team of writers at the studio. When she started shooting the show from home, she started writing her own content, and it didn't click. The jokes fell apart, especially as there wasn't canned laughter to back them up. The troubles didn't let up for Ellen.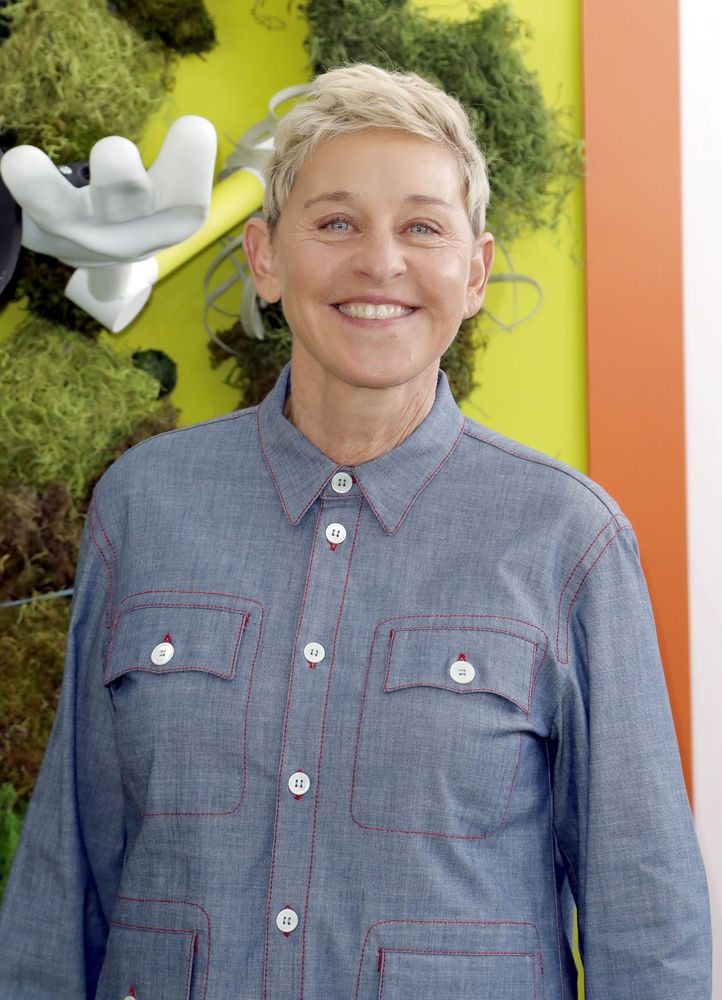 A line that totally fell flat was: "One thing that I've learned from being in quarantine is that people–this is like being in jail." The set ironically reflected her luxury California mansion. She tried to deflect against that fact by saying that she'd been wearing the same clothes for ten days.
Porter Offers $2 Per Story of Ellen's Meanness
Comedian Kevin T. Porter went one step ahead. He first tweeted that we all need kindness like Ellen gives on her shows. But, in real life, she is one of "the meanest people alive." He agreed to donate $2 to the LA Food Bank for each mean story posted in response.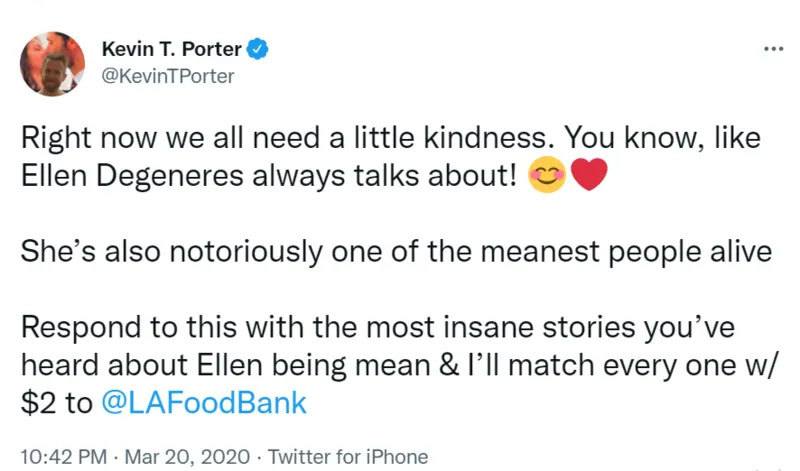 Porter's dislike of Ellen started when she showed a photo of herself with George W. Bush at a football game. This photo generated a lot of negative publicity, and Howard Stern's kiss was meant to eliminate this image from public memory.
Tweets Flow in Response to Porter's Offer
Porter's offer opened the floodgates, and he received over 2000 replies. Some were spam, and some were fake. However, Porter did pay $600 to the food bank, acknowledging that 300 of the posts had credible stories. Most of them were from employees.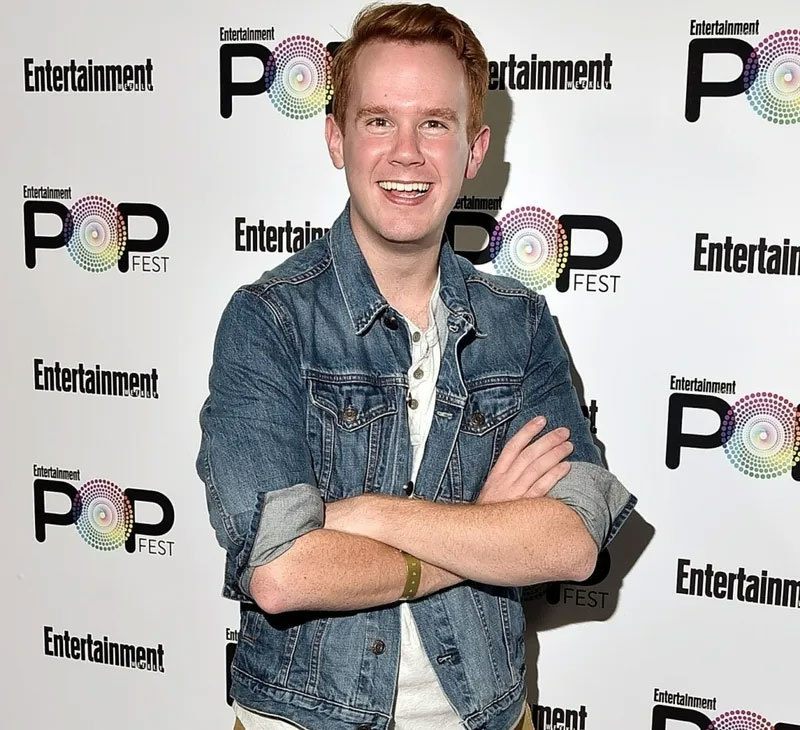 One poster claimed that the employees were instructed not to acknowledge, address, or even look Ellen in the eye unless she first spoke to them. Another poster said that Ellen had a sensitive nose, so employees were required to chew gum from a bowl outside her office before talking to her.
Humiliated Fans Enter the Fray
The responses to Porter weren't all from employees. Some came from fans as well. One fan tweeted that she had sent a letter to Ellen, who read it on the air in a disparaging manner. The girl felt completely humiliated and stopped watching the show.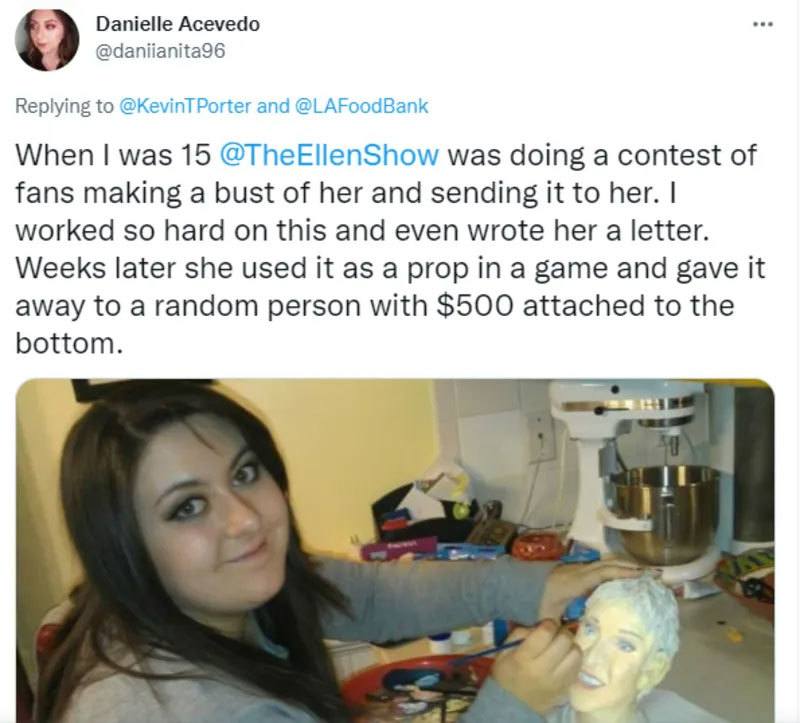 A viewer named Danielle participated in a contest and created a bust of Ellen. She at least expected that her hard work would be treated with respect. She was horrified to see her sculpture used as a prop in a game on the show.
All Sorts of Tweets Come In
Porter's challenge set the creative juices bubbling in some. This tweet from Senora visualizes a scene straight from a slasher movie and is outrageous to the limit. It says, "Ellen hides in parking lots under cars at night and slashes people's Achilles' tendons as they walk past."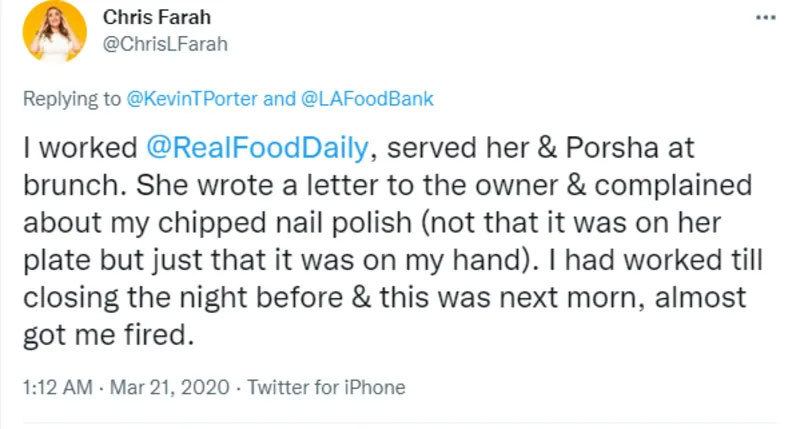 One respondent expressed that Porter's endeavor was distasteful. "You are destroying someone to raise a peanut for a food bank," the tweet said. Porter quipped back that it may seem ironic to make a charitable donation out of some person's meanness.
Ellen's Strange Behavior at a Restaurant
Chris Farah served at a table occupied by Ellen DeGeneres and her wife, Portia. Ellen noticed Farah's chipped nail polish and complained to the boss. Farah almost got fired, but there was more to come. Ellen made fun of the waitress in a comedy routine on the show.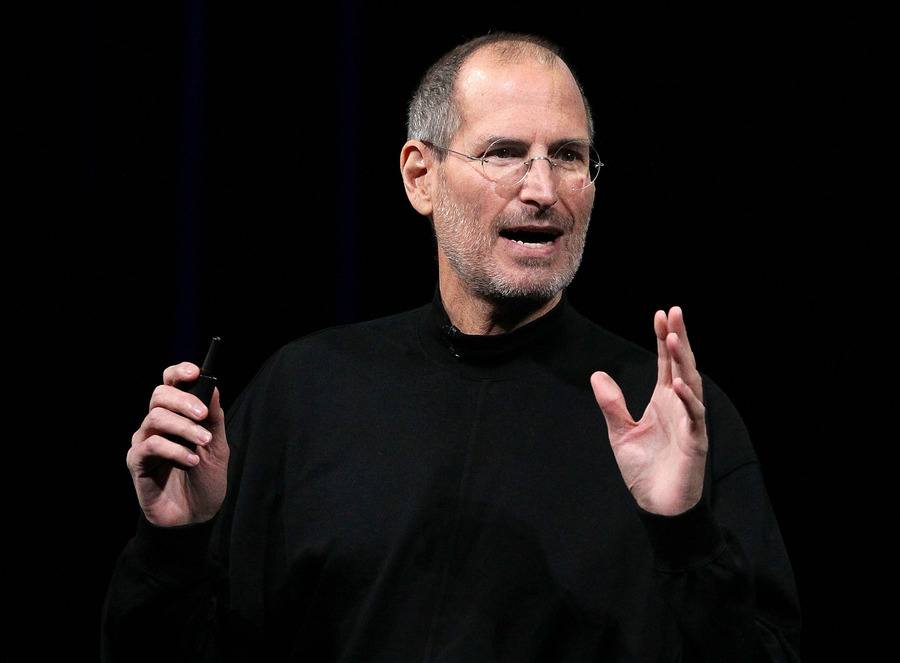 Ellen was one of the first-ever gay celebrities to come out of the closet, and this was a big reason for Farah to become an admirer. She also loved "The Ellen DeGeneres Show." However, Farah felt let down by her idol's lack of basic decency.
Ellen and the Steve Jobs Incident
Having misplaced her glasses, Ellen couldn't read the text on her iPhone, so she called Steve Jobs. Without the slightest hesitation, Ellen arrogantly told the CEO of Apple and creator of the iPhone that his mobile phone should have a larger font.

Steve was more indulgent of Ellen's behavior than most others would have been. He said that Ellen wasn't bad or terrible but simply lives in an "incredibly privileged bubble and is out of touch with the real world." The fact is that Ellen is full of her own self-importance.
Was it Much Ado About Nothing?
In 2019, Ellen shared a luxury box in a football game with former president George W. Bush. Videos of the two chatting in a friendly manner raised a torrent of rage on social media. Was this anger that became a source of annoyance for Ellen, much ado about nothing?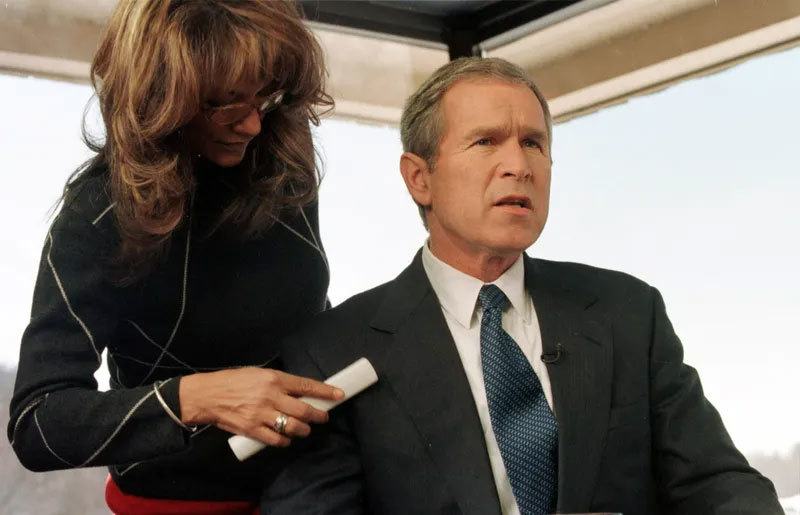 One of the reasons for Ellen's popularity was that she flaunted her lesbian relationship, and Bush did everything in his power to prevent gay relationships from flourishing. Ellen lost half her fan base because of this seemingly innocuous photo-op stunt.
Ellen Tries to Course Correct
Faced with a barrage of adverse publicity, Ellen offered explanations on her show that went hand-in-hand with her kindness image. She doesn't share all of Bush's views but is friends with him. In fact, she has many friends whose views on major issues are different from hers.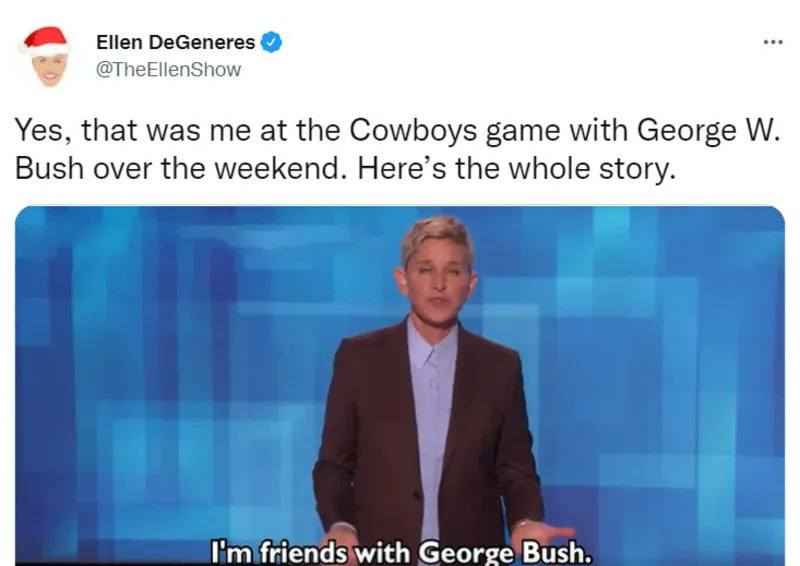 She ended with an instruction that sounded like a basic tenet in a kindness course: "When I say, 'Be kind to one another,' I don't only mean the people that think the same way that you do. I mean, be kind to everyone."
Did Ellen Miss the Point?
Susan Sarandon claimed that Ellen had missed the point completely in her justification. She pointed out that while hanging out with someone having different opinions is fine, chilling out with a war criminal is not. Sarandon considers Bush a war criminal for his "escapades" in Iraq.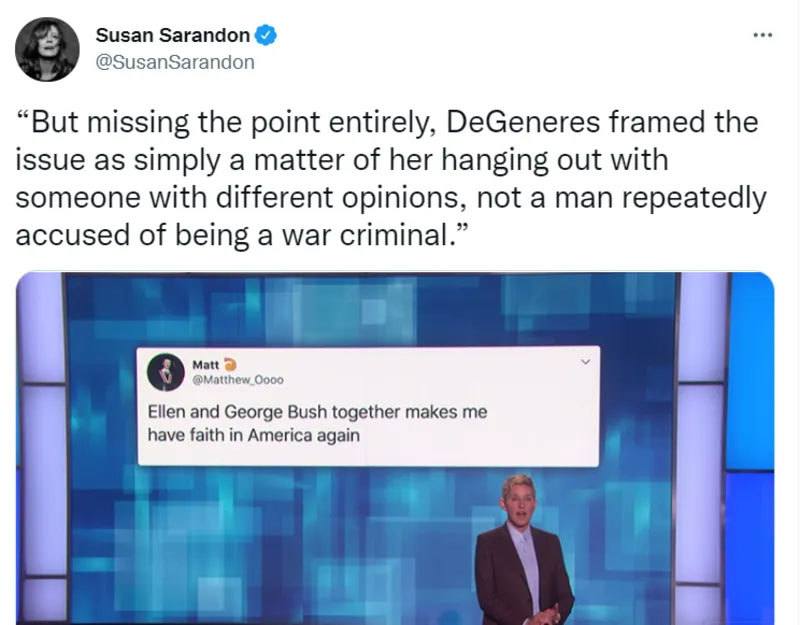 Many Americans didn't like Bush sending troops to Iraq, but calling him a war criminal is perhaps going overboard. However, social media claims to be the final jury, and once their judgment goes against you, there is little hope left for redemption.
The Face-Off with Dakota Johnson
When Dakota was a guest at the show, Ellen complained that she wasn't invited to the "Fifty Shades" actor's birthday party. Dakota said that the invitation was sent, but Ellen had chosen to be in the company of a certain George W. Bush at that time.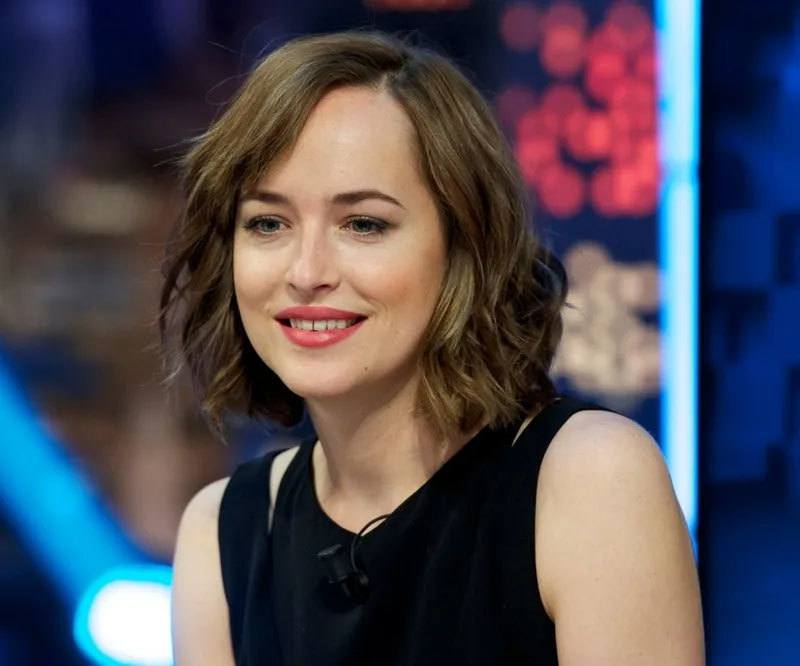 It is next to impossible to put one over Ellen on her own show. So, Drew Barrymore said that Dakota's demeanor and confidence in the hot seat were unprecedented. Barrymore complimented Dakota by saying, "That was amazing, by the way, like amazing."
What "The Ellen DeGeneres Show" Hot Seat Is Like
To understand the full impact of Barrymore's comments, you need to know about the Taylor Swift interview on Ellen's show. Ellen asked the singer to ring a bell if she had dated a man from a list read out by Ellen. A visibly embarrassed Swift ended up sobbing and begging for the host to stop.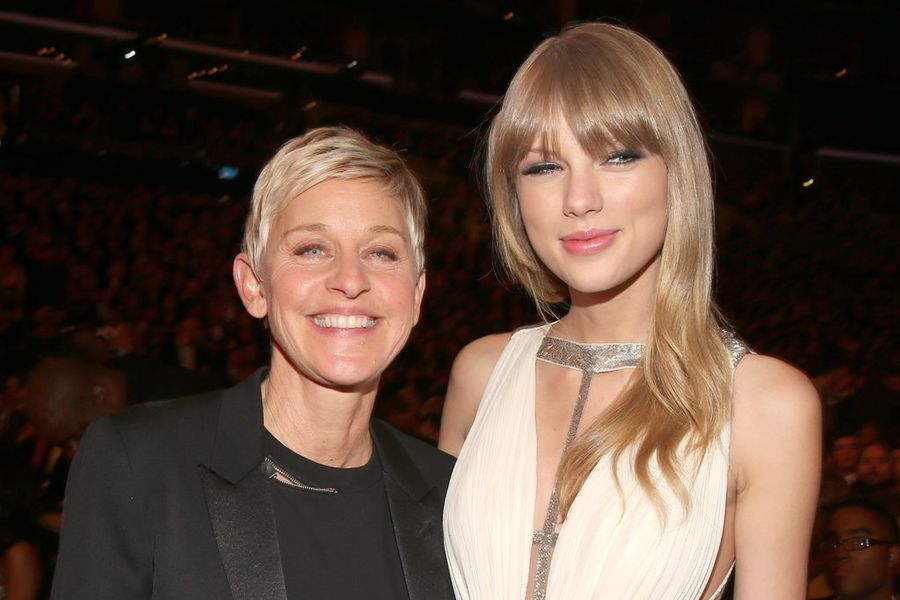 Swift and Ellen were such good friends that Ellen could gate crash on stage during Swift's concerts. Now, if Ellen could reduce a friend to tears, it isn't difficult to imagine what she did to persons she didn't like.
The Fans of Taylor Swift Protest
The browbeating of Taylor Swift wasn't taken kindly by the singer's fans. They couldn't fathom any reason for such humiliation by a chat show host. A TikTok clip went viral demanding that Ellen apologizes to their idol.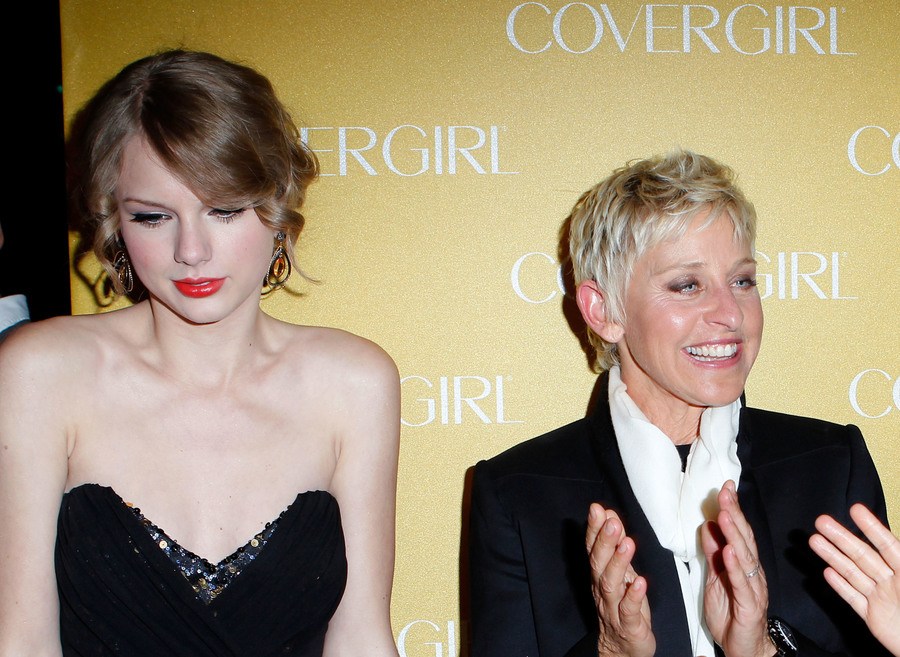 The video clip was titled: Someone Who Deserves an Apology: Talk Show Edition. The video parodies and exaggerates the interview and ends with Swift asking why she's putting up with the roasting. "It just makes me really question what I stand for as a human being," she says.
The Shaming of Justin Bieber
Justin Bieber was another friend that was disgraced on "The Ellen DeGeneres Show." Everything was going fine with the interview, but then Ellen displayed a partially blurred nude paparazzi photo of Bieber vacationing in Bora Bora on the screen. Then, she questioned Bieber about a woman in the picture.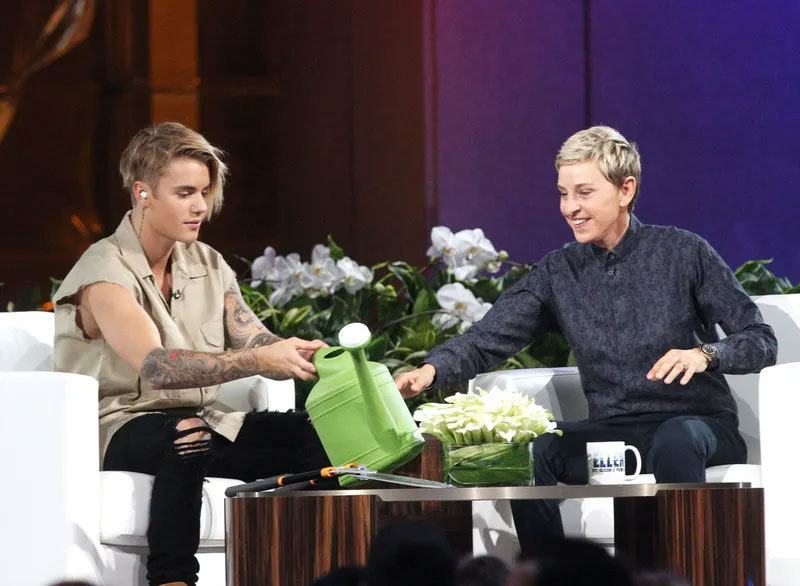 Totally stunned, Bieber pleaded, "Why are you putting me on the spot like this? Gosh." This wasn't an allegation of cruel behavior in the privacy of a studio. The humiliation to a "friend" was played out on camera and seen by an international audience.
When Ellen Was Put in Her Place
Mark from the Korean boy band SuperM belied his age and maturity when he gave a quick-witted reply to Ellen's probing. The host asked if the boys were single, to which Mark replied, "Why are you always curious about this, though?"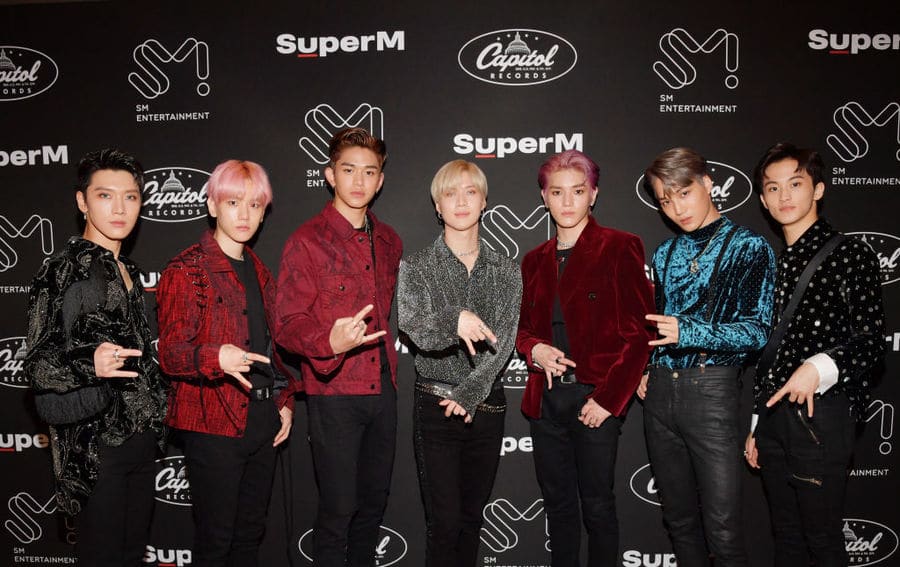 The band had just thrilled the audience with two of their popular hits and presented the host with a $50,000 donation to the Ellen Fund philanthropy. It was then that the question was posed as if all guests were required to make full disclosure of their sex life.
Mark Receives Social Media Support
Twitter was full of praise for Mark not buckling down in a situation where many seasoned celebrities were brought to their knees. Later, when Ellen was facing peak heat from the negative publicity, the incident again went viral. Some say that Mark's bravado was the beginning of the end for Ellen.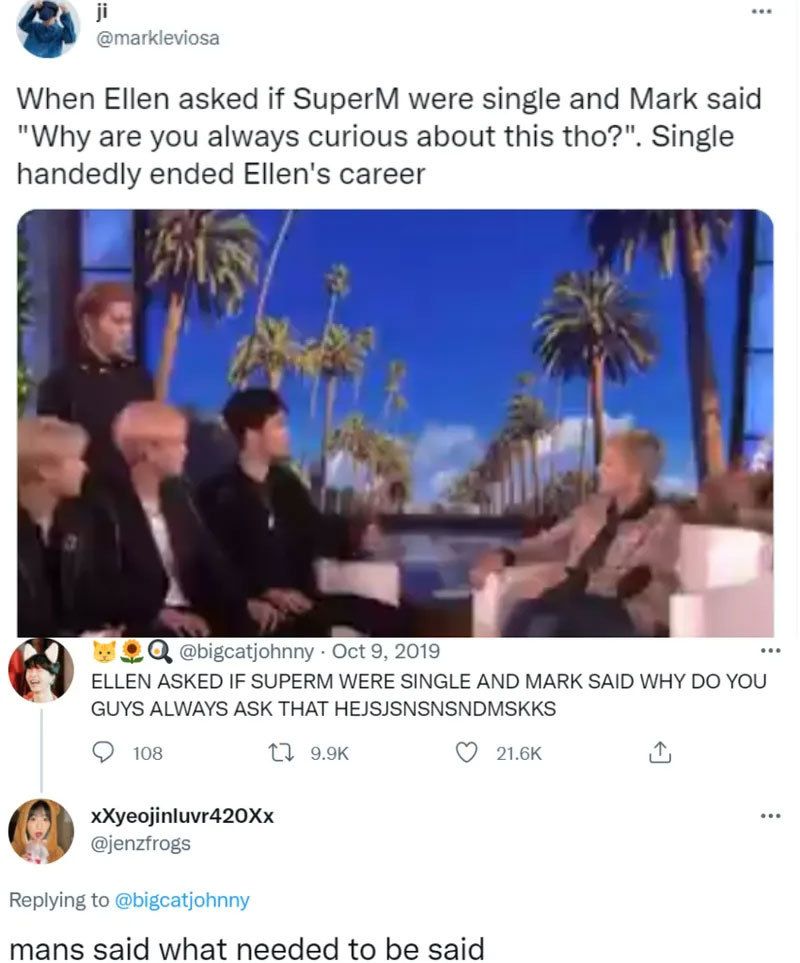 Being in the entertainment business for decades, Ellen should have been sensitive to cultural differences. Unlike their counterparts in the West, Oriental teen idols are averse to talking about their private lives on public platforms.
Celine Dion Refuses to Get Heckled
Ellen has tried to bring down the biggest stars in the business, and few come bigger than Celine Dion. Her public disagreement with the talk show host goes back to 2007 when the crooner appeared on "The Ellen DeGeneres Show." Out of the blue, Ellen began to insist that Dion give her son a haircut.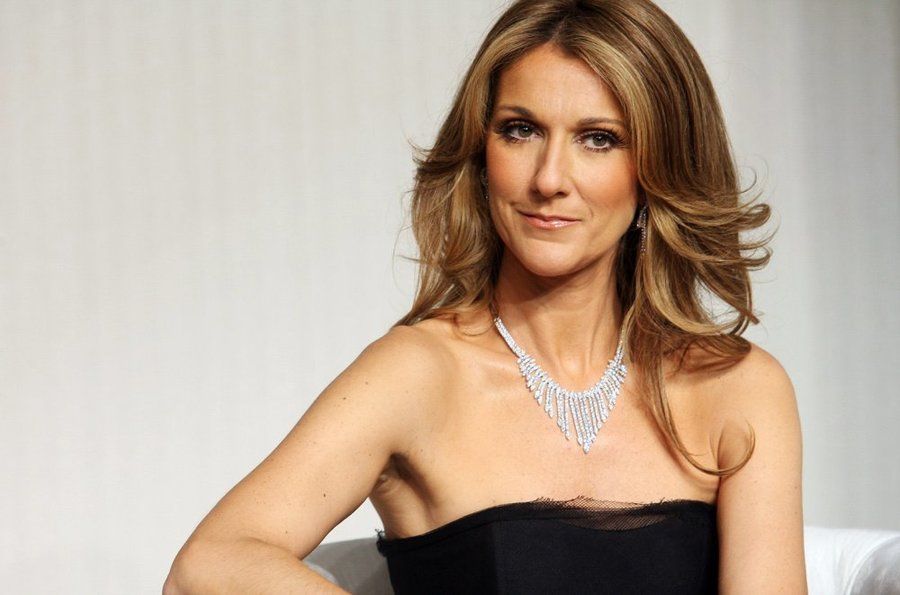 For a while, Celine acted confused and surprised and waited for Ellen to change course with the conversation. When that didn't happen, Dion abruptly told the persistent host to cut it out. The mistreatment alleged by Ellen's staff is not hard to believe.
Mariah Carey Stands Up as Well
Mariah Carey was rumored to be pregnant when she appeared as a guest on the show in 2008. Despite Ellen's incessant questioning, Carey refused to confirm or deny the rumors. Ellen then resorted to a dirty trick and toasted Carey for not being in the family way.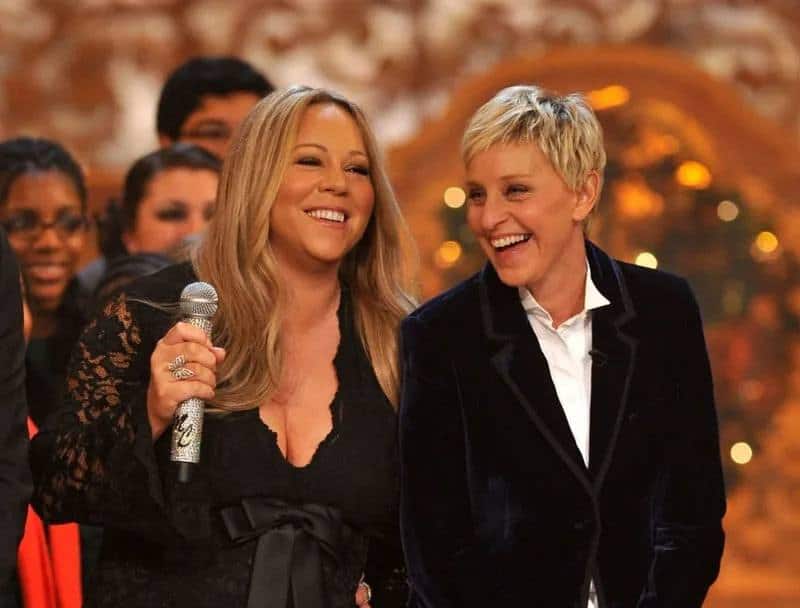 Carey held her poise and laughed the entire time that Ellen was literally forcing her to raise the glass of champagne. Carey tried her best to avoid drinking and then raised a toast to their individual futures, but clearly, she was uncomfortable all the way.
A Stressed Mariah Loses the Baby
Carey had married six months before the harrowing interview and was, in fact, pregnant at that time. She was uncomfortable sharing that news with her fans because she had miscarried before. Carey was so stressed-out during Ellen's needling that she lost the pregnancy soon after.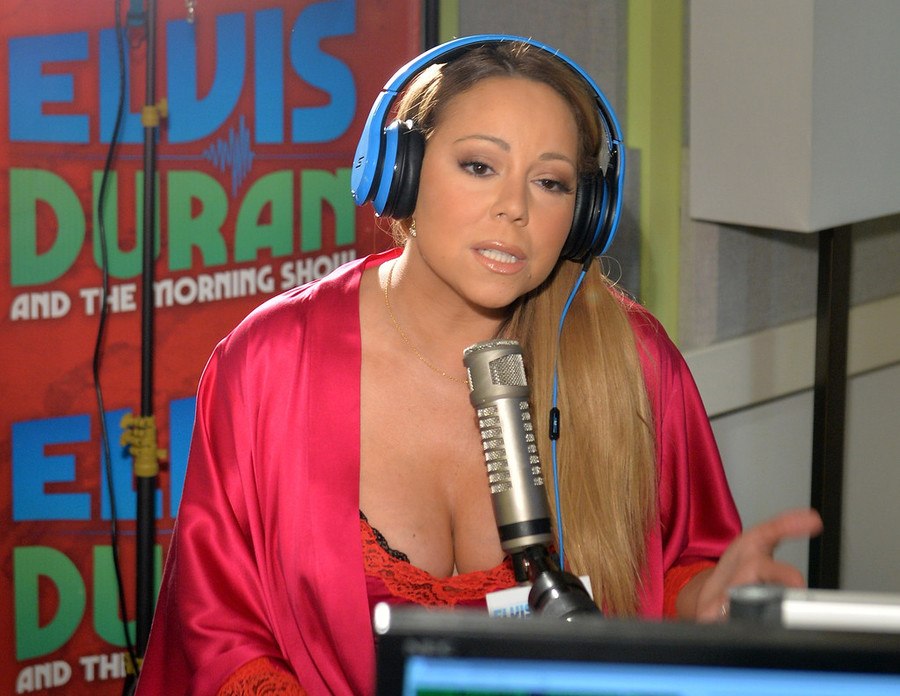 In an interview given at the height of Ellen's woes, Carey said, "I don't want to throw anyone that's already being thrown under any proverbial bus, but I didn't enjoy that moment." Apparently, there was no limit to Ellen's insensitivity when TV ratings were at stake.
Some Did Not Have it so Bad
Nikki de Jager had hesitantly announced her transgender status on YouTube with trepidation. Contrary to what she expected, she received a great deal of support. Her interview with Ellen went off without any hassles and ended with a $10K donation to an LGBTQ cause.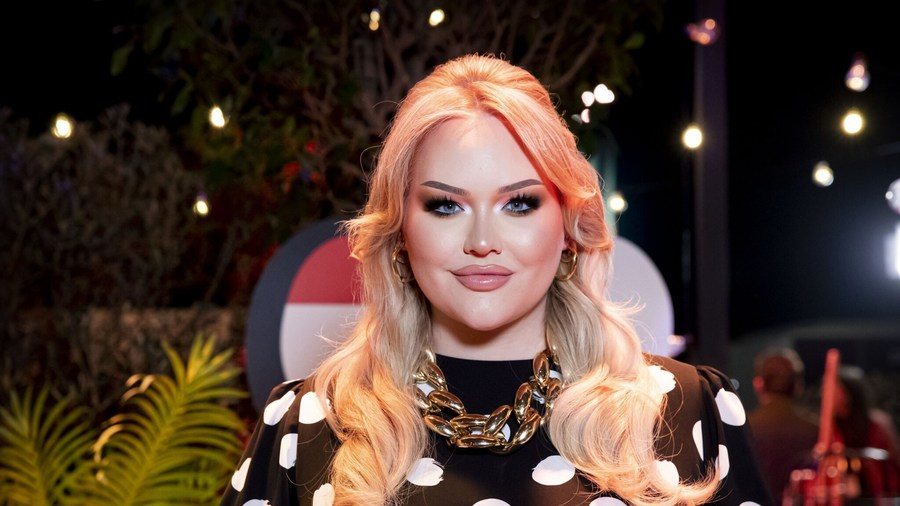 However, when the social media influencer returned home to the Netherlands, she mentioned a feeling of coldness while on "The Ellen DeGeneres show." She acknowledged the honor accorded to her but said that the goings-on on Ellen's set was not in tune with her kindness persona.
Oprah and Ellen Reminisce About the Past
In 2017, Oprah and Ellen talked about the 20th anniversary of Ellen's declaration that she was a lesbian. Ellen had been featured on Time magazine with the headline: "Yep, I'm Gay." Unlike the support that de Jager received, all Ellen got at that time was a deluge of hate mail.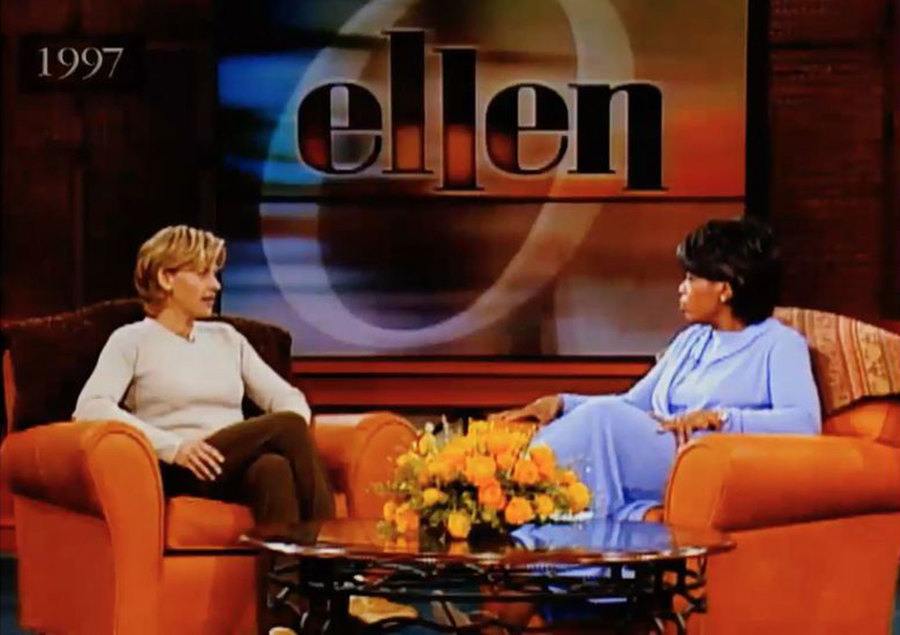 Oprah considered Ellen the bravest woman ever because the reactions to her coming out were unbelievably negative. Anti-gay rights Americans made so much noise that the sitcom in which Ellen played a homosexual character was canceled in 1998.
Oprah and Ellen Share a Deep Friendship
Oprah Winfrey and Ellen DeGeneres live next to each other in an exclusive seaside area of Santa Barbara. Over the years, they have cherished a deep friendship. Ellen presented her buddy a photo album of pictures of all the shows they had been on together.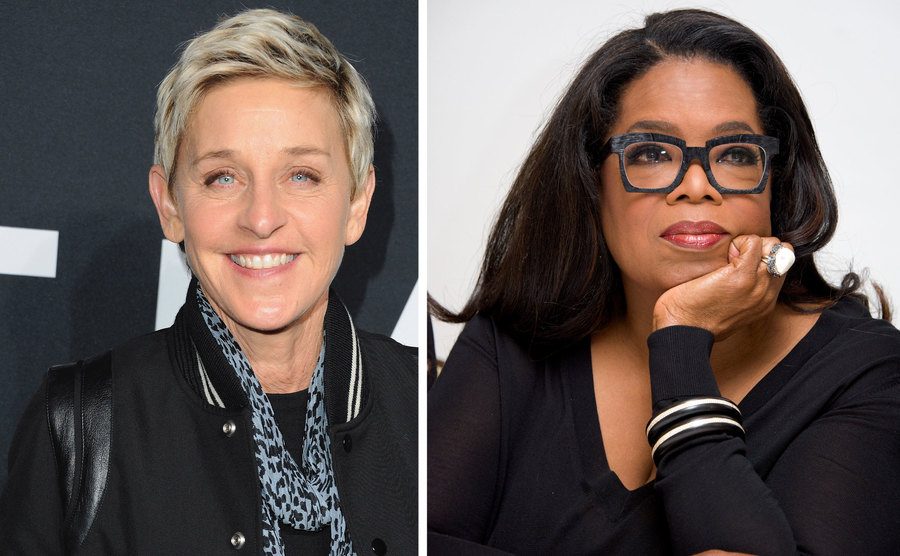 One issue of disagreement was about whether the two were besties. Once on "The Ellen DeGeneres Show," both Reese Witherspoon and Ellen laid claim to being Oprah's best friend. The queen of talk shows turned them both down for Gayle King.
When Ellen Called it a Day
When Ellen announced that her show would end with Season 19, Oprah was on stage to show support for the decision. Ellen gave the reason that the show was no longer a challenge, but the real story could be the recent bad publicity.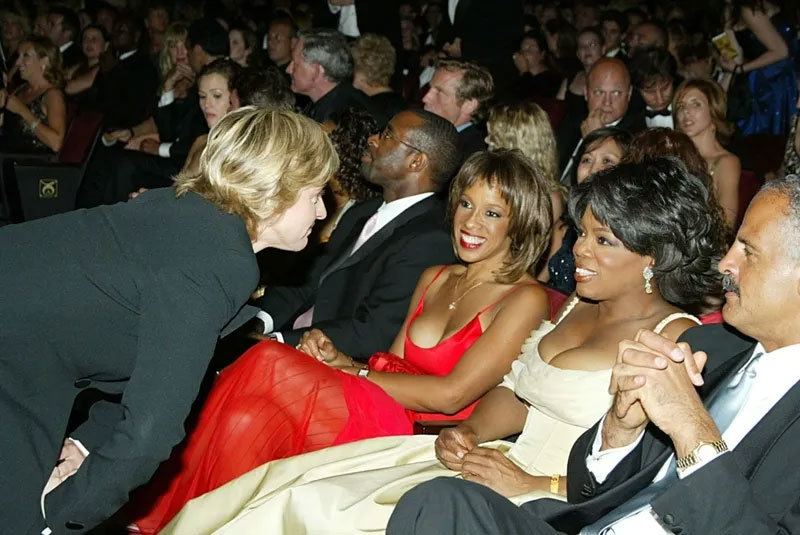 Oprah lauded her friend for trusting her instinct and not dragging on till the producers took the show off the air. And, when Ellen announced that she had given her staff and crew a year head's up for the final episode, Oprah said that was a generous thing to do.
Kathy Griffin Gets Upset at Ellen
The hate relationship between Kathy Griffin and Ellen is a perfect example of how people nurture meanness. Comedian Griffin was a guest on Ellen's show in 2007 and was made to wait while the host rambled on. Griffin was obviously not amused by this act of meanness.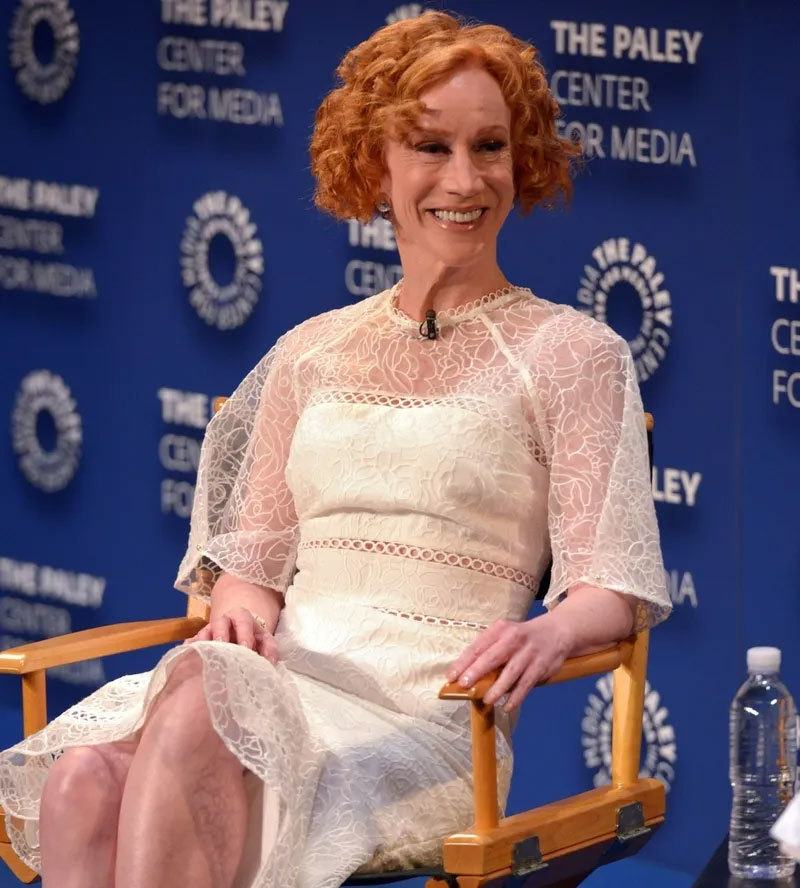 Joan Rivers, a close friend of Griffin, was another sore point. Ellen always claimed that Rivers was vulgar and not funny. After Rivers passed away, Griffin requested that Ellen let bygones be bygones and pay her respects, but to no avail.
Ellen Irritates Even Michelle Obama
The extent of Ellen's improper behavior can be gauged by this interaction with Michelle Obama at a public place in 2016. Both were together at a pharmacy, and Ellen was ripping open a packaging just to see the contents. First lady Obama pointed out that such things should not be done, only to be stunned by the response.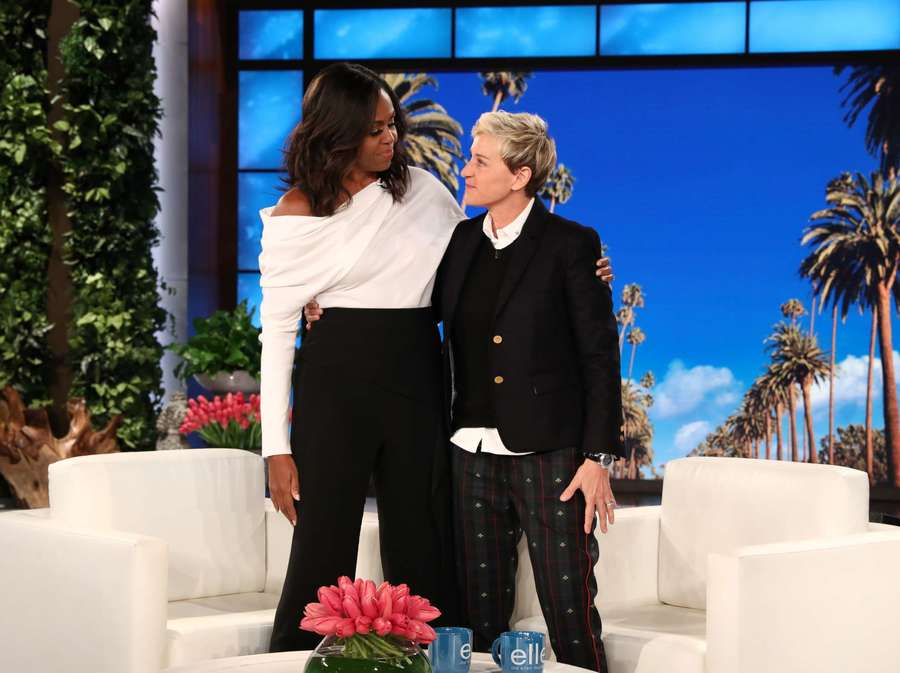 Over a megaphone, the talk show host announced that they were looking for a cream for the First Lady's rash. Michelle maintained decorum but replied, "You know, you're really annoying. It's like taking a three-year-old to the store!"
But, the Two Remain Friends
The First Lady wasn't one to bear grudges. Barely a month after the pharmacy episode, Ellen was invited to the White House. President Barack Obama awarded her the Presidential Medal of Freedom, which is the highest civilian award in the United States.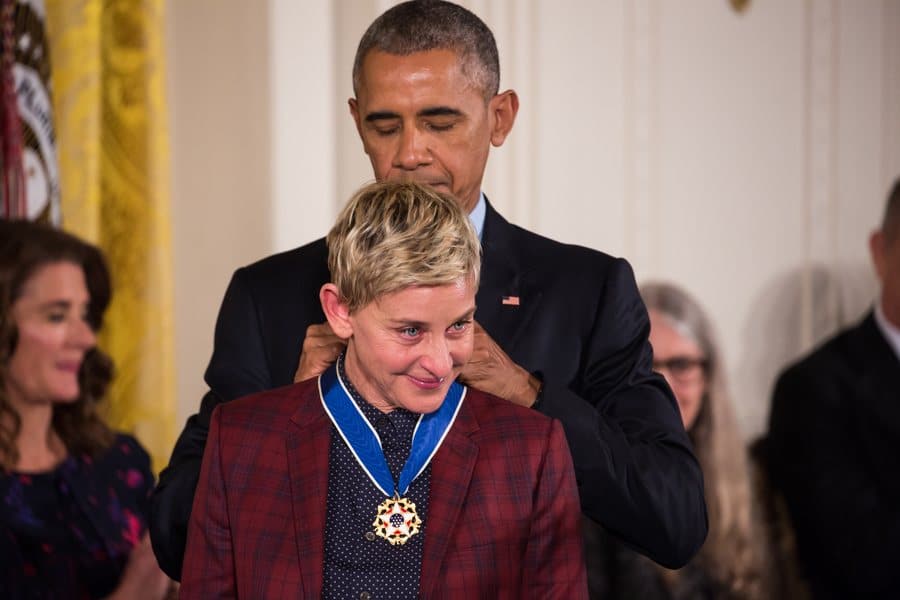 Five years later, in 2021, Michelle Obama was a guest in Ellen's show along with Oprah and joked about the stressful shopping trip. Ellen had been flooded with bad publicity by then, and both Michelle and Oprah were there to extend love and support.
Kevin Hart Stands by Ellen
Trial by media is brutal, and many celebrities have endured it. Post-2020, one could see support building up for Ellen. The comedian Kevin Hart posted a picture of him with Ellen on Instagram with a few kind words for his fellow entertainer.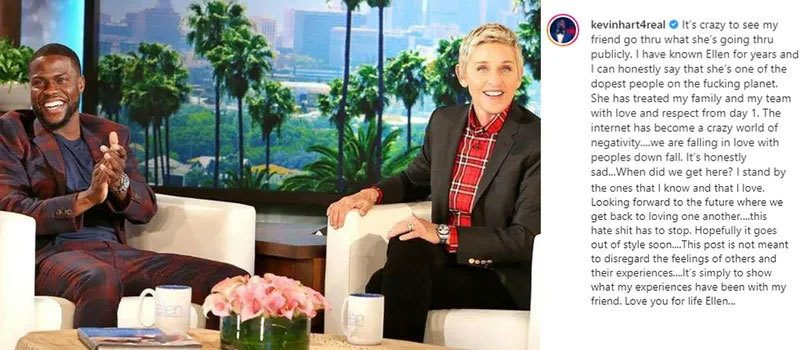 The caption said that Ellen is one of the "dopest people" (most awesome person) on the planet. Hart also mentioned Ellen's kindness and respectfulness. However, he hedged his support by stating that he doesn't mean to "disregard the feelings of others and their experiences."
Kate Perry Also Extended Support
Kate Perry is a celebrity who had been at the receiving end on Ellen's show. The host pretended to forget the name of Perry's ex, leading to an awkward silence. Perry then replied that Russell Brand, the man in question, had actually discussed their marriage on the show.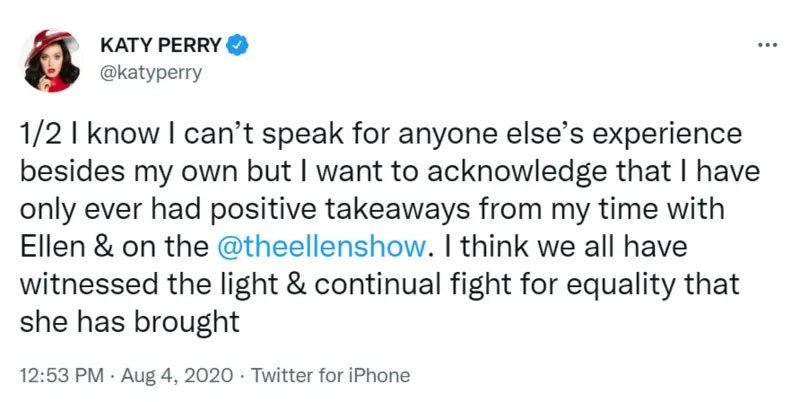 Despite the intentional provocation Perry received on "The Ellen DeGeneres Show," she tweeted in August 2020, "I want to acknowledge that I have only ever had positive takeaways from my time with Ellen. "Sending you love & a hug, friend @TheEllenShow."
Sofia Vergara Enjoyed Ellen's Show
When comedian Sofia Vergara appeared on "The Ellen DeGeneres Show," the two highest-paid entertainers tore at each other with their jibes. Later, Vergara tweeted in support, "I was never a victim guys, I was always in on the joke."

One of the pranks Ellen played was the "English word of the day" game. The chosen word was "discombobulated" that Vergara had to read aloud. Much as she tried, she could not complete the word without her tongue getting tied up in knots. The word incidentally means disconcerted.
Scooter Braun Tweets His Support
Braun is a record executive who manages star clients, such as Justin Bieber. He pointed out that people love to see others fall, and then they take pot shots. This is what was happening to Ellen. His picture of the television host was captioned with words of praise.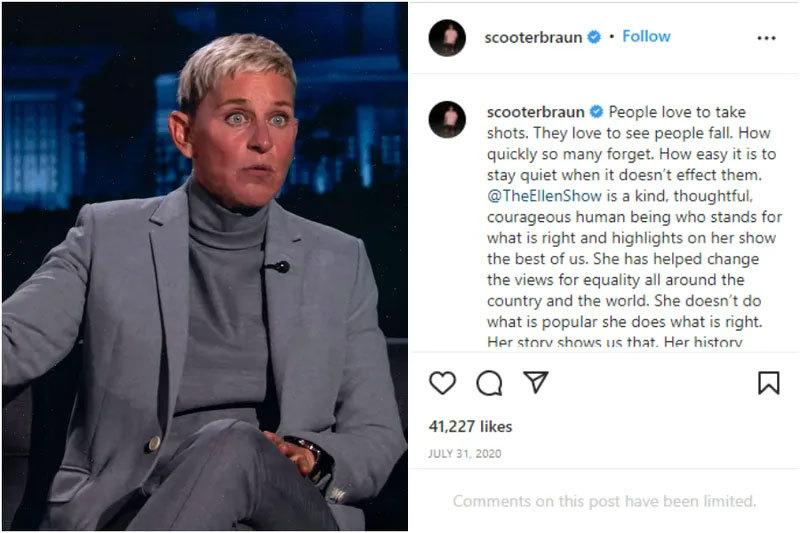 He said that Ellen was "a kind, thoughtful courageous human being who stands for what is right and highlights on her show the best of us." The responses were unfavorable, though, and included accusations of rich privilege and reminders of the toxic workplace issue.
Give Ellen a Second Chance
When Kelly Osbourne said that everyone deserves a second chance, it implied that Ellen had done something wrong. Osbourne clarified that while she was on the sets of "The Ellen DeGeneres Show," she was told about the nasty behavior of the host.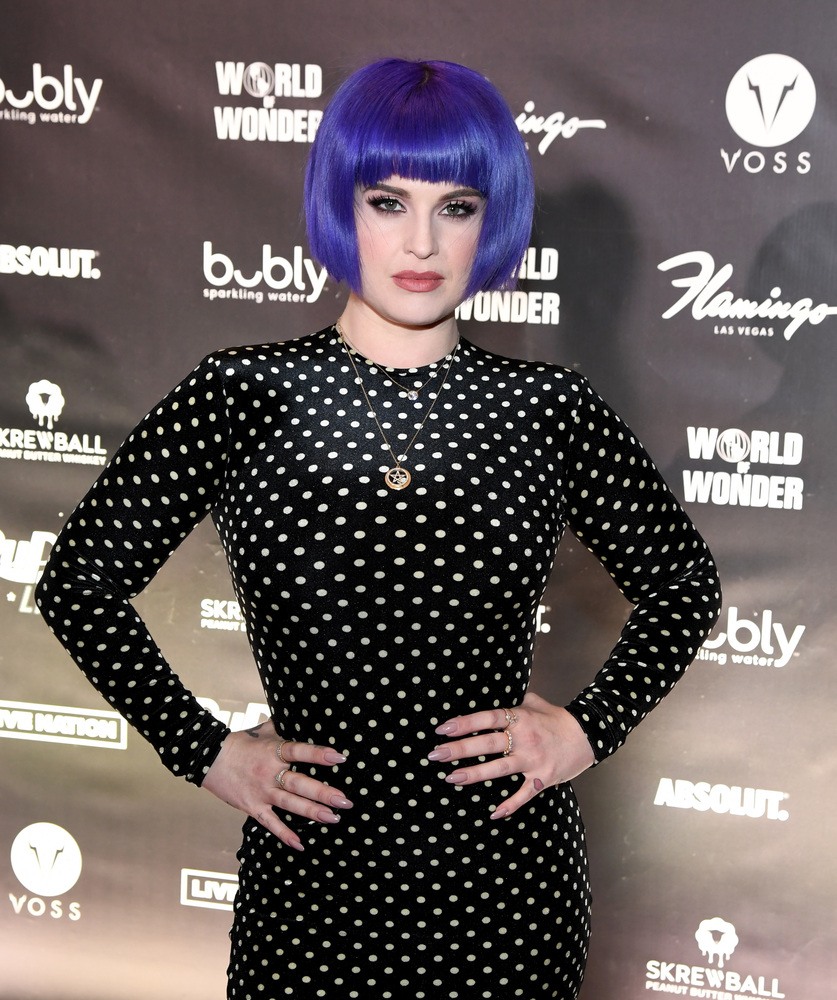 Osbourne was on a podcast called "Hollywood Raw," which aired during the most troubled times for Ellen. Osbourne responded to a question that was asked. It seems that anyone who was someone had to speak about Ellen, whether in her support or against her, for their own publicity.
An Old Friend Shows Solidarity
Steve Harvey and Ellen go back a long way. Both started their careers around the same time, doing stand-up gigs at comedy clubs. He strongly supported Ellen and the show after the studio fired the executives for being culturally insensitive.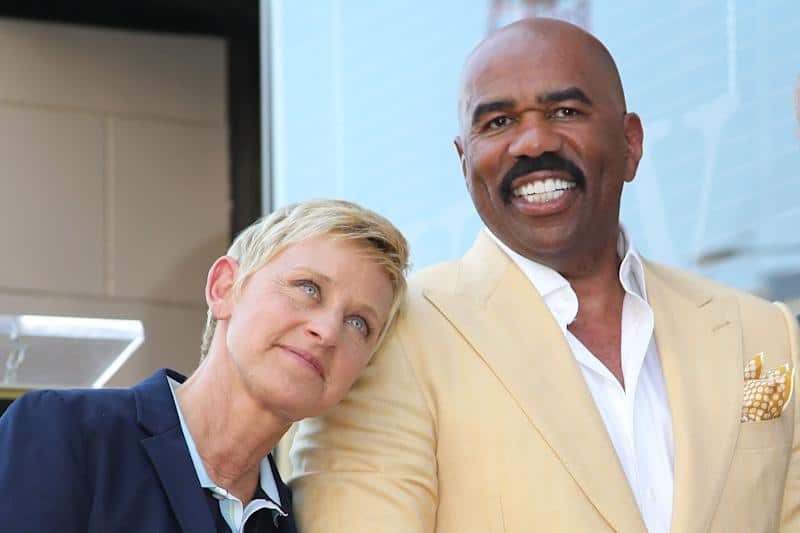 Harvey began by expressing that Ellen is one of the coolest and kindest people he has met in the business. He vehemently denied that Ellen was intolerant and advised her to "keep her head up" when things were falling apart all around her.
Ignacio Figueras Posts on Instagram
More popularly known as Nacho, the Argentine athlete had appeared on "The Ellen DeGeneres Show" several times. He waited a while for someone closer to Ellen and someone with more authority to speak out on behalf of the television host before putting out his view.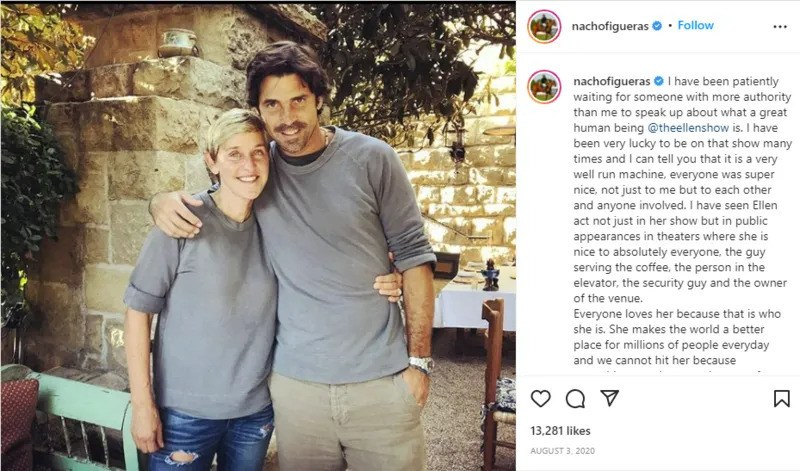 Nacho posted a photo of the two and said that "The Ellen DeGeneres Show" was "a well-run machine with very nice people." In his experience, Ellen was nice to everybody: the guy serving coffee or the man in the elevator."Everyone loves her because that is who she is."
Octavio Spencer Recalls Her Truth
With an Oscar and other awards to her name, Octavio Spencer has been a celebrity on "The Ellen DeGeneres Show." Her experience on the show was supportive and fun. She sent love to Ellen and others at the show through her Instagram note.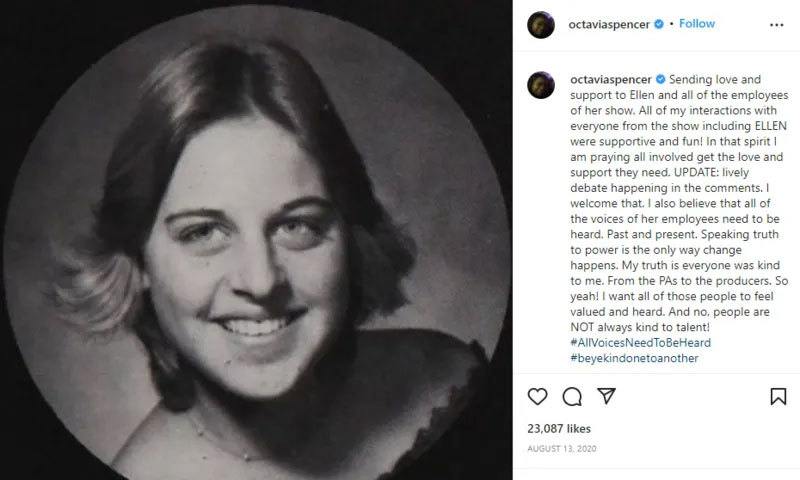 Spencer's long Instagram post pointed out that her experience was that everyone was kind to her. But, she also believed that all employees, past and present, may have their own truths that needed to be valued and heard. "Speaking truth to power is the only way change happens."
Diane Keaton's Unusual Instagram Post
Generally, using all caps on social media is considered rude, but Keaton posted her message in capital letters to strengthen her support. Keaton has been a frequent guest on Ellen's show and enjoyed every minute of it. The veteran Hollywood actor felt that the audience also "exudes happiness and gratitude."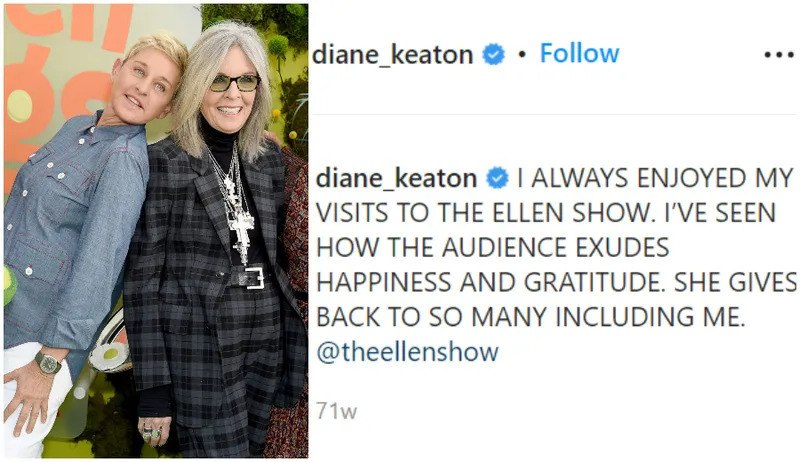 The photo on the Instagram post from August 4 shows Keaton and Ellen from a February show. Ellen is in her standard talk show attire, which is almost a uniform. Keaton, as usual, makes an idiosyncratic fashion statement.
Alec Baldwin Had Been There Before
Alec Baldwin had just endured a publicity disaster of his own, so he knew what was involved and how to handle it. He praised Ellen as "one of the funniest and most talented women […] in all of the show business." He encouraged Ellen to keep at it.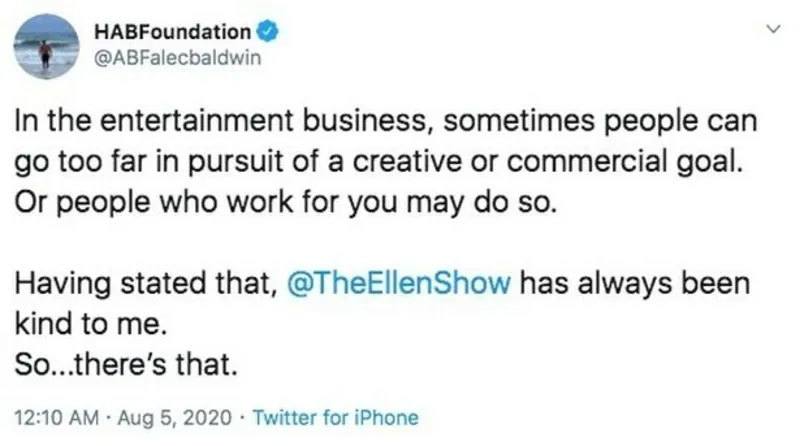 Baldwin acknowledged such things occasionally happen in show business because people sometimes go overboard to pursue a creative or commercial goal. Ellen was thankful for the support that came on the heels of Keaton's kind words. Ashton Kutcher Offers Total Support Kutcher said that he always had good vibes on Ellen's show. His tweet read, "She & her team have only treated me & my team w/ respect and kindness." According to Kutcher, Ellen never pandered to her celebrity status and always addressed what wasn't right.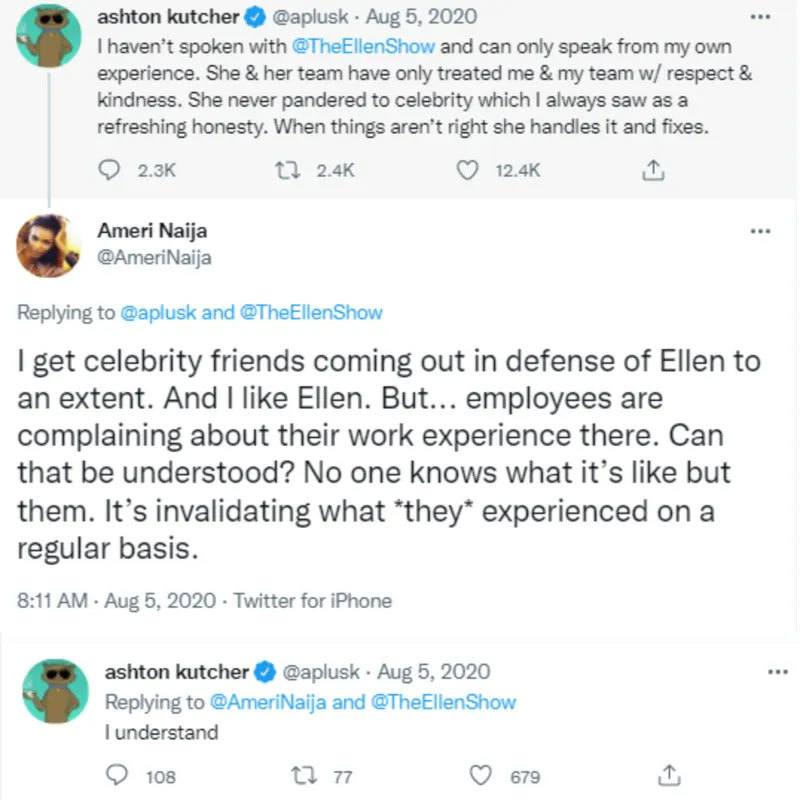 A Kutcher follower had something to say. She acknowledged that celebs were coming out to defend Ellen, but the employees were complaining about their experience at work. Outsiders will never know what an actual situation is, but a difference of opinion needs to be addressed.
Samantha Ronson's Defense Is Questioned
For many years, Ronson has worked for "The Ellen DeGeneres Show" and at Ellen's parties. The DJ said that Ellen has always been respectful and kind to her. Ronson was aware that her support might be taken as an "unpopular opinion," and it was.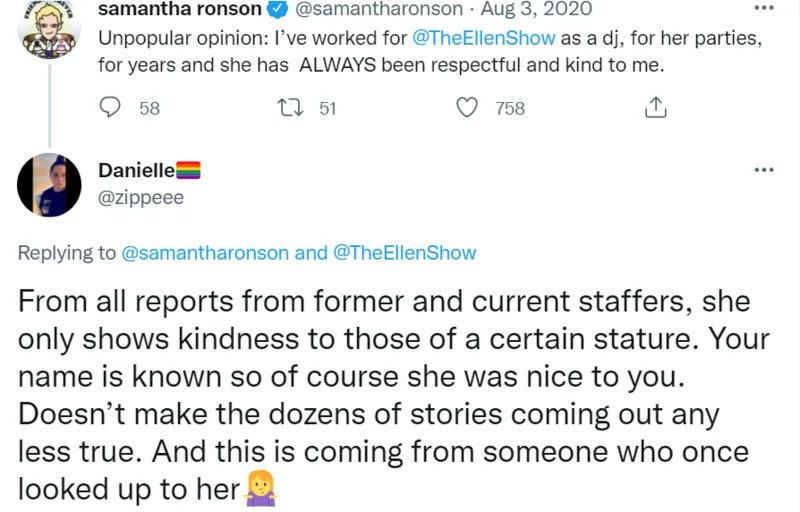 Danielle's tweet represented the public sentiment. She said that from all accounts of the staffers at the show, Ellen only showed kindness to celebs of a certain stature. Since Ronson is well-known and looks up to Ellen, the talk show host was nice to her.
Jerry O'Connell Supports Ellen and Portia
The actor most famous for his role in Jerry Maguire vehemently stated that he would not allow social media platforms like Twitter and Instagram decide who his friends should and shouldn't be. Ellen and Portia were his buddies, and he just had to express his support for them.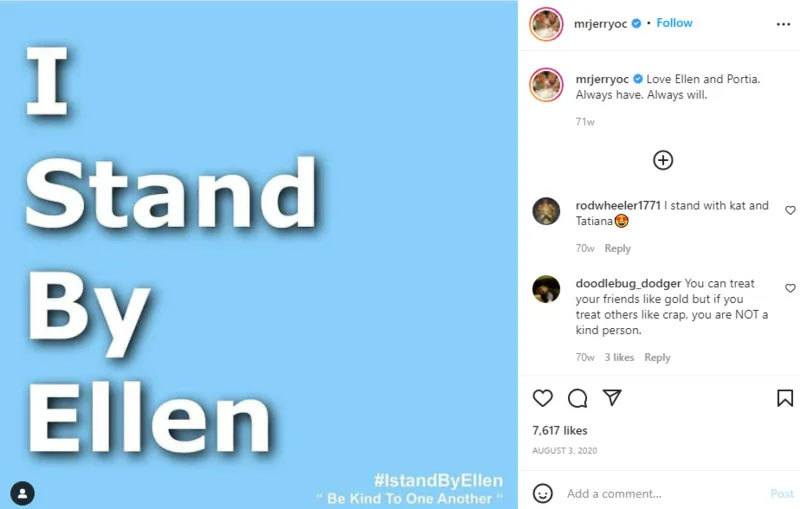 O'Connell simply reposted the Instagram that Portia had put out in support of Ellen. Under the "I Stand By Ellen" image, he wrote, "Love Ellen and Portia. Always have. Always will." There were other responses to Portia's post, and not all of them were supportive.
A View from Down Under
Radio personality and former television producer Neil Breen also had something to say. At one time, he was executive director of Australia's "Today" show and once worked with "The Ellen DeGeneres Show." He was strictly informed that no one on his team could speak directly with Ellen.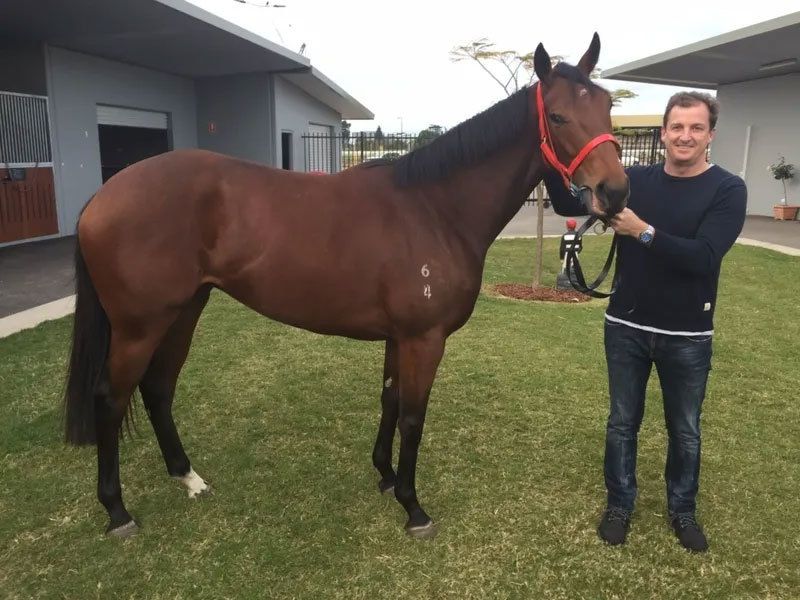 He was also forbidden to look at her, which he felt was bizarre. Breen said he didn't know whether Ellen was nice or mean because there was no interaction with her. However, he felt that "the people who worked with her walked on eggshells the whole time."
Ellen Talks to Her Staff
In the middle of August, when the bad publicity was going through the ceiling, Ellen held a Zoom call with staff to try and sort issues out. She didn't know how the allegations of mean behavior started and claimed that she wasn't that kind of person.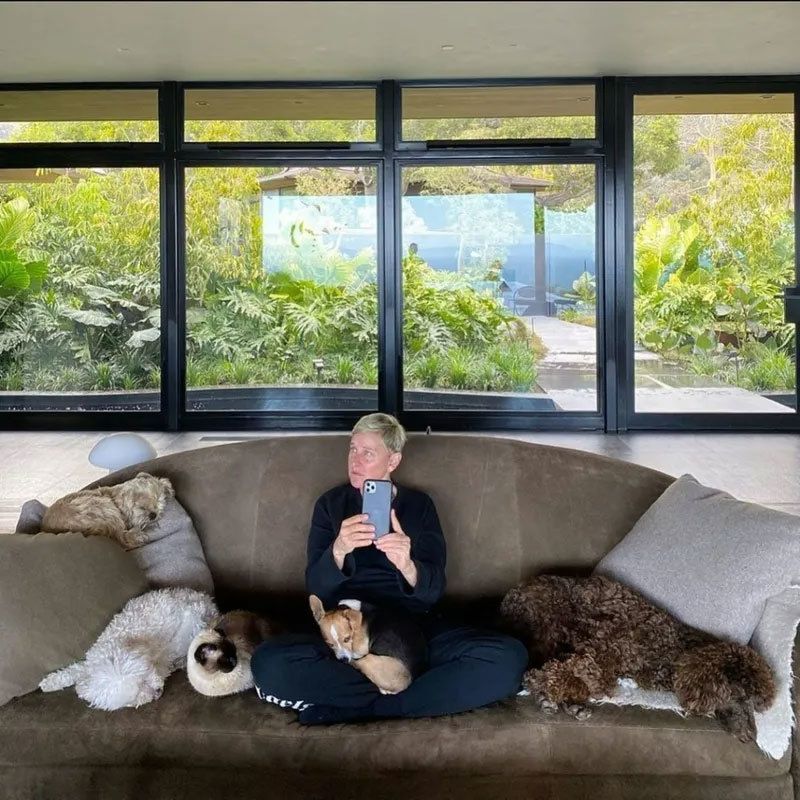 She implored the staff members to talk to her. Ellen denied Breen's "do not look me in the eye" accusation. She called it an insane rumor.
A Former Bodyguard Speaks Out
Tom Majercak wasn't a regular employee of Ellen. He once served as her bodyguard in 2014 when Ellen was hosting the "Oscars." Hence, his opinion counts a lot. He complained that the talk show host was the only celebrity he had worked with who did not acknowledge him.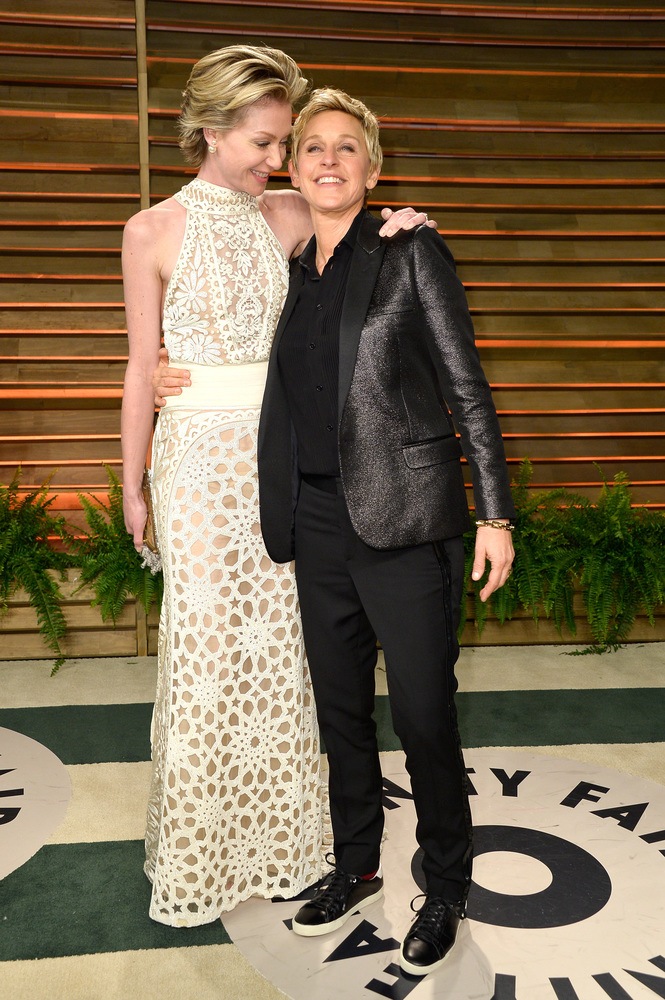 There was just a side glance once, and Majercak said he never received a thank you for protecting Ellen's mother, her spouse, or Ellen herself. Majercak found it out of sync with the warmth displayed by his other celebrity wards and said Ellen's behavior was a bit demeaning.
Even Before the Bad Publicity Deluge Began
Even before the bad publicity began to pile up in 2020, Dan Sheehan had put out a tweet in October 2019. The comedy writer was possibly the first showbiz person to call out Ellen's mean behavior. Though Sheehan didn't have any personal experience to share, he cited a large enough crowd of people.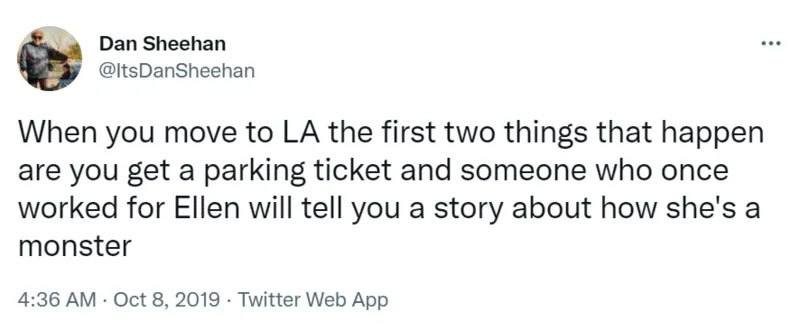 The infamous tweet said, "When you move to LA, the first two things that happen is that you are going to get a parking ticket, and someone who once worked for Ellen will tell you a story about how she's a monster."
A Reaction Perhaps Not in Good Taste
"Cruel Intentions" actor Ryan Phillippe last appeared on "The Ellen DeGeneres Show" eons ago in 2011, and his ex, Reese Witherspoon, is a good friend of Ellen. So, when he jumped on the bash Ellen bandwagon, he seemed to have an ax to grind.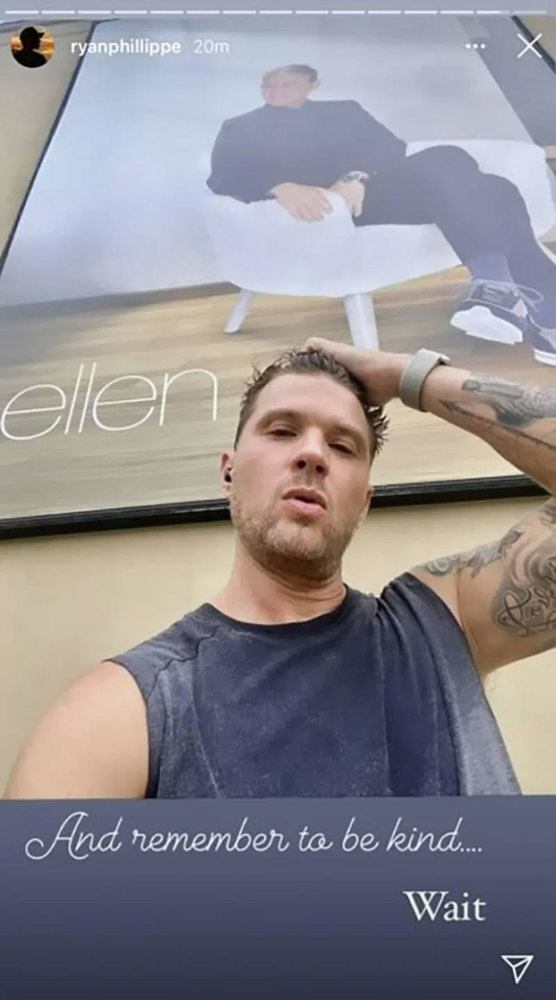 He took a selfie in front of an "Ellen Show" billboard while jogging in October 2020. Phillippe then added a text to the photo that said, "And remember to be kind…. Wait." Finally, he captioned it with, "NOT RYAN PHILLIPPE SLYLY DISSING ELLEN" and put it on social media.
Calum Scott Repeats What's Been Said
Remember Neil Breen, who had been instructed not to look at Ellen, and how Ellen denied it? Singer-songwriter Calum Scott has confirmed the charge. The "Britain's Got Talent" star said he was told not to look at Ellen directly when performing on her show in 2016.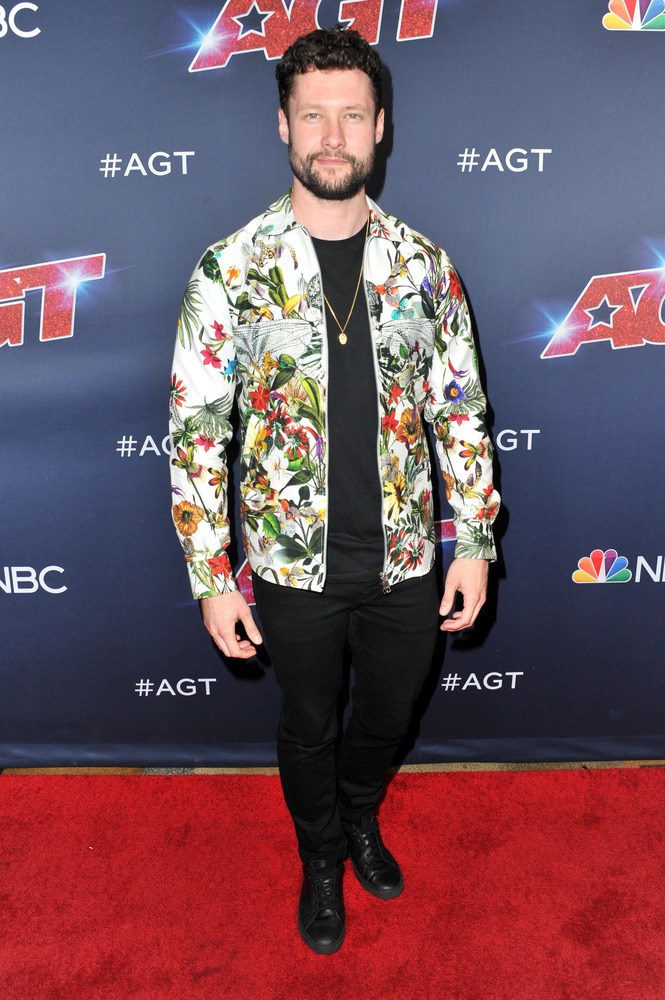 Scott had just told the stage manager how lucky he was to be on Ellen's show. The good vibes immediately vanished when the manager warned him not to look Ellen in the eye. "—everything else is fine," the manager said.
Ellen DeGeneres Stand Up on Netflix
Even before the George W. Bush fiasco, Ellen did a stand-up show on Netflix called "Relatable" that was shot in a Seattle performance hall. It was on the OTT platform in December 2018 and opened with Ellen saying, "I'm a good person." Later in the routine, she admits to being human.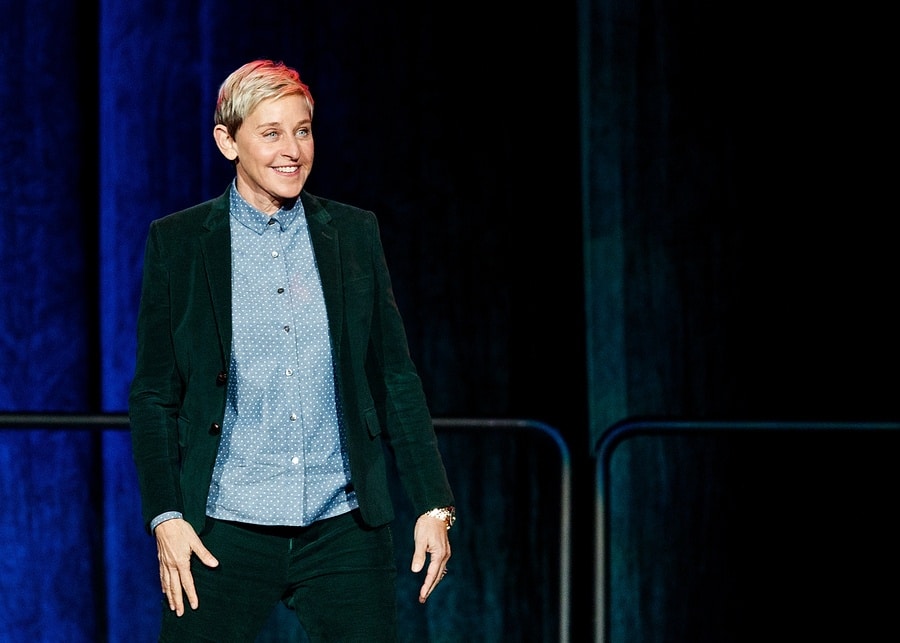 Another confounding statement was that though it's great to have the "be kind" image, the flip side is that she can never do anything unkind ever. Analysts have suggested that Ellen has been subconsciously trying to get rid of the nice lady tag.
The Famous "Ellen Show" Freebies
In "The Ellen DeGeneres Show," it was almost always the guest that was shown in poor light. The audience was supposed to enjoy and laugh at the cringe moments. There was one show, however, in which an audience member had to bear the brunt of Ellen's meanness.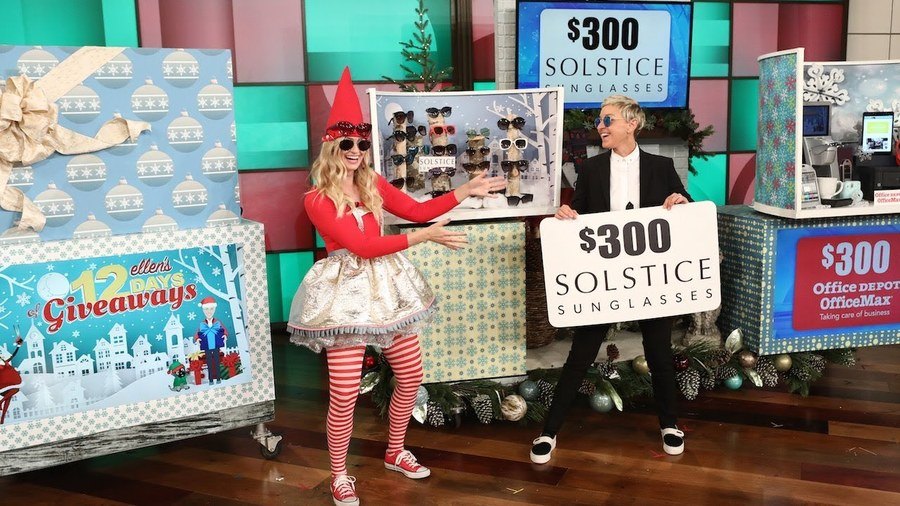 In one of her generous giveaways, the tables were laden with popular branded consumer items. The audience members could pick whatever they wanted, but only one item. The audience was unaware that the event was under surveillance by cameras.
This Is What Happened on the Show
The production team monitored all the cameras continuously, waiting for one of the audience members to pick up more than one item. It was inevitable that someone would walk into the trap, and then, Ellen's meanness and the victim's helplessness came in full view.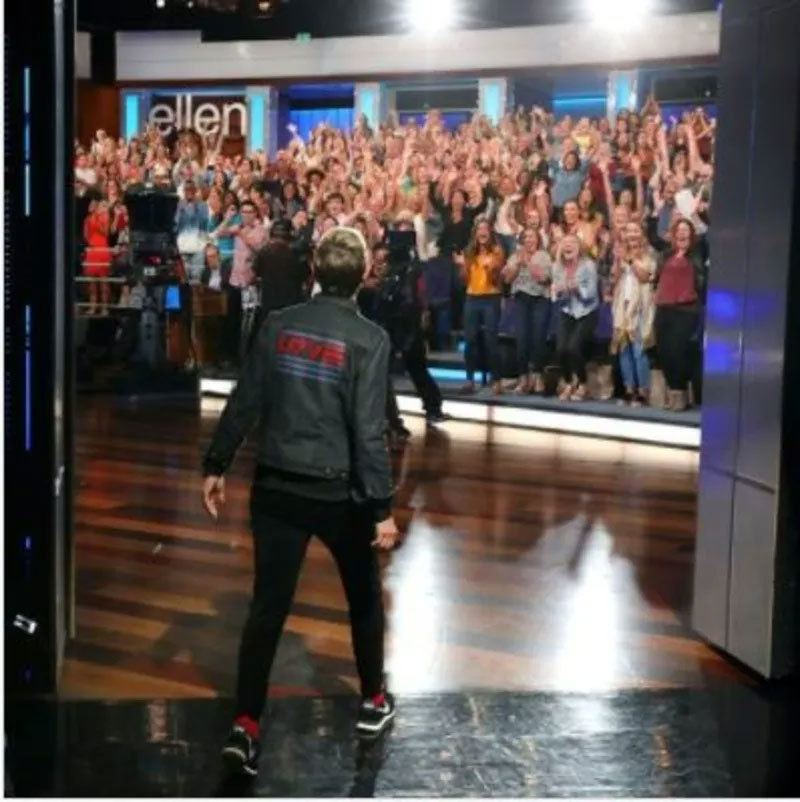 The entrapped guest was forced to watch her misdemeanor in front of the live audience and the viewing public back home. The event was preserved for posterity on YouTube. The erring lady sheepishly said that the extra item was for her sister, but the damage was done.
Unbecoming Comments during the Oscar Presentations
Ellen's habit of ridiculing others wasn't restricted to her shows. In 2014, she was hosting the Oscars, which is an assignment that carries a fair amount of responsibility and dignity. Even on that stage, Ellen couldn't restrain herself from making crass remarks.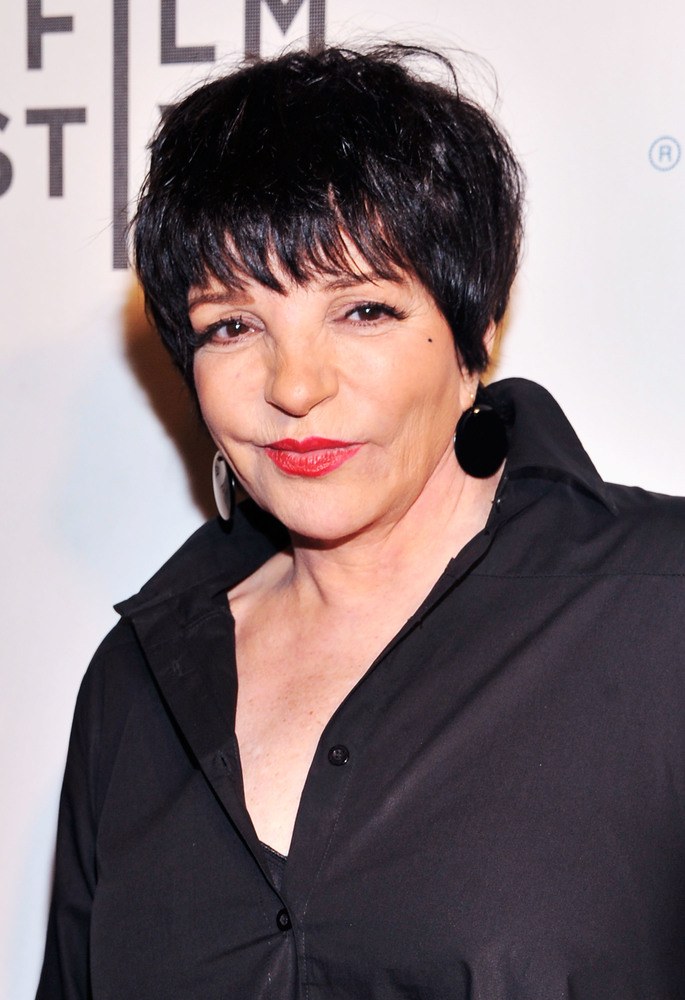 The respected showbiz veteran, Liza Minnelli, was the recipient of Ellen's sick humor. Ellen referred to Minnelli as "one of the best Liza Minnelli impersonators I've ever seen in my life." And then added, "Good job, sir," which did not go well with the Cabaret actor.
Even the Duchess of Sussex Wasn't Spared
Having Meghan Markle on the show was nothing short of a mega event, even by Ellen's standard. It was the first time the Duchess was giving an interview since she spoke her heart out to Oprah Winfrey. The prank was that Markle would repeat aloud exactly what Ellen spoke into her earpiece.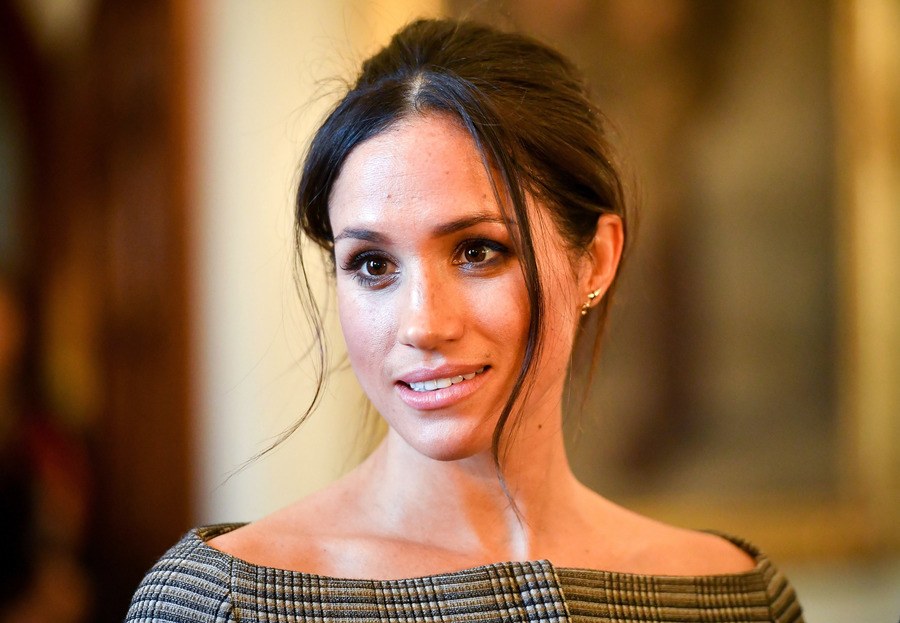 Knowing Ellen, one can easily imagine what followed. Markle had to do squats and repeat some unsavory comments about people. Though some viewers found it cringy, Markle played along with the host. It speaks volumes of the big-heartedness of the Duchess.
The End of "The Ellen DeGeneres Show"
In May 2021, Ellen announced that the coming fall season, Season 19, would be the last season of "The Ellen DeGeneres Show." The first episode of the season was aired on September 13, 2021, and the last one is expected in May 2022.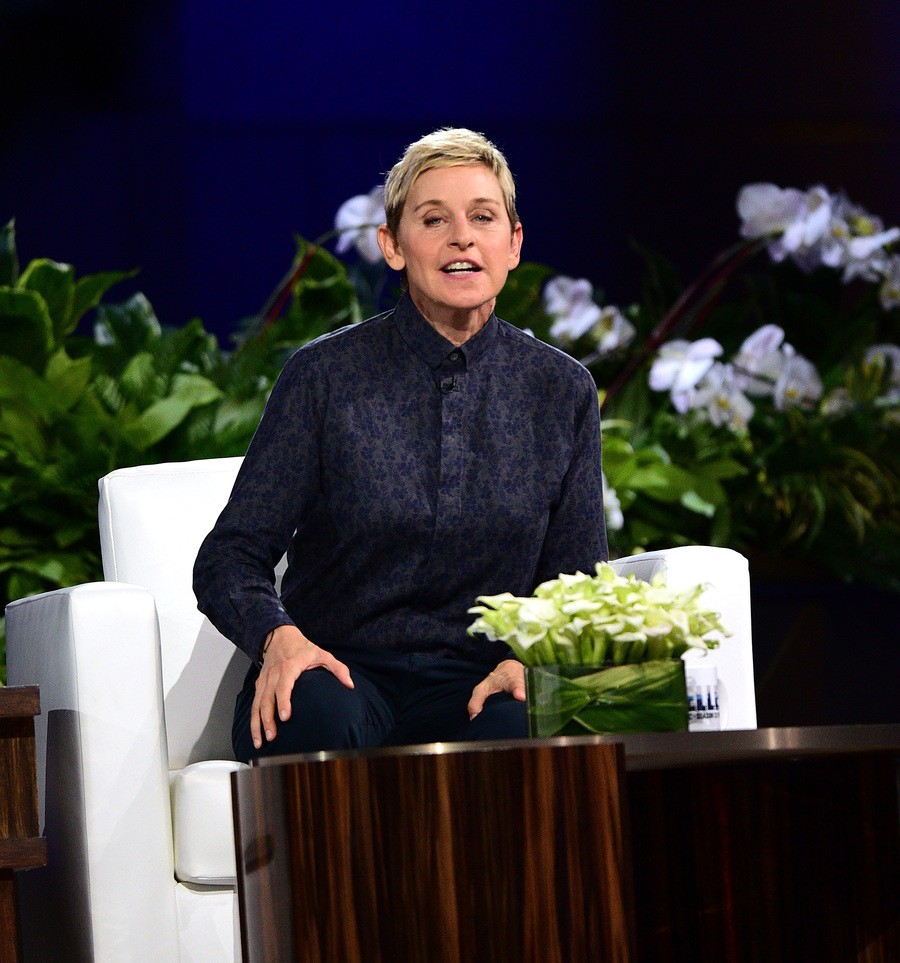 Despite the controversies, "The Ellen DeGeneres Show" has been a huge commercial success which has come in the form of over 60 Daytime Emmy Awards over a span of less than 20 years. We hope future generations will be kinder to Ellen than her present critics.