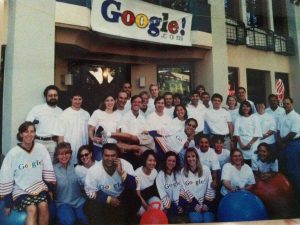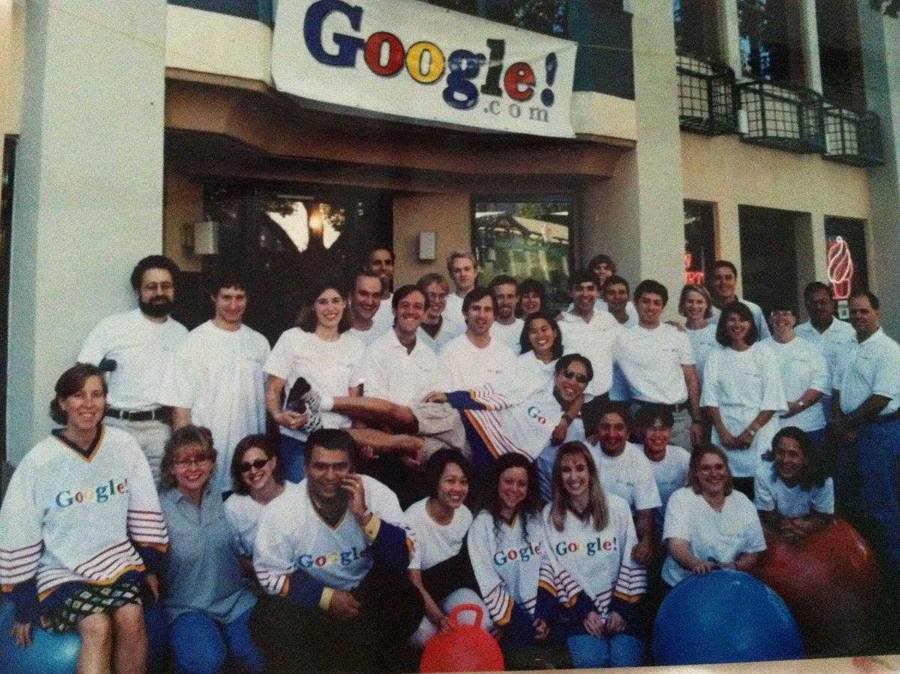 From War to Marilyn: The Most Iconic Photos from the Last Century
By Yuri S.
---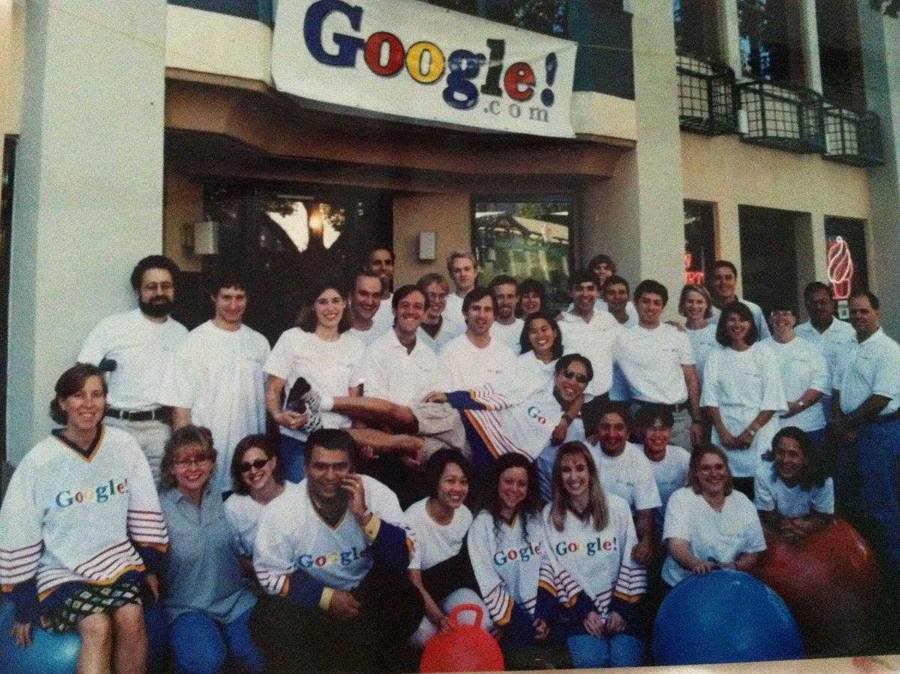 The first photograph was taken in 1826, and the technology has been improving ever since. When the 20th century came along, we started to see clearer images that allowed people to capture moments in time throughout the century.
We've collected some of the most incredible pictures from that century. They include beautiful women and powerful sporting moments, as well as pictures of war and moments of great change. We'll take a trip down memory lane and look at the iconic photos that defined the 20th century. Let's get started!
The Beautiful Norma Jean Mortenson
Having a difficult childhood can forever ruin your life or affect your personality. However, that was not the case for Norma Jean Mortenson who frequently moved from foster home to foster home in her younger years. Despite having such a harsh childhood, she grew to be an incredible young woman.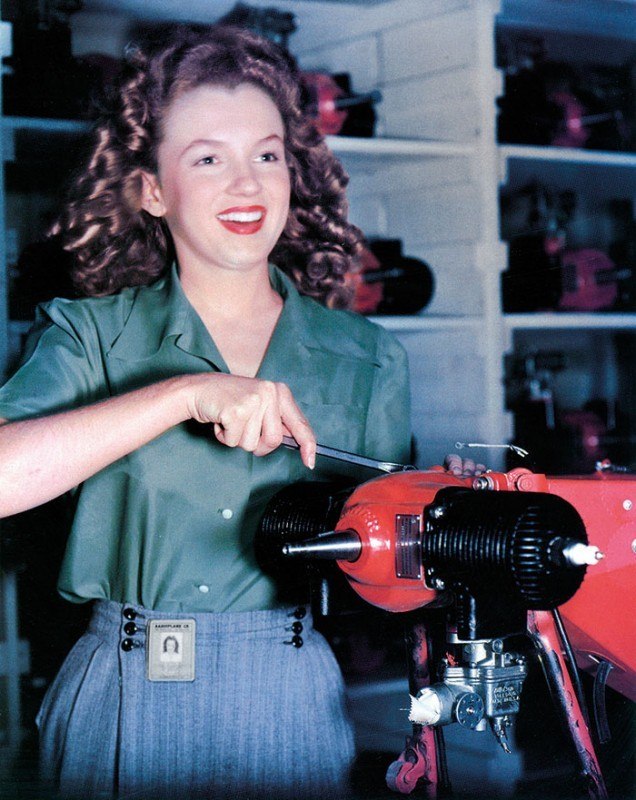 The year that would change her life forever was 1944, the year she was introduced to a photographer. She was 18 at the time. The meeting of these two led to an unexpected pinup modeling career for Norma Jean, and she'd eventually change her name to Marilyn Monroe.
An Infamous Sporting Image
Being at the right place and time can often be a blessing. One of the finest moments in sporting history is exactly this image. Neil Leifer worked as a photographer for Sports Illustrated, and he was lucky enough to catch the historical moment when Muhammad Ali wrote history and knocked out another incredible fighter, Sonny Liston.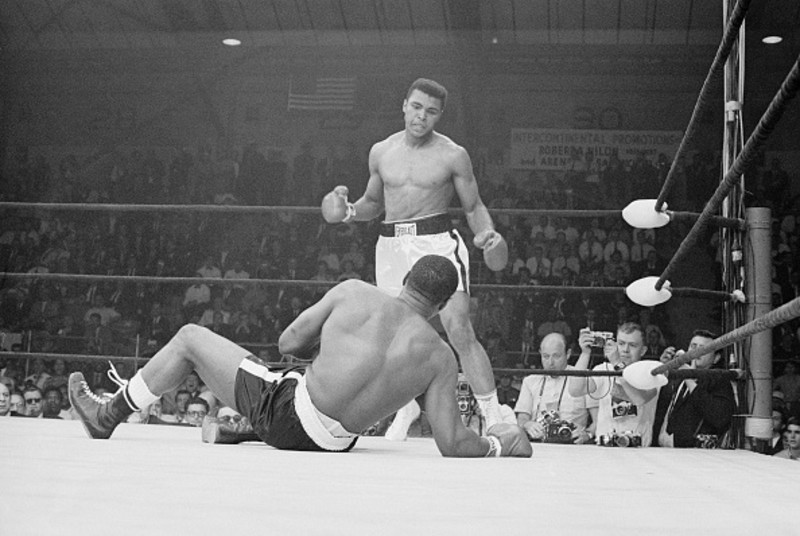 This image became an iconic one and was placed on many walls and printable objects. What was incredible about this moment was the context. This was not just another victory. Sonny Liston, also known as Big Bear, was 34 years old when he was defeated by Ali who was only 23.
The Hollywood Canteen and Its War Effort
During World War II, there was something interesting that operated in Hollywood. It was the Hollywood Canteen, a way to motivate servicemen before they went to war. Soldiers were offered free food, dancing, drinks, and entertainment to help them on their way to war.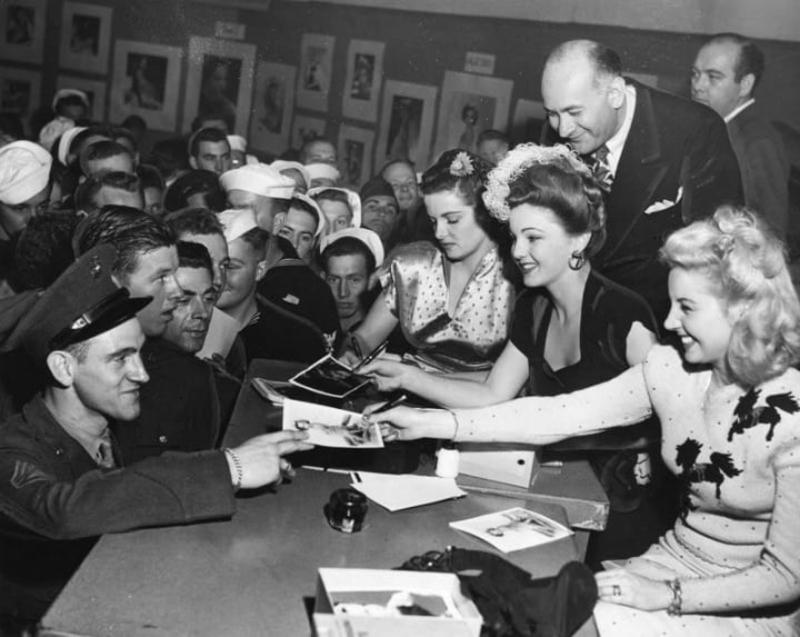 As we can see in this particular photo, many women working there were, in fact, celebrities who volunteered. This definitely came as an efficient way to boost the soldiers' morale. Among the female celebrities were Bette Davis, Marlene Dietrich, and Rita Hayworth.
Baby Jolie and Her Parents
Everybody knows the beautiful Angelina Jolie. She is an incredible actress and woman, but how many of us remember baby Jolie? She was just as beautiful as she is now as an adult. She didn't grow up in a typical family.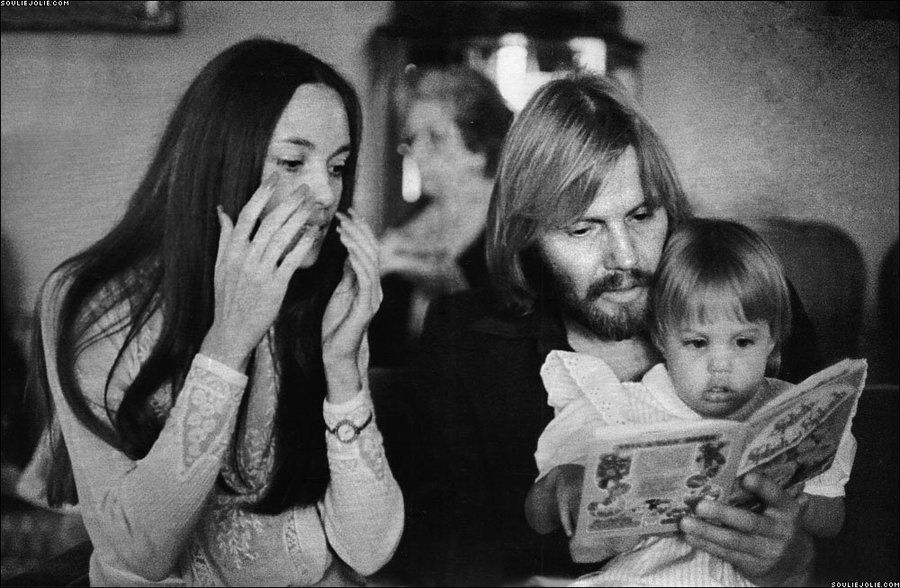 Her parents were a strong Hollywood couple. Jon Voight and the beautiful Marcheline Bertrand gave her not only a loving home but also incredible features. However, Angelina didn't have a great relationship with her father. She married the famous Brad Pitt, but unfortunately, their relationship didn't last.
The Legendary Cast of Star Wars
George Lucas was the one who created Star Wars, but who would think at that time that this series would become an incredible phenomenon? The original work was released in 1977, and since then it has expanded more than anyone could have thought possible to films, video games, novels, and even theme park attractions.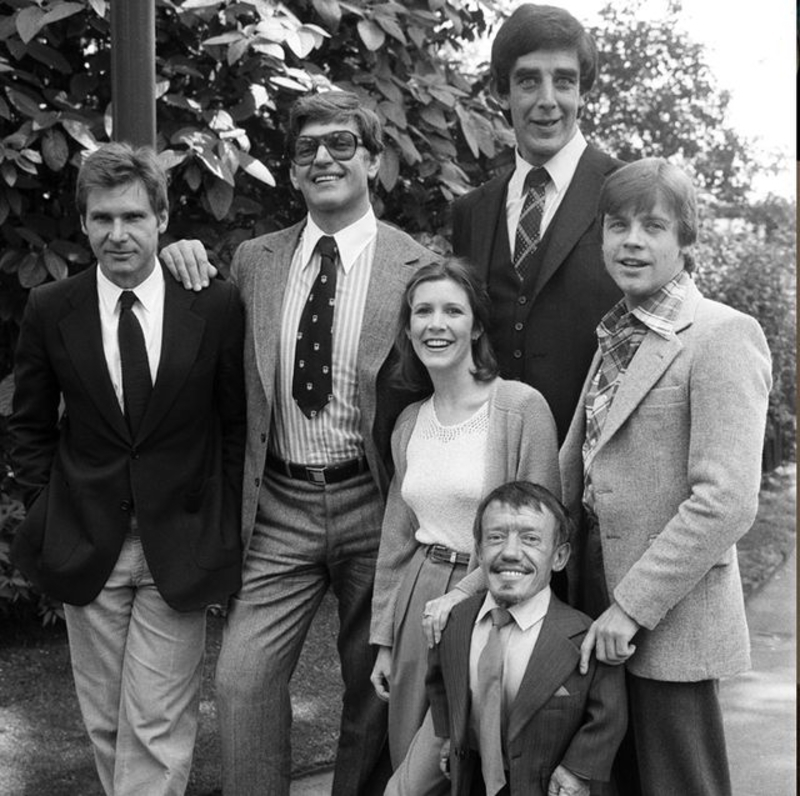 Ever wanted to know its worth? You would never guess it unless you are a fan of the series. Its total value is estimated at $70 billion. This picture is amazing because it has the power to get us back to where everything started.
The Record Store Listening Booths
These days we can easily listen to music whenever and wherever we want, but back in the 1950s, things were a little more complicated. Listening to music was a very different activity than it is now. That was when low-cost, 45-rpm vinyl singles were the popular format for recorded music.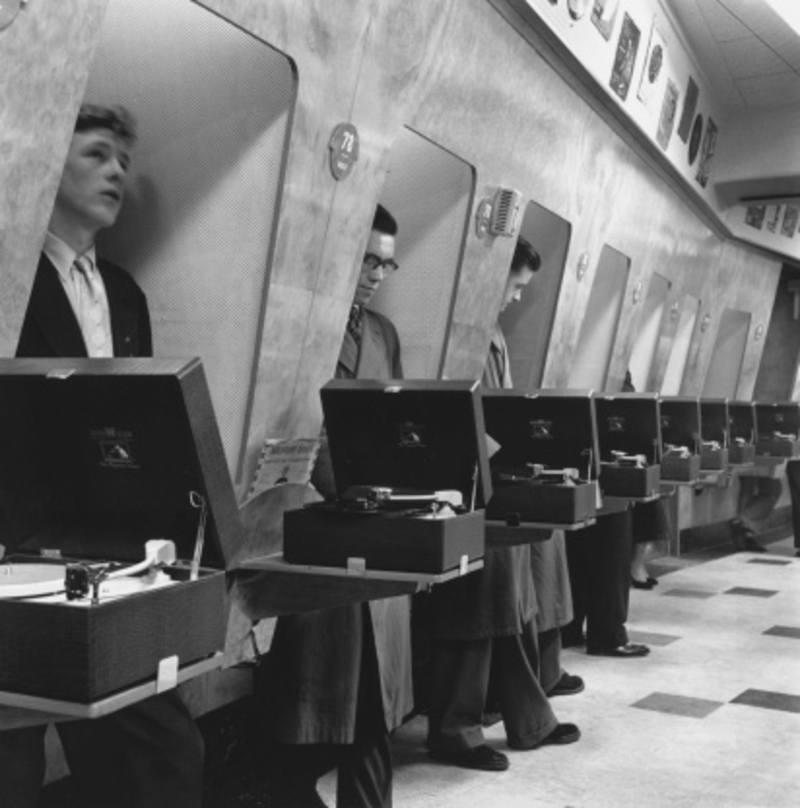 That is exactly why record stores provided listening booths throughout the whole country. These little spaces were equipped with all the necessary items for the customer to enjoy the type of music they purchased. Back then, this type of activity was considered a luxury.
George Herman "Babe" Ruth Jr.
"Babe" Ruth, born in 1895, is considered the best baseball player of all time. He was an incredible batter as well as a highly effective pitcher. While there have been many great players in Major League Baseball, none have quite reached his level of production.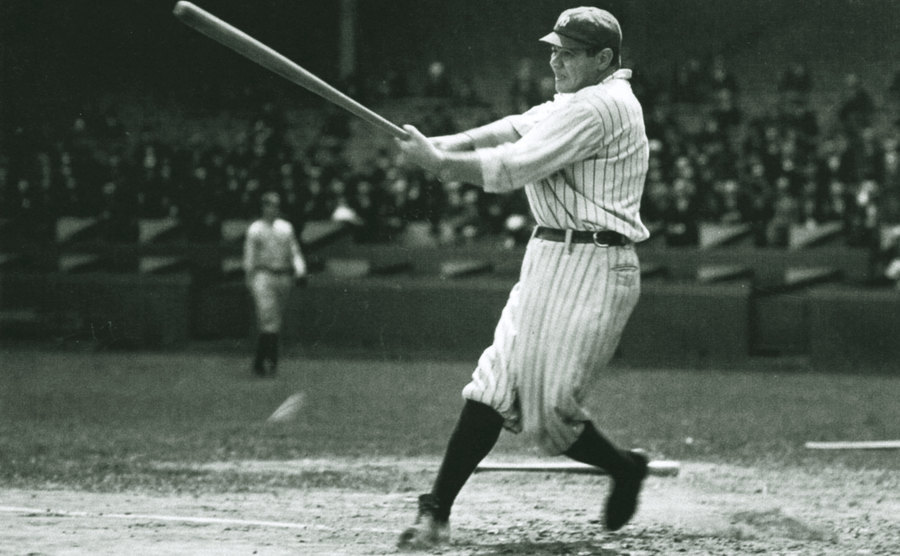 From 1914 through 1935, he was a very popular baseball player. He had some interesting nicknames such as the Bambino and was involved in one of the most famous trades ever when he switched from the Red Sox to the Yankees. This picture shows him in action back in 1927.
Hippos Can Do Many Amazing Things
This image can seem hilarious at first glance, but there was great meaning in taking it. Michael Nichols and Michael Fay captured this while going from Congo to Gabon. Seeing these two was an impressive view, but Nicholas also wanted to deliver an important message through this photo. Hippos had been forced to go in areas they were not part of.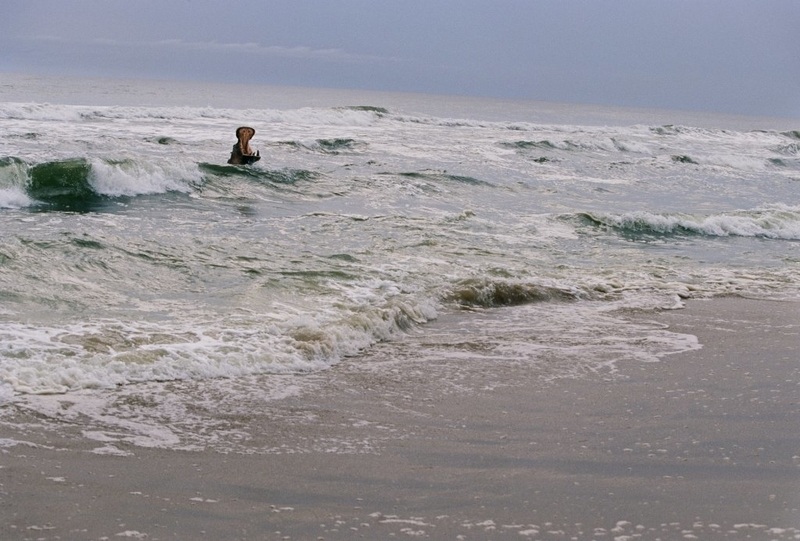 All the rivers and lakes that were once their home were destroyed. You may think that this is just another image of the environment, but this one brought some important changes. Omar Bongo, president of Gabon, was inspired by it and decided to create a national park system.
The Famous One-Piece Bathing Suit
Back in 1907, it was unusual for a woman to expose her body. While today things are very different, back then only talking about such things was considered to be a controversy. Annette Kellerman started to change this odd perception. She was a professional swimmer, an actress, and a writer who was one of the first brave women to wear a one-piece swimsuit.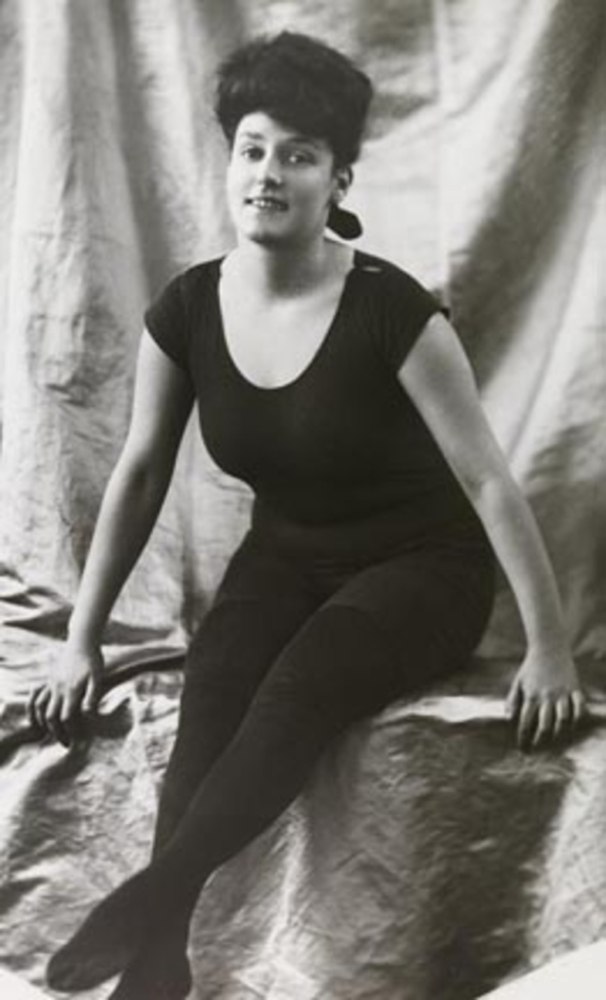 She was even arrested for indecency, but that didn't stop her. Her actions were a topic of controversy, and high demand for her swimsuits followed. Some view her actions as inappropriate, but many believed in her vision, which increased her sales dramatically.
The Revolution of the iPhone
When they first appeared, cell phones were used only for talking and later for texting. Today we can easily say that they have become minicomputers with the ability to do almost anything. This image was taken back in 2007 when Steve Jobs, the CEO of Apple, announced that this was the day when they were going to reinvent the phone.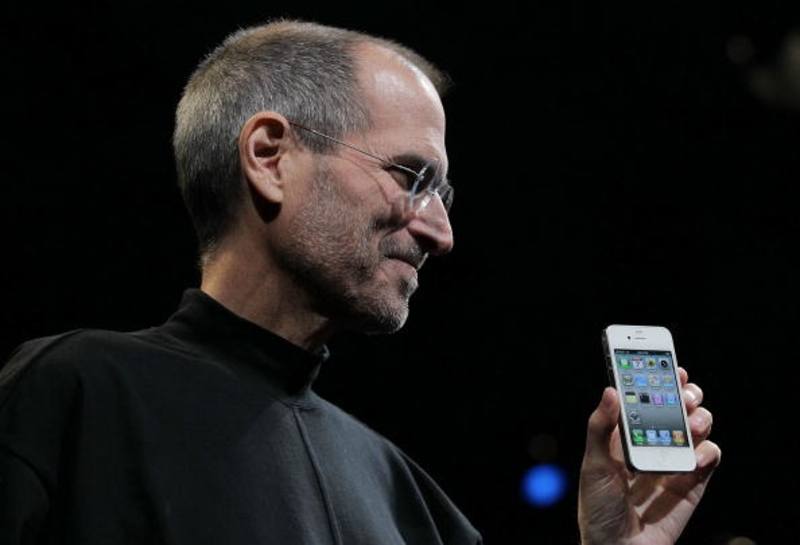 His words were true since more than 10 years from that moment Apple is still trying to come up with new ways to reinvent this complex device. Phone technology is still advancing, and there are now many companies that have perfected their own smartphones.
A Clash of Different Royalty
Given that Marilyn Monroe died so long ago, it's crazy to think that there was just over a month between the births of Queen Elizabeth II and Marilyn Monroe. Both were born in 1926, but sadly Monroe passed away in 1962 at the age of 36.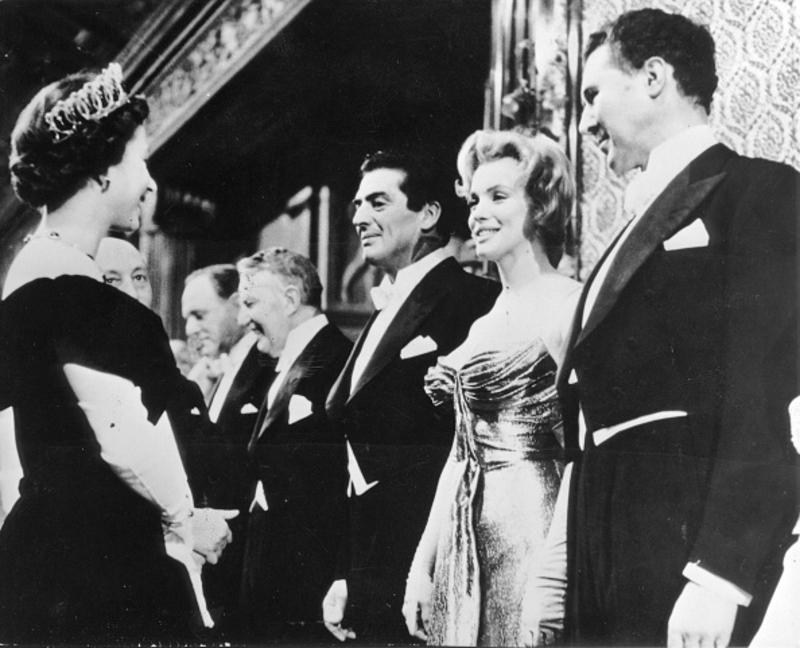 While Elizabeth is Queen of the United Kingdom and many countries of the Commonwealth, Monroe was often seen as Hollywood royalty. This was a meeting of the two at a film premiere when both incredible women were 30 years old. If anything, it shows the incredible longevity of the Queen.
The Start of an Empire
Every company has to start from somewhere. Even the biggest brands we know of today were once just an idea, and then that idea developed into a small business. This image captures a young business called Google that was starting to grow back in 1999.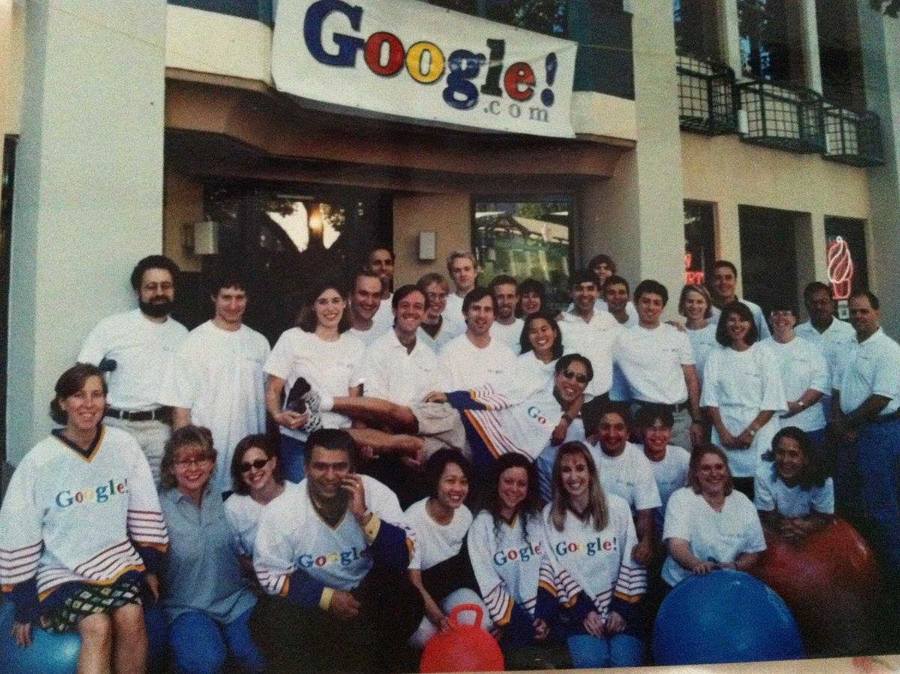 Even the most optimistic person in this photo probably couldn't have guessed just how big Google would become. The gigantic company not only dominates the search engine market but has now developed technology in many different areas. It all started here, and now the company has more than 50,000 employees.
The Beatles Taking a Break
By 1964, the Beatles had become worldwide superstars and had a grueling touring and recording schedule that would soon see them take a break from playing any live shows. This picture shows them in Paris between one of their many commitments.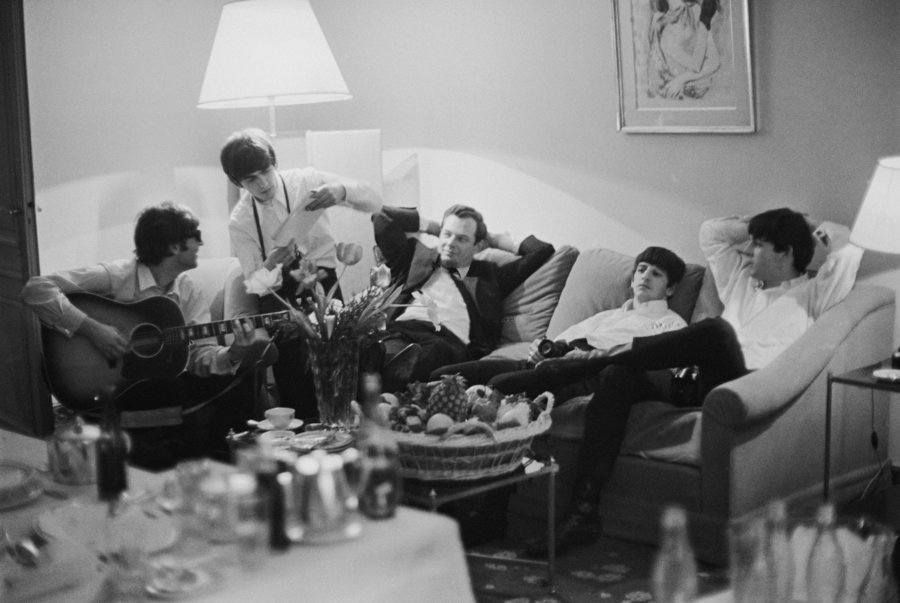 A funny story here is that the snapshot was taken by Harry Benson who was due to run a story in Africa but got assigned to the band instead. He wasn't too happy about it at the start but soon got hooked on their music and charm. What followed was a series of incredible photographs.
Shirley Temple in the 1940s
Shirley Temple had an incredible career, and it all started for her at the age of just 3. She became a huge child star and would continue that success into her adult life. She played an important role in allowing people to escape from the realities of the Great Depression.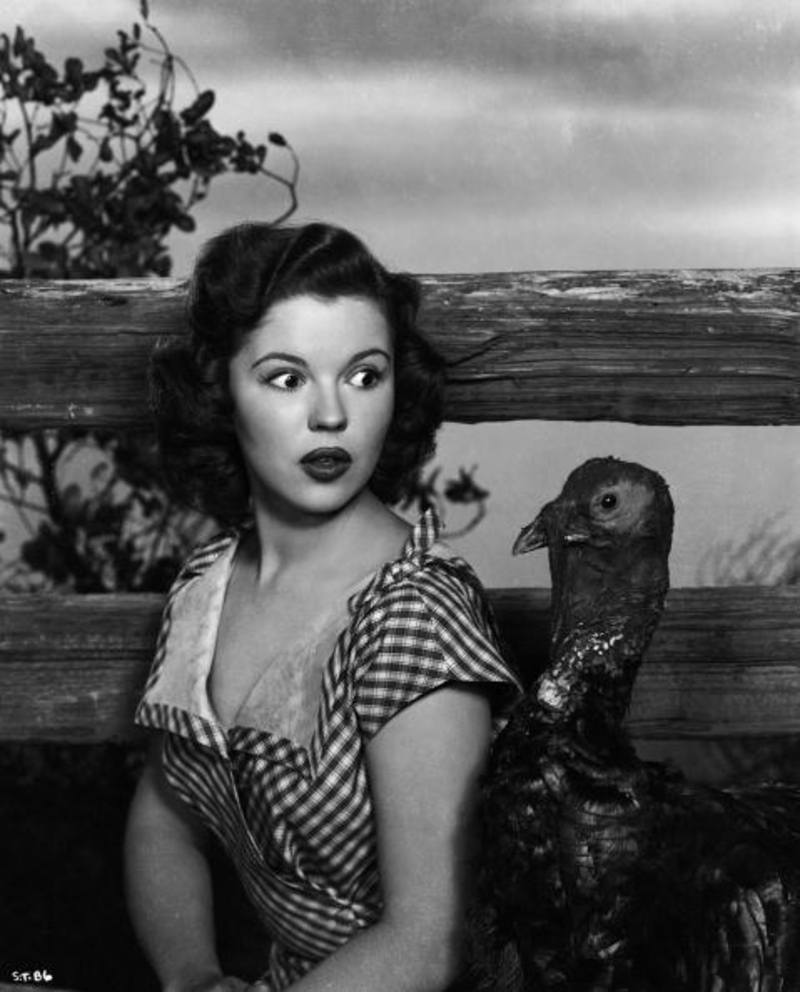 Her career, however, wasn't just confined to the silver screen. As she got older, she turned her considerable talents to the world of politics. That led her to be the Chief of Protocol of the United States from 1976 to 1977.
A 20th Century Gentleman
Men have never had it easier when it comes to personal grooming. In these modern times, it's very easy to get a new finely pressed shirt and a beard trimmer that takes seconds to give you a sharp look. This man didn't have any of those luxuries, but look how sharp he is.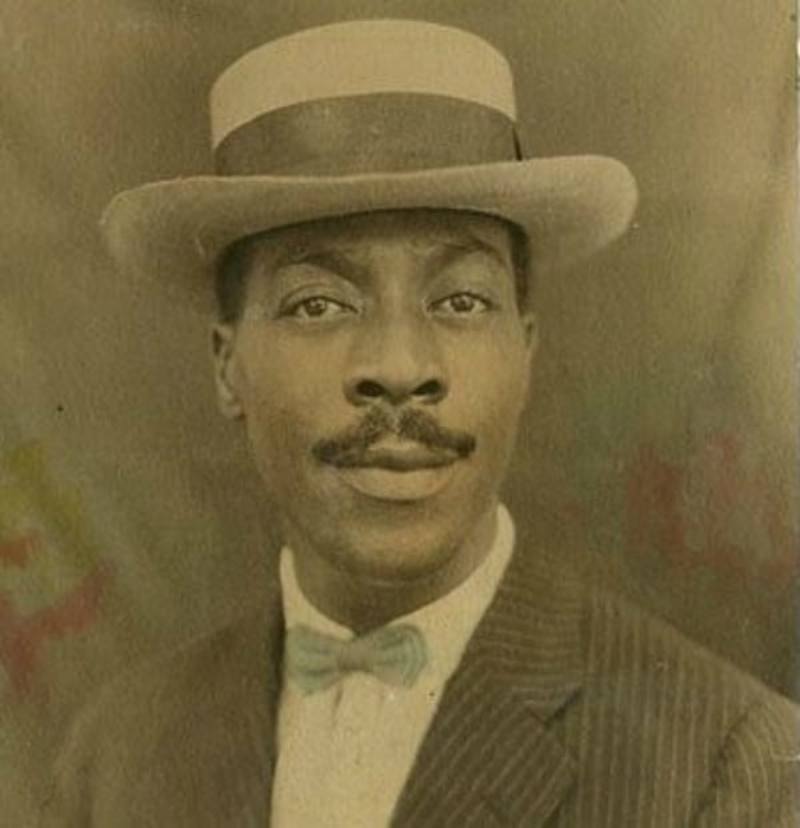 He has a fantastic mustache with a perfectly shaven jawline. There is also a striking resemblance here to Eddie Murphy, and you might think this was an aged picture of the star! Perhaps this is a distant relative he never knew about.
Getting the King's Autograph
We've already talked about Marilyn Monroe being the queen of Hollywood, but Elvis Presley was widely known as the king of rock 'n' roll. This picture makes us wonder just how many autographs he had to sign in his lifetime. The picture was before he became a superstar too.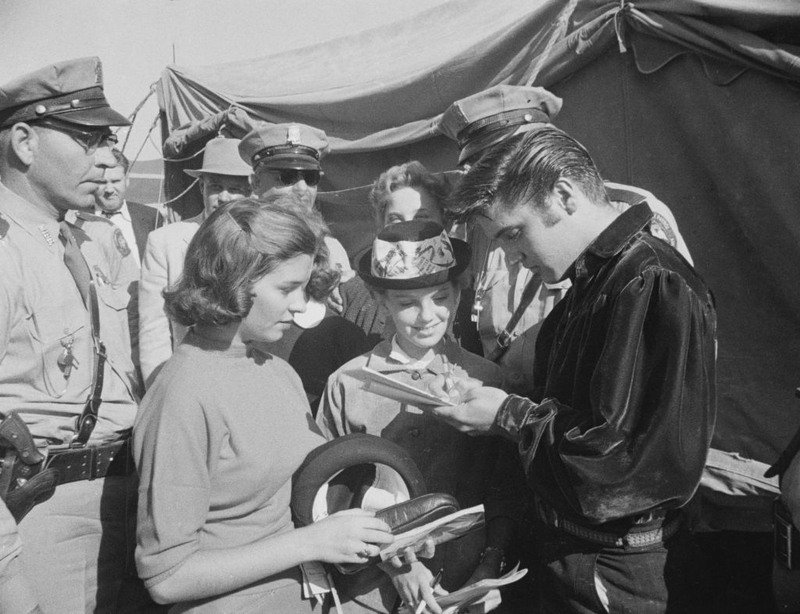 As with Monroe, Elvis died far too young at the age of 42, back in 1977. That wasn't before he left his incredible mark on the world of music. He helped change the face of rock 'n' roll with his sex appeal and catchy songs. There has never been anyone quite like him.
An Infamous Image of Joy
For younger people, it can be hard to sense the relief that must have been felt around the world in 1945 when World War II came to an end. In the joy and jubilation, nurse Greta Zimmer Friedman was grabbed by a sailor and given a kiss.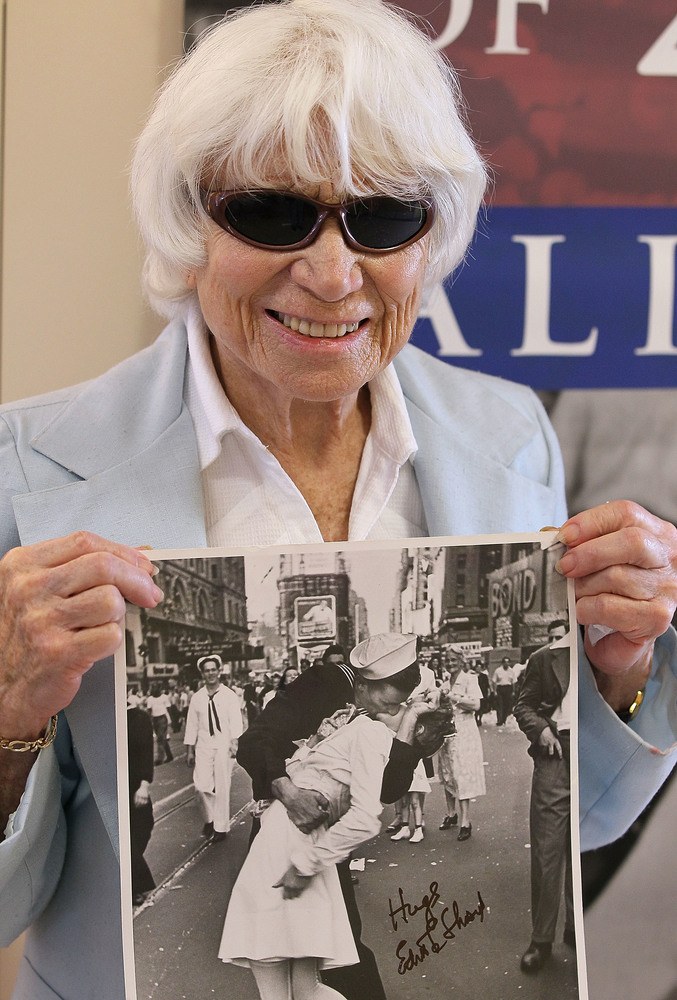 While that kind of move would be seriously frowned upon these days, it has to be seen in the context of such relief after a war that killed tens of millions. While the identity of the woman is known, we've never been quite sure who the sailor was who gave her the kiss.
Creating Some Curious Images
Philippe Halsman and Salvador Dalí were a couple of eccentrics who wanted to create some memorable images. They threw a few ideas around, and one was to explode some dynamite inside a duck. Thankfully, that's one idea they didn't follow through on.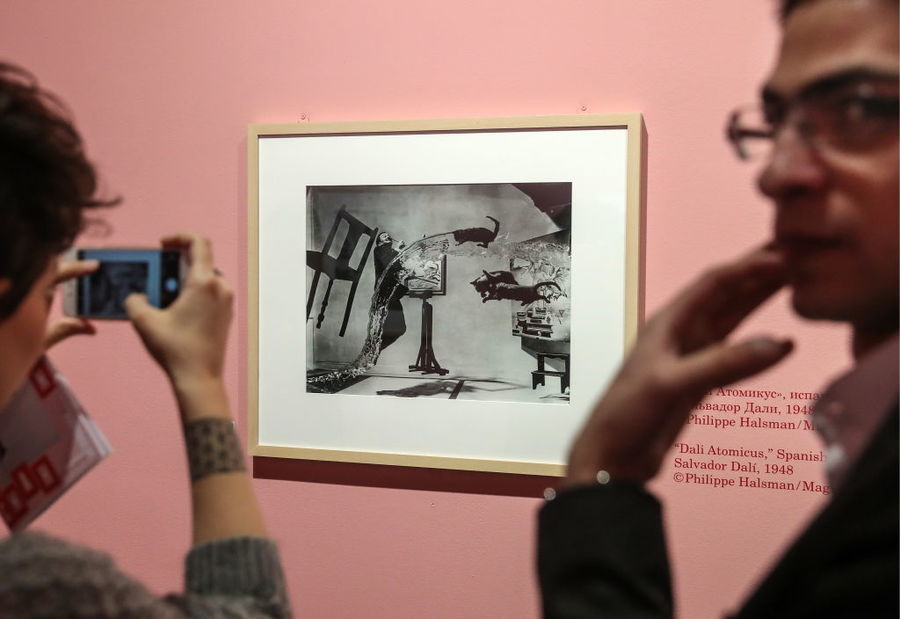 One idea they did decide to do was throw cats and water into the air. That led to a series of crazy images that centered on Dalí jumping up in the middle. Everyone will have their perception of what art is, but this certainly pushed the boundaries.
Cocoanut Grove in Los Angeles
Even though the Ambassador Hotel's business was thriving, there wasn't enough room for all its guests. They decided to turn the hotel's clubhouse into the 1,000-seat Cocoanut Grove. The LA club was a hotbed of activity in the 1980s and 1990s.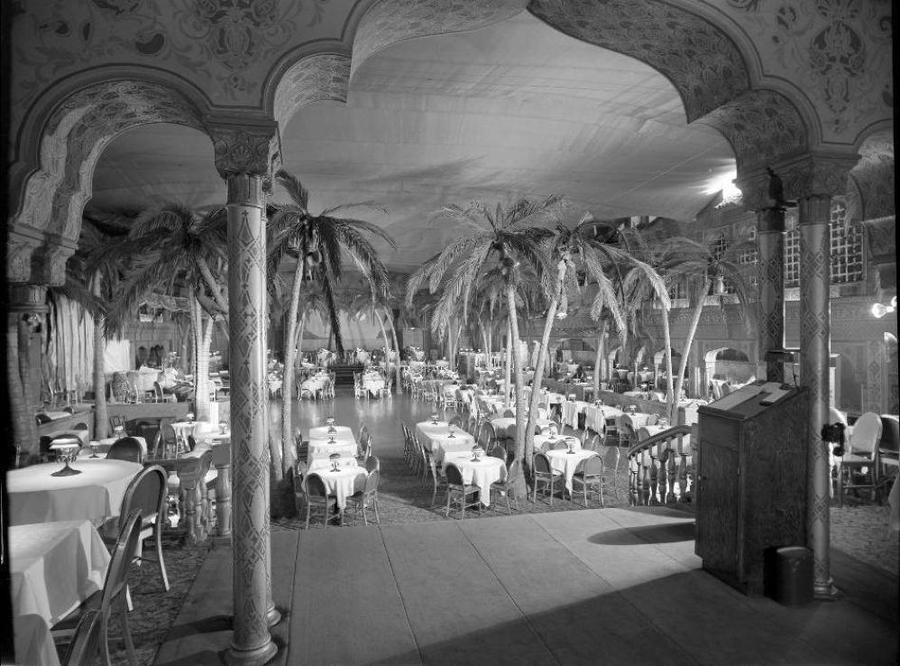 Artificial monkeys, palm trees, and vaulted ceilings that lit up the dark sky throughout the place made it like no other place on earth. In some cases, the nightclub owners, the Barrymore brothers, let out real monkeys on the club's dance floor. It was a crazy and infamous hot spot.
Most Popular Speech of the Century
Martin Luther King Jr.'s "I Have a Dream" speech is undoubtedly one of the 20th century's most important and influential speeches. The brilliant young orator's 1963 speech at the Lincoln Memorial conveyed his dream around the globe, helping empower future generations.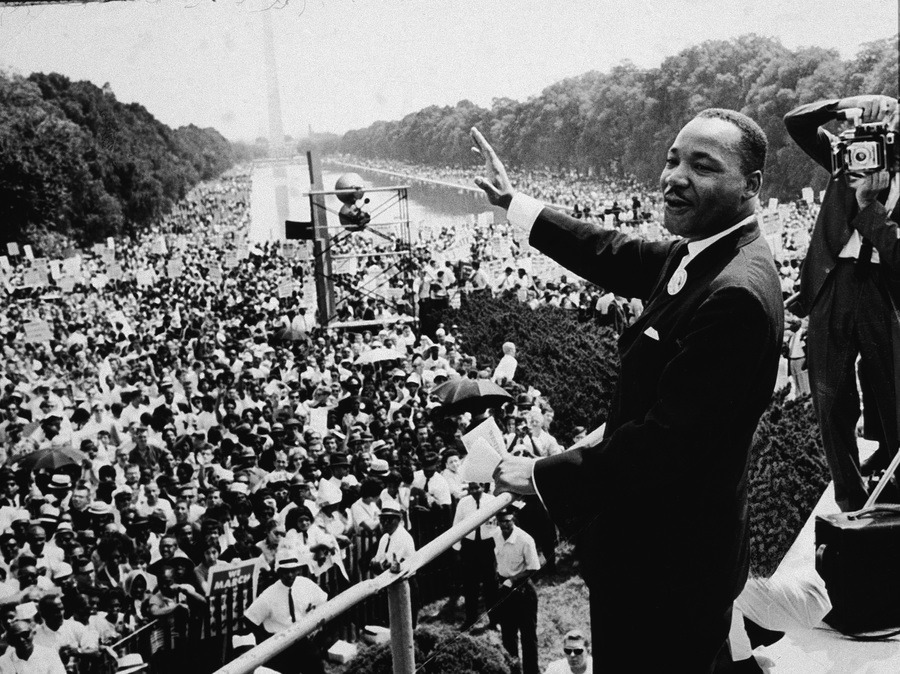 Throughout the world, both white and black people were moved by his speech. King's peaceful fight against racial inequity earned him the Nobel Peace Prize in 1964 for his work against segregation and for world peace. Despite his young age at the time of his terrible death, he is still fondly remembered as one of the most important figures in history.
"I Am Not Famous Anymore"
Although a little after the turn of the century, this image is included because of its potent cultural symbolism. The celebrity position of Shia LaBeouf allowed him to convey a forceful message. In the course of his career, he got more confident and daring in his public appearances.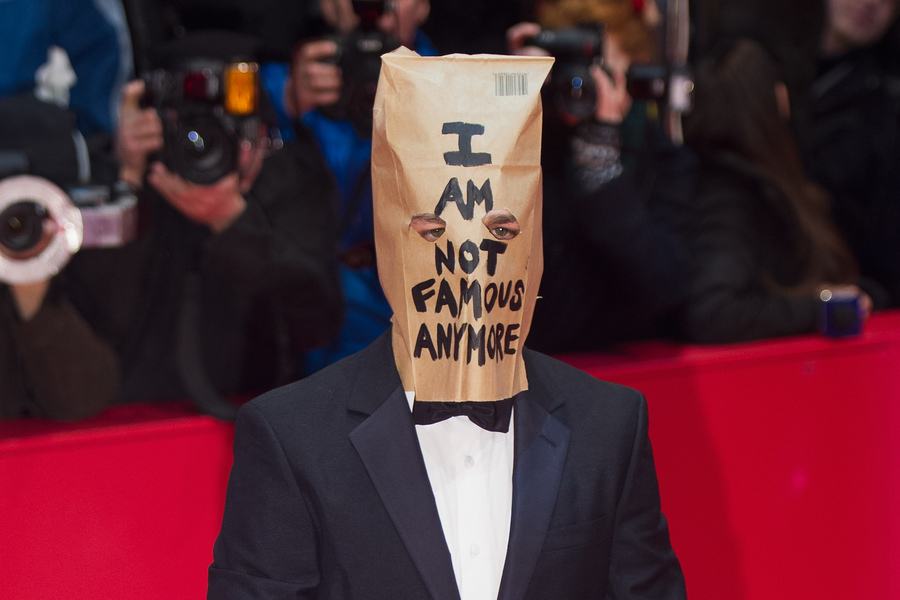 There was a clear statement on the bag he wore on his head: "I AM NOT FAMOUS ANYMORE," all in capital letters. In a sense, it indicates that artists, no matter how many awards they receive or how many films they are featured in, have an expiration date. It was a bold move and one that got plenty of attention.
Cobain and Love with Their Child
Kurt Cobain and Courtney Love were a hugely famous couple, and here they are pictured with their child, Frances Bean Cobain. Kurt Cobain's death in 1994 sent shockwaves throughout the world, especially considering he was just 27 at the time.
During the course of their troubled marriage, Cobain sought treatment for drugs on numerous occasions and was frequently described by his wife as suicidal. Despite the 27-year-old's demise, his music is still being performed today. As for Frances, in addition to being a model and visual artist, her looks are strikingly similar to her famous parents'.
The Beatles Jamming Together
The Beatles, Liverpool's most famous rock group, was formed in 1960. After four years of jamming, the group of four swept the world's stages, and their popularity exploded. Despite their incredible rise to fame, they were still able to keep that cheeky humor they were known for.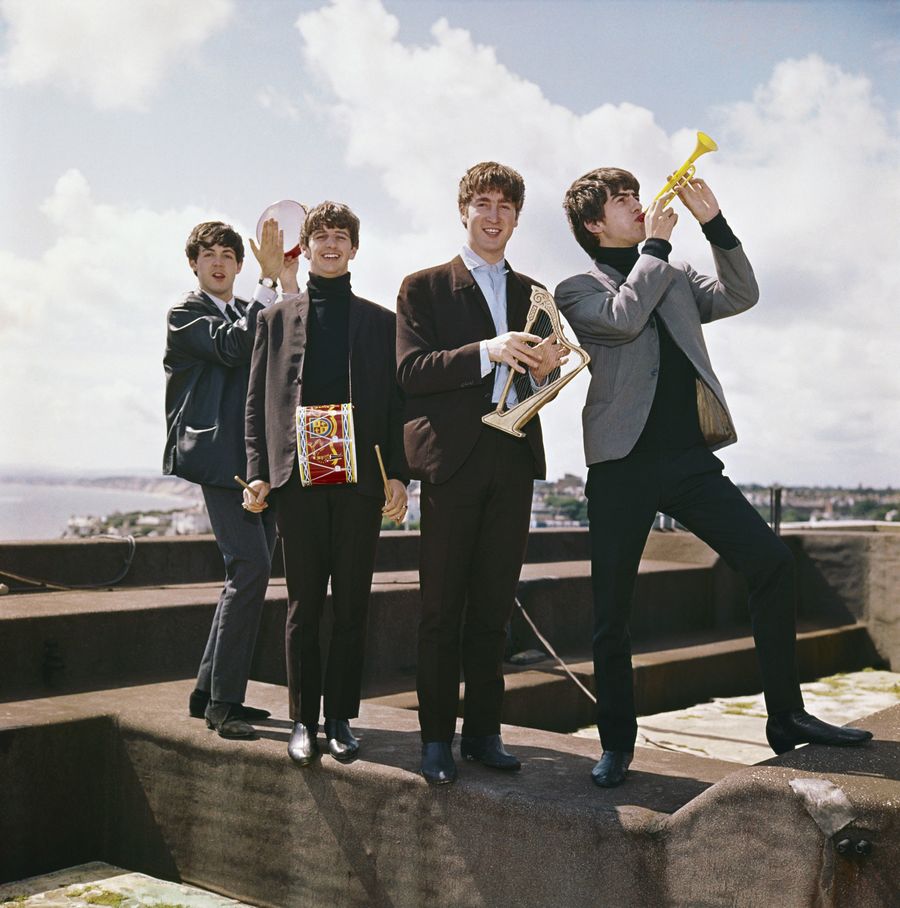 No one had heard music quite like theirs and this picture comes from their Please Please Me tour that went all across Europe. Eventually, life on the road would take its toll, but seeing pictures like this of the Beatles is enough to make anyone nostalgic for the swinging '60s.
Austrian Oak in NYC
When "Austrian Oak" Arnold Schwarzenegger landed in the United States for the first time in 1968, the country didn't know what was just about to hit it. It didn't take long for the former professional bodybuilder to become a household name.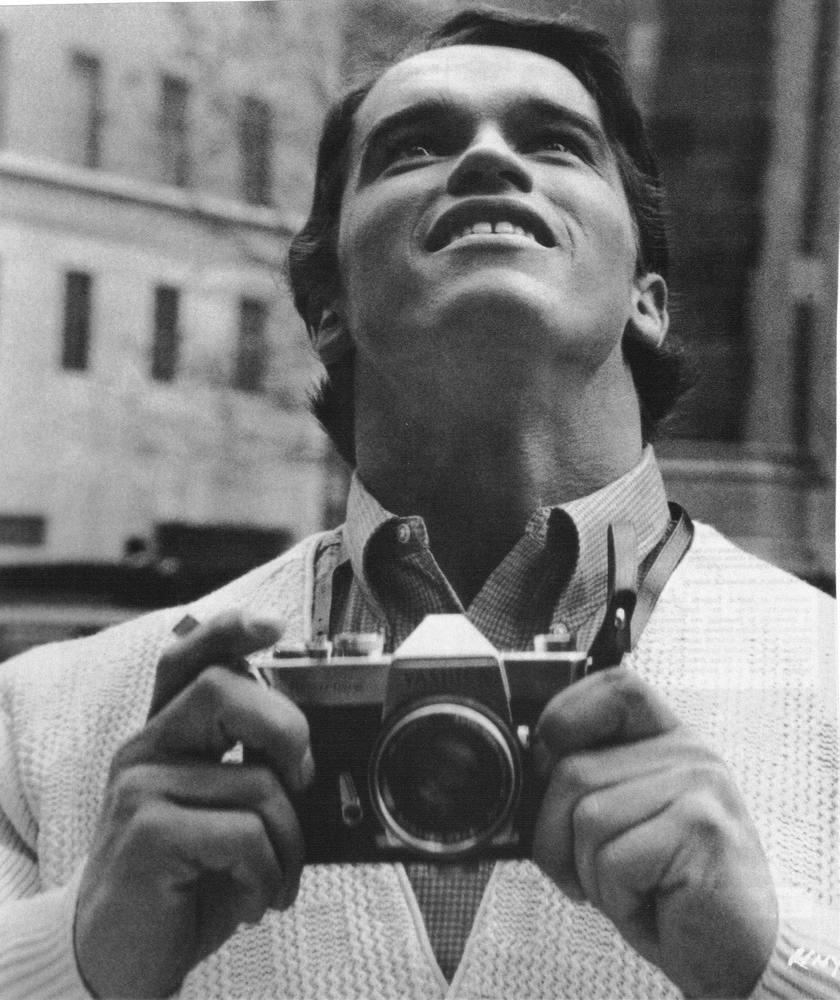 After winning the Mr. Universe title at the age of 19, Arnold Schwarzenegger moved to the United States. It appears that Arnold, as soon as he became a film star, had his eyes focused on the bright lights of Hollywood before eventually becoming the governor of California—an incredible journey.
Veronica Lake and Her Famous Hairstyle
Like Marilyn Monroe, Veronica Lake is one of Hollywood's most recognizable blonde bombshells. She went by Constance Frances Marie Ockelman in her real life, and as a result of her exceptional talent, Lake gained both popularity and critical recognition for her many film roles.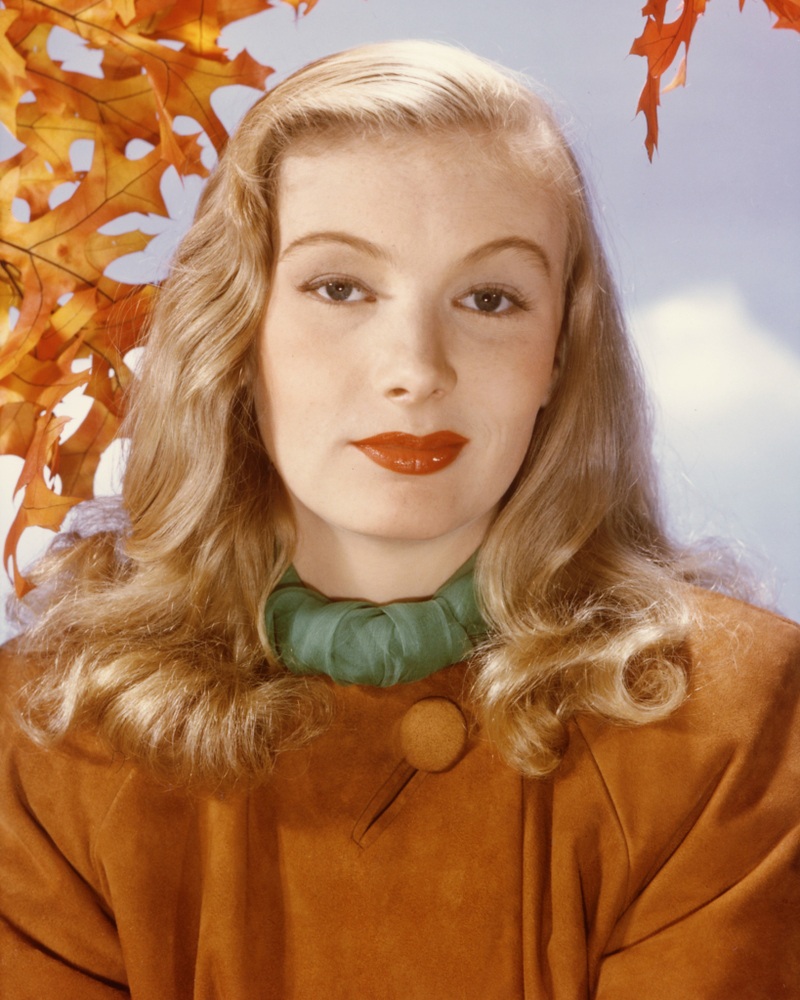 Her peek-a-boo or gold bangs haircut became famous. But alcohol consumption led to a life of addiction for Lake. When discussing Hollywood's Golden Age, it's impossible to ignore the legendary actress whose name is synonymous with the era. She was a true beauty.
A Vet for Two Reasons
Frank Praytor, a U.S. Marine working as a battlefield correspondent in Korea, probably had no idea how this photograph would be received back home. He took it upon himself to care for a couple of kittens, as shown above as he nurses a kitten back to health.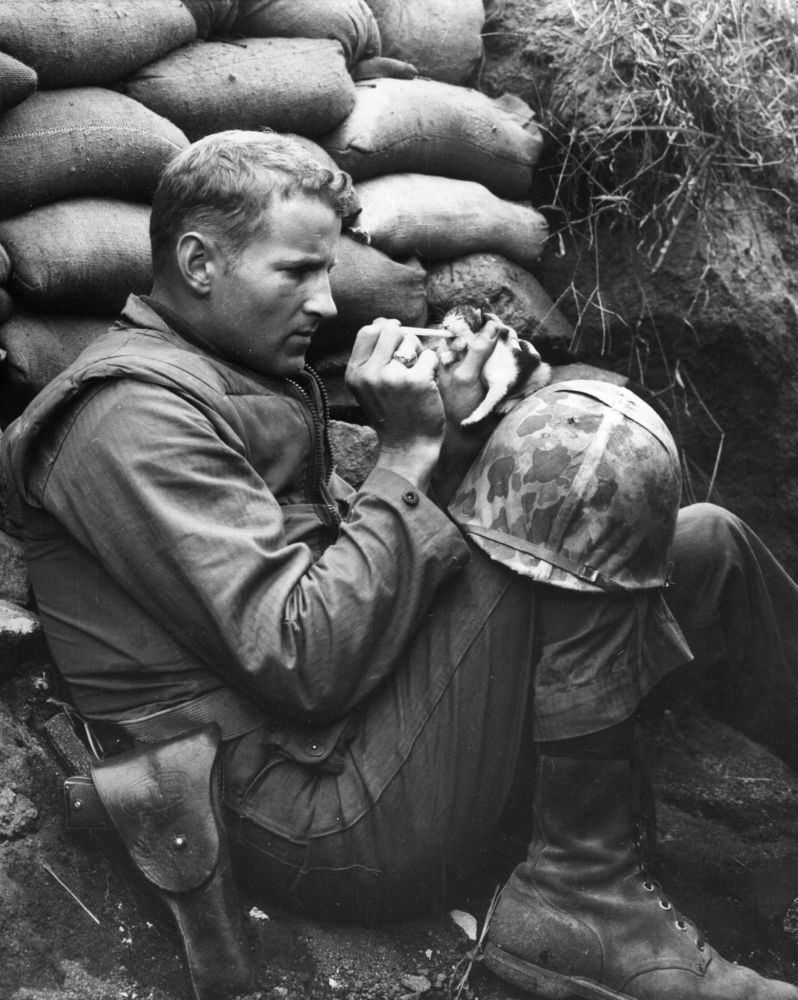 During a conflict that was unquestionably horrible, photographers were constantly on the search for photographs that would show the realities of war. This photograph, which was published in more than 1,700 articles, journals, and reports, touched the hearts of the general public. Many women wrote him love notes and asked him to be their husband!
The European Cola Revolution
The decision to launch carbonated drinks in France came after the Allied Forces' success in World War II. While the delicious drink had been drunk for many years in the US, places such as France were yet to sample its delights.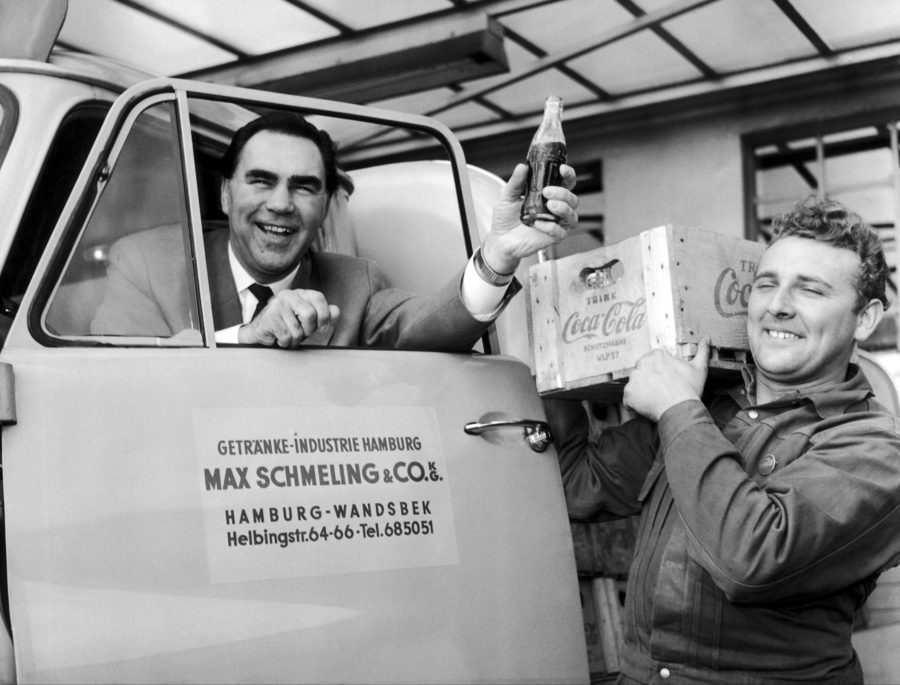 "Drink Fresh" and "La Révolution du Froid" (the "Cold Revolution") were the slogans used by Coca-Cola to promote itself in France. With salesmen dressed in boiler suits in 1945, an ad campaign capitalized on the French's fondness for American-European liberation at the end of war. The brilliant marketing campaign must have worked.
The Memorable Kennedy Wedding
Jacqueline Bouvier, the future first lady of the United States, married John F. Kennedy when she was just 24 years old. She was 12 years younger than John, and there were about 800 guests for the celebration at the Hammersmith Farm.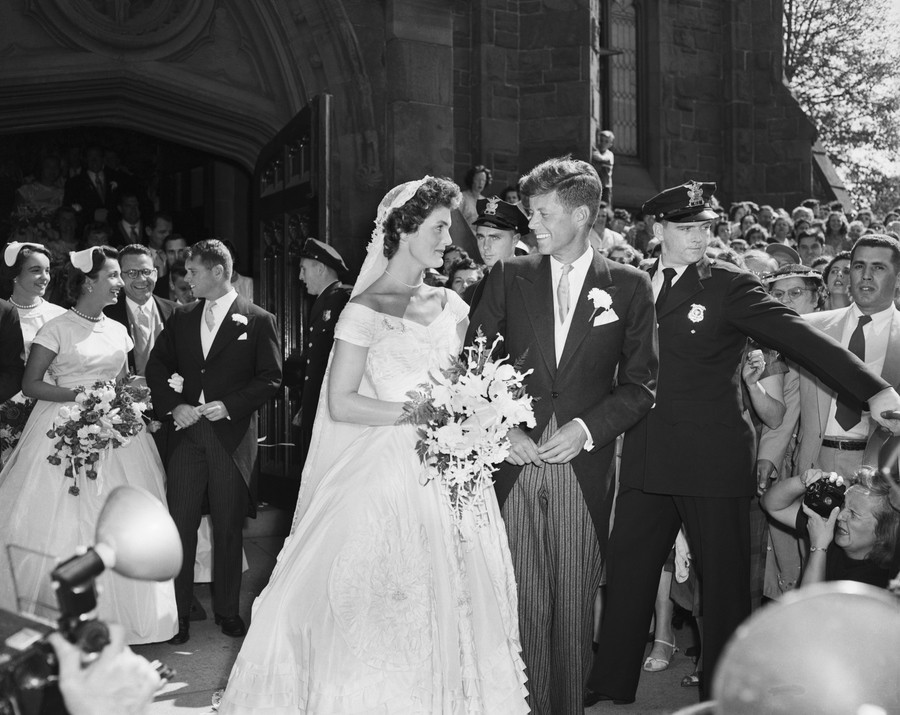 This wedding in every detail is a symbol of elegance and tremendous beauty. Jacqueline in her ivory silk gown and bouffant skirt was given away by her stepfather, Hugh Auchincloss. After the wedding reception, the newlyweds flew to Acapulco for their honeymoon. It was a hugely important wedding and a memorable day.
A Sign of Our Consumer Society
We live in a world today where the massive nature of consumerism dominates the retail industry. Andreas Gursky showed this perfectly in his photo called 99 Cents, which later turned out to be one of the most expensive contemporary images at the time and sold for $2.3 million at an auction.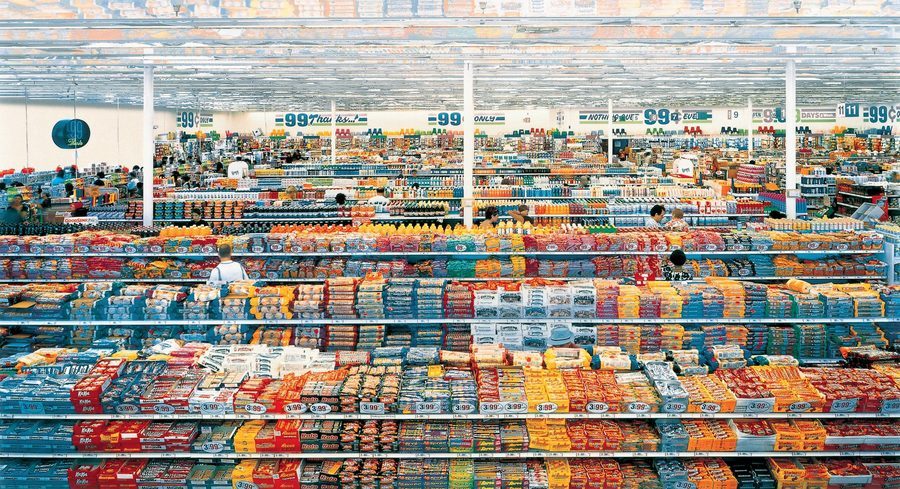 In a way, the image was a collage of color, making up multiple images of items that are 99 cents in Los Angeles stores. It shows just how far we've come as a society, and it is a million miles away from selling produce in medieval times.
A Beautiful Los Angeles Home
There is no doubt that Los Angeles looks beautiful. One of the most stunning photos of Los Angeles was captured in the 20th century by Julius Shulman. It's called the Case Study House No. 22. In May 1960, Shulman took the shot from a Hollywood hill at architect Pierre Koenig's Stahl House.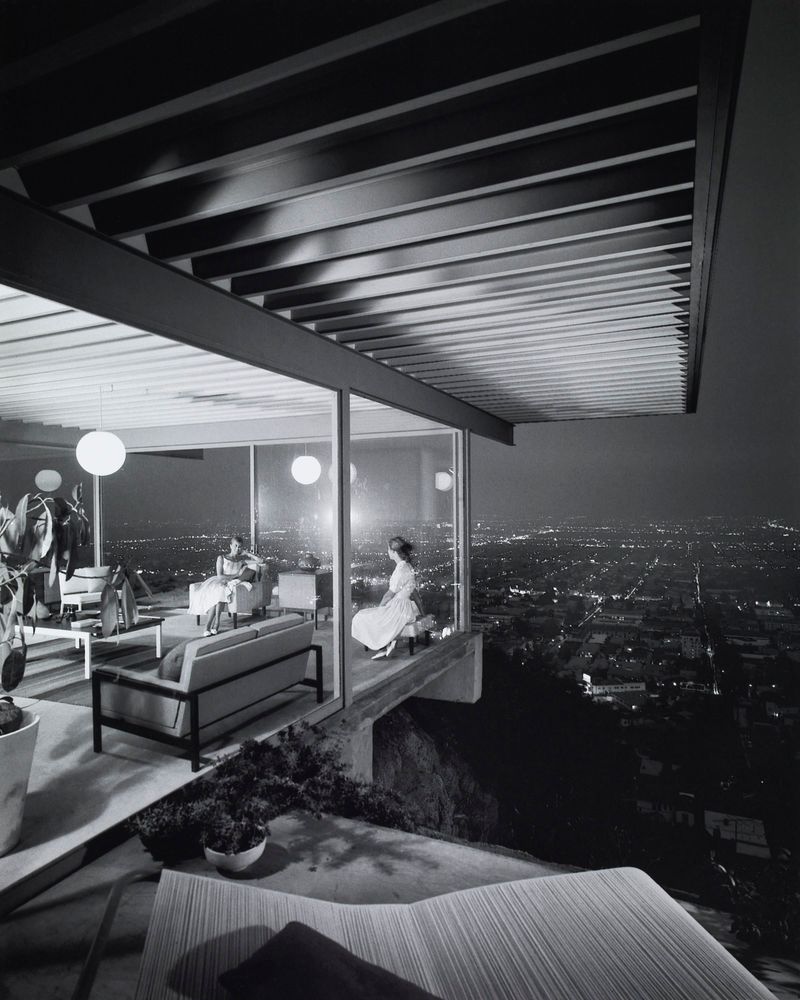 The image captures the simplicity and superb view of Los Angeles. Highlighted in the image are two glamorous women inside the house, floating on a glass pedestal and gazing at the cosmopolitan city. The image perfectly sells the American Dream and the promise of living in Hollywood Hills.
The Elegance of Jackie Kennedy
Following the assassination of the beloved US President John F. Kennedy in 1963, the country appointed its 36th President, Lyndon Baines Johnson. Captured in this image is the moment Johnson insists Jackie Kennedy, the former president's wife, accompany him to the nation's capital hours after losing her husband.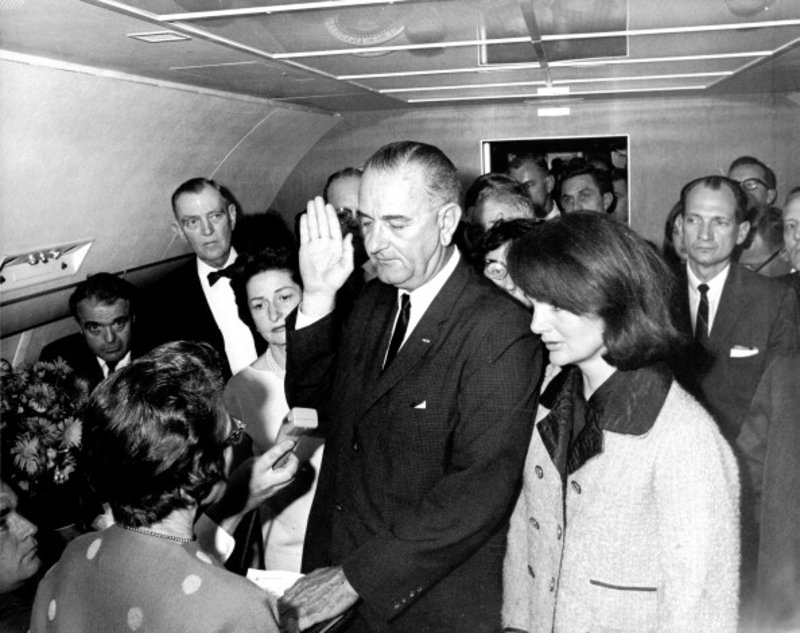 In the image, the former first lady, known for her ethereal elegance and grace, maintained a poise that not many people could manage. Jackie Kennedy knew the eyes of the world were on her, and even in such crazy times, she acted with utmost professionalism.
Celebrating the End of the War
In war, there is bound to be pain and death, and its end is known to be a thing of joy and relief. Harry Truman, the war-time president, announced the surrender of Japan to the United States of America. The announcement brought a lot of rejoicing to the whole world and Hollywood in particular.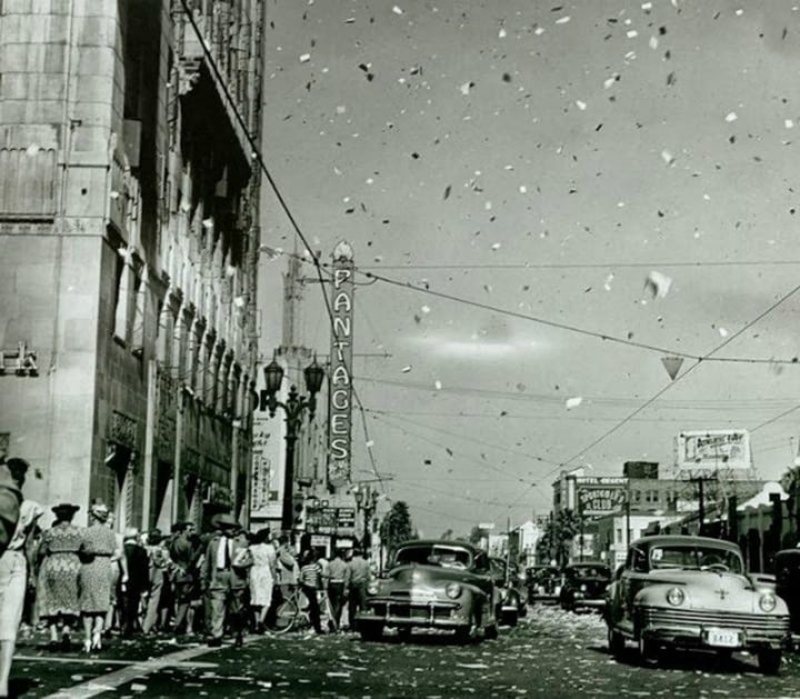 This image, captured in the 1940s, showed delighted people celebrating in the street. As you can see, confetti was thrown in the air with the crowd singing and waving banners. There must have been huge relief at the time after years of attritional fighting.
The Start of a Retail Empire
Back in 1962, when Mr. Sam Walton opened Walton's Five and Dime, he probably didn't think it would grow into what it is today. This picture shows that even the biggest companies in the world had to start somewhere.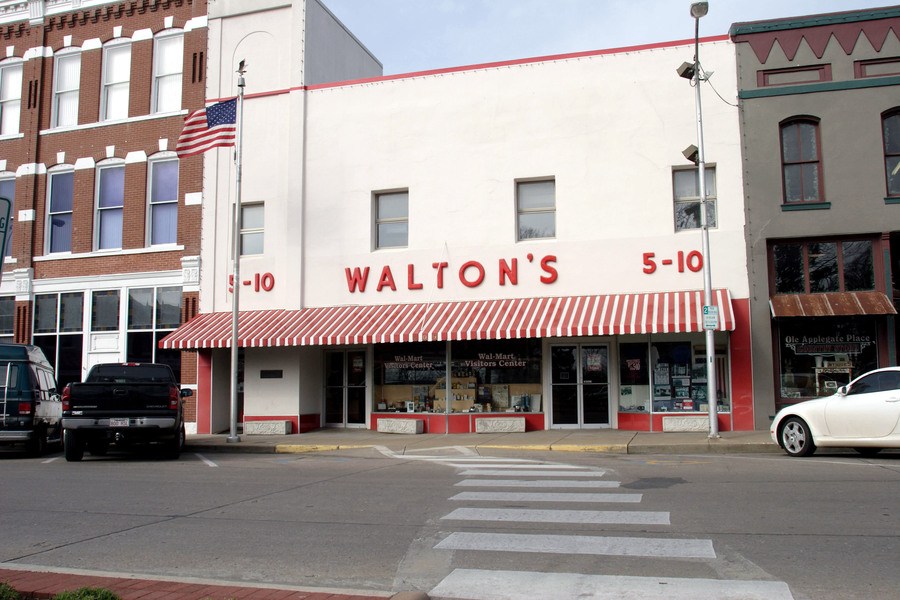 On July 2, 1962, the first Walmart store opened in Arkansas. Within two decades, Walmart grew from a discreet store into one of the world's largest corporations. It continues to dominate the market, but at the start, it was just one man who had a very big idea.
The Rapid Rise of Surfing
Tom Blake introduced the sport of surfing to California in 1931. Known for creating the first hollow surfboard, Blake completely changed the game. This picture captures the start of the boom in popularity when many wanted to learn.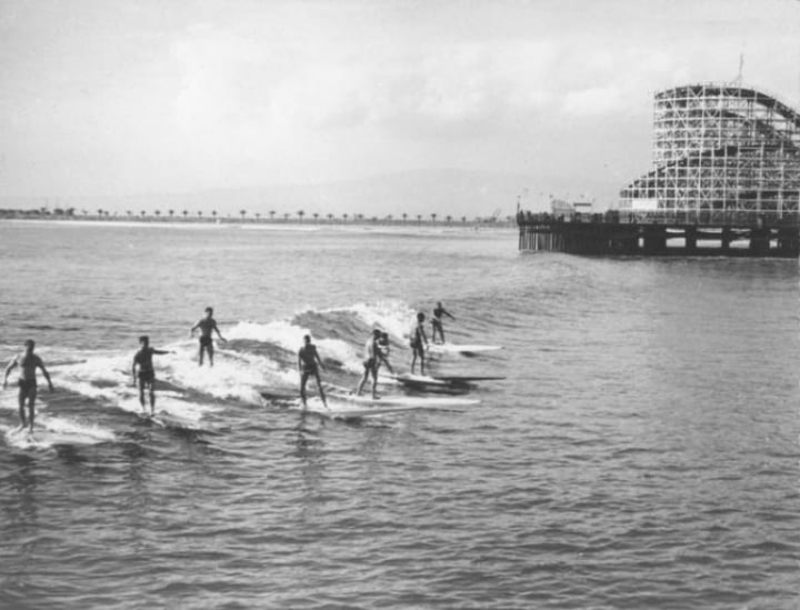 Surfing is one of the few sports that has its own unique lifestyle and culture. Originating from Polynesia and then eventually Hawaii, the sport soon became popular around the world. Surfing wasn't the only place that Black changed the game as he also made a rescue paddleboard and the first torpedo rescue buoy.
The First of Trillions
In 1997, camera phones were yet to be a thing. Considering how many pictures we take now, it's crazy to think of a time when we didn't have that luxury. The huge leap in technology was the brainchild of developer Philippe Kahn.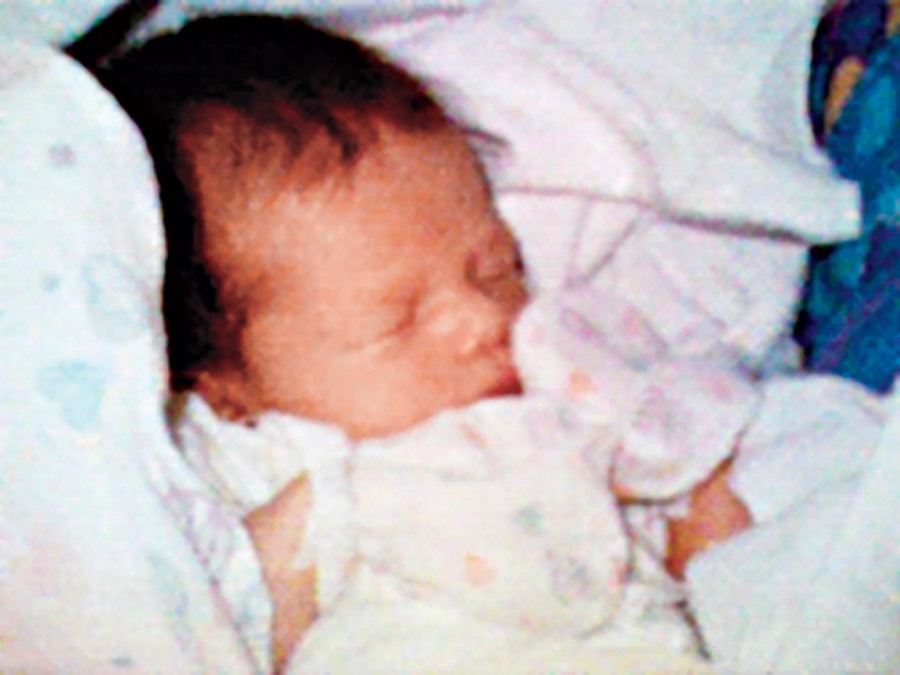 In this image, you can see a picture of a girl, Sophie, Philippe Kahn's daughter. After writing some code on his laptop, Kahn attached a digital camera to his flip phone. The result was the first camera phone and the start of a trend that would end with trillions of pictures taken.
Finally Freed from Hell
There are a couple of photos on this list that show the sheer joy of finding out the war is over. The overriding emotion when you see this photo is one of relief. It shows Jewish prisoners who had just been set free from one of the many Nazi camps.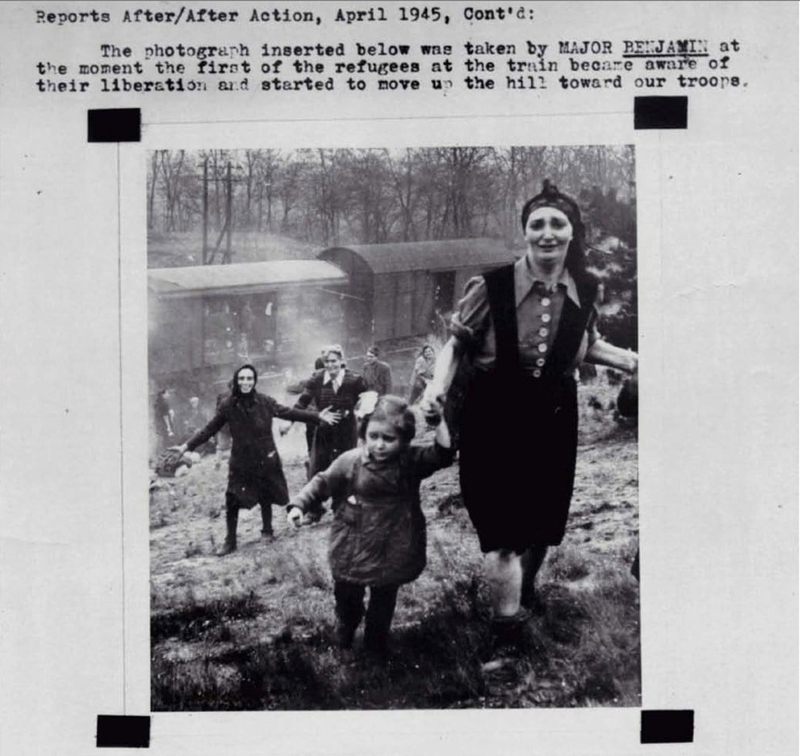 It's hard to think of what was going through the heads of these people. Faced with almost certain death, they found out that their prayers had been answered. It's a powerful image of a war that would change the face of the whole world.
The Magic of Jimi Hendrix
This photo says more than a thousand words about the late Jimi Hendrix. It is unique because it was taken not long before his death. He was just 27 at the time but had already achieved more than most people would in an entire lifetime.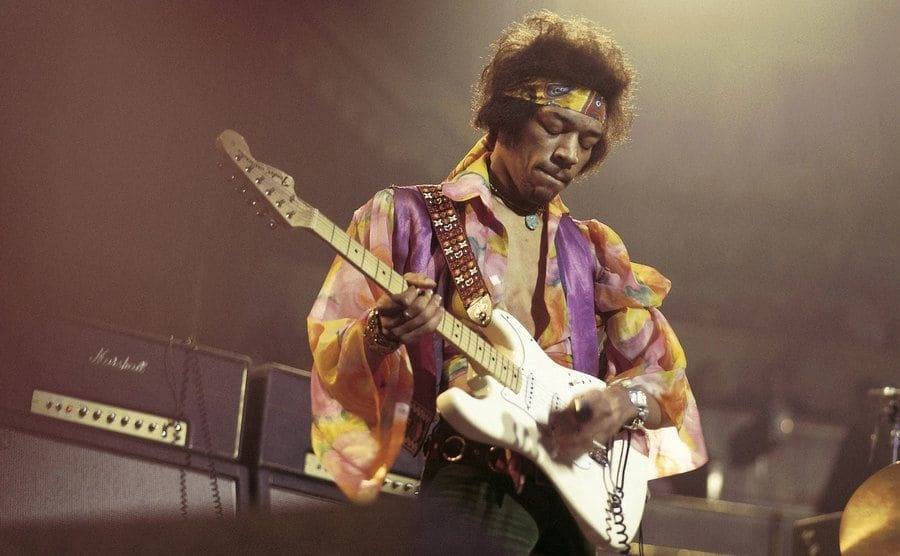 Performing and singing his music with an electric energy, Jimi was one of the greatest guitarists in music history. His legacy is still strong today, and many years after his death he is still an inspiration. This photo shows how lost he got in his music.
Celebrating the War Victory
A memorable moment in history captured in fine print cannot be forgotten. Be it on the Internet or in a magazine, we have all seen this photo somewhere. For some, it shows an incredibly romantic moment as the two embrace for a passionate kiss.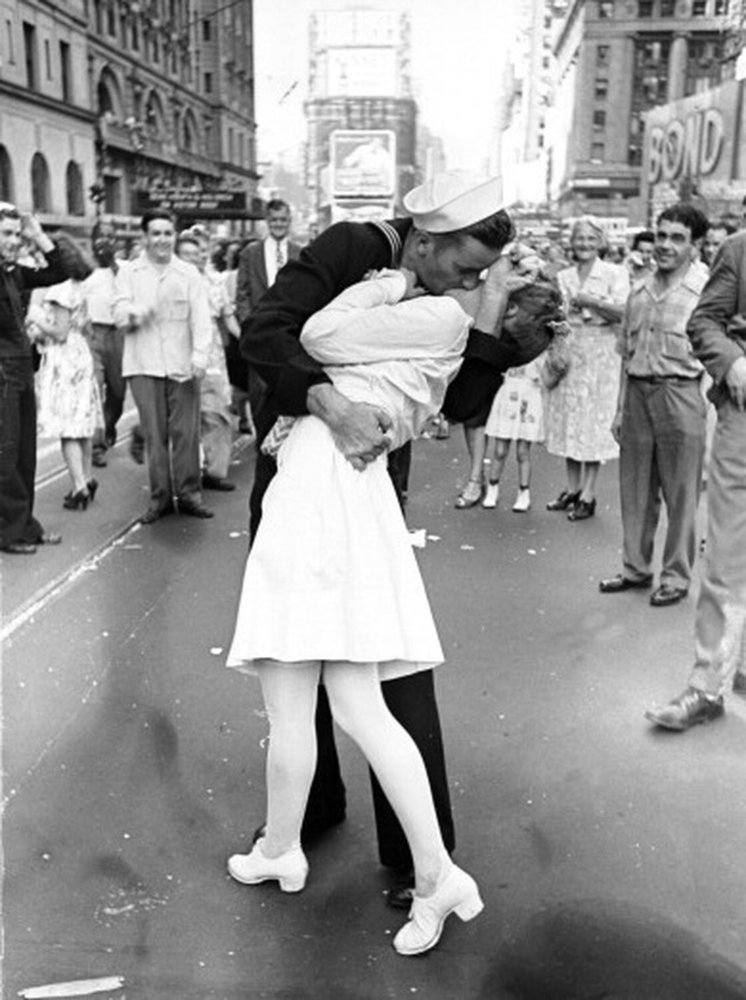 This image was taken on V-J Day, or Victory over Japan Day, which marks the beginning of the end of the war. When the announcement was made, this sailor in the image grabbed a woman who was a total stranger to him. Hopefully she didn't mind.
The Last Picture of the Titanic
This is a picture of the colossal ship days before the collision with the iceberg that precipitated its sinking. Onboard were more than 2,000 people who had already traveled four days from Southampton to reach New York City. They were full of hope and wonder.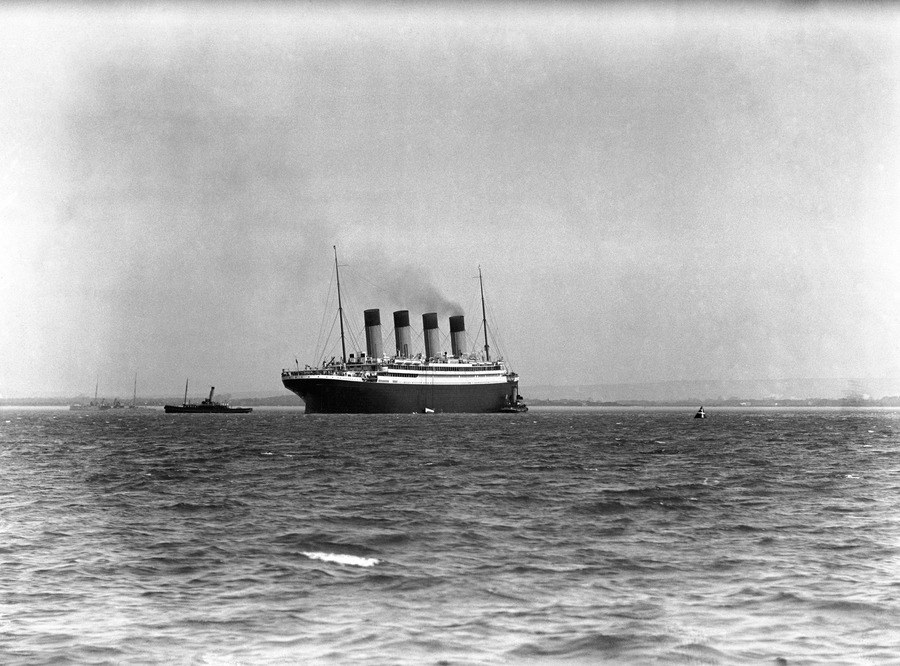 The iceberg was spotted too late, and soon the collision occurred. The ship began to sink due to the hole in the front across several compartments caused by the iceberg. The biggest ship ever made was soon at the bottom of the Atlantic Ocean.
The Race to Equality
Athlete Kathrine Switzer was being attacked by the organizers of the 1967 Boston Marathon who, using force, intended to expel her from the competition. It was a long period in which women, because they were considered weak, were excluded from sports disciplines.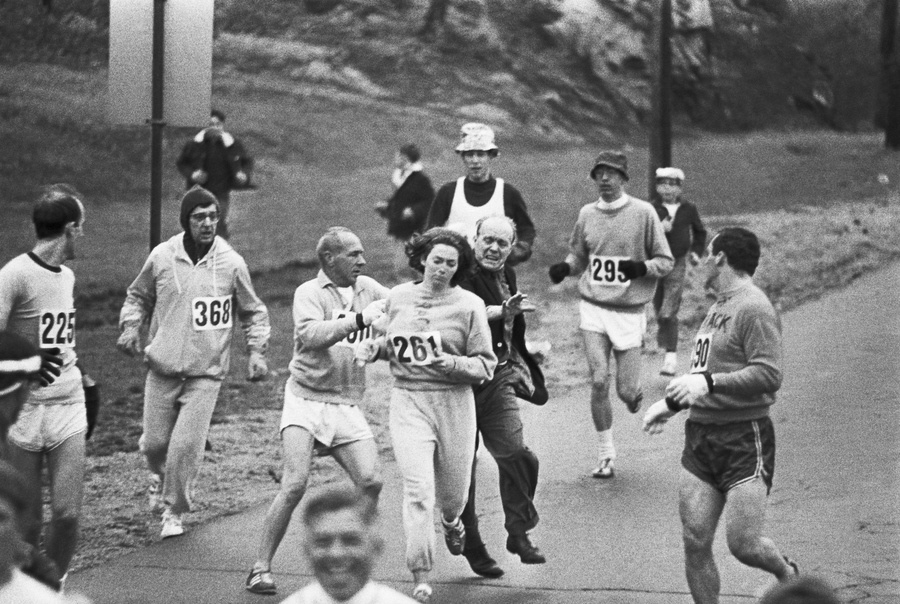 Switzer made history, not only by participating in the Boston Marathon but by being the first Swiss woman to do so. She wasn't afraid to break boundaries. Thankfully, the Boston Marathon these days is a much more inclusive occasion, even after it was struck by a cowardly terrorist attack.
Drive with Extreme Caution!
On September 3, 1967, 157 traffic accidents were reported in Stockholm, the capital of Sweden. Traffic was out of control due to the adoption of the universal traffic law of driving on the right. Swedes had been driving on the left since the invention of the automobile, and they remember Dagen H Day (or simply H-Day) as a complete disaster.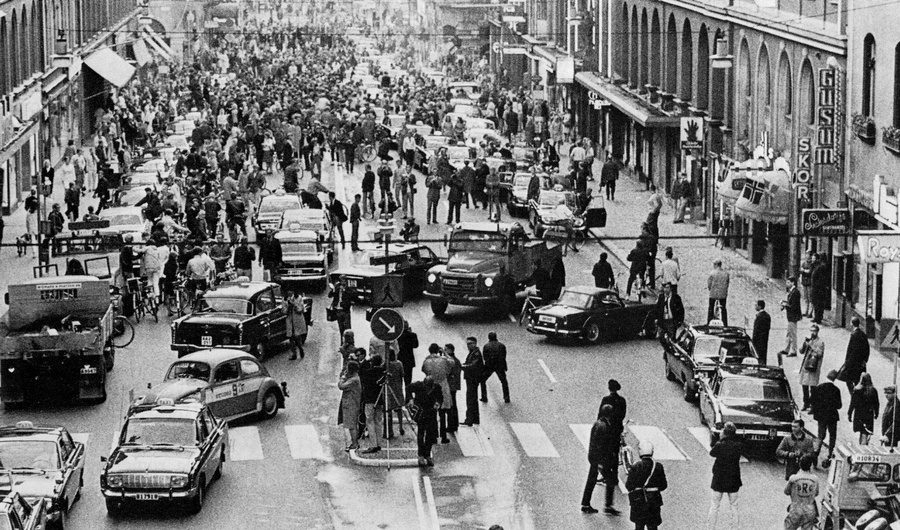 Motorists, cyclists, and pedestrians all over Sweden had to relearn how to navigate the streets and roads of the Scandinavian kingdom and leave behind the culture of a minority of countries that drive "backward."
The Burnt Cross of Racism
This photo summarizes centuries of racial violence experienced by African Americans in the United States. It shows civil rights activist Martin Luther King Jr. removing a burnt cross from his lawn left by members of the Ku Klux Klan during an attack.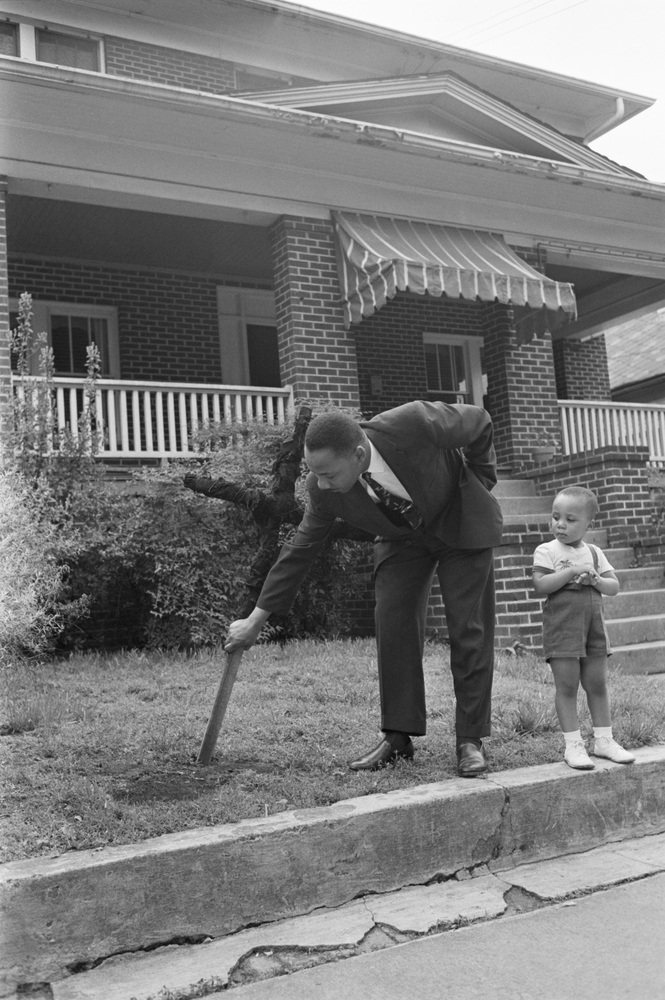 The KKK is a white supremacist organization born during the 19th century after the end of the Civil War to preserve black slavery. Through the systematic exercise of horror, they promoted racism and xenophobia. They raided thousands of homes of black families and claimed more than a hundred murders.
Lots of Clothes for the Beach
This image would be unthinkable in our era. By 1920 any woman wearing a bathing suit smaller than the one in the picture could be fined and even imprisoned for going against morals and good manners. Showing more skin than was legal was a crime if it was an action carried out by a woman.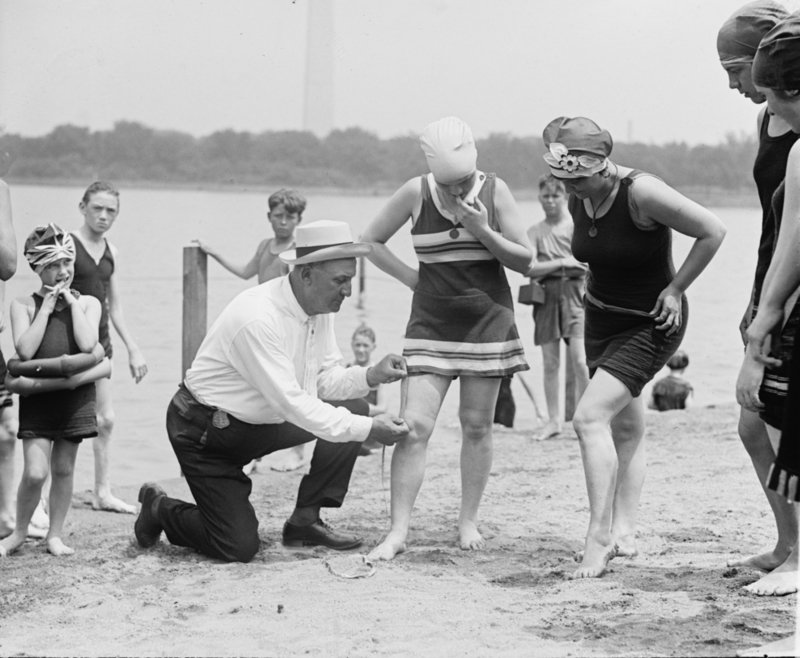 On each beach, a watchman checked the measurements of women's bathing suits. He watched over every detail of the clothing of the oppressed women, who at the time could not vote or hold public office.
Two Germanies, One Wall
On August 13, 1961, the noise of a mega-construction surprised the Germans. A gigantic wall had divided the nation in two for 28 years. Forty-five kilometers of concrete divided Berlin, separating families, cultures, and a population by order of the Soviet-dominated Eastern Bloc.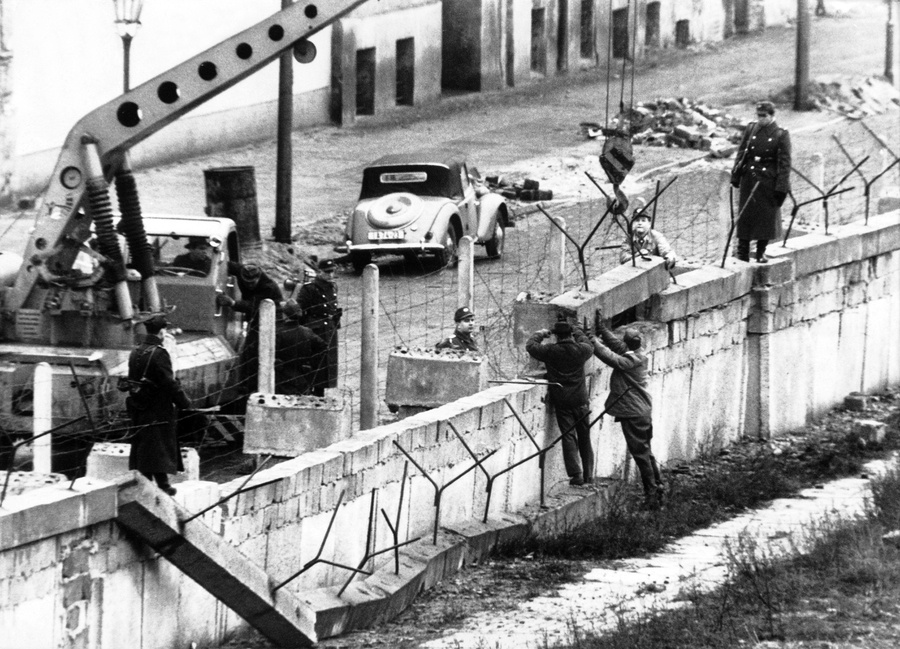 The wall prevented people from entering the German Democratic Republic from West Berlin. It seems crazy now that such a modern country was controlled like that. Fast forward to 1989, and the Berlin wall fell. A few parts remain today as a monument to the past.
A Sad Little Survivor
Between September 1940 and May 1941, the Nazis carried out a systematic bombing campaign against Great Britain, known as the Blitz. In this photo, a desolate little girl is sitting on top of her destroyed house, hugging her favorite doll. It is a graphic summary of a period of devastation and sadness.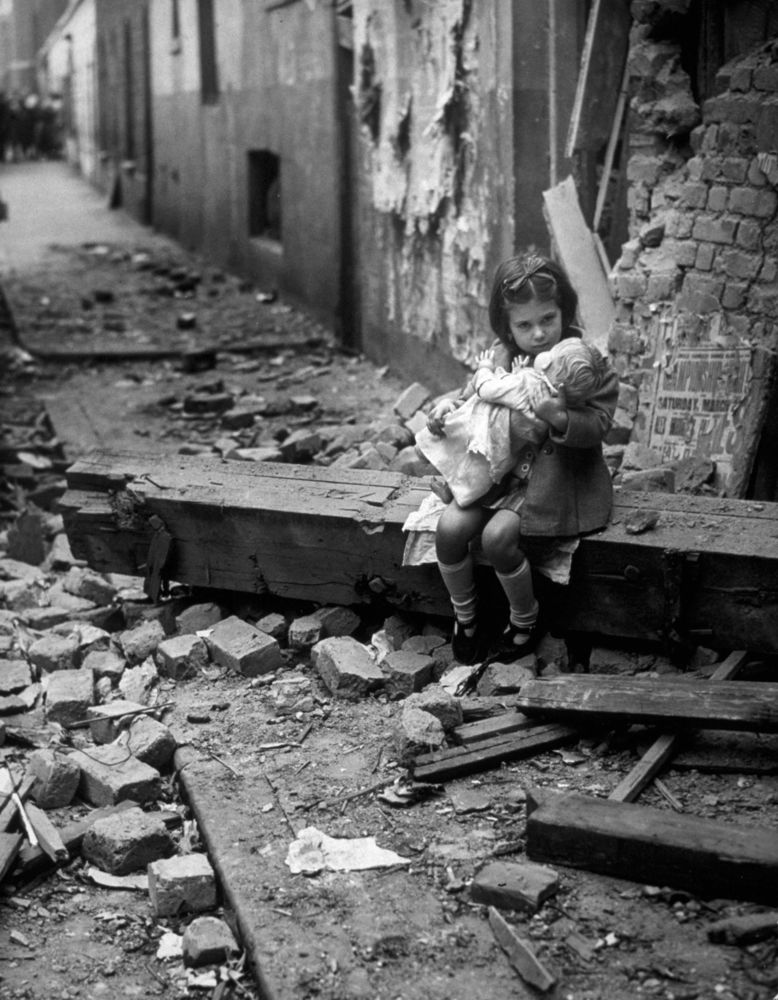 The attacks claimed the lives of some 43,000 civilians, with perhaps its most terrible episode occurring in London on December 29, 1940. Fortunately, the little girl survived the bombing. London remained resolute and courageous against constant German attacks.
Even Princesses Need to Eat
This is a photo of the Disneyland staff cafeteria in 1961. You might assume that the photography is a montage. But if you've wondered where Disney workers went on their time off and where they ate, this photo tells us about it. It is possible the smiles are genuine or at least highly trained.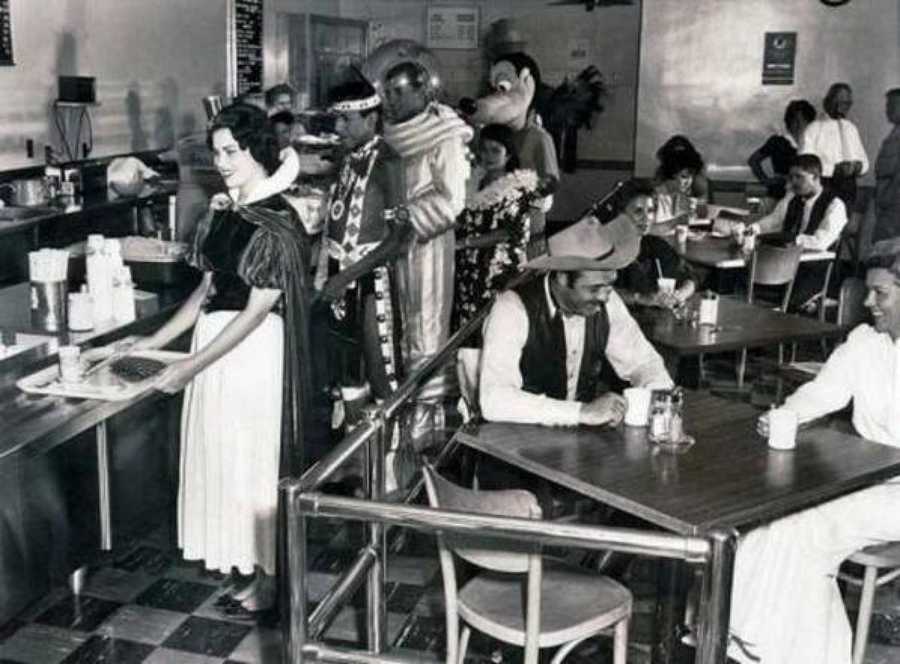 A Disney employee handbook from 1962, a year after this photo, has an entire section on how to perform an "Honest Smile." It must have always been an entertaining lunchtime surrounded by such an array of characters.
The End of an Era
This legendary shot of the burning Hindenburg, an airship almost as large as the Titanic, is one of the first photographs of an air disaster captured and publicized in real time. The crash made headlines in 1937 and ended the golden age of zeppelins.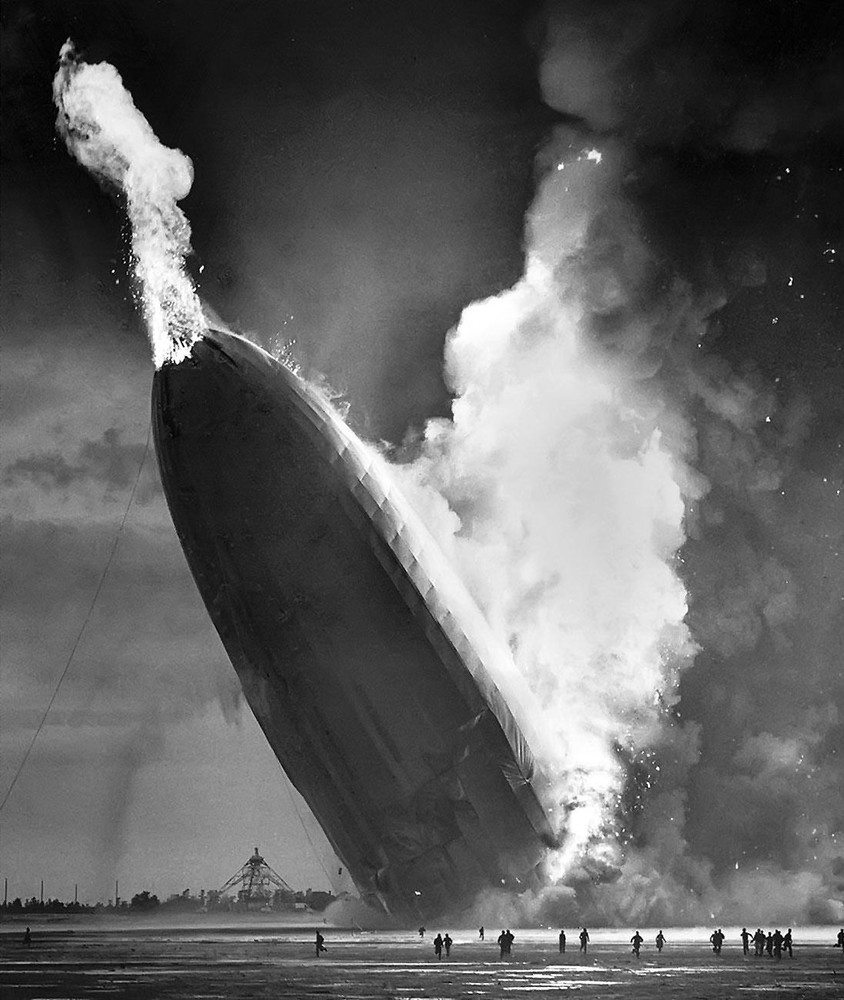 Of the 97 people on board (36 passengers and 61 crew), the crash resulted in 36 deaths—13 passengers, 22 crew, including Captain Ernst Lehmann, and one ground handler. Miraculously, two-thirds of the people on board came out alive, having jumped out of the basket where they had gathered to observe the mooring.
A Very Famous Character
This young man in the photo had no idea how famous he would become in the world, even a century later. Millions of people would not recognize the young Charlie Chaplin even though they laughed at his silent movies. In this photo, he looks hardly recognizable.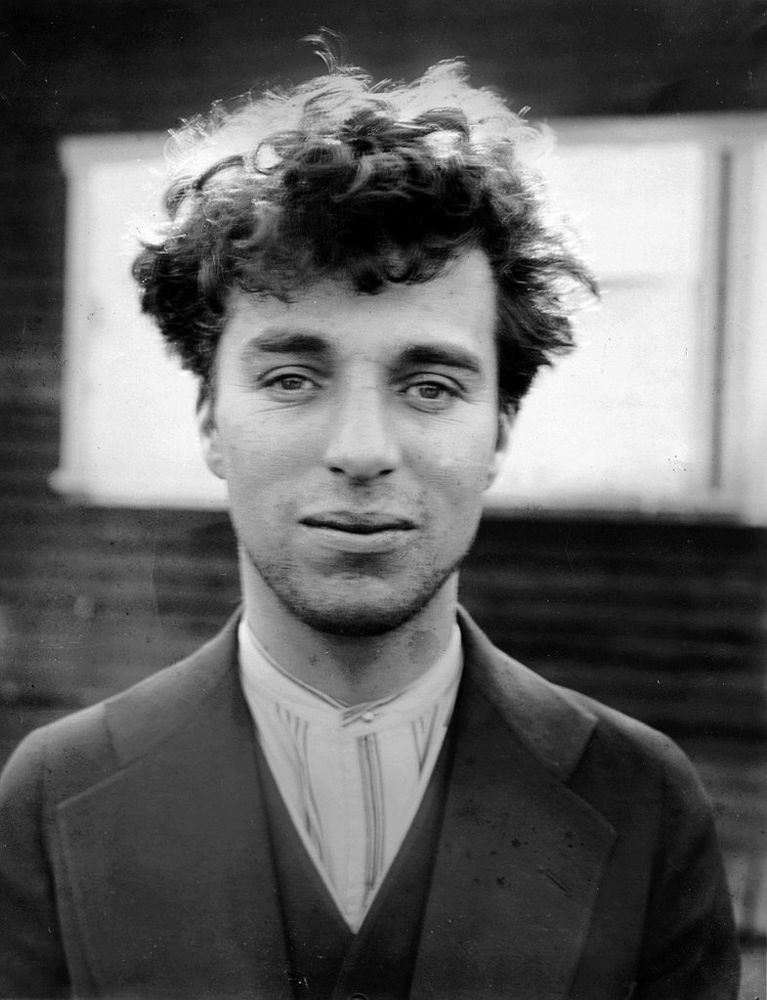 He was only 27 years old and liked the guitar more than comedy. Years later, he fell in love with the performing arts and screenplays. His trademark mustache and avant-garde sense of humor earned him hundreds of awards during his lifetime and after his death.
Elvis Presley the Soldier
For someone as popular as the King of Rock 'n' Roll, finding young Elvis Presley in his military uniform is a rare sight to many people. Elvis had stolen many hearts not just with his baritone voice and stage presence but with his cool outfits.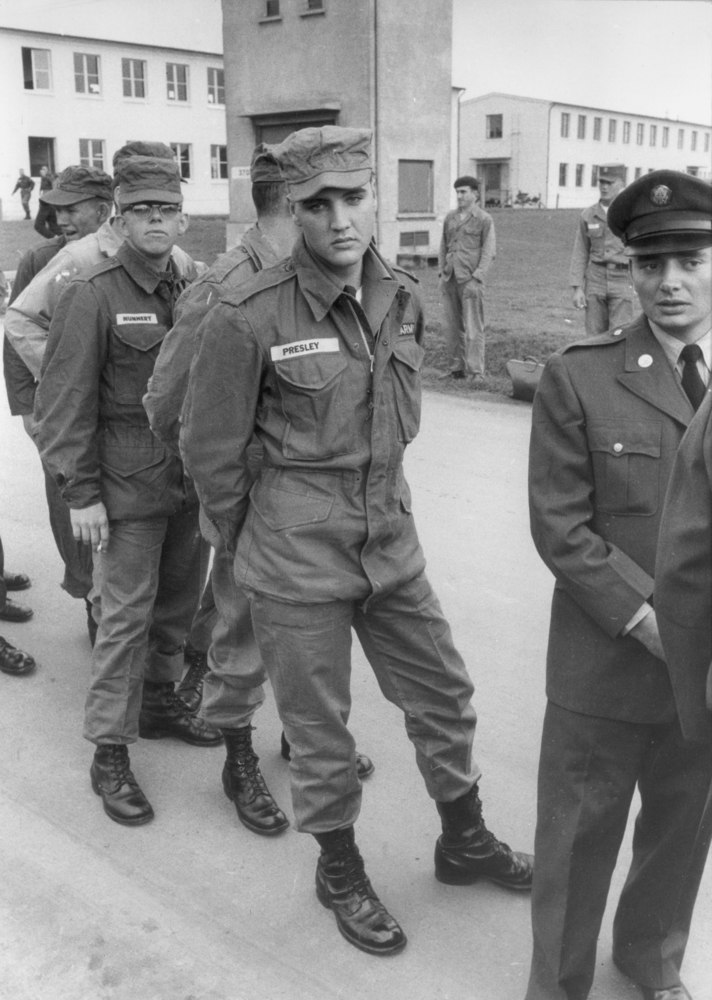 A lot of people know Elvis Presley the superstar, but most are unaware that he was in the Army. The photograph, taken in 1958, features a younger Elvis donning his military uniform alongside other soldiers on a military base.
The Face of Liberty
The Statue of Liberty is a monument that has become one of the symbols of America over time. However, it didn't always exist. In this photograph, we see a woman and a child standing beside the head of the statue in France.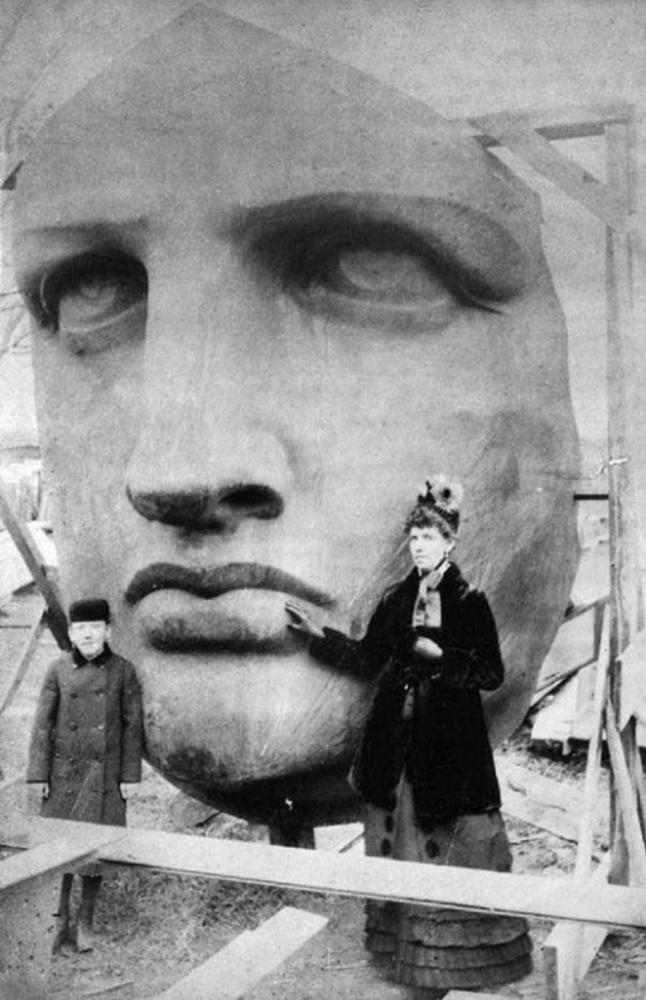 The photograph was taken in 1885 when the statue was being prepared to be shipped to New York as a gift to the United States. Considering how popular the statue has grown to become, most people find it almost impossible to imagine the statue was once in several parts.
The Execution of Rainey Bethea
This picture was taken the last time a public execution was held in America. The person being executed was Rainey Bethea, and the execution was held on August 14, 1936. It was highly controversial due to the fact that Rainey was to be hanged by a woman, Sheriff Florence Thompson.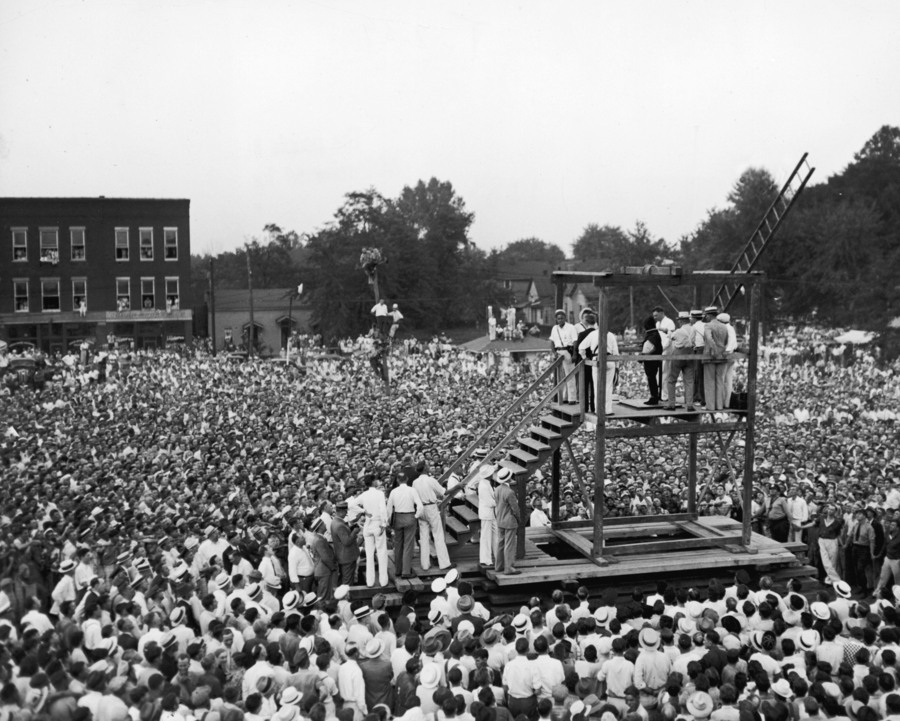 Thompson was the sheriff in charge of Davies County. Arthur L. Hash offered to handle the execution for Thompson, but he compounded the controversy when he showed up drunk on the day of the execution and missed his shot to spring the trap door. It was a memorable day in America.
America's Uncompleted Model Creation
Regarded as one of the greatest creations in America, Mount Rushmore was originally designed to be much larger than its current size. In this picture, we see Gutzon Borglum, the designer of the monument, taking a close look at the model of the scale.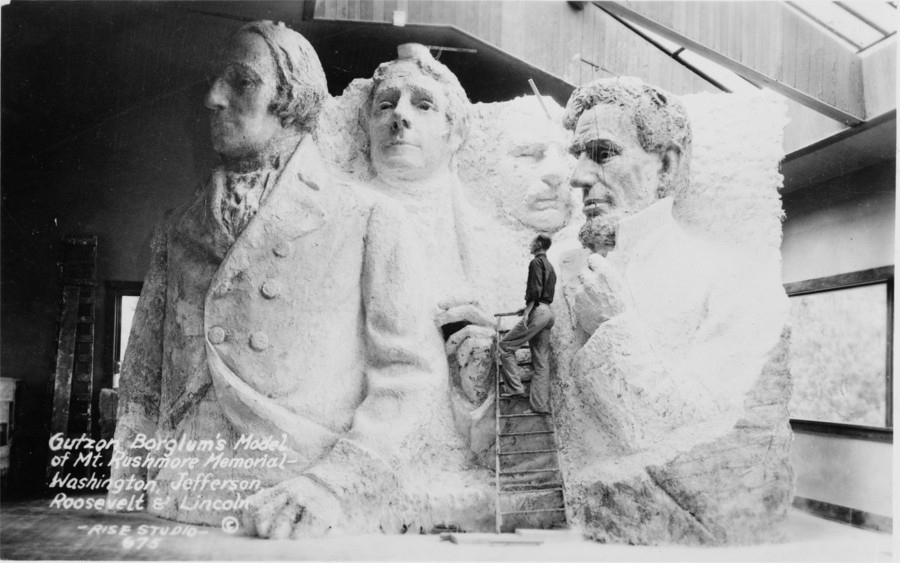 The construction was said to have been discontinued due to financial constraints in the construction process. Despite its incompletion, it remains one of the greatest monuments in America, and this photo is a representation of what Mount Rushmore could have been.
The Bomb That Changed Everything
A lot of people have seen the devastating effects of atomic bombs but only actually know what the bomb looks like when it blows up. This iconic photograph shows exactly that. The photo was taken during nuclear testing at the Bikini Atoll program and shows the bomb's immense power.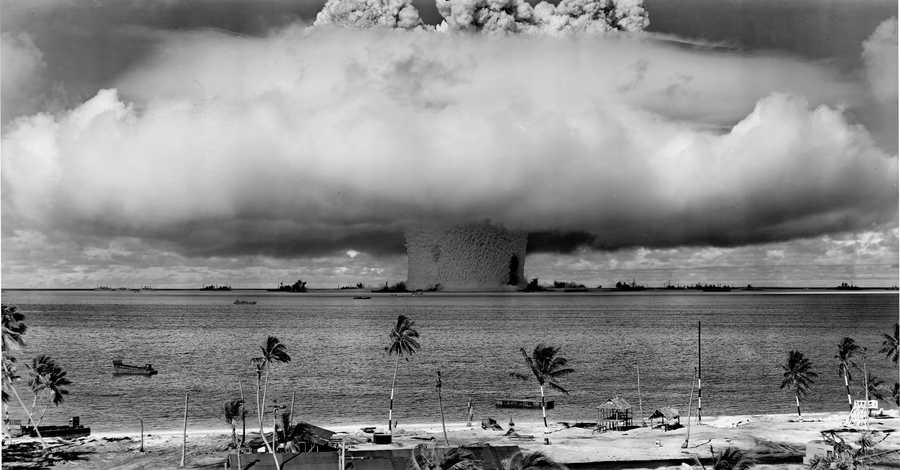 The program was held between 1946 and 1958 and had 23 nuclear devices detonated by the United States during that time. There were initial concerns for the surrounding islands during the testing. The island is currently uninhabitable due to the radiation from cesium-137.
Getting the Perfect Album Cover
The simple crossing of a street is one of the Beatles' most famous covers. However, getting the photo was not an easy task. The band had to try the shot multiple times. The cover photo was taken on Abbey Road in 1969.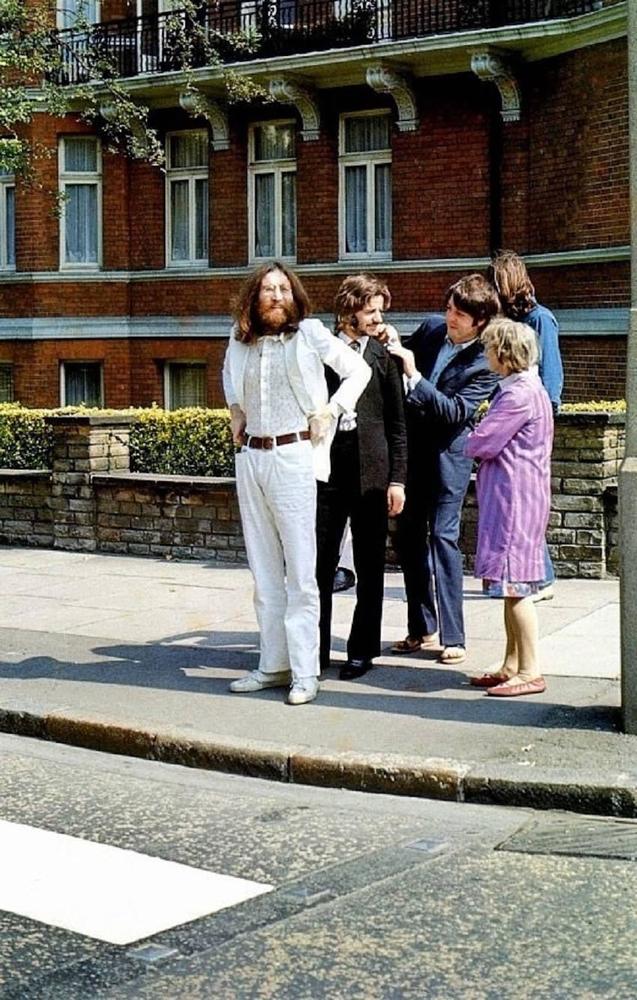 In this photo, the members of the band are probably making their way back to the other side of the street for another take. The numerous takes would be worth it as we ended up with one of the best album covers ever.
America's Exit from Vietnam
There are several notable incidents around the world that marked the 1970s. The exit of America from Vietnam is considered one of the significant events from that period. The event was one of the saddest moments in American history.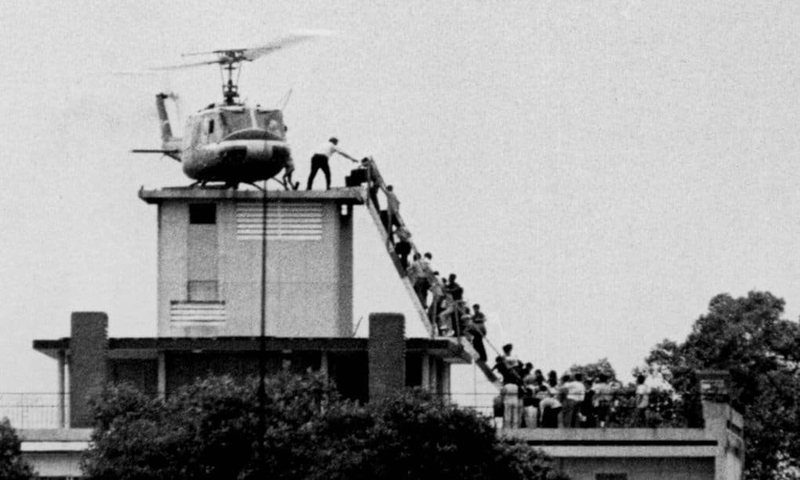 People tried to get out of the country by any means, leading to several desperate measures. Some people tried to hang onto the last chopper but were pushed off since the chopper was already fully boarded.
A Souvenir on the Moon
It's normal practice for people to leave bits of themselves in the places they've visited. However, not everybody gets a chance to leave a bit of themselves on the Moon. This was the case for Astronaut Charlie Duke who visited the Moon on Apollo 16.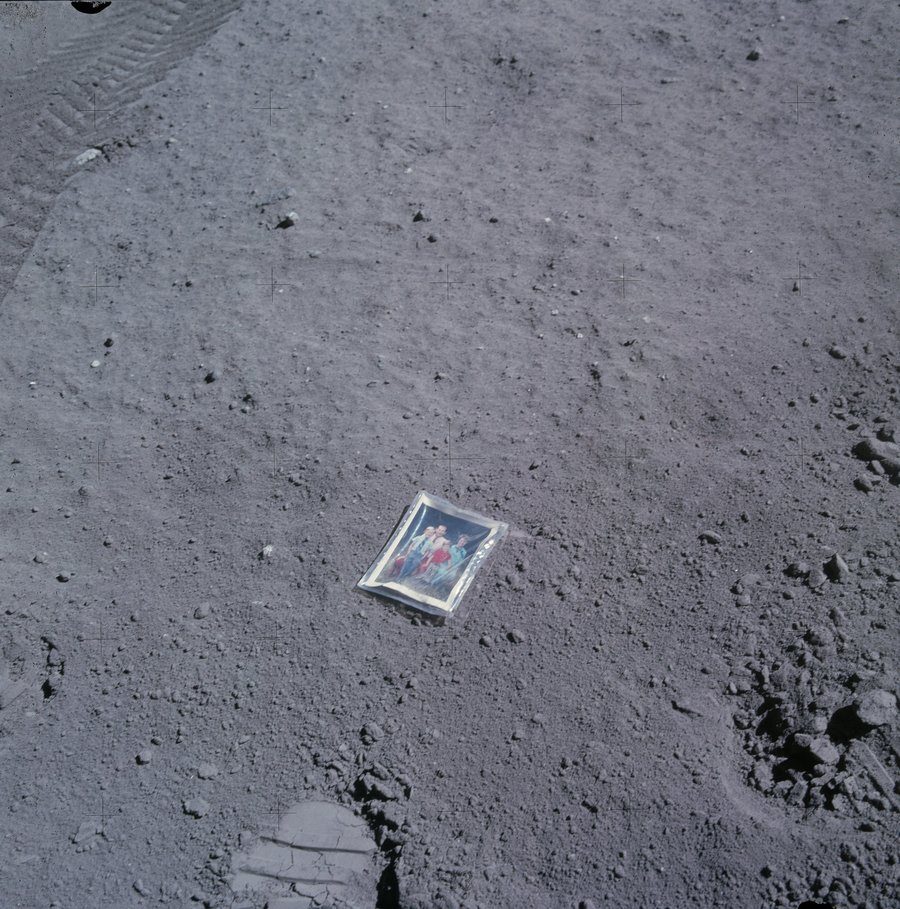 Before the trip, Duke took a picture with his family, which he eventually left on the surface of the Moon. This photo remains on the surface of the Moon today, alongside the astronaut's footprints. Both confirm the theory that whatever is placed on the Moon stays there. In this photo, you can also see Duke's lunar rover and its tracks.
The Missile Test on Cape Canaveral
In September 1962, US President John F. Kennedy and US Vice President Lyndon Johnson toured the Cape Canaveral Missile Test Annex. It was an exciting time for the country as it was on the verge of doing something incredible going to the Moon.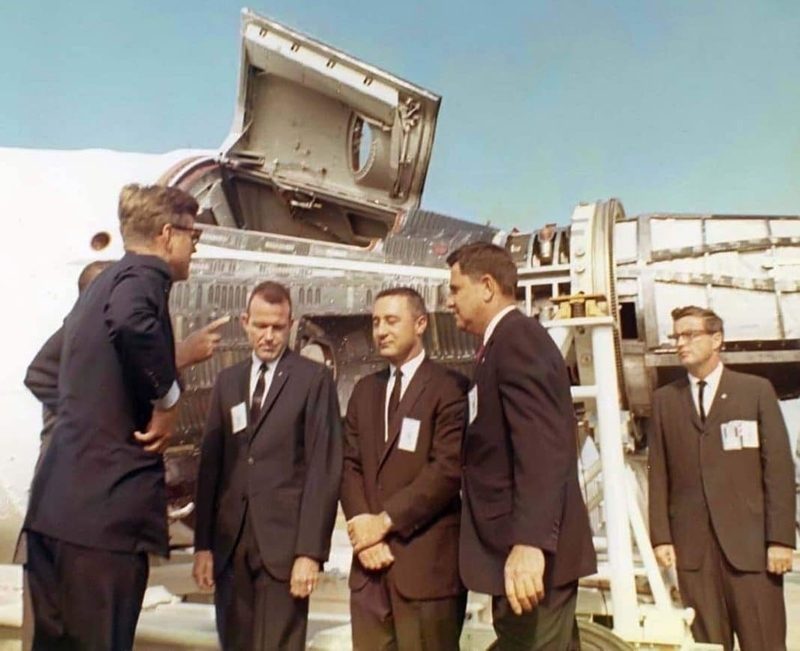 In most instances, having the president, vice president, and several other key stakeholders in the administration in the same room is often accompanied by some heated arguments, but that was not the case in this photo as everyone seems to be cordial and getting along with each other.
The Execution of Lewis Powell
The assassination of Abraham Lincoln was part of a bigger plot. There was also a plan to kill William H. Seward, the Secretary of State at the time. The man tasked with undertaking the plot was Lewis Powell, always known as Lewis Payne (and Paine).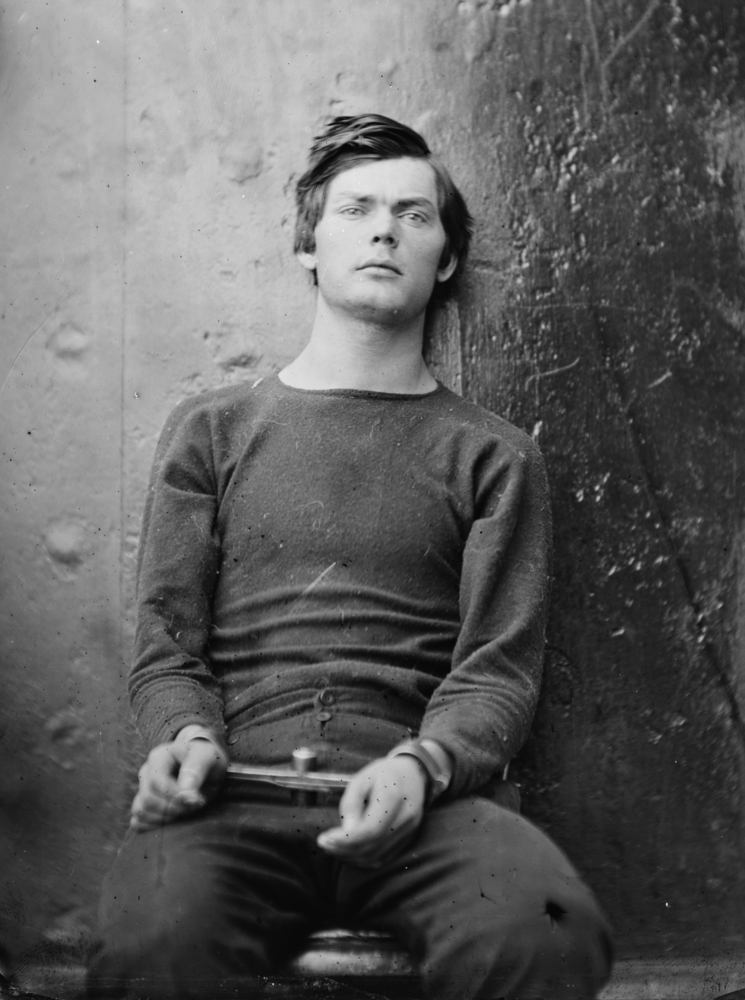 This photo is an incredible one as it shows Seward just before he's about to be executed. The plan was unsuccessful as Powell got caught breaking into Seward's home. We'd love to know what was going through his mind when this was taken.
The Return of Mona Lisa
The Mona Lisa is the most valuable painting in the world. For anyone who doesn't know, it's located in the Louvre in Paris. During World War II, they were worried about the painting either being stolen or damaged in the crossfire.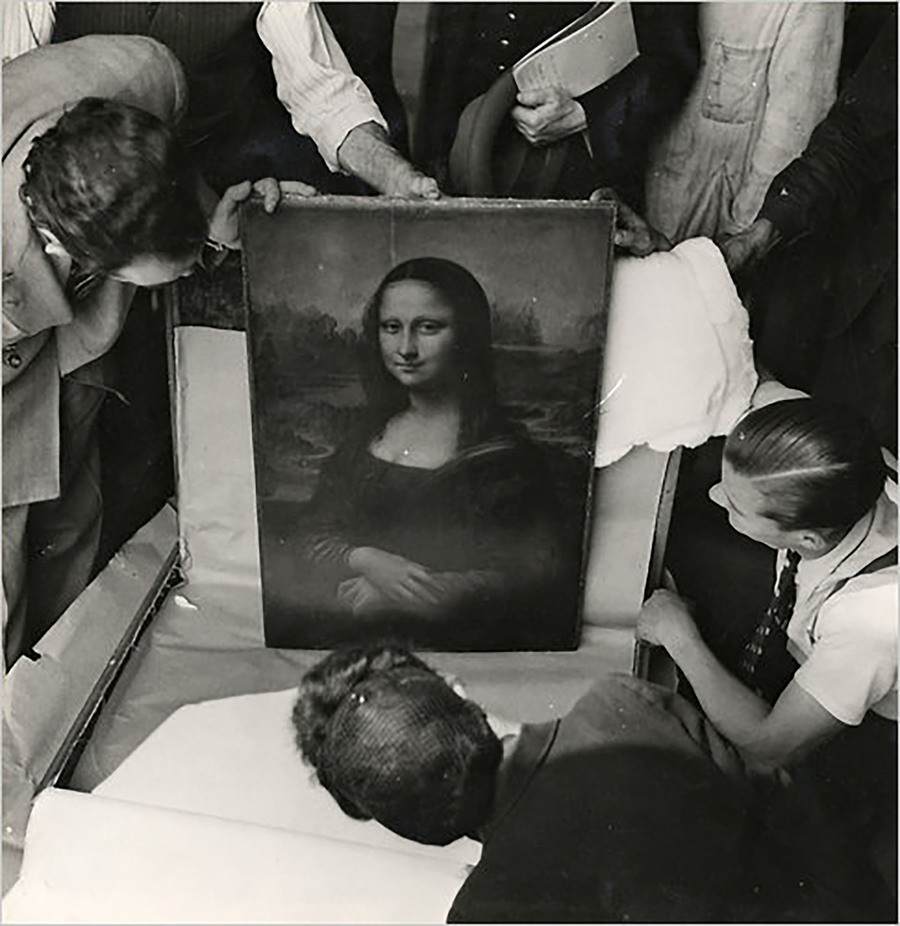 To protect this precious piece of art, it was taken away from Paris and into the countryside. This was a similar story for many pieces of art throughout Europe. Thankfully, the painting was returned to the museum in one piece once the fighting was over and the Nazis had been defeated.
Building the Statue of Liberty
Due to it being incredibly iconic, it's hard to think of a time when the Statue of Liberty wasn't part of New York City. This brilliant photo shows it under construction in France before it was eventually shipped in parts to America as a gift from the European country.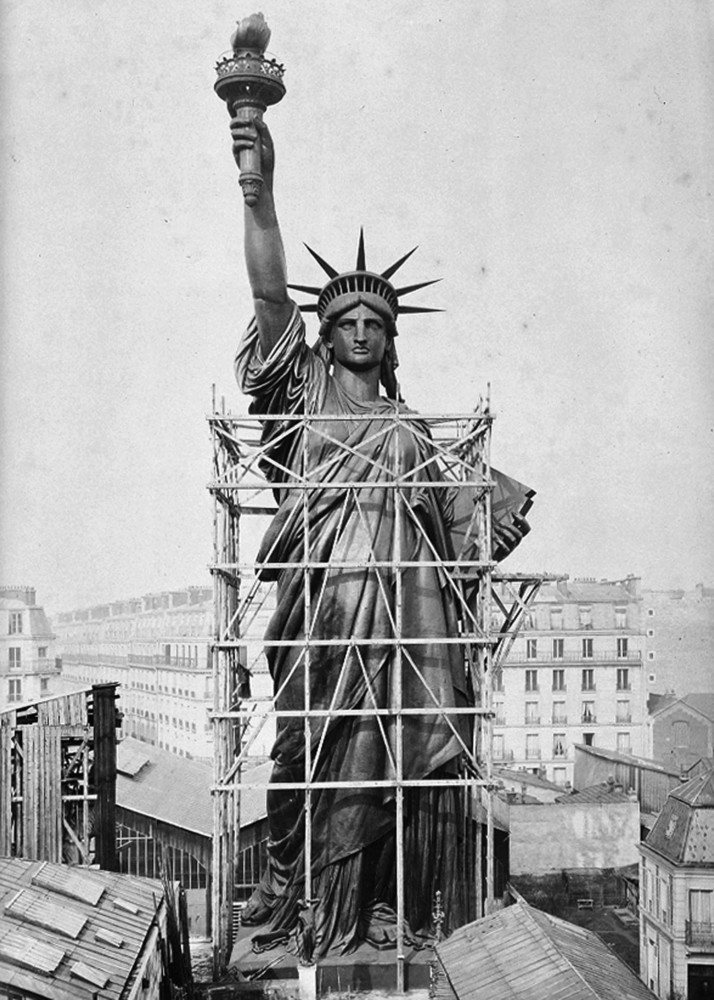 An interesting fact is that when it was made, the statue was covered in shiny copper and had a much different color than what it is today. Chemical reactions over time have taken much of that color away and left us with what we see today.
Pablo Escobar and the White House
Pablo Escobar is one of the most infamous people to walk the face of the planet. He is known for running his drug empire in Colombia, but that didn't stop him from visiting the United States. It was around the time he was trying to show he was a legitimate politician.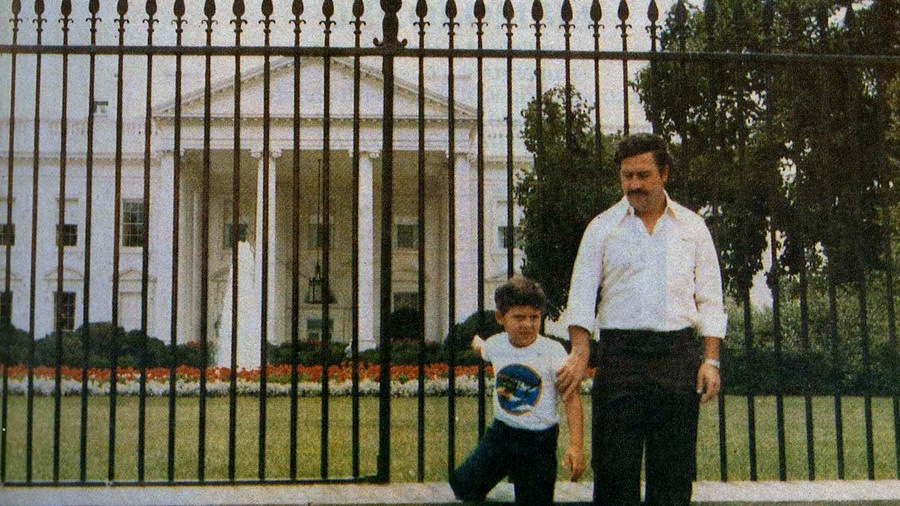 If it was anyone else, you'd think this was a cute photo of a man and his son visiting one of the most famous landmarks in the world. Around the same time, he also took his family on a trip to Disneyland, which showed that he loved what the country had to offer.
Helen Keller with Charlie Chaplin
Before sound came to movies, actors had to work with silence. That meant people had to expressively act scenes that were accompanied by short subtitles that interrupted the picture. Of this era, one famous name stands above them all, and that is Charlie Chaplin.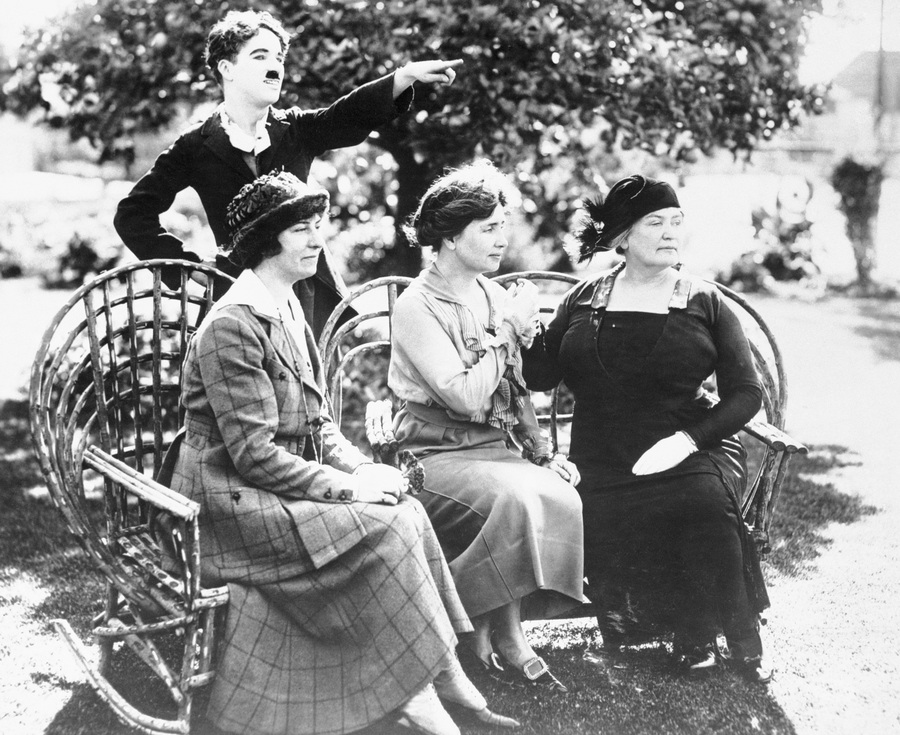 Here we see him with Helen Keller, who was a remarkable woman. Without the ability to see or hear from the age of one, she became a prominent author and disability rights advocate. Helen and Charlie became friends, and this photograph shows a beautiful moment between them.
Filming the MGM Lion
We've all watched MGM films. Part of the reason we know that is because the studio has the most famous opening credits of them all with a ferocious roar of a fully grown lion.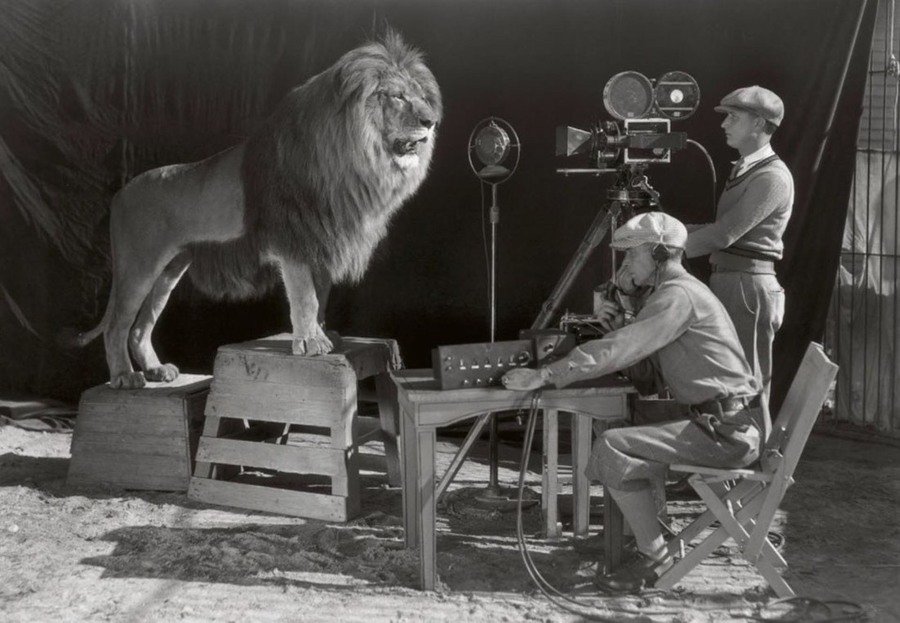 We can only imagine how nervous these men must have been trying to capture such a moment. MGM has used six lions for their production logo throughout history, and this was the third, called Jackie. His face was used from 1928 all the way to 1956. Since 1957, MGM has used Leo the lion.
Muhammad Ali Training Under Water
Muhammad Ali was undoubtedly the greatest fighter of his time. Besides fighting, he was also a social activist. He is famous for being the first fighter to win the world heavyweight championship three times. The American boxer began practicing boxing when he was just 12 years old.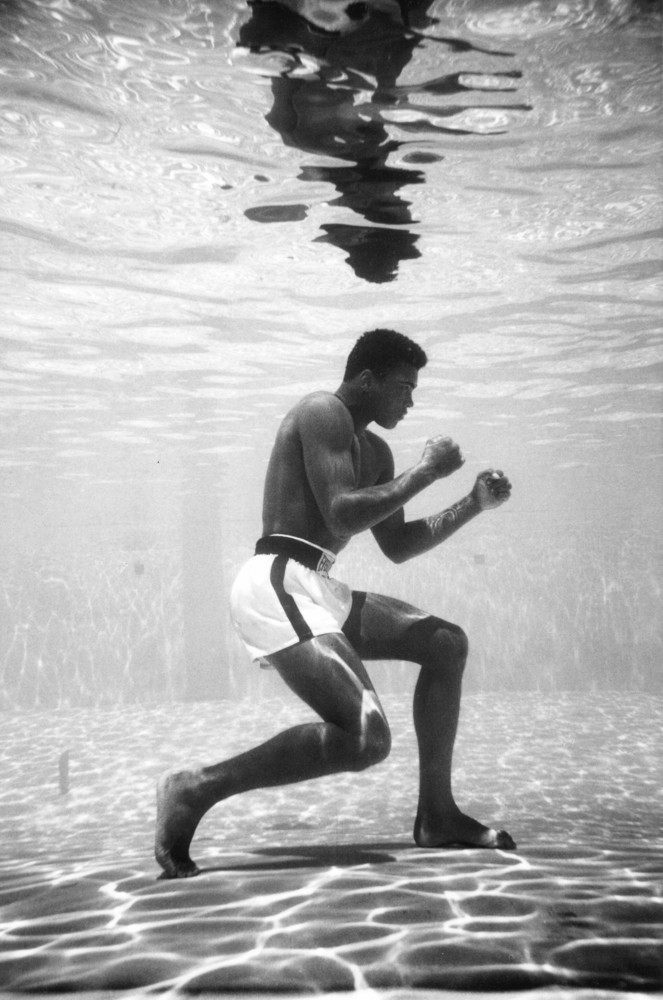 Although boxing made him known to the entire world, people liked Muhammad Ali for his charm and warm personality. He enjoyed reading childlike poetry, and he spent a lot of time training at the Sir John Hotel. This is a photo of him pausing underwater to pose for the camera.
Jimi Hendrix Having Some Tea
As shown in the image, Jimi Hendrix was an American rock guitarist and singer. He died at the young age of 27. His music was highly influential because, with only four years in the industry, this young man had pulled a huge crowd.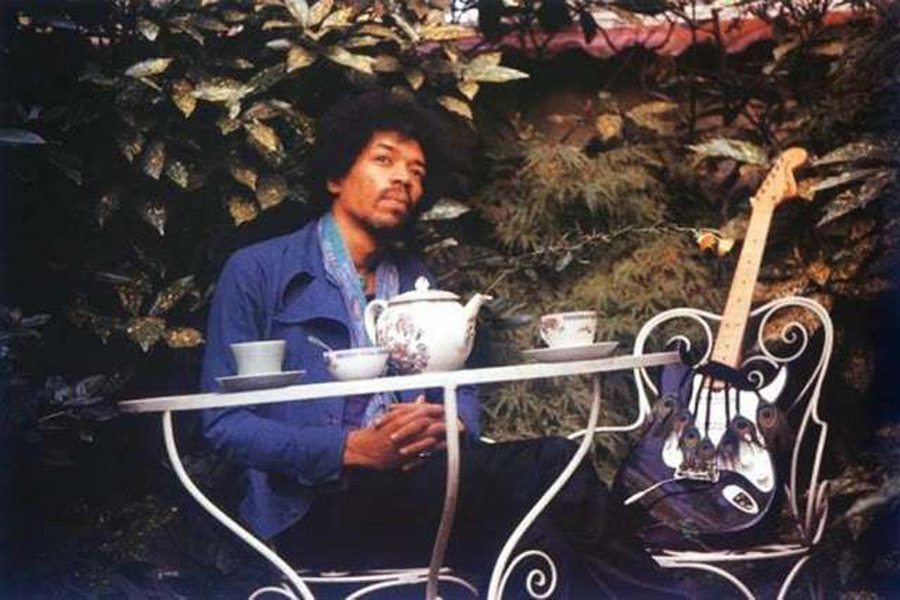 Besides his music career, people liked him because of his charisma during concert performances. The guitarist's medical condition forced him to work as a freelancer for famous and obscure music clients in the 1960s. However, his talents would soon outshine working for someone else.
Queen Elizabeth in Uniform
The longest-reigning monarch in British history, Queen Elizabeth II has had many significant moments. Surprisingly, this powerful older woman served in the Women's Auxiliary Territorial Service from a young age, and here are her pictures in uniform.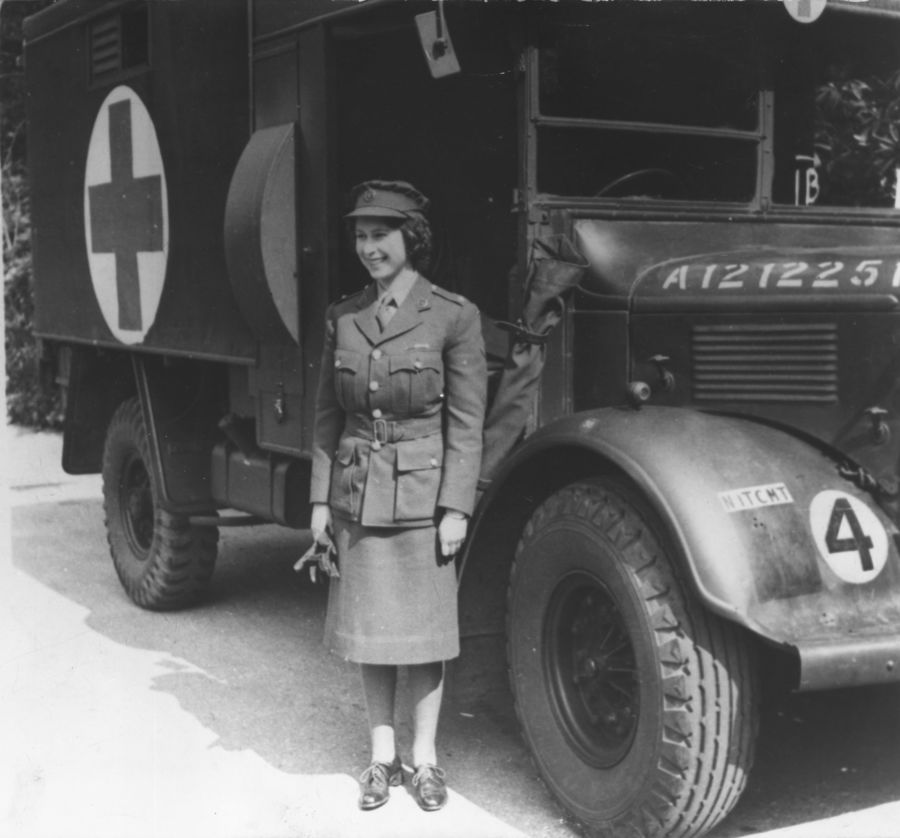 The Queen serviced and drove Army trucks during World War II. Besides being the Queen of the United Kingdom, Elizabeth has led a simple court life with minimal public controversies. She is still well respected by the British public, partly due to her military service.
Downey Jr. with Iron Mike
Isn't it amazing that Robert Downey Jr. and Mike Tyson were best friends? Most people did not know that until the public exposure of their pictures together. Mike says he would spend the most time with Steve Lott during his free time.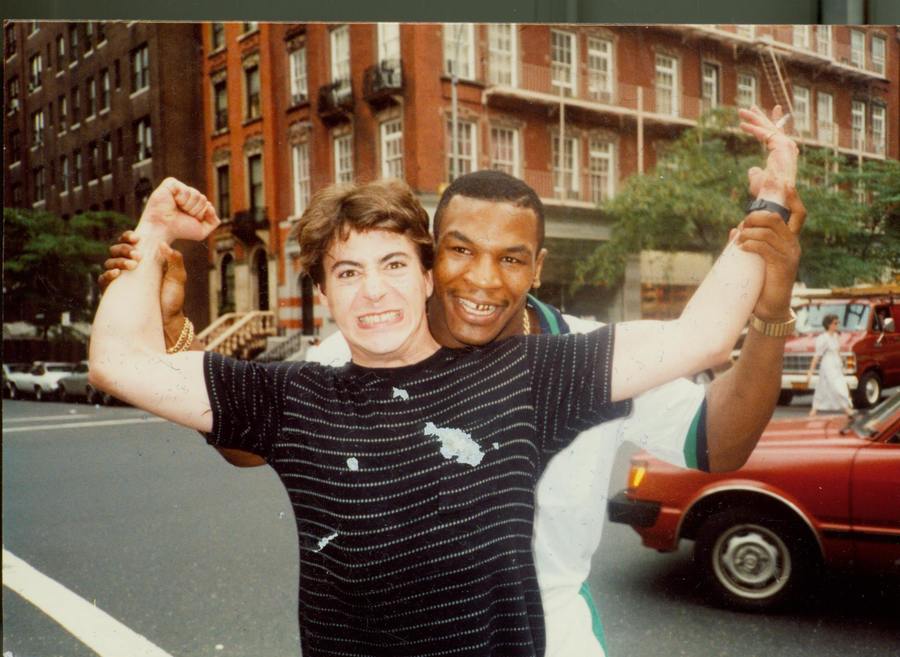 This famous former boxer also says that he stayed at Paul Herman's Columbus Café, located near Lincoln Center. Before the end of the conversation, Mike pulled out a picture of him and Robert Downey Jr. and started idolizing how his friend's acting skills were the bomb.
The Famous Ham the Chimp
Ham the Chimp, as pictured, was the first chimpanzee to make it to space. Other people called him Ham the Astrochimp. His Moon journey began at Cape Canaveral in 1961, making him the first hominid in space. This history-maker chimpanzee was lucky enough to return to Earth uninjured.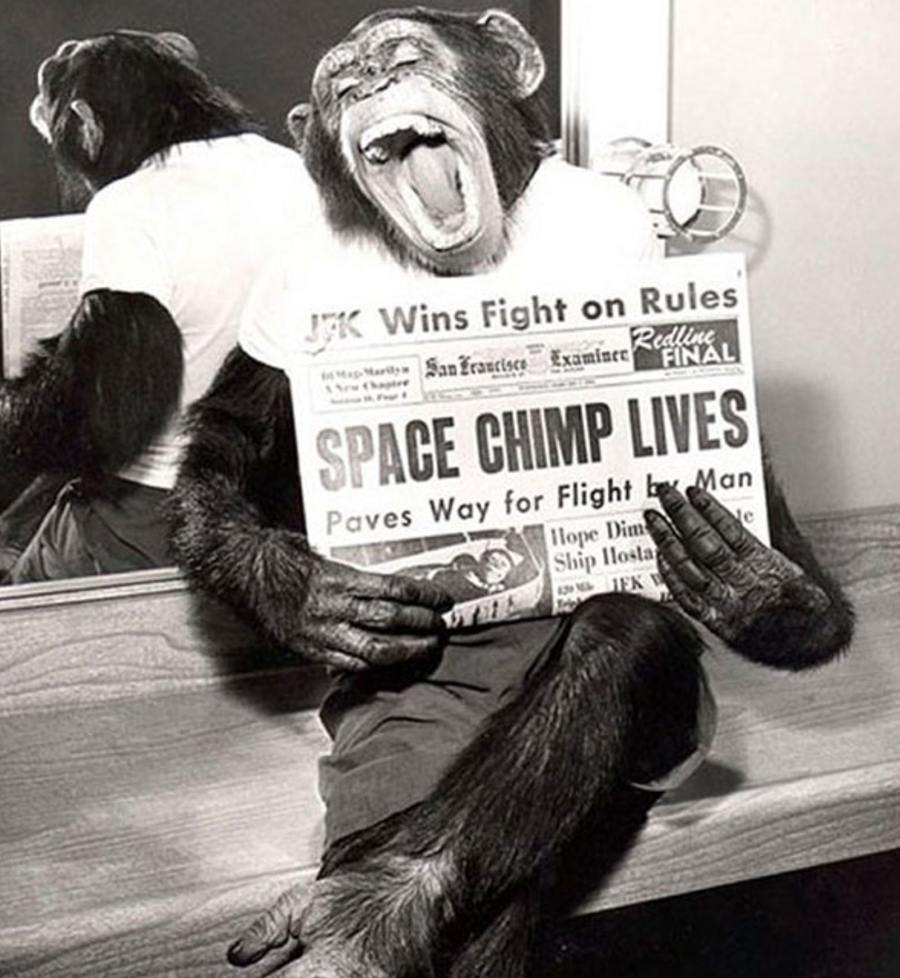 Ham was named after the laboratory that prepared him for the space visit, Holloman Aerospace Medical Center. He was brave enough to take on a journey human beings were reluctant to, so he deserves all the fame.
Salvador Dalí with an Iconic Beauty
By the look of things, the most beautiful women to have ever existed all came from the 1960s. If you have not heard of Raquel Welch, you might not understand the correct definition of beauty. She was beauty in every sense of the word.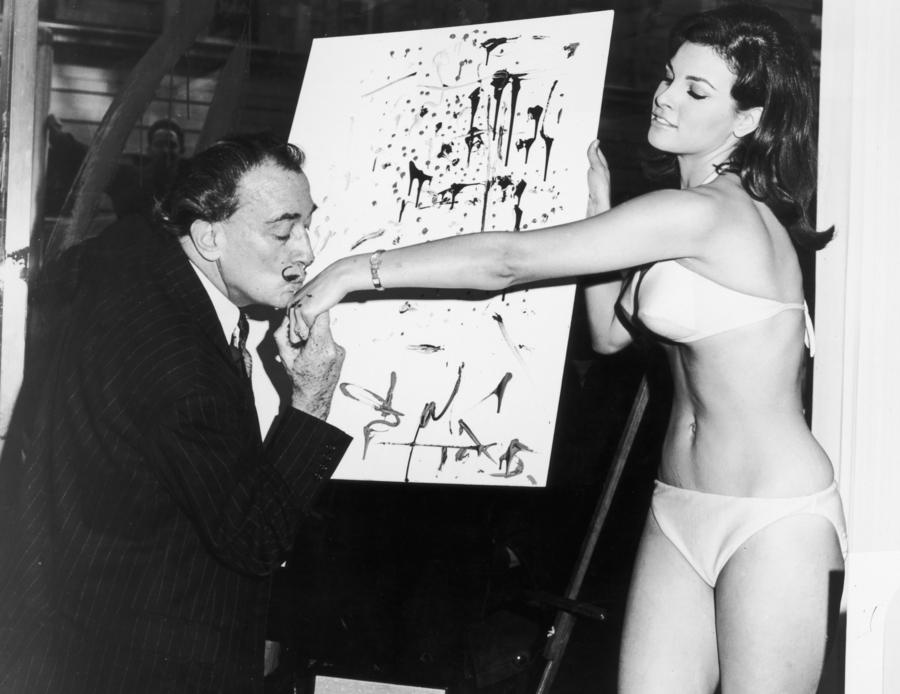 Famous painter Salvador Dalí could not help but paint Welch. Her pictures will make sense to you why Dalí spent all his time painting Raquel. And Dali could not let the beautiful woman walk away after painting her without kissing her on the hand.
Too Much for One Guard
If you have visited London, you know how hard it is to get to places like Buckingham Palace because there are guards all over. These people stand still in one place without moving for a very long time. They withstand the scorching sun, and their clothes get wet from the pouring rain.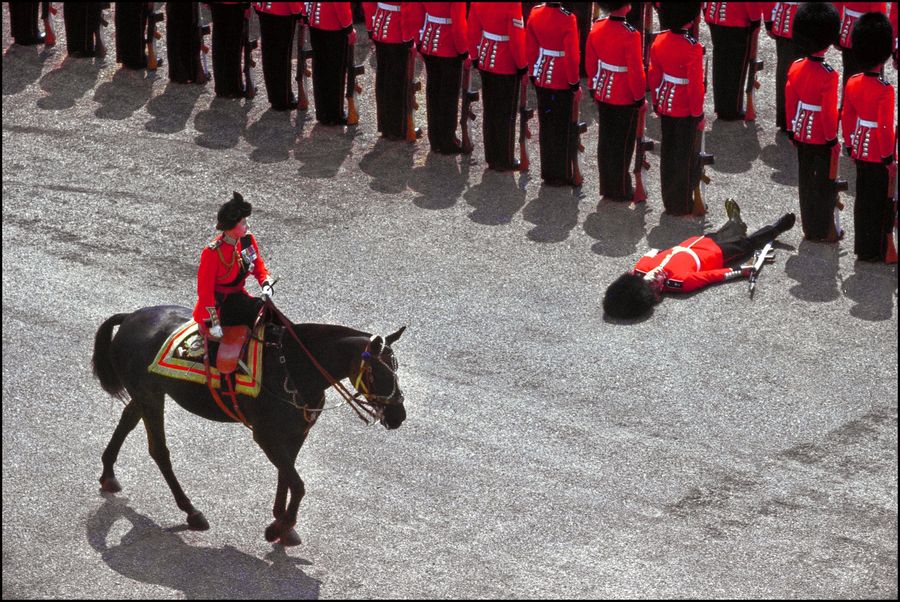 Some of these soldiers suffer in silence, as was confirmed during the Queen's birthday procession when one of them fainted. Worst of all, he fainted just as the Queen was passing. What happened to him next? He probably didn't last too long in the role.
Spray Tanning Is a Lot Easier Today
Many things from the 20th century have changed with advancing technology. Today, tanning the body is easy because you walk into a local tanning salon for a short time. The tan stays on the body for as long as you want it to.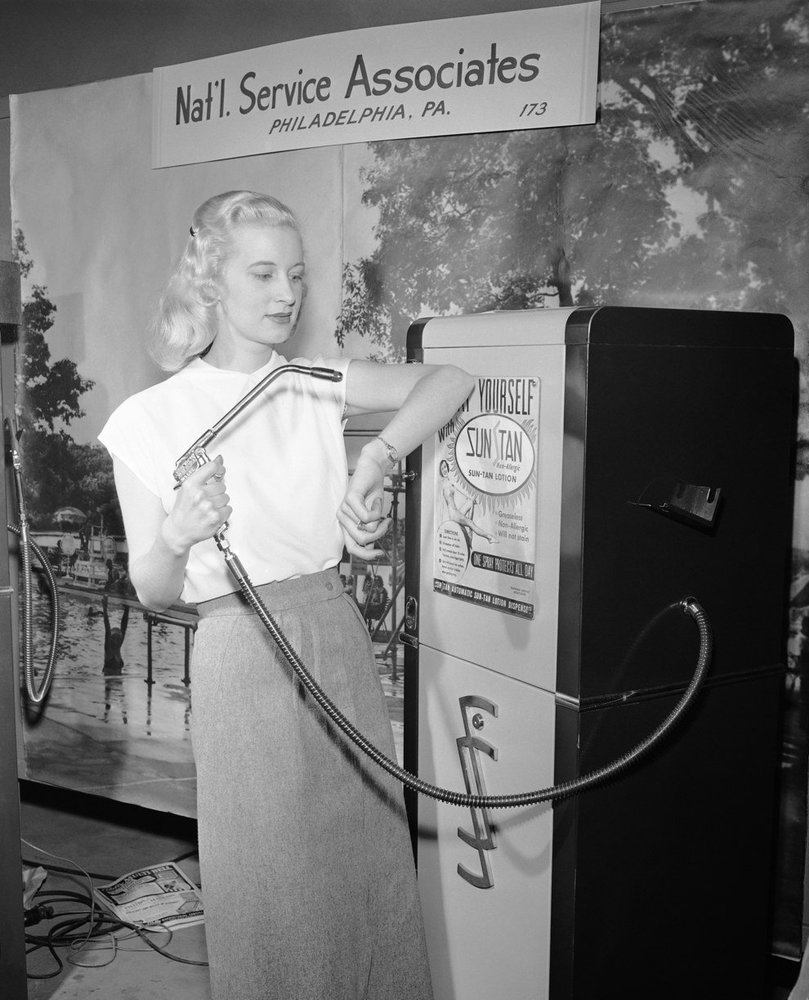 However, people born in the 1990s did it differently. There was a specific place for skin darkening. The tan was put into a nozzle and connected to a machine. Those who wanted skin darkening would then stand in front of the tan color sprayed on them.
Albert Einstein Relaxing on the Beach
Albert Einstein is known for his brainy innovations, especially in theoretical physics. He is the man behind the law of the photoelectric effect. He also won a Nobel Prize in Physics in 1921 because of his many contributions to science.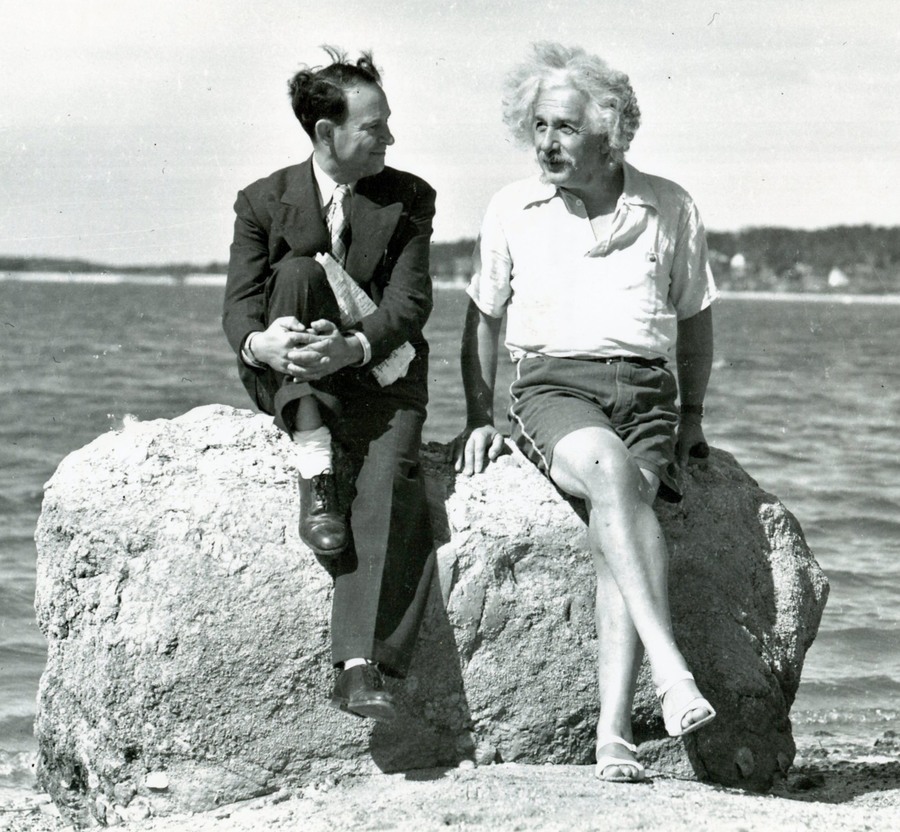 Physics and all those discoveries are not a joke, and seeing a picture of Einstein relaxing would be shocking to most people. However, he posed well and relaxed for a photo taken on a Long Island beach. Despite having genius that we mere mortals couldn't comprehend, he still liked to relax every now and again.