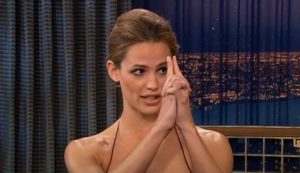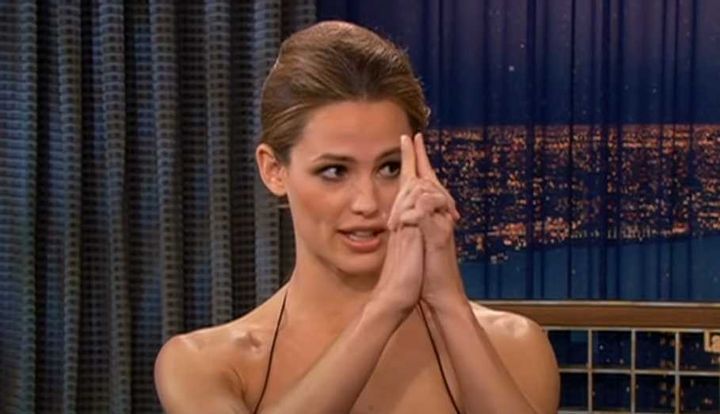 Iconic & Showstopping Segments on Late-Night Talk Shows
By Yuri S.
---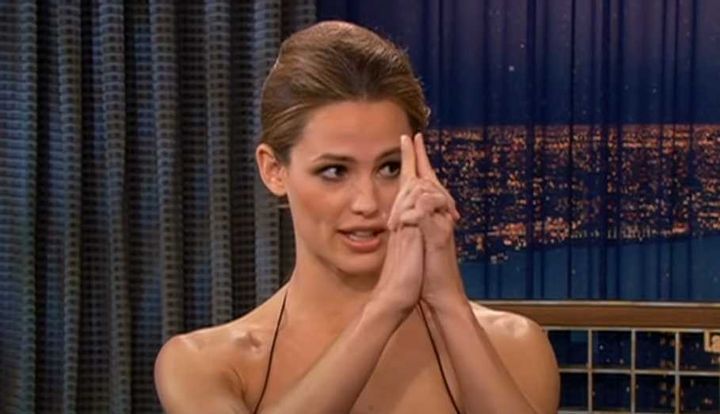 Late-night talk shows have been an integral part of American television since the '50. For about seventy years, people have been watching celebrities sit down for interviews, appear in comedic segments, and participate in musical bits. Since the beginning, there have been countless amazing moments that were noteworthy, silly, and most of all iconic. Today, we still talk about many of these show segments.
From well-known feuds and Hollywood stars acting strangely to the most epic sing-alongs, these shows always keep us on our toes. Did the late-night talk show segment that made you cry from laughter make our list?
The Jimmy Kimmel-Matt Damon Feud
If you watch late-night television, you know that actor Matt Damon and host Jimmy Kimmel have been involved in a long-standing feud. Everything began when Kimmel joked about running out of time for Damon during a show one night. It became a recurring joke that eventually Damon caught wind of it.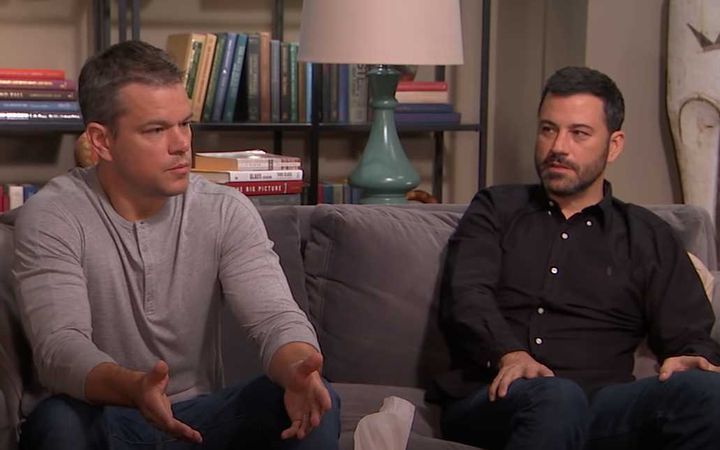 This began a decades-long back and forth with Damon taking Kimmel hostage to host his show and Kimmel completely roasting Damon at the Oscars. Other famous people and Kimmel's wife got involved. Unfortunately, Kimmel and Damon's trips to couples therapy haven't paid off.
Madonna Says the F-Bomb 14 Times
When Madonna appears on a talk show, you never know what's going to happen. During one of her appearances on Late Show with David Letterman, she dropped 14 F-bombs in one interview! Not only did she set records with her music, but during that interview, she became the most-censored interview ever on late-night television.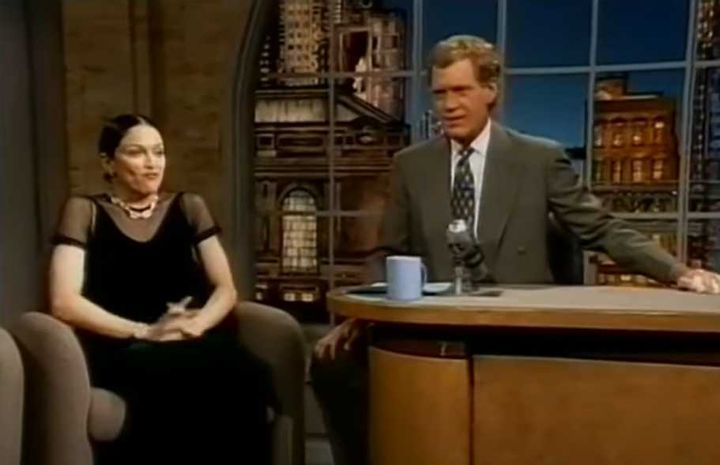 The censor person has never been so busy on one episode. The entire thing was full of tension, especially when Madonna told Letterman that she was only his show because the Knicks weren't playing that night.
James Corden Takes Ariana Grande to Starbucks
Picture working at Starbucks and seeing James Corden giving Ariana Grande a piggyback in line. That's exactly what took place during Ariana's Carpool Karaoke video. In case there were employees not paying attention to their entrance, the singer introduced herself by exclaiming, "Hello, I'm Ariana Grande. I must be carried."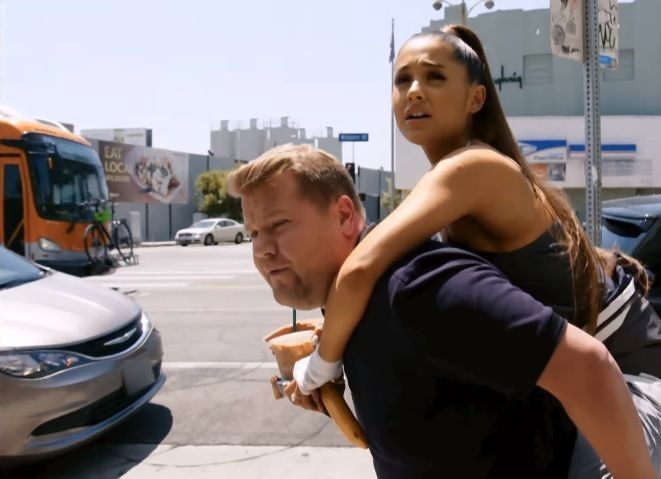 The other customers were surprised to be in line with these celebrities, so they pulled out their phones to video what was happening. And for those who were curious what the pop star orders, it's obviously a grande soy latte.
Harrison Ford Set Off by Chewbacca
Harrison Ford, known for being a bit difficult during interviews, agreed to answer questions from the Jimmy Kimmel Live! audience as long as they didn't ask anything about Star Wars. Kimmel decided to have a bit of fun and had audience members dress as characters from the franchise.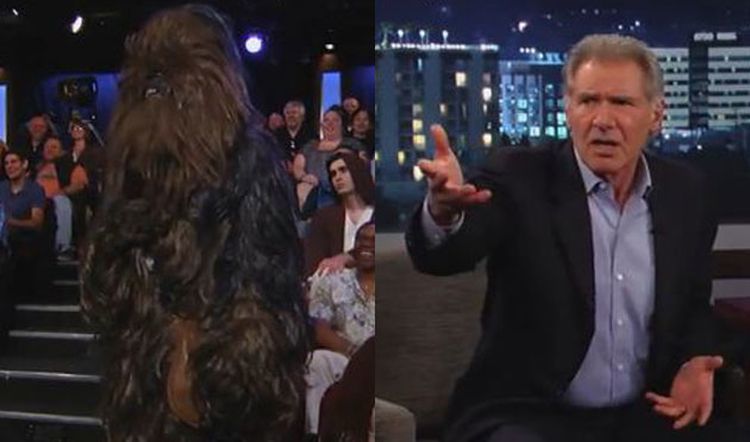 One audience member was Chewbacca, who set off Ford with his growls. Ford and Chewbacca seemed like they had unsettled beef concerning Ford's wife. Ford asked the talk show host whose side he was on before dramatically leaving the stage.
Conan O'Brien Takes Revenge on NBC for Stripping Him of The Tonight Show
Conan O'Brien was lined up to replace Jay Leno as host of The Tonight Show, but when Leno came out of retirement, NBC gave him his hosting gig back. Conan was pissed and decided to get revenge on the network by spending a bunch of NBC's money.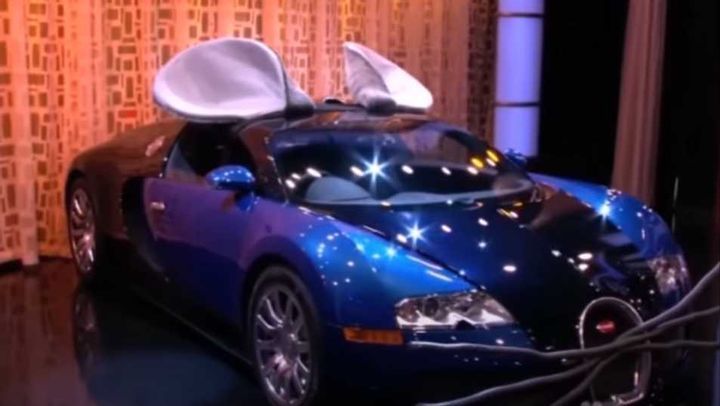 He bought the most expensive car in the world, a Bugatti Veyron, and put it in a mouse costume. The original recording of "Satisfaction" by the Rolling Stones was its theme song and absurdly expensive to play on television. Conan claimed that the whole comedy bit cost $1.5 million.
Joaquin Phoenix Oddly Promotes His Mockumentary in Letterman Interview
Phoenix's most uncomfortable appearance on Letterman was a promotion stunt for his mockumentary I'm Still Here. Phoenix appeared as his movie character, and Letterman didn't let his guest off easy, calling out the actor for chewing gum during a televised interview and asking him how long he had been friends with the Unabomber.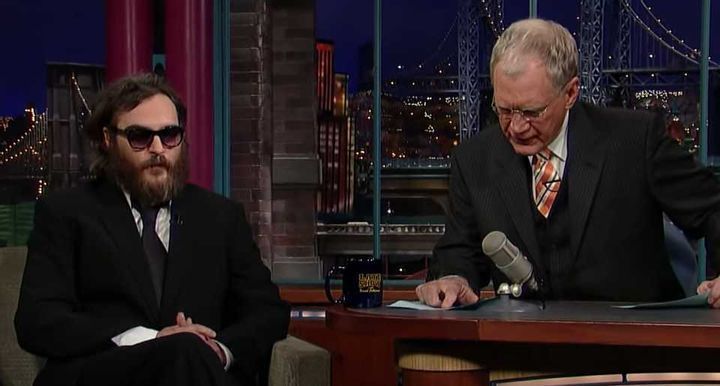 The host even voiced his regret at the end of the interview that Phoenix wasn't able to be there. Since that uncomfortable segment, the actor has acknowledged how bizarre his behavior was and apologized to the talk show host.
Adele's Epic Carpool Karaoke Episode
The Late, Late Show with James Corden's most popular segment is Carpool Karaoke, where Corden drives around with musicians to sing songs with them. He's done it with everyone from Mariah Carey to Justin Bieber to Broadway stars. But Adele's segment really stood out.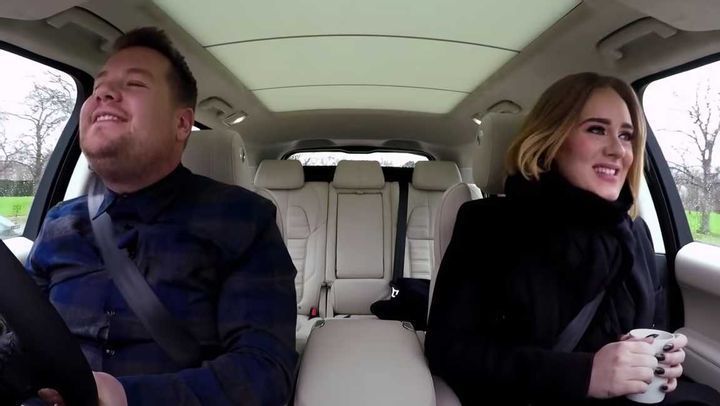 It was incredible to see her sound just as good as the recordings. Her fun personality shined brighter than ever as we watched her cover the Spice Girls in addition to her own music. But the highlight was Adele nailing Nicki Minaj's verse from "Monster," Kanye West's song.
Marlon Brando Shares a Kiss With Larry King
Marlon Brando is one of Hollywood's most well-known and allusive actors when it comes to giving public interviews. However, he agreed to an interview with Larry King in his own home and surprised everyone. He agreed to the interview to promote his book Songs My Mother Taught Me.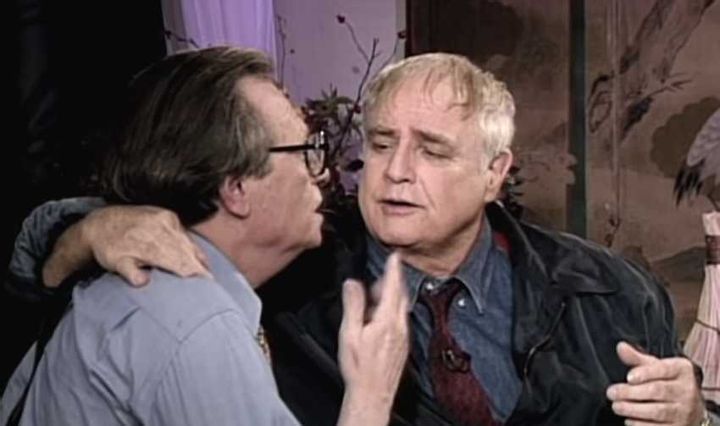 The Q&A section went normally, and Brando and King even sang "Got a Date with an Angel" to end the interview. As they finished the song, they shared a peck on the lips. After the kiss and saying their goodbyes, they shook hands and went their own ways.
The Cast of Cheers Celebrates Series Finale With a Round on Jay Leno
Cheers ended after 11 seasons and The Tonight Show With Jay Leno copped the first interview. After the series finale aired in 1993, Jay Leno did a live interview with the main cast members, including Ted Danson, Kelsey Grammer, Woody Harrison, and Rhea Pearlman from the Cheers bar in Boston.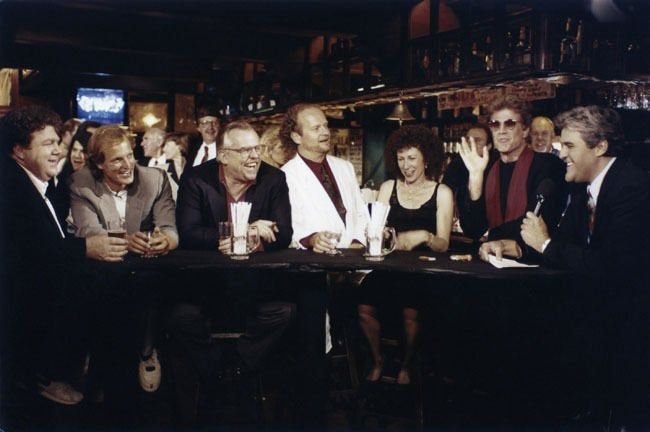 Though they planned bits, the cast had already been drinking before they got to the bar, and by the time Leno arrived for the interview, everyone was drunk. At that time, it was especially shocking to see drunk celebrities on a talk show.
Andy Kaufman Gets Slapped by Jerry Lawler
After actor/wrestler Andy Kaufman and wrestler Jerry Lawler were guests on Late Night with David Letterman, we still weren't sure if the two's rivalry was fake or not. Kaufman wore a neck brace due to an injury from Lawler during a match. Kaufman insisted on an apology from Lawler.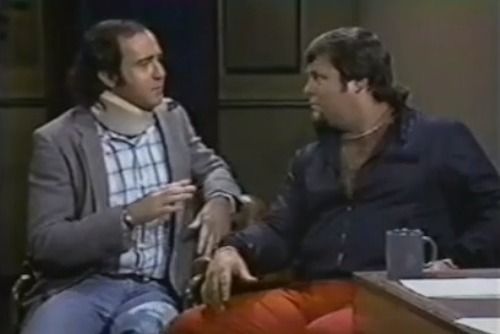 Instead, Lawler mocked and even slapped Kaufman, which caused him to fall to the ground. Kaufman went ballistic and threw coffee on Lawler. We're still not sure exactly what happened, but we do know that people are still talking about it decades later.
Jimmy Kimmel Masquerades as Jay Leno
The late-night talk show universe was turned upside down when NBC announced that Conan O'Brien would be the new host of The Tonight Show after Jay Leno, only to have Leno return from retirement and reprise his hosting role. Conan acted out after hearing the news, but he wasn't alone.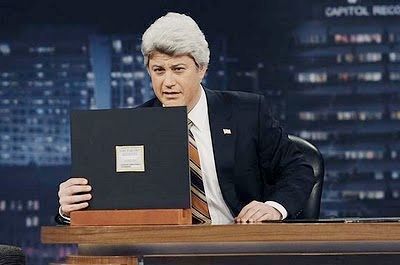 Jimmy Kimmel also expressed his disapproval of the situation. He showed this by hilariously embodying Leno and impersonating him for a whole episode. Kimmel fully committed by wearing a wig, a giant prosthetic chin, and talking with a slight lisp.
Emma Stone Destroys Jimmy Fallon in a Lip Sync Battle
We've seen plenty of memorable Lip Sync Battles on The Tonight Show Starring Jimmy Fallon with stars like Paul Rudd, Joseph Gordon-Levitt, and Melissa McCarthy. But when Emma Stone faced off against the talk show host, no one was prepared for her performances.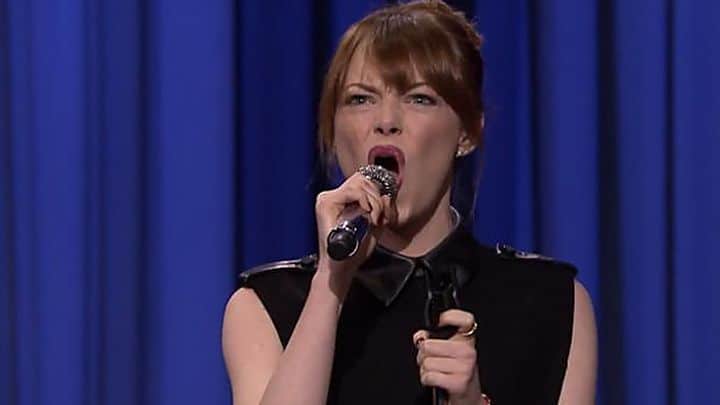 Stone showed off her affinity for quick lyrics with her song choices of "Hook" by Blues Traveler and DJ Khalid's "All I Do Is Win." Fallon's Iggy Azalea's "Fancy" and Styx's "Mr. Roboto" were respectable, but when it came down to it, Stone was the clear winner.
James Corden Called Out by Jimmy Kimmel
The Late, Late Show with James Corden has a game called "Spill Your Guts or Fill Your Guts," where contestants can answer tough questions or eat whatever thing was put in front of them. When Jimmy Kimmel played the game, Corden was caught completely off guard by his last question.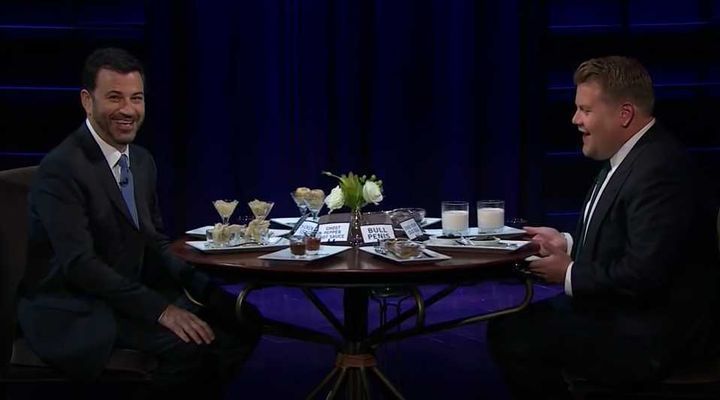 Corden was asked to name two cameramen on his show. What should've been an easy question turned out to be difficult and quite embarrassing for Corden since he couldn't answer. The show might have a large crew, but he should know at least two names!
Jimmy Kimmel Gets Pranked in Bed by Rihanna
Jimmy Kimmel is notorious for practical jokes, especially on April Fool's, but is rarely on the receiving end of them. Popstar Rihanna loved his jokes and wanted to get in on the action. Jimmy's wife helped the singer get into their home in the middle of the night for an epic wake-up call.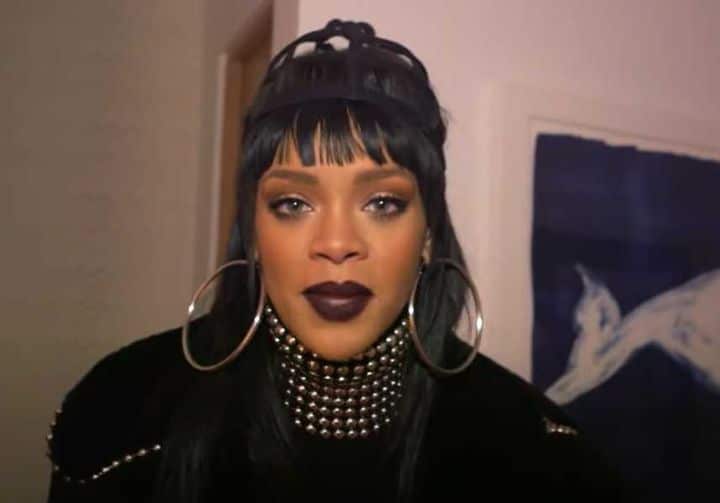 Rihanna blasted her song "B*tch Better Have My Money" while strobe lights flashed and dollar bills were shot at the talk show host as he slept in bed. Kimmel was confused about what was happening and was caught completely off guard.
Jay Leno Helps Organize a Marriage Proposal Between Jason Sehorn and Angie Harmon
Obviously, actress Angie Harmon wasn't expecting her then-boyfriend, Jason Sehorn, a former cornerback for the New York Giants, to propose to her and certainly not on The Tonight Show with Jay Leno. When Leno asked about her love life, she avoided the questions.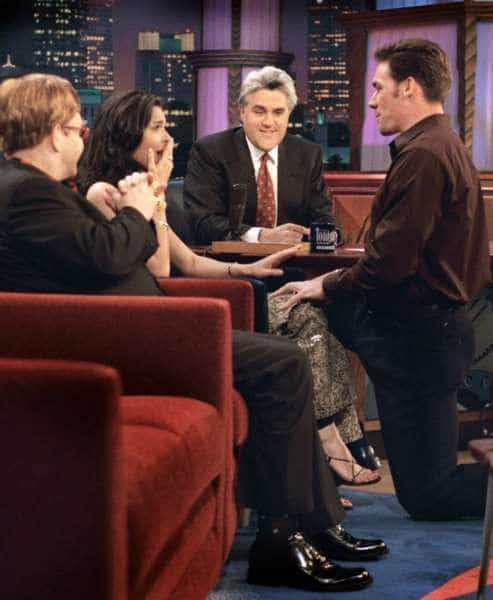 But after Leno mentioned him by name and Sehorn came on stage, she had to have guessed something was happening. Sehorn then got down on national television and proposed. She said yes, and her dad was there to celebrate. Everyone loves a happy end to an interview!
Kevin Hart Freaks Out Over Robert Irwin's Live Animals
Kevin Hart has a fear of most animals, which made the segment with Robert Irwin on The Tonight Show with Jimmy Fallon even more hilarious. When the first animal was introduced, Hart couldn't leave his seat fast enough, and during the entire segment, he stood at a safe distance while Fallon interacted with the animals.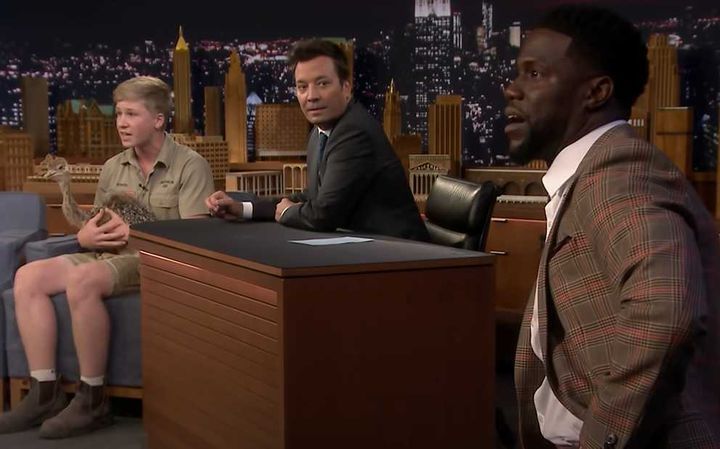 But Hart wasn't afraid to tease the host when he held the tarantula. Fallon managed to convince Hart to participate in the falcon trick, despite being absolutely terrified. The whole segment had us rolling on the floor laughing.
Jimmy Fallon and Justin Timberlake Perform the History of Rap
One of the most wholesome friendships in show business would have to be the one between Justin Timberlake and Jimmy Fallon. The duo has done some hilarious bits, one of which was the recurring segment called the History of Rap.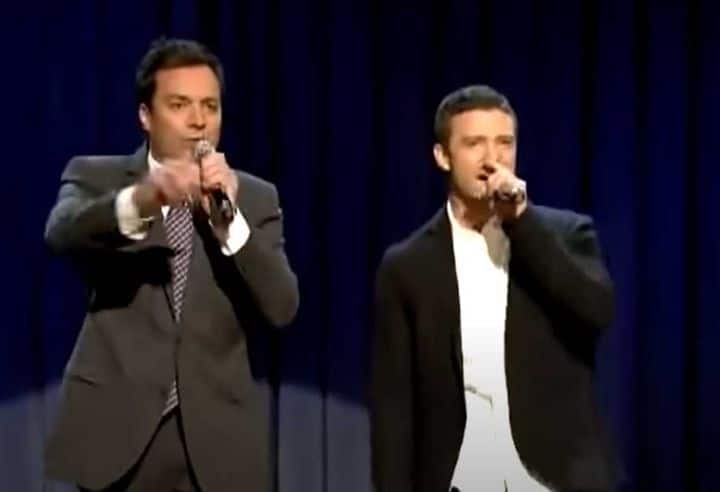 The pair looked like they enjoyed themselves as they performed mashups of hip-hops biggest songs with backup by The Roots. They've covered everyone from Sugarhill Gang's "Rapper's Delight" to Nicki Minaj's "Super Bass," Eminem's "Slim Shady" to T.I.'s "Live Your Life." The two enjoyed it so much that they have done the bit six times!
Craig Ferguson Aces the United States Citizenship Test
Craig Ferguson was born in Glasgow, Scotland, and had a camera crew follow him as he took the citizenship test for the United States, and all joking aside, the comedian and former Late, Late Show host passed without a single mistake.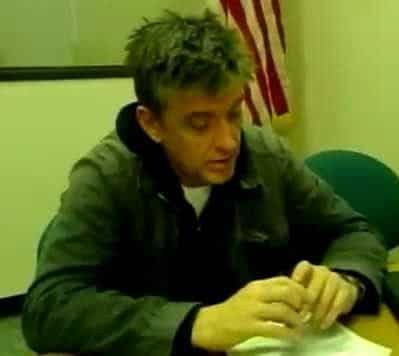 And frankly, we're not confident that we would've known the answers to some of those questions. The comedians' quick-thinking only helped him as he made us, and the government employee, laugh with some of his answers. Ferguson seemed equally proud to have passed with a 100% and to be an official American.
Channing Tatum Joins Jimmy Fallon's Ew! Bit
Many celebrities have joined Fallon for this silly segment, and one of the most iconic appearances would have to be Channing Tatum. He totally embodies a preteen girl with Susie, staying in character during the entire sketch.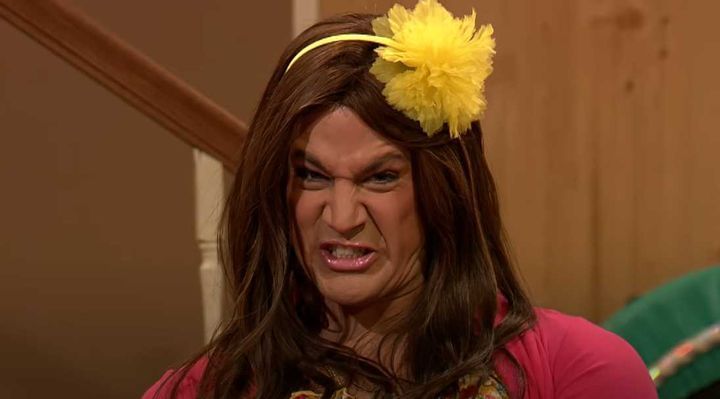 We even got a sample of his Magic Mike dancing days when he busted some moves to a song that Fallon put on. But while Fallon's Sara said that she liked the movies, Tatum's Susie disagreed and instead liked Dustin Hoffman more. These two had great chemistry and were fully committed to their roles.
Stephen Colbert Pitches His Own Lord of the Rings Spin-Off Trilogy
Lord of the Rings megafan Stephen Colbert appeared in The Hobbit: The Desolation of Smaug. In one of his sketches, Colbert sat down with director Peter Jackson in New Zealand to try and get a spinoff trilogy for his cameo character.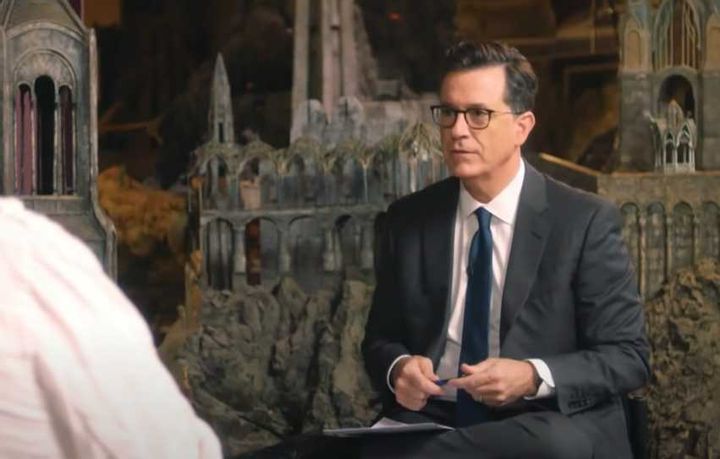 The director isn't sold on the idea, but the funniest part is a trailer clip where Jackson appears as Colbert's sidekick but keeps citing other franchises like Harry Potter. He even had cameos from Lord of the Rings actors Ian McKellen, Viggo Mortensen, and Elijah Wood.
Will Ferrell and Chad Smith Settle Their Rivalry
There are several celebrity doppelgängers that we can hardly tell apart. But perhaps the uncanniest resemblance is between the Red Hot Chili Peppers' drummer Chad Smith and Will Ferrell. They came to Fallon's show to settle their rivalry when they showed up in the exact outfits.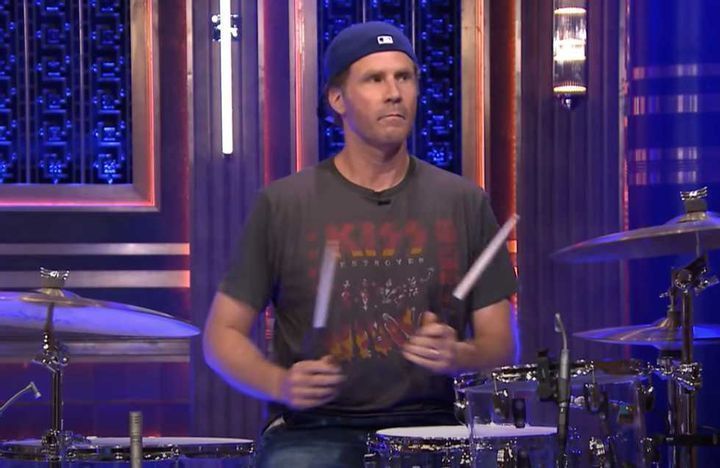 The drummer and actor took the stage for an iconic battle to see who the superior drummer was. Unsurprisingly, Smith came away with the win, and his band joined them onstage for a cover of "(Don't Fear) The Reaper," complete with Ferrell's cowbell accompaniment.
Farrah Fawcett's Bizarre Interview on Late Show with David Letterman
Some late-night interviews leave viewers confused, and the one with Charlie's Angels' Farrah Fawcett certainly qualifies for that category. The late actress appeared on the show to promote her magazine shoot for Playboy. Fawcett recounted nonsensical stories, and even David Letterman had difficulties following her.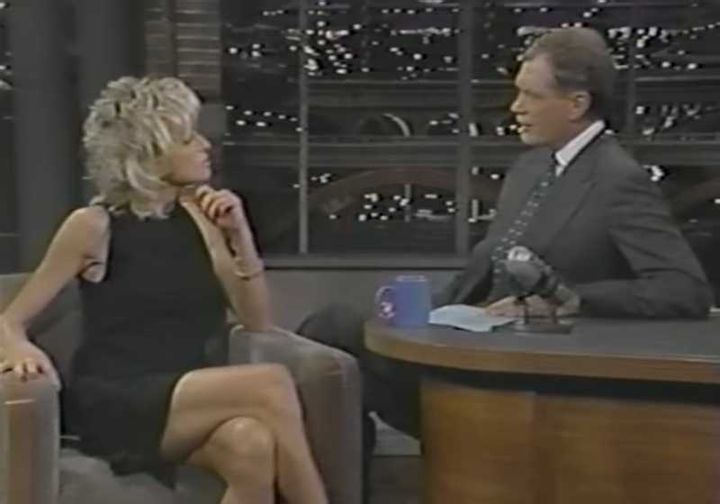 She very well could've been under the influence or just incredibly nervous about being on live television. Regardless of what was actually going on, everybody talked about the interview after it aired, so whatever her intentions were, we think it was a profitable appearance.
Johnny Carson's Final Appearance on Television
It's always a big deal when a late-night show host leaves, and Johnny Carson's retirement from The Tonight Show was the largest late-night goodbye to date. Though Jay Leno was Carson's official replacement, Carson's final TV appearance was on Late Show with David Letterman.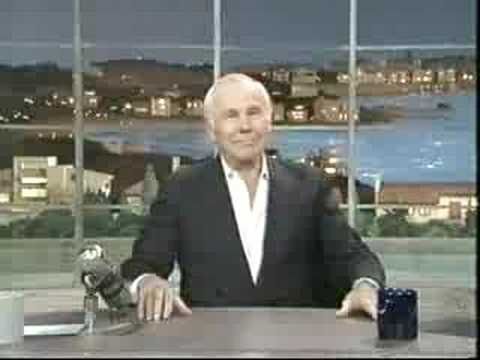 Carson sat in the host's chair and was met with roaring applause. After a while, Carson left the stage like the legend he was. Letterman ended the segment by returning to his chair, commenting that the seat was still warm and that he hoped Carson rubbed off on him.
David Letterman Gets Kicked in the Face by Crispin Glover
Actor Crispin Glover's interview on Late Show with David Letterman was strange. Glover wore glasses, a wig, and platform shoes. Then, he began acting out, recalling random clips from newspapers that were about him and mumbling to himself.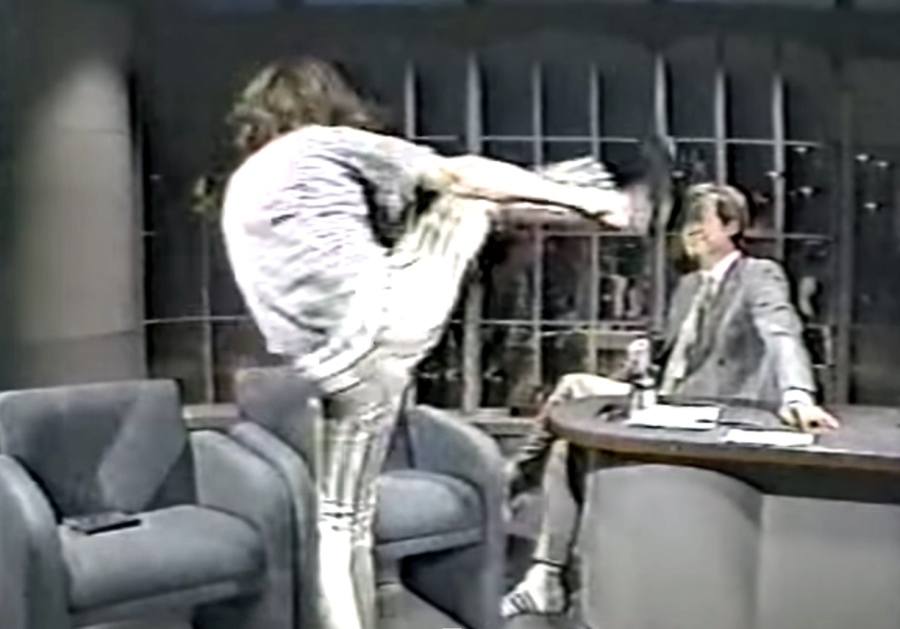 Letterman played along with it until the actor stood up and nearly kicked Letterman in the face. That's where Letterman drew the line before saying he was checking on the top ten and left the stage. The interview was like a car crash that we couldn't peel our eyes away from.
Jimmy Fallon and Bradley Cooper Laugh Themselves Through an Interview
We love when hosts can't keep their composure, and Jimmy Fallon is notoriously bad at it during sketches. But during what should have been a typical interview with actor Bradley Cooper on The Tonight Show Starring Jimmy Fallon, everyone had trouble keeping a straight face.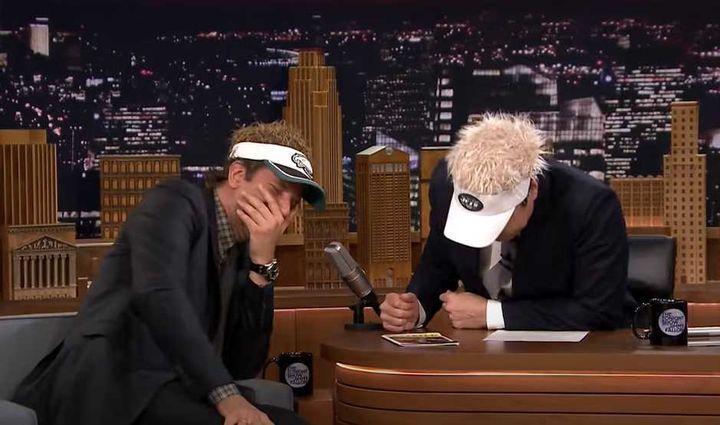 Cooper was there to promote his performance in The Elephant Man on Broadway when the host had them both wear silly visors with wig attachments. After that, the two men kept cracking up and were laughing so hard they started tearing up. The interview never got back on track, but we didn't mind.
Seth Meyers' Monologue About His Wife Giving Birth
Sometimes real life is funnier than any written joke, and Seth Meyers recounting how his wife gave birth in their lobby had us captivated from beginning to end. Meyers' wife is the one who deserves all the credit—she gave birth to their son in their apartment lobby!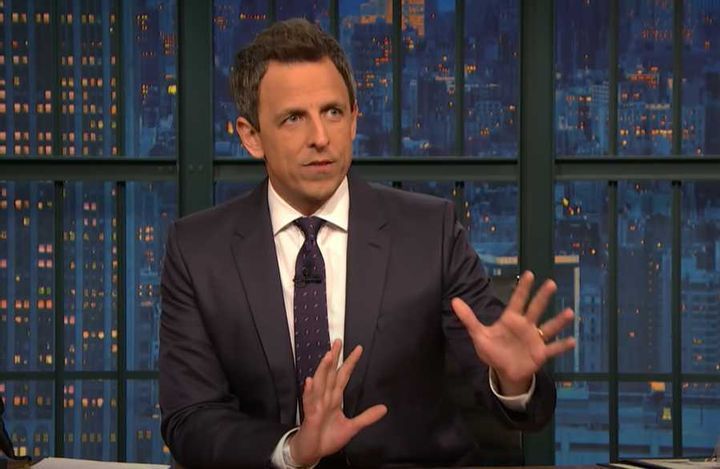 The host explained how he called 911, and within the minute-long conversation, Meyers' wife fully delivered their baby. It appears that Seth Meyers may not be the only person destined for show business because his son Axel had the most dramatic entrance.
Kanye West Apologizes for Interrupting Taylor Swift
When Kanye West interrupted Taylor Swift's acceptance speech at the 2009 Video Music Awards, it was uncomfortable and immediately went viral. Kanye appeared on The Tonight Show with Jay Leno to apologize to Taylor.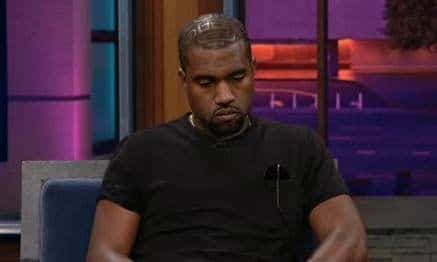 Before Kanye performed with Rihanna, he did an impromptu interview where he apologized and said his interruption was rude. Leno didn't hold anything back, and he even asked the rapper how his late mom would've reacted about the whole thing. Kanye was close to his mother and got visually emotional thinking about the answer.
The Late Late Show with James Corden Performs Frozen
The Late, Late Show with James Corden has its fair share of musical segments, including the infamous Crosswalk the Musical bits. Corden and the cast members from musical films perform scenes from their movies when traffic is stopped in Los Angeles.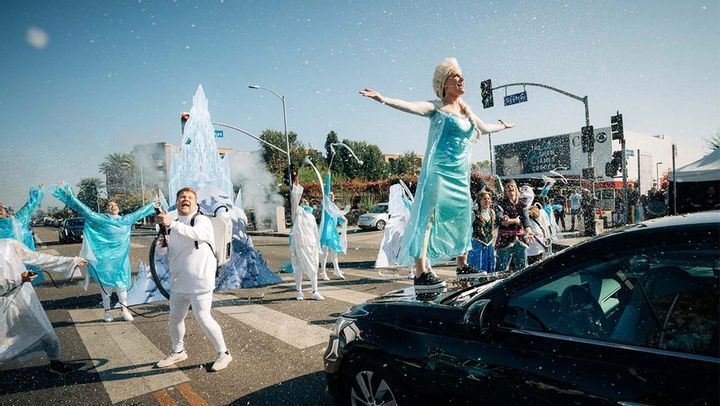 One of the most memorable ones was when Kristen Bell, Idina Menzel, Josh Gad, and Jonathan Groff came to sing songs in costume from their movie Frozen. Corden chose to play Elsa and forced Menzel to play Sven the reindeer. Don't fret; Menzel earned back her role as Elsa through a sing-off against Corden.
Bill Murray Channels the Drama of Liberace
Bill Murray was the very first guest on the Late Show when David Letterman took over as host. To celebrate the 20th anniversary, Letterman had the actor back for an interview. Murray was known for grand entrances—he's jumped out of a cake and appeared in 1700s clothing.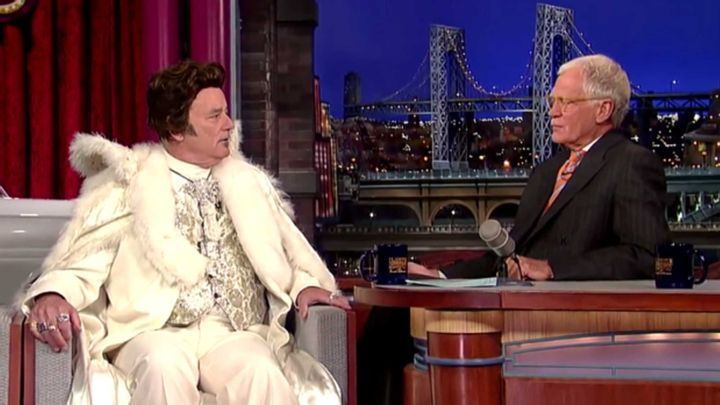 This time, Murray chose to dress like Liberace, making one of the most talked-about entries in history. The actor fully committed by arriving in a white Rolls-Royce, wearing a fur cape, and holding a tiny dog.
James Corden and One Direction Play Tattoo Roulette
One Direction appeared on The Late, Late Show with James Corden plenty of times, with a few of their best bits being Tattoo Roulette and Carpool Karaoke. The former has to be our absolute favorite. The game has five boxes for five players.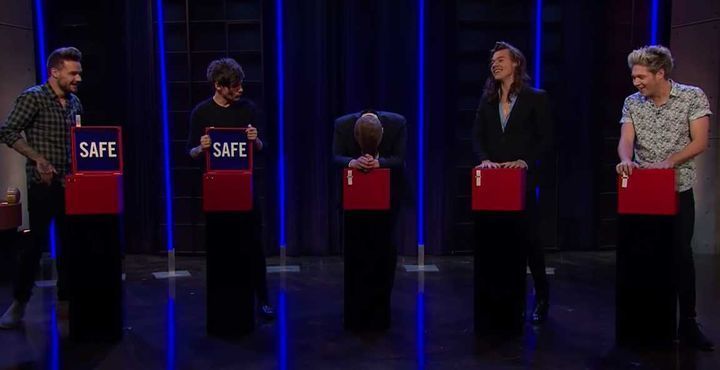 Only one box has the mark that the person has to get a tattoo. Stress levels were high as Niall Horan and Corden were the only ones without tattoos at the time. Harry Styles was the one who got the tattoo of "Late Late" on his arm to join his other ink.
An Uncomfortable Interaction Between Stephen Colbert and Kristen Stewart
Sometimes technological difficulties can result in uncomfortable moments during an interview. That's precisely what happened when Kristen Stewart was interviewed on The Late Show With Stephen Colbert. Everything was normal until there was an audio problem with Stewart's mic because it was hitting her necklace.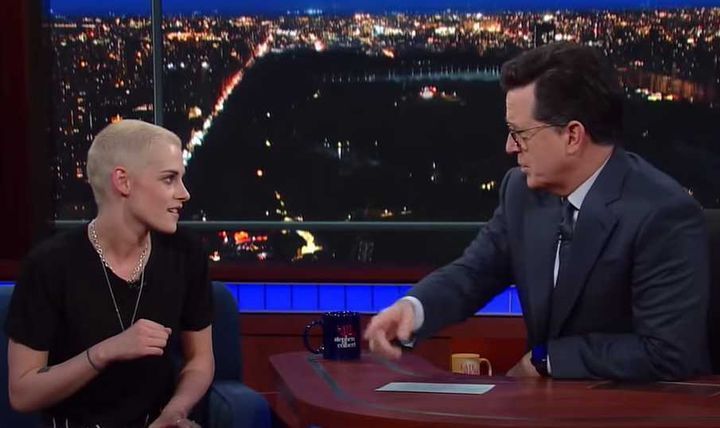 Rather than just telling her that there was a problem, Colbert reached across his desk, adjusted her necklace, moved the mic, and got too close for comfort. It was clear that she felt awkward and just took off the necklace.
The Worst Guest on The Late Show with Conan O'Brien
It's not a guarantee that guests will appear on late-night talk shows completely sober, and that was likely what happened when Bad Lieutenant director Abel Ferrara appeared on the show. Allegedly, he showed up to the studio drunk, refused to get on stage, and even tried to leave the studio entirely.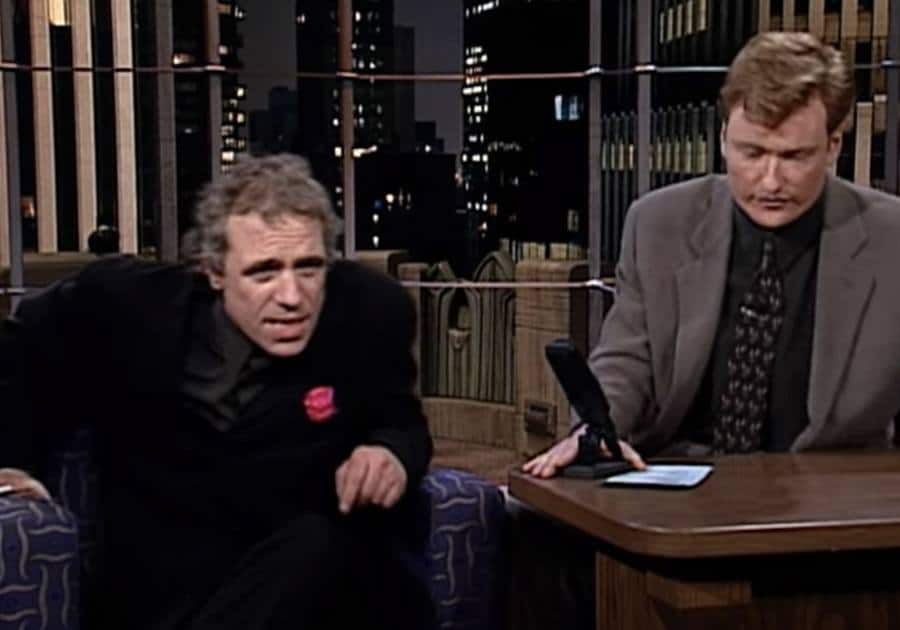 During the whole interview, the director had slurred speech which prompted Conan to suggest that viewers should turn on their subtitles to follow along with the interview. Years later, Conan said Ferrara was the worst guest he ever interviewed on the show.
Paris Hilton Gets Ridiculed by David Letterman
When Paris Hilton finished her prison stint, she agreed to an interview with David Letterman, but the host wasn't very sensitive when it came time to ask the questions. Once Paris sat down, he mentioned her jail time and kept referring to it as the "slammer."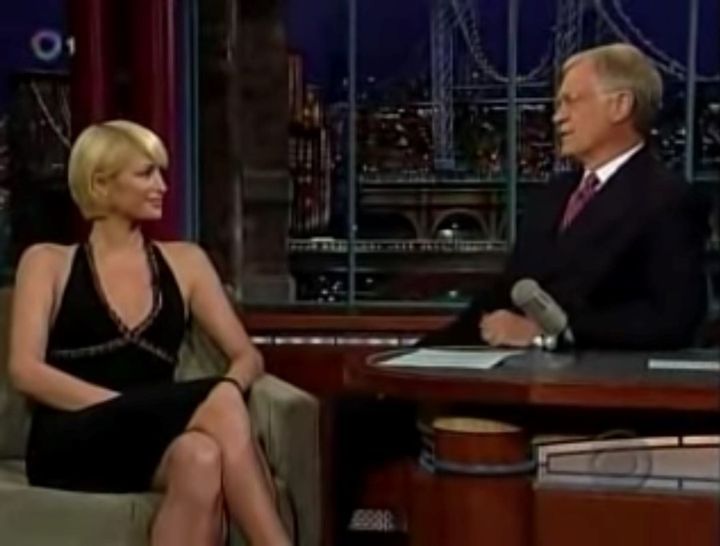 Paris was obviously uncomfortable, but he just continued with the relentless jokes. While she attempted to put on a happy face, at one point, she even called Letterman out by directly telling him that she regretted coming onto the show because he hurt her feelings.
Appearance by "Khaleesi" on The Tonight Show Starring Jimmy Fallon
Whenever one of Jimmy Fallon's former SNL cast members comes onto The Tonight Show, it's always incredibly entertaining. One of the fan favorites is when Kristen Wiig appeared as the Game of Thrones character Khaleesi.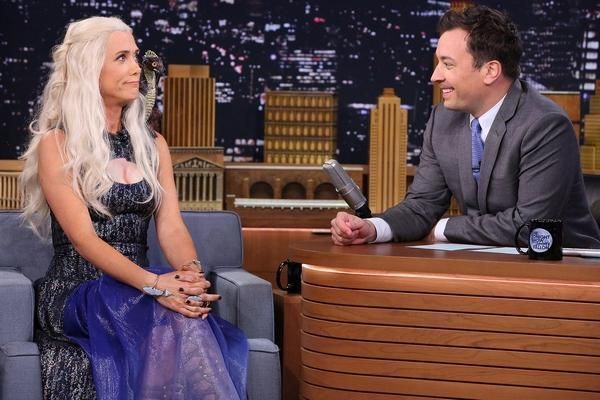 This isn't the first time that Wiig appeared on the show in character, and it's often as a character that she knows nothing about. It was hard not to giggle as we watched Wiig stumble through the interview, clearly having no GOT knowledge. To end the interview, Wiig and Fallon made up Khaleesi's "hit" song.
Jimmy Fallon Gets His Ear Pierced by Harrison Ford
On The Tonight Show Starring Jimmy Fallon, the host will commit to anything to ensure a great show, and when Harrison Ford was a guest, Fallon let the Star Wars actor actually pierce his ear on television. Ford even put back a shot before piercing Fallon's ear.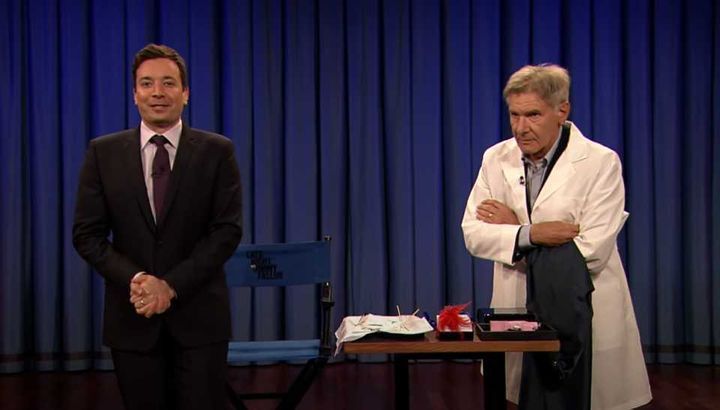 We were nervous throughout the sketch as we watched Fallon slightly freaking out while Ford messed around. Fallon finally gets his ear pierced, and he wears a dangling feather earring. By the end of the bit, both men are wearing matching earrings.
Crush on the Host Confession at Late Night with Seth Meyers
When Seth Meyers was still a writer at Saturday Night Live, Jennifer Lawrence came to host the show. While she was there for the week leading up to the show, Lawrence had a crush on Meyers and was hoping that he was going to ask her on a date.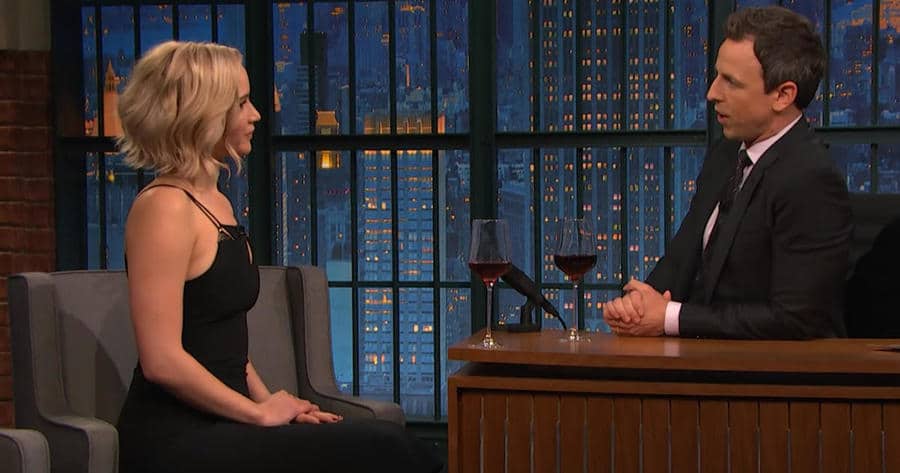 When he didn't make a move, Lawrence started concocting a plan until a wardrobe lady awkwardly informed her that Meyers was engaged. Lawrence shared the story on Late Night with Seth Meyers, and Meyers handled the news well.
Madonna Was Unimpressed by Tom Holland's Dancing
The Graham Norton Show is known for unveiling celebrities' awkward moments, and this was true when Tom Holland shared an Oscar party experience. Holland recalled being introduced to Madonna by a mutual friend. This friend told the pop legend about Holland's dance skills and his Broadway past.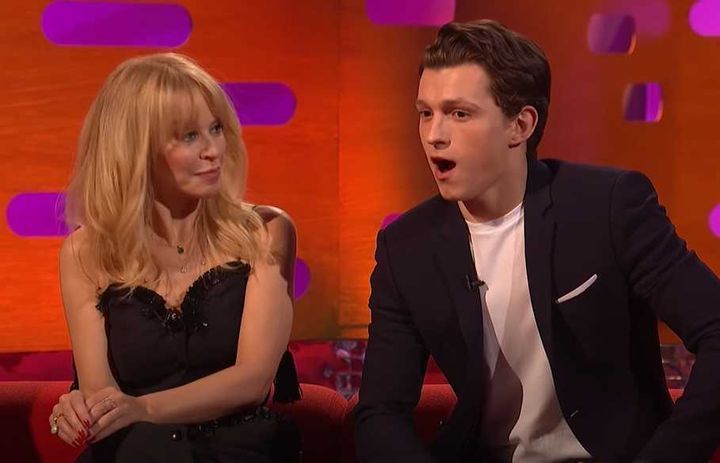 Madonna asked Holland to show some of his dance moves, but she was generally unimpressed with his impromptu performance. The funniest part of the whole story? Holland's younger brother had no clue who Madonna was when Holland told him the story.
The David Letterman-Cher Showdown
Cher took nearly five years to agree and appear on Late Night with Letterman. Things got off to a confrontational start when Letterman got right to discussing why she didn't want to do the interview. So, what was her reason?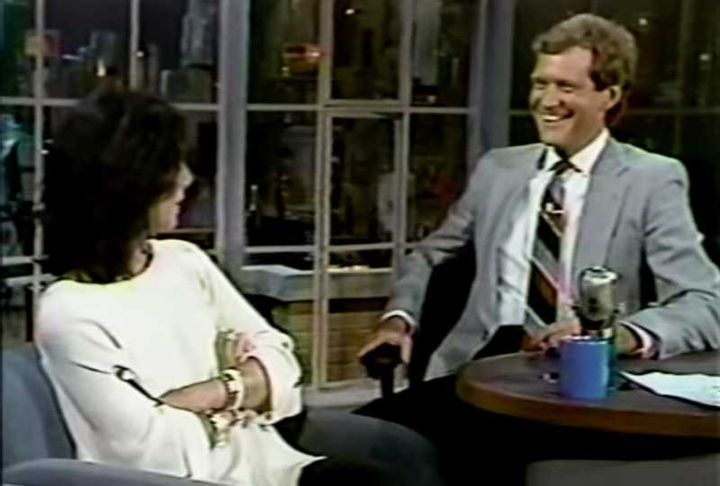 After sidestepping the answer, she finally the host it was because she considered him to be an a-hole. It's still unclear if she was being completely serious or just doing a bit, but to us, it felt like she wasn't kidding. To be fair, Letterman seemed to shake it off.
Seth Meyers and Jon Snow Attend a Dinner Party
Do you recall the time when everybody seemed to only be able to talk about Game of Thrones? Kit Harington's Jon Snow actually made an appearance on Late Night with Seth Meyers, and during a hilarious segment, Meyers brought Harrington's character to a dinner party.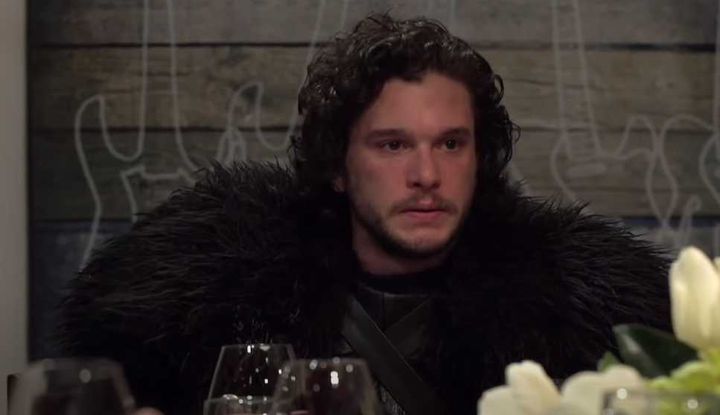 It's hilarious to watch the GOT character outside of the context of his show, trying to implement dinner party etiquette, but Jon Snow is far from a good guest. The funniest part came during a game of charades when Meyers says, "you know nothing, Jon Snow."
Tensions Between Burt Reynolds and Marc Summers
It's rare that guests on a talk show openly dislike each other, but when they do, it's really bad. This was what happened with Burt Reynolds and Marc Summers on The Tonight Show with Jay Leno. The two quickly started insulting each other after Summers made fun of Reynolds' past marriages.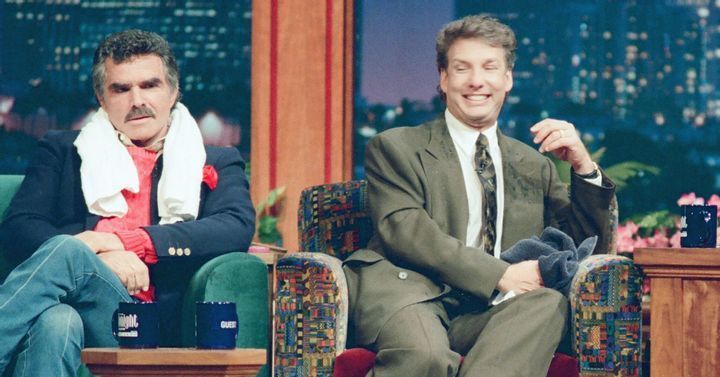 This led to Reynolds spilling water onto Summers. Things only got worse from there, and the interview ended with the two men throwing pies in each other's faces. The real question is, who provided them with the pies?
Bill Hader Stars in Point Pleasant Police Department
The Tonight Show Starring Jimmy Fallon, is known for the hilarious comedy sketches like the one featuring former SNL cast member Bill Hader. Point Pleasant Police Department was modeled after an '80s cop series with Hader and Fallon playing policemen.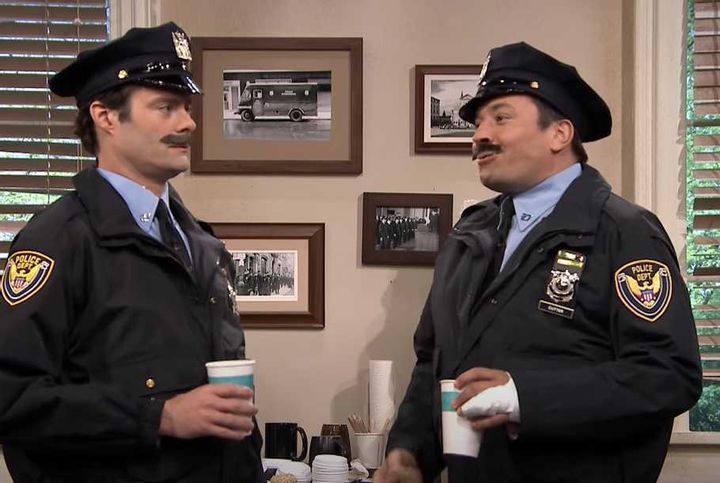 The two of them stuffed their mouths with food while emphasizing any word with "P" in it. Food kept falling out of their mouths and onto the other's faces. While it wasn't the most sophisticated humor, it was a joy to see the SNL alumni not shy away from getting messy for laughs.
Jimmy Kimmel's Cringey Question For Katherine Langford
Sometimes interviews can go astray, and jokes aren't guaranteed to land. It's still unclear what happened when Jimmy Kimmel interviewed Katherine Langford, the actress from 13 Reasons Why. Kimmel asked the Australian where she learned English from.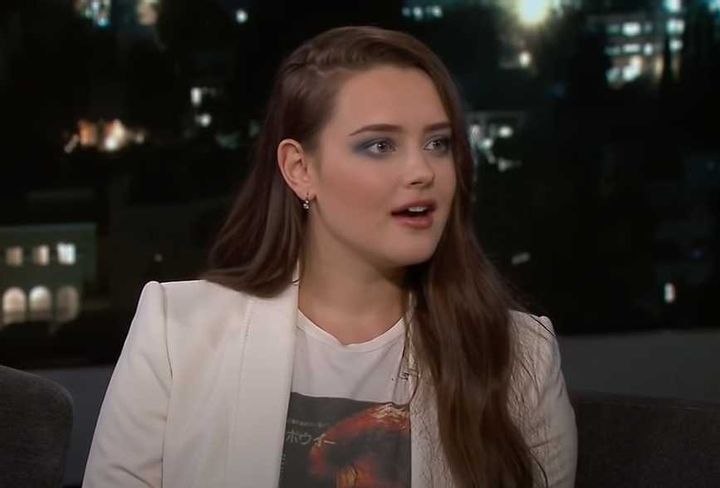 He very quickly realized how absurd a question that was and reworded his question to when she learned "regular English" that was spoken in the United States. Langford kept a poker face as she answered his question, which would've been a lot less awkward if he would've asked about accents instead.
James Corden vs. Gordon Ramsey in a Cook-Off
If we're talking about celebrity chefs, Gordon Ramsay is one of the best. We didn't have high expectations when James Corden challenged Ramsay and his daughter Matilda to a cool-off of an English breakfast. Corden even shared that he had only made an English breakfast after a night out.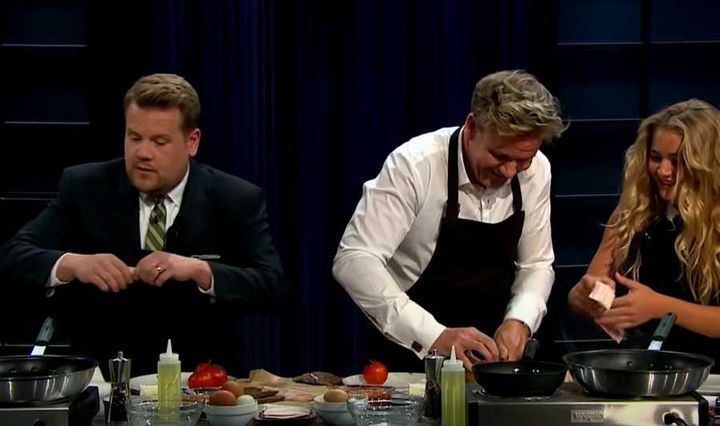 In classic father-daughter fashion, Ramsay and Matilda had difficulties working together. Ramsay was frantic and actually burned the bacon before his pan was set on fire. What would happen if one of the contestants on MasterChef had a performance like that?
Miriam Margolyes Doesn't Recognize the Other Celebrities on the Couch
Miriam Margolyes is a regular and beloved guest on The Graham Norton Show. She's known for her hilarious antidotes and lack of a filter. Those two aspects combined leave viewers dying from laughter each time the Harry Potter actress is on the show.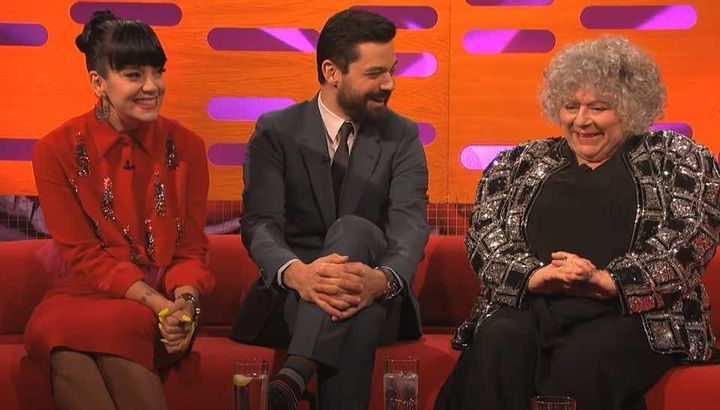 During one visit, Miriam Margolyes was seated next to rapper will.i.am on the couch and said that she had no idea who he was. Another time she was seated next to actor Dominic Cooper. When Cooper's movie Mamma Mia! was brought up, Margolyes obviously didn't recognize Cooper was quick to share how dreadful she thought it was.
Nicole Kidman: Jimmy Fallon's "One Who Got Away"
Even celebrities have uncomfortable dating stories, and during an appearance on The Tonight Show Starring Jimmy Fallon, Nicole Kidman and Jimmy Fallon reminisced about their first meeting. But each of them remembered the events very differently.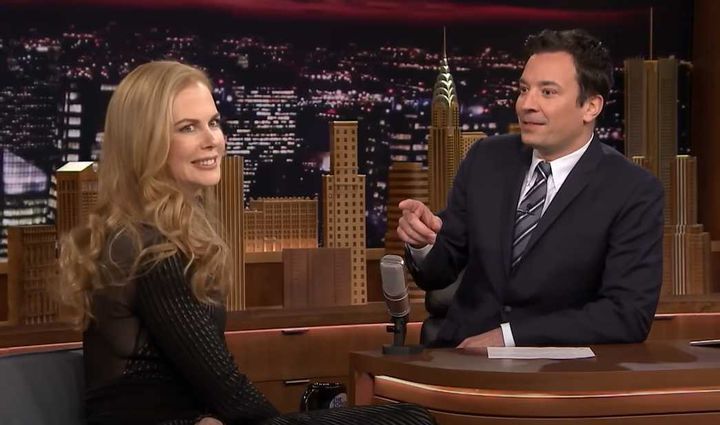 Supposedly, the actress had a crush on Fallen, and the two were brought together through a mutual friend, and Kidman thought it was a date. During that first meeting, Fallon had no clue she was interested in him and only found out during the interview. He was obviously a little embarrassed that he didn't recognize the signs back then.
Drew Barrymore Dances on Letterman's Desk
After catapulting to stardom as the adorable girl from E.T. the Extra-Terrestrial, Drew Barrymore proved she had grown up to be a bit wild on Late Show with David Letterman. While the interview started off normal, it quickly shifted after Letterman brought up the actress' recent trip to a club.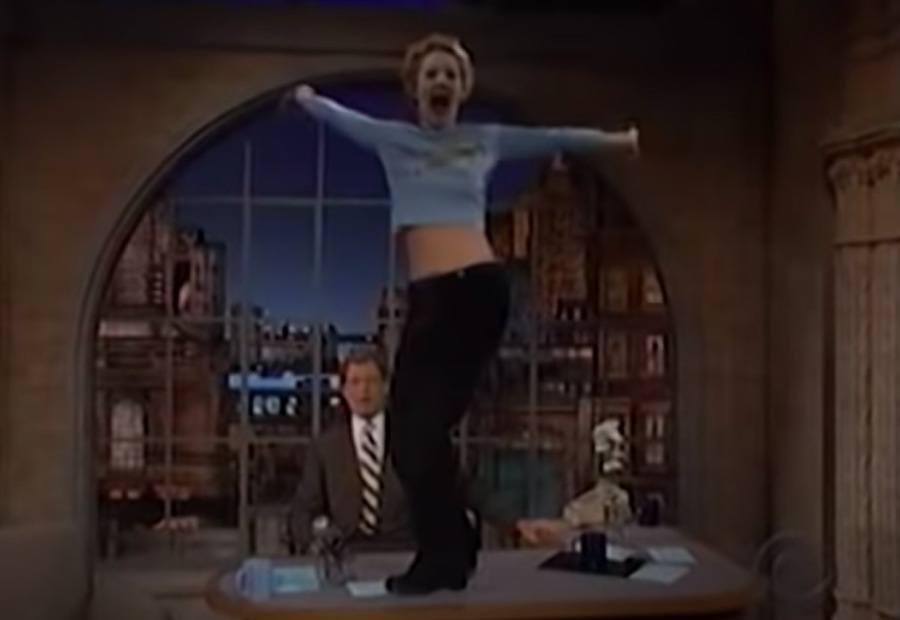 And what happened next shocked viewers… Barrymore surprised everyone when she leaped onto the host's desk and flashed the audience. Courtney Love attempted to replicate it in one of her interviews, but it didn't have the same effect as Barrymore's.
Conan Pranks Tom Hanks With Whales
Guests dress nicely for late-night interviews, and we're guessing that Tom Hanks wore one of his better outfits because he had no clue that he was going to make such a splash. While Hanks was glancing at the whale backdrop behind him, a whale emerged from the water and created a gigantic splash that completely soaked Hanks in water.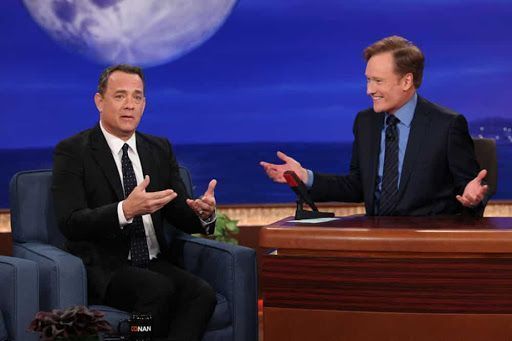 Unsurprisingly, Conan remained completely dry. Thankfully, the actor had a good attitude about it—he even dumped his mug of water onto his head for a finishing touch.
Conan Snuck in a Vocabulary Lesson
In an interview with Jennifer Garner, Conan brought up the time she snuck through a room. The actress was quick to correct him by interjecting "sneaked" and followed that up by suggesting that "snuck" wasn't a word.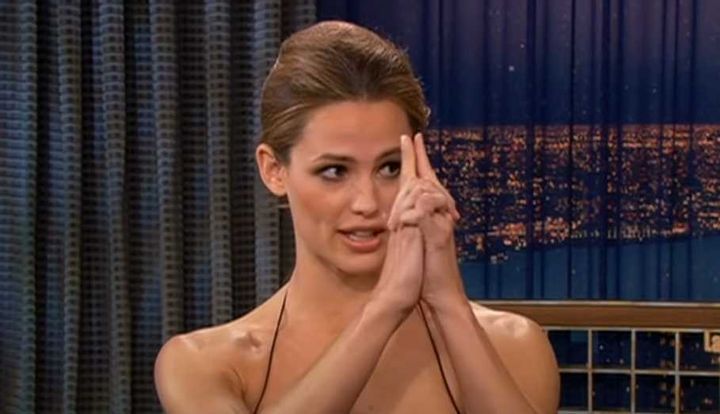 Garner even brought Conan's Harvard background as a way to shame him for his vocab mistake. But "snuck" is an actual word, so later in the interview, Conan pulled a dictionary out from underneath his desk to prove Garner wrong. He rubbed it in a little that she was incorrect.
David Letterman Hates on Justin Bieber's Tattoo
While Justin Bieber is now basically synonymous with tattoos, during the first years of his career, he was tattoo-free. To honor the release of his 2012 album, Believe, the musical artist gifted himself with a new tattoo.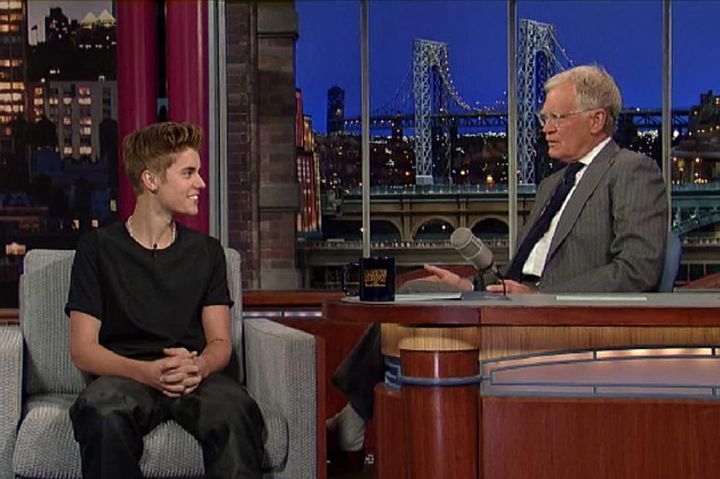 Letterman, who's more old-school when it comes to ink, wasn't happy to see the new body art. He even asked Bieber not to get anymore and then grabbed Bieber's arm to attempt to rub the ink off. It looked like a parent lecturing their kid. Some opinions are better not to share publicly.