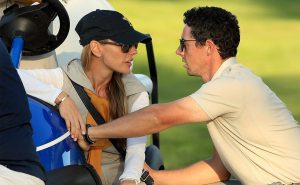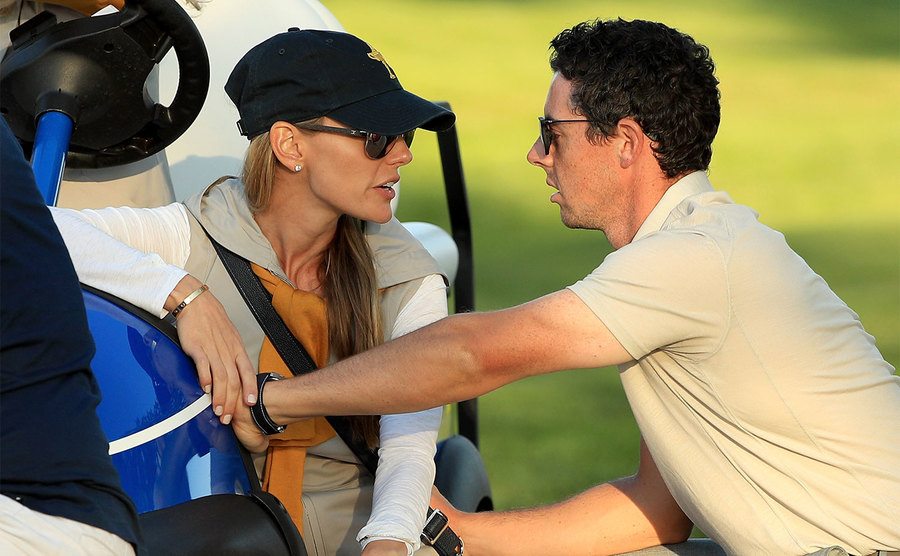 Look Directly at the Golf Course for the Good-Looking WAGs
By Yuri S.
---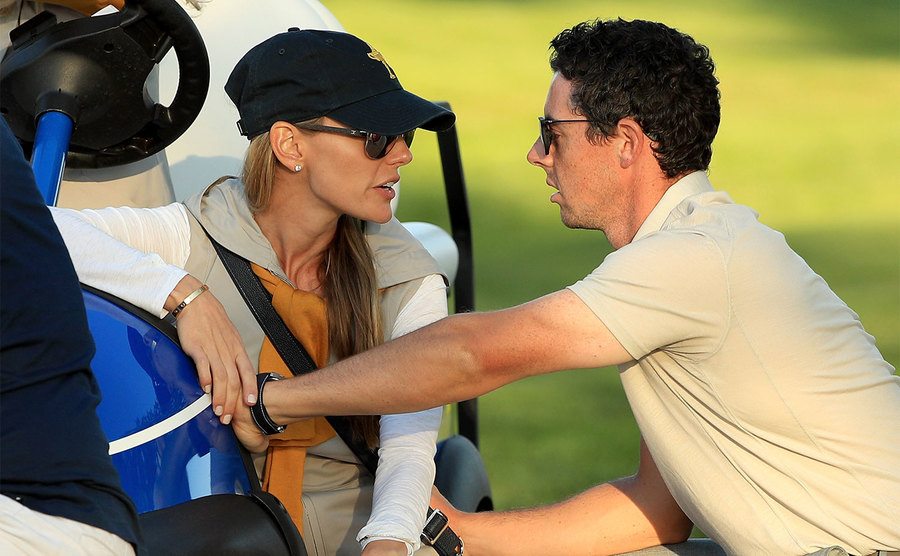 This might sound cliché to you, but there's a saying that goes, "Behind every great man, there's a beautiful woman." Or something like that. We're not saying this is always true, but there are quite a number of instances where we've seen why this saying exists in the first place.
Athletes generally have the most beautiful women at their back, side or wherever. They just somehow get the best girls. We're still trying to figure out why that is. But one thing we've actually figured out is professional golfers have the hottest WAGs! We're not even joking right now.
Golfers and Beautiful Women: A True Love Story
Golfers love to tee it high and let it fly while smiling on the way to the bank with their lucrative deals and endorsements. And it's not just that. These guys also attract some of the world's most beautiful women to share their lives with. This is what dreams are made of.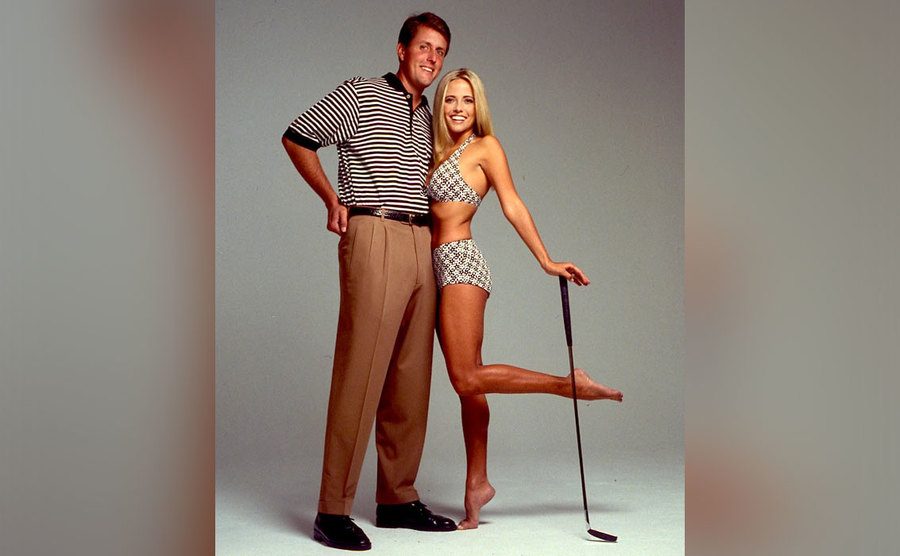 While some of these WAGs are private, others love the glitz and glamour. From social media posts with sizzling pictures to public appearances, they let us know! It's no wonder some people, like us, believe golfers have the hottest girls. Of course, we have proof. Read on to see why!
Paulina Gretzky with Dustin Johnson
There's no doubt Dustin Johnson is currently one of the top golfers. He is one of the golfers who have earned the most in the last 5 years with regular high finishes in practically every tournament he's played. Well, it turns out Dustin isn't only winning on the golf course!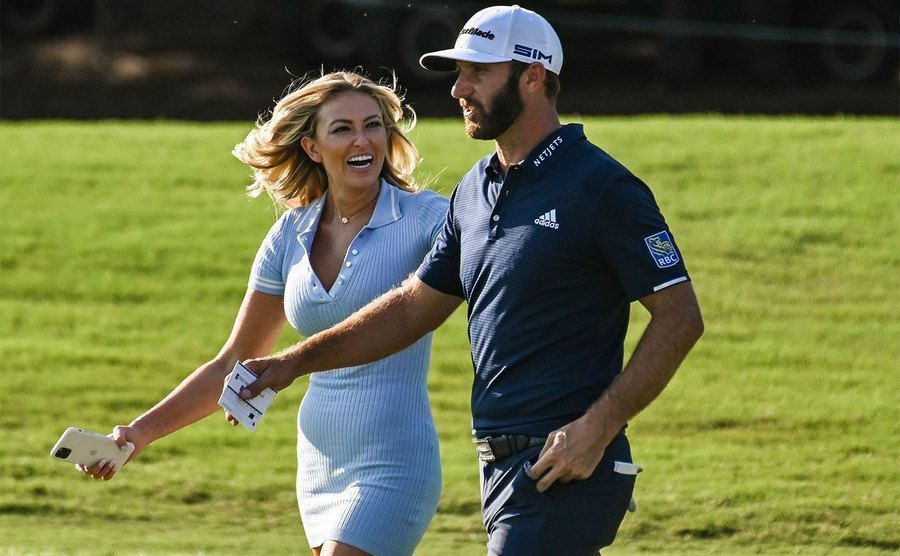 He's winning off it too. He's done exceptionally well in the wife department, scoring a 10/10 in Paulina Gretzky. Does that name sound familiar? It should! She is the daughter of Wayne Gretzky, the legendary hockey player. Of Dustin's 25 professional wins, you'd agree Paulina has to rank number 1.
A Match Made in Heaven
Every time Dustin Johnson rocks up to a major tournament to compete, all eyes are on him. And not just him, but on Paulina Gretzky too. They're one of the most photographed golf couples on the planet, which says a lot about how well they complement each other.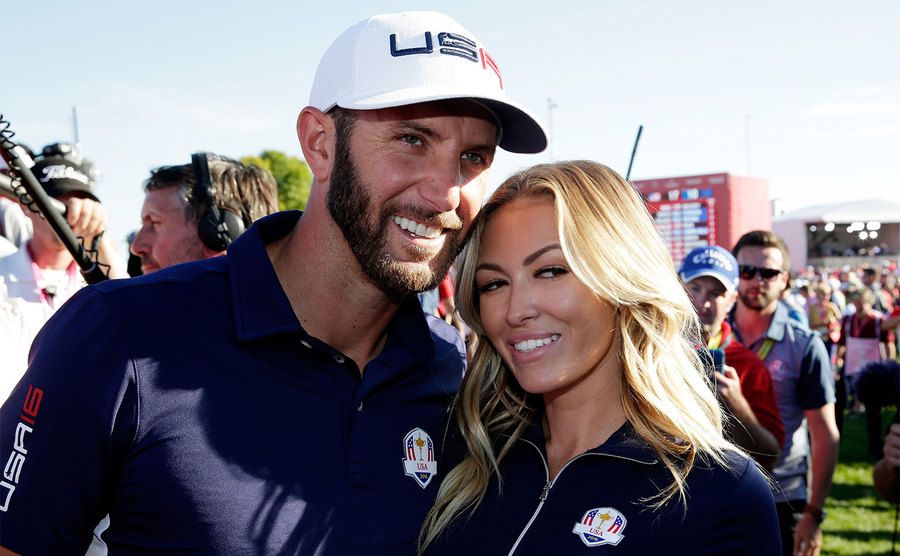 Gretzky is a regular on lists of hot sports WAGs, which is unsurprising. They first met in 2011 at a dinner hosted by Janet Jones, Paulina's mother and an actress. The couple have been engaged since 2013, but have yet to tie the knot. They have two sons.
Playboy Wanted Paulina Gretzky
Paulina Gretzky might have a popular father, but she has also made a name for herself, mostly due to her stunning looks and her presence on the golf course with fiancé, Dustin. She has also achieved success as a model. In fact, Playboy magazine once approached her!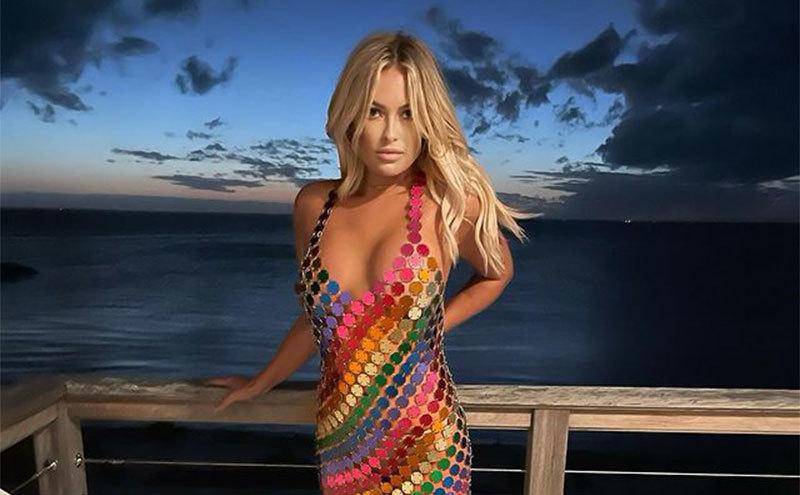 Playboy approaching one of the hottest women alive? Water is wet. After the famous magazine contacted her, she did turn the opportunity down. We assume that's saying no to a big payday, but the word on the street is she did that because Dustin had reservations.
A Career of Her Own
Gretzky isn't merely one of the most attractive golf partners. She has a multi-faceted profession and is accomplished in her own right. She is a singer and actor in addition to being a model. She got a taste of the spotlight after performing I Will Remember You in Edmonton.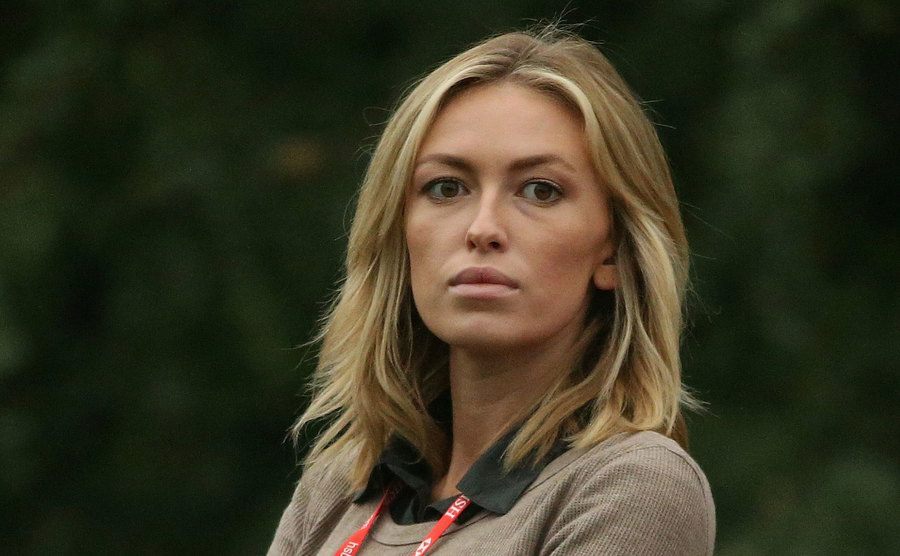 At the 2004 Stanley Cup game in Toronto, she sung the Canadian national anthem. She has performed in TV series and movies like Grown Ups 2 and Fame. However, most of her roles were minor. Her magazine covers for Flare and Golf Digest were among the most loved by fans.
Sophia Phalen Bertolami with Bryson DeChambeau
Bryson DeChambeau was regularly in the news during the lockdown and even after. Why? He packed a ton of lockdown muscles and started giving us Hulk vibes. And there was also the issue of him using the same-length irons. All the irons also have unique names.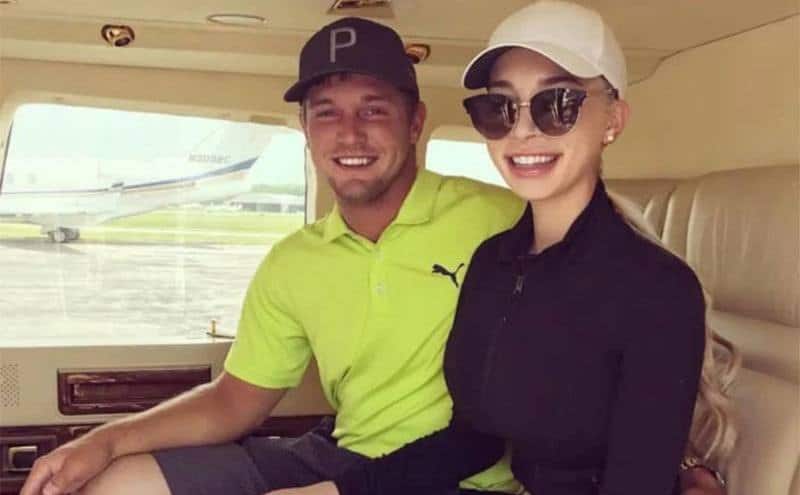 But the news that has really cut the eyes (in all sense of the expression) is having a stunning girlfriend. Enter, Sophia Phalen Bertolami. Ooooh! Sophia will arguably always make top ten when listing the most beautiful partners of golfers. And it isn't difficult to see why.
Sophia Owns a Swimwear Brand
Sophia Phalen Bertolami earned a bachelor's degree in Kinesiology and Nutrition. As a result, she likely is a significant reason why DeChambeau is packing on the muscle thanks to her continuous supply of protein shakes and steaks. She is an entrepreneur in her own right.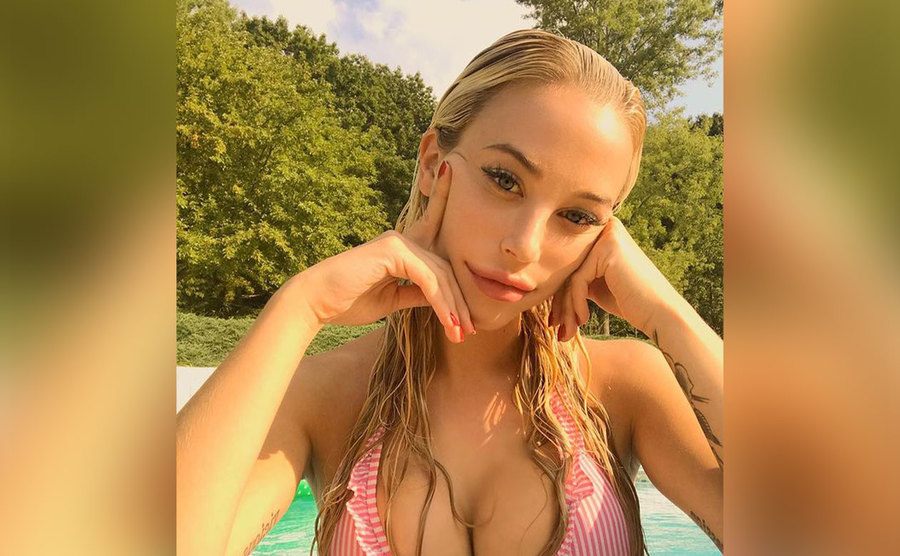 She has a swimwear brand focused toward women with large cups. We'll leave you to figure out how she got such a great idea. She is an Instagram model and also the owner of a 100-pound pig. No, you don't need to read that again. Yes, it's real pig.
Gabby Granado and Gary Woodland
Another WAG that easily makes the list is Gabby Granado. She is the wife of Gary Woodland, who began his professional career in 2007. Woodland has one European Tour win and four PGA Tour wins. And with such big hits in his career, his biggest hit was perhaps meeting Granado.
Gabby is a businesswoman and also holds a degree in Interior Design. A brunette beauty of Latin ancestry, she leads a private lifestyle. While she is regularly spotted with her husband, especially at important events, she manages to keep her personal life away from the spotlight.
The Couple Had a Private Wedding
Gary Woodland is renowned for being one of the longest hitters on tour. He turned pro after a stellar career at the University of Kansas and has been competing on the PGA Tour since 2009. He met his present wife, Gabby Granado, after transitioning from basketball to golf.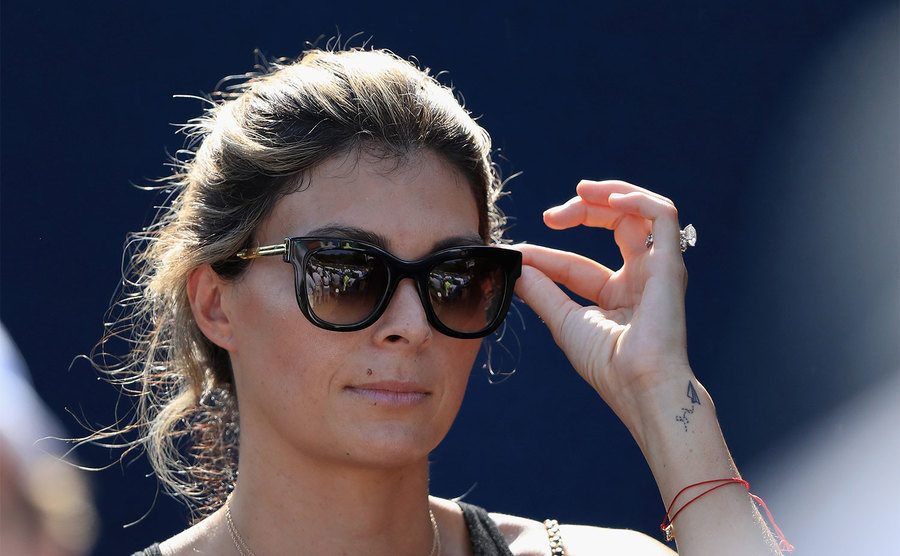 They married in 2016, enjoying an intimate and lovely beach wedding in Turks and Caicos. The couple revealed they were expecting twins in 2017, but sadly, one died. They welcomed a second set of twins in 2019. Granado helps Garry manage his golf profession in addition to taking care of their family.
Victoria Slater with Daniel Berger
If there's one person we don't need to explain why they're on this list, it's Victoria Slater. Just a quick visit to her Instagram and you'll easily understand why Slater is one of the hottest golf WAGs. But we warn you, you could fall in love!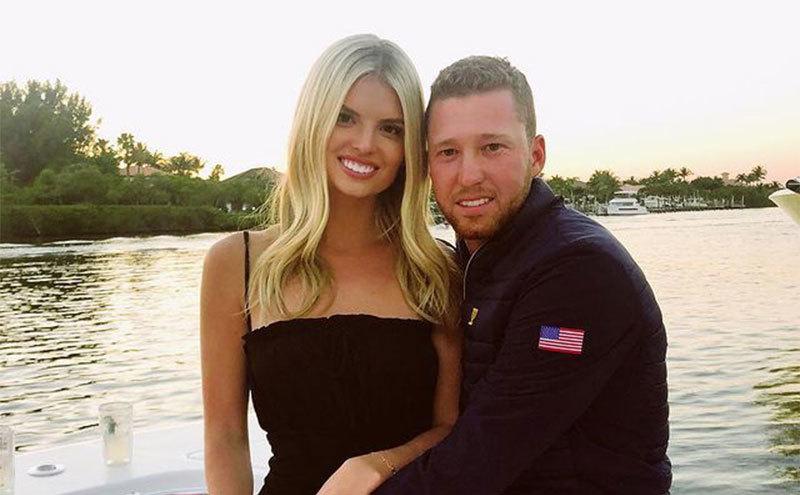 She has captivated Daniel Berger's eyes and affections, which is unsurprising. Victoria, who is often referred to as Tori by her friends, enjoys golf just as much as Daniel Berger does. She graduated from Florida Atlantic University with a marketing degree. She had previously attended the University of Kentucky.
The Hottest Real Estate Agent
Yes, she is one of the most beautiful golf WAGs, but there's more to her than just a pretty face (and body). She currently enjoys a successful career in the real estate industry in Florida. Victoria also has other hobbies such as hot yoga and paddle boarding.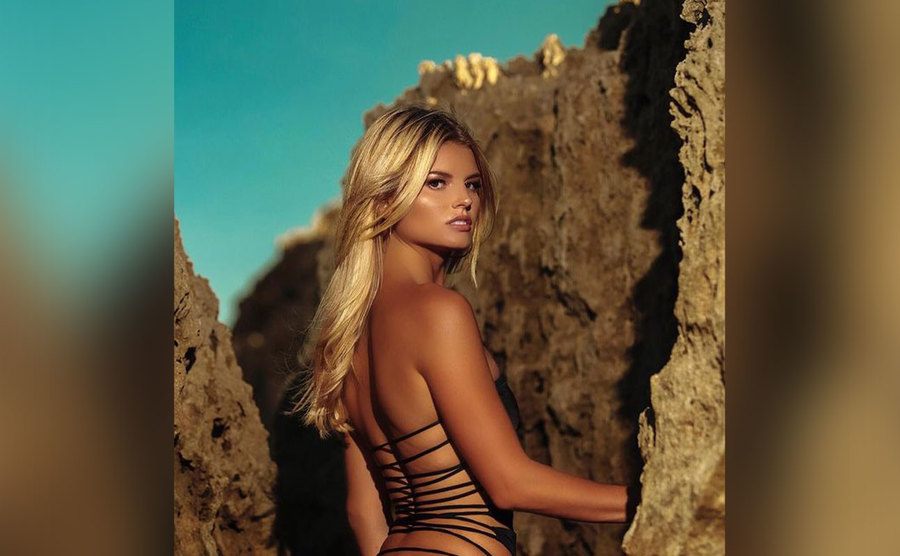 With all these activities, no wonder she's one of the hottest. Tori has always been a fan of Berger's and has accompanied him to several major events. She carried his bag in the 2016 Masters Par-3 Tournament and was also inside the ropes when Berger joined the 2017 Presidents Cup.
Ellie Day with Jason Day
Former world number one Jason Day is married to the beautiful Ellie. A small-town girl, Ellie grew up in Lucas, Ohio. The pair have been married for more than ten years and even after all that time, she still deservedly ranks as one of the most attractive WAGs of golfers.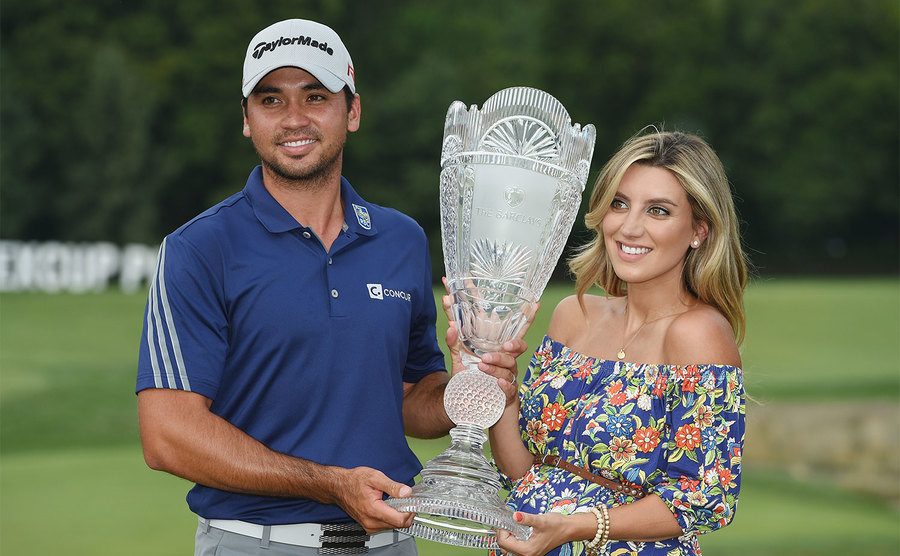 Ellie has been with Jason right from the beginning, even before he started earning big bucks. They met in 2005 while Ellie was working as a waitress in an Ohio restaurant but didn't date until a few years later. They married in 2009 and went on tours in their RV.
Ellie Day and LeBron James Have History
History? The same LeBron James? Yes, the same LeBron James, but hold up a minute before you get too excited. It's not THAT kind of history. But the pair did make the news in 2015 when they met. It was a meeting that ended with Ellie Day on a stretcher.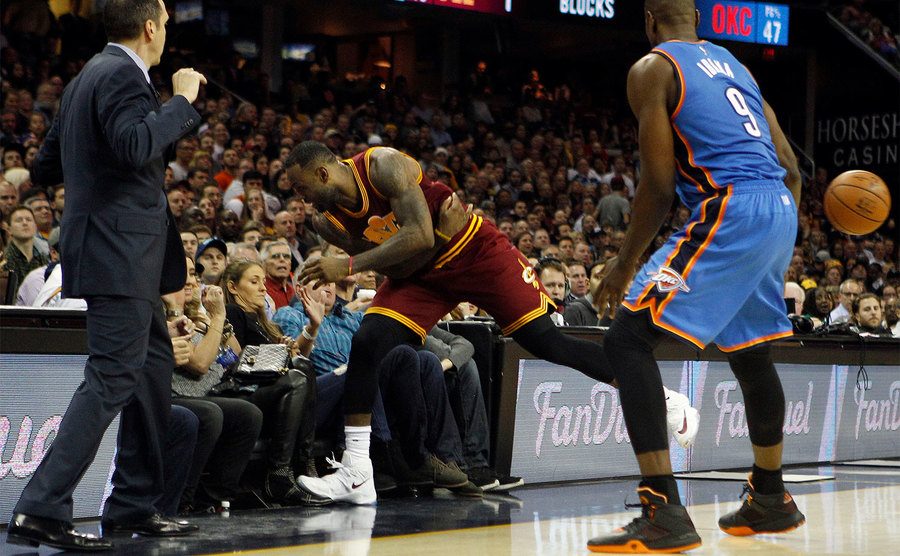 Ellie sat courtside with her husband, Jason, at Quicken Loans Arena, watching the Cleveland Cavaliers take on the Oklahoma City Thunder. During one play, James pushed the ball back into the court before colliding with Ellie and knocking her to the ground. LeBron apologized after the game via Twitter.
Annie Verret with Jordan Spieth
Annie Verret and Jordan Spieth's love story is straight out of a sweet high school movie. The pair go way back and have been lovebirds since high school. But it wasn't until Spieth's victory in the 2015 Masters that the couple made headlines. And Annie got noticed too.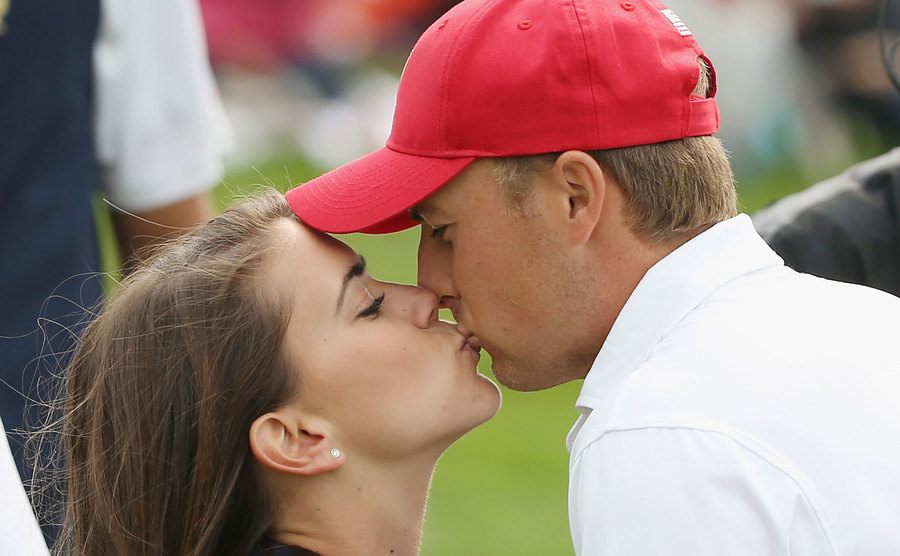 They got engaged on Christmas Eve of 2017, and they married in November of the following year. Verret earned her bachelor's degree in management in 2014. She has worked as an event planner and was (and still is) well-known for her charitable efforts. Jordan got a good one, didn't he?
Annie Verret Leads a Private Life
While many of the golfers' WAGs you'll find on this list love the public life, it's almost impossible to find Annie in a bikini picture. Her social media accounts are kept private, so don't expect to see a lot of steamy shots of this golf beauty.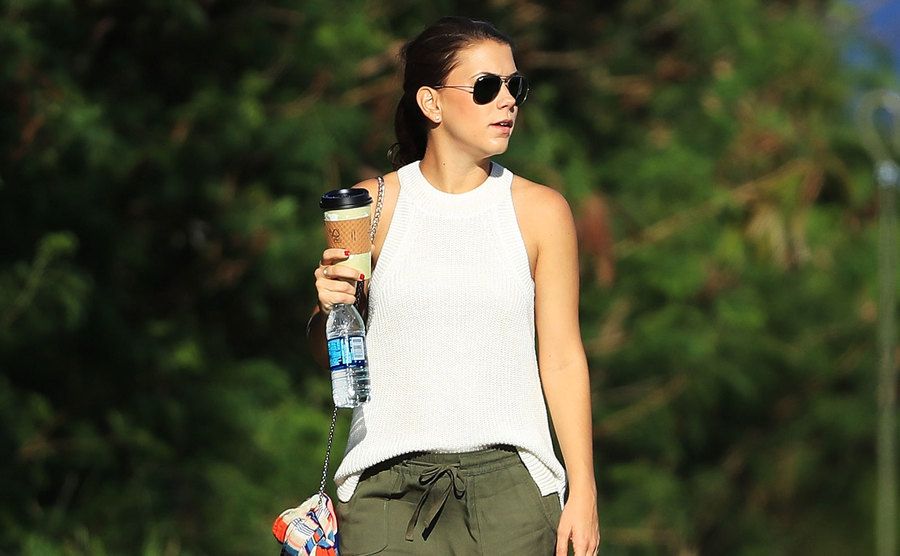 She has collaborated with The First Tee of Greater Dallas. Their goal is using golf to teach young people. She is also the founder and director of The Birthday Project, whose goal is to make disadvantaged children's birthdays more enjoyable. More than 2,500 birthday parties have been organized
Suzanne (Stonebarger) Barnes with Ricky Barnes
Another deserved entry into The Top 27 Hottest Golf WAGs is Suzanne Stonebarger Barnes, the wife of golfer Ricky Barnes. Since Barnes turned pro in 2003, he has had 1 professional win and his highest world rank was at number 58.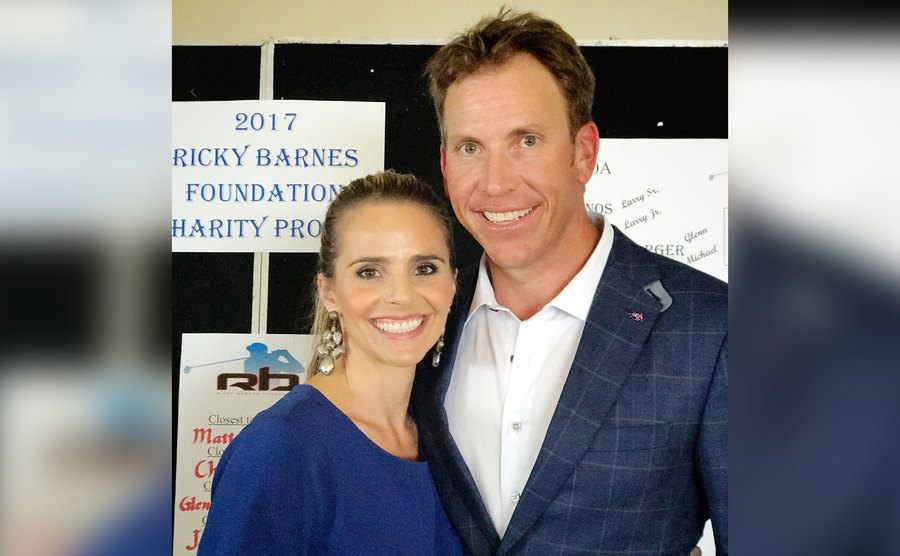 While Ricky Barnes will most likely not be in a list of the top best golfers in the world, he certainly scored 10/10 with his wife, Suzanne. In fact, this list would not be complete without her. She graduated from the University of Nevada-Reno before becoming a pro volleyball player.
She Posed Nude for Playboy
Paulina Gretzky may have turned down Playboy magazine, but not Suzanne Stonebarger Barnes. She appeared nude alongside her volleyball partner, Michelle More, in a 2009 cover of Playboy. The pair were known as Team Gorgeous. Suzanne had a decent career as a volleyball player, among other things.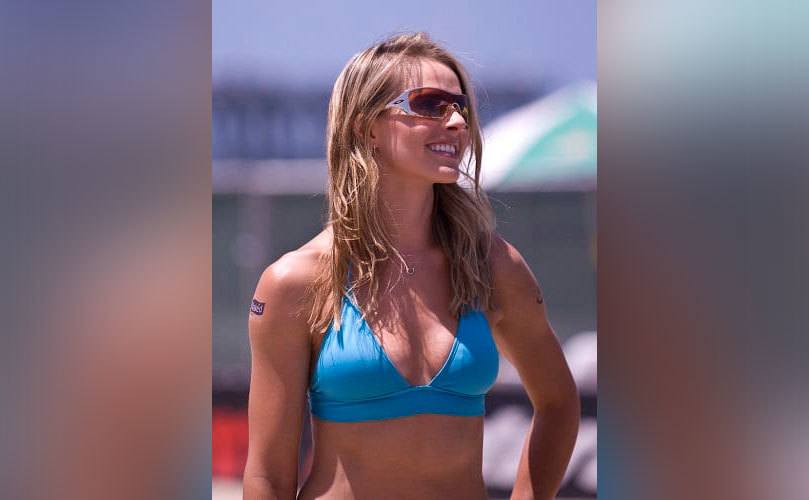 Suzanne and Ricky married in 2010 after getting engaged in Napa Valley during a wine tasting session. The couple now live in Arizona with their three children and enjoy a wonderful family life. Suzanne notes on her Instagram profile that she is "inspiring women to be active and healthy."
Amy Mickelson and Phil Mickelson
She may be in her 50s, which is about twice as old as some of the others on our list. Regardless of her age, Amy Mickelson, the wife of iconic golfer Phil Mickelson, has earned the right to be included on our list of attractive WAGs of golfers.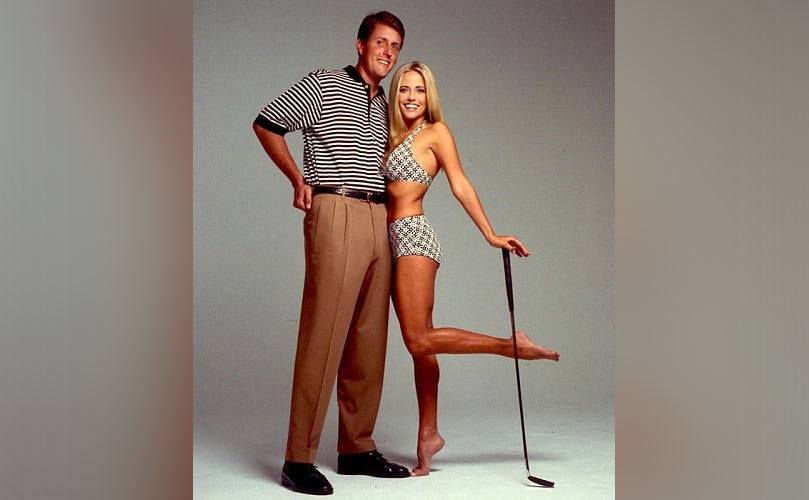 She was a cheerleader for the Phoenix Suns, an NBA franchise. She has also battled cancer. She returned to the course at the 2010 Masters while battling breast cancer and had an emotional embrace with her husband, Phil, as he won his third green jacket.
Amy's Battle with Cancer
Amy was diagnosed with breast cancer in 2009, and Phil suspended his involvement on the PGA Tour as a result. But after an 11-month battle, Amy beat the illness. She has been highly involved in fund-raising for breast cancer research as a result of her experience with this terrible disease.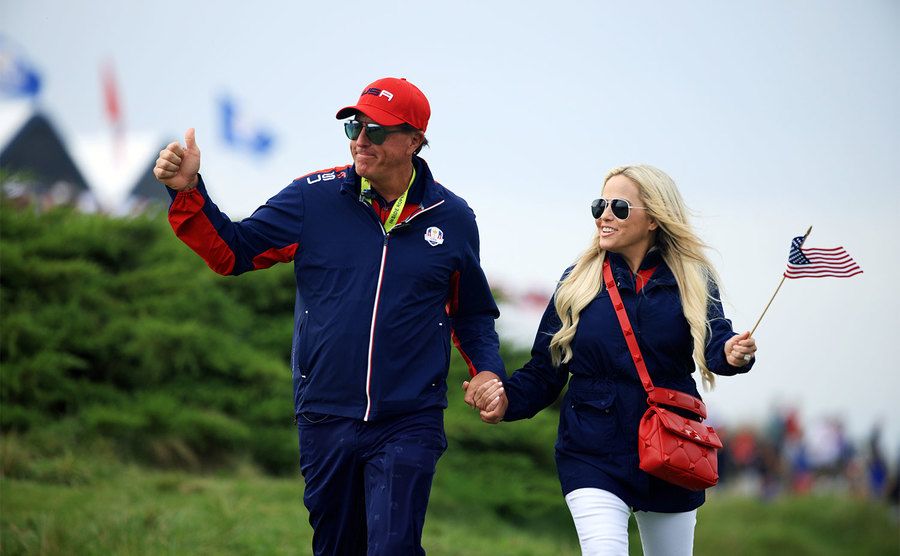 The Phil and Amy Mickelson Foundation was founded in 2004 to offer youths and families help through projects. Phil joined Tiger Woods, Jack Nicklaus, and Arnold Palmer as the only PGA Tour players to host an official tournament when the Foundation hosted The American Express PGA Tour event in 2019.
Amy's Complications During Childbirth
The pair met in 1992 while both were attending Arizona State University. Phil was a senior at the time, and Amy was a junior who was also a member of the Phoenix Suns NBA Cheerleaders. They married four years later, in 1996, and have three children together.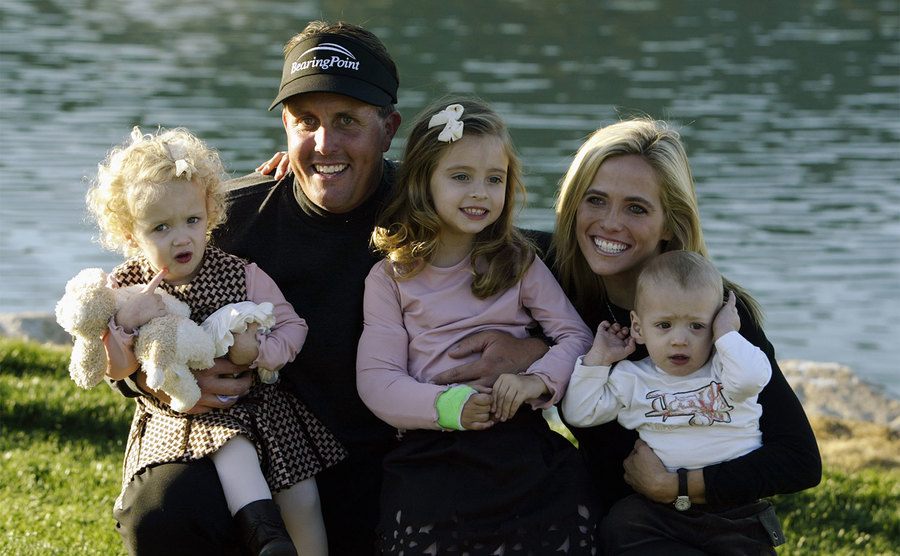 Their first, Amanda, was born a day after Phil finished second to Payne Stewart in the 1999 US Open. Sophia was born in 2001, followed by Evan in 2003. Amy ruptured an artery during Evan's birth, and the baby was unable to breathe for a short time, but miraculously both survived.
Allison Stokke With Ricky Fowler
We know the cliché story girl meets the golfer and boom, stardom. But things are quite different here because Allison Stokke was already famous before she met Ricky Fowler. Her track and field abilities, particularly her pole-vaulting prowess, made her a viral hit at a young age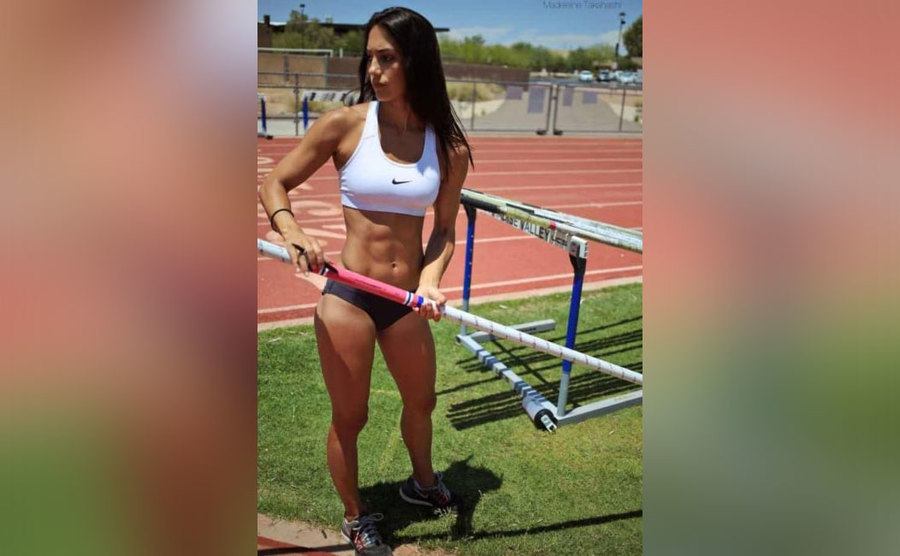 Alison was so excellent in pole vaulting that a photo of her was put on a male sports blog, and despite her solicitor father's best efforts to have it removed, the damage had already been done. She was only 17 and her father understandably threatened to sue.
She Turned It Around
We all know how the internet works. When the damage is done, there's pretty much little anyone can do. Her father's threats to sue made her go even more viral. Not surprisingly, the majority of the comments under her image on the blog were about her looks and not her pole-vaulting skills.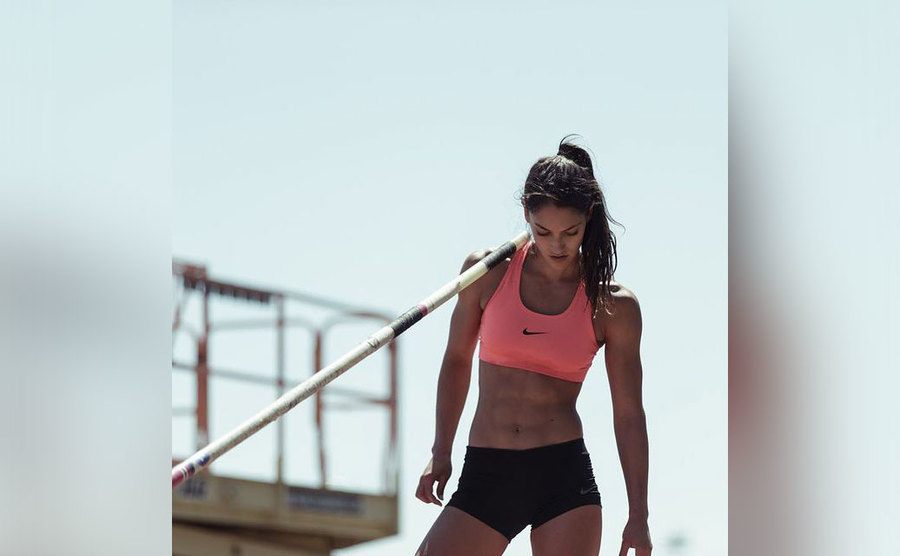 This reportedly upset her. But our heroine wasn't going to let it stop her. She turned it around and went on to become a model for major brands like Nike and Athleta thanks to her social media popularity. Ricky Fowler and Stokke began dating in 2017 and married in 2019.
Jillian Wisniewski with Justin Thomas
Jillian Wisniewski is the girlfriend of professional golfer Justin Thomas. Jillian is one of those WAGs who have a private life. In fact, we don't even get to see her that often with Justin when he's on tours. And bummer, her Instagram is private so we can't snoop.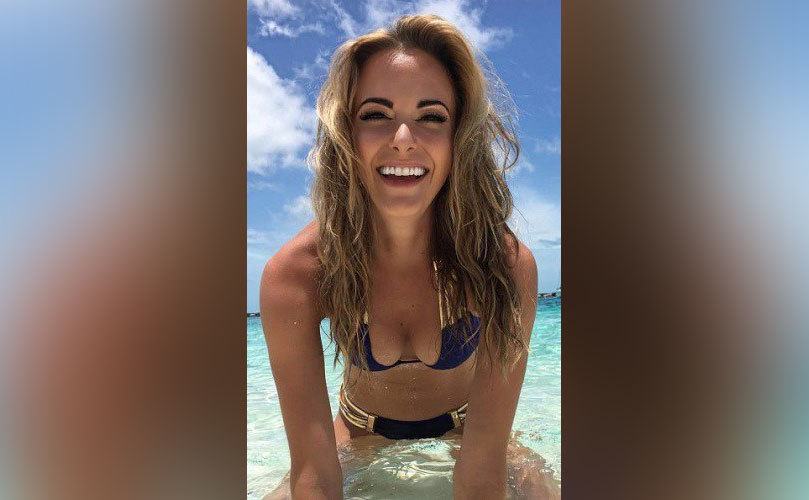 The couple started a serious relationship as far back as 2016, and when you look at it, Justin has been winning on his golf tours since then! We kind of want to mention that saying we talked about in the beginning again. But maybe not yet.
Made for Each Other
Justin Thomas is undoubtedly one of the world's best golfers and has won five PGA Tours in a row! But we're sure of all his victories, nothing could have felt better than winning the heart of such a beautiful woman as Jillian. The pair have been together since 2016.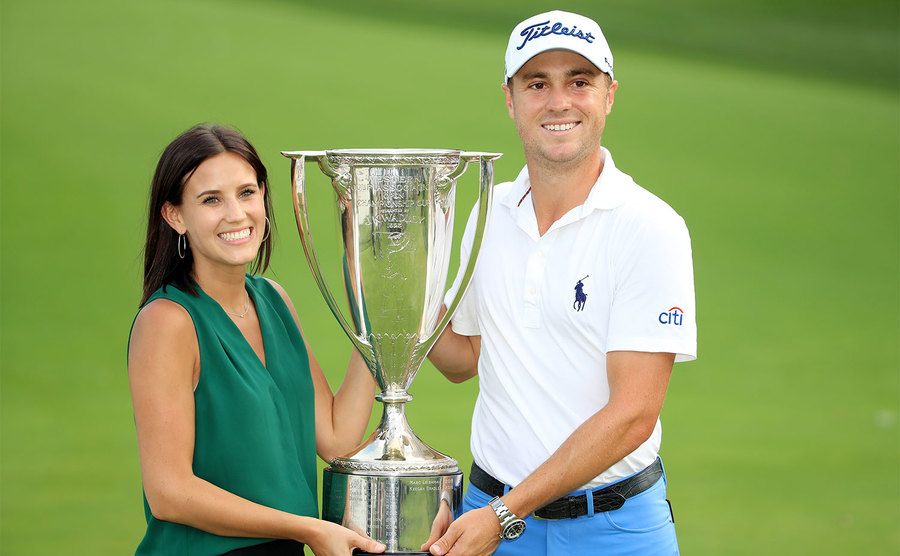 She may not always be on tour with Justin, but we've still seen in her in a handful of events (tours too) together. The couple have traveled to some prominent tours but are currently still unmarried. She has also caddied for Justin on a few occasions.
She Has Achievements of Her Own
Her private life means there's little information about her. But of course, there is more than enough for you to know who she is. She worked at the university's TV department during her university days. She also interned in the broadcast production department of McGarry Bowen during college.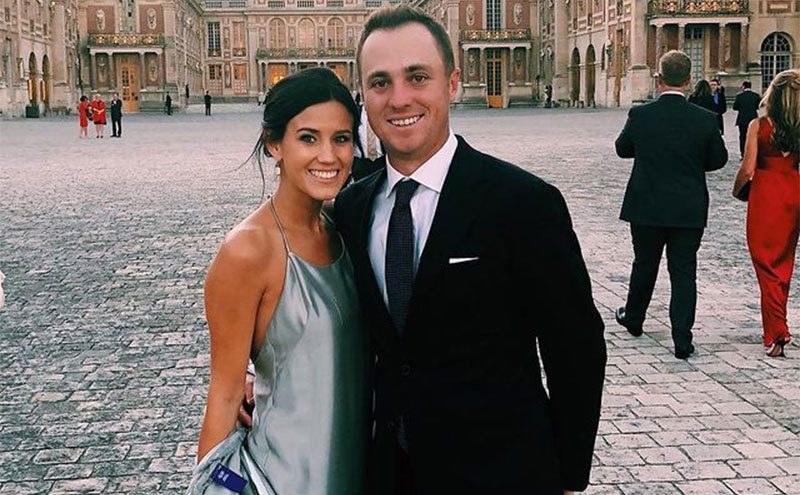 She then worked as an administrative assistant before being promoted to production business manager. Jillian earned her B.A. in journalism from the University of Kentucky. Even though we can't see most of her pictures from social media, we've seen enough to know she deserves her place on this list.
Diane Donald and Luke Donald
One of the standout things about Diane is her maiden surname – Antonopoulos. It's not only a mouthful but can be difficult to spell. Diane is the wife of Luke Donald. Luke cemented his place as one of the best golfers in 2011 when he made the number one spot.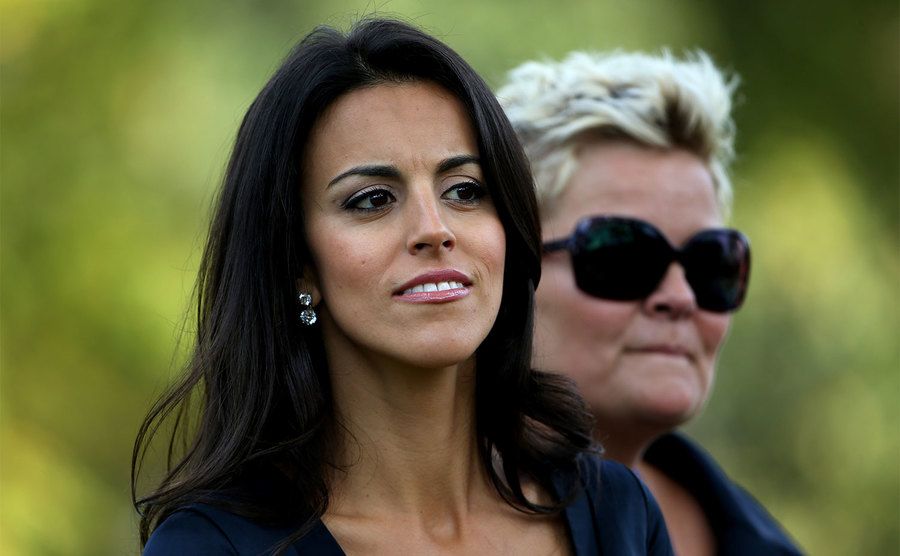 Diane and Luke met at Northwestern University in Illinois, where they were both students. Diane was studying psychology at the time, while Luke was studying painting. Diane was born in Greece, so it's no surprise that the couple married there in 2007. They have three girls.
Taylor Dowd Simpson with Webb Simpson
When Webb Simpson is on tour, he is usually accompanied by his adoring wife, Taylor. They met when they were students at Wake Forest University in North Carolina and have been in love ever since. Webb was a sophomore, and Taylor was a freshman.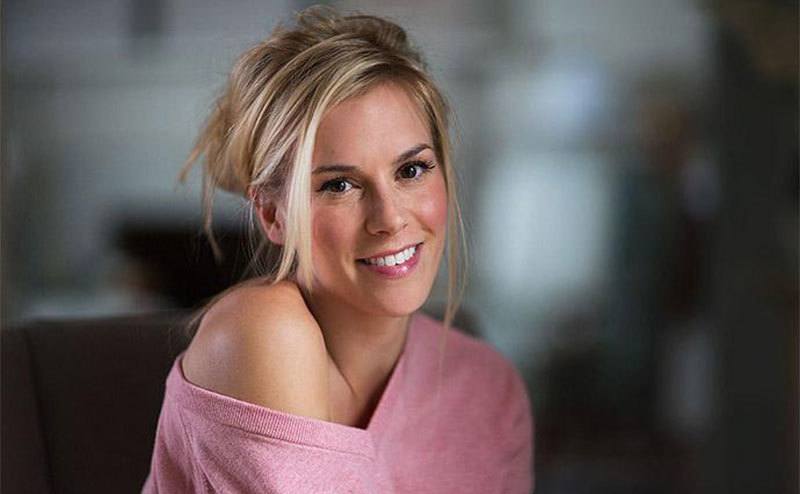 Webb's father reportedly gave Taylor $100 to date his son. Taylor responded by saying that if he is cute, she will date him for free. Sadly, they broke up after college. But true love does find a way because they were back together a year later.
A Good Career and a Family Woman
Taylor is another example of golfers' WAGs that have done pretty well for themselves besides just being the partners of celebrities. She is a professional actor. She chose to put her career on hold to focus on raising her family. Taylor is recognized for her kind demeanor.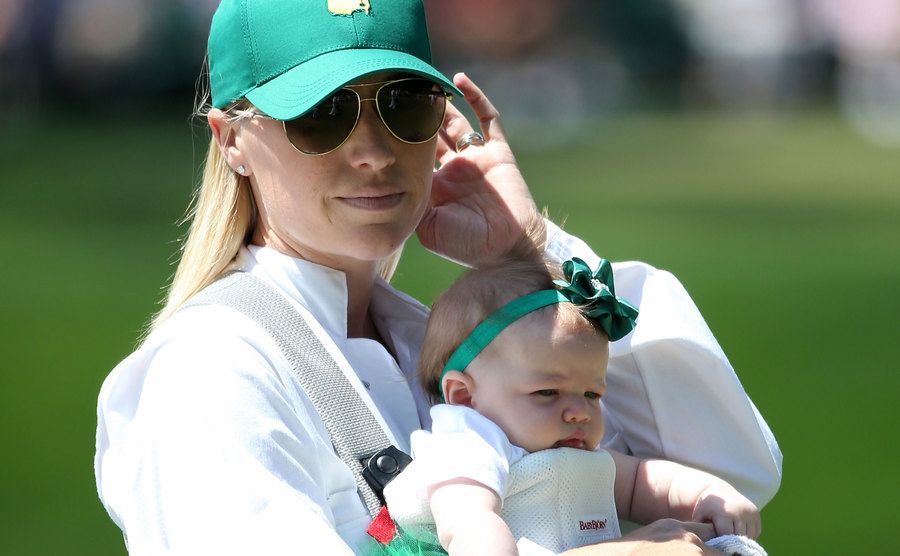 She has five kids and despite this, she is in excellent shape. And quite frankly, that's no easy feat! We're not sure she's big on social media but if you want to see more of her, Webb Simpson adores her, and she can be found on his page.
Angie and Bubba Watson
One of the standout things about Angie is her height. She is one of the tallest on this list and amongst golf WAGs, standing at a domineering 6'4". Bubba Watson is one lucky man to have her. We weren't surprised to find that she played basketball, given her height.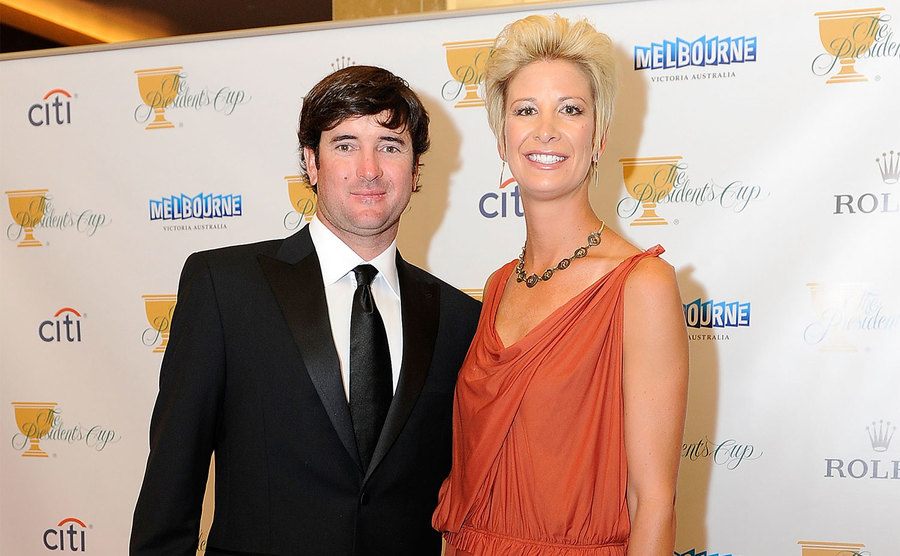 But it wasn't just a pastime if that's what you're thinking because it was pretty much a profession. She was a member of her university's basketball team and they made it to the Final Four in 1999. She also played in the WNBA for the Charlotte Sting for one season.
Bubba and Watson Met in College
Yes, they both met at the University of Georgia, but not as students. Bubba was playing pick-up basketball with Angie watching on the sidelines. She was knocked down (remember LeBron), and Bubba was gracious enough to approach her. That was the beginning and they both went on a date after.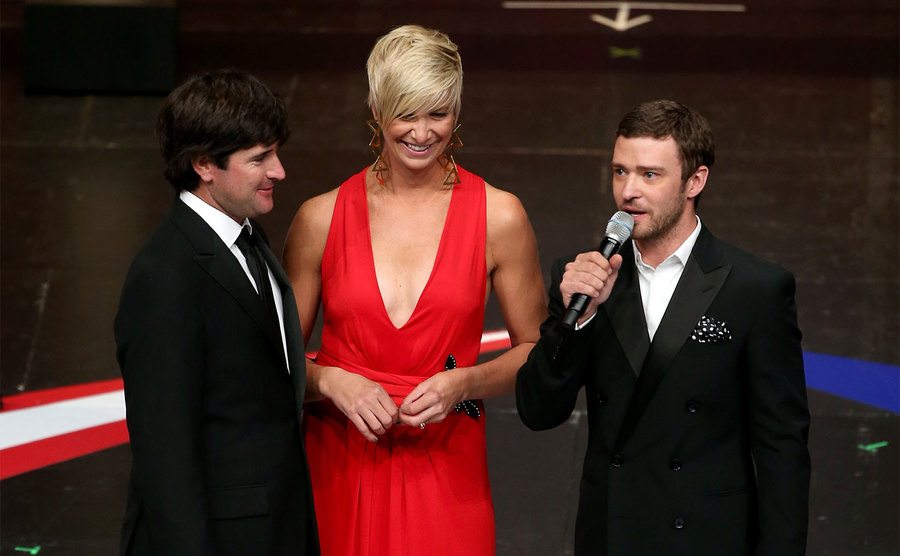 In 2004, Bubba and Angie married. They have two adopted children who are still in contact with their biological parents. Angie does not have an active and public social media presence, like many of the gorgeous wives and girlfriends of golf professionals who want to keep out of the spotlight.
Jena Sims and Brooks Koepka
Before we go on, we would like to place on record that any list of the most beautiful and hottest wives and girlfriends of golfers that doesn't include Jena Sims should be canceled. No, we're not even joking and you'll see why very soon. She deserves her accolades.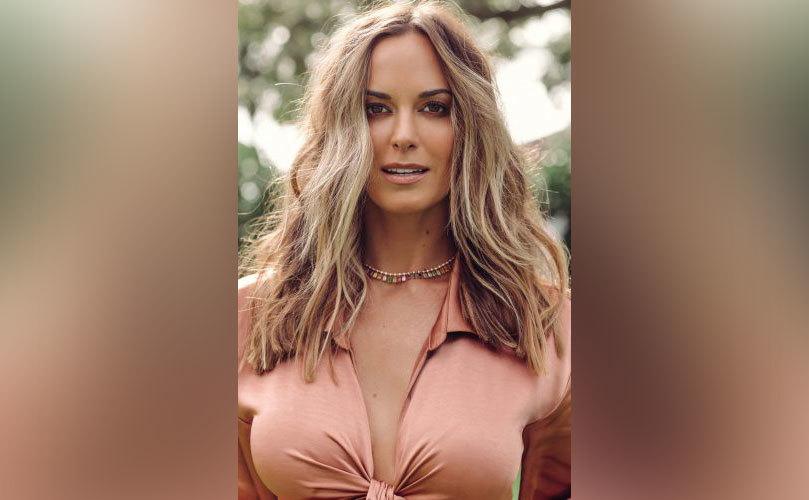 Just a quick online search and you'll know why she's on this list. Her physique is just magnifique! With her raunchy photos, who wouldn't fall in love with this absolute goddess? So, yeah, we totally understand, Brooks. And we're sure she has more sexiness in her personality.
An Actress and a Beauty Queen
Jena is an actress and a former beauty queen from the US. She was crowned Miss Georgia Teen USA in 2007. Besides her attractiveness, she also has a warm heart. She is the founder and director of Pageant of Hope, a non-profit organization that organizes beauty pageants for underprivileged people.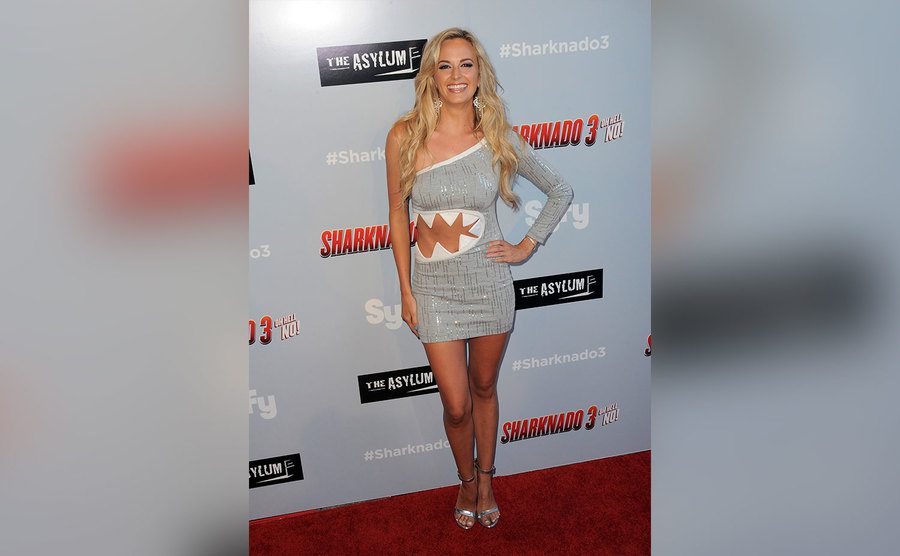 Jena announced her engagement to Brooks, a four-time PGA Tour major champion, in April 2021. It was after their engagement that Brooks had his knee surgery. Jena isn't afraid to be in the spotlight. She doesn't mind flaunting her physique, as evidenced by her clothes and bikinis.
Erica Stoll and Rory McIlroy
Erica McIlroy is another woman with a smoldering appeal, deserving of a spot on our list of the sexiest and hottest golfers' WAGs. You'll remember McIlroy was supposed to marry Caroline Wozniacki, a tennis player, in 2011. But the pair split shortly before their wedding in 2014.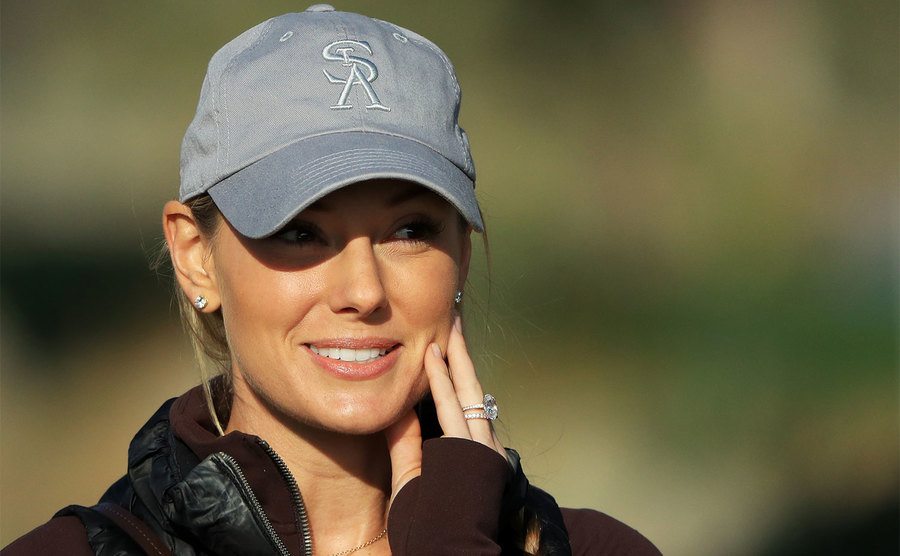 Erica previously worked for the PGA. In 2012, in the Medinah Ryder Cup, she was tasked with waking Rory up and helping him with his caddie after he overslept. They went out after that and married in a star-studded wedding featuring Chris Martin, Niall Horan, Ed Sheeran, and Stevie Wonder.
Erica Stays Away from the Spotlight
Erica Stoll is yet another one of the beautiful wives and girlfriends of pro golfers who prefer to stay away from the glitz. Even though she is married to one of the best golfers the game has ever seen, she prefers to stay away from the spotlight.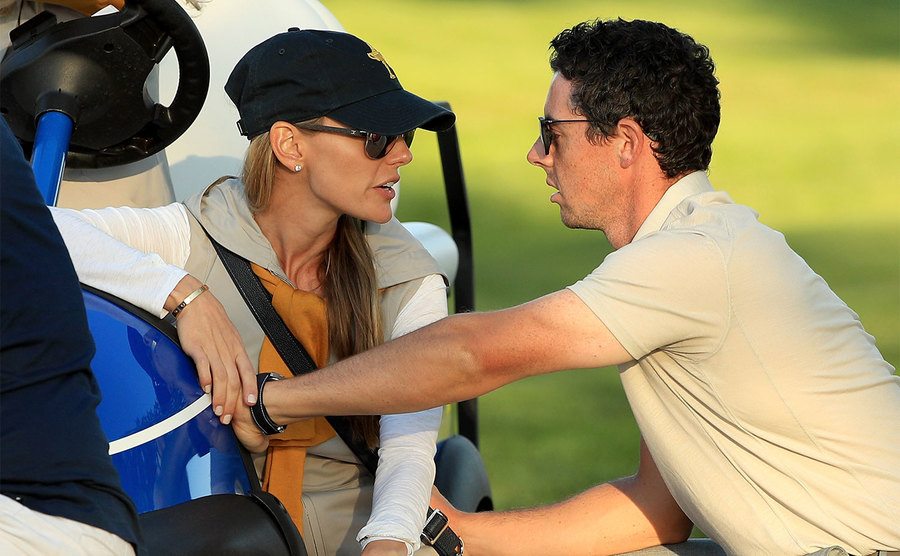 She's obviously not big on social media platforms and prefers to stay in the background, keeping a low profile. We just said she isn't big on social media platforms because we don't know of any social media page she currently maintains. But she certainly deserves a place on our list.
Pollyanna Woodward with Paul Casey
Paul Casey was born and raised in England before joining the European Tour in 2001. While he is now ranked 27th on the Official Golf Ranking list, he was able to achieve his personal best in 2009, when he was ranked third. His first wife was Jocelyn Hefner.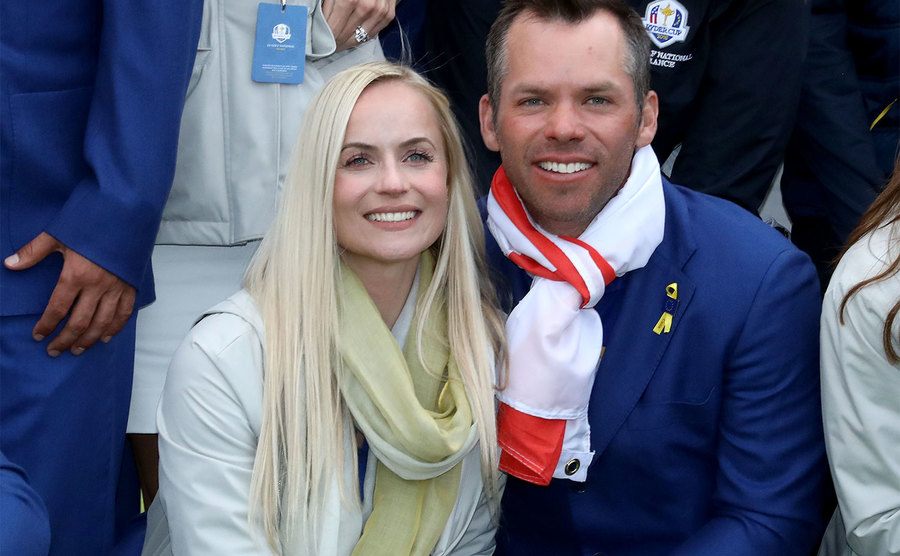 The couple divorced in 2011 after three years of marriage. In the same year, he began dating Pollyanna Woodward, a television personality. They became engaged a few years later, gave birth to a son called Lex in September 2014, and married in January 2015. Pollyanna certainly deserves a spot!
Kandi Harris with Hunter Mahan
We can genuinely find no reason why there could ever be a reason for Kandi Harris' omission in any list of the hottest wives and girlfriends of golfers. We're sure you'll agree with us too. Kandi Harris is the wife of Hunter Mahan and the couple got married in 2011.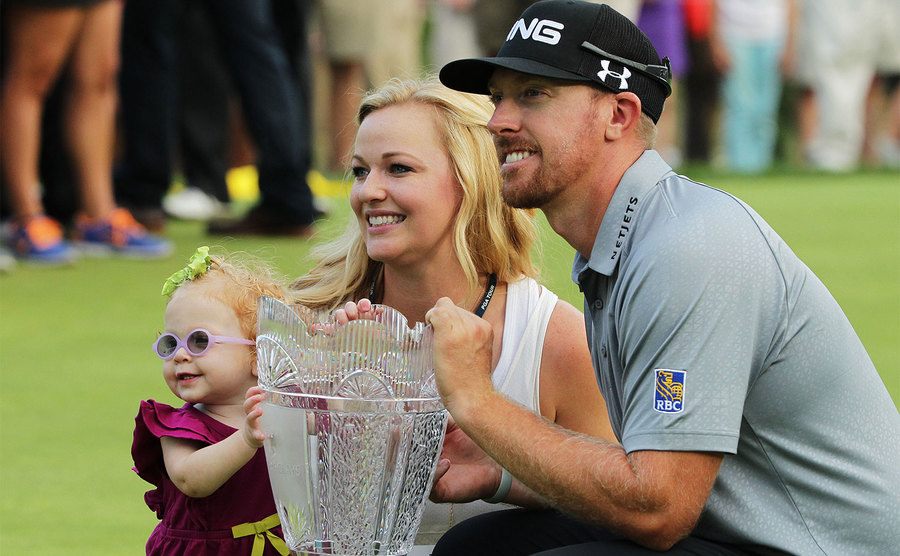 They currently have three children and are enjoying a great family life together. As if the above picture isn't enough reason to justify her inclusion in this list, we're happy to give you more reasons! Kandi is a former Dallas Cowboy Cheerleader and Dallas Mavericks dancer.
A Cheerleader Who Keeps Things Private
Any sports fan knows how attractive cheerleaders are! Some are guilty of going to games because of them. Hunter is fortunate to have her as his wife for that reason. There are so many qualities about her that will turn heads, from her blond hair to her athletic body.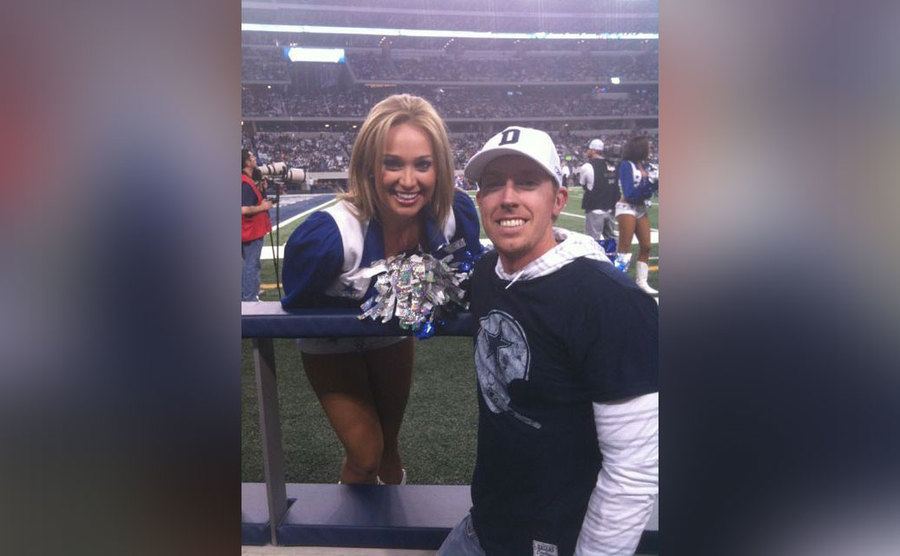 Just like some other WAGs on this list, she also loves the private life. We're not sure Kandi maintains any social media profiles. But thankfully, she has a husband who adores her so we'll just stalk his Instagram page to see more photos of his beautiful wife.
Angela Akins and Sergio Garcia
Sergio Garcia is a well-known golfer throughout the world. He has spent more than 450 weeks in the top 10 and holds a number of Ryder Cup records, including the most points scored and the player who has won the most matches in the prestigious event.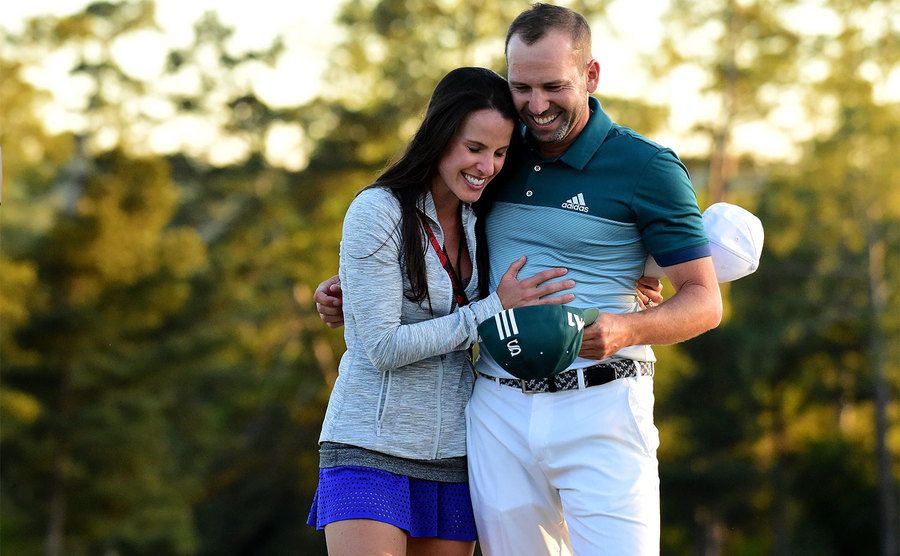 But there's one win that'll probably top all these records. Enter Angela Akins. She attended the University of Texas and played golf for the Longhorns, and has also presented and reported for the Golf Channel. It was in this capacity as a reporter that they met for the first time.
Behind Every Great Man…
Angela has certainly had a beneficial impact on the Spaniard's life, as he won his first Major at The Masters three months after they got engaged. This happened in 2017, and they married in July of the same year. She's a great golfer who can play off of 3.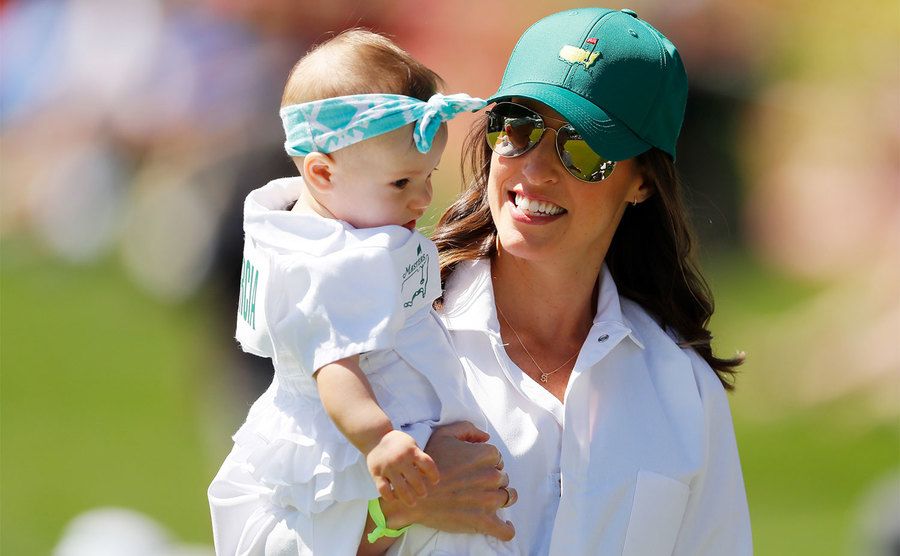 Her knowledge of the game has been invaluable to Sergio. In addition to golf, Angela has a strong and athletic family who has embraced Garcia. Marty, her father, is a former All-American quarterback for the University of Texas, and Ray, her grandfather, is a famed Texas high school football coach.
Kelley Cahill and Jon Rahm
Jon Rahm was ranked World No. 1 in the Official World Golf Ranking in July 2020 after spending 60 weeks at the top of the World Amateur Golf Ranking. That's not the only big win in his life because he also has one of the hottest women beside him.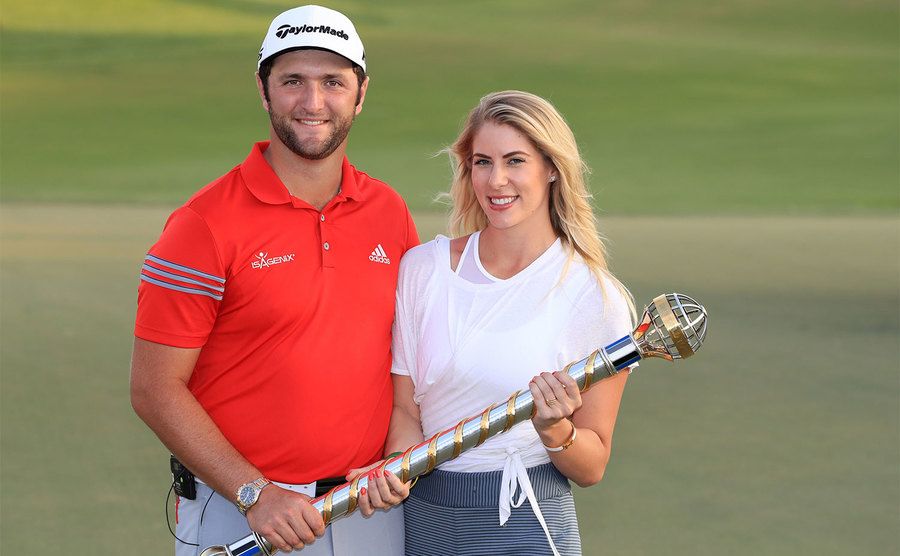 Kelley Cahill competed in the javelin while Rahm was playing golf at Arizona State. The two became friends because of their shared passion for sports, but one tennis match nearly wrecked them. Kelley told the sun that he was so good she was upset for "a day or two."
Samantha Maddox with Austin Johnson
Before we go any further, let's be clear: Austin Johnson isn't exactly a PGA golfer. He is, nevertheless, Dustin Johnson's caddy. Samantha, Austin's wife, is deserving of a place, at least an honorary mention. They met at the College of Charleston in South Carolina for the first time.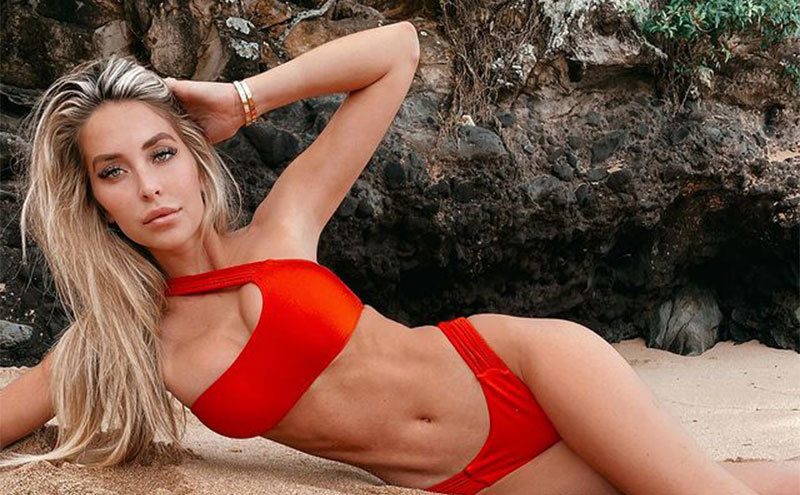 They struck up an instant bond, which they attribute to their shared athletic background. Samantha was a tennis player then and Austin was a basketball player. The couple moved to Florida three years after graduation where Austin has served as a caddy for his brother, Dustin.
Jillian Stacey and Keegan Bradley
Jillian Stacey is the wife of golfer Keegan Bradley. She is from White River Junction, Vermont. Besides having a pretty face and a great body, Jillian is also a social activist who works with numerous canine organizations. She married Bradley in 2016 and they have a child.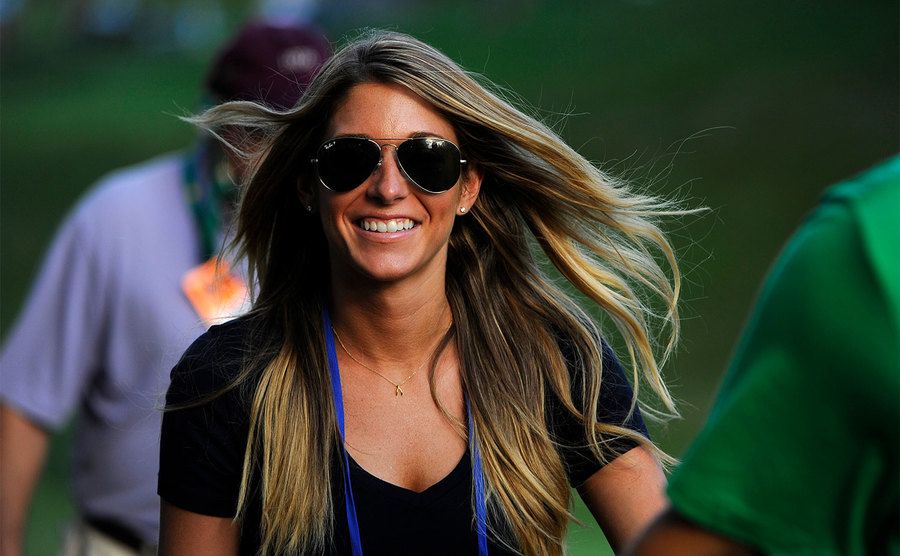 Jillian Stacey went to Hartford High School, Eastern before attending Connecticut State University. She and Keegan Bradley were in a relationship for a pretty long time before tying the knot. Their son, who was born in 2017, almost a year after their marriage, is named Logan James Bradley.
Erin Walker with Jimmy Walker
Jimmy Walker, a professional golfer, is well-known for his putts and long fairway strokes, but he isn't the only "ace" in the Walker family. Erin, his wife, is a firecracker in her own right, as an equestrian athlete, entrepreneur, and mother of two young sons.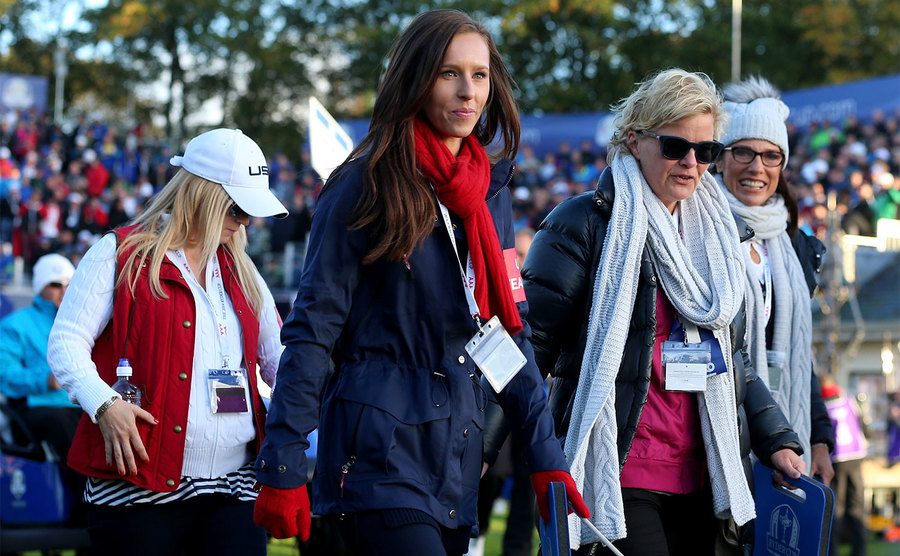 Besides being one of the hottest wives and moms, these phrases are vital to who she is. On top of all the duties she has as Team Walker's de Facto CEO, she also makes time for her passion, amateur showjumping, competing around the US in about 15 competitions yearly.
She Has a Passion for Horses
Erin Walker's competitive drive was ingrained in her at an early age as a result of growing up in the Pacific Northwest and having a father who was a former world champion freestyle skier. She was raised on the slopes and raced in Alpine races.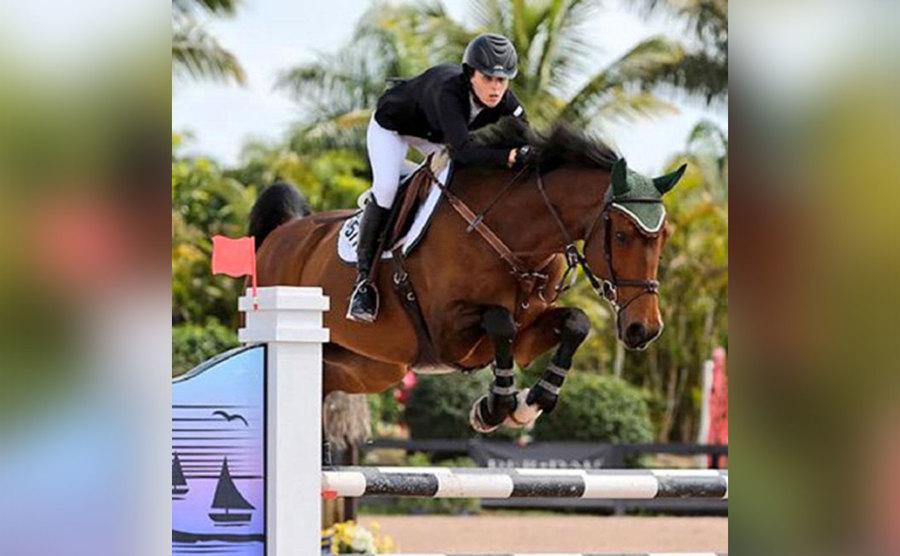 She returned to her major passion – horses — after sustaining an injury. Erin began riding when she was in kindergarten, participating in the children's hunter, junior, and amateur-owner classes. She had planned to study law in college until she met Jimmy while he was participating in the Nationwide Tour in 2004.
Not Your Regular Golf Wife
Erin is a regular political commentator, writes for the golf press, and runs her own blog, 'Tour Wife Travels.' Erin's fundamental riding talents have sustained her through adulthood, keeping her on top of her game both personally and professionally. Erin keeps "Team Walker" running smoothly.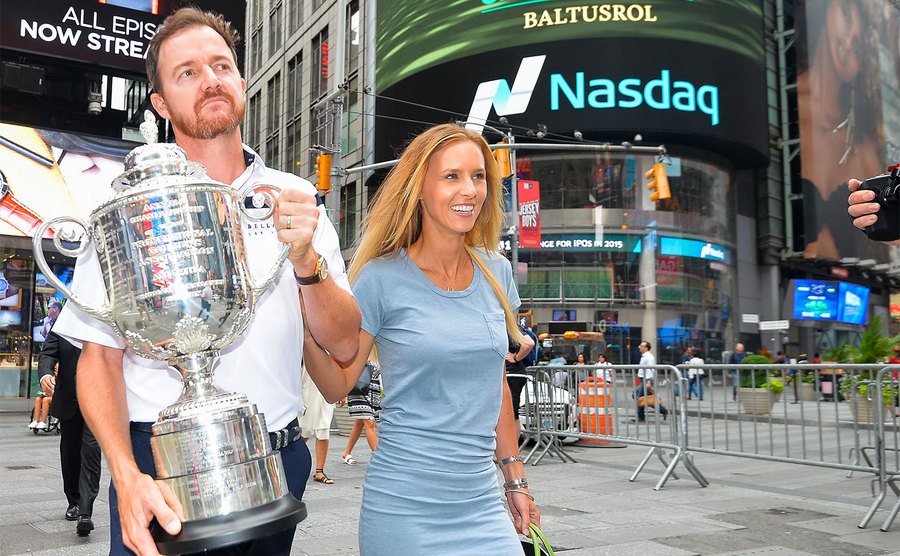 In addition to her duties as wife and mother, she plans all travel arrangements and vets contracts. She competes in roughly 15 shows a year and frankly admits that it is this that defines her. Erin is also redefining what it means to be a wife on the PGA Tour.
Sybi Kuchar and Matt Kuchar
Matt Kuchar has been a participant in the PGA Tour since 2001, winning numerous times during that period. Kuchar married his partner, Sybi, two years into his PGA Tour career, and she will undoubtedly rank top among his achievements. They met while still on campus at Georgia Tech University.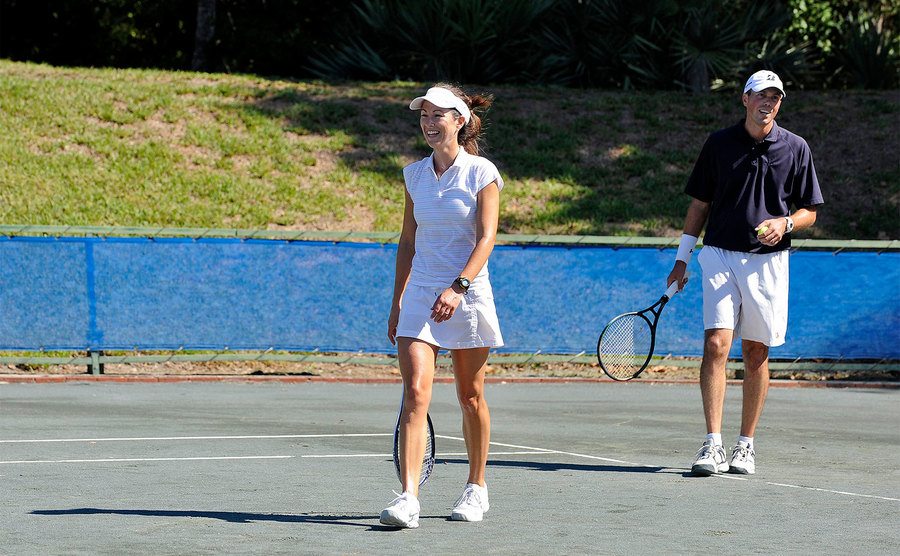 Kuchar was a member of the golf team and Sybi was a member of the tennis squad. The couple began dating in 2002 and married the following year. They now live in Georgia with their two boys, Cameron, and Carson, who are also avid athletes.
Wife, Mother, Caddie, Tennis Player…
When he's not on the tour, Kuchar plays tennis with Sybi, who is an avid tennis lover and player. In 2009, the couple won the consolation title at the ATP Headquarters in the USTA National Husband/Wife Doubles Championship. Sybi has been highly involved in Kuchar's professional career since 2003.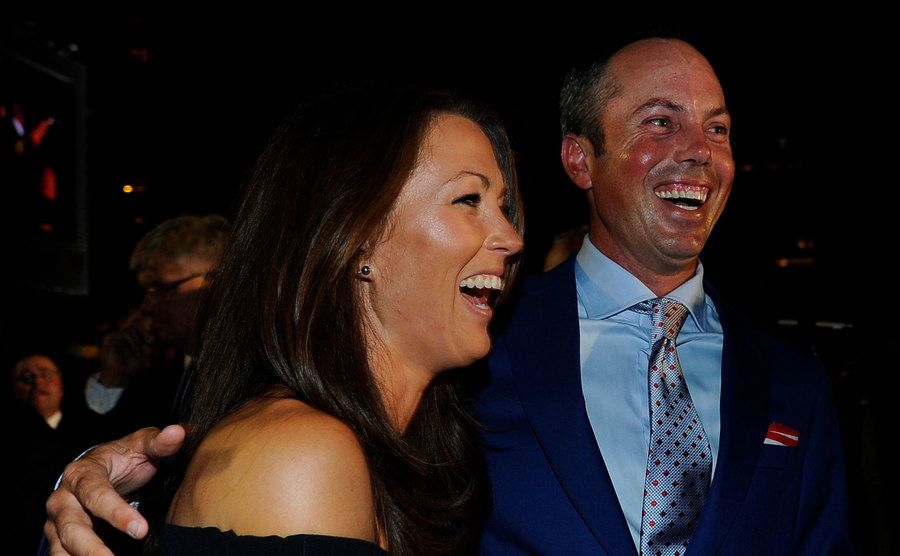 She has even caddied for her husband and other tour players on occasion. Kuchar looked to his wife after his former caddie, John Wood, withdrew from the BMW Championship. After Zach Johnson's regular caddie fell ill at the 2018 Mayakoba Classic, Sybi stepped in to temporarily caddy for him.
Kate Rose with Justin Rose
Justin Rose, a former world number one and Major champion, has made a huge impact not only on the course, but also off it, co-founding the Rose Ladies Series with his wife, Kate, in 2020. The two lovebirds met for the first time in a bar.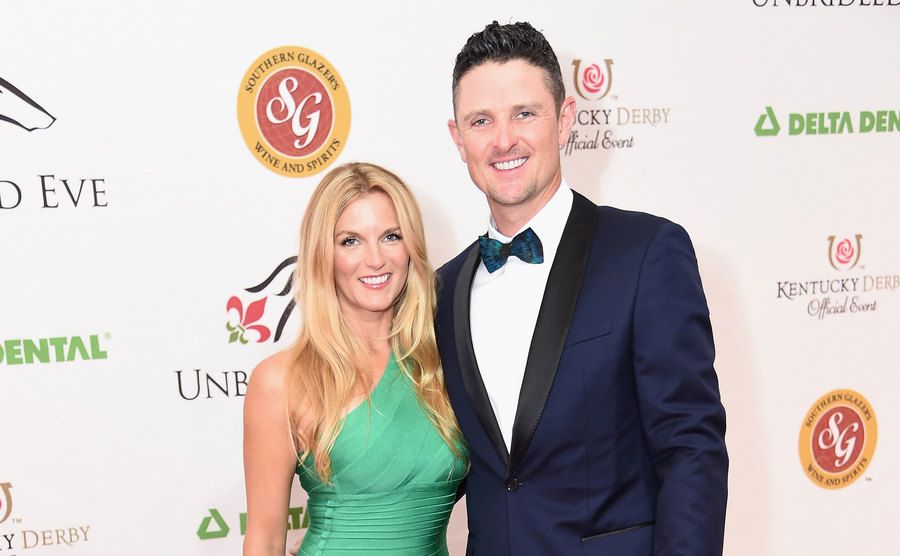 Kate Phillips (now Kate Rose) was a University of Sussex graduate and former international gymnast who had retired from competition and was working with a model agency in 2000. Kate ended up traveling to the events Rose was playing in because the model agency was the firm that represented the Englishman at the time.
A Pretty Woman with a Rosy Heart
The pair married in December 2006, and they have two children, Leo and Lottie. She may have a pretty face and a sexy body, but her personality and philanthropy make her hotter. She is now very involved in the Kate and Justin Rose Foundation founded in 2009.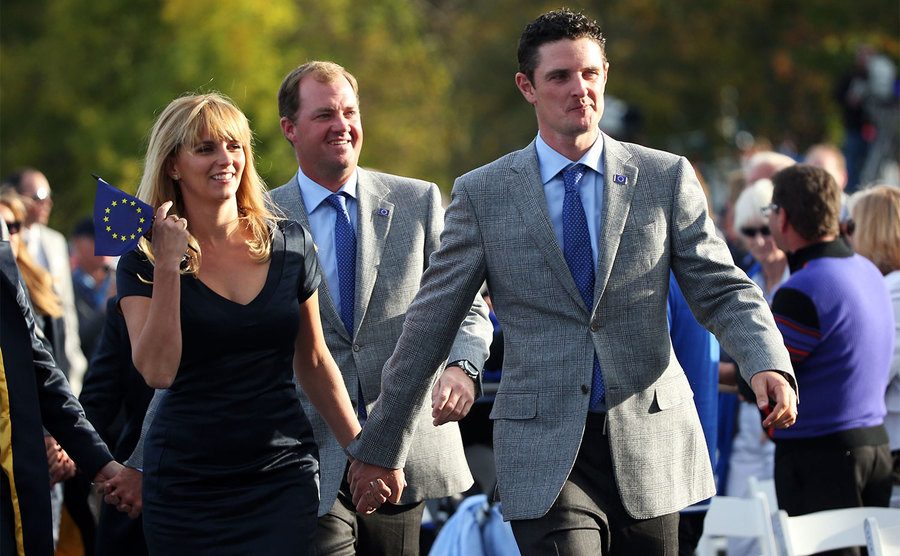 The foundation, which aims to combat childhood hunger in the Orlando area, also gives education and experiences to disadvantaged children. Justin received the Payne Stewart Award on behalf of the foundation in 2021, which is given to someone who has demonstrated "character, sportsmanship, and commitment to charitable giving."
Emma Lofgren and Henrik Stenson
Henrik Stenson's wife, Emma Lofgren, has been by his side since the very beginning in 1998. Both Lofgren and Stenson were born and raised in Sweden but met at the University of South Carolina when Lofgren was studying Public Relations and Media while also competing on the golf team.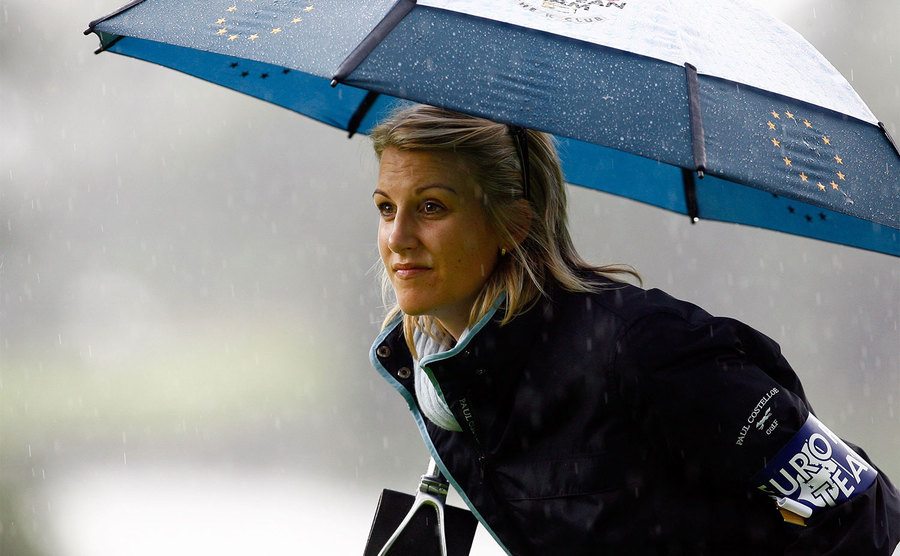 Stenson, on the other hand, was not a student at the university, but according to his website, Puggy Blackmon, the head of the golf program at South Carolina, allowed Stenson to practice with the team. As a result, the two spent a great deal of time together.
Emma Lofgren Loves Skiing
In 2006, the couple married in Dubai, where they lived until they relocated to the United States. They have three children together: Lisa, born in 2007; Karl, born in 2010; and Alice, born in 2014. They frequently fly back to Sweden in their spare time and enjoy skiing.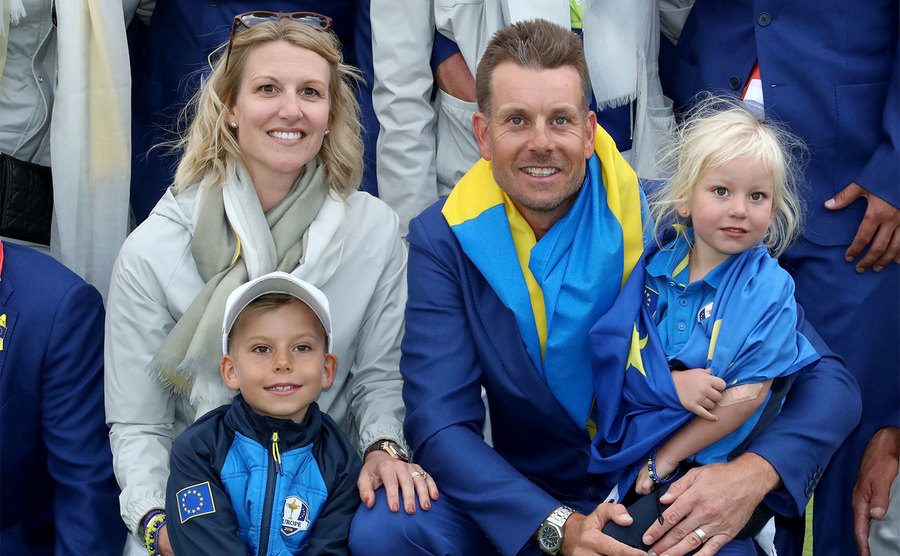 Lofgren was born into an athletic household and was a competitive alpine skier as a child. She is frequently seen cheering on her husband at sporting events, including multiple Ryder Cups, Stenson's Open Championship victory, and his Race to Dubai victory in 2013.
Justine Reed with Patrick Reed
Another stunning wife that deserves to be here, Justine has always been by her husband, Patrick Reed's, side during all his major victories, either as his caddie or as his wife. Justine was Reed's caddie when he qualified for different PGA Tour events after becoming pro in 2012.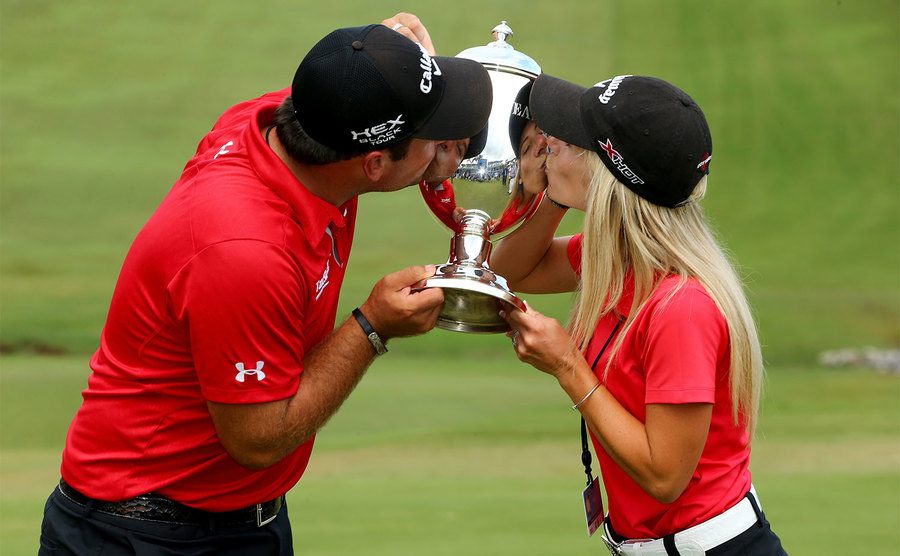 The two have traveled the PGA Tour together. She caddied for Patrick until early 2014, just before their first child was born. Justine is now an outspoken supporter of her husband, offering lots of encouragement. She's also a regular member of Patrick's support group, and regularly on tour walking practice rounds.
Kristin Stape and Graeme McDowell
It's always good to finish strongly, and we can't think of any better way to finish than with Kristin Stape, Graeme McDowell's absolutely stunning wife. The couple met when Stape was hired to remodel McDowell's house. She used to maintain a website but it's been inactive for some time.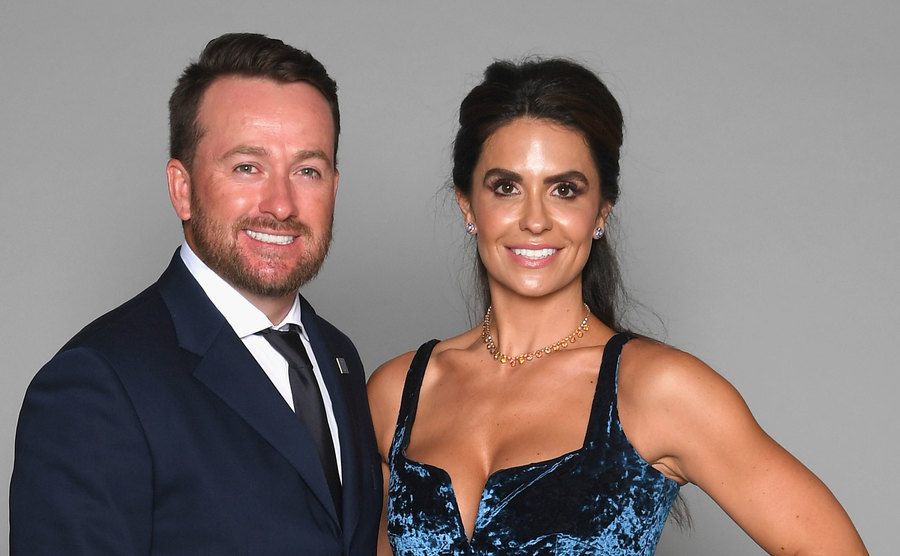 Stape is a Florida native. After McDowell proposed on top of Dubai's seven-star Burj Al Arab hotel in 2012, the pair married in the Bahamas in 2013. Vale Esme and Wills Edson are their two children, and Stape has another child from a prior relationship.
Time to Wrap It Up
Well, there you have it – 27 of the hottest golf girlfriends and wives. Were you expecting to see someone? Yeah, we admit that's possible. The world of golf is brimming with talent and beauty, but you'll agree those on this list deserve their place.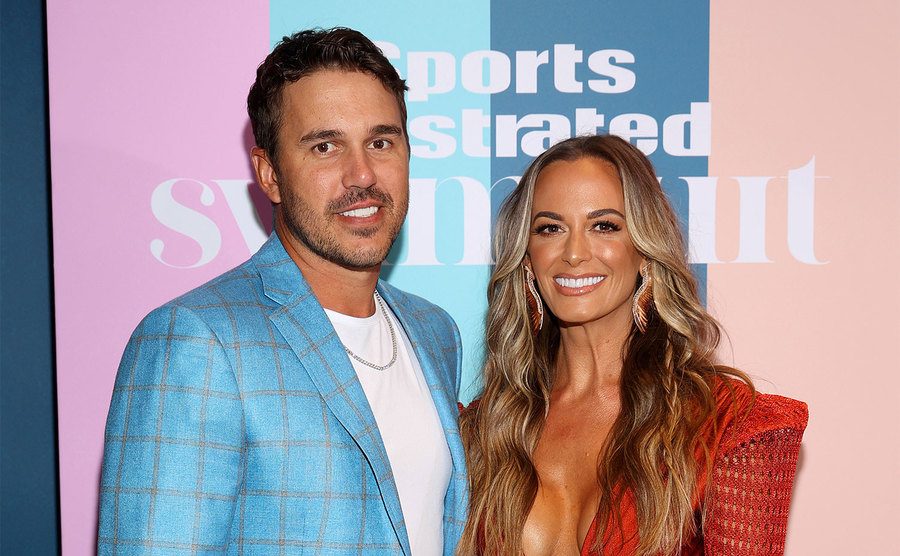 It's also the best time to state that there's no specific order of "hotness" in this list. You be the judge of who's the hottest and most beautiful from their face, physique, personality, and activities. If you're not a golf fan, it's probably time to start tuning in!