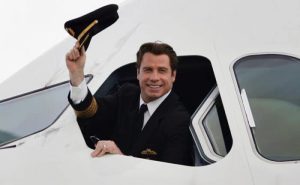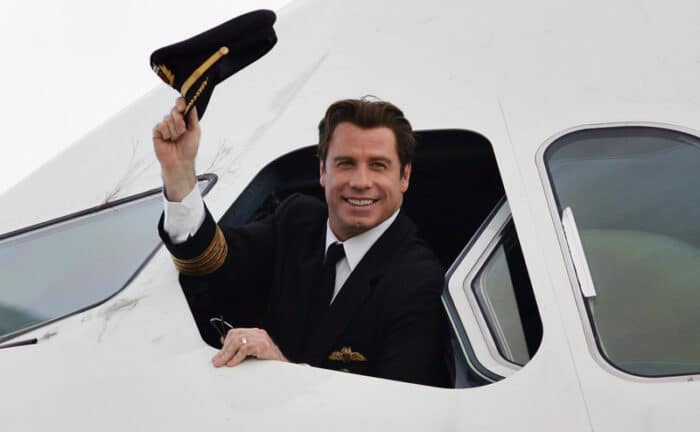 Look Who's Finally Talking: Travolta's Secrets Revealed
By Yuri S.
---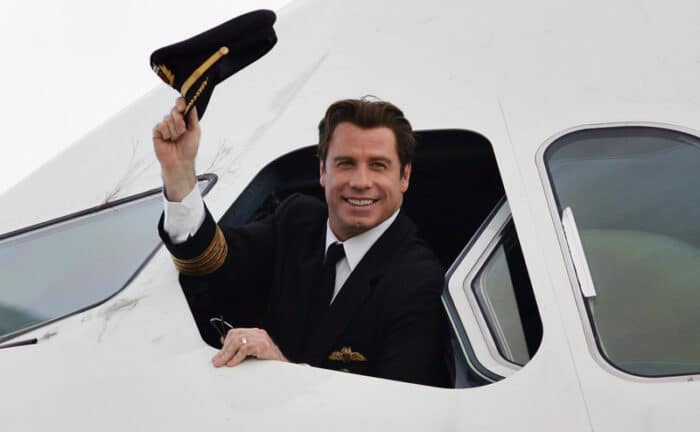 John Travolta is a talented Hollywood actor and a household name. Nonetheless, the gifted performer has always been a secretive and mysterious individual. Starting with his association with the Scientology movement and continuing to his curious romantic involvements, this article will cover everything you ever wondered about Travolta.
The actor's love life has often caused a media commotion, though, with Travolta's ever-changing romantic partners, most people lost track of his relationship status. Not long ago, Travolta came forward to end the gossip and conjecture about him. The actor spoke up about his love life and family tragedies.
An Affair to Remember
John Travolta was first introduced to Kelly Preston in 1987 while filming The Experts. The two hit it off right away, but there was one problem; Kelly was already married. The two only became officially romantically entangled in 1990 while working on separate film projects in Vancouver.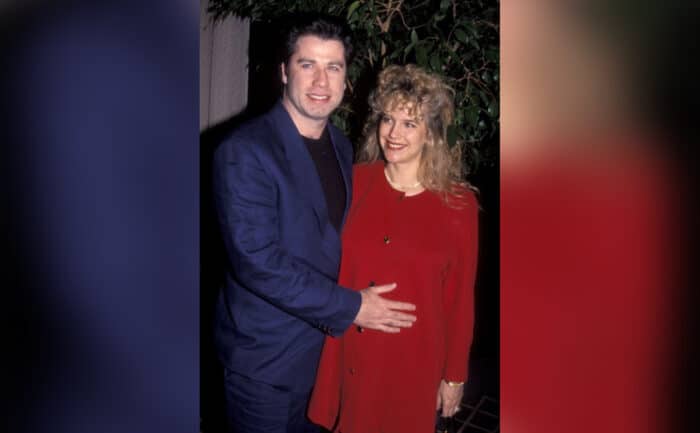 By then, Preston was single, and after a short time dating, Travolta proposed. Initially, they had intended to celebrate their wedding in New York, but things got out of hand. So instead, they eloped in 1991. The couple flew to Paris and tied the knot in the world's most romantic city.
A Scandalous Set Romance
John Travolta's second film was called The Boy in the Plastic Bubble, released in 1976. The film was about a boy, played by Travolta, born with an underdeveloped immune system. In order to experience life without being infected by life-threatening germs, the boy moves around in a plastic bubble.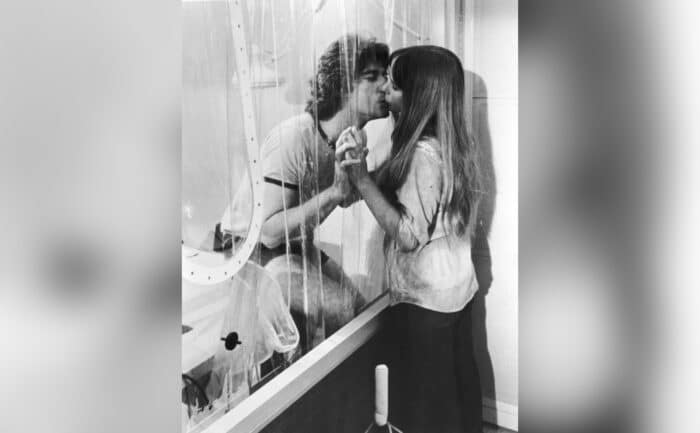 Travolta's character falls in love with the girl next door, named Gina. The actor also had a set romance. Not with Gina, but with the woman who played his mother in the film, Diana Hyland. This relationship was Travolta's first romantic scandal, though not his last.
Love Can't Conquer All
Despite their eighteen-year age gap, Diana Hyland and John Travolta fell head over heels for each other. Fans thought they were an odd couple; however, their love prevailed, and the couple stayed together even after the film's release, proving speculating audiences wrong.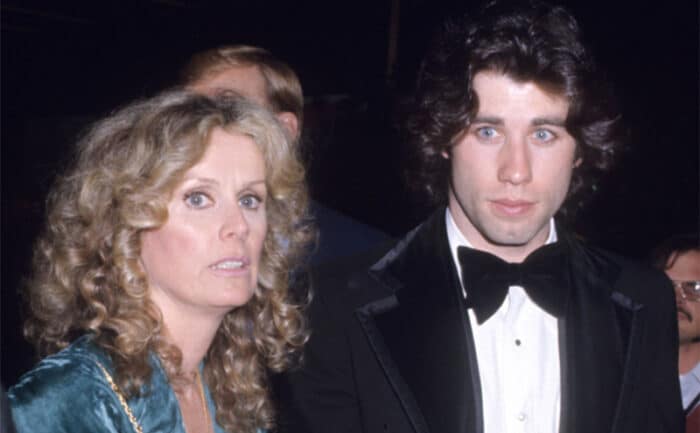 Sadly, their love couldn't conquer all, and when Diana was diagnosed with breast cancer, she passed away quickly in Travolta's arms at the young age of forty-one. Nevertheless, The Boy in the Plastic Bubble was a highly successful film, and Diana Hyland won an Emmy for her performance; John Travolta accepted the award in her honor.
Kelly Preston and Heartthrob George Clooney
Before marrying Travolta, Kelly Preston also had a colorful love life. When she and John first met, Kelly was still married to Kevin Gage, whom she'd married only two years before. However, Gage wasn't the only man Preston had dated before meeting Travolta.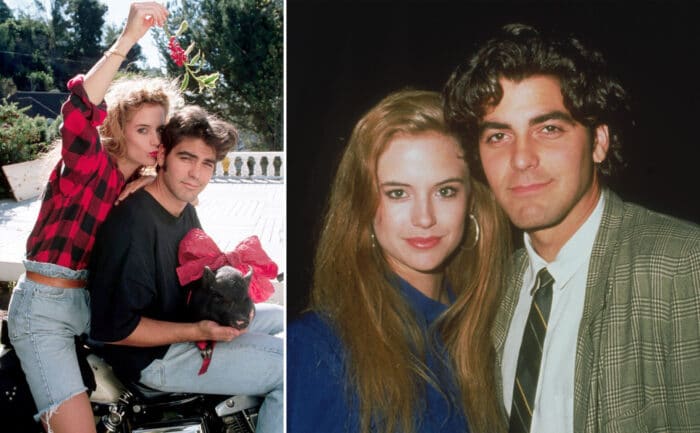 The actress had also been with Hollywood heartthrob George Clooney; they dated for two years, beginning in 1987. During their relationship, Clooney gifted her a pet pig. The former couple named the pig Max and Preston kept custody of him when the two young talents parted ways in 1989.
A Surprise Pregnancy and a Flight to Paris
Although Travolta proposed to Preston with a six-carat yellow and white diamond ring on New Year's Eve, their wedding plans didn't go very smoothly. Kelly became pregnant before they managed to get married, so the couple ran off to Paris to bind their union before the baby was born.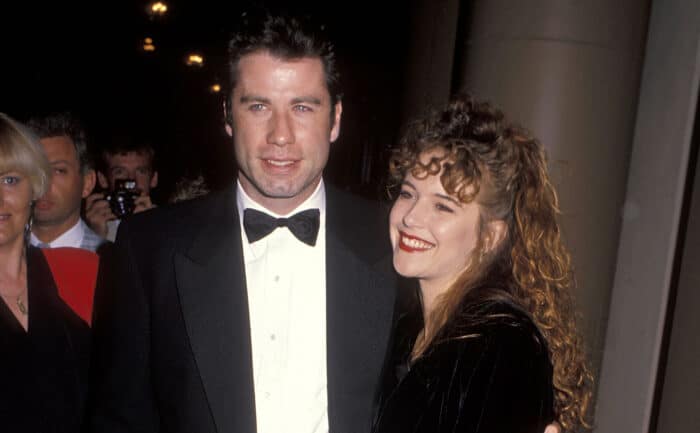 A minister of Scientology officiated the couple's marriage ceremony, and they later discovered that their initial wedding was not officially legal because of this. So, in order to right the wrong, the pair organized another ceremony held in Daytona Beach, Florida.
The Tragic Loss of Their Son
The Travolta family suffered a tragic loss when John and Kelly's firstborn son, Jett, died following a severe injury in January 2009. The accident occurred in the Old Bahama Bay Hotel in the Bahamas, where the happy family always spent their yearly vacation.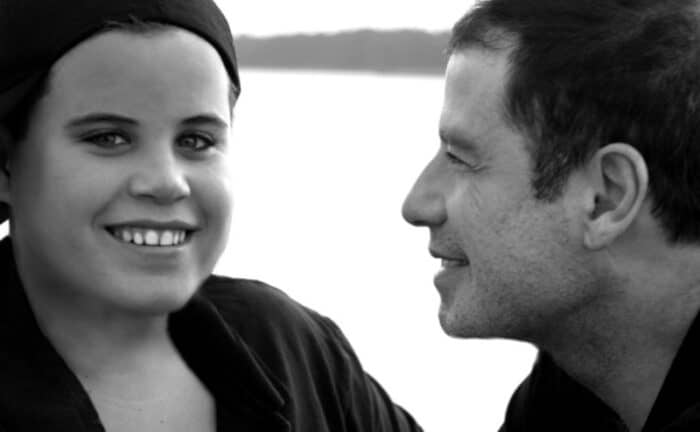 Jett, who was just sixteen at the time, experienced a seizure and because of it, he hit his head in the bathtub. The young man passed away not long after his injury and left behind his grieving parents and younger sister, Ella. The devastated parents agreed that burying their son was the worst thing they ever experienced.
He Got It From His Mama
John Travolta inherited his talent and love of acting from his mother. Helen Travolta was also an actress, and John was highly influenced by her and chose to follow in her footsteps. From a young age, he had seen Helen acting in films and dancing and performing on the stage.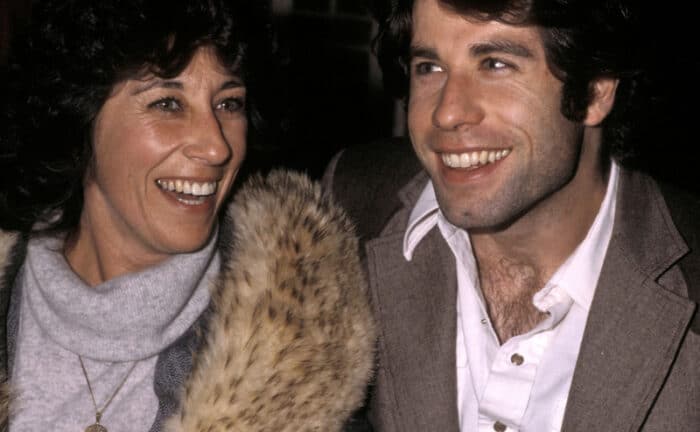 While attending drama school in New York City, John found out that he was a multi-talent and could do more than just act; he was also an incredible dancer and singer. Travolta and Helen starred together in Saturday Night Fever and Grease, showing off their family talent.
The Loss of His Father
John shared a close relationship with his mother, warmed by their mutual love of the stage. However, the actor wasn't as close to his father. The Italian American Salvatore Travolta was a second-generation United States citizen and believed sincerely in the American Dream.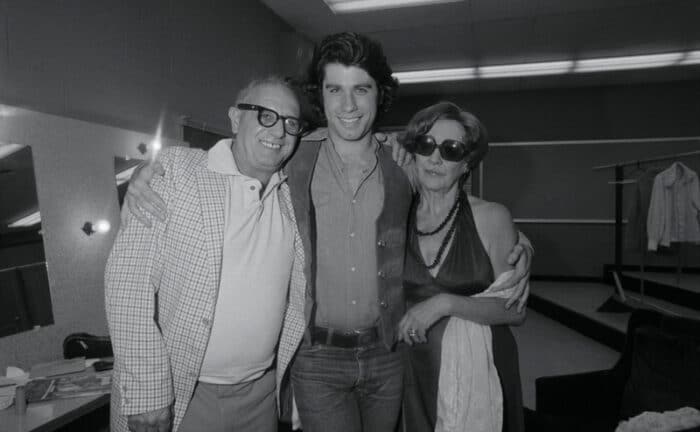 Salvatore wanted to be a football player. However, after reaching a semi-professional football career, the sensible man quit the sport to open a tire shop and allow his family a life of financial security. In 1995, John's father passed away, widowing Helen and leaving his devasted son behind.
A Passionate Pilot
Besides his talents as an actor, Travolta is an expert airplane pilot. John has an official license to fly private planes. The millionaire actor owns a personal fleet of five aircrafts of his own. Among them is a Boeing 707 that he uses to fly his friends and family around.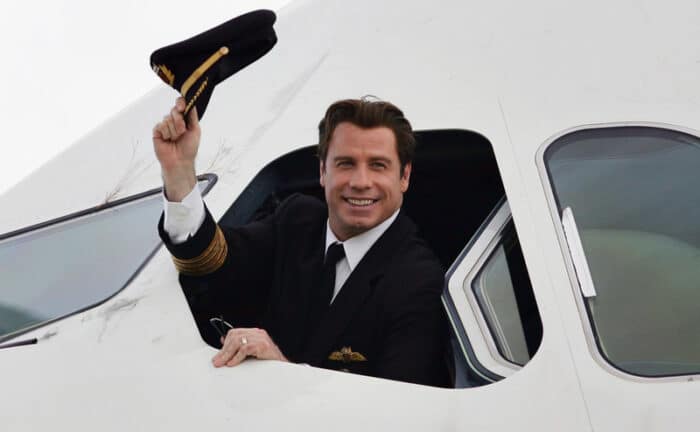 The actor is such an aviation fan that he built one of his homes in a residential airpark, Jumbolair Aviation Estates. The mansion features an airplane runway that leads to Travolta's front door, allowing him to set flight with the drop of a hat whenever it strikes his fancy.
Among Hollywood's Highest-Paid Actors
The actor is not only among the highest-paid performers in the business, but he also learned to save and is presently estimated to be worth approximately one-hundred and seventy million dollars. In addition, John continues getting royalties for the numerous cult films in his repertoire, like Grease, Hairspray, and Saturday Night Fever.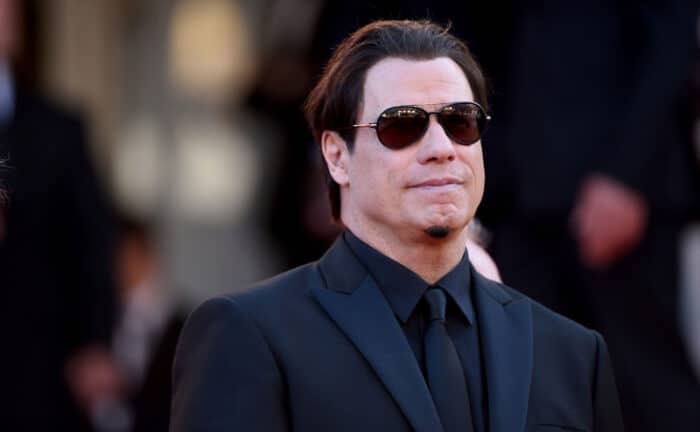 Therefore, it's not that shocking that he can afford to buy a whole airplane fleet while also owning his fair share of impressive homes. His glamorous life is undoubtedly an upgrade from his middle-class suburban upbringing in Englewood, New Jersey.
Saturday Night Confessions
Fans were blown away by Travolta's dancing and acting performance in the hit musical film Saturday Night Fever, released in 1977. Despite his natural abilities, the actor trained hard for this role, even spending nine whole months in dance school. He attributed his inspiration to the movie Soul Train.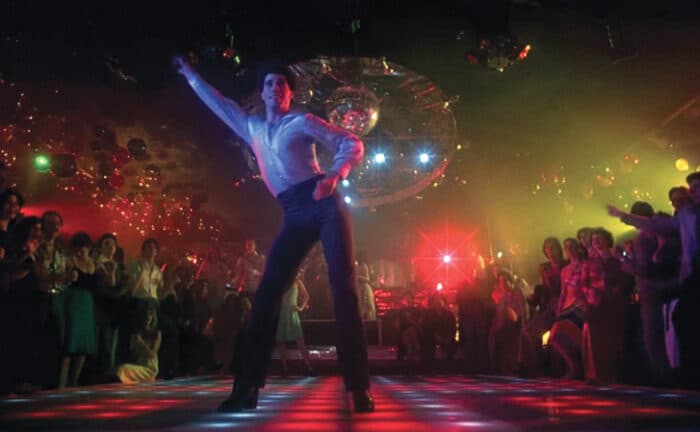 In 1977 the actor confessed that he liked "Black dancing" more than "white dancing," and he attempted to give Saturday Night Fever a mood similar to Soul Train. Even though today his confession seems poorly phrased, Travolta's debt to African American dance is still significant.
BFFs With Oprah Winfrey
Throughout his career, John Travolta developed a close personal friendship with Oprah Winfrey. Oprah admitted that Travolta was her favorite actor, and John, in turn, prefers going on Oprah to appearing on other talk shows. The BFFs even collaborated on a surprise for Oprah's show.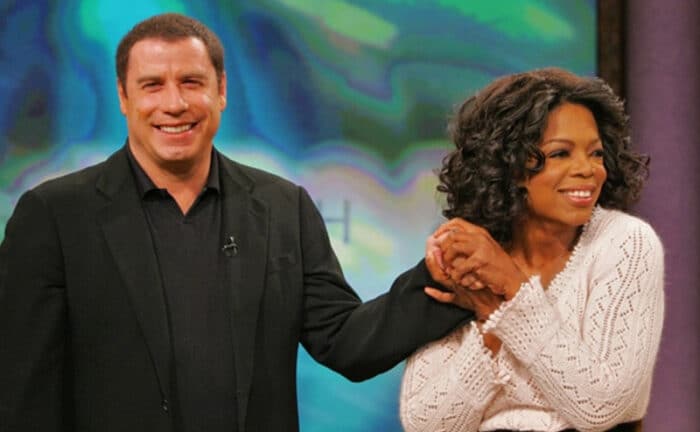 When Oprah announced in 2010, during her show's final season, that the entire studio audience would win an all-expenses-paid, eight-day trip to Australia, the world was shocked. John Travolta himself flew the lucky winning audience to their destination in his private aircraft after months of planning with Oprah.
Marital Problems and Scientology Marriage Counseling
Always in the spotlight, John and Kelly didn't often have the opportunity to speak for themselves. So, therefore, they chose to tell their fans about the beautiful weekend during which they probably conceived their son Jett. They spent the weekend at the home of their friends Bruce Willis and Demi Moore.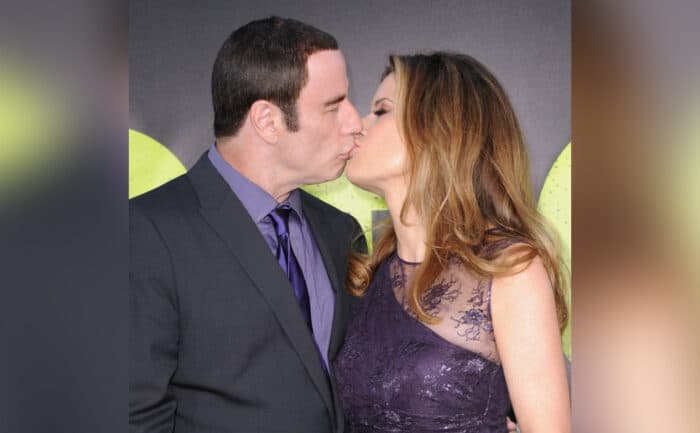 The poor parents had been helplessly unaware that just a few years later, their son wouldn't be with them any longer. Because the Travoltas didn't have it easy due to their many struggles, the couple spoke to a Scientology marriage counselor to help them overcome marital difficulties.
A Late and Exciting Surprise
Kelly and John had been shocked to discover that Kelly had become pregnant at the age of forty-seven. The news of Kelly's pregnancy was tinged with sadness, occurring less than a year and a half after Jett's death. Though excited, the couple was still grieving for the son they'd lost.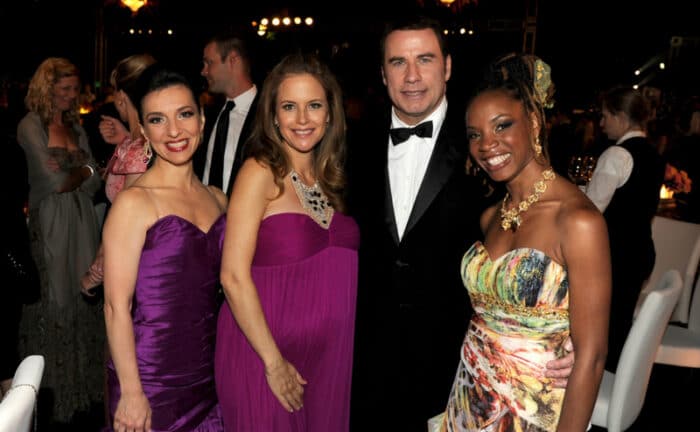 Despite everything, Kelly and John were ready to tell their friends and loved ones. They stated that it was impossible to keep their news a secret, especially when the information was as great as this. They further expressed their excitement to welcome a new addition to their family.
Baby Boy Ben Travolta
In 2011, their baby boy Benjamin was born, and Kelly and John Travolta welcomed their child with open arms. The couple was ecstatic to have Ben become a part of their lives and be a companion for their daughter Ella who had deeply suffered due to the loss of Jett.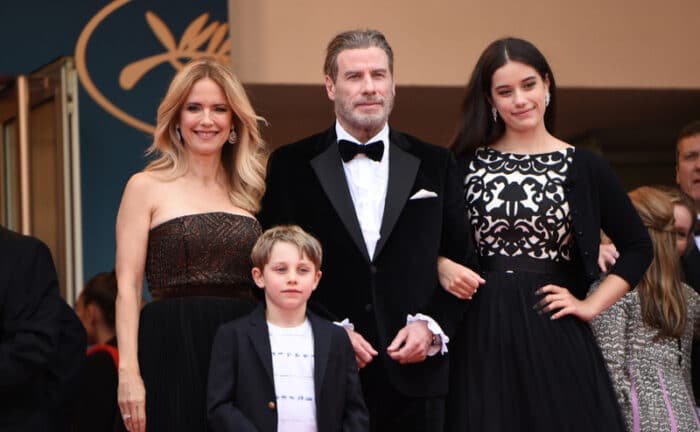 They felt that having Benjamin had renewed their life purpose and rejuvenated the family's spirit. Ben gave them all a new beginning; for John, just holding the baby brought contentment; the new father felt uplifted when he saw the smiling newborn in his arms.
Kelly Preston and the Notorious Charlie Sheen
Kelly Preston hadn't only been married before; she had also been engaged to the notorious womanizer Charlie Sheen. Charlie got the actress a stunning 2.5-carat diamond ring when he proposed to her in 1990. However, the relationship didn't last long.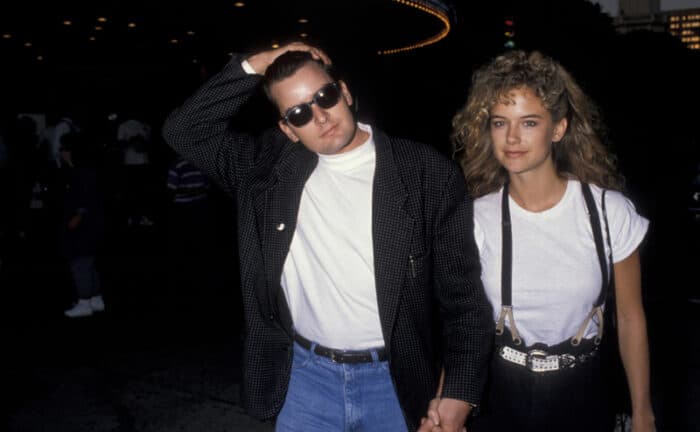 As Kelly wrote in her memoirs, Sheen used to carry a handgun in his jeans' pocket, and one day when Kelly was cleaning up, she moved the jeans. Unfortunately, the gun accidentally went off, and Kelly was shot in the wrist. The two parted ways mutually after that and even sold the diamond ring and split the money.
The Actor's Struggles With High School
For John Travolta, high school was difficult; he was quite the loner back in the day. John wasn't the popular guy he is today, nor did he have any luck with the ladies. Instead, the driven young man was focused on honing his talent and spent his free time taking theater classes.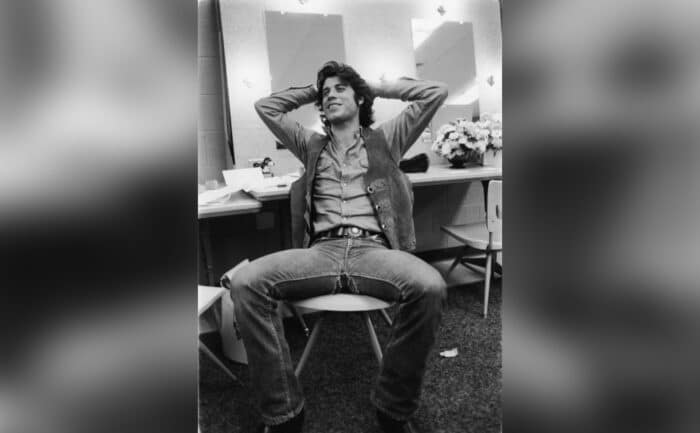 Travolta explained that his peers didn't understand him; despite his participation in sports and school activities, his fellow students couldn't comprehend why he went to acting classes at night. His love for performing and drive to succeed separated him from the other kids at his school.
Travolta's Trials and Errors
Travolta was in high demand and busy as a bee. The actor began working on the film Grease only four days after finishing Saturday Night Fever. Grease turned out to be the most significant box office hit of 1978. However, while filming the movie, Travolta was going through a tough time.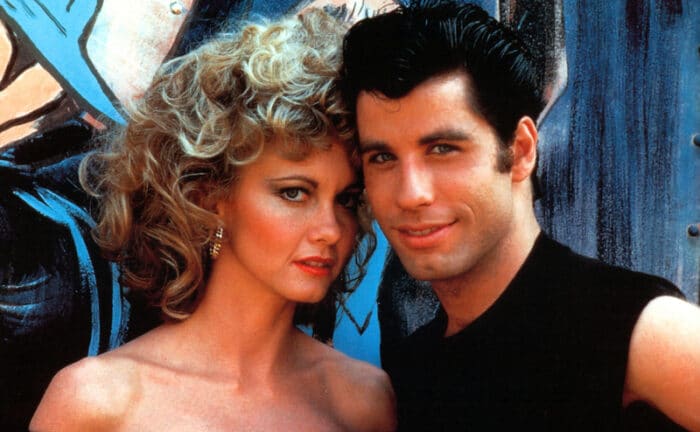 The young talent had recently lost his love, Diana Hyland, to breast cancer. Randal Kleiser, the director of the cult classic, recalled that John kept messing up his lip-syncing and saying, "heap lap trials" instead of "heat lap trials." Luckily, in the end, Travolta got it right.
Would His Role as Vinnie Ruin Him?
Before his success from Grease and Saturday Night Fever, Travolta was cast in the well-loved ABC sitcom Welcome Back, Kotter. The young actor was excited to play the role of the young Vinnie Barbarino, despite his mother's reservations about the role's potential to pigeonhole the young talent.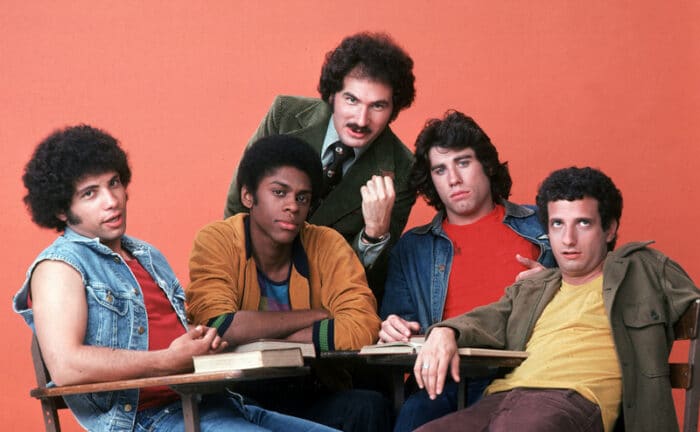 John played bad boy Vinnie for four whole years, winning the hearts of audiences throughout America and the entire world. Fortunately, Helen was wrong, and the part of Vinnie helped Travolta gain popularity and be cast for his leading roles in the hit musicals in the second half of the 1970s.
The Mistake of a Lifetime
John had reached the point where he could pick and choose what parts he wanted. Travolta turned down the central role in Splash, opposite Daryl Hannah. Eventually, Tom Hanks took the part. However, Travolta wasn't the only actor to turn it down; Michael Keaton, Bill Murray, Chevy Chase, and many more did too.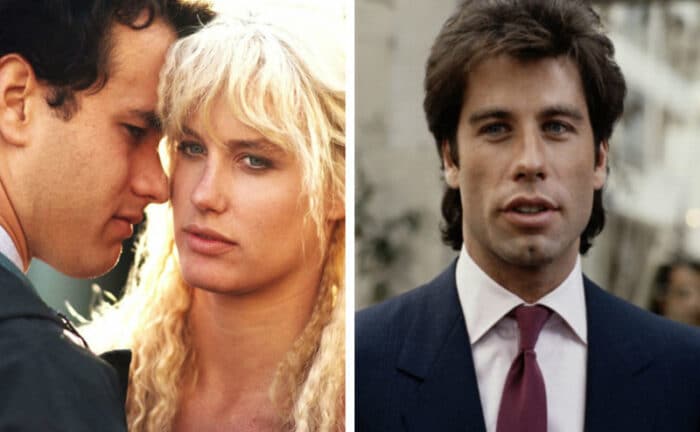 Travolta's agent convinced him to reject the role, thinking it was a dud; this may have been a mistake, for the film became extremely popular against all odds. Nevertheless, we can't help but wonder if it would have been even better with Travolta as the leading man.
Travolta's Contribution Following 9/11
John Travolta has been obsessed with flying since he was a kid. He eventually got his pilot's license and bought his five private air crafts. After the terrorist attacks on September 11th, 2001, the actor started working for Qantas Airways as their ambassador at large.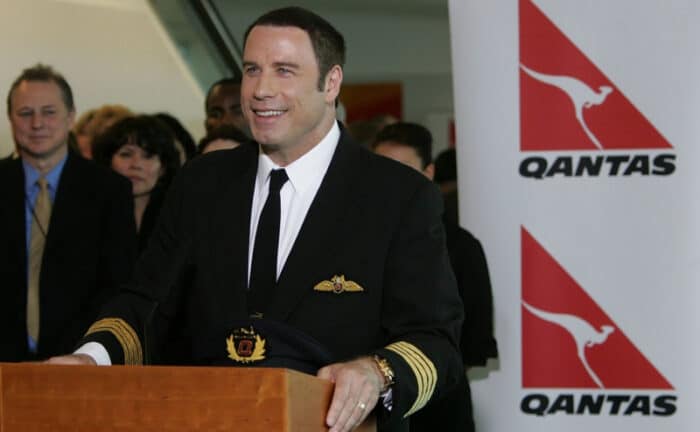 His job was to restore people's trust in air travel after 9/11. Though it seems odd that the American actor would work for an Australian airline, he had his reasons; Qantas had an excellent safety record and is known for the longest international flights. Through his connection to Qantas, Travolta bought his Boeing 707 plane.
John and Kelly's Four Mansions
Between the two of them, John and Kelly have quite the fortune and own four mansions together. The Travoltas' main home is in Ocala, Florida, where they also have a private airport and a plane runway leading to their door. The family also owns mansions in California, Maine, and Hawaii.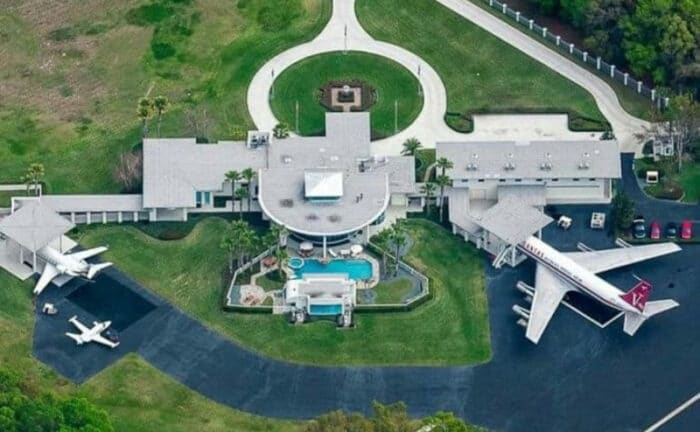 Their Florida home is the largest of the four and is located in a residential airpark. They designed the house to be close to their airplanes and be able to fly anywhere whenever they want. The mansion has hangers for the planes and is basically a fully equipped private airport.
Aviation Buddies, Marlon Brando and Travolta
Travolta is fortunate enough to have shared his love of aviation with his late friend, esteemed actor Marlon Brando. The two flew together many times. However, Travolta's all-time dream co-pilots are Howards Hughes and Charles Lindbergh. Sadly, these dreams will never come true since neither pilot is alive today.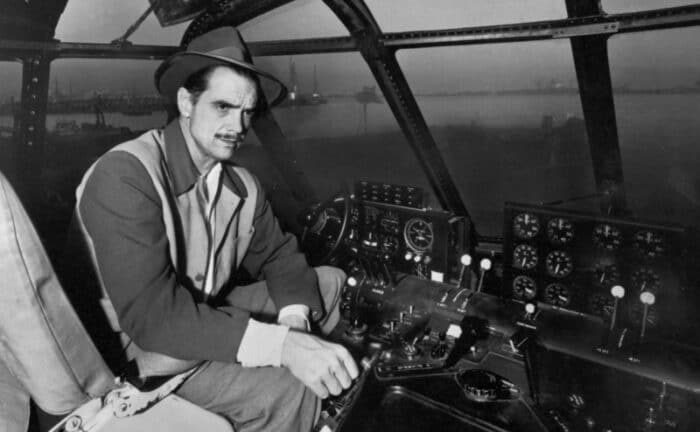 Howard Hughes was a record-breaking pilot with mental health issues; Leonardo DiCaprio portrayed him in The Aviator. Charles Lindbergh was the first person to pilot solo across the Atlantic Ocean without stopping; he was recently reimagined in the fictional series The Plot Against America.
Kirstie Alley's Secret Crush on Travolta
John Travolta is close friends with the actress Kirstie Alley. The two met while starring in the fan-favorite film Look Who's Talking and its sequels. The old friends have much in common, including their link to Scientology. However, Kirstie confessed to feeling more than just friendship towards Travolta.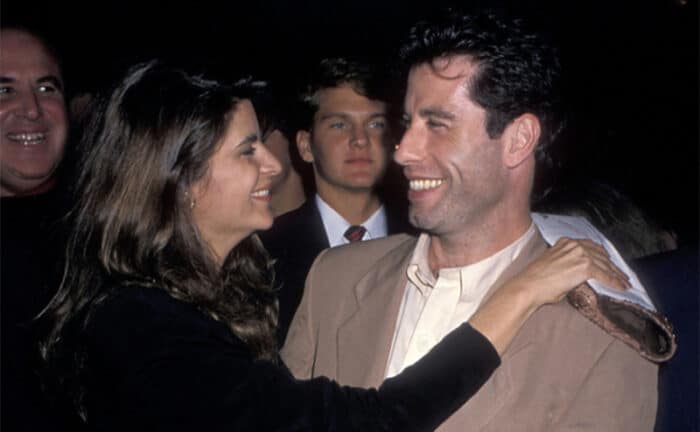 The actress admitted that it had taken her years to get over her crush on her old friend. When she met Travolta, the actress was already married to Parker Stevenson, and despite referring to Travolta as the love of her life, she stayed with Parker. The two have remained close through everything.
Tom Cruise's Hatred of John Travolta
Many fans assume that Tom Cruise and John Travolta are best friends because of their shared connection to the Church of Scientology; however, that couldn't be further from the truth. The two actors have many mutual friends and are both established Hollywood insiders, but in fact, they can't stand each other.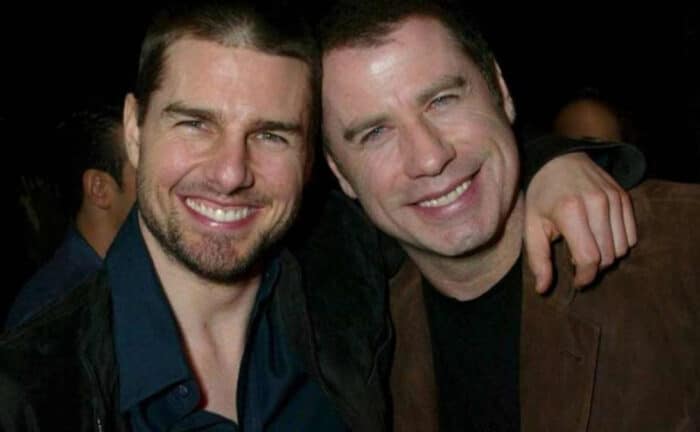 In her book Troublemaker: Surviving Hollywood and Scientology, Leah Remini disclosed Tom Cruise's hatred for Kirstie Alley and John Travolta. Remini's revelation adds up; when Cruise married Katie Holmes in 2006, he didn't even invite John Travolta or Kirstie Alley to the star-studded wedding.
The Worst Pain He Ever Endured
One may think that life would be easy for John Travolta as one of America's favorite actors. But, truthfully, it was only clear skies for John and Kelly until their son Jett passed away after a tragic accident. Ella, Jett's kid sister, was just eight years old when he died.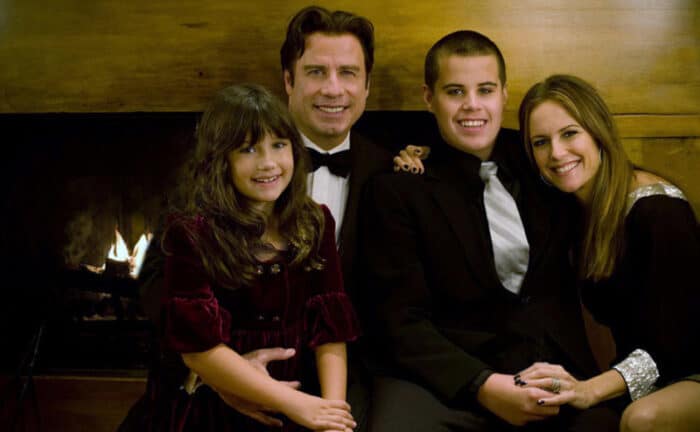 The Travoltas remembered their son as the best child any parent could hope to have. Jett was known to light up the lives of all the people around him. John and Kelly remembered Jett every day of their lives and lived with the worst pain any parent can endure.
With a Little Help From Their Family and Friends
When grieving, some people isolate themselves from the crowd while other lean on their loved ones for support in times of trouble. The Travoltas chose to allow their family, friends, and even their fans to help them through their tragedy. The love they received helped them through this dark and troubling period.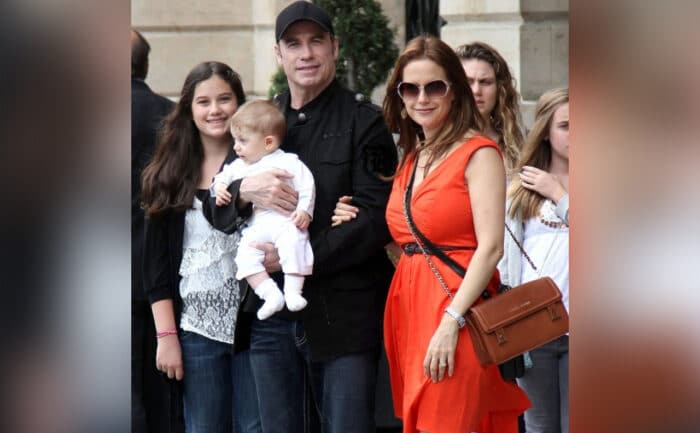 The family felt as if the support they'd received imbued them with hope for a brighter future and helped them move forward with their lives. They were reminded of the inherent goodness of human beings and were happy to welcome another son into the world in November 2010.
The Secret of a Successful Marriage
Spending nineteen years with the same person is no easy feat. But, in an interview with Closer Weekly, John and Kelly explained that the secret to their successful marriage was their deep care for one another and their unbreakable loving bond. In addition, the couple shared some tips for keeping relationships on track.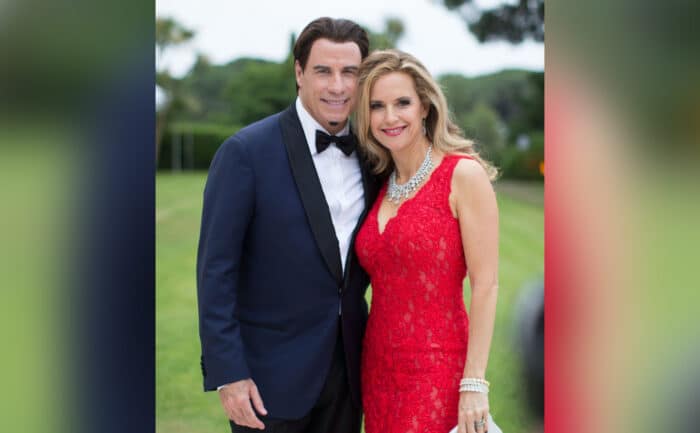 The pair had protected and stood up for each other. John and Kelly had also tried to keep their marriage fresh and create new experiences. The love birds had always made time for each other and made sure to do things alone together.
John Travolta, the "Yes Dad"
John Travolta has gained a reputation as a real pushover at home. His kids know that he is a "Yes Dad." Apparently, the Hollywood star just can't stand up to his children. Travolta admitted that he says yes to basically anything his son Ben asks of him.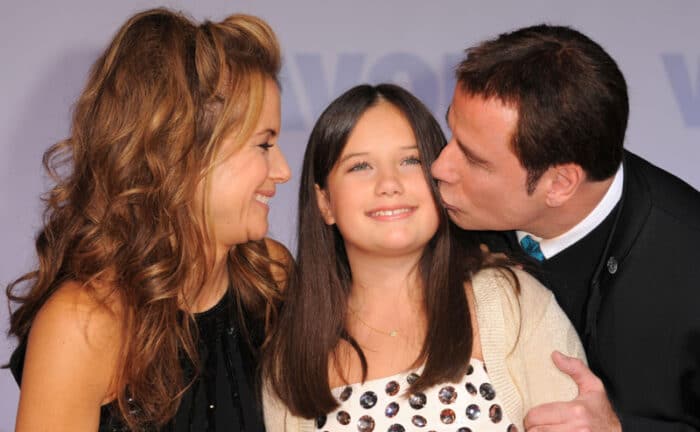 Kelly was the bad cop in the Travolta household; she said no to midnight ice cream, while good cop John poured fudge for his son. No doubt, this kind of parenting was frustrating for Kelly, who was forced to be the family disciplinarian.
Following in Her Father's Footsteps
Just as John Travolta began acting after being influenced by his mother's love for the craft, Ella, John's daughter, has followed in her father's footsteps. She is well on her way to becoming a successful actress. Ella Bleu started her career as a kid in one of her dad's films, Old Dogs.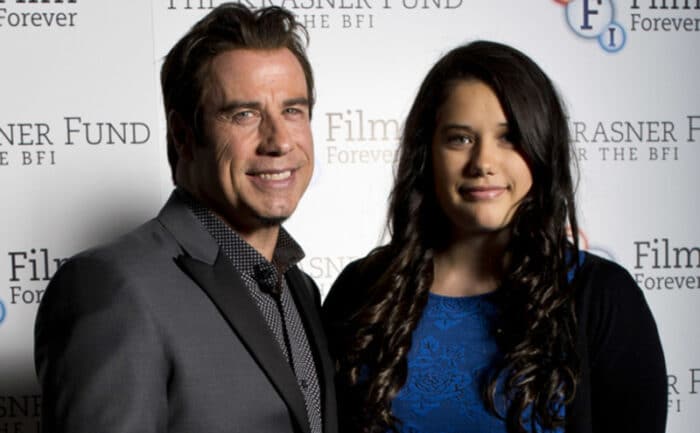 Travolta is his daughter's biggest fan and has expressed his pride in her talent. The twenty-one-year-old has appeared in the film The Poison Rose alongside her father and Morgan Freeman and is set to play the main character in the upcoming movie Get Lost.
Hairspray and Hair Styles
Looks are important, especially when you are a famous actor. John Travolta has always made his appearance a high priority, especially his hair. The Hairspray star has died his hair and facial hair in numerous colors and even gotten a weave. His different looks are usually for new roles.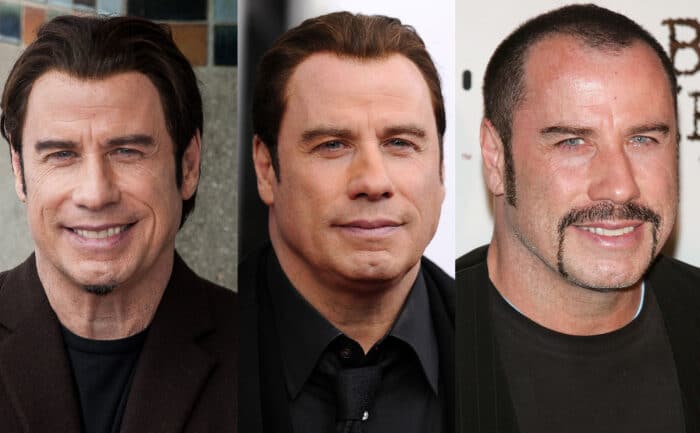 His beard has also changed consistently depending on his varying roles. From tiny goatees to handlebar mustaches and full beards, the actor's chin has seen in all. Nowadays, his hair is pretty much gone, but he still sports a full beard, with is currently salt and pepper colored.
One of the Best Moments of His Life
Perhaps the actor's most iconic experience was when the star danced with Princess Diana in 1985. The dance occurred during a gala at the White House, hosted by Ronald Reagan, who was President. The experience was as exciting for Diana as it was for Travolta.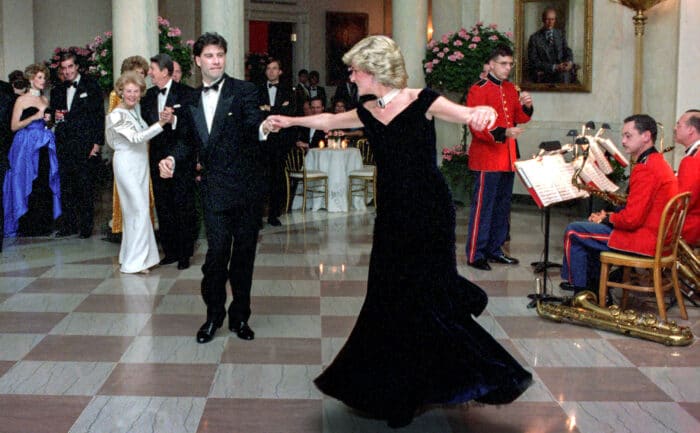 Sources reported that First Lady Nancy Reagan told John that the princess wanted to dance with him. Naturally, when Travolta heard this, he asked her, and Diana accepted. The actor remembers the dance as one of the best moments of his life. Travolta felt honored to dance with Diana, even if only for fifteen minutes.
You're the One That I Want
While portraying Sandy Olsen and Danny Zuko side by side, in the musical movie Grease, John Travolta developed real feelings for the Australian actress Olivia Newton-John. The two talents had real sparks flying between them on set, and till this day, Travolta counts his Grease co-star as one of his all-time biggest crushes.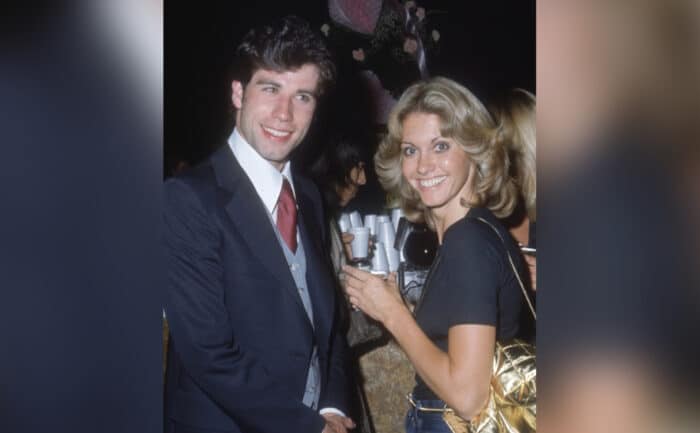 Fans began speculating if the two were in a relationship when they continued starring in films opposite one another. However, a romance between the two never took off, and these Two of a Kind stars stayed friends instead. Even now, they meet at parties and reminisce.
Why Travolta Disappeared From the Screen
After the film Urban Cowboy, John Travolta suffered a dry patch in his acting career. For the next few years, all the roles he got ended up being duds. Despite his agents assuring him that the films he starred in would-be hits, they consistently performed poorly at the box office.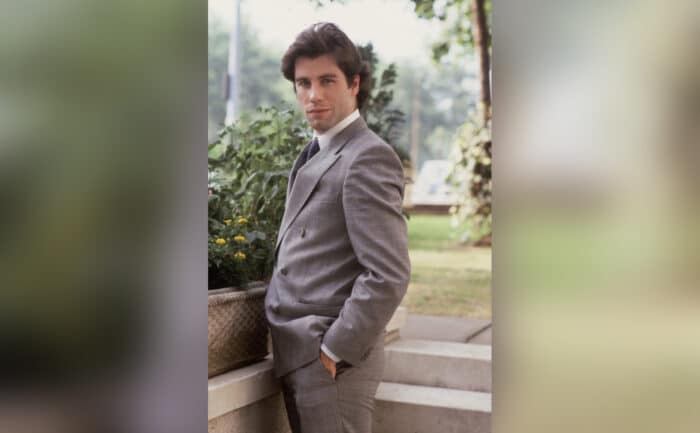 Due to this rough patch, the actor stopped getting offered roles for quite a while. As a result, Travolta disappeared from the screen, and it seemed as if his career might be over. However, this wasn't the end for him; his career picked back up again after a few years.
The Voice of an Angel
Despite focusing mainly on acting, the talented John Travolta has the voice of an angel. His Grease co-star, Olivia Newton-John, became a successful singer after charming audiences as Sandy. Travolta stuck with acting, but he could have gone down that road too and worked towards becoming a musician.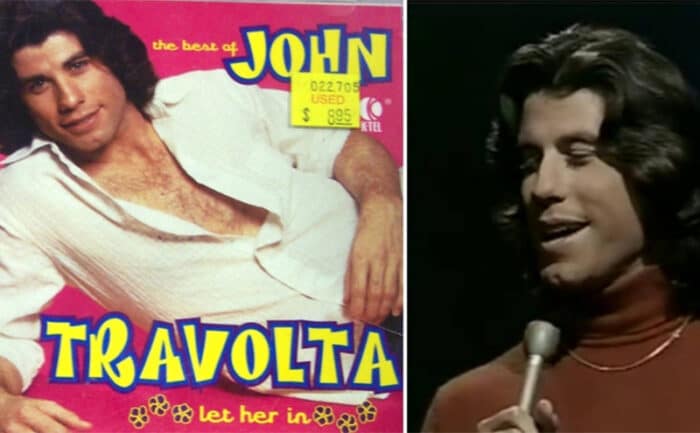 However, as a young man, John Travolta did at one time release a single. At the age of twenty-two, the actor recorded the love song "Let Her In." The tune made it to number ten on the Billboard charts, proving that Travolta really was a triple threat.
John Travolta's Renaissance
In 1989, John Travolta had a comeback when Look Who's Talking became a box office success. The film's producers rode on its wave of popularity and released two sequels also starring Travolta and Kirstie Alley. Fans referred to this as Travolta's "John-aissance." However, this was just the beginning.
When Travolta was cast to appear in Quentin Tarantino's 1994 film Pulp Fiction, it was clear that he was back for good. For the role of Vincent Vega, Travolta was nominated for an Oscar. Acting alongside A-listers like Uma Thurman and Samuel L. Jackson, he had reached new heights of stardom.
A Hollywood A-Lister
Despite Pulp Fiction not being a big-budget flick, the soon-to-be cult classic's widespread success paved the way for Travolta to be cast in quality films, opposite upper crust actors. The actor had a successful streak throughout the '90s, playing leading roles like in the successful thriller Face/Off.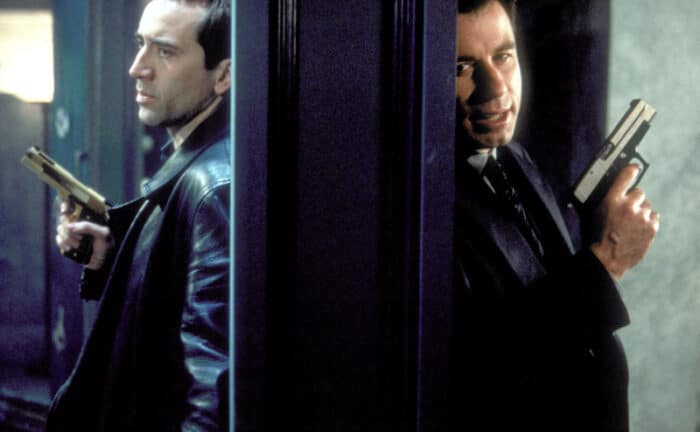 In 1998, Travolta was chosen to play the part of a man running for president in the film Primary Colors. For this intense role, the actor had to get a new look. His character was based on Bill Clinton, and Travolta needed to look the part.
John Travolta's Weight Gain
To become a convincing Bill Clinton in the film Primary Colors, Travolta needed to change his appearance drastically. The film's executives deliberated and decided that it would be more plausible if Travolta could actually gain some weight for the film, rather than using makeup and costumes.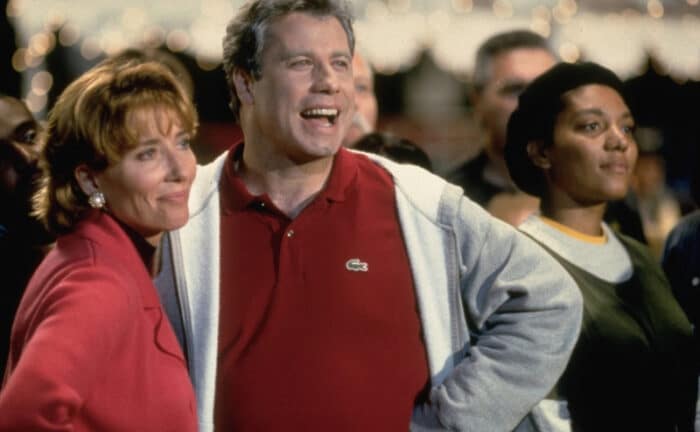 The actor was asked to put on a total of thirty pounds for the role. This gain was quite a change for his young dancer's body, displayed in previous films. In order to put on the pounds, the actor binged on fast food. Afterward, he admitted having fun indulging while gaining weight.
Academy Award Misstep
All the world is a stage; however, the most important one is the stage at the Oscars. As an Academy Award presenter in 2014, Travolta seriously put his foot in his mouth when presenting Idina Menzel as Adele Dazeem. Luckily, the singer forgave him after he dually apologized.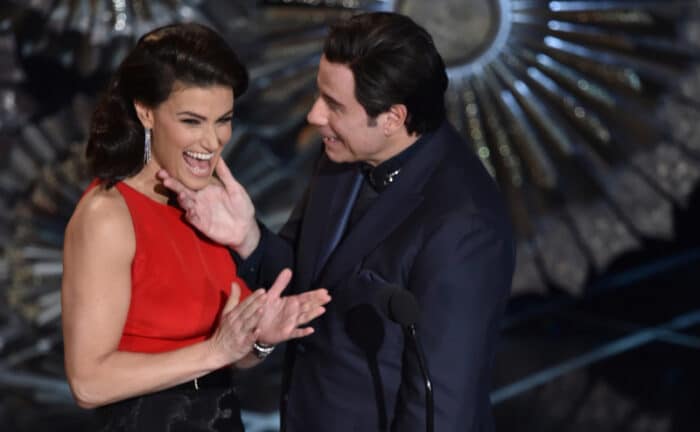 Although it wasn't over, Adina may have forgiven him, but she still got her revenge on Travolta a year later at the Oscars. Menzel introduced John as Glom Gazino as a gag, and the audience cracked up. After that, however, things became awkward again when Travolta stroked Adina's face on stage.
An Awkward Academy Award Surprise
The Adina incident wasn't Travolta's only Oscar misstep. The very same year, he managed to make a fool of himself twice. While Scarlett Johansson was posing on the red carpet, Travolta approached her to say hello and give her a peck on the cheek. Unfortunately, on camera, the kiss looked pretty awkward.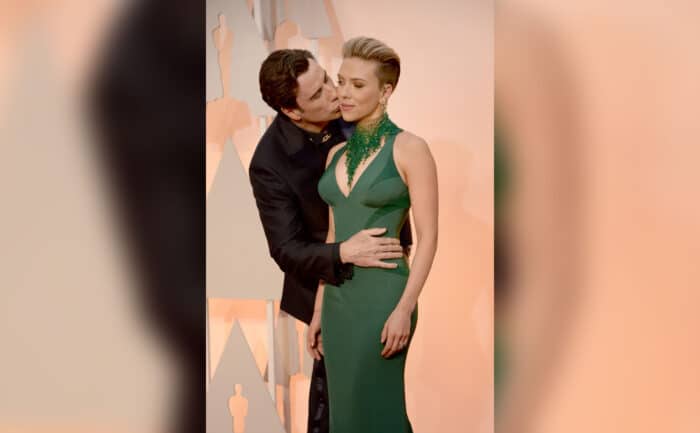 Scarlett defended Travolta, explaining that she had welcomed the sweet gesture and hadn't felt violated. The actress claims that the pictures do not show what happened a second later and therefore don't reflect the whole truth of the occurrence. We are glad it wasn't awkward for her.
Richard Gere's Debt to John Travolta
American Gigolo star Richard Gere has gone on the record stating that he owes an outstanding debt to John Travolta. Oddly enough, the reason for this is that many of the most critical roles of Gere's career were offered to John Travolta first, and only after he rejected them did Richard get cast.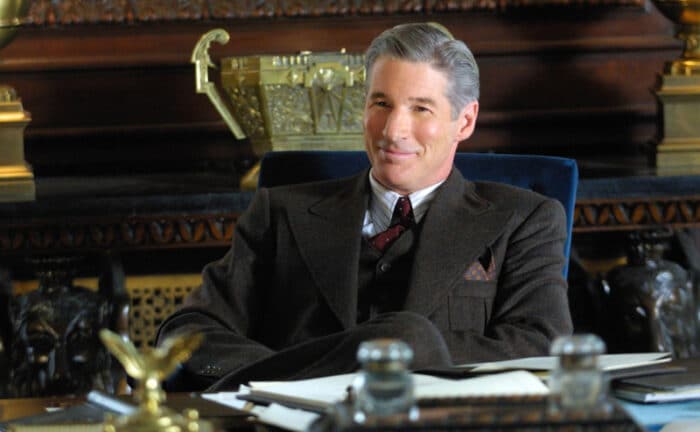 Among the films that Travolta was offered are Days of Heaven, America Gigolo, and An Officer and a Gentleman. However, the most significant role Gere owes to Travolta is the role of Billy Fynn in Hollywood's adaptation of Broadway's Chicago, for which Richard won a Golden Globe.
Saturday Night Swaggy P
Besides his critical acclaim, Travolta also has a victory dance inspired by him, invented by Nick Young, former shooting guard for the Los Angeles Lakers. Nick, better known as "Swaggy P" or "The Prophet of Swag," was known to do a Travolta-esque dance whenever he scored a three-pointer.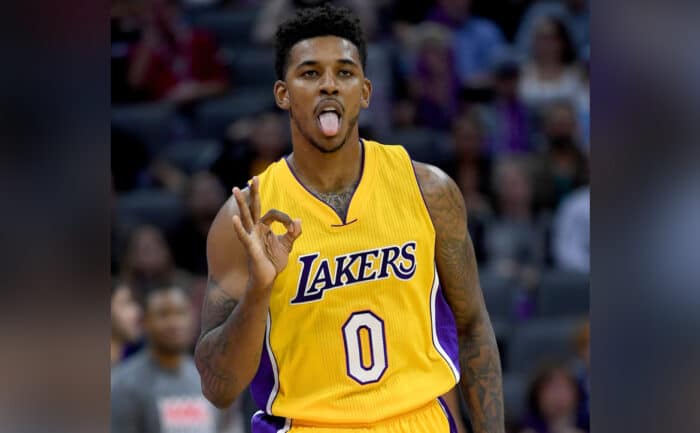 "The Prophet of Swag" has claimed God himself came to him in a dream and told him to go back and forth like John Travolta. Travolta himself loves Nick Young's victory dance and finds it astonishing that he inspired the basketball player to dance on the court.
The Real Man vs. the Character
Due to the O.J.: Made in America documentary on ESPN from 2016, O.J. Simpson's murder trials entered the public's interest again. Around the same time, FX released the critically acclaimed miniseries, The People vs. O.J. Simpson: American Crime Story, in which Travolta appeared as Robert Schapiro.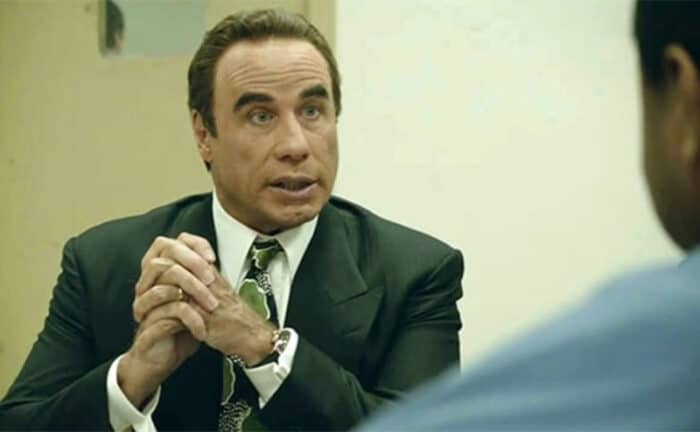 Schapiro was one of the lawyers who defended O.J. during his trial. The real Robert Schapiro criticized Travolta for not portraying him correctly. The lawyer was disappointed that the actor wasn't interested in getting to know him personally before playing him. However, Schapiro was probably most upset that Travolta portrayed him as a villain.
It Goes to Show That You Can Never Tell
John Travolta's passion for aviation is far beyond just flying planes. The actor is obsessed with anything air-travel-related. So naturally, when the second man on the moon, Buzz Aldrin, started ShareSpace, his non-for-profit foundation meant to elevate math and science education for children, Travolta was glad to take part.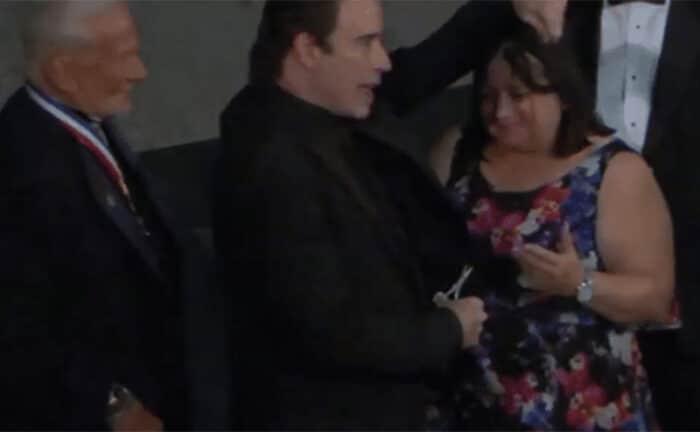 Travolta's contribution was donating a re-enactment of his famous dance with Uma Thurman in Pulp Fiction to a celebrity auction. The highest bidder was a super fan and wanted to look just like Mia Wallace before the dance and made Travolta cut her bangs to look like Uma's character.
The Not So Childish Gambino
Travolta was cast in the role of John Gotti, head of the notorious Gambino family. The Gambino family was considered among the most cold-blooded Mafia families in history. Despite the incredible difficulty in portraying a character like Gotti's, John Travolta was ready for the part.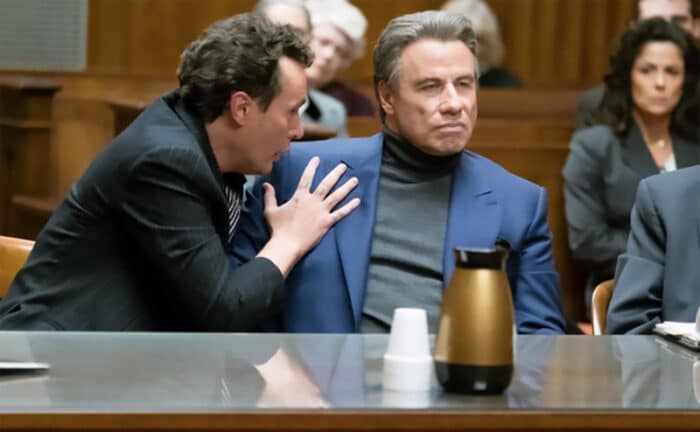 Cast opposite acclaimed talents such as Stacy Keach from the show Prison Break, John played the most brutal and remorseless crime boss ever. The film was full of surprises and scares, because of the crazy life Gotti had led, and Travolta played him with all the grit and fervor of the matured actor he'd become.
Who Let the Dogs Out?
After Jett, their firstborn son, died in a terrible accident at only sixteen years old, the Travoltas hoped they were done with grief and trauma. However, it seems that they were not so lucky, and when flying to Maine, their family suffered another tragic loss.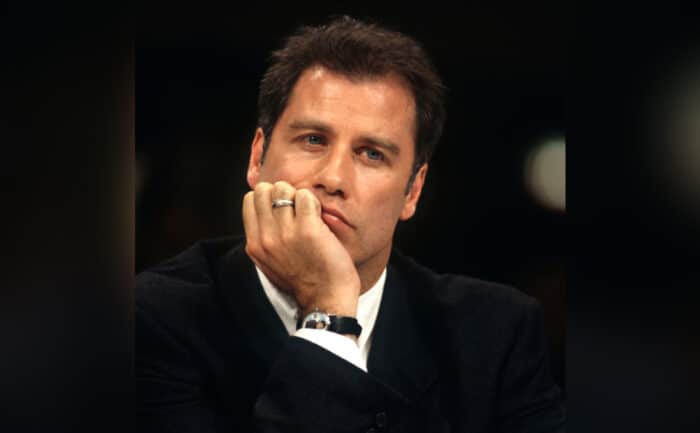 The family had brought their dogs to Maine with them. Sadly, when they were taken out for a short walk around the airport with an airport employee, the dogs were hit by a car. To everyone's dismay, the poor dogs did not survive the crash. The airport apologized profusely, but it was too late.
It's Liberating to Be Bad
John Travolta knows better than anyone that honing the crafts of performance and portrayal can take a lifetime. However, Travolta has alleged that playing good guys is more complex than playing bad guys. The actor has even gone as far as saying that portraying bad guys has been liberating for him.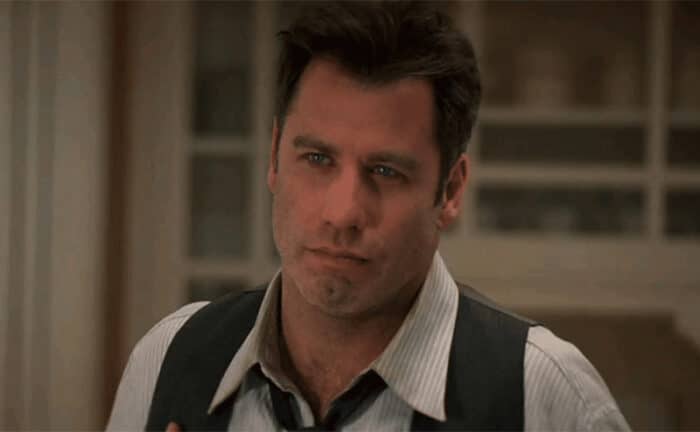 Due to their lack of a moral code, an actor can have fun and let loose while playing bad guys. Consequently, it can be harder to make a character one's own when playing good guys because of the moral and ethical limits the characters impose on themselves.
Staying Fit With John Travolta
As if he wasn't talented enough in the performing arts, Travolta also authored two books. Back in 1984, the star wrote a book about fitness called John Travolta Staying Fit. The helpful manual detailed the way to a fit lifestyle through modern dance and body shaping techniques.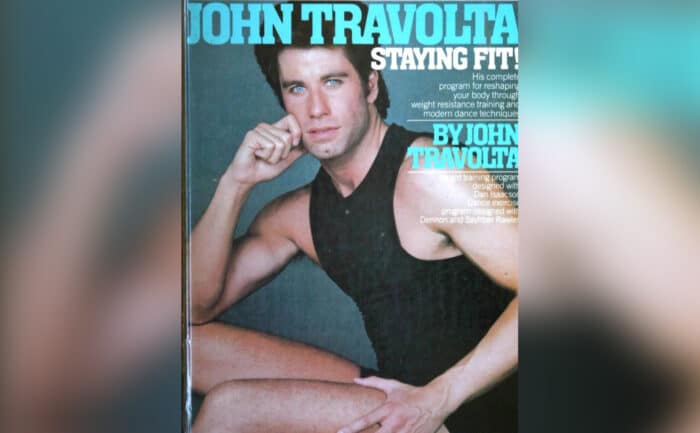 Additionally, he wrote another book, released in 1997, inspired by his passion for air travel. The story was titled Propeller One-Way Night Coach, A Fable for All Ages, and it was about a boy who wished to fly a plane someday. There's no doubt that the book moved many would-be pilots.
A Hollywood Success Story
Among the most established and beloved names in Hollywood, Travolta has enjoyed a broad and fruitful time as an actor and even reached the pinnacle of fame and fortune. His films do exceptionally well in the box office, some having grossed even more than two hundred million dollars.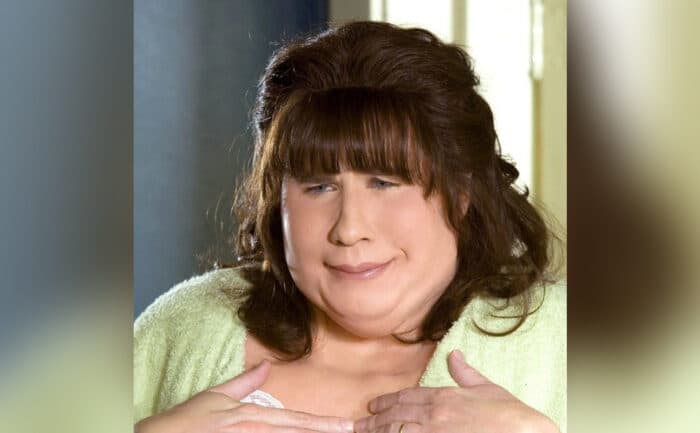 The talented performer has a long list of cult films, including Saturday Night Fever, Wild Hogs, Grease, Hairspray, Look Who's Talking, Pulp Fiction, Bolt, and Phenomenon. However, John Travolta has never won an Academy Award, though he has been a nominee for best actor twice.
Miley Cyrus and John Travolta
Despite his extensive range from musical comedies to true crime dramas, fans were shocked when Travolta went for an animated role. He surprised audiences with his convincing voice portrayal of Bolt, the dog, in the film Bolt that he starred in opposite Hannah Montana star, Miley Cyrus.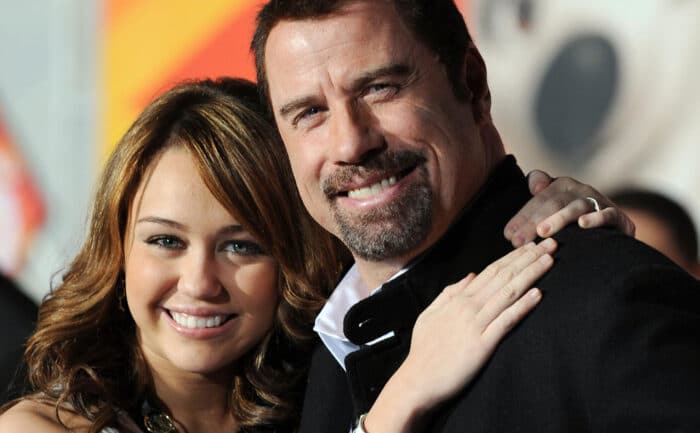 Perhaps he took the role because the movie was an animated musical, and both he and Miley were able to show off their singing chops. Bolt underlined the actor's continuous relevance; Travolta could still surprise the world with great new movies that audiences loved.
Yet Another Romantic Scandal
Travolta, like many Hollywood stars, has had his fair share of romantic scandals. However, this one was a little different. In 2014, a man named Douglas Gotterba, who had worked as a pilot for the actor, alleged that he and Travolta had been romantically and physically involved for over six years.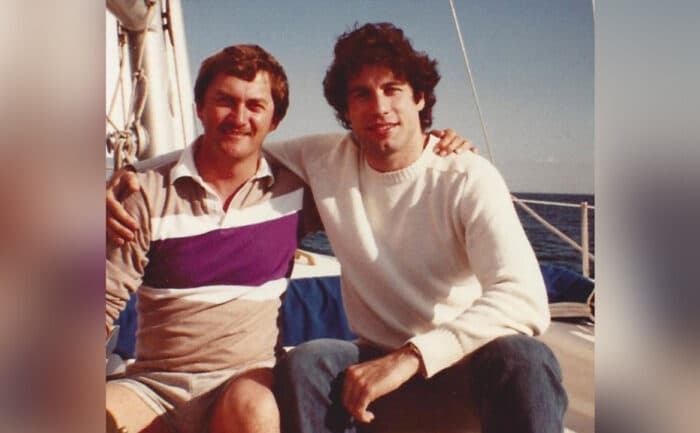 John Travolta and his family denied the rumors, calling them ridiculous. Although Gotterba himself told his whole story to the National Enquirer, Gotterba claimed that their relationship took place when he had worked for Travolta's aircraft business before the actor's marriage to Kelly Preston.
Rumors About Travolta's Orientation
Gotterba's story was not the only thing that led to speculation over the actor's orientation or his loyalty to Preston. Travolta has a long history of invading people's personal space. However, when questioned on the matter, he explained that he kisses all of his friends hello and goodbye, no matter their gender.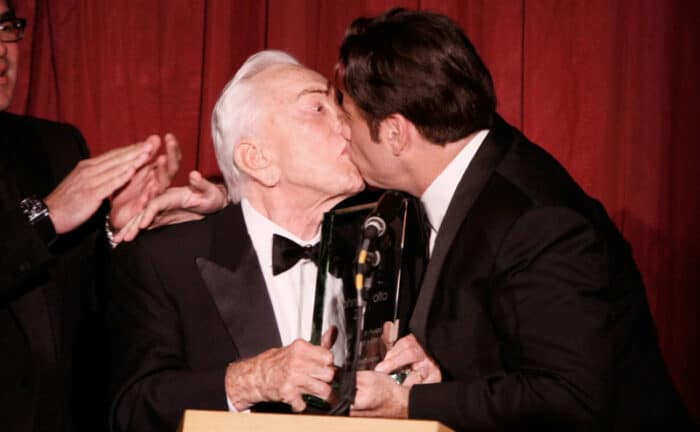 There are many awkward photos of the actor kissing friends and actors with an intensity that seems a bit beyond a hello or goodbye peck. For instance, when Travolta was recorded passionately kissing an unidentified man on the stairs of the actor's private aircraft.
The Actor's Involvement With the Church of Scientology
John Travolta is one of Scientology's most well-known followers. The actor converted to the Church of Scientology in 1975, even though he had been raised into the Roman Catholic tradition. For more than forty years, Travolta has remained a dedicated disciple and has admitted how grateful he is for Scientology.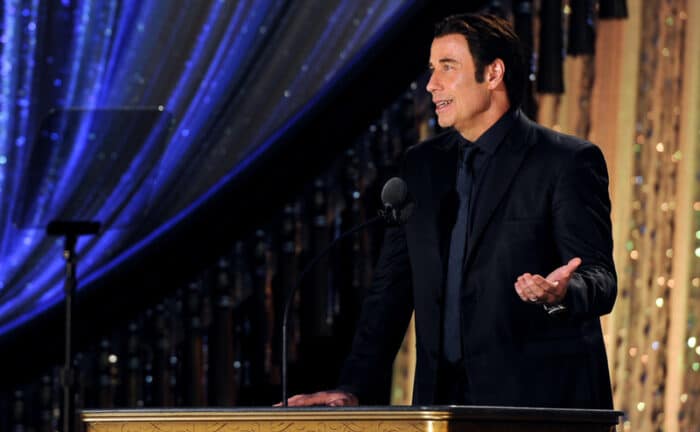 During an appearance on Good Morning America, Travolta explained that Scientology had saved his life and helped him through the loss of his son Jett, awarding him with strength and support. The actor even went as far as saying that through Scientology, he has saved the lives of others.
Scientology, a Fortress of Secrets
However, John Travolta's history with Scientology wasn't always perfect. The Church even suspected that Travolta was planning on leaving the movement in 1991. William Franks, the executive director of Scientology, believed that the actor was paranoid about the Church exposing information about his private life.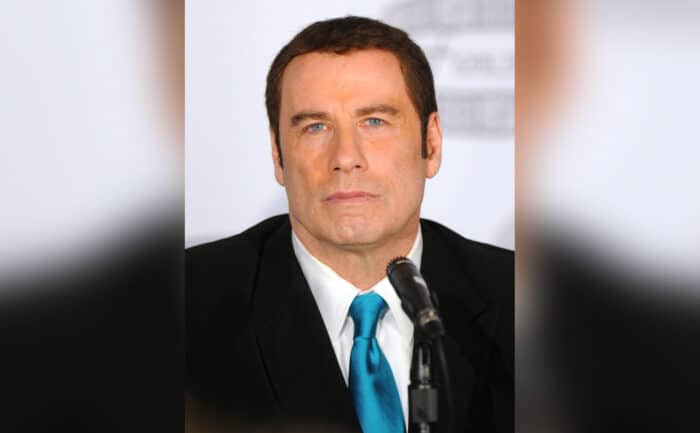 However, according to the belief system of Scientology, secrecy is held as an essential virtue. Therefore, Travolta's secrets were never told by members of his Church; there has been some speculation as to whether the movement signed a non-disclosure agreement with the actor. Rumors began again in 2020, suggesting that Travolta may leave the Church.
Stuck With the Church of Scientology
Despite the rumors, the devoted actor has always defended Scientology despite the controversy surrounding it. For instance, the HBO documentary on the Church revealed a lot of negative aspects. However, Travolta chose not to comment on the documentary when questioned about it, explain that he hadn't experienced the bad things portrayed in the film.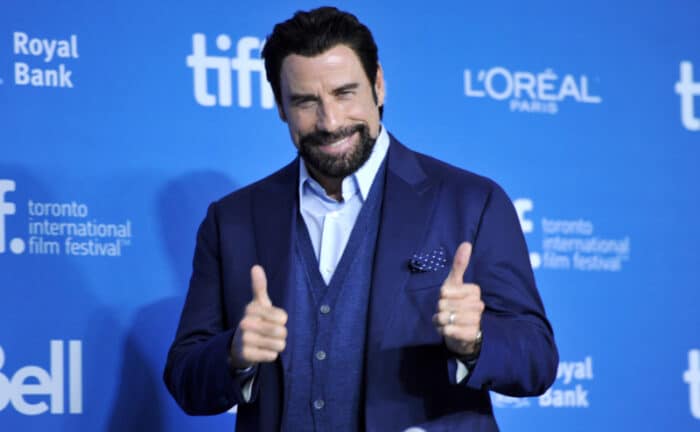 The actor thought that the people in the documentary who were speaking out against the Church must be less happy with their experiences. Notwithstanding, Travolta claimed to be so grateful for Scientology that he would never have anything negative to say about the movement.
The Actor's Broadway Breakout
Ever since he was a young child, John Travolta had wanted to be an actor. As a young man, he even quit high school to become a successful performer. Travolta's first professional acting job was on Broadway in the musical Grease! For his job, he moved to N.Y.C. and eventually went on tour.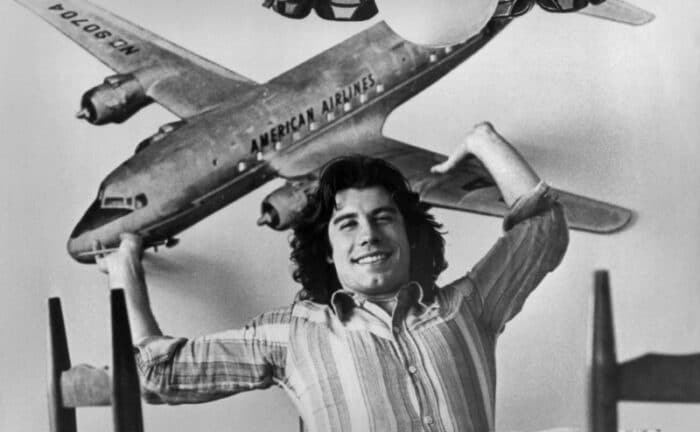 After Grease, he performed in the Broadway musical Over Here! While on Broadway, Travolta finetuned his dancing, singing, and acting skills and added more experience to his CV. After a while, he built up his confidence and, when he felt ready, moved out west to Los Angeles.
Accusations of Aggravated Assault
In May 2012, things took a turn for the worse, and John Travolta was accused of propositioning a gym trainer who preferred to stay anonymous. The trainer sued Travolta, but that wasn't all. In the same week, the actor was also accused of sexual assault by two different men.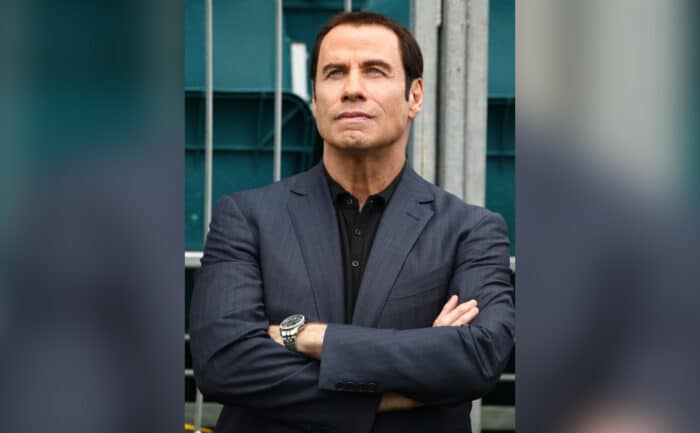 The men were represented by Gloria Allred and alleged that the actor had been violent with each one of them in separate incidents at two different hotels. John Travolta and his lawyers fought the allegations and stayed adamant that the accusations were lies. In the end, all three lawsuits were dropped.
Further Allegations and Accusations Against the Actor
Incidentally, the 2012 allegations awoke a slew of accusations against the actor. After taking a Royal Caribbean cruise in 2009, Travolta was accused in 2012 by a cruise employee, Fabian Zanzi, of making unwanted advances. Zanzi claimed that the actor had forcefully embraced him while not wearing clothes.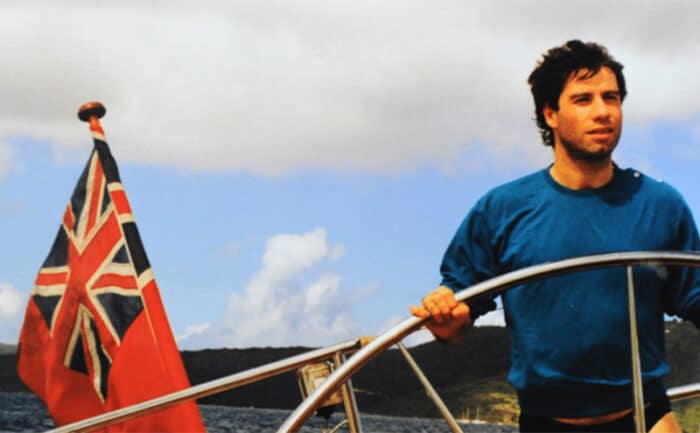 Travolta admitted being on the cruise but claimed that Zanzi's accusations were insane and ludicrous. The actor accused Mr. Zanzi of desperately trying to have fifteen minutes of fame and insisted that his claims were baseless. Eventually, Zanzi dropped the suit before going to trial.
Allegations of Unwanted Advances
Furthermore, following these claims, his former Grease co-star, Jeff Conaway, who played Kenickie, alleged that Travolta had made unwanted advances towards him back in the 1990s. In an interview for The National Inquirer, Conaway's former girlfriend, Vikki Lizzi, told the story.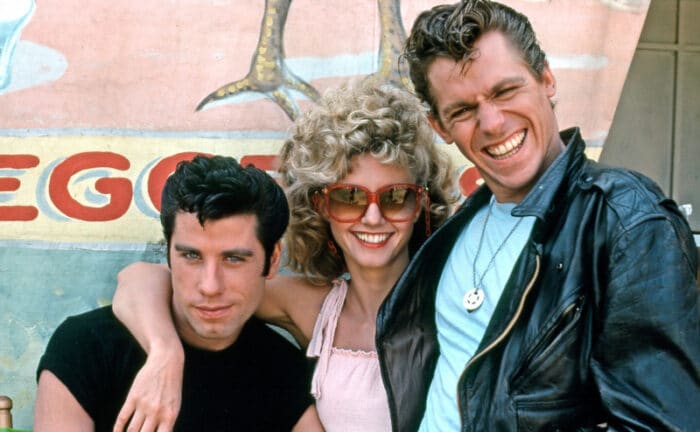 Lizzi further claimed that Travolta and Kelly Preston's marriage was an arrangement, stating that Kelly was aware that her husband was gay. John Travolta's lawyers denied the accusations, hashing them off as a tabloid agenda. The legal team said that the stories were ridiculous rumors meant to boost tabloid sales and make Lizzi famous.
Struggles With Autism and Seizures
Travolta's son Jett passed away before he turned seventeen. However, the Travoltas only told the public about Jett's struggles after the young man died. Kelly and John's son had been autistic and lived with various neurological disorders, which had often caused him to experience seizures.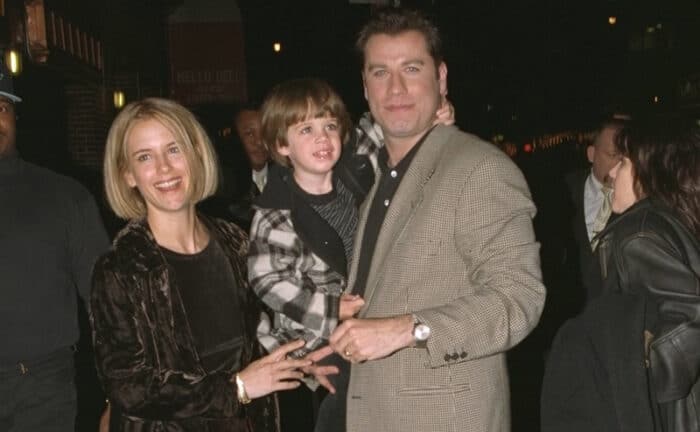 The only reason these facts about Jett were released to the public was that the Travoltas were involved in a trial against individuals who had attempted to extort them after the death of their son. The Travolta family wanted to share with their fans the real reasons for their son's untimely death.
Complete Engine Failure
On a cloudy November evening in 1992, the certified pilot experienced an in-air emergency. Travolta was flying his Gulfstream N728T aircraft, and just as he entered a busy airwave, the plane's engine completely failed. Luckily, the experienced pilot didn't panic and took charge of the dangerous situation.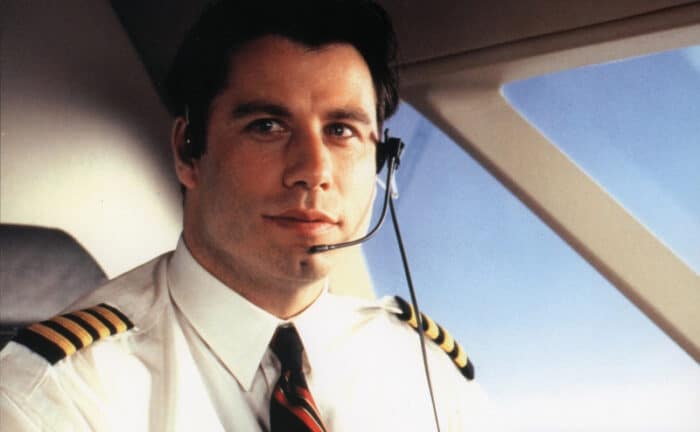 The actor was quick on his feet and spotted the Washington D.C. airport through the cloudy sky with a stroke of luck. Travolta and his trusty co-pilot navigated the faulty airplane to the thankfully close airport. They pulled off a successful emergency landing, and no one was hurt.
Lives in the Balance
During the plane's complete engine failure, the radio of the aircraft also blacked out. As a result, air traffic control didn't know where Travolta's plane was and attempted to suspend activity in the area until they could locate the aircraft and understand Travolta's landing plan.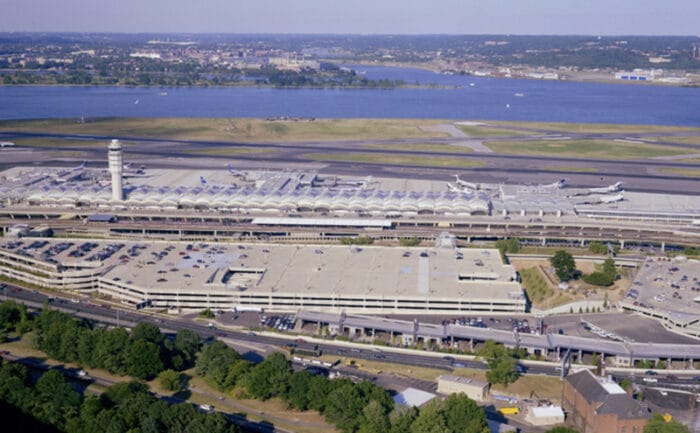 They ended up diverting a fully booked Boeing 727 to direct Travolta to safety. However, because the actor's radio wasn't working, he was unaware of the location of the other plane and nearly collided with it mid-air. Thankfully, the two jets avoided the crash, and both safely landed in D.C.
A Severe Auto-Immune Disorder
Jett suffered from medical problems for his whole life; he was hospitalized for manifesting flu-like symptoms at age two. However, his condition turned out to be something else entirely; the toddler was diagnosed with Kawasaki syndrome, a rare auto-immune disease that causes inflammation of the arteries.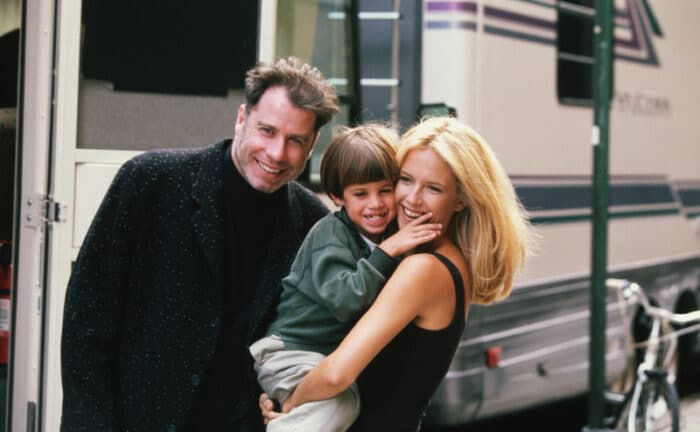 Kawasaki is a treatable syndrome, however severe it may be. The disease is not contagious though it has been suggested that it may be related to the child's other conditions. Kelly Preston shared the whole story of discovering her son Jett's syndromes in a 2003 interview with Montel Williams.
No Interest in School
Travolta was not interested in his studies in school and invested all his energy into learning how to act, sing and perform. Later, he used his personal experiences to add to his roles as cool guys who were bad in school, like Danny in Grease and Vinnie in Welcome Back Kotter.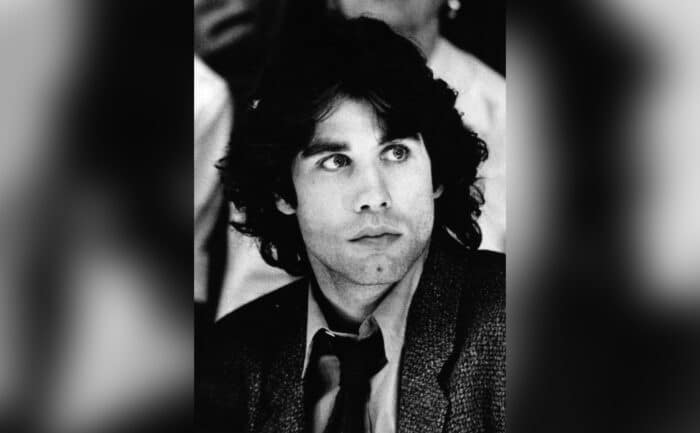 Travolta's schoolteachers were concerned about their pupil's lack of academic engagement and attempted to help the young actor succeed in school. However, the ever-performing Travolta tried to charm his teachers with charisma and communicate with them like an adult.
Acting School Drop Out
Like many characters in his acting debut Grease, Travolta wasn't focused on his studies and became a high school dropout. So, when Travolta got cast as the charming Danny, it was as if art was imitating life for the young actor. Maybe that's why his portrayal of Danny was so convincing.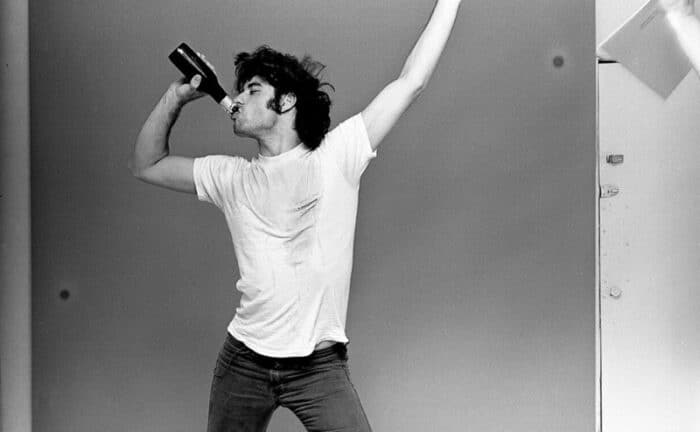 However, Grease didn't imitate the full story of Travolta's high school experience. The actor was never popular like Danny. Despite playing football and other sports, his peers never empathized with his determination to perfect his acting skills and thought it was odd the young talent took nighttime acting classes.
After the Earthquake, What Did Travolta Bring to the People of Haiti?
As a high-paid Hollywood star, Travolta has enough money to donate to those less fortunate than himself. He has often shown his charitable spirit and, in 2010, presented resources to the people of Haiti after their disastrous earthquake. The Haitian government was lacking in the tools to care for its people.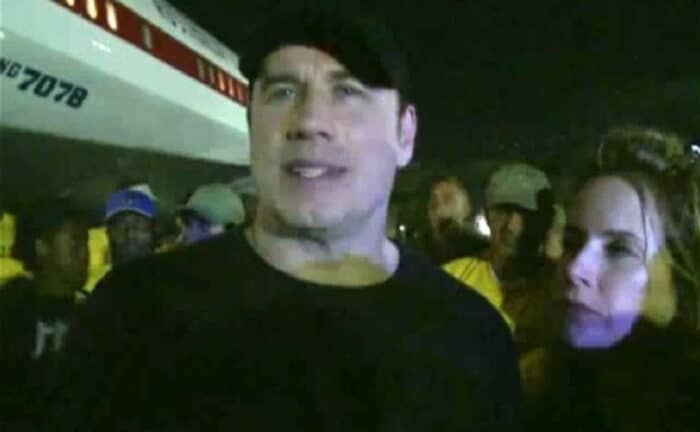 When Travolta became aware of the tragedy, he filled his Boeing 707 aircraft with medical equipment, food, supplies, and even some American doctors! The actor then piloted the airplane himself and hand-delivered resources to the Haitians personally. Talk about the perks of owning a fleet.
Bombed at the Box Office
Despite his successful and lengthy career, Travolta made some poor choices after 2000, and things were looking down. For instance, the actor produced and starred in the film Battlefield Earth, based on a book written by the founder of Scientology. Unfortunately, the movie was a commercial and critical failure on all counts.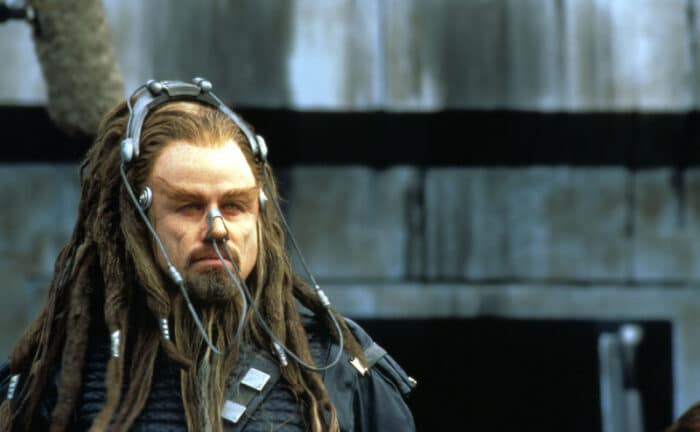 After such a box-office embarrassment, Travolta feared that his career might be over. Thankfully, this wasn't the case, and he was able to make yet another comeback and regain his pride. Thankfully, Battlefield Earth won the Worst Film of the Decade prize, canceling Travolta's hopes for a sequel.
Unconventional Cover Guy
Due to his Hollywood success, quite a few companies turned to Travolta to promote their brand and products. In 1978, the actor became the first male to be shown on the cover of McCalls magazine. Back then, this was radical, for men weren't often featured as cover guys.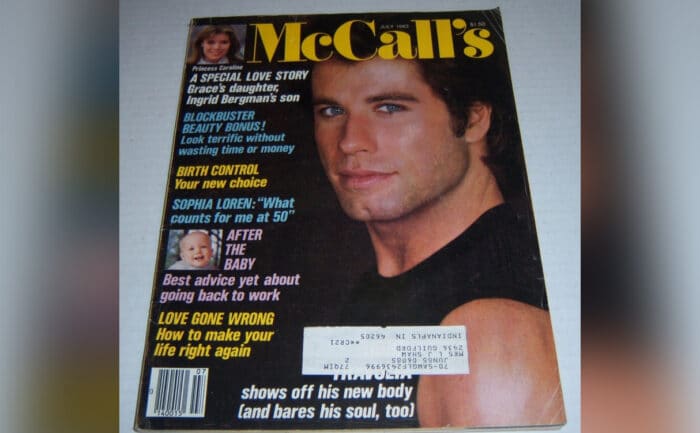 His appearance as a cover guy began a new trend of putting male actors and models on the cover of popular magazines and not only women. Who knew that Travolta was such a trendsetter? Later the actor appeared on the covers of Playgirl, Rolling Stone, and even Time magazine.
What Is John's Orientation?
It is still unclear where John Travolta's sexual orientation leans, despite his happy marriage to Kelly Preston and their three children together. However, due to the influx of allegations from men depicting consensual and nonconsensual advances from the actor, it is getting more difficult to deny his affection for men.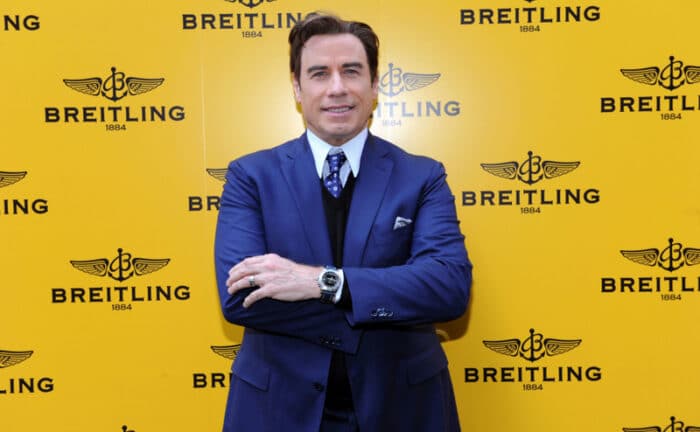 While interviewing with the Daily Beast, Travolta expressed his weariness with the continuous allegations against him. The actor understands that every celebrity is subject to these things and that with the spotlight comes the danger of being canceled. However, John has claimed that most allegations come from people wanting money.
Still Fighting For Roles
Travolta appeared on a variety special for PBS called Actors on Actors with fellow friend and A-list actor Rob Lowe. Perhaps Travolta wanted to appear on a platform where he could speak for himself and quiet the rumors flying around about him, winning over his fans again.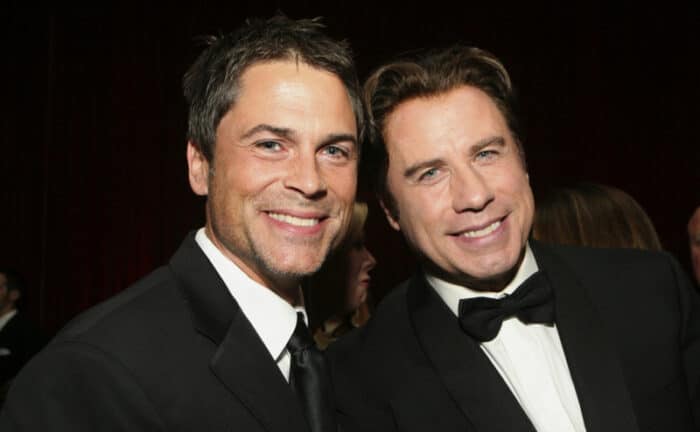 Rob and John spoke on-air about their long and fruitful careers and Travolta's experience playing Robert Schapiro in Ryan Murphy's The People v. O.J. Simpson: American Crime Story. The two talked about the fact that even though they are established actors, often they still need to fight for the roles they want.
Is John Travolta's Career Over?
John Travolta has enjoyed a star-studded, fruitful career spanning from the 1970s till today. However, since The People v. O.J. Simpson: American Crime Story, he hasn't been very active. So, is Travolta's career over, or will the actor have another comeback? Is he ready to retire and spend his time flying?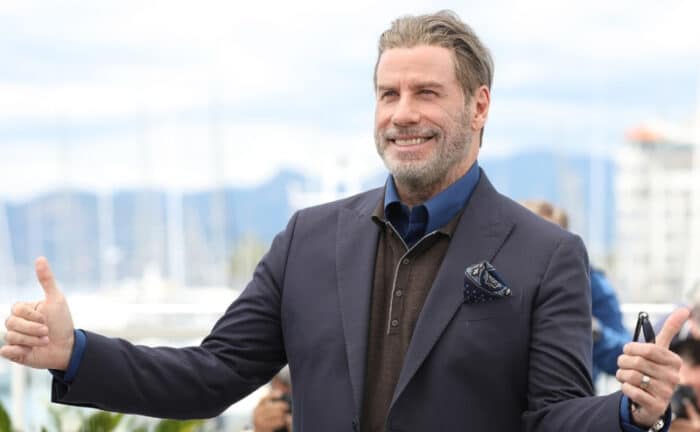 Since 2019 the actor hasn't made a movie, and in 2020, he appeared in only one television series. Are his days as a leading man behind him? It was recently announced that Travolta would be starring in the upcoming film Paradise City, alongside Bruce Willis; that sure sounds promising.
The Loss of His Great Love
Following years of trials and tribulations but sticking together through thick and thin, it looked like nothing could come between Kelly Preston and John Travolta. Nonetheless, some stills things are beyond our control. Kelly Preston was diagnosed with breast cancer in 2018.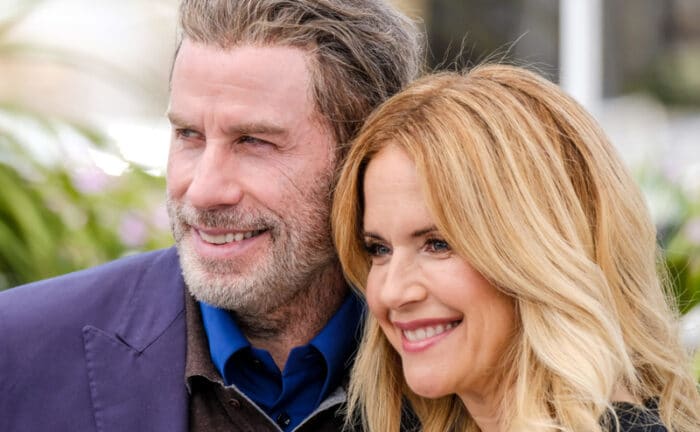 They waited to share this information with the public; however, fifty-seven-year-old Kelly passed away following two years of chemotherapy and radiation. After her death, Travolta shared with fans the battle she had fought and praised her bravery and courage throughout her illness. John will always remember Kelly as his one true love.