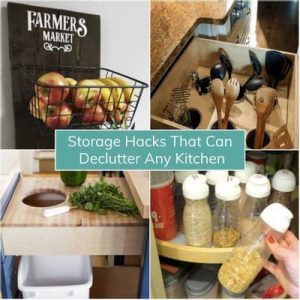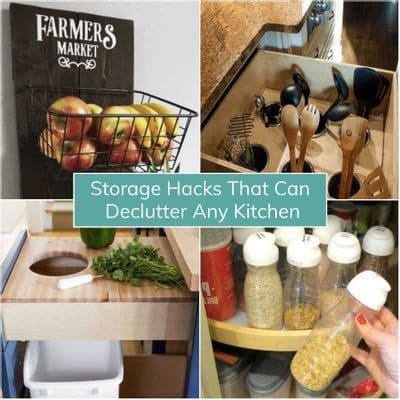 Organizing Hacks to Maximize Kitchen Storage Space
By Yuri S.
---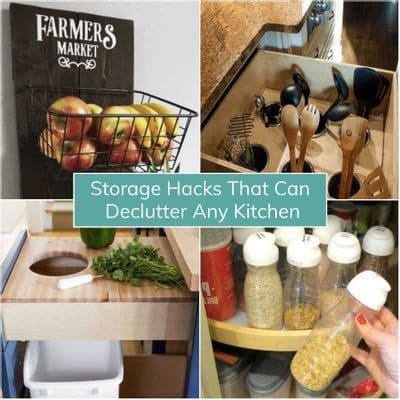 One of the most important rooms in a home is the kitchen. We chat, joke around, and create lasting memories with our loved ones all in the kitchen. Nourishing food and memorable moments are a surefire way to spice up your daily life; it's a safe space, especially for new cooks wanting to learn a new skill.
Maintaining a clean kitchen during a cooking session may be tough to do, but that's what we're here for! We've compiled some kitchen hacks that will have your kitchen looking more put together and let you get back to cooking!
Install a Towel Bar in the Sink
Gross, moldy towels were SO last year. It's time to invest in sturdy bars to attach to the inside of the sink and hang your towels off of them. This can be more productive and nicer to look at, rather than just storing the damp towels and rags crumpled up on the counter.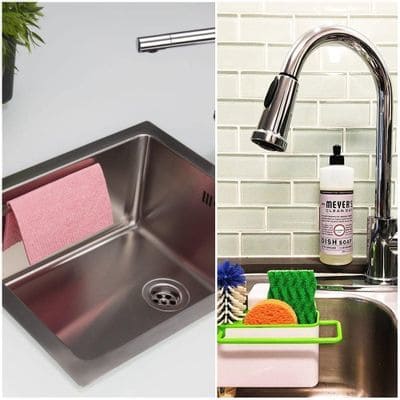 It also creates a cleaner space to wash your dishes and cooking utensils. If you're in a thrifty mood, perhaps you could make this one yourself. It's a better way to store your towels as opposed to a tower of used towels!
Storing Food With Unused Jars
Ever had numerous empty mason jars in your kitchen cabinets? Maybe it's time you actually start using those jars! By storing your food and dry ingredients in them, you're repurposing them and making it simpler for yourself to find what you need for your next meal.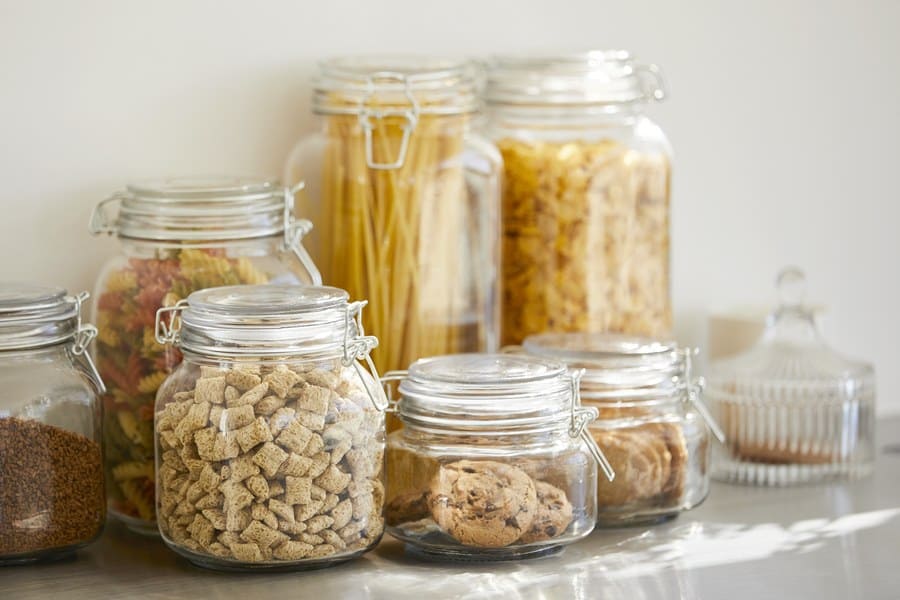 It's a leading trend of today; mason jars are all the rage! The best part about these jars is that you can add personalized details to match your theme. Since guests will see them sitting on the kitchen counter, you can add handwritten labels or decorative stickers to make them look even better.
The Ideal Way to Store Your Pans
The scariest place in someone's kitchen is the cabinet where they store their mountain of pots and pans. The ideal way to store these items is by arranging them on their sides. To be able to accomplish this feat successfully, you'll need a rack that allows each pan to have its own place.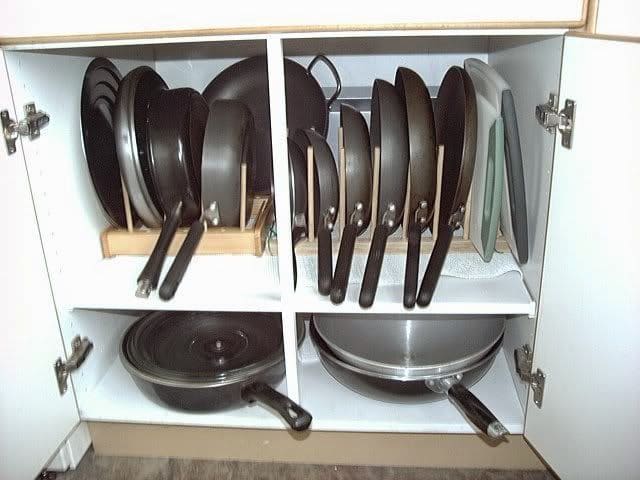 Pans are notoriously tough to arrange in an organized way, so this hack will definitely help you to maximize the space in your cupboards. After you've finished arranging them, take a step back and admire your work. No more pans avalanche every time you open the cupboards!
Storing Your Sponge to Drain
Technically, sponges are small enough that they don't take up a ridiculous amount of counter space in the dishwashing area. We use it to scrub all the gunk off of the dishes, and then it just sits there. Just soaking in its own filth. We've got a better idea.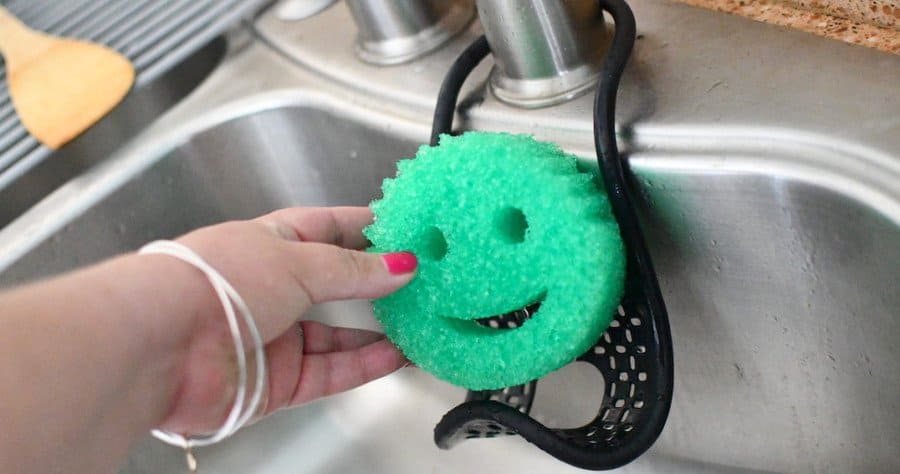 It may seem a little dramatic but consider getting a sponge holder to hang from the faucet. This both clears up the sink space and also allows the sponge to drain and fully dry before its next use. The best part is that it can hold a sponge and scrubbing brush.
Better Storage for Fruits and Vegetables
One of the biggest disappointments is when you have to throw out your fruits and vegetables because they went bad. Using a bowl on the counter takes up too much room and is just not cutting it anymore. This kitchen hack will keep your produce nice and fresh.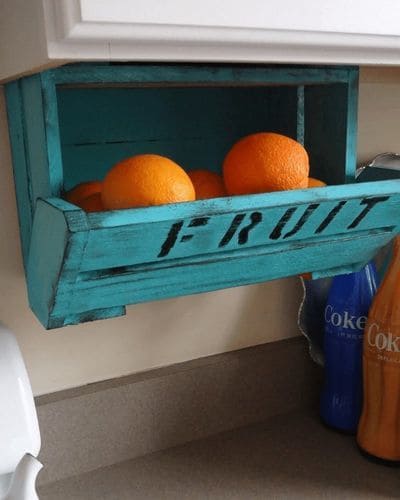 This produce holder is attached to the wall or the bottom of the cabinets. This just looks so much better and doesn't take up any space on the countertop. As with many of our kitchen hacks, you can personalize them with different colors to fit your aesthetic.
Dividing Up Cabinet Space
This might be the most useful and important suggestion that we have on our list. Putting dividers and sectioning off the inside of your cabinets is the smartest way to maximize your storage space. It keeps your things organized strategically without giving up productivity.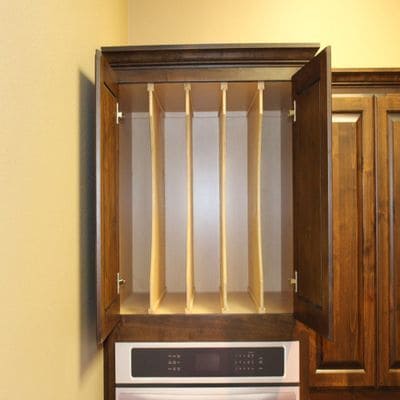 All of this available space in the cupboards can be utilized for its functionality. All you need is a strategy and some creative problem-solving skills to figure out the best configuration for your cupboards. This hack requires a few heavy-duty tools, especially if you're using wood, so we suggest finding someone to help.
Repurpose a Ladder for Additional Storage
Out of all the tips and tricks in this article, this one might just take the cake for the most fun. It certainly adds a charming flair to the atmosphere in your kitchen. So not only does it look incredible, but it also does a wonderful job keeping your pots and pans organized.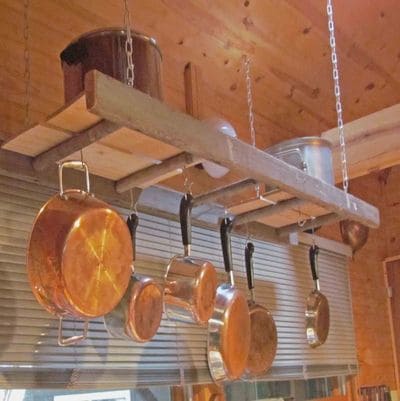 Functional and aesthetic? Say less; you've convinced us! We like adding unconventional details to the kitchen, so we thought we'd share. It'd be a chance to bring your quirky side out with this woodworking project. A ladder is a neat DIY project to declutter the kitchen.
Save and Repurpose Old Containers
It's always a smart idea to repurpose your old containers, especially if they are made from quality materials and look good. This is perfect for those on a budget as it will save you money. In the kitchen, sustainability is the new trend, so this also helps out the earth.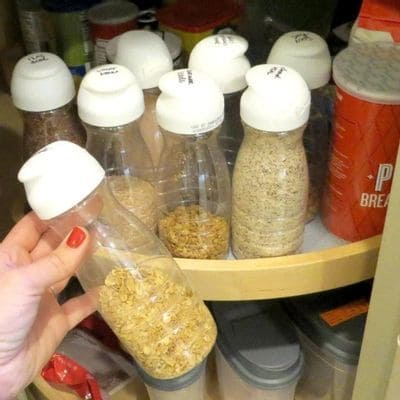 Being purposeful with space you do have in your cabinets and on your counters is a must. It will keep everything tidy and clean. To elevate it, even more, you can reuse the same type of containers and put labels on them so that they look like a set.
Fill Your Fridge With Food and Labels
Since it's closed most of the time, the fridge is often overlooked when it comes to organizing. That's what we're here for: ORGANIZE YOUR FRIDGE! Get rid of that old food in the back and add labels to different sections. It sounds easy, so why haven't you done it already?!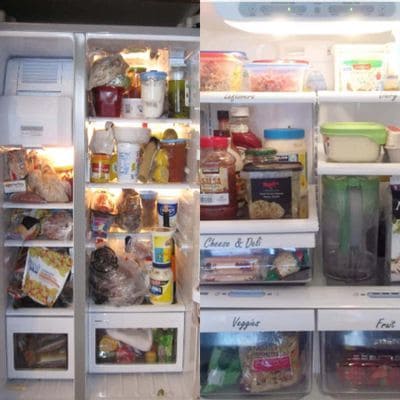 Placing your items strategically is a talent that you will improve upon when you make this a permanent habit. Plus, it's so satisfying to open the fridge and know where everything is. This also leads to more efficient cooking because you don't have to search for your food.
Spice Up Your Kitchen Organization
The Spice Girls said it best when they told us to spice up our lives! The toughest thing to keep tidy is your assorted spices, so we've found a DIY that's both functional and cute! Just put your herbs and spices in small metal holders, glue magnets to them, and that's it!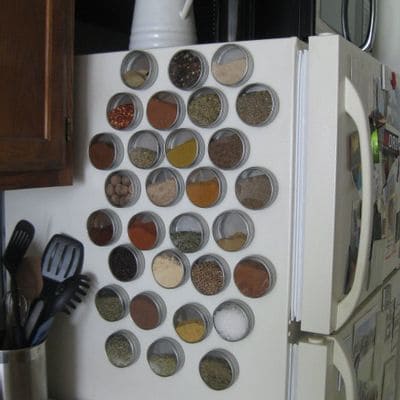 Look at you go – a cool-looking fridge that doubles as spice storage. This looks awesome, easy, and straightforward. It's like a present to yourself to see all of your spices at once, waiting to be refilled or removed to be used for home-cooked meals.
Save a Shelf, Use a Hook
Scrolling through DIY hacks on the internet, it's normal to come across utensils hung from the ceiling. What these life hack authors miss, though, is that the same could be done with pots and pans. If you have limited cabinet space, going vertical is a perfect solution.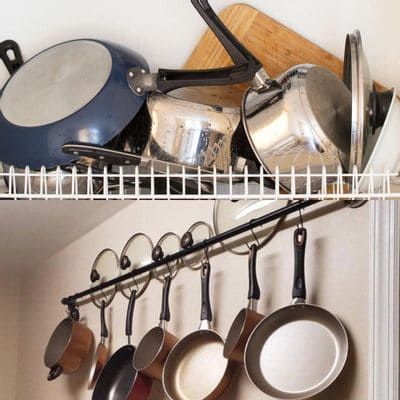 It makes it easier to find them and decorates the kitchen at the same time. Can't you just feel the spirits of cooking smiling at the organization? Minimalism might be the hottest trend at the moment, but we're here to say that this hack is the exception to that rule.
Tackle the Pantry With Bins
When you want a midnight snack, you'll often grab something blindly and go back to bed. In the morning, you're confronted with an overwhelmingly messy pantry. Additionally, it sucks the fun out of cooking thanks to all the time you require to search for your ingredients.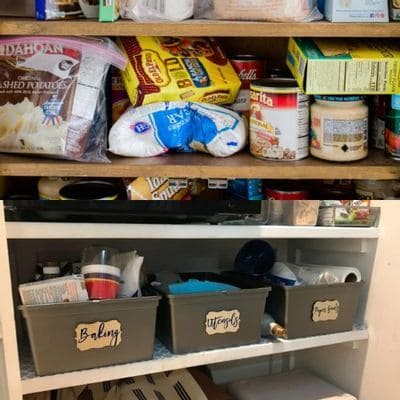 Our genius hack is to put storage bins on the shelves of your pantry. You can add your own decorative touches, like stickers or handwritten labels. The magic and harmony will now be restored in your pantry as everything will have its own place.
2-for-1 Cutting Board and Garbage Chute
There is creativity, and then there is innovative genius – this is the latter. This DIY kitchen hack looks gorgeous aesthetically, functionality, and efficiently. There are some additions or small design suggestions we can think of but overall looks like a worthy undertaking.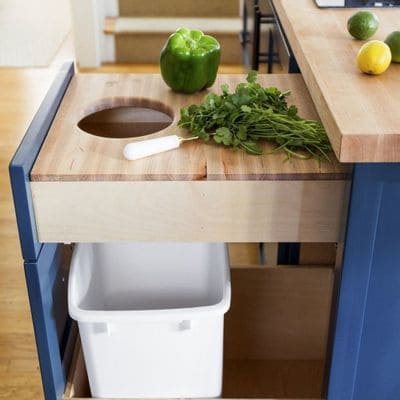 This type of solution opens up worlds of possibilities with all the space your kitchen will have. You could cut up your ingredients here while at the same time, you don't risk dropping any scraps on the way to the garbage can since it's a straight shot through the hole.
Display Your Cookbooks Along the Cupboards
This is such an aesthetically pleasing and simple way to store your cookbooks within reach! Instead of the typical rack or door hook, we're using the side of the cupboards instead. Building racks out of wood and secondary materials will make your life easier.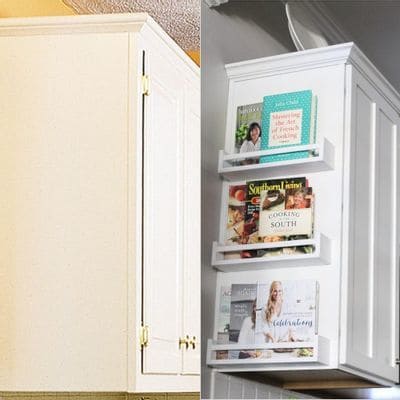 It also looks like you're a professional in the kitchen! The cookbooks arranged so nicely and close to the cook? You're basically a real chef, and the kitchen is your playground. Now's the ideal time to compile those cookbooks and begin learning how to elevate your cooking game!
Secret Paper Towel Compartment
This is another way to make sure that you don't waste money on something that ends up getting ruined just sitting on the counter. Paper towel rolls need to be easily accessible but not so easy to reach that they soak up the crumbs and liquid from your countertops.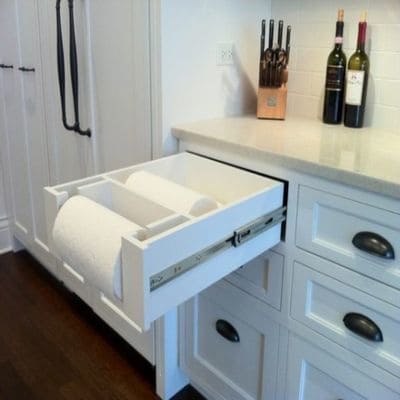 Consider transforming an empty drawer into a hidden paper towel dispenser! It's brilliant, away from the messes until you actually plan on using them rather than wrong place wrong time like when they just get thrown anywhere. A truly amazing and functional solution.
Countertop Literally Full of Knives
Now this hack is a unique solution to store all of your knives. And by storing, we mean sticking them right into the counter so that the handles stick straight up. Rather than purchasing something that will take up space on the counter, why not use the counter itself?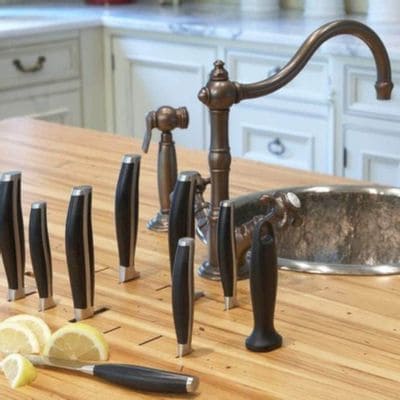 We have never seen something like this, so it'll be a great conversation starter when you're hosting. It's guaranteed to save you space and cut down on countertop clutter. This is the perfect example of a space-saving kitchen hack. Go chop it up on the kitchen counters!
Best Place to Keep Pot Lids
Tons of space can be saved when taking advantage of the inner cabinet. For example, you can hold your pot lids inside. Instead of taking up space inside the cupboard, you can hang them up vertically by showing off your DIY skills and creative problem-solving.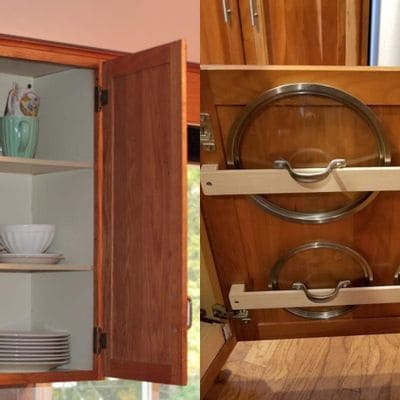 Many of our kitchen hacks involve some DIY components, and this one is undoubtedly one of them. This strategy is brilliant and protects your pot lids from being scratched from stacking. You can also use bars, hooks, bars, or pieces of wood to secure to your cabinet's inner door.
Hanging Mason Jar Hack
Sometimes to find the best solutions, you have to get clever. You just have to be creative in the kitchen and think beyond what you already know. If you have empty jars collecting dust in your kitchen, now is the time to repurpose them as storage pieces on the bottom of your cabinets.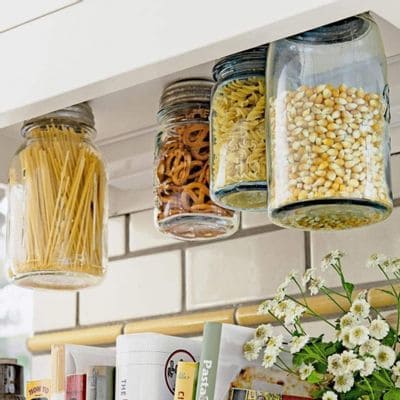 Attach an adhesive to the cap and the bottom of the cabinets, and boom—you've opened up a whole new world for yourself of storage space for your chips, pasta, pretzels, and any other important dry goods. This just looks fabulous while clearing up some counter space.
Wire Rack Adds Shelf In Fridge
This one is fantastic for those of you with, especially disorganized refrigerators. Or maybe you just went on a grocery run. Organizing your food is soothing, so they claim. Why not try putting a wire rack inside to add more shelving to the inside of your refrigerator?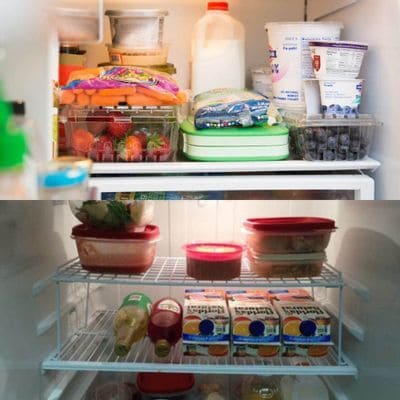 This rack creates a way to section off your food and maximizes space by doubling the number of shelves you have. Plus, it's customizable, so you can move the racks around depending on what you bought at the store. You essentially have endless possibilities.
Adding Storage on the Side of the Fridge
As they say, there isn't always only one solution. This also connects to your efforts in trying to make your kitchen look less messy. You just have to go in with a solid game plan and try to group similar items together. This kitchen hack is such an easy gamechanger.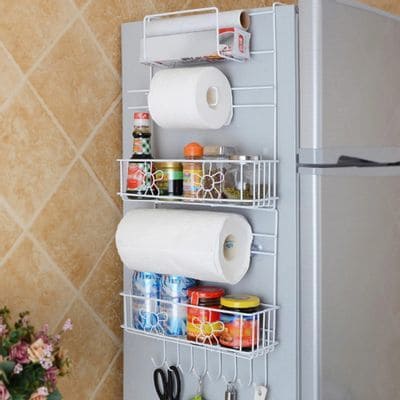 The fridge offers so many possibilities, but we only ever use the inside of it. The answer was there all along – add a storage rack to the side of the refrigerator! It's an effective way to save space in already overcrowded areas, and it's another place to put your kitchen essentials.
Section Out the Kitchen Utensils
This before and after picture is like night and day. Which do you like better? Obviously, the after photo, right? The level of organization is just so satisfying. Drawer dividers are available in almost any store that sells home goods and through online orders.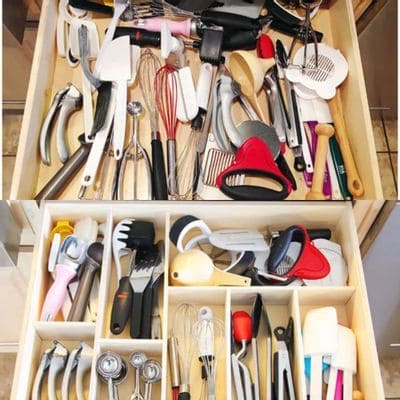 And if you're keeping a budget, you could make it yourself. This kind of divide and conquer method makes keep track of your things so much easier, especially while you're cooking. You won't need to spend time searching for a utensil if it has a permanent place.
Utilizing a Filler Panel into Storage
You can keep the theme in your kitchen cabinet while boosting its space. The filler panels can typically be transformed into additional shelving. Aside from its purpose to fill the empty space in the cabinets, why not elevate it to something more productive, right?
When you have an excess of ingredients and Tupperware to store, you'll try and get as much storage as you can. It takes a little bit of work to makeover this filler panel into a proper cabinet, but you'll be so thankful once you're done and you've organized your kitchen.
Recycle Cardboard Boxes As Small Storage Containers
With the way the world is looking right now, we call need to be a bit more eco-conscious in the kitchen. Do you ever think about the cereal boxes or other cardboard products that you don't use? We're suggesting that you can transform them into small bins to store smaller food items.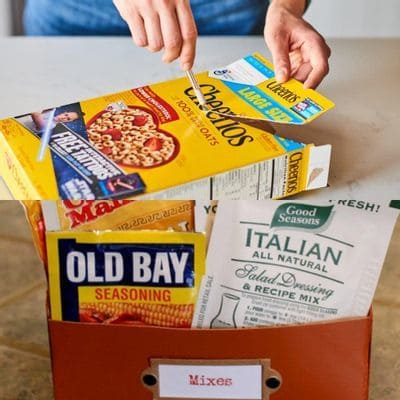 You could even decorate the box to make it fit the theme you already have going in your kitchen. Imagination is your friend. Let your creative juices run wild in embellishing these makeshift containers and incorporate them into your cabinets, countertops, or pantry.
Double Trouble, But the Good Kind
As the saying goes, two is better than one. We could not agree more. This kitchen hack is perfect for those that was to double the amount of space they have. Or, even better, to strategically maximize the space while not jeopardizing the aesthetic of the kitchen.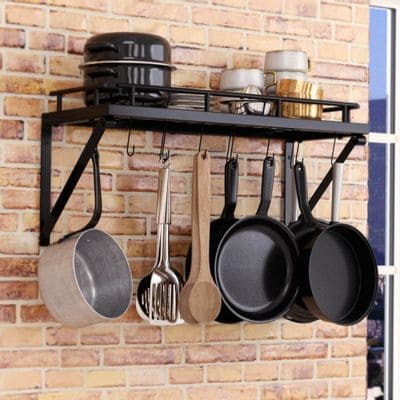 This rack shelf has two main purposes: an accessible place to hang your pans and utensils and somewhere to keep your pots that is also in reach. Basically, it's an all-in-one shelving unit when you need to make food. This type of rack does wonders for decluttering the kitchen.
Tiered Baskets Hanging From the Wall
You don't have to choose between functionality and aesthetic. This project manages to incorporate both components. Look how efficient and understated this project would be in your kitchen and dining room. If you're going to attach baskets to your walls, just make sure that it's attached in the perfect position.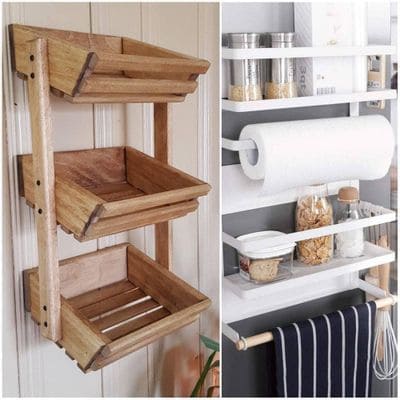 Evaluate your kitchen space and then pick a location to hang a basket. The ideal spot will be easily accessible. Now instead of letting your kitchen counter get overcrowded with piles of condiments, dishes, and utensils, you can organize them using these baskets!
Make Your Own Fruit and Veggie Stand
Pinterest fans, this one is for you! This DIY fruit and veggie stand looks adorable while still keeping your produce decluttered and easy to store. Vegetables, fruits, or your dry goods can be stored in the little baskets, which opens up counter space.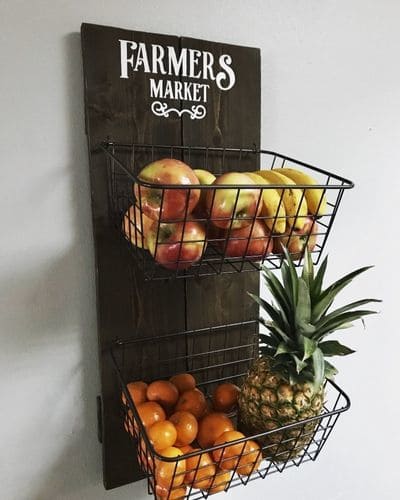 If they have a design on them and are embellished, it could be a beautiful addition to the kitchen and adds a special flair to the room. Additionally, if you have extra dishes in your cabinet, why not display them? It saves space and adds dimension to the room's aesthetic.
A Spice Lover's Dream Door
If you're someone who loves using all types of spices in your cooking, then get ready because we're about to make your dreams come true with this hack. With so many spices, it's easy to mix them up in a cluttered cupboard. A pantry door rack is the solution!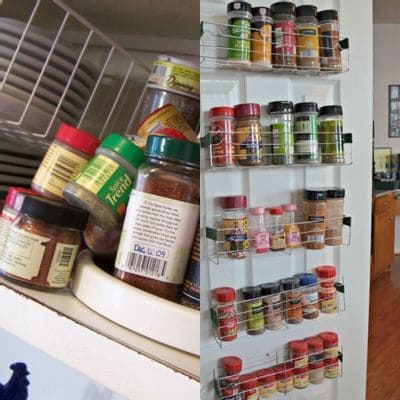 The racks are great for two reasons. First, it clears up shelf space inside the cabinet for other items. Second, you can arrange them nicely, which makes it easier for you to choose your spices for cooking. Don't forget to organize them back after you've cooked with them, though!
Repurposing Drawers Into Produce Containers
Ever walked into a kitchen with a cluttered countertop because you aren't sure where else to store your produce goods? Do not worry about it; we got you with this storage hack! Assigning a drawer for your produce is one solution to keep the countertops looking clean.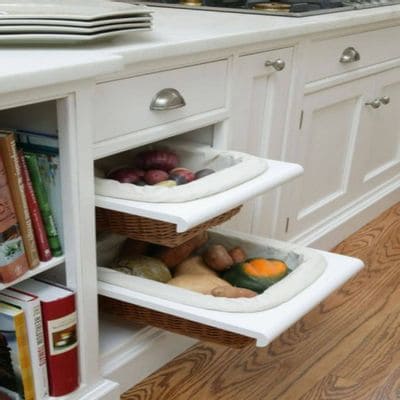 Ensuring that the kitchen and cooking area remain decluttered makes for swift and quick cleanup after cooking a meal. Furthermore, it just looks better to see a ridiculously clean countertop, right? This is one strategy to boost efficiency in your cooking space.
The Power of Additional Shelving
This may seem like an easy hack, but most people tend to disregard it. Adding more dividers to the inside of your cupboards can make a whole world of difference. Utilize the space that you do have, especially those top sections of the cupboard.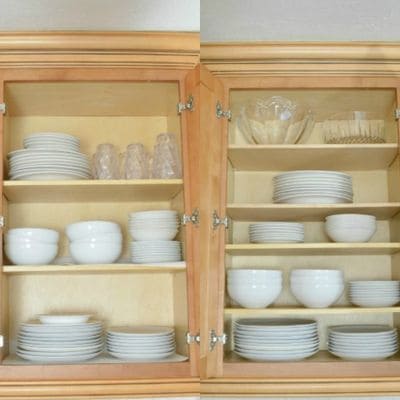 Is it the best storage strategy to have high stacks of plates and cups? We don't think so. Now is a fantastic time to try dividing the vertical spaces into additional, shorter compartments, and then you can begin responsibly storing your glassware. Safety and effectiveness are two of our goals in the kitchen!
Save Counter Space With a Retractable Book Stand
Having a cluttered kitchen paired with a distracted mind is not the best combination to enjoy the heart of cooking. This is why so many people stick to using cookbooks. But, oftentimes, it just appears more disorganized and messier when we bring it out to cook.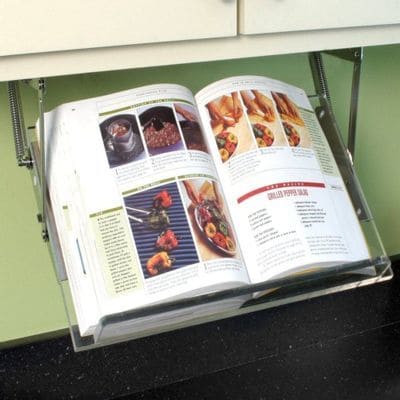 No worries here, as we've found a solution for you! A retractable book stand is a simple way to have instructions while cooking. And the added bonus is that it still looks organized and keeps it safe from potential stains. If you're a beginning cook, this seems like a great purchase.
Magazine Racks Aren't Just for Magazines Anymore
We already covered our bases with additional shelving for horizontal space, so it only seems fair that we provide an example for utilizing vertical space. Extra magazine racks can be attached to cabinet doors to hold chopping boards. This might be the easiest DIY project.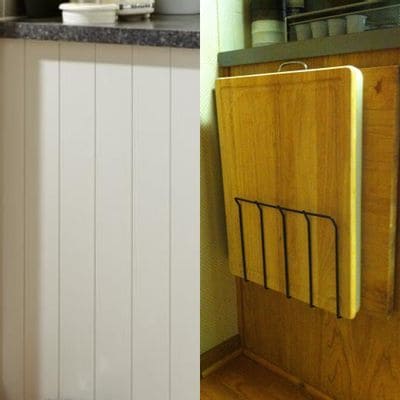 Although, we recommend a YouTube tutorial just to be safe. Additionally, magazine racks are inexpensive and can be easily found in almost any store. Make a trip to buy some and install these as soon as you can! You can also keep your cookbooks here for easy access while cooking.
Decorate Your Space With Extra Plates
We'll keep it real with you; this one isn't actually an organization hack. We'd characterize it as more of a design hack because it does a certain liveliness to your dining room and kitchen areas. Plates and fine china are more than just food holders; they can also serve as decorations.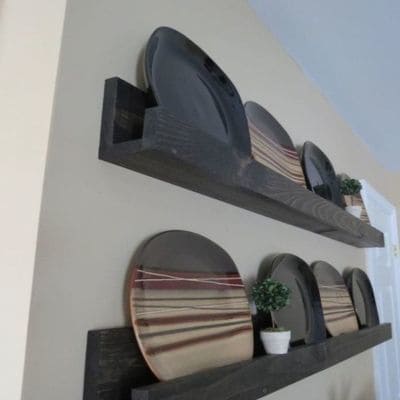 If they're embellished with a special, it could add to the aesthetic and offer a unique character to the room. Moreover, if you have additional plates in your cabinet, why not just feature them? It uses the space differently and adds some dimension to the living room.
Finding Purpose in Every Nook and Cranny
Seems like every person has the shared experience of trying to figure out how to utilize that space between the refrigerator and cabinets. Maybe it's time to purchase a tall and thin storage rack to fit in the tight space between your cupboard and the fridge.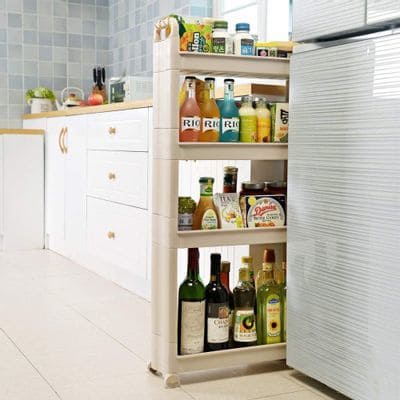 It may seem a bit dramatic, but that small space could turn into your most important storage spot if paired with the right tools. Another tip is to purchase a rolling rack with multiple shelves that you can easily move when you need to grab or replace something.
Organizing Everything, Down to the Utensils
The golden rule of maintaining a clean kitchen: organize absolutely everything. For this hack, we're centering our attention on the utensils and cutlery. They are so many small individual pieces that it's easy for their mess to take over a kitchen.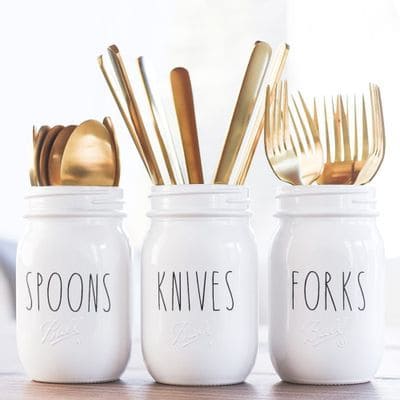 Our goal is to create an inviting dining space filled with delicious food aroma, and you don't want to screw up that atmosphere. Using dividing boards, jars, and other organizers can help make this a lot simpler. As easy as it seems, though, most people tend to overlook it.
Taking Control of Your Pot Problem
Admit it; you have a pot…..s and pan problem. It seems like you always have a tough time trying to find the one that you actually need. Where could it have possibly gone? With this kitchen hack, you'll have a much easier time locating your pots while using them as decorative pieces.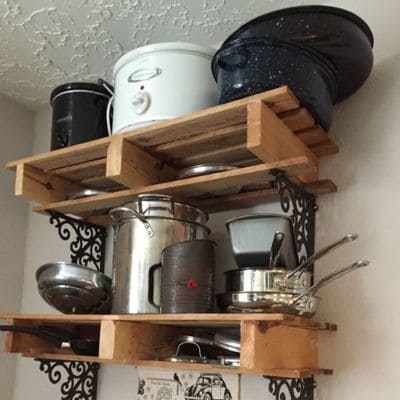 If you can attach anything to the wall, do it! Hanging up shelving of any kind can add to the aesthetic of your kitchen. Pots take up a ton of space when stored inside of the kitchen cabinets, so trust us, this is the best way to keep them!
It's a Bird! It's a Plane! It's Your Utensils!
If you own a lot of utensils, trying to fit all of them into a drawer might not be the ideal way to do it. You don't want to dig through your drawers just to find the right ladle, do you? If you have enough ceiling space, install a hanging structure, and showcase them!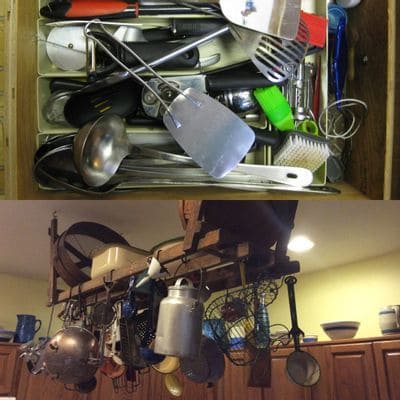 It clears considerable space from the cupboards to make room for other things. The only point of caution is that you'll just have to watch your head to make sure you don't walk into a spatula!
Hidden Trash Becomes a Treasure
The best kitchens always find a way to disguise or hide the parts that go against the aesthetic, like a garbage can. The key is to find a way to keep the trash accessible but out of sight so that it makes the kitchen appear tidier. To some, this "hack" is a no-brainer.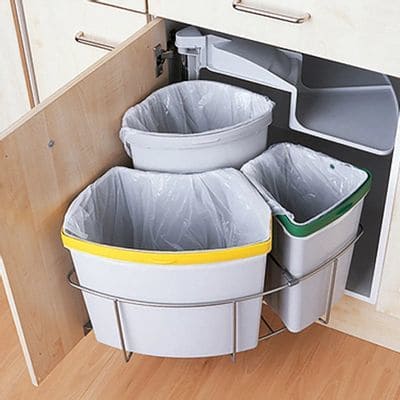 But some people aren't fully on board yet. Storing your trash out of your sight is essential for a decluttered kitchen. It can also make you look like a storage genius! It opens up the layout of the room and guarantees that the bin won't be overflowing.
Storing Trash Bags Similarly to Paper Towels
One thing that we learned from compiling this list of kitchen storage hacks was that we need to start storing things the way we store paper towels. Additionally, organizing trash bags is a must, so what better way to do it than storing them underneath the kitchen sink.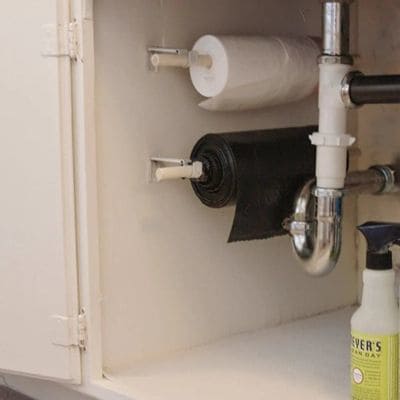 This will save you space and make it easier to grab a trash bag quickly. As they say, it's a culmination of small changes that will lead to massive decluttering. This hack is an understated one but clearly noticeable. Always take care of the kitchen essentials, like these bags.
Remodel a Dresser Into a New Kitchen Island
It's time to think outside of the kitchen, eh? Perhaps it's time to repurpose a dresser into the new kitchen island. It not only makes your kitchen feel even homier, but it reuses something that you already bought and assembled.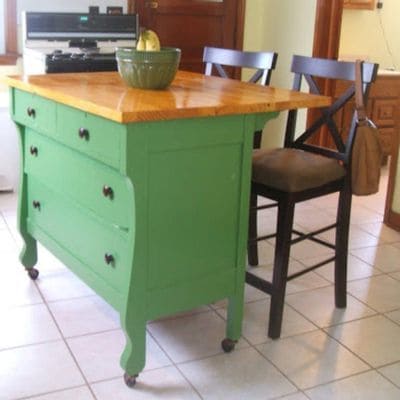 It offers more space for your spices, cutlery, and cooking equipment. The top thing to consider is its high level of functionality before you start overthinking its height or how sitting around it is going to work. Sometimes, saving money takes priority, and then we need to get really creative.
Secret Storage Drawer for All Utensils
Bigger forks, ladles, serving spoons, and spatulas tend to get in the way of a clean kitchen countertop. This hack exceeds all expectations when we think of elevating our kitchens. It keeps all of your utensils so clean, organized, and easy to locate while preparing food.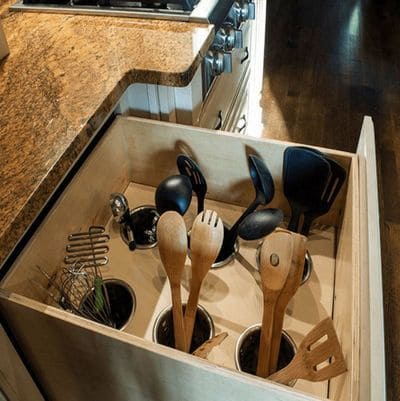 Having a decluttered surface to work on is a vital component of cooking, and this is where the utensil storage drawer comes in handy. This option can also be childproofed to be able to cut down on accidents if you have knives on your countertop that you want hidden.
Keep Cutlery and Utensils in Mason Jars
Mason jars aren't just a drinking cup – these babies are multi-trick ponies! They can also make finding the right tools so much faster; you'll be angry with yourself for not using them sooner. If your kitchen's theme is picnic vibes, all you'll need to finish the look is matching gingham decorations.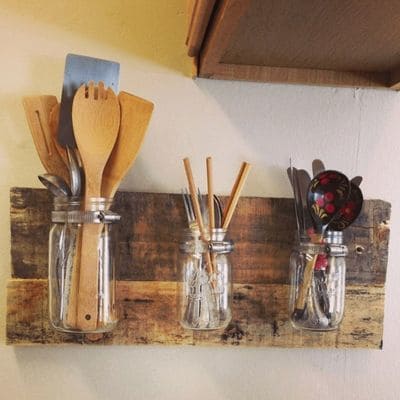 It's definitely a game-changer for the kitchen! Think of all the time you'll be saving yourself simply by reusing these jars that, odds are good, you already have in your house. We have never been so thankful for a product like we are for mason jars.
Cutting Edge Storage for Your Cutting Boards
Search high and low in your kitchen for places that are being underappreciated and underutilized. Perhaps it's time for you to get in touch with your DIY side and assemble some new compartments to store your cutting boards inside the cabinet doors.
It's a fantastic solution to know where they are at a moment's notice. By opening a single door, you see all of your equipment without blinding searching amongst pots and pans. It's basically a guarantee for additional free space to store more kitchen equipment. Sounds pretty cool to us!
Lazy Susan Isn't As Lazy in the Fridge
If you're already over the idea of stacking more dividers in your refrigerator, we have the solution for you. Consider this alternative option; put a Lazy Susan in your fridge! Think about it; you'd cut down on time spent searching for specific ingredients or food items.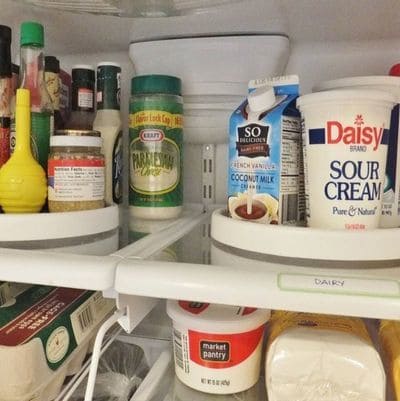 It will make you more productive while you cook and keep your refrigerator looking clean and easy to use. Organize your food items by their category and arrange them accordingly. If you have enough room, you could have one Lazy Susan for every category of food.
Lazy Susan Strikes Again For Cleaning Products
It seems like a Lazy Susan can do anything these days. They are in high demand for the kitchen but could even be utilized in other rooms in your house. A Lazy Susan helps keep all of your items together so that nothing gets lost or misplaced.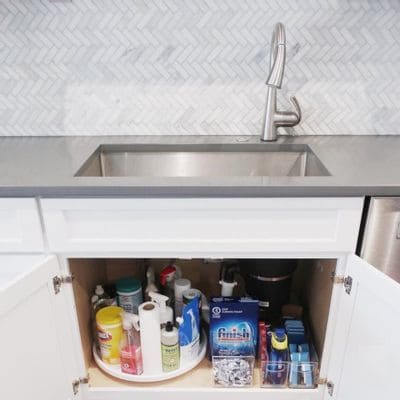 Keeping with that theme, we highly recommend using one underneath the kitchen sink. Normally, people just throw their cleaning materials in that compartment which makes it so much harder to find things. It's easily accessible and easy to find things when incorporating a Lazy Susan.
A Thrifty DIY Holder for Your Napkins
This hack is all about channel your thrifty and creative sides. You don't have to pay big bucks for a fancy napkin holder when you can simply make one from the comfort of your home, with minimal spending. Added plus, this is the perfect project to do with the whole family.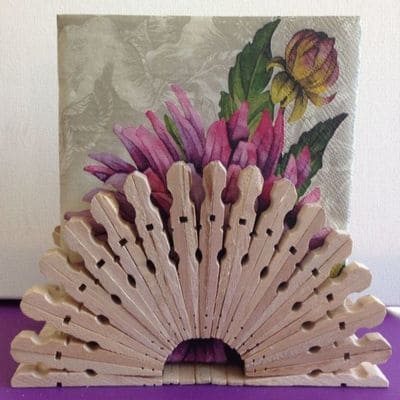 Napkins aren't thrown all over the kitchen, but it would be better if they were arranged and placed in a cute holder. There are so many types of designs that you could use for this one, the only limit you have is your own DIY skills and artistic creativity!
Add a Dash of Garlic and a Pinch of Woodworking
This kitchen hack might be a bit tough, but the payoff for this one is well worth the effort. Having additional space for your herbs and spices can turn your space into a totally different kitchen. It adds flavor to your food and makes your kitchen easier to navigate.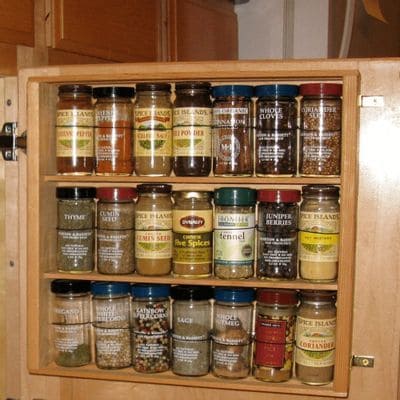 If you're a spice connoisseur, you'll have plenty of space for everything from salt to oregano. It almost feels like it's your personal spice shopping experience inside of your house. Just double-check that the insert fits in your cupboard since we don't want to waste any space.
Even Cutting Boards Get Their Own Spot
If your internal storage in your kitchen is already filled with pots and you're desperate to find a place to put your cutting boards, this hack is 100% for you. A fantastic spot for a cutting board makes all the difference, especially if you're cooking on a time limit.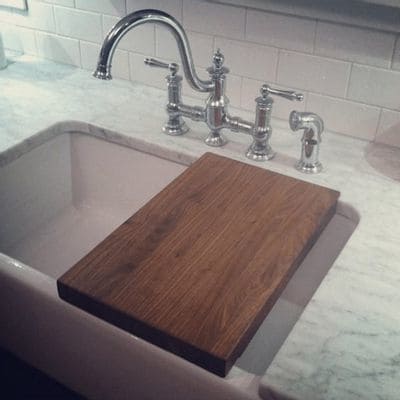 The kitchen sink is largely unused when there aren't dishes to wash. Putting your cutting board on top of the sink will open up your counter space and keep foot bits away. It keeps the chopping, cutting, and peeling processes a lot cleaner for the rest of the room.
Maximize the Storage Inside of Your Fridge
One way to maximize the storage space inside of your fridge is to install the hanging refrigerator racks. Every corner of the fridge can hold food and add organization to its use. This kitchen hack is an absolute must, especially if you buy a lot of food in bulk.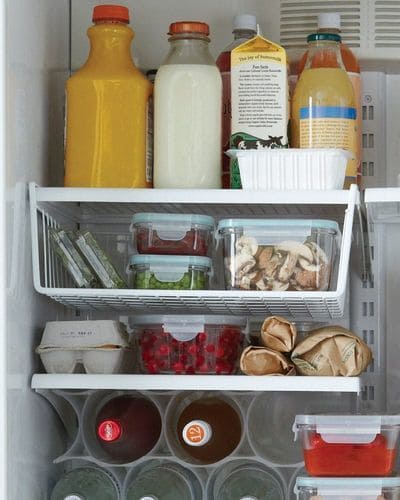 If you seem to always run out of space after coming back from grocery shopping, this seems like the next logical step. It also helps keep everything clean and strategically arranged. The best part is that it doesn't push all the food to the back to be forgotten.
Daily Use of Bamboo Steamer Baskets
If you're a fan of Asian cuisine, specifically Chinese food, you are probably very familiar with these baskets. Its main use is to ensure steamed dumplings remain fresh and ready for consumption. At your house, you might consider keeping a few to hold your onions and garlic.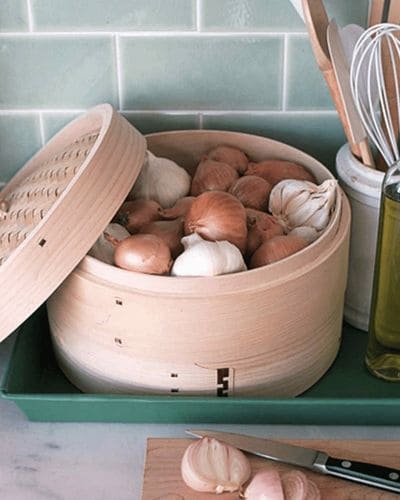 These containers are great if you want to make some homemade Chinese dishes, and they clear space in the fridge for your garlic cloves and onions. The bamboo weaving keeps them well-ventilated, and they, surprisingly, cancel out the smell of the two pungent food items.
Attachable Little Refrigerator Storage Shelves
These clip-on shelves look so adorable when placed inside the refrigerator. They serve two purposes, and both are super important. First, it adds a pop of color which gives you the option to color-code your organizational system inside the fridge.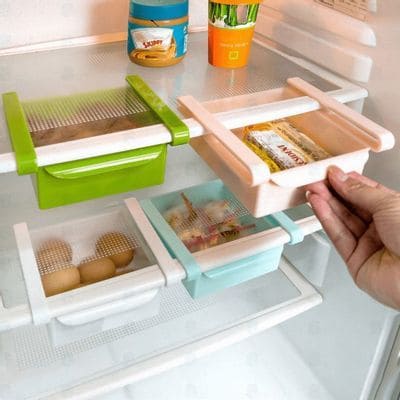 Second, they're clip-ons!! That means that you can remove, reattach, and rearrange them however you want, whenever you want. Essentially, you can build the fridge you need at the moment you need it. These are great for storing smaller foods like butter, fruits, leftovers, etc. You can buy them off the internet, 3D print, or make them yourself.
The Easiest Hack Out There
This pantry hack is so easy that it requires no extra equipment or materials. Inspired by the grocery store, the golden rule of pantries everywhere should be that the food items that were placed in the pantry first should also be the first ones taken to be eaten.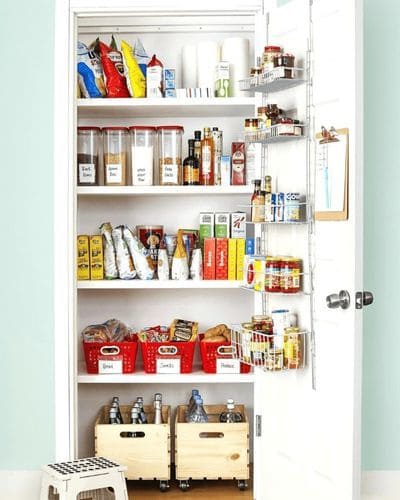 This idea is to keep food fresh and eaten before they expire. Let's be smarter consumers and not waste food just because we were lazy and didn't keep track of the expiration dates. It means putting newer items in the back, which will help improve your organization execution.
Satisfying Organization of Tea Bags
This picture alone should be enough to convince you to employ this organizational strategy as soon as possible. How satisfying is it to think that you can keep all of your tea bags in one organized place so that you don't have to search for your desired flavor early in the morning frantically?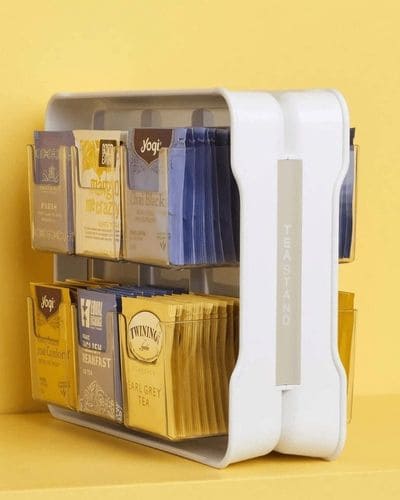 Not making the switch to this brilliant tea organizer might actually make you more irritable, especially if you didn't have a good night's sleep. Everything seems to work with this one organizer. Each flavor has its own spot, and you don't have to scavenge for tea bags.
Turning the Kitchen Corner Into a Coffee Station
Installing a foldable door in the corner of your counter can quickly transform the space into its own station. The foldable door offers you the option to hide or show the station whenever you want. This is especially great for when you want to make your kitchen a bit more orderly.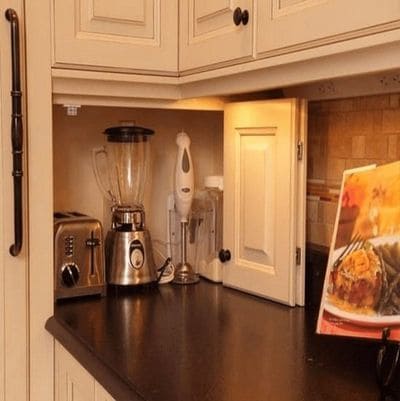 Building your own foldable door will help you feel like this personalized space is even more personal in your own kitchen. Additionally, you have the option to make this another place to keep your utensils and equipment without jeopardizing the organized look of the room.
Condiment Grippers Inside of the Cabinets
Perhaps your cabinets could be spiced up a little, or maybe spiced up a lot. Installing condiment grippers like these can make any cook's life that much easier. The biggest improvement will happen when you're in the middle of cooking, and you're frantically searching for spices.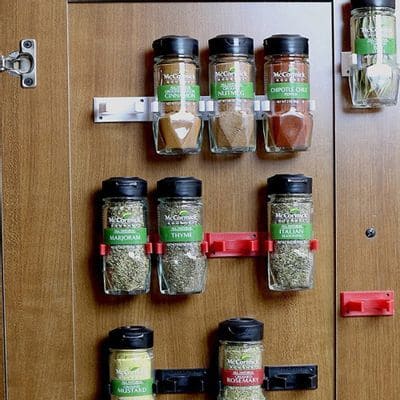 There's no need for you to make a mess in the kitchen anymore. This kitchen organization hack is here to address that exact problem. Creating a stress-free kitchen is always the goal, especially for cooks just getting started who might not be as levelheaded under pressure.
Finally Tackling Your Mountain of Tupperware
Racks are the best friend you could ask for when it comes to all things organization. They come in all types of sizes and are so widely available to buy at your local department store. What we consider to be one of the toughest items to store in the kitchen are Tupperware containers.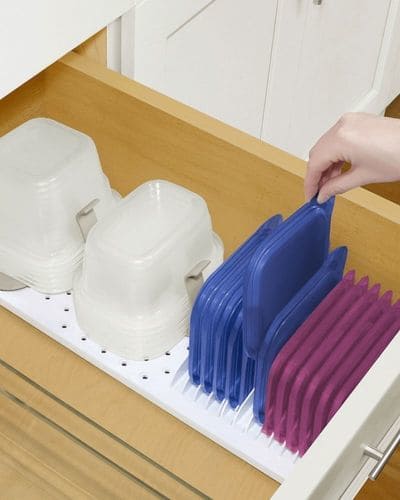 Once you've put them away after cleaning them, it feels like they just get mixed up amongst themselves. It's rare to be able to find a container and its matching lid on the first try. With the addition of a rack, it can lead to less stress.
Using Every Side of the Counters
Really take the time to check every corner of your kitchen. There are most likely areas that have been underutilized. If we were to take a guess, we'd make the leap that the sides of your countertop have not been used to their full potential. Well, we have found a use for them.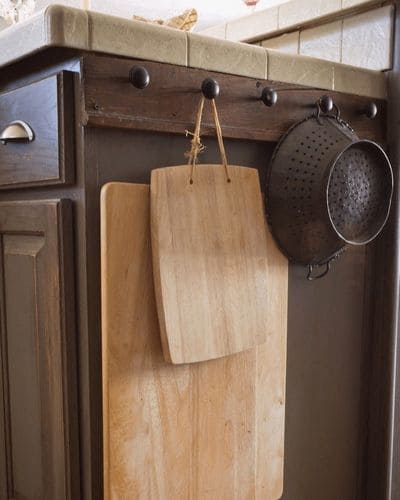 Attaching a rack or basket to the side of the counter can give you more workspace. For those on a budget, you can use some nails and hang pans with them. If you reexamine your kitchen through a strategic lens, it'll look as clean as ever.
Drying Rack Suspended From the Wall
Typically, the walls nearest the kitchen wall are void of anything. We think that it's uncharted territory. All that wall space could be better used as a place to install a drying rack for all of the dishes, pots, and cutlery rather than take up counter space.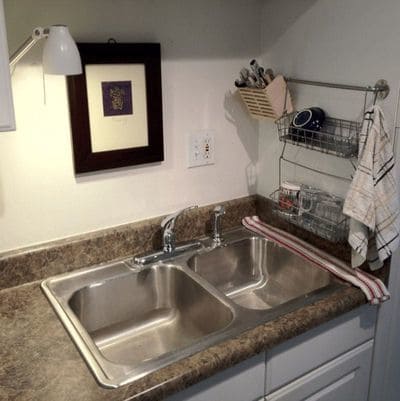 Attaching the drying rack to the wall gives the kitchen a cleaner look and creates better, overall, functionality. Done are the days of wet countertops. This hack not only saves you space but will make your life so much easier by providing a smarter way to dry your dishes.
Turning Your Kitchen Into Your Favorite Restaurant
Our favorite restaurants always have that container of condiments easily accessible on their tables to add spice to our food. Our condiments at home deserve that same level of recognition. That's the reason we're suggesting a box or container to organize them in the kitchen.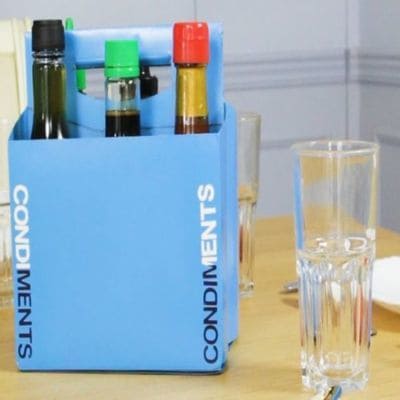 The days where you searched long and hard for salt and pepper are long gone. With this hack, they'll always be easy to reach and easy to find since they'll be coming back to the same spot every time. Every kitchen owner should know better than to scatter their condiments!
The People's Coffee Station
To all the coffee people out there, this one is especially targeted at you. To get your day started on the right foot, you need the best cup of coffee. It starts the day off right and keeps you awake throughout the day to be productive. It's time to start your barista career in your own kitchen!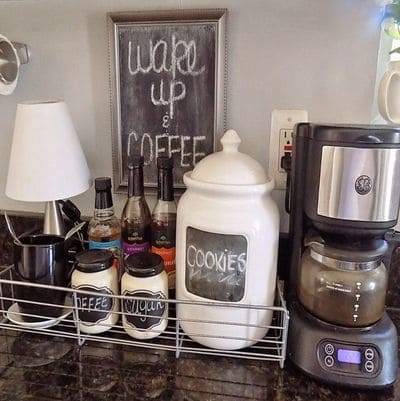 Set aside a special coffee spot in the kitchen where all your necessary equipment and ingredients will be located. This keeps the ingredients organized and all together in one place, making it simpler for you to make your coffee during those early mornings.
Straight Rod Makes a Kitchen Appearance
Using a straight rod, or even a standard shower rod, can create more hanging space for you in the kitchen. It can give you a place to hang various cleaners underneath the sink. This will help make the cupboard under the sink look more organized and open up space for other cleaning products.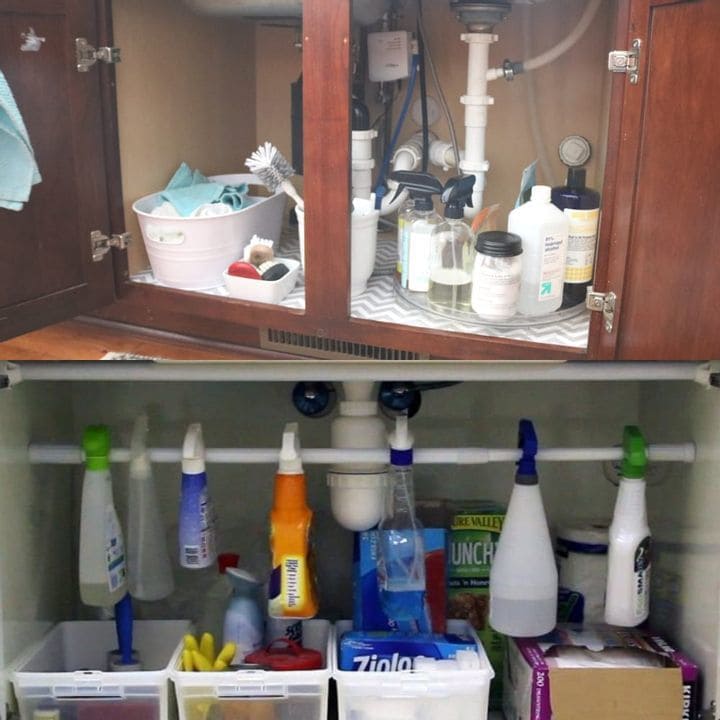 The entire cupboard will look more organized and put together. Another quick DIY idea would be to use small storage bins to label the cleaners correctly to make cleaning the house that much faster of a process. Trust us; you won't be sorry if you employ these tips.