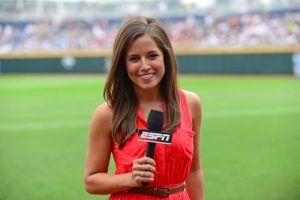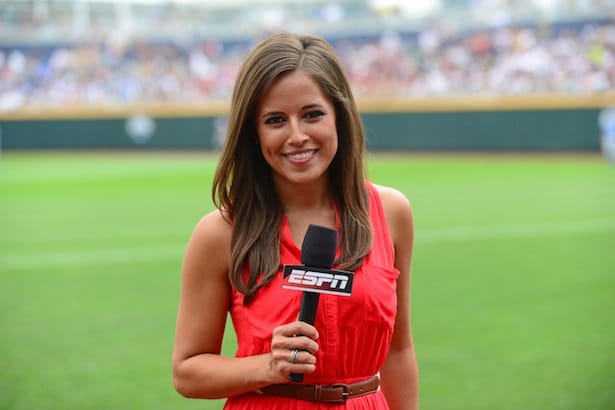 Sideline Sports Reporters Making Waves in Sports Media
By Yuri S.
---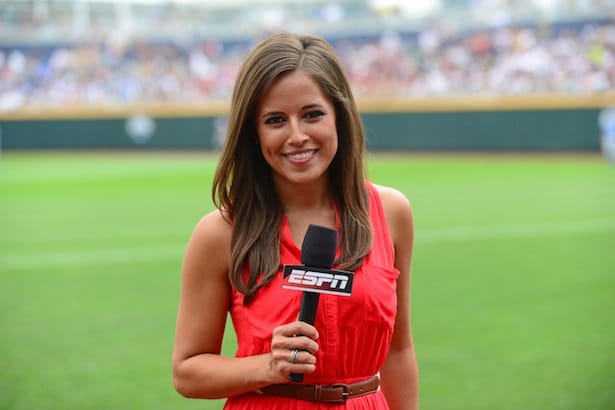 Women are uprising forces in every sector, so we have put together in no particular order women we think are worthy of praise as their diverse goals, values, personalities, and professional outlook set them apart. No matter which game you are watching, the comments made by the commentators tend to drive the feelings of the audience.
Also, sideline reporters assist in getting us footage, interviews, and commentaries that drive the fans. This makes sports media very engaging.
Alanna Rizzo
Before Alanna Rizzo bagged her three regional Emmy Awards as a full-time sports journalist for 'Root Sports Rocky Mountain,' she had initially worked as an anchor for the CBS network. It is also essential to state that Alanna Rizzo graduated from the University of Colorado in 2003.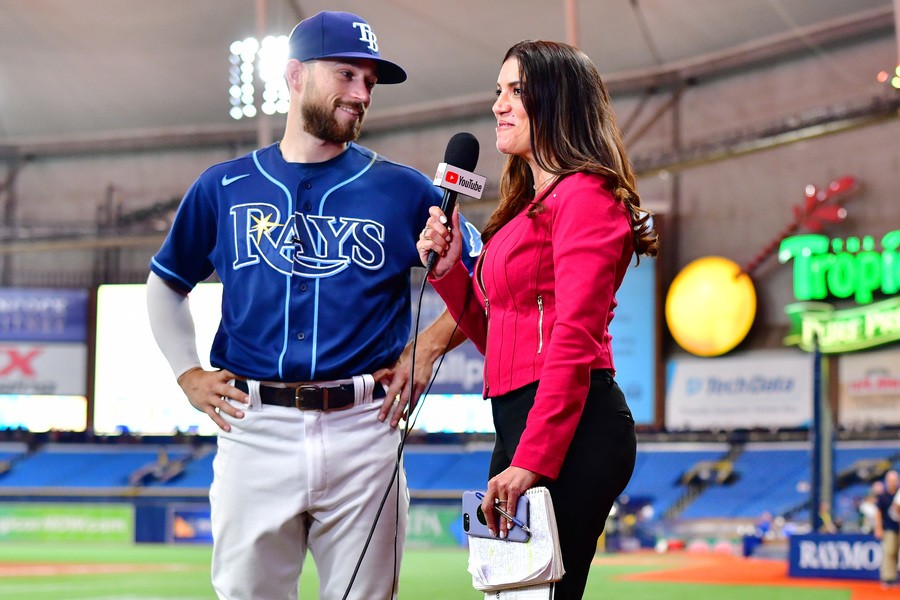 With her dedication and knowledge about the intricacies of numerous sports, Alanna often gets asked to report on important games in the sports world. She is also very devoted to her job and shows excellent sportsmanship that she didn't see the incoming bucket of Gatorade that got her soaked.
Alex Curry
You may recognize her as the TV host for FOX sports, but what if we told you she is also one of the best sideline reporters there are. Throughout her career, Alex Curry has covered every type of sport there is.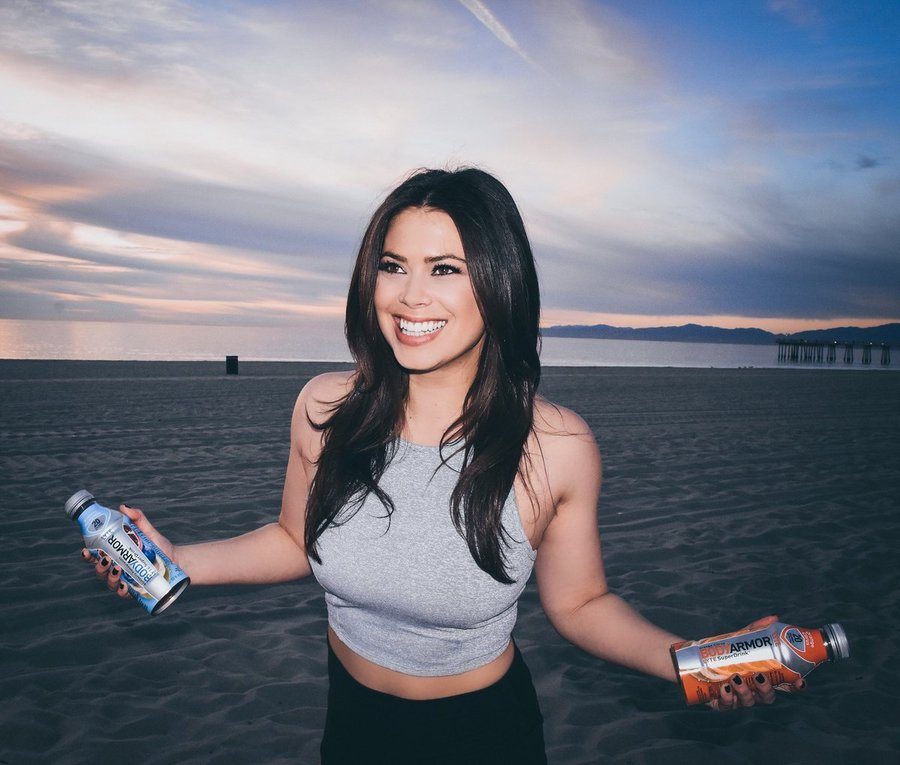 Alex groomed her career in sports as she also played soccer throughout her youth and in college. Living in Southern California for most of her life, she was always involved in community projects like volunteering at Growing Great, a non-profit that encourages healthy eating.
Allie LaForce
Growing up in a family full of athletes, Allie LaForce is a force to be reckoned with. Having played basketball throughout her university days, she played ball at Ohio State, majoring in broadcast journalism. There is no doubt that has led her to become such a professional.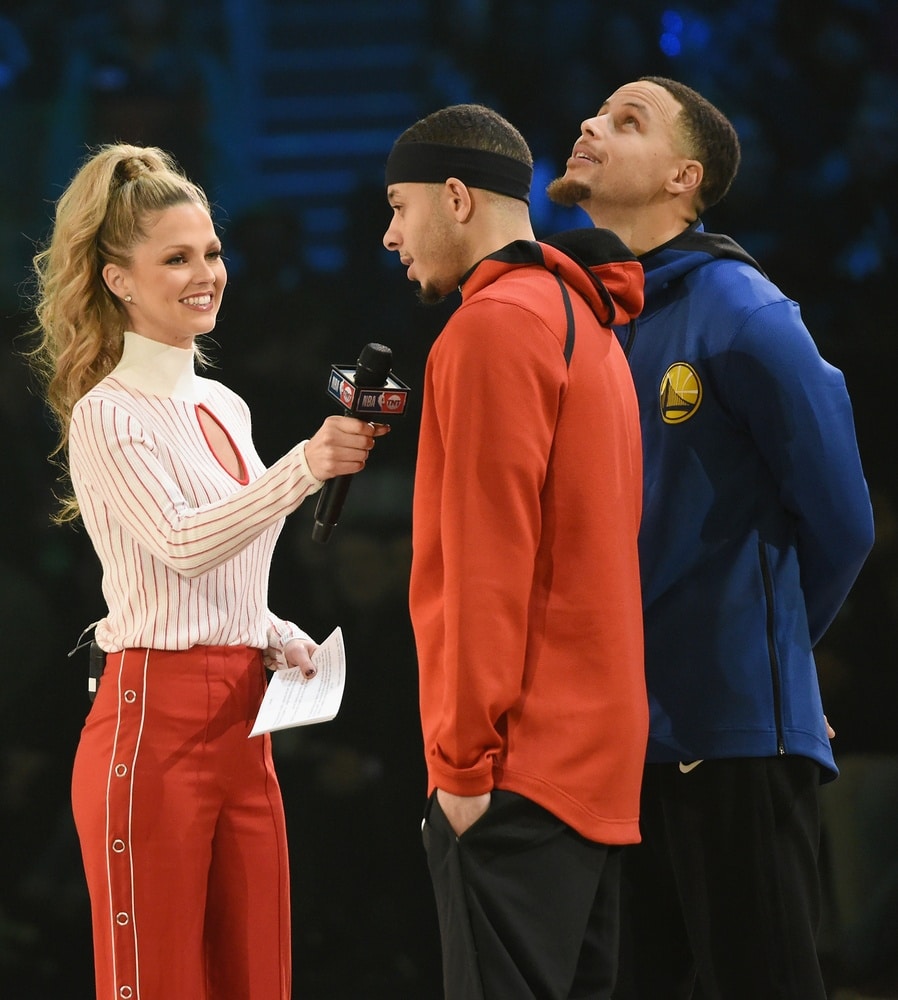 She not only knows how to put on a show in the studio, but you should also watch out for her social media engagements. In 2011, she won an Emmy Award for anchoring FOX 8's 'Friday Night Touchdown' high school football show.
Cari Champion
Cari Champion started her Journalism career early in life. She managed to land herself an internship with the well-known household network CNN while studying at UCLA. After she graduated, she joined the Tennis network to follow the Williams sister's tennis careers.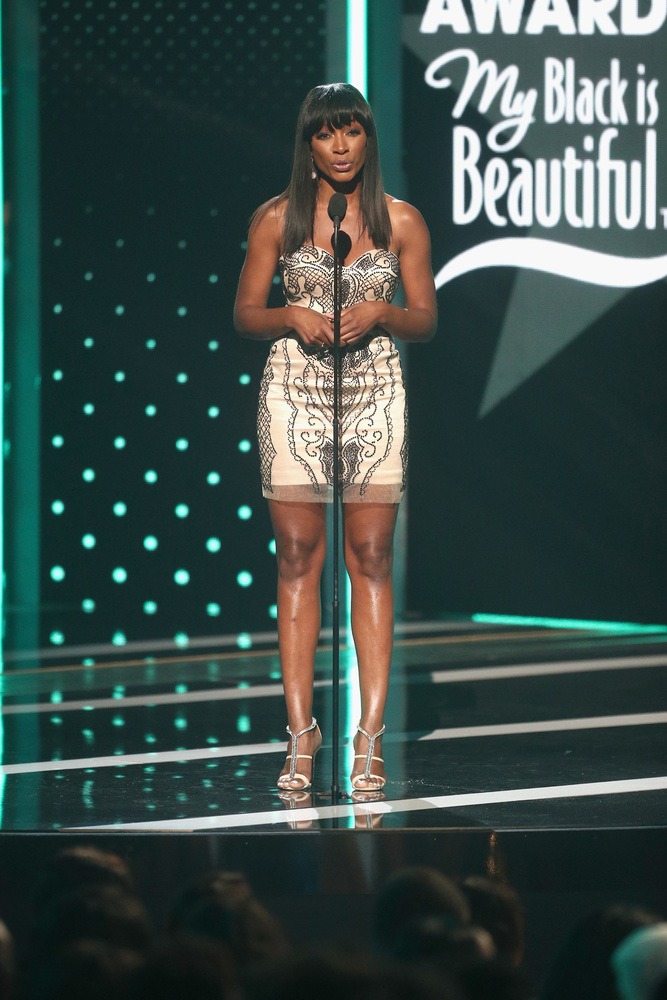 Stating in an interview, Cari explains that her life's passion is to be the voice of the voiceless. She is fighting for the underdog. She says she is unsure how this started, but that is how she has been all her life.
Carissa Thompson
Our favorite Sports TV host Carissa Thompson was born and raised in Seattle, Washington. Before heading to work with NFL on FOX sports, Carissa Thompson graduated from UCLA with a degree in Law and society. Having a Law degree did not stop her from achieving her dreams.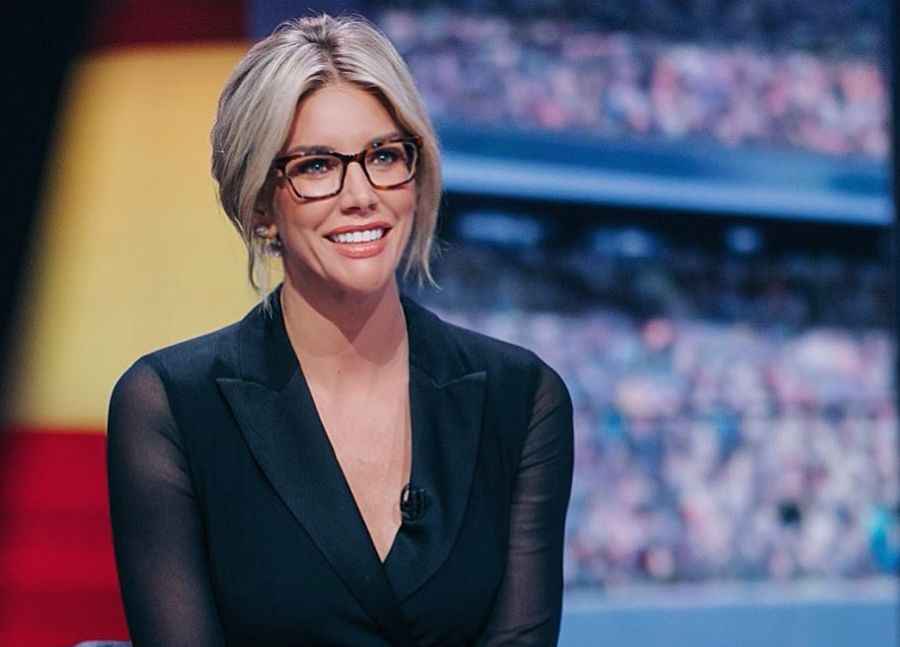 Her life-long dream has always been to be a broadcaster. She was the co-host on the entertainment news show 'Extra' for three years before sports. She is also well known as one of the hosts of ''Ultimate Beastmaster,'' a sports entertainment reality show competition.
Erin Andrew
Erin Andrews's early life started with sports as she confessed in an interview that growing up, she thought of herself as a tomboy. In the same interview, she further explains that she regularly watched NBA games with her father or played basketball.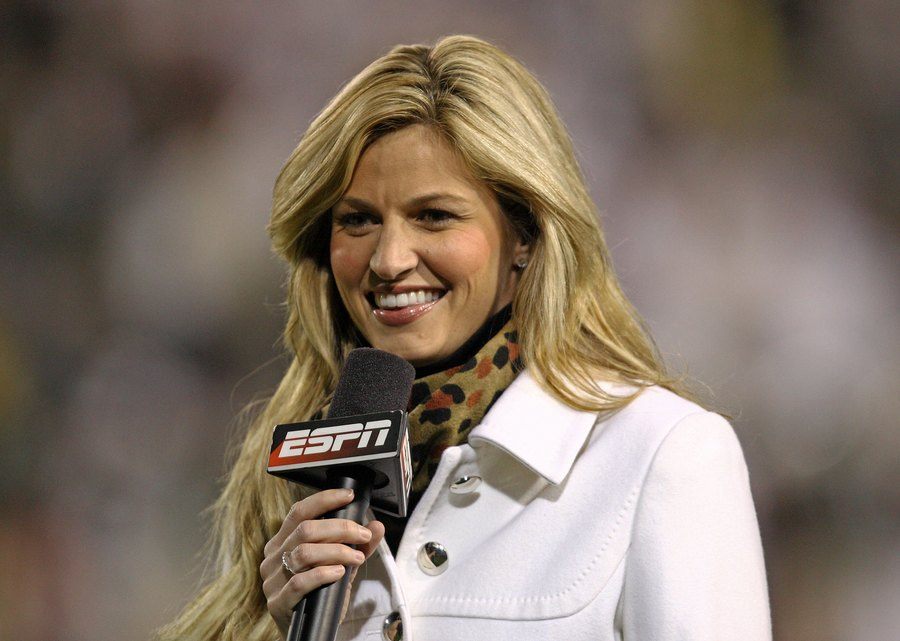 Erin has grown to become a sports reporting Hall of Famer, well-known for her sportscasting with a growing TV personality. You must have seen her several times in her roles on ESPN's ''College Gameday'' and ''Good Morning America'' and as a regular host on ''Dancing with the Stars.''
Jimena Sanchez
Jimena Sanchez just might be one of the most recognized Mexican women on American TV. Residing in Latin America, she is currently the host of 'Lo Mejor De Fox Sports'' on FOX Sports 2.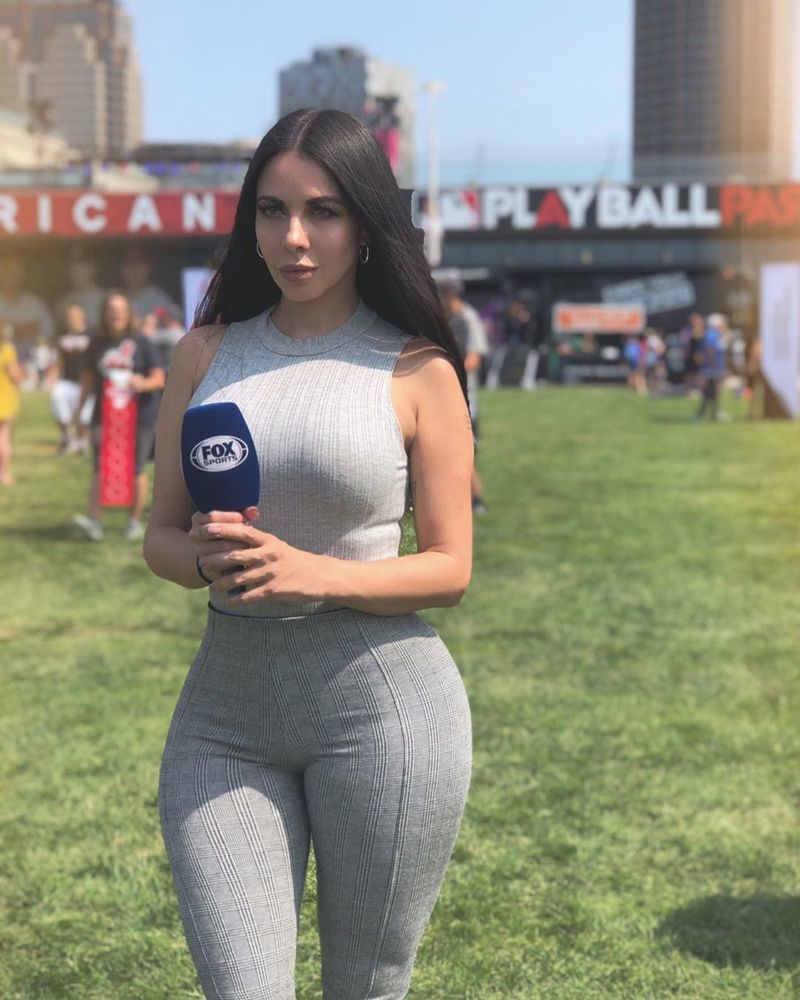 She has a growing fanbase on her social media accounts thanks to her extraordinary skills in broadcasting and astonishing beauty. Sanchez has a handful of favorite teams, including the Los Angeles Lakers, Las Vegas Raiders, and New York Yankees.
Kayce Smith
Kayce Smith is a Texas native you might recognize more on sports talk radio as she has successfully established herself in the niche. After she graduated from Texas A&M University, she went ahead to work in the College Station, where she took on multiple roles.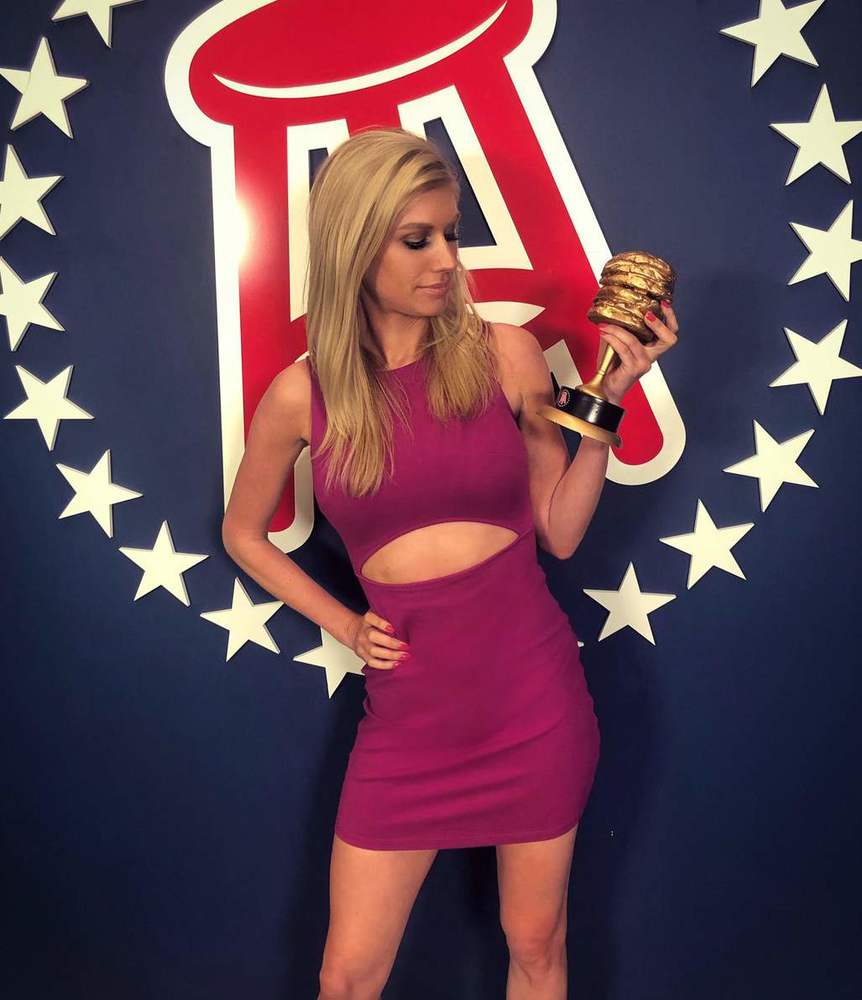 The highlight of Kayce's career was when she switched from FOX sports to ESPN as a sports reporter. She currently lives in New York, growing her successful career as a personality at Sirius XM and Barstool sports.
Kaylee Hartung
Before we knew Kaylee Hartung as one of the talented sports reporters on this list, she had bagged a Bachelor of Arts degree in journalism and politics from Washington and Lee University in 2007. Shortly after graduating, Kaylee became a reporter for 'Washington Unplugged.'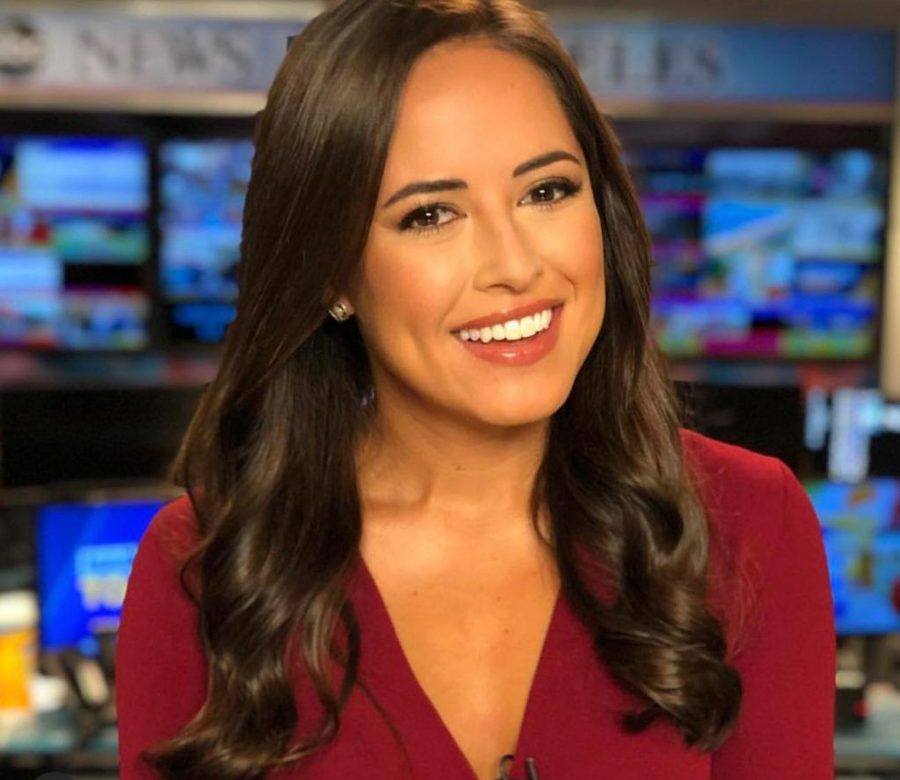 In 2019, ABC announced that Kaylee would be joining the Disney family as a correspondent based out of NYC. Before she gained her spot with ABC, Kaylee was a reporter for some big brands, such as CNN and ESPN, and a member of the SEC network.
Kelsey Wingert
The versatile Kelsey Wingert has no doubt caught our eye. She grew up in Sugar Land, Texas, and attended Louisiana State University. She attended LSU because of its fantastic TV broadcasting program, where she graduated in 2014.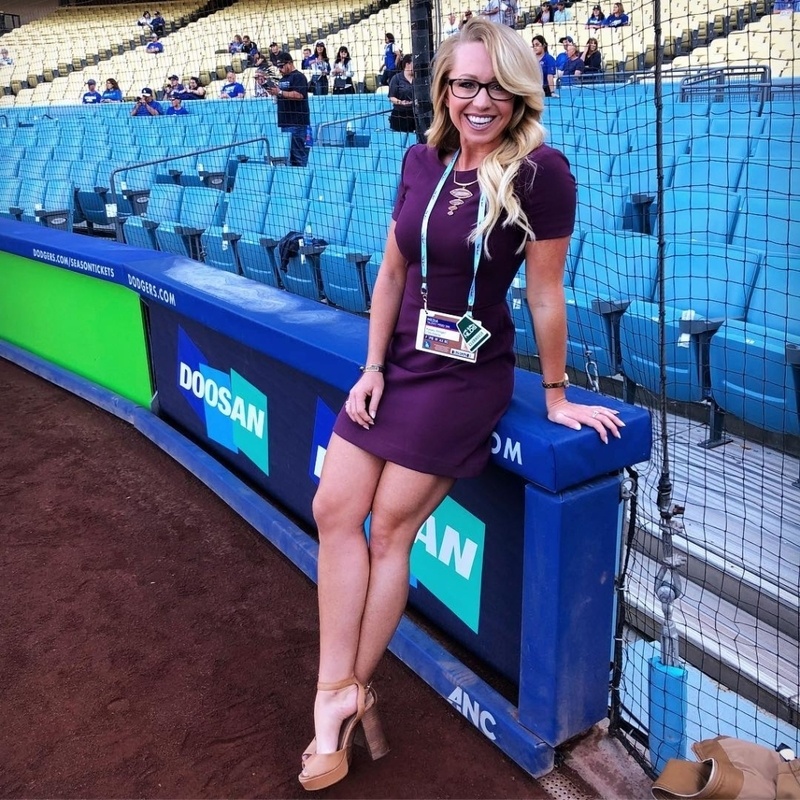 Kelsey Wingert is also a former sports journalist who has covered all the sporting games there are. She has covered almost every other team the network covers. Kelsey does studio cut-ins for NHL and NBA games during the off-season and does sideline reporting for Atlantic coast conference football games.
Kristine Leahy
After she got her degree from Boston University, Kristine Leahy started to work as an anchor for various news stations before the NBC network finally hired her. Her career peaked in 2010 when she got to host the action game show ''American Ninja Warrior.''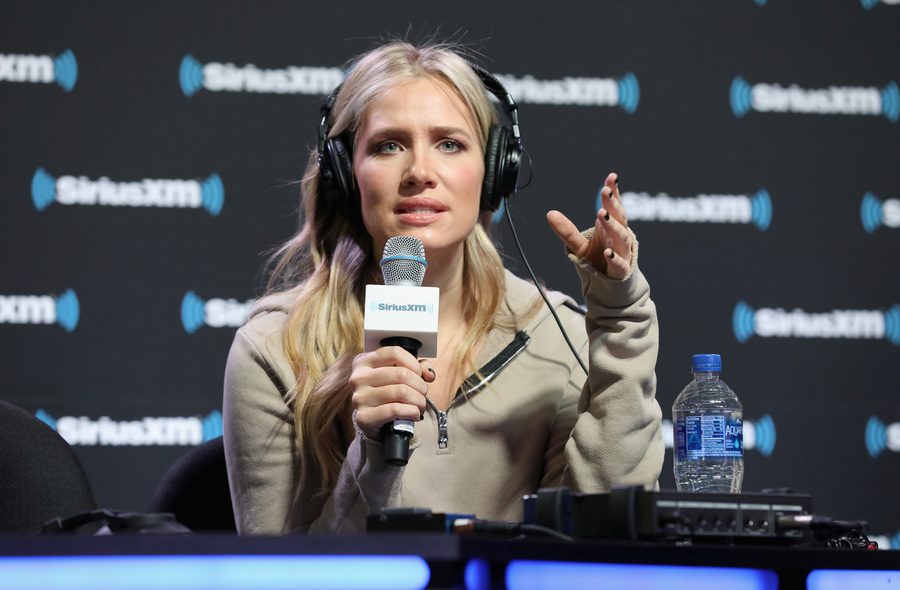 Moving forward, Leahy decided to pursue her now full-blown career when she moved to Los Angeles to work as a sideline reporter for Turner Sports' ''March Madness'' coverage back in 2012. She's the former newswoman and co-host of FOX Sports 1's simulcast of "The Herd with Colin Cowherd."
Laura Rutledge
What if we told you that there is more to Laura Rutledge than meets the eye? She was born in St. Petersburg, Florida, and crowned Miss Florida in 2012. In the competition, Laura's talent performance was a beautiful ballet number. She studied broadcast journalism at the University of Florida.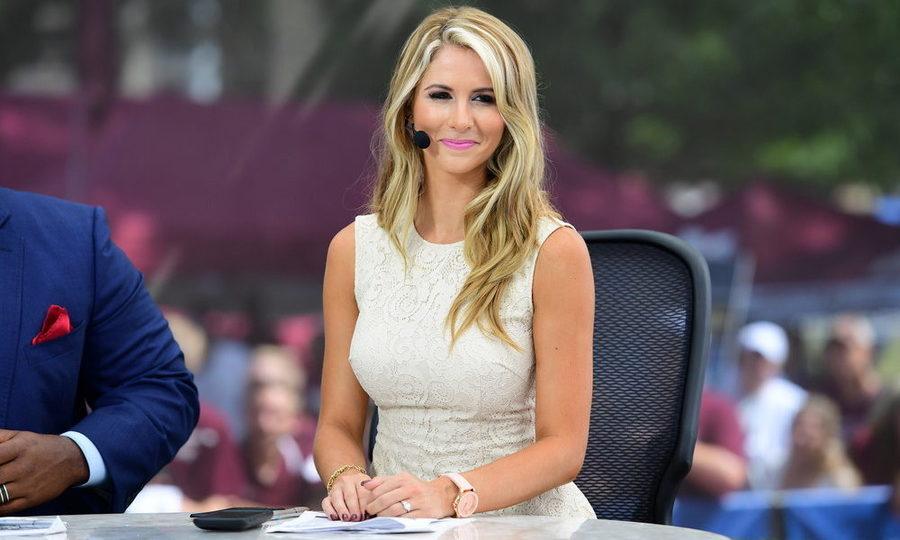 She is well-known for her contributions to ESPN, having been featured in multiple shows on the channel. She is also a host for CNN International and has started an original show at FOX Sports San Diego, "SD Live," which she produces and hosts!
Maria Taylor
If you are as much of a sports lover as we are, then you must recognize Maria Taylor on the "NBA Countdown" show she has hosted on ESPN since 2019. She majorly focuses her energy on college football and has gone on to make a name for herself.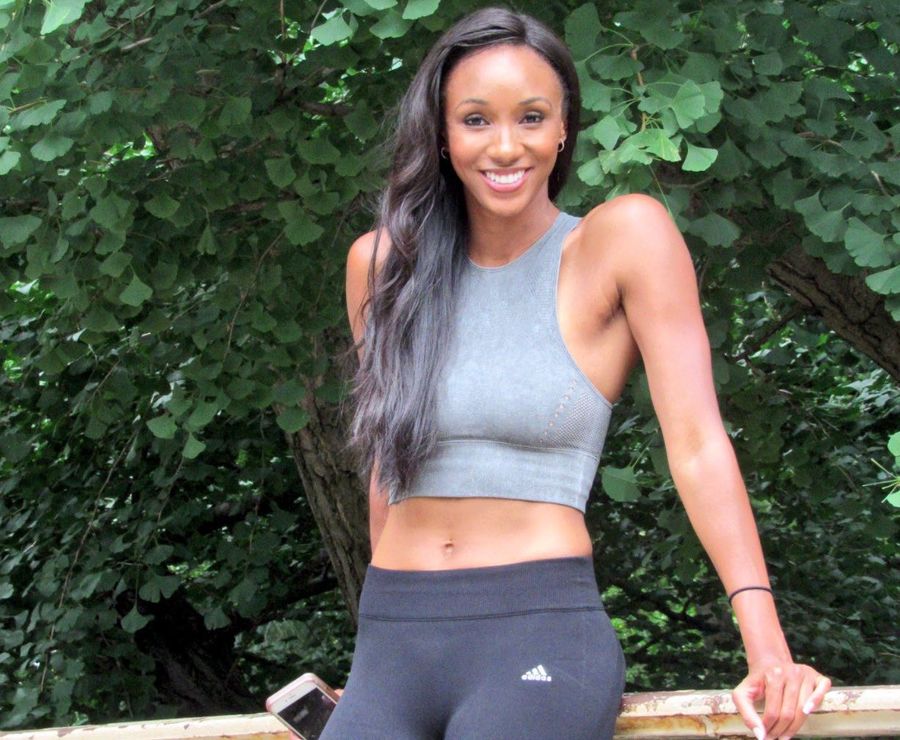 However, Maria's love for sports did not just begin as a reporter. She attended Centennial High school in Georgia, where she grew up. She played volleyball all through her high school and college days. She was awarded a member of the Atlanta Tio-Off Team of the year and was named MVP of her high school's volleyball team.
Meredith Marakovits
Another sideline reporter who started in volleyball is Meredith Marakovits. Her skills on the field earned a volleyball scholarship to play at La Salle University. Having grown up in Allentown, Pennsylvania, Marakovits stayed true to her Pennsylvania roots by working as a sideline reporter for the Philadelphia 76ers.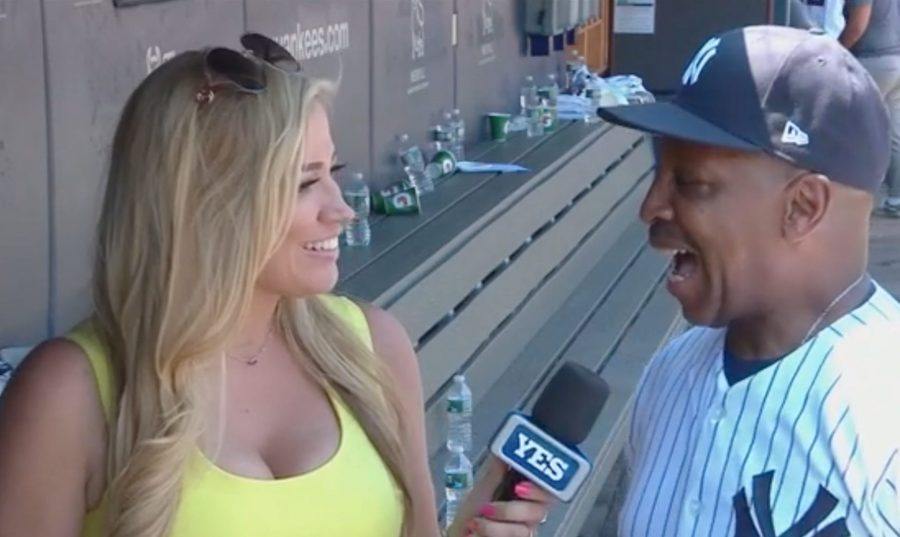 Meredith Marakovits began her on-screen career as a host and reporter for the Lehigh Valley IronPigs for the TV network in her town. She is now famous for her online presence at YESnetwork.com, where she reports on the Yankees as the YES network host.
Molly McGrath
To also make it onto our list is the ever-radiant Molly McGrath. She graduated with a Bachelor of Arts degree in communications and broadcast journalism as a proud Boston College Class of 2011 graduate. Right after her graduation, Molly worked as a production assistant at ESPN.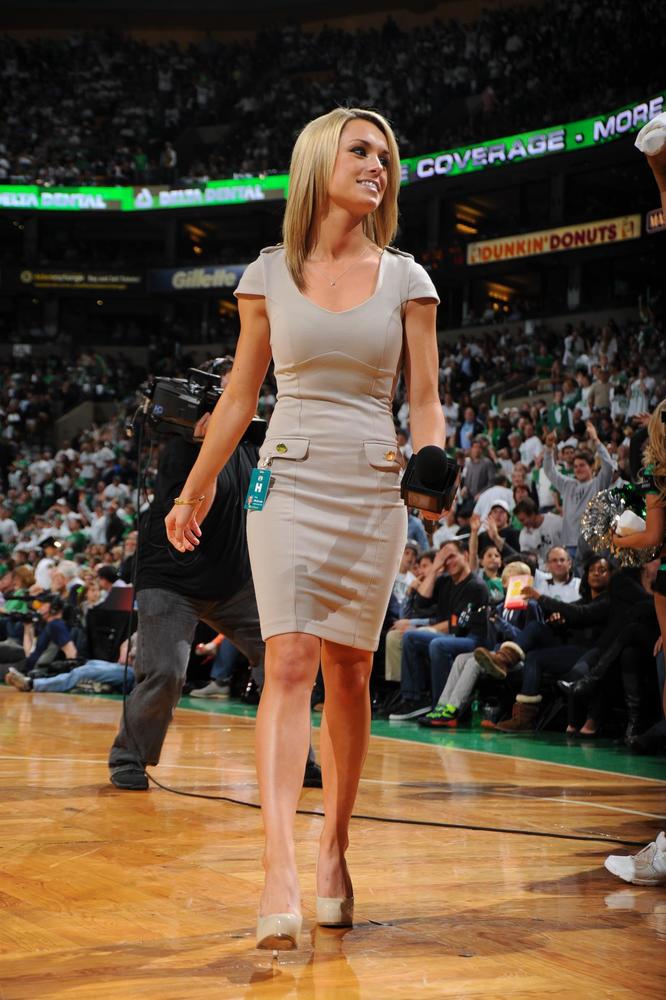 In her job as ESPN's production assistant, she produced highlights, logged play-by-plays, and various other tasks on the network. She has since gone on to host several sportscasts on FOX. In 2016, Molly hosted a revival of the famous robot-fighting show ''Battlebots'' on ABC.
Olivia Harlan
Olivia Harlan is now known as Olivia Dekker after marrying Sam Dekker, a professional basketball player. An interesting fact to know about Olivia is that she is a Philanthropist. She requested her guests to donate to the children's center family foundation for her wedding, raising over $65 thousand!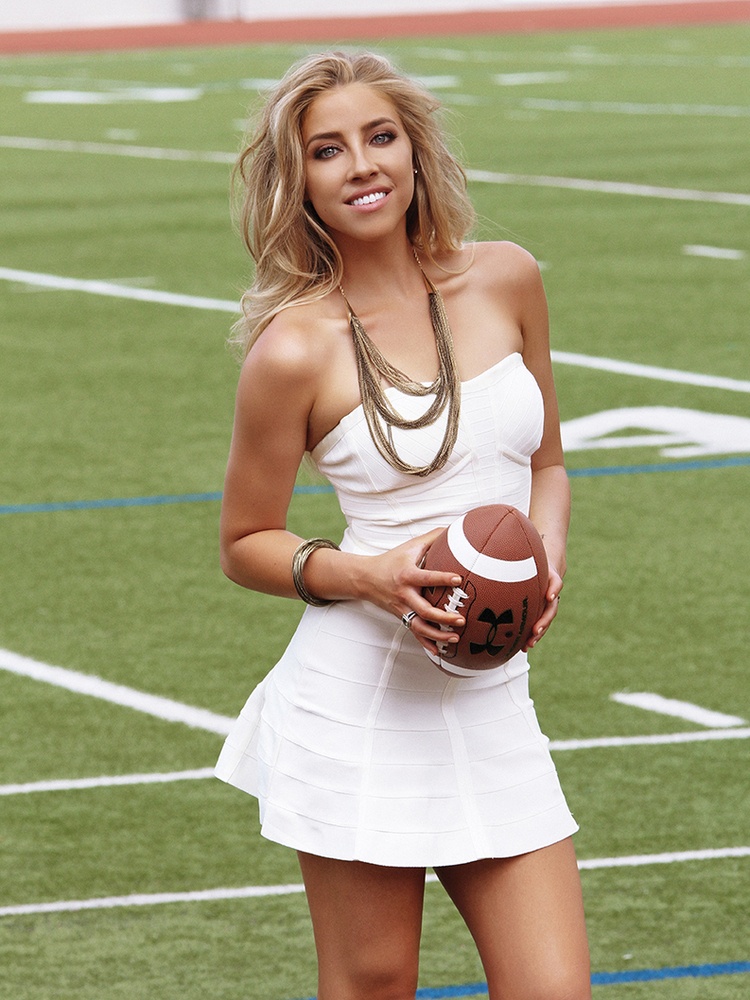 hough Olivia is married to a basketball star, she majors in covering all things football. She made history with her father when they called the game between Green Bay Packers and the San Francisco 49ers as a father-daughter team.
Diletta Leotta
Since she graduated from LuissIniversit in Rome back in 2015, where she studied Law, DilettaLeotta has been a Rockstar in the sports broadcasting industry. She initially started her career by hosting ''Serie B'' games on Sky sport in Italy. In 2018, she worked with Aida Yéspica as a host of 105 Take Away.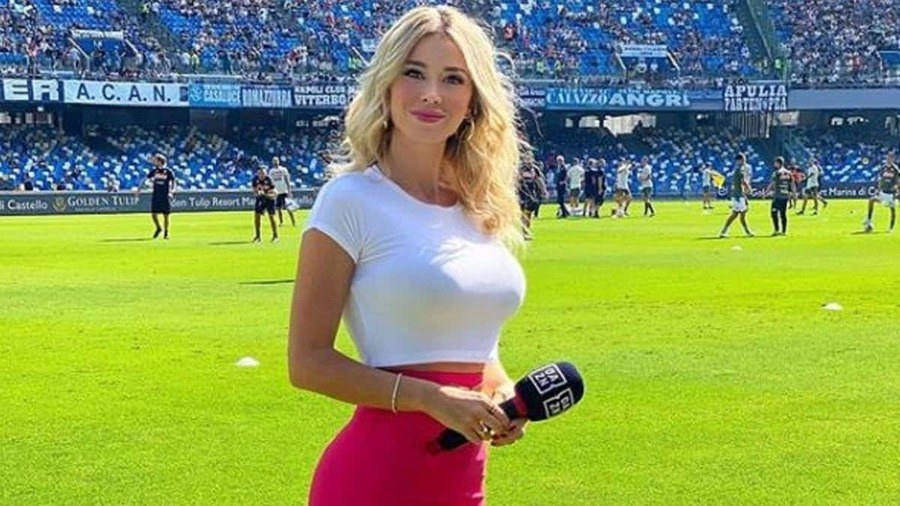 Just as you might have guessed by her name, Diletta Leotta is not an American broadcaster. The Italian presenter is actually from Catania, Sicily. She is now famous for being the host and presenter for Serie A broadcasts for DAZN since the 2018-2019 season.
Rebecca Haarlow
Rebecca Haarlow is all shades of Rockstar. Growing up in Chicago, our Rockstar was a track star, earning herself six state medals. At Princeton, Rebecca scored 4,700 in the 1999 ivy league Heptagonal Outdoor Championships, the second-highest mark in Princeton history!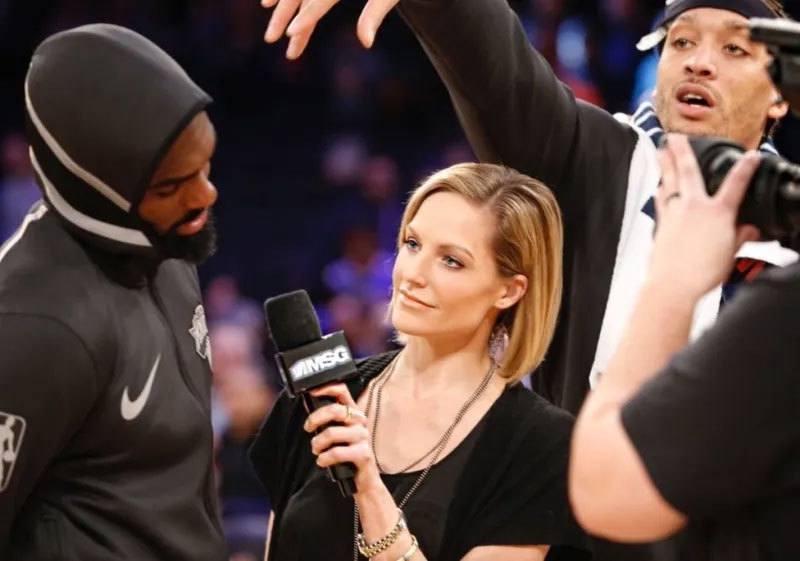 Looking at her vast array of sports and work experiences, one cannot but appreciate Rebecca Harlow's personality. He has had an extensive career, from reporting for the MSG network to NBA on TNT, FOX Sports Net, NBA TV, the NFL Network, and the Big Ten Network.
Samantha Ponder
Hard work, dedication, and professionalism are the words to describe Samantha Ponder. After Sam graduated from King's College, she started as a sideline reporter for small-time college basketball and football games. She finally earned her big break when she hosted the college Gameday segment on ESPN.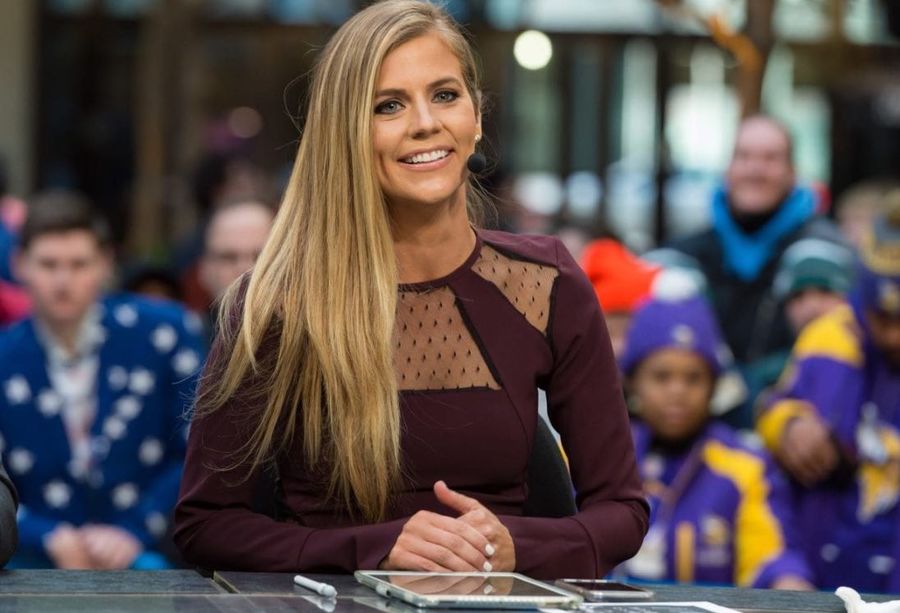 It was an enormous delight when she was named host of the Sunday NFL countdown. Sam is the third person to land this position in the 32-year history of ESPN's Sunday morning pre-game show, where she still graces our screen as the host of Sunday's NFL Countdown" on ESPN.
Sara Carbonero
Unlike any other sideline reporter we have here on our list, Sara Carbonero started her career at a very early stage. While she was yet in her third year studying journalism at the Complutense University of Madrid. She then began as an intern at Radio Marca and was hired six months later.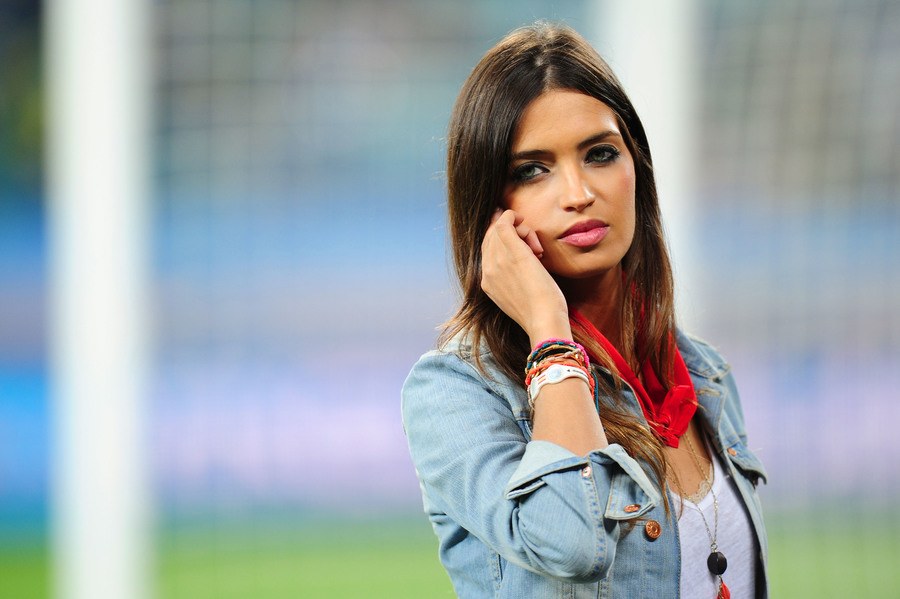 The Spanish sports journalist signed a contract with Telecinco in 2009 as an editor but doubled as a presenter. The highlight of her career was when she covered the 2010 FIFA World Cup and the Unexpected Swiss victory over the Spaniards.
Brittany McHenry
Brittany McHenry was born in Mount Holly Township, New Jersey. She grew up in Satellite Beach, Florida, and was a four-year varsity starter for Satellite Highschool'swomen's soccer team. She graduated with Honors in 2007 from Stetson.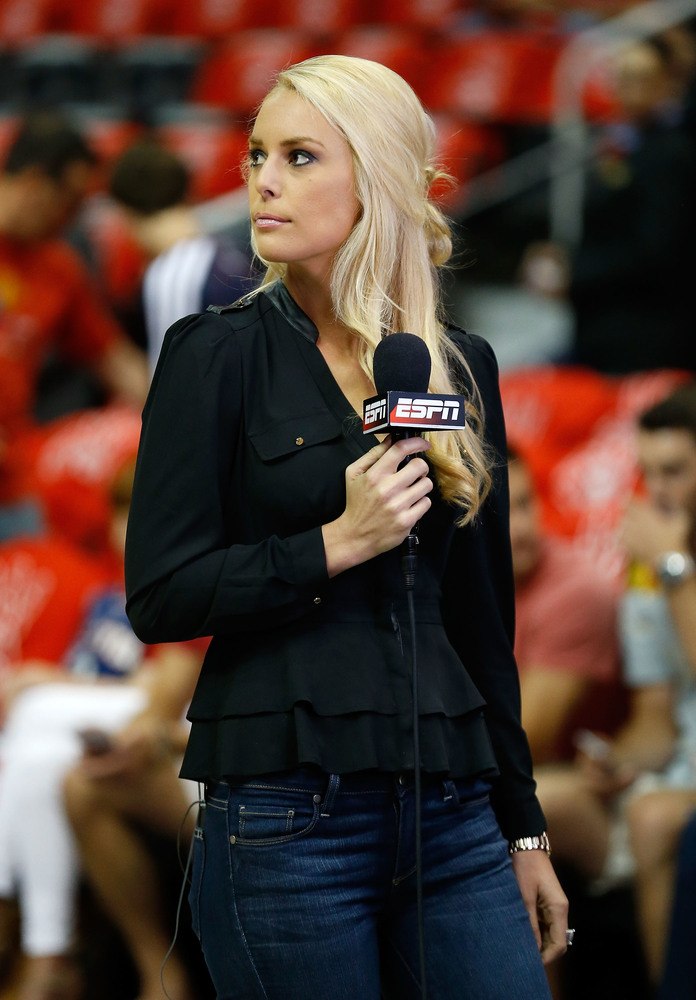 The former ESPN personality is working with the FOX network as a commentator for FOX Nation, FOXNews' streaming service running 24/7. Brittany also went on to NorthwesternUniversity's Medill School of Journalism ever since her career has skyrocketed.
Michelle Beisner
For eight years of her career, Michelle Beisner served as the host of ''NFL Weekly Countdown''at the NFL Network, where she also doubled as a sideline reporter for ''NFL Total Access'' and the"NFL. GameDay Morning" Now, we can find Michelle reporting sports for ESPN and is a member of the ''Monday Night Countdown Crew.''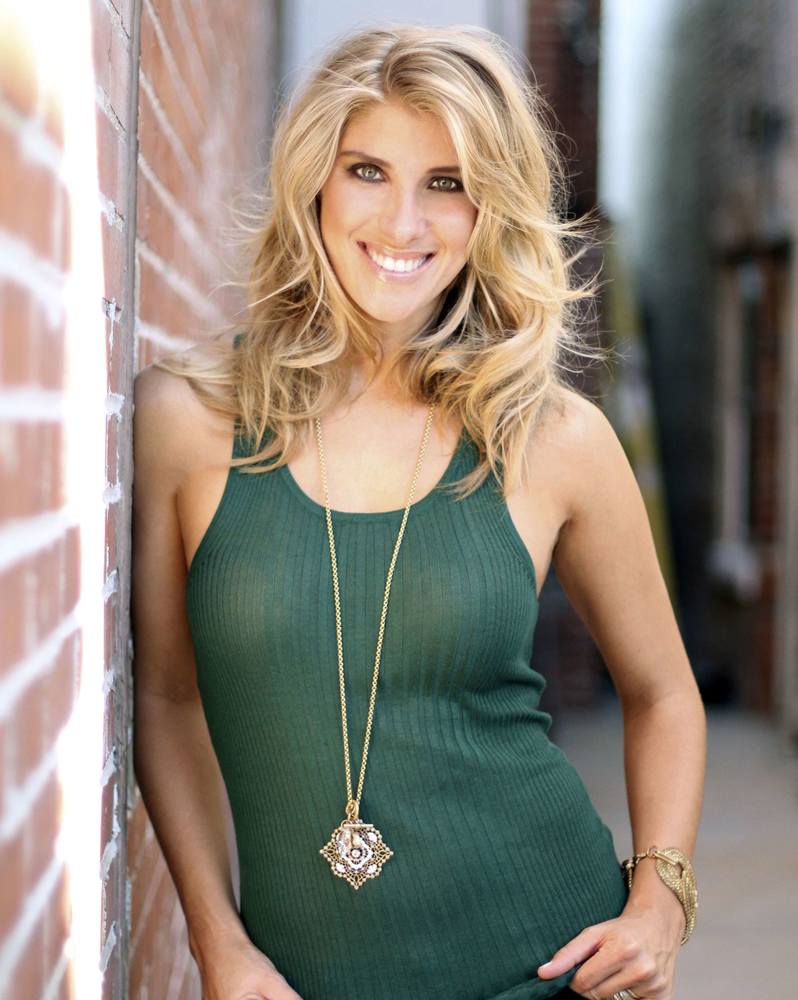 It is essential to state that Michelle is a multi-talented personality. When she is not in the newsroom reporting sports, we can find her in movies where she has made a name for herself. She has starred in films like ''Throttle,'' ''Any Given Sunday,'' and ''Alice in Wasteland.''
Kacie McDonnell
Before Kacie McDonnell made a name for herself in the FOX network, she worked for WTXF-TV reporting sports games for the Philadelphia Eagles. The highlight of Katie's career was when she got her first big gig hosting the red carpet at the patriot awards in 2019.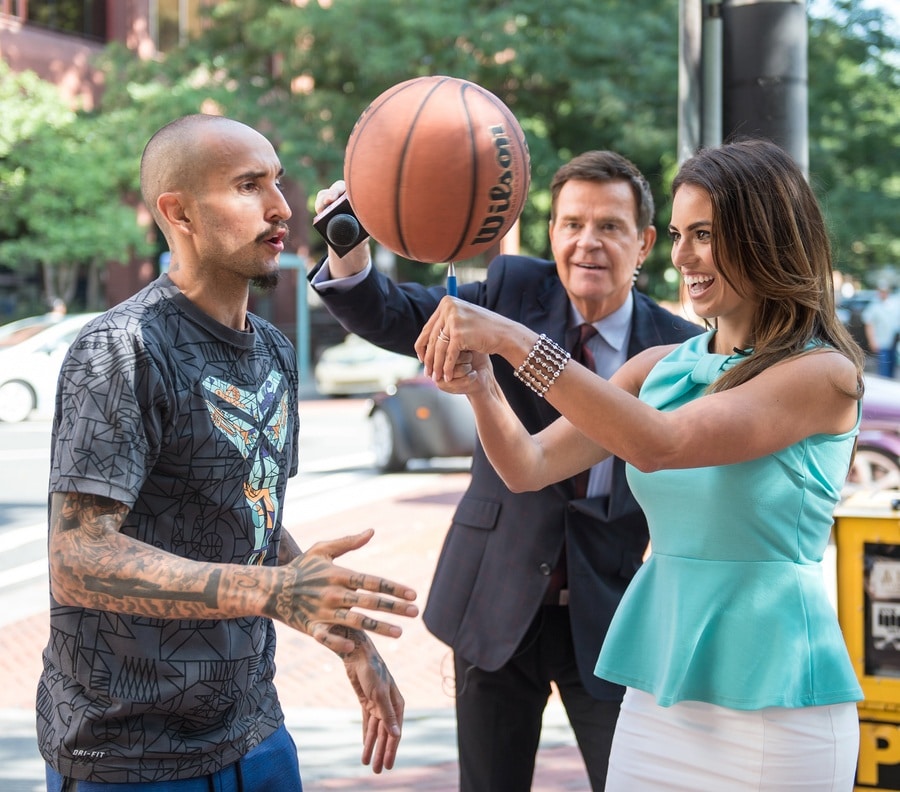 Born and raised in Pottsville, Pennsylvania, Kacie attended her home state for college. She bagged her Bachelor's degree in communications from Villanova University. We see Kacie mostly on the FOX Nation Subscription Channel as a sports and lifestyle host.
Erin Hawksworth
Erin Hawksworth worked in the United States for several years before returning to her home country in Canada to continue her career in sportscasting. She started her career as an intern for the National Broadcasting Company- covering the 2004 summer Olympics.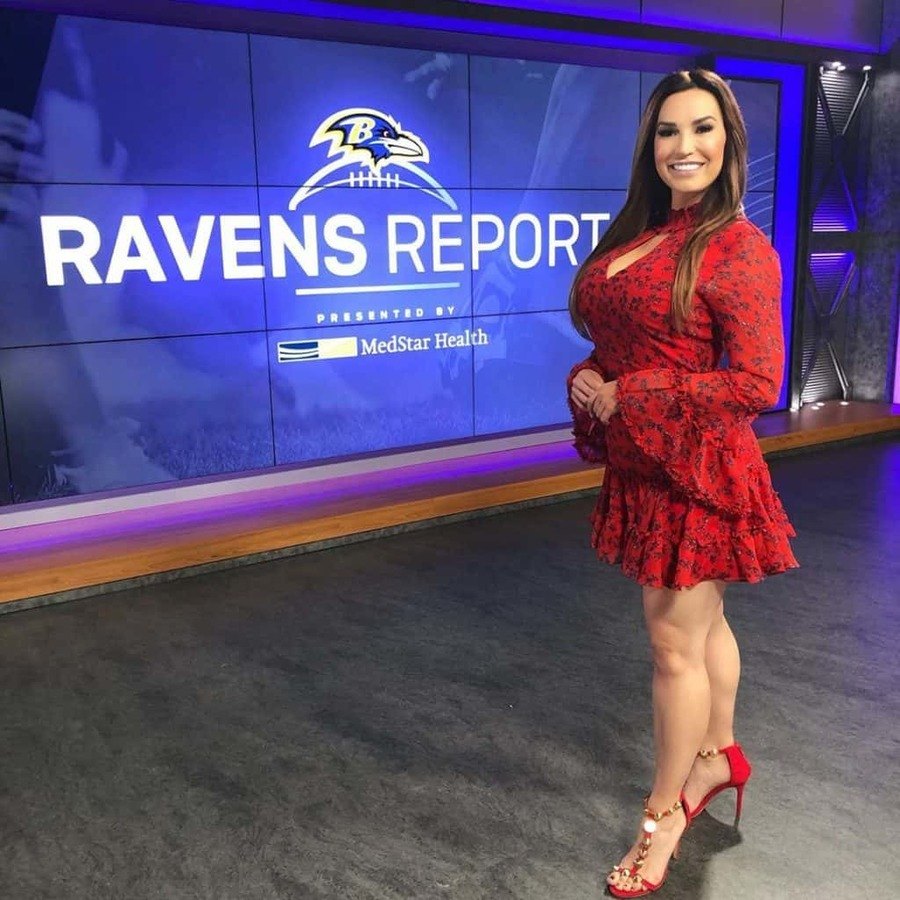 Hawksworth had previously worked as a sports anchor for CNN before making her way to many other extensive networks, including KCPQ, the FOX affiliate in Seattle, where she doubled as both a sports reporter and a morning news anchor. She now reports/ anchors for Rogers Sportsnet in Toronto.
Amanda Pflugrad
Amanda Pflugrad gets the privilege to conduct both pre and post-game interviews with the players and coaches of the 17- Time World Champion Boston Celtics. An essential part of her job as the team reporter is delivering live game recaps and analysis. She also provides updates from the team's practice.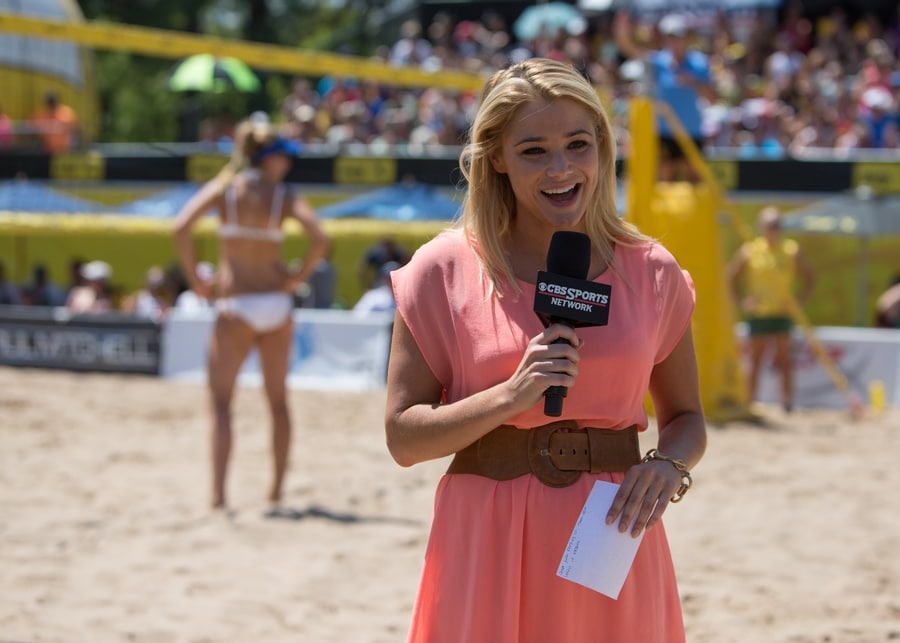 Amongst her many duties is to host the Celtics live pre-game show during every single home game. Seems like a lot, right? That's because it is a full-time job. Before this, Amanda was a sideline reporter for ESPN, where she covered women's gymnastics solely.
Jennifer Dell
We could never have guessed, but Jennifer Dell, born and raised in Connecticut, attended UMass Amherst, where she surprisingly bagged a bachelor's degree in Hospitality and Tourism Management. We are unsure how she found her fit in the sportscasting field, but a degree in Hospitality sure doesn't get you reporting gameplays.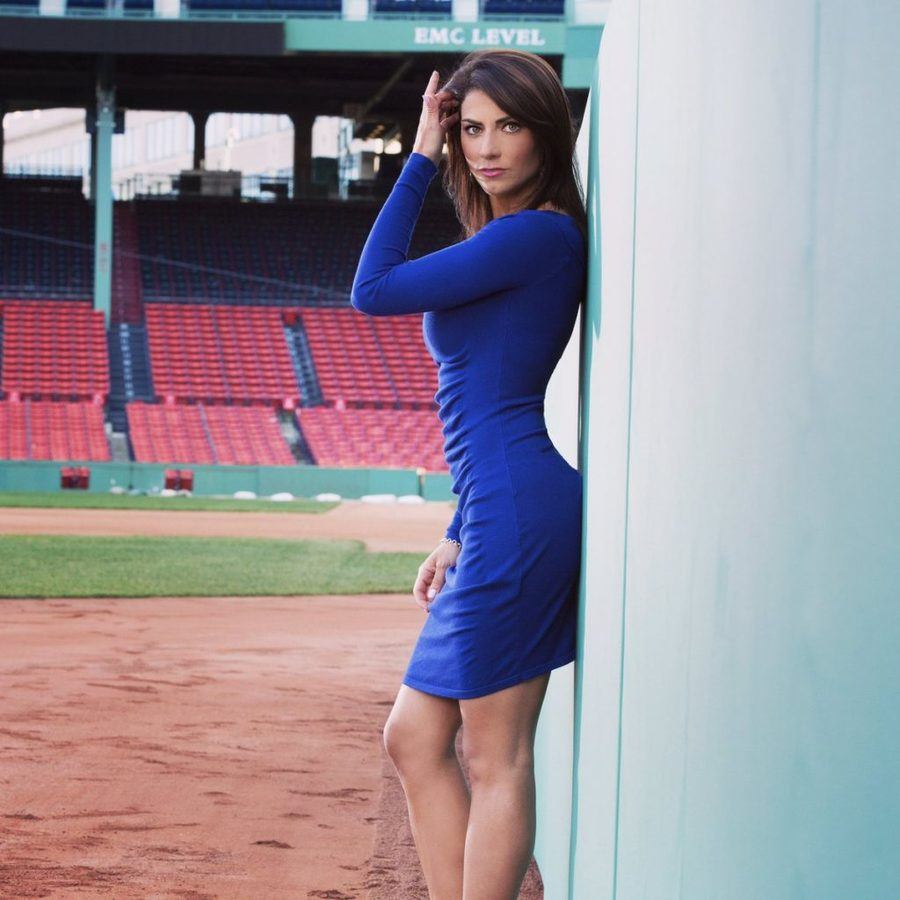 In 2012, as she is popularly called, Jenny began dating her now-husband and father of her two lovely daughters, Will Middlebrooks, the third baseman for the Boston Red Sox. They got engaged in 2014 before jumping the broom in 2016.
Lauren Gardner
In need of a versatile personality for a reporting gig? Lauren Gardner comes highly recommended. Having reported, anchored, and hosted almost all the sports networks, there is no doubt that her dedication, passion, and expertise speaks for her professionalism in the job.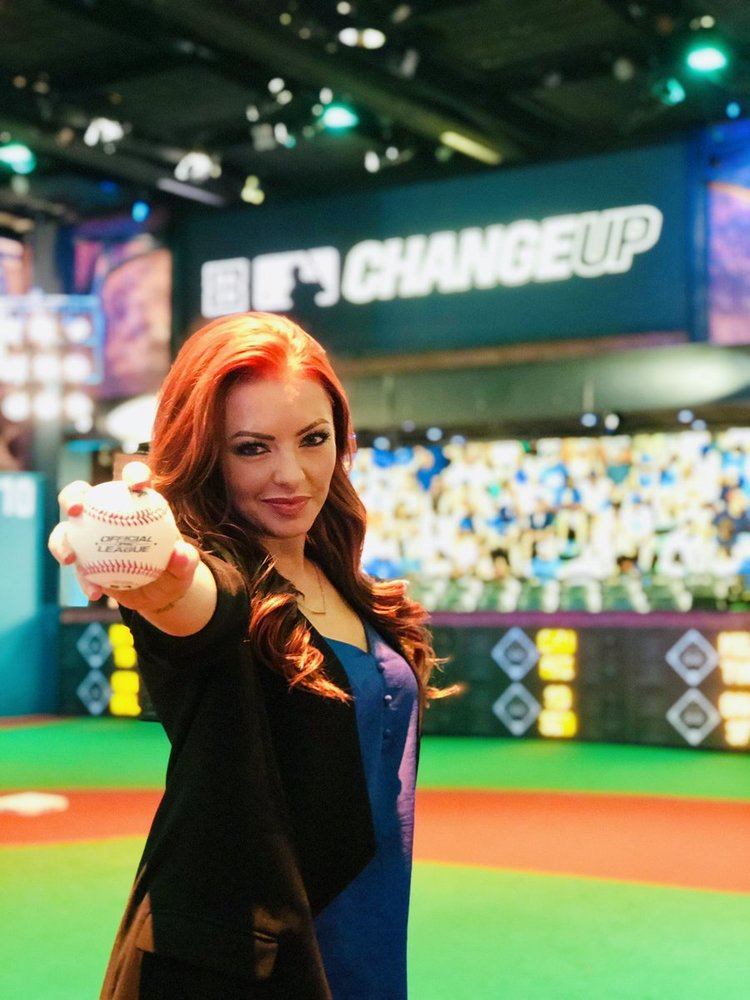 The Colorado native has served as a sideline reporter and host for the CBS Sports network to the Smithsonian Channel. She has covered every sporting activity you can think of. SHE HAS COVERED EVERYTHING from the NFL to NHL, NBA, MLB, College Basketball, College Football. She presently works with DAZN as the host of Change-Up, an MLB show.
Sage Steele
One of the best reporters we have on this list is Sage Steele. She may be one of the best female reporters in the field. Sage attended Thomas B. Doherty High school in Colorado Springs before transferring to Carmel, Indiana, and attended Carmel High School.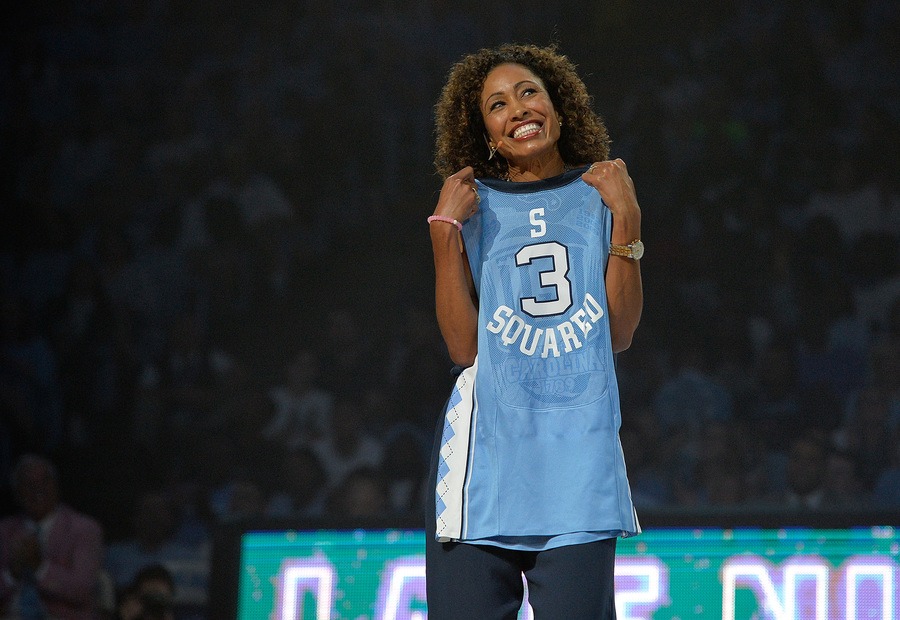 Steele graduated with a Bachelor of Science degree in Sports Communication from the Indiana University Bloomington in 1995. She would be back twenty years later to give a commencement speech at the 2015 graduation if anyone had told her. Steele considers the role the most significant of her career.
Jenn Brown
Emmy Award winner Jenn Brown grew up with love for sports. She played several games in high school and was even named captain for most of them. She went on to follow the same path as a collegiate athlete for the University of Florida.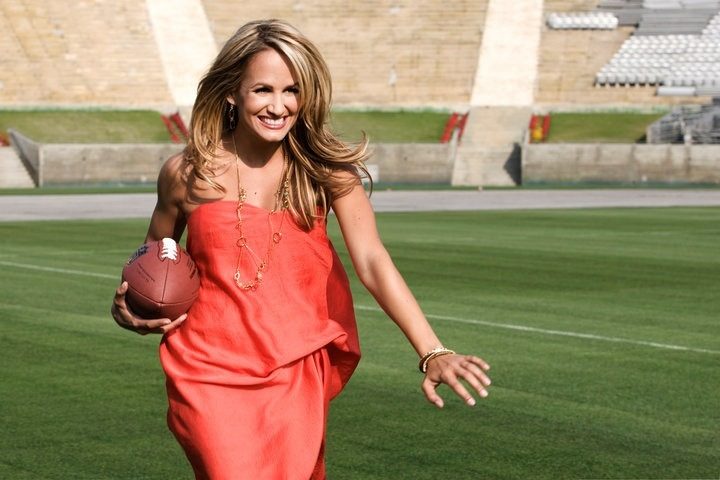 Continuing in the line of the same sports, she served as a reporter and host for ESPN for eight years. Before this, Jenn worked for Showtime sports as a correspondent for two years before moving to her Emmy winning role as a correspondent on"Inside NF."
Jen Hale
Having started her career in Journalism and broadcasting in Monroe, Louisiana, at KNOW-TV, which eventually got her a spot in Baton Rouge as their capital correspondent in Louisiana. Jen Hale is an Author, sports reporter, Tv show Host, and reporter.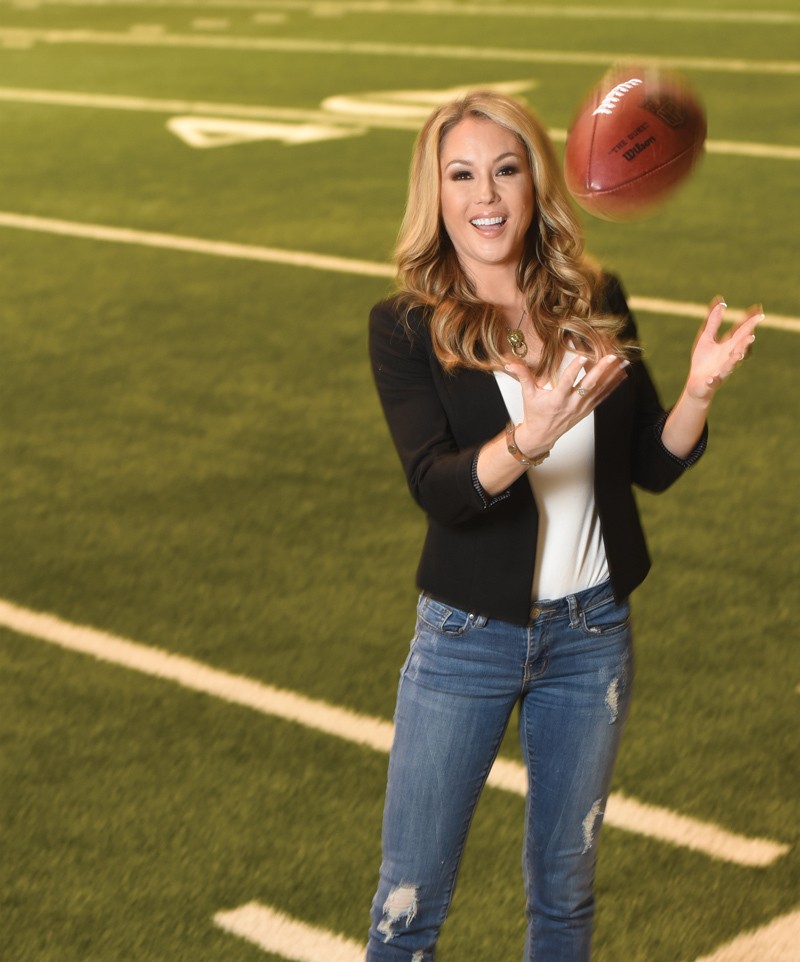 It remains unclear how Jen managed to write and complete her book called"Historic Plantations of Alabama's Black Belt." Between having a full-time job as a reporter and a weekend anchoring gig on the side, we would want to know the tips she used.
Kristina Akra
Kristina Akra attended and graduated from the University of Florida in the year 2006. Having studied news broadcasting, the famous journalist was born in Fort Lauderdale, Florida. The highlight of her career is covering the Atlanta Braves on FOX Sports with in-game reports.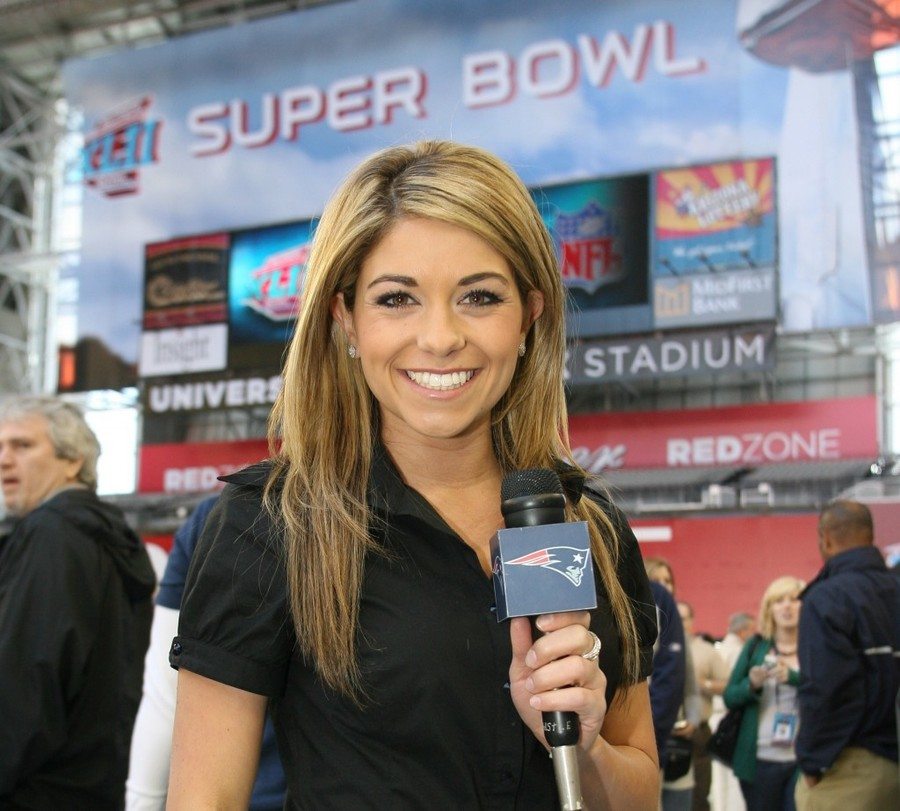 Kristina is most known for making appearances on various CNN shows in her promising career with CNN, including"Weekend Express with Lynn Smit" and"New Day. She continues to explore the several possibilities her career avails her. As a sideline reporter and news Anchor or a Tv show host, Kristina is ready for such a role.
Nikki Noto
Nikki Noto had always known she would eventually earn a living through talking ever since she was a child. As an only child, she would mainly talk to herself. Back in high school, Nikki joined the broadcasting journalism club as a sophomore in her career.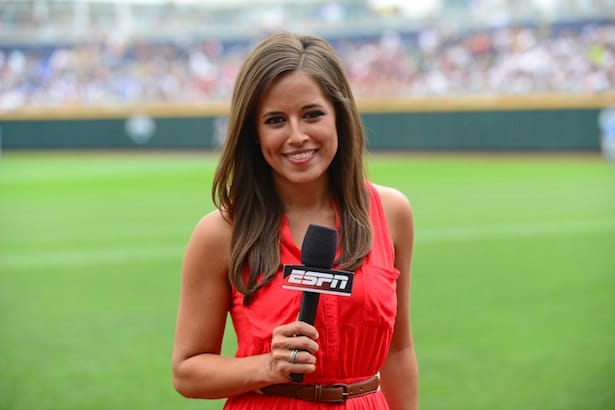 In her years working for her high school's broadcasting journalism club, Nikki set her heart to the path and did not take even one unwavering step from when she joined as a sophomore until when she got a spot representing ESPN, FOX sports, NCCA, and many more networks reporting several sporting events.
Kristen Ledlow
The next sideline reporter we have on our list is Kristen Ledlow. You might not be able to tell of a first glance, but Kristen was the third runner-up for the 2010 Miss Florida USA Pageant. Ever since she put those pageant days behind her, she has become the host of"NBA Inside Stuff."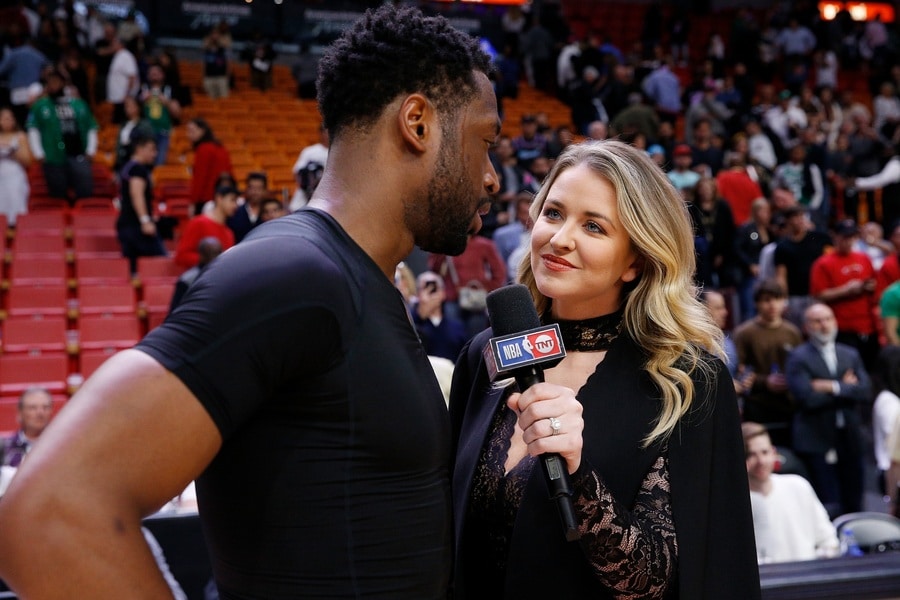 She attended and graduated from Southeastern University in Lakeland, Florida, majoring in broadcasting and communications. Upon graduation, she became an anchor for WTXL-TV to host the"Good News Sho" while writing for the"Tallahassee Quarterback club" Kristen makes her way into reporting for Florida State Seminoles football games.
Jamie Erdahl
The CBS Rockstar was born and raised in Bloomington, Minnesota, Jamie Erdahl. She graduated from Brek school in 2007. These days, Jamie is a reporter alongside Gary Danielson and Brad Nessler for CBS Sports, where she remains the sideline reporter for ''The SEC'' on CBS.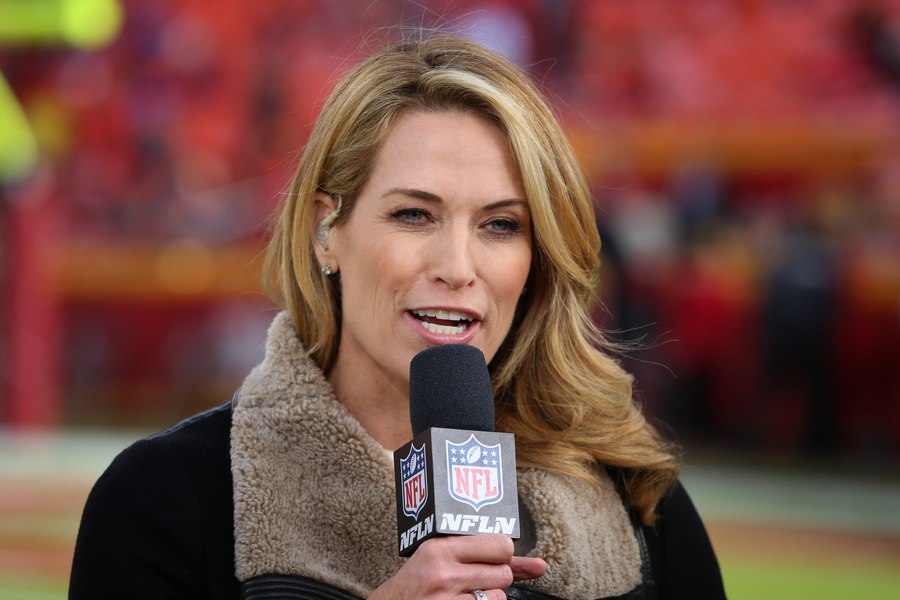 Part of the job description for her is to cover the NCAA basketball during its season and"March Madness" for the network. Ever since she joined CBS sport back in 2014, Jamie Erdahl has continuously contributed to the network as a studio host.
Heidi Watney
Heidi Watney attended Clovis West High School in Fresno. In those days, Heidi was an all-around athlete as she participated in all the kinds of sports available to her. She was an active member of the school's gymnastics team but experienced in other sports such as hurdles, diving, and even cheerleading.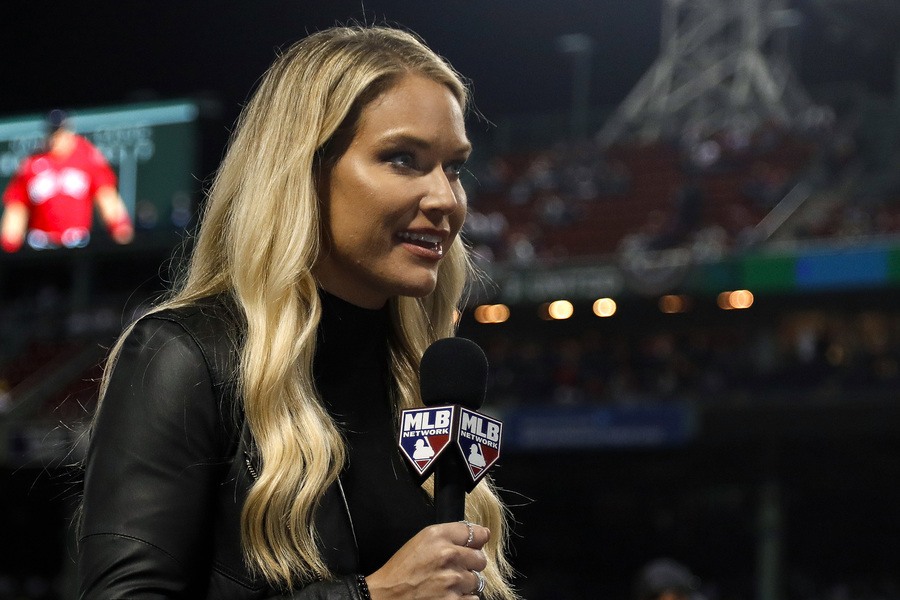 Her fiery spirit was quickly spotted as she earned a scholarship to Sn Diego State, where she graduated with her Bachelor's degree with honors. Heidi expanded her work experience in broadcasting sports in roles at the Time Warner Cable SportsNet in Los Angeles and New England Sports Network in Boston.
Kathryn Tappen
Kathryn Tappen is a native of Morristown, New Jersey. This fierce and fiery spirit is resistant and passionate about her sports. We can see this example when she joined the boy's baseball and basketball teams in her school because there were no girl teams.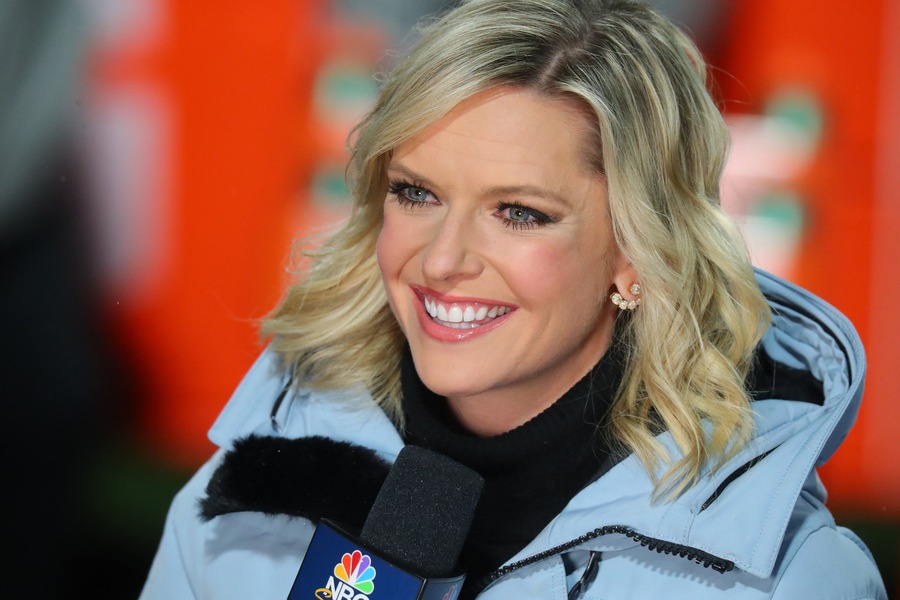 In her days in high school, Kathryn focused on track, which earned her both academic and athletic scholarships to attend Rutgers University. While in the same University, she majored in journalism and became a cross-country and track team member until she graduated.
Molly Qerim
In case you didn't know, Molly Qerim is half Armenian and half Italian. The gorgeous sportscaster is also a Brainiac and bookworm. As a native of New Haven, Connecticut, Molly stayed true to her roots and attended and graduated from the University of Connecticut.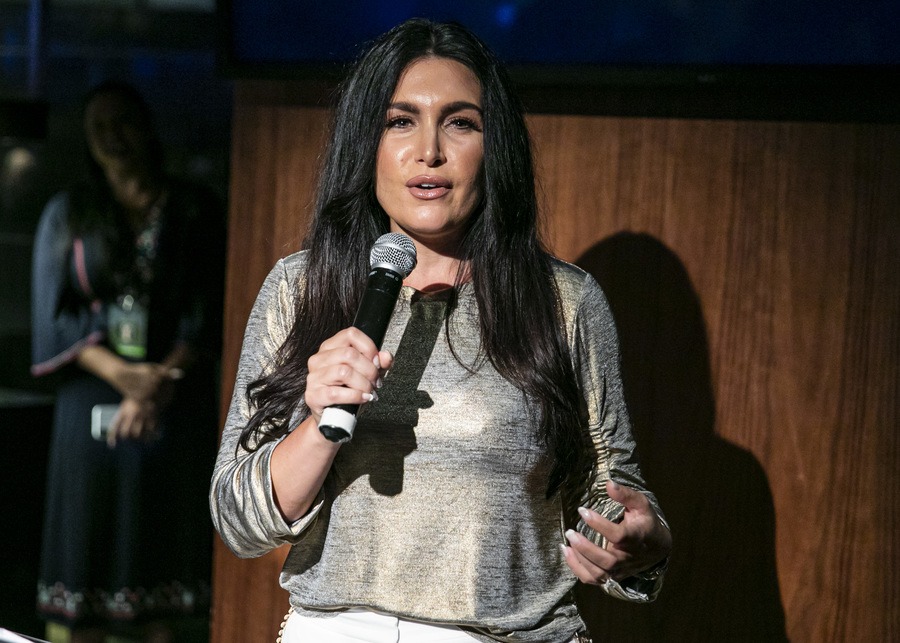 In her first degree, she majored in Communications and minored in Business Administration but had her master's from Quinnipiac University in broadcast journalism. Her resume includes anchoring and reporting for the CBS network. Here, Jamie covered college football, the NCAA Tournament, the US Open, and National Signing Day.
Jamie Maggio
Jamie Maggio is the perfect definition of a New Yorker. The native is a die-hard fan of the New York Giants. Before covering from the sidelines at the NBA and MLB playoffs. Jamie had hosted a local sports show in Los Angeles before joining Turner sports.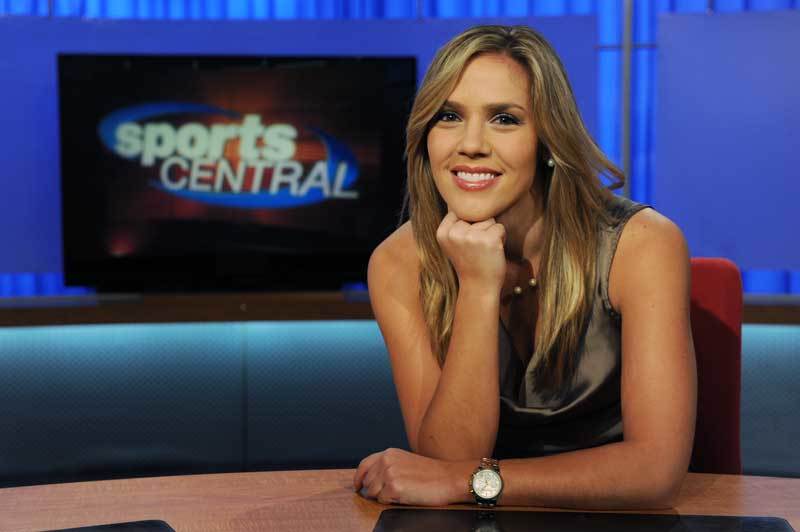 The highlight of her career as a sportscaster was during her coverage of the 2011 NCAAMen's Basketball tournament. Ever since her breakout game, her career has skyrocketed, shooting for the stars. Now, she handles sideline duties for Los Angeles Clippers games on FOX Sports West.
Melanie Collins
Melanie Collins has been in our faces for quite a long time. You might recognize her as the face of Yahoo! Sports when she used to report all major sporting events worldwide or when she hosted a weekly sports show called"Fantasy Football Live."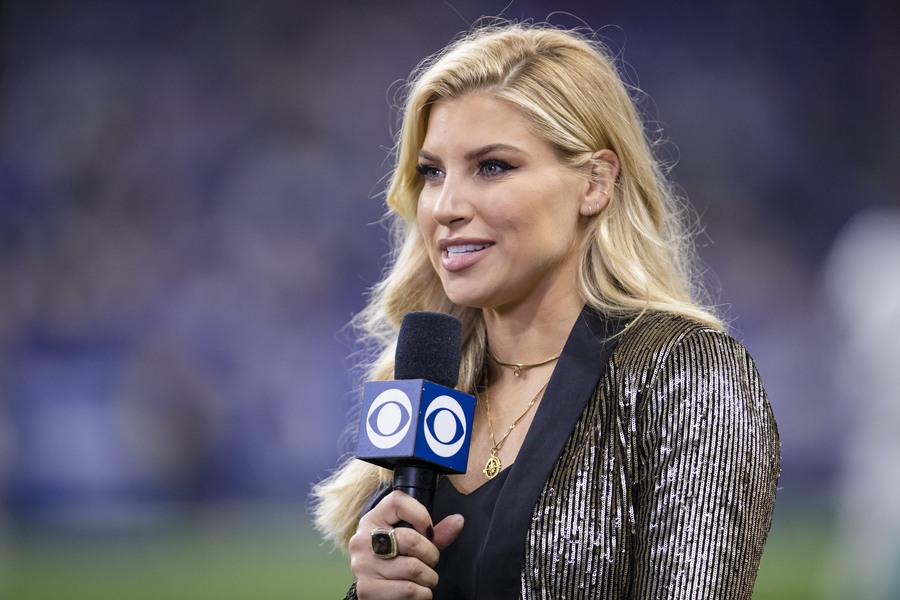 We are aware that there are quite several Broadcast Journalism graduates on this list. However, we assure you Melanie is just a part of the statistics alone. She has worked tirelessly to achieve her goal as a reporter. She now hosts the"Big Brea" and works as an NFL sideline reporter for CBS Sports.
Gevrina Catalina
Next on our list is Gevrina Catalina. This bilingual sports and television personality is Fluent in Spanish and English languages. Catalina always breaks and sets new records for upcoming sportscasters. She is the first-ever bilingual sportscaster for Los Angeles Football Club and doubles as a digital reporter for the Los Angeles Rams.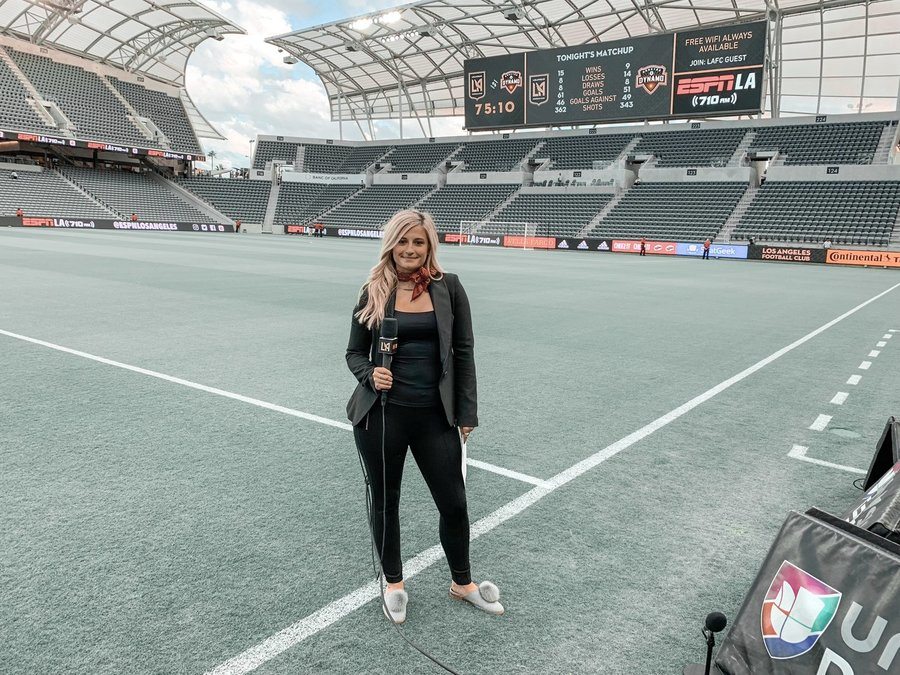 You cannot talk about the diversity of sports in Los Angeles without referring to Catalina. She is a product of prep sports school Master Dei. Catalina also speaks French fluently, making her a very commendable hire. She can easily land a job anywhere in the world!
Tracy Wolfson
You would agree with us that for a person to have gotten nominated four different times for an Emmy Award as a noteworthy sports broadcaster is very impressive of Tracy Wolfson. She is radical, dedicated, passionate, and committed to her job, with which she delivers her 100% all the time.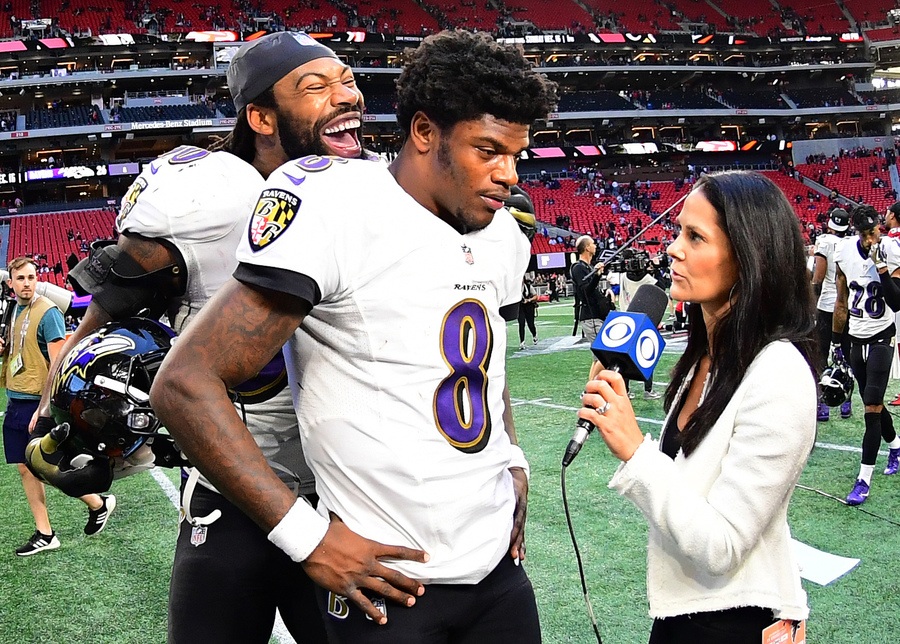 In 2004, Tracy made a life-changing decision to move from ESPN to CBS Sports, where she has graced our sidelines ever since. It is pertinent also to note that Tracy has covered most of the significant games in the world. She was on the sideline for the inaugural"Thursday Night Football" package.
Brittany May McHenry
After graduating from Medill School of Journalism, Brittany May McHenry kicked off her career in the sporting reporting field as a reporter and fill-in anchor for ABC Television's Washington affiliate. These days, she serves as the commentator on FOXNation, FOX News' 24/7 streaming service.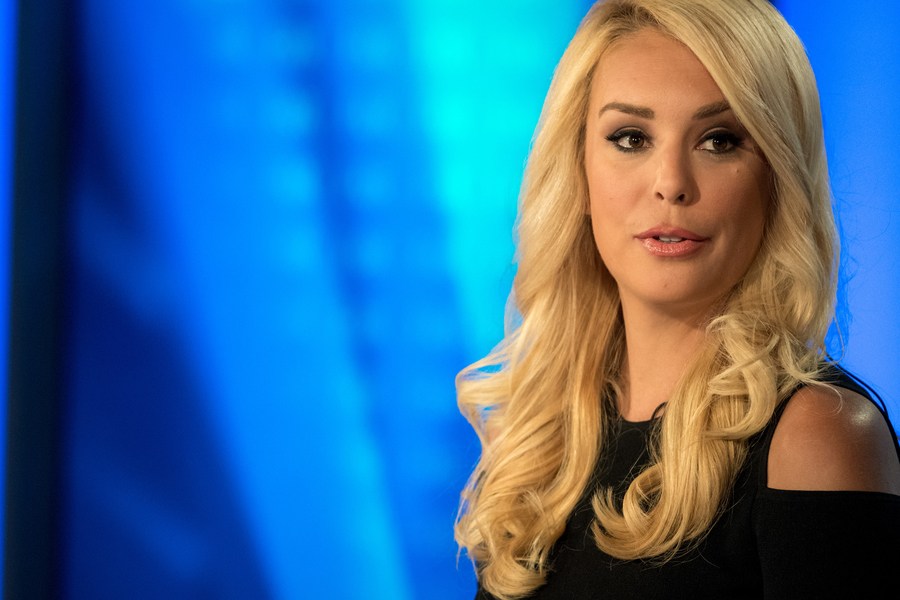 The former ESPN personality once spent two weeks at FOX Sports San Diego, where she worked as a sideline reporter on the San Diego Padres telecasts – before returning to ABC 7. Having performed hard work for all she has earned, we can only root for her promising career.
Jenn Sterger
Jenn Sterger remains one of the most notable women in sports media in the past 20 years. Though she has been out of the spotlight for a while now, the Model, TV Personality, and former online columnist for sports illustrations.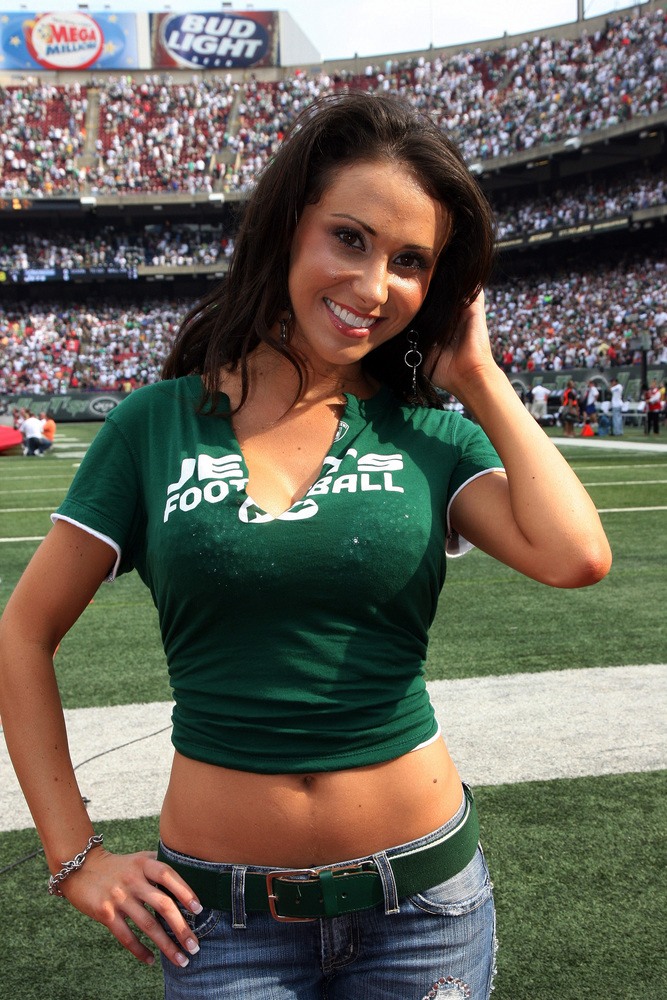 Before she started at her current job as the backstage interviewer for all Elite Wrestling' Jenn had worked as a co-host of the Versus Sports news show, "The Daily Line" She was also the Gameday Host for the New York Jets.
Amanda Balionis
Amanda Balionis has made a name for herself in the sports media world. She has evolved into a household name that Golf fans who tune into TNT and CBS all know. Like many others we have listed, Balionis is a graduate of broadcast journalism.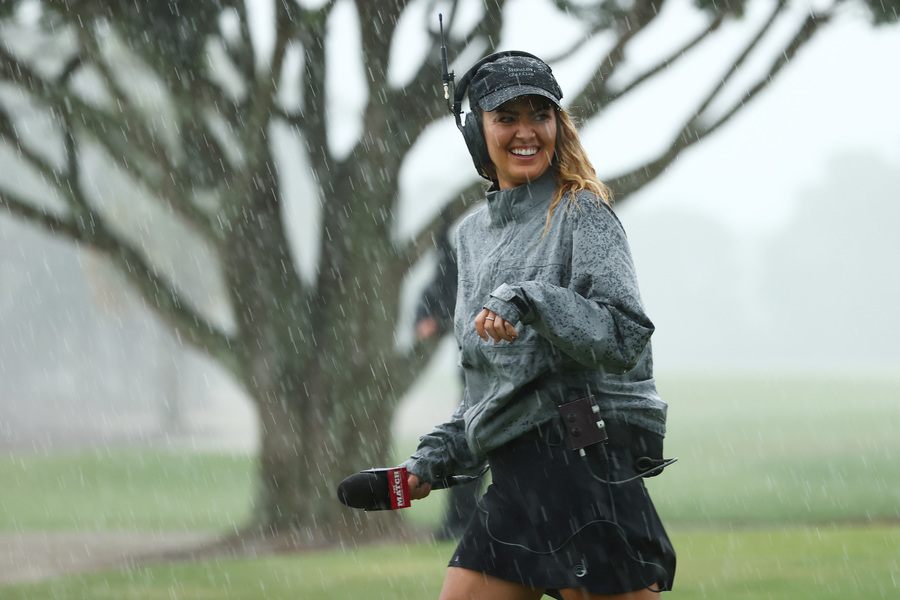 She was able to kick off her career during her time at Hofstra University. While she was still studying, Amanda worked at the student newspaper, where through hard work, Dedication, and Commitment to the job, she was able to work her way to the top.
Jill Arrington
Before she had her daughter in 2004 and decided to start a family for herself, Jill Arrington held a five-year record for producing an entertainment show called"Main floor," which she had created right after she graduated from the University of Miami.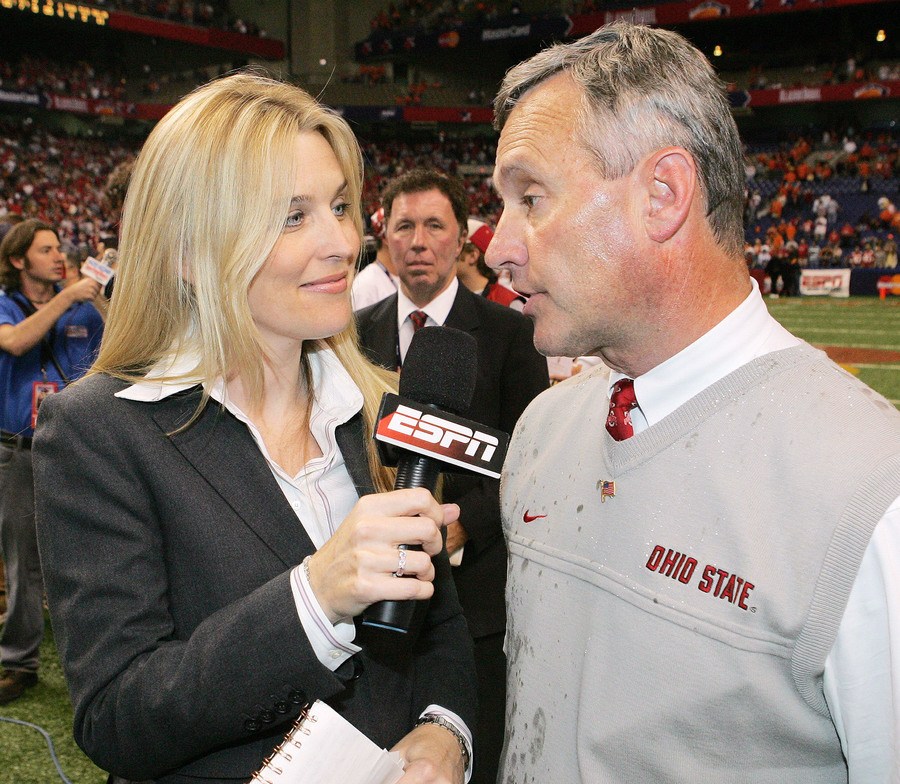 The graduate of broadcast journalism had also previously spent a year producing for paramount's "Real T" Before she eventually married her boyfriend at the time, Dean Panaro. The latter was a four-time NCAA champion diver. The marriage is blessed with a lovely daughter, Presley Kate Panaro.
Shannon Spake
Before she landed an all-star job with FOX network, Shannon Spake had served on the sports center team at ESPN, where she was the sideline reporter for SEC on ESPN basketball. Hard work, unwavering passion, and apt love for sportsmanship have helped her rise in the profession.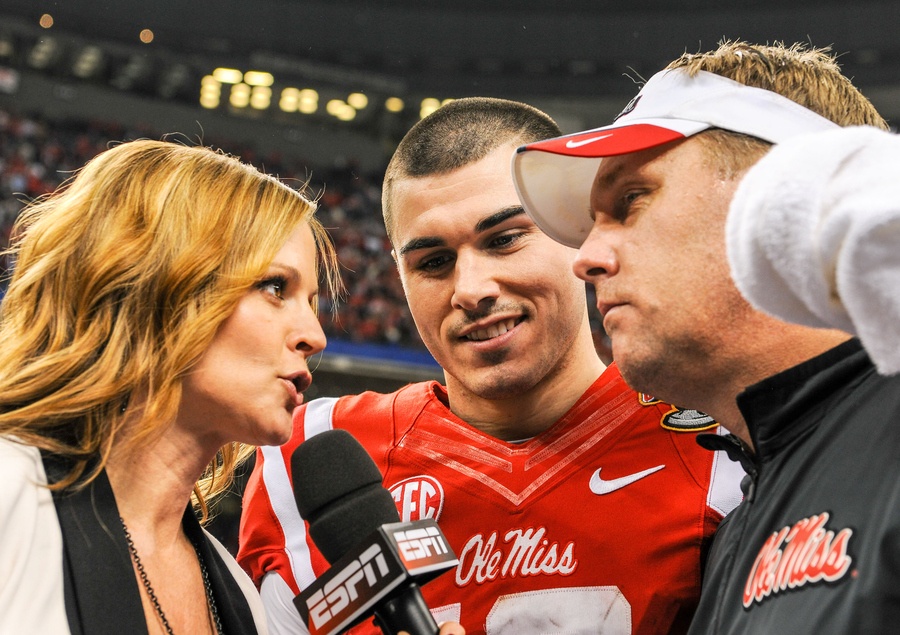 However, over at FOX, Shannon is in charge of all anchor duties for the"NASCAR Cup series" and the"NASCAR Series,'' races and pre-race shows. She likewise covers college basketball and football reports for FOX Sports. In 2017, Shannon Spake got a rare opportunity to voice Shannon spokes in Pixar's ''Cars 3!''
Melissa Stark
T.V. personality and sports broadcaster Melissa Stark kicked off her career as a news intern. Here she worked on the assignment desk at WMAR-TV in Baltimore back in 1991. Through hard work and Commitment, she moved up and became a news intern for"CBS Evening News."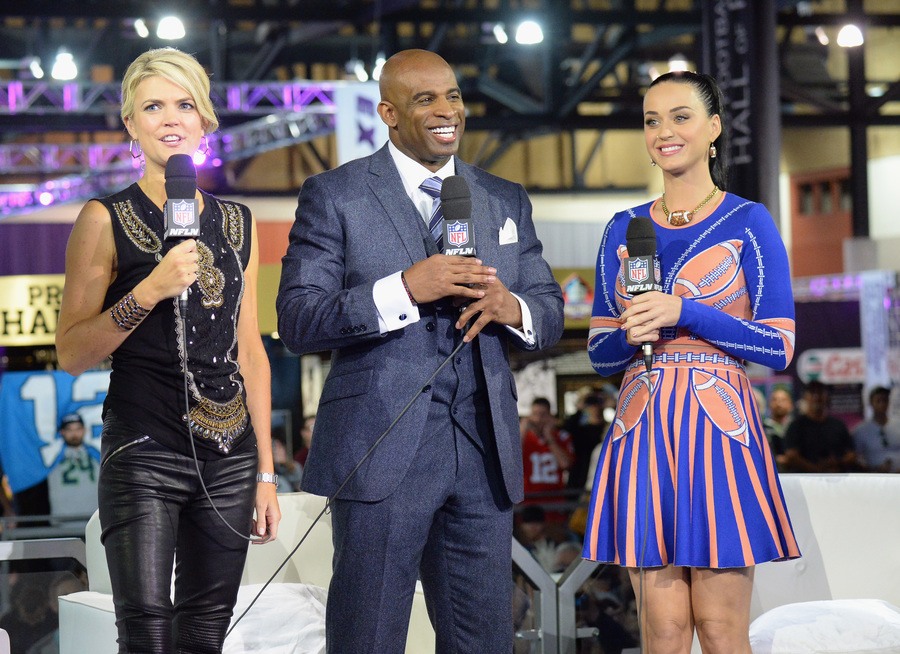 You may recognize her from"Monday Night Football," where she has served for three years. After gaining good records there, she began writing scripts and putting background information on investigative pieces for the network's correspondent, Dr. Bob. She is now a reporter for the NFL Network.
Holly Rowe
Holly Rowe is the true definition of an MVP. Her dedication and love for sports are second to none. In 2016, she covered both men's and women's NCAA tournaments just one month after her cancer surgery. She practically had plastic tubes sewn into her incision to drain fluid.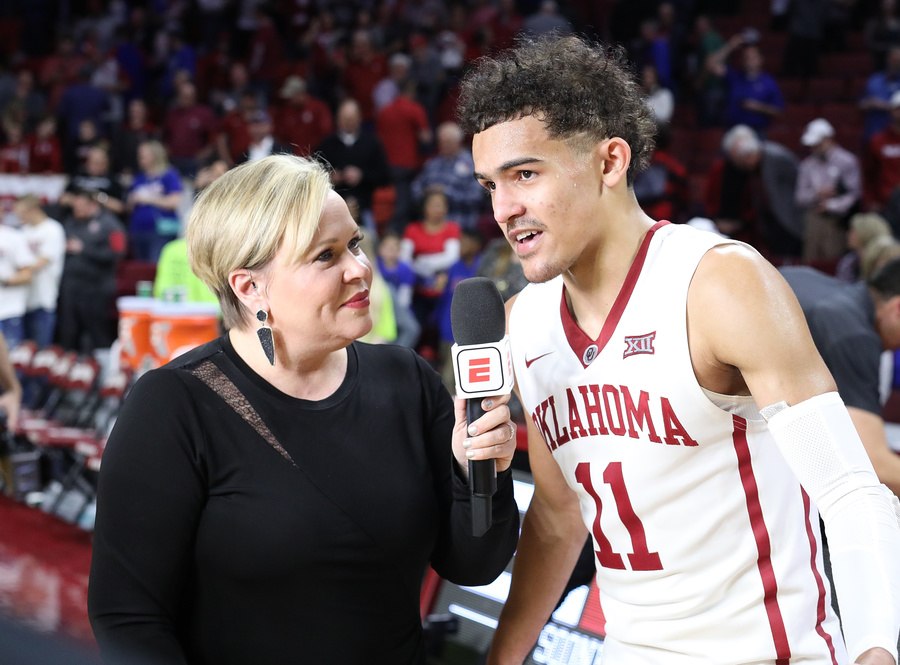 Rowe has motivated many young uprising media personalities as she has made a name in sports journalism. She started working with ESPN in 1998 and has stayed on ever since. One of her unique abilities is to move swiftly between sports and roles, which includes play-by-play broadcasts.
Jayne Kennedy
Jayne Kennedy is an all-around talent. The worthy emulation sportscaster is a Model and actress who has appeared in television and movies. She got nominated and won an NAACP Image Award for Outstanding actress in the film"Body and soul. ''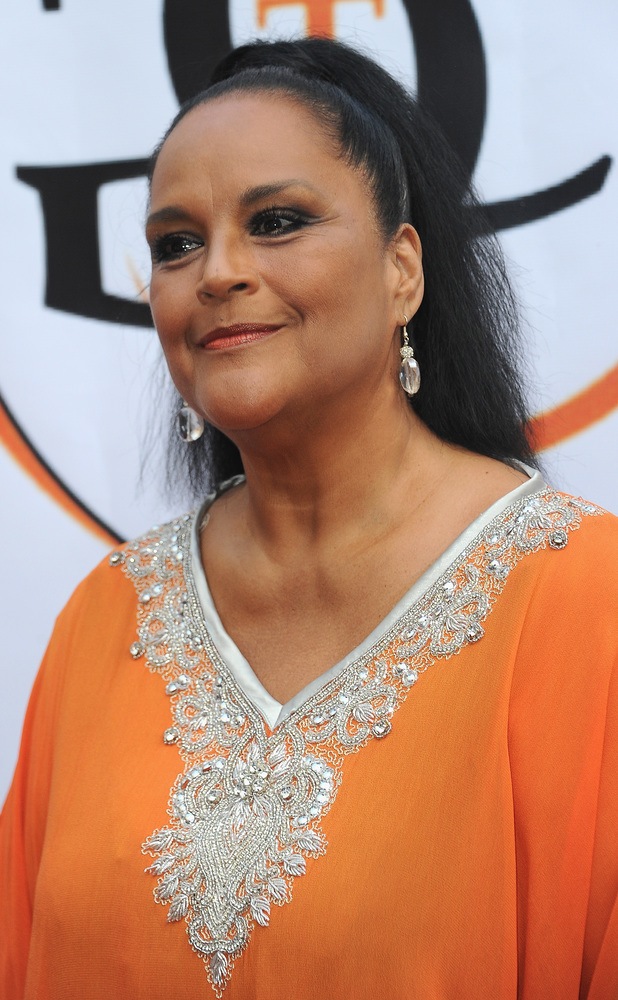 Jayne has a track record of breaking boundaries and surpassing expectations. She is one of the first women to get into sports news even before women were invited. Jayne was the first female network correspondent on sports programming when she joined CBS's "NFL Toda" as far back as 1978.
Rebecca Grant
Rebecca Grant worked as a correspondent for Fox Sports World and ESPN to cover international soccer. She has done exceptionally well in the sports world of broadcasting. She also worked as a sports personality with the Buffalo Bills Organization on the Empire Sports Network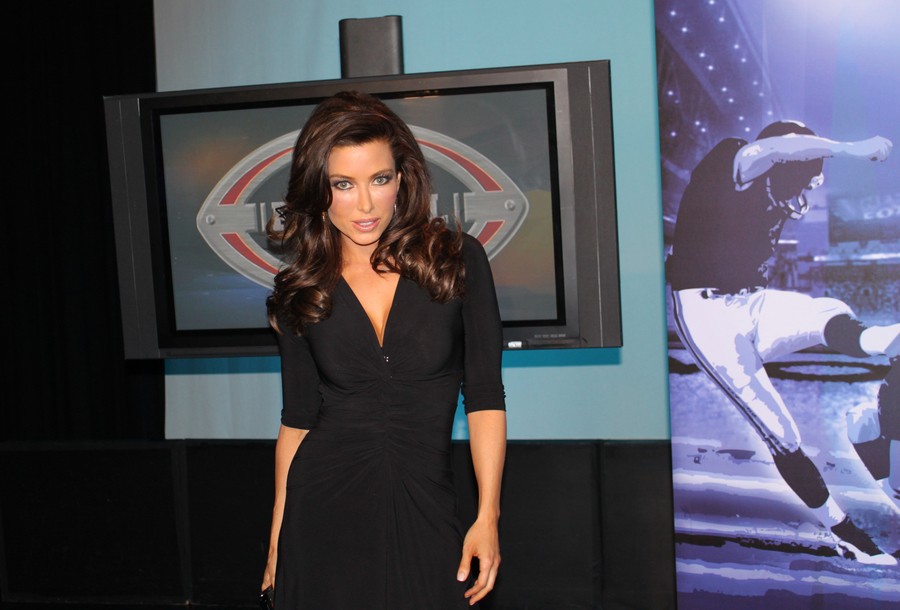 Rebecca's outstanding skills and love for sports always paved the way to a greater height for her; while she worked as a sideline correspondent for international soccer, Fox recognized her, she became the co-host and won a co-hosting position; on"NFL Under the Helmet."
Ines Sainz
Ines Sainz is a Spanish- language Sports Reporter for "Azteca Deportes" She was born and raised in Mexico City, she is a hardworking personality, passionate about sports reporting, and She is also a model and is known for her spicy character.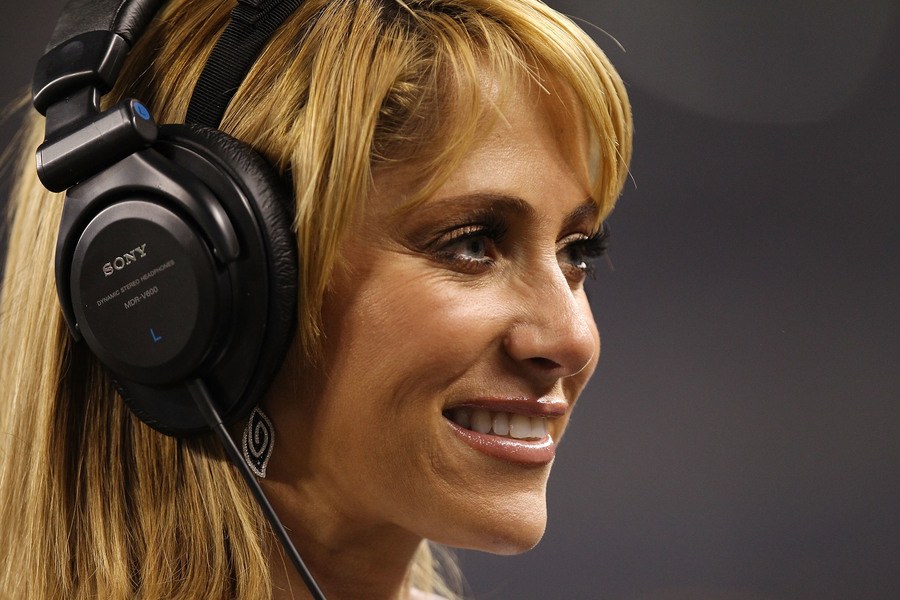 Ines Sainz is the fifth sexiest female sports reporter in the world, according to FHM in 2009. She has interviewed top players like Kobe Bryant, Shaquille O'Neal, Cristiano Ronaldo, and Alex Rodriguez. She is also a host on the Sports reality show where she graces our screens.
Holly Sonders
When we say girl power all the way, we are referring to Holly Sonders. She uses her feminine charm in covering sporting games. Unlike any other on our list, this sideline reporter started her career at the age of 21. She landed her first sports television job on the Golf Channel.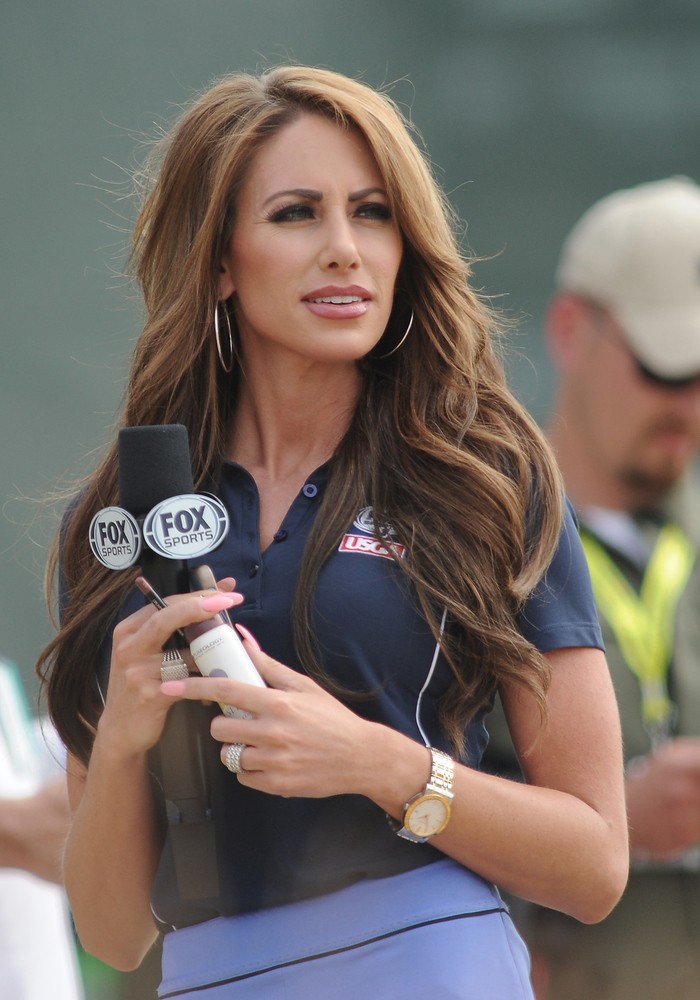 After her first big break on the Golf Channel, FOX recruited her. With FOX, Holly made a splash in golfing circles. The Michigan state college athlete played golf in her days in college. Her Instagram covering is about 572,000, following where she does personal reporting as well as modeling.
Mieke Buchan
Having graduated with a Bachelor's degree in communications at the University of Technology, Sydney, Mieke Buchan was a sportscaster before branching out to celebrity interviews. She has successfully met with stars like Tom Hiddleston and Chris Hemsworth on the release of ''Thor: The Dark World.''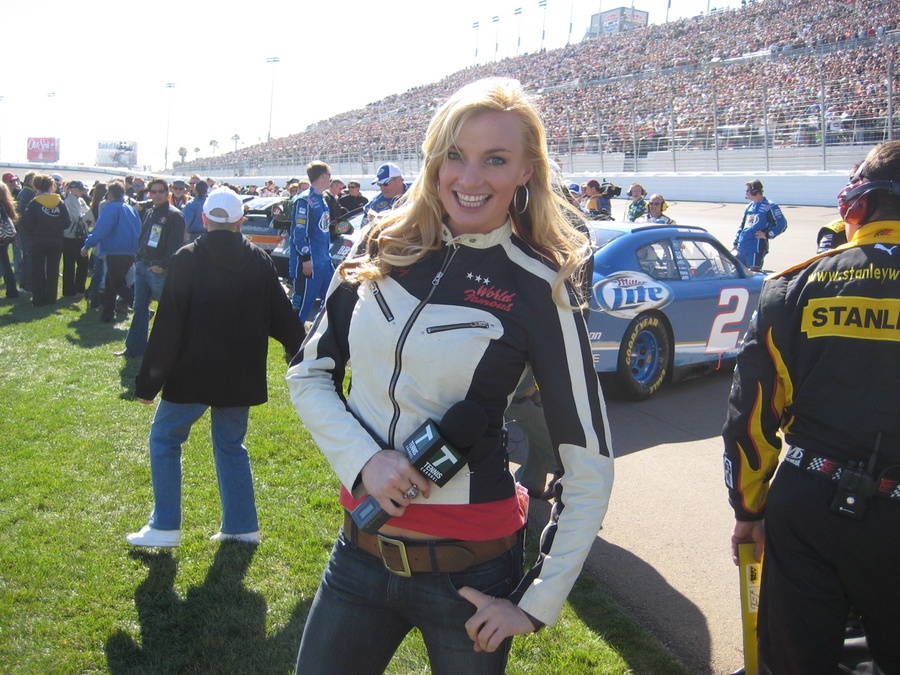 Mieke is undoubtedly one of the most talented reporters on this list. The native of Australia has covered major sporting events like the Olympics, The US Open Tennis, Formula One, and even the Super Bowl. Mieke relocated to Los Angeles to cover major sporting events for ESPN, ABC, FOX Sports Net, and the Tennis Channel in 2013.
Doris Burke
Doris Burke played point guard for four years as an athlete at Providence College. Leading her team in assists, she graduated with a record. She continued down the sporting lane as she was the first female sportscaster to call New York Knicks games.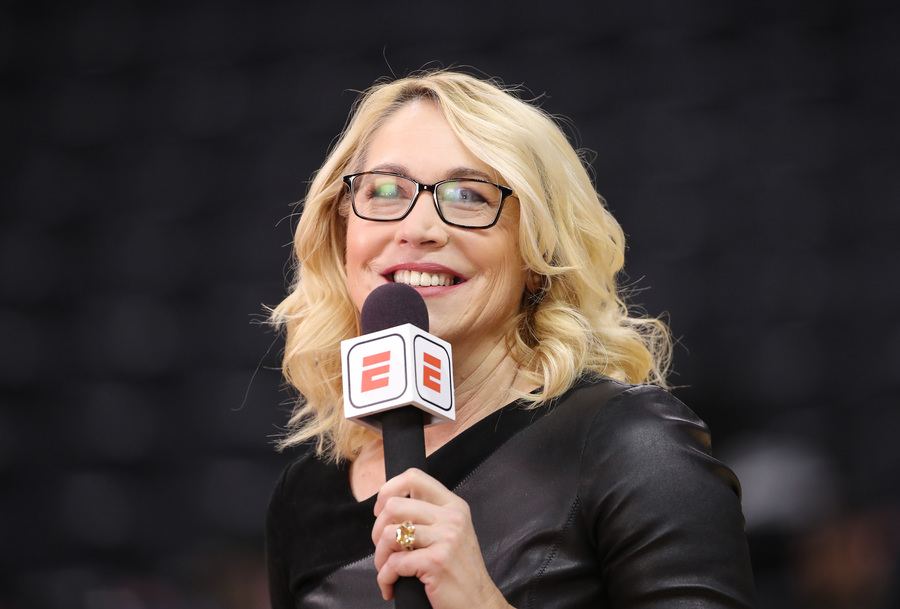 Doris Burke serves as an ESPN sports reporter and a sports analyst for ''NBA on ESPN'' and ''NBA on ABC.'' She also covers college basketball on ABC and ESPN. In 2013, she got her debut at ESPN as a co-host on ''NBA Countdown.''
Hannah Storm
Having covered major sporting events like the US Open, Wimbledon, the Super Bowl, and the Rose parade. Hannah Storm has been a whirlwind in the sports broadcasting industry, where she is the pioneer of women in sports broadcasting. Our Award-winning sideline reporter is also a celebrated journalist and author.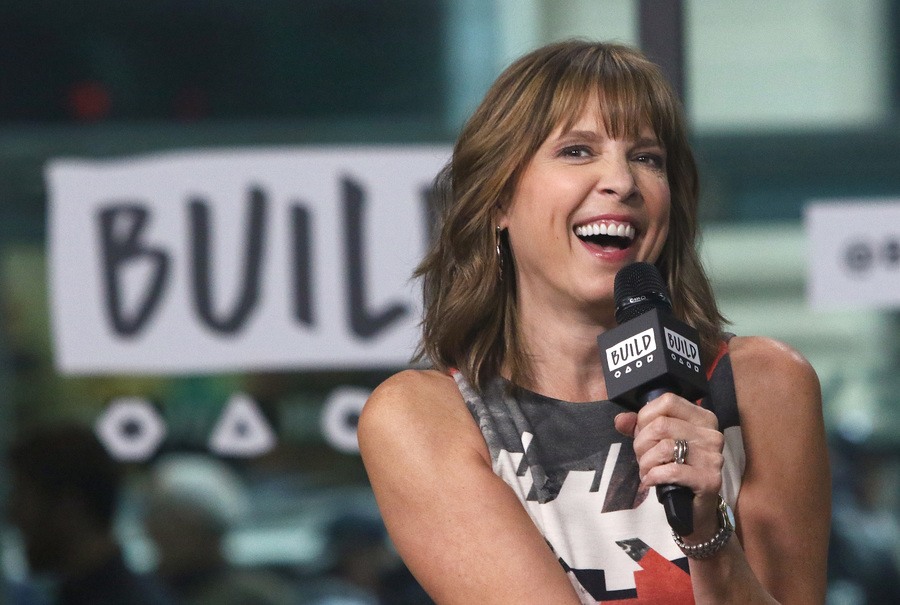 Hannah graduated from Notre Dame in 1983 and was the first female ever to host CNN's "Sports Tonight" She also anchors at ''SportsCenter on the Roa" and many other ESPN primetime specials. She won the 2000 Gracie Award for pioneering work as a female in sports news.
Laura Mckeeman
You might want to know about Laura Mckeeman, who holds MissFlorida's 2012 beauty pageant title. Laura got her first sports reporting job as a sideline reporter in Tampa Bay for the Rays. Her fierce and fiery spirit assisted in her professional outlook.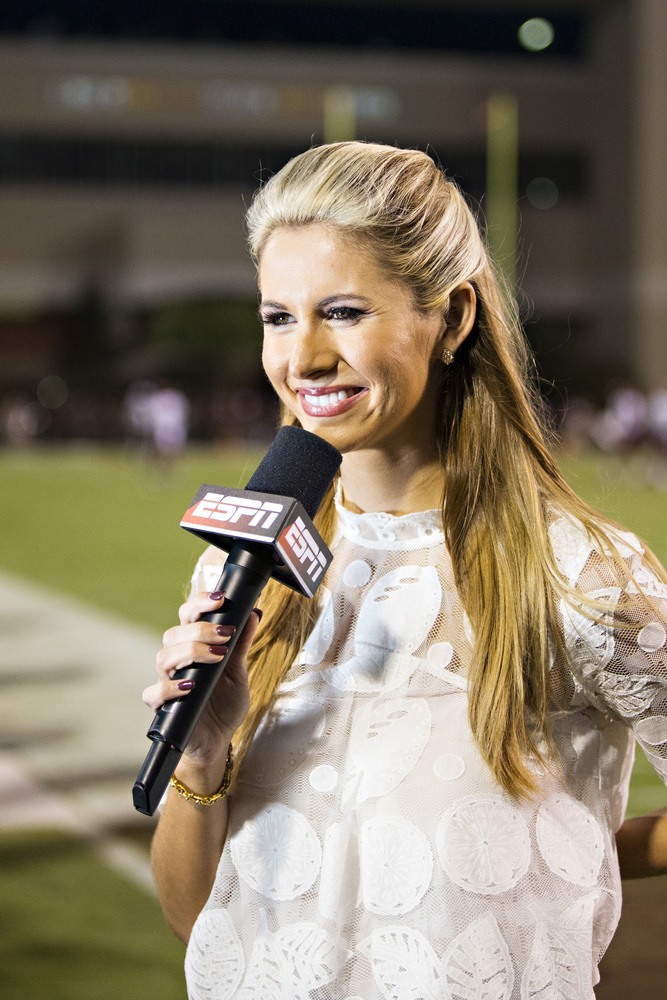 Laura often tends to move around for work purposes. She moved to San Diego for a sideline reporting gig at Petco Park to report for the San Diego Padre for FOX Sports. She got her debut job as a sports journalist with ESPN on the network's SEC Network in 2014.
Erin Sharoni
Erin Sharoni was born and raised in New York City. She identifies various roles: athlete, artist, U.S. Jr. Olympic-certified coach, personal trainer, and many more. He attended Wesleyan University, where she graduated with a bachelor's degree in Studio Art.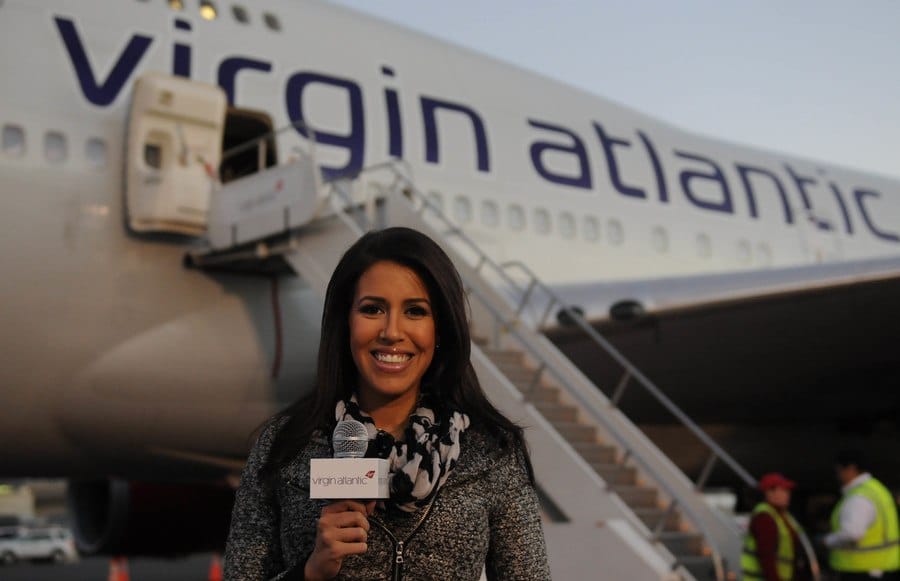 Before Erin became all immersed in the sporting/ fitness world, she worked in finance. She eventually became a correspondent on"Jim Rome on Showtime" and a co-host and sideline reporter for"CNBC Sports Biz: Game On" She started her journalism journey as a sideline reporter for St.John's Basketball with SportsNet New York.
Lindsay Czarniak
Up next on our list is Lindsay Czarniak. Influenced by her father's profession, Lindsay decided to follow in his footsteps as she graduated from James Madison University and got a degree in Online Journalism in 2000. Now, she is a sideline reporter for NFL games.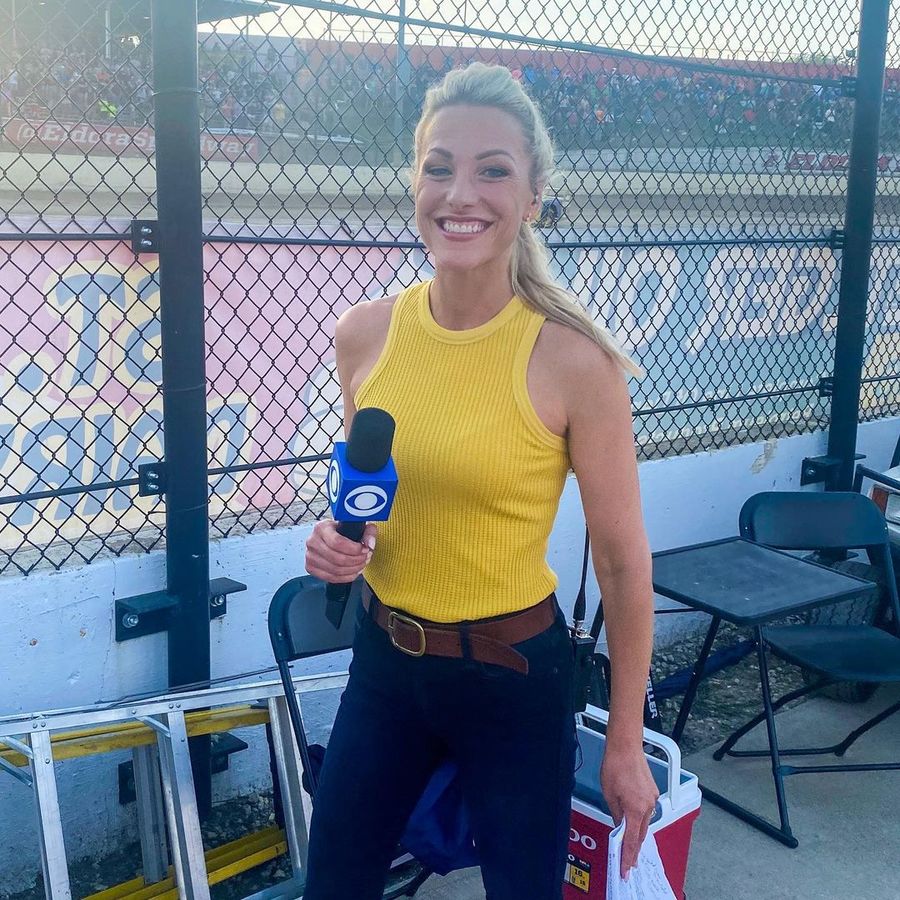 As soon as she got into CNN, she became a sports reporter and anchor at FOX sports. Just like her father, who had reported marks for a local newspaper in Pennsylvania. Lindsay has covered games like the 2008 summer Olympics in Beijing for NBC sports and the TNT NASCAR Sprint Cup Series.
Nicole Zaloumis
After she graduated from the University of San Francisco in 2003, Nicole Zaloumis started to work at the NFL network. Here, she served as a sideline reporter, covering significant games in the league. Coupled with this role, She doubled as the weekend sports anchor at WRC-TV in Washington, DC.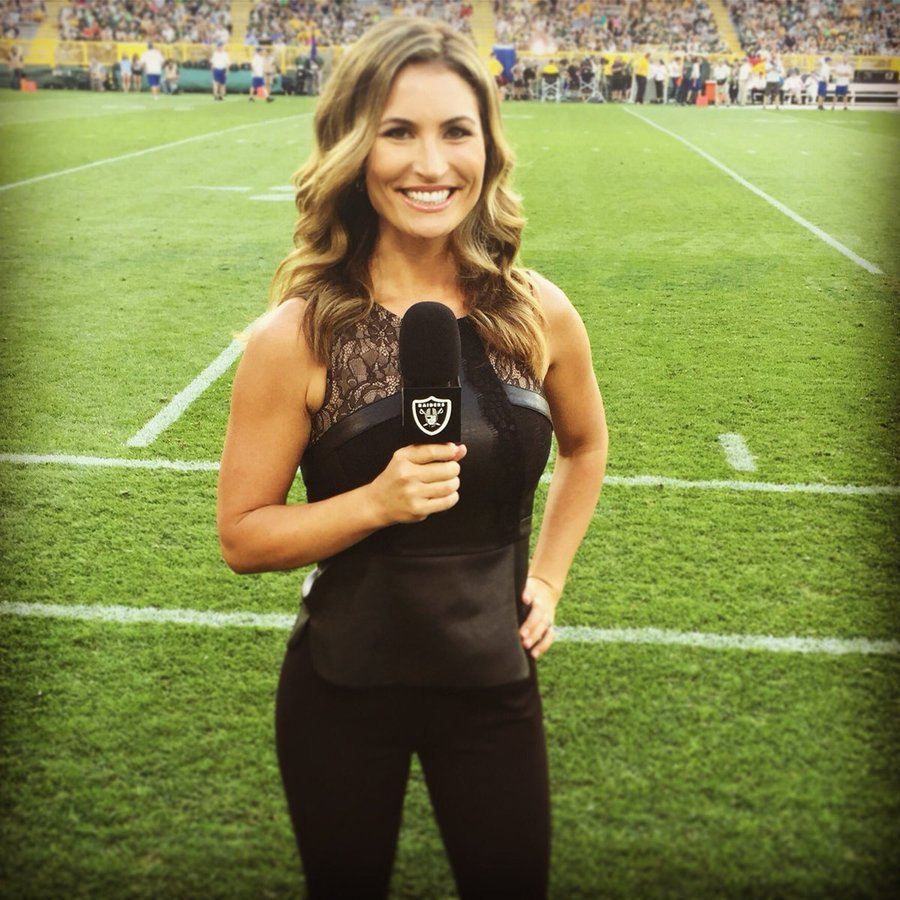 Unsurprisingly, Nicole also hosts a weekly sports show covering the Washington redskins. She is a daily sports anchor at the Big Ten Network with Comcast SportsNet in New England. She has also hosted"FOX Sports Live" on FOX Sports 1.
Erin Bates
Canadian-born woman; Eric Bates started her career in Motorcross and supercross as a young trophy girl for the IFMA. Afterward, she joined the speed TV to launch her career as a pit reporter.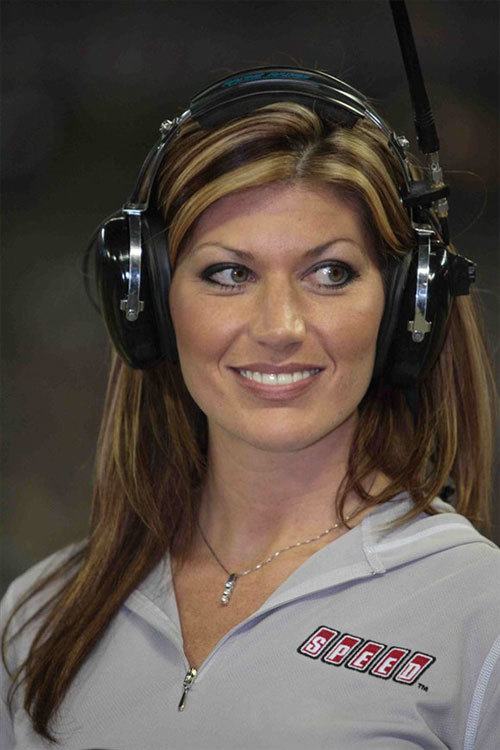 She has become a time-honored model, spokeswoman, and actress in the Motorcross and supercross business. She was once Miss FMX and has featured in some Motorcross, supercross, and 1000cc thrill movies.
Phyllis George
After being crowned one-time Miss Texas and Miss America, Phyllis George took up pioneering women's roles in sports media. She also became one of the first women to appear live on a sports broadcasting TV after getting a position at CBS on"The NFL today."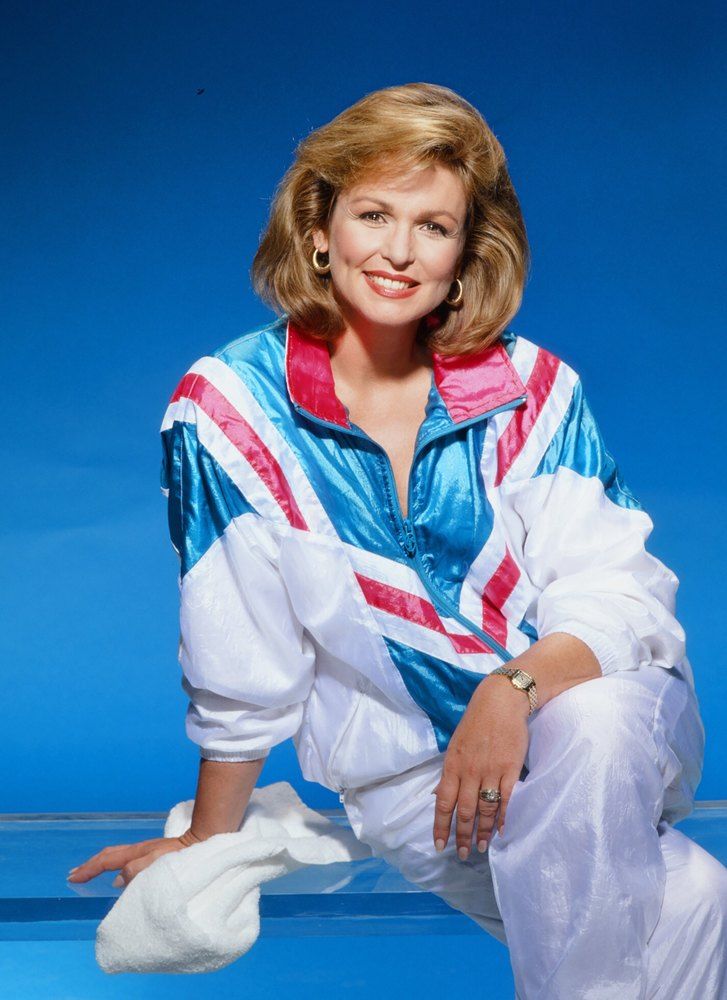 Due to her achievements at CBS sports, she was made an anchor on the"CBS Morning News" She married the owner of the Kentucky Fried Chicken, John Y. Brown Jr., in 1979 and later became the first lady of Kentucky. George also founded two companies.
Charissa Thompson
Veteran sports TV host; Charissa Thompson has hosted numerous sports shows, such as the"FOX Sports Live" ESPN's"Sports Nation" Netflix reality program"Ultimate Beastmaster" amongst others. She has also hosted programs outside the sporting sphere. she co-hosted the showbiz news program "Extra."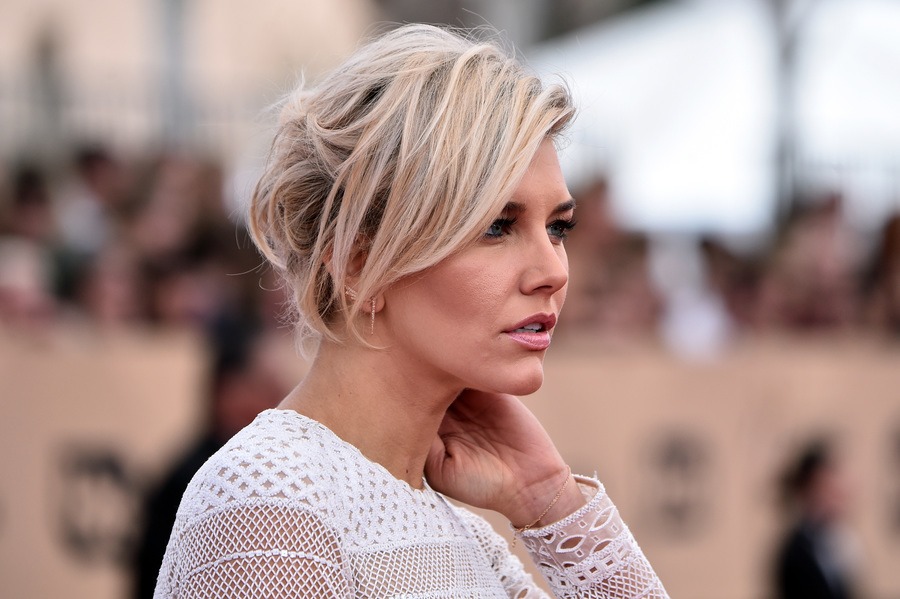 Thompson became a sideline reporter for college basketball and football for FOX Sports Net after graduation from the University. In the long run, she became an NFL sideline reporter on"NFL on FO" and host on"NFL Films Present" on Fox.
Pamela Oliver
An adept lover of sports. During her years in both high school and college, she topped the track events in her schools. Afterward, Pamela Oliver decided to further her career in sports broadcasting and became a professional broadcaster.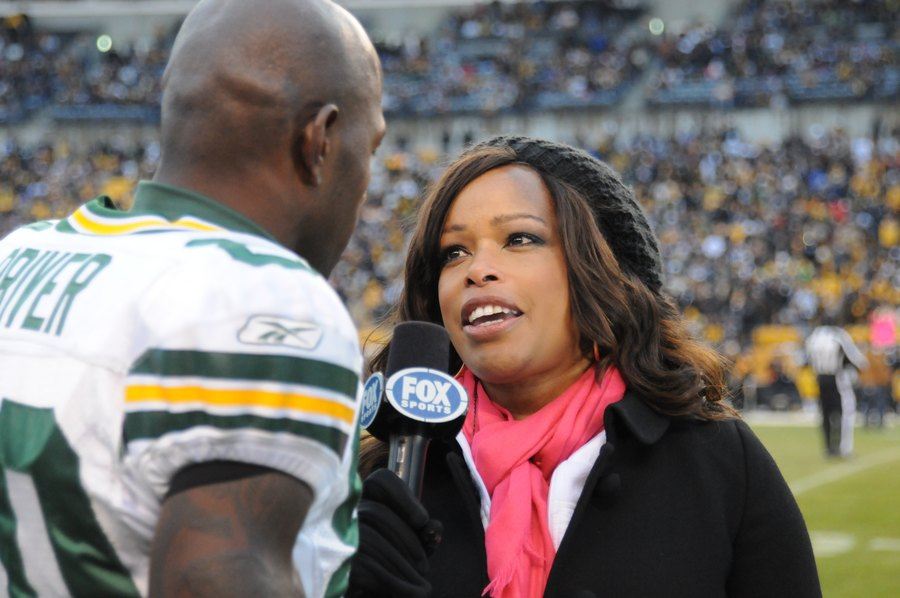 Oliver began her career as a news reporter at WALB, Albany, in 1985. She became an anchor for numerous sports shows, such as KHOU-TV in Austin, ESPN, and FOX Sports. She also worked with famous NFL sportscasting teams, Pat Summerall and John Madden. Oliver received the award "Outstanding Women in Journalism" in 2004.
Josina Anderson
For many years, ESPN sports broadcaster; Josina Anderson was a prevalent face on several sports programs. She anchored programs such as"Sunday NFL Countdown," "NFL Live," and"SportsCenter" Her introduction into the reporting world was via a local FOX television outlet in Denver.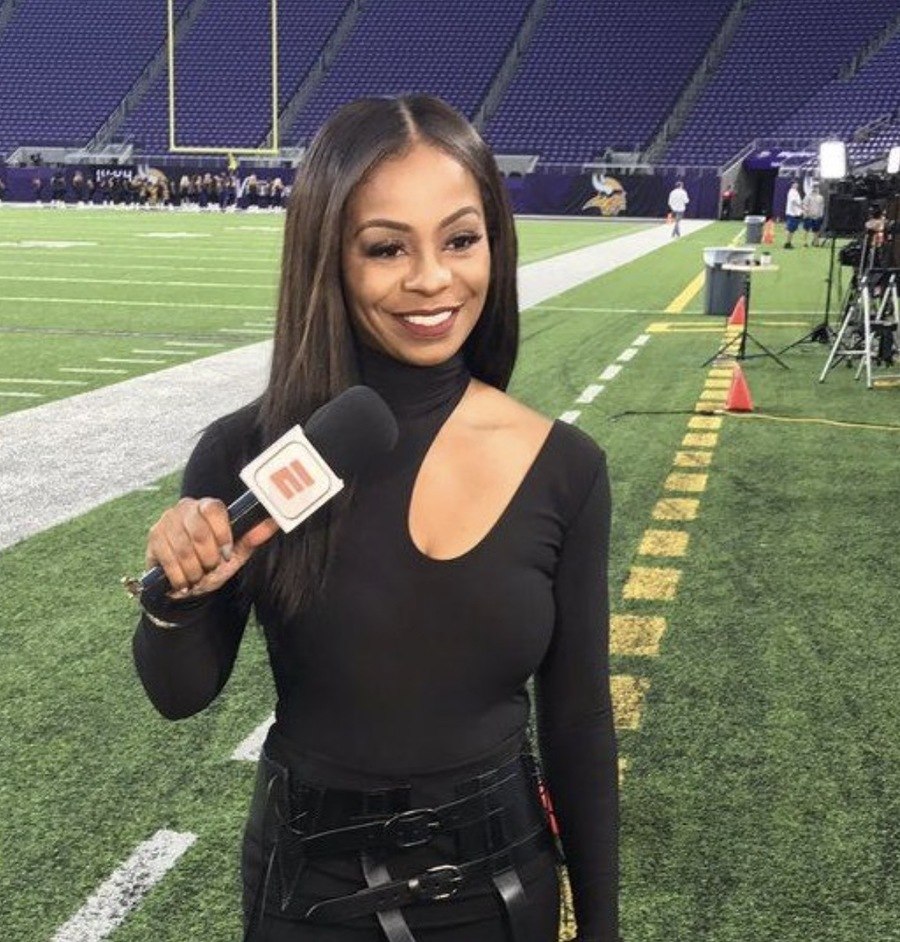 She is an Emmy Award-winning journalist and the first woman by ESPN as an"NFL Insider" "I am the top NFL female insider in the country in terms of covering news over 32 teams consistently." Says Anderson.
Kelly Nash
Highly renowned sports reporter; Kelly Nash holds a master's degree in broadcast journalism from the University of Miami. Throughout her reporting career, she has covered the MLB and NHL. After getting a job at MLB, she then began co-hosting"The Rundown."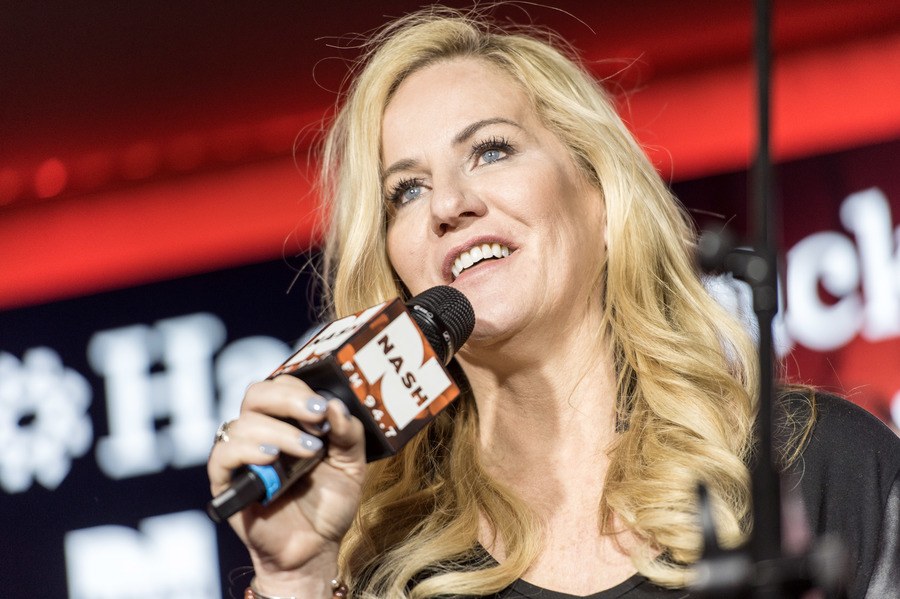 Just like many other reporters, Nash is a pulchritudinous woman as she also models. She also hosts a podcast and boasts a following of over 80,000 fans on Instagram. Asides from co-hosting a show for the MLB, Nash also reports for the NHL.
Sarah Spain
During her time at Cornell University, student-athlete and sports reporter: Sarah Spain played track. After graduating with an English degree, she started reporting for the FOX Sports Net and WGN. Sarah then went on to anchor various shows after being hired by ESPN in 2010.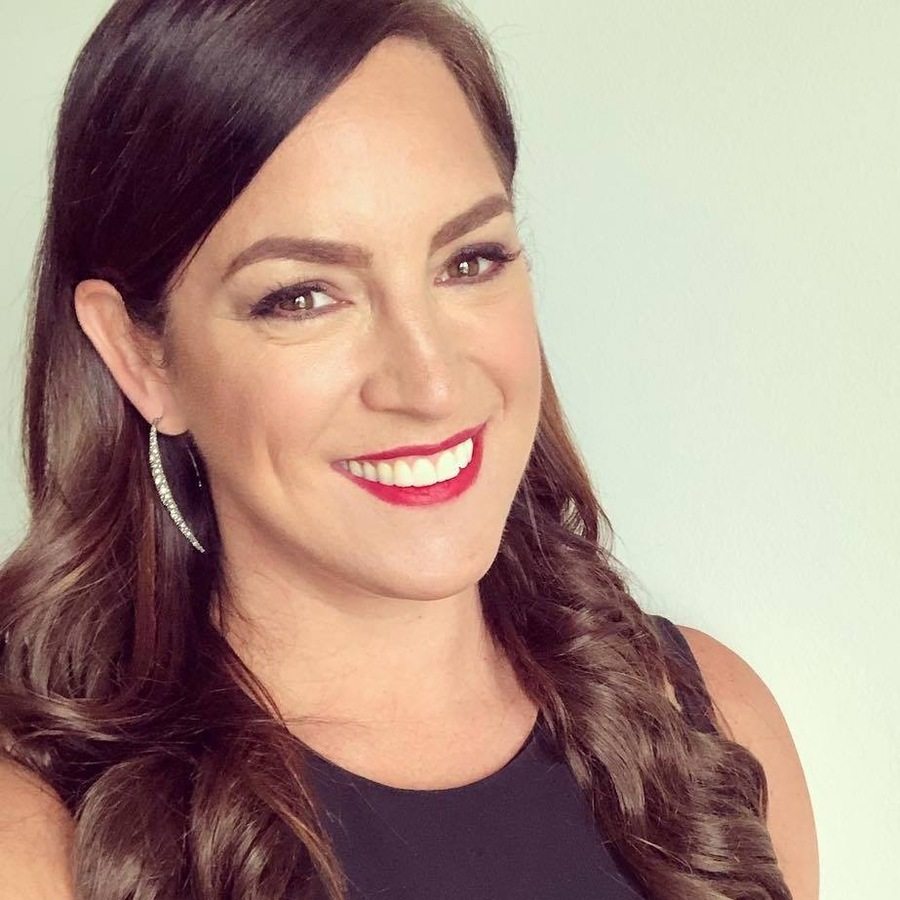 She is a writer on espnw.com and also broadcasts for ESPN on radio and television. Sarah starred in"More Than Mean," a short video talking about the"Me too" movement, winning the 2016 Peabody Award.
Racheal Nicholas
Sports reporter; Rachel Nicholas graduated from the Medill School of Journalism at Northwestern University in 1995. Sarah doubles as a sports reporter and anchor at ESPN. She also covers various news from the NBA and frequently brings NBA stars onto her show"The Jump."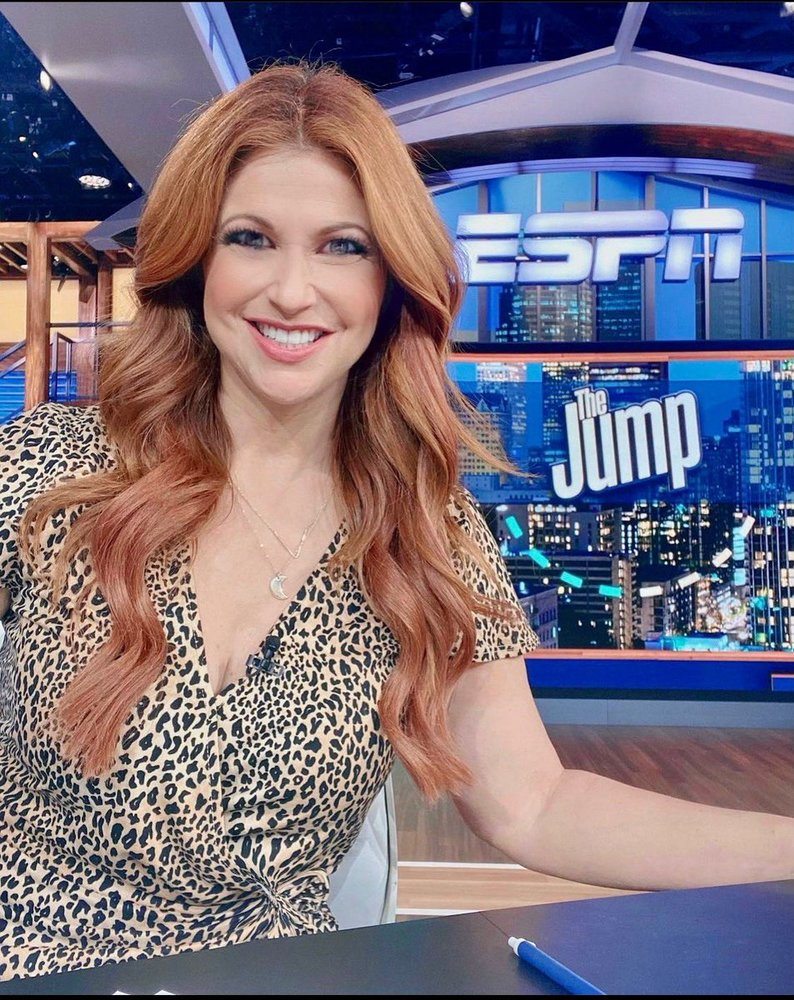 In addition to her numerous achievements, Nicholas is a respected reporter for asking a series of tough questions to NFL Commissioner Roger Goodell. ESPN also applauded her as"the country's most impactful and prominent female sports journalist" She has been featured in several sports media.
Georgie Thompson
Georgie Thompson is, of course, not left out of our list. Born in Harlow, Essex, England, Georgie studied broadcast journalism at the University of Leeds. She landed her debut on-screen job at British sports networks.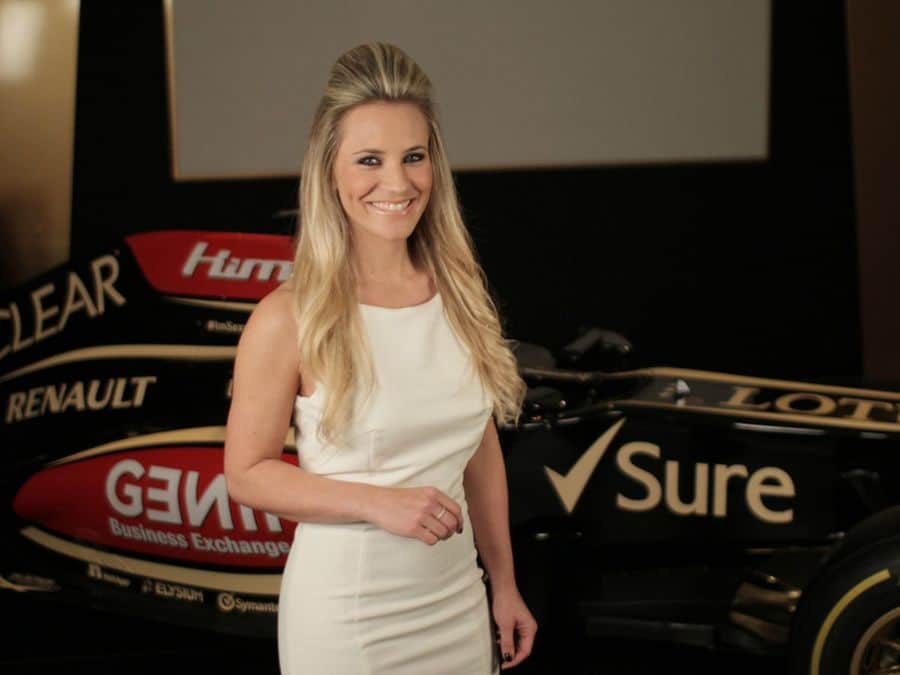 The English native later covered the A1 Grand Prix, the Grand Prix Masters, Speedway World Cup, America's Cup, and the 2011 Wimbledon Championships. On Comcast's British program "Sky Sports News," she served as a presenter. She later went on to FOX Sports in 2013 as a panelist on RegisPhilbin's show"Crowd Goes Wild."
Kristen Berset
Kristen was born and raised in Florida and graduated from the University of Florida with a degree in telecommunications. An interesting fact about Kristen Berset is that she was crowned Miss Florida USA in 2004, where she finished as a semi-finalist in the Miss USA competition.
Berset was awarded the Ted Yates Award for"Profile of Courage" for journalists who have shown bravery in the course of their jobs after surviving cancer back in 2017. She has also previously served as a news anchor on WJHG in Panama City. She also co-hosted fishing competitions on the ''Professional Tarpon Tournament Series.''
Sam Ryan
Sam Ryan started her career on the radio with the ABC network right after she graduated from Hofstra University with a bachelor's degree in Communications. Nowadays, she is well-known as a sports anchor at WABC-TV in New York, the weekend's Eyewitness News' program.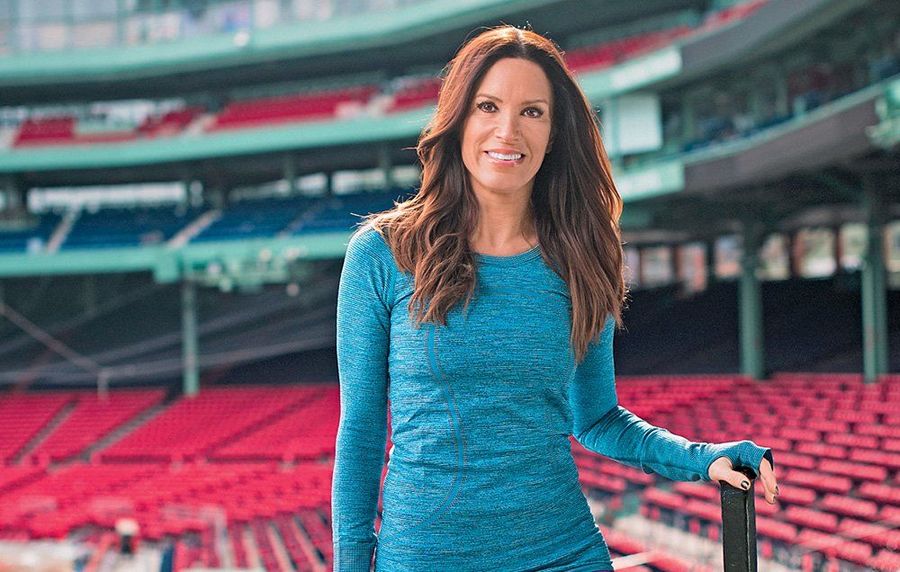 Having been awarded an Emmy award, the local broadcaster was hired at ESPN in 2003 and CBS Sports in 2006. Sam joined the MLB network in 2011, where she served as a host and a reporter also. While working with the MLB network, she was on"The Rundown" "Quick Pitch," and she also provided on-air reports from the field.
Natasha Staniszewski
Natasha Staniszewski is a Canadian sportscaster raised in Edmonton, Alberta, but she eventually grew up to be a strong athlete in basketball and volleyball. Having earned herself a business degree from the UniversityUniversity of Alberta, Natasha chose to pursue a career in broadcast journalism.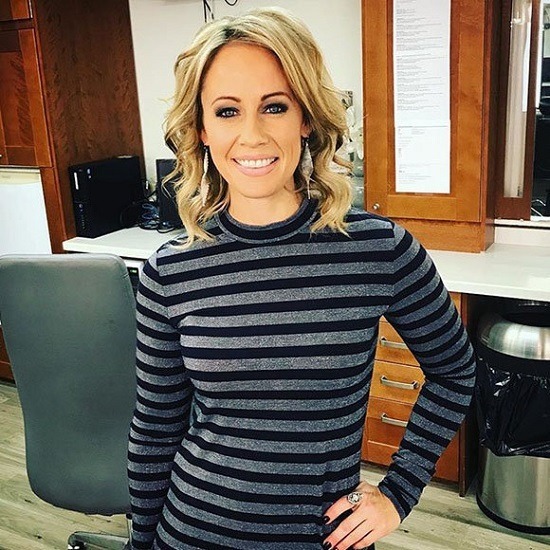 You might recognize her as the anchor on "SportsCentre," Canada's TSN sports channel. Natasha managed to groom herself to the ladder to CTV, reporting on CTV Yorkton in Saskatchewan. Natasha has covered the Edmonton Oilers in 2009 and the Grey Cup in 2010. She was with TSN until 2021.
Kirsty Gallacher
Daughter of the former Ryder Cup captain Bernard Gallacher hails from Scotland, Kirsty Gallacher is the "Sky Sports News." The television personality and model hostsKirsty'ss Home Videos" at Sky 1 from 2000 to 2004. You might also recognize her from presenting "Gladiators" on Sky! And "Ant & Dec's Saturday Night Takeaway."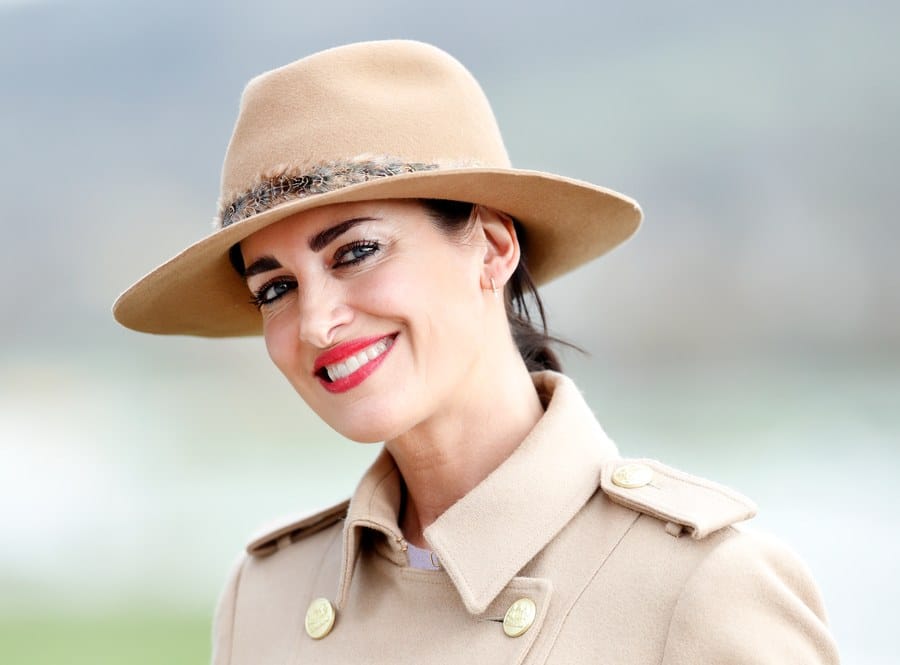 She has also hosted the popular morning show, "RISE." In 2008, Kirsty Gallacher won the third reality television competition series, "The Games." Later on, in 2006, she got the opportunity to host the BBC reality show "Only Fools on Horses."
Katie Nolan
Katie Nolan is one of the sports broadcasters whose name has become a household name. The TV and Media personality hails from Boston and hosts a weekly ESPN podcast called "Sports? With Katie Nolan." As a result of a stellar work done, Katie won a sports Emmy in 2016 for "Garbage Time with Katie Nolan" on FOX Sports.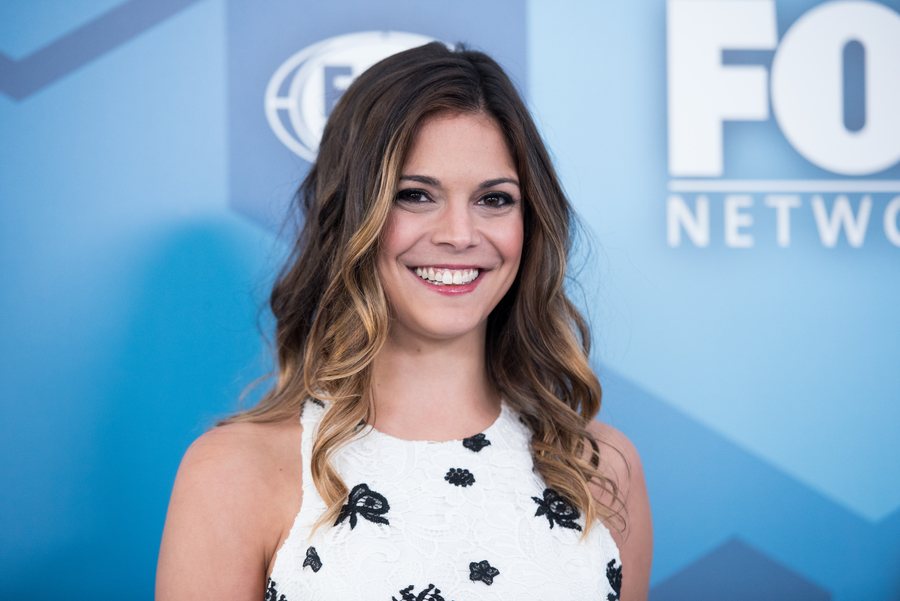 Katie got two more Emmy nominations in 2019 and 2020 for her ESPN show "Always Late." She had also hosted NFL films in 2016. Upon moving to ESPN in 2017, Katie got to host "SportsCenter on Snapchat." She has also appeared on comedy shows like "Drunk History and "The Late-Night Show with Larry Wilmore."
Michelle Beadle
Michelle Beadle was born in Italy but raised in Texas. The daughter of a former oil executive who is both a Sports Television host and Sideline Reporter. She is famous for her work at ESPN, CBS, and ABC likewise.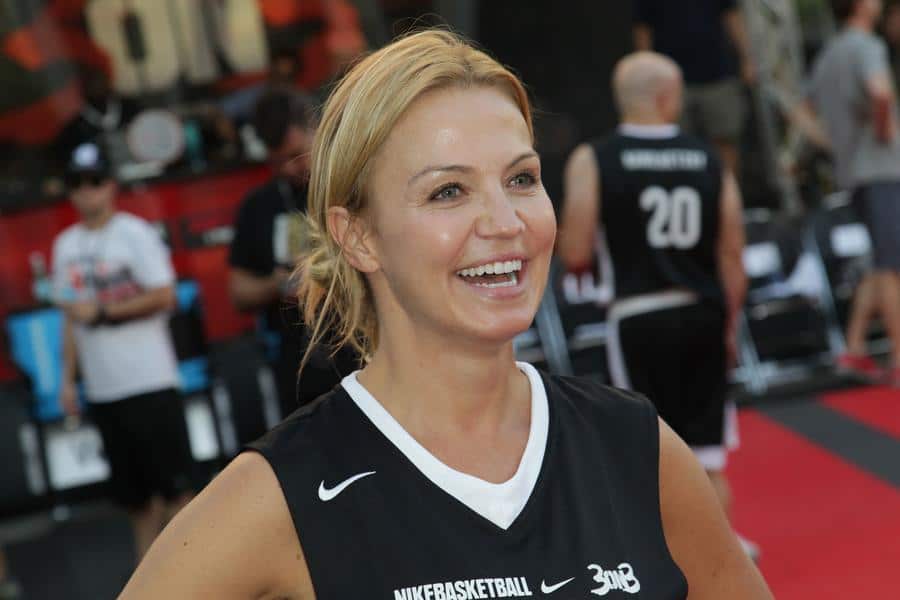 Michelle's resume is quite extensive as it expands across several multinational networks. Having also worked for the Yankees YES Network in New York, she did sideline entertainment reporting for various red carpet events. Michelle is best known for co-hosting "SportsNation" and ESPN2.
Bonnie Bernstein
The American Sportscaster Association named Bonnie Bernstein as one of the most accomplished female sports reporters in history. She was born in Brooklyn and raised in New Jersey, Bernstein. Bonnie was a four-time American in gymnastics. She attended the University of Maryland, where she bagged a degree in Broadcast Journalism.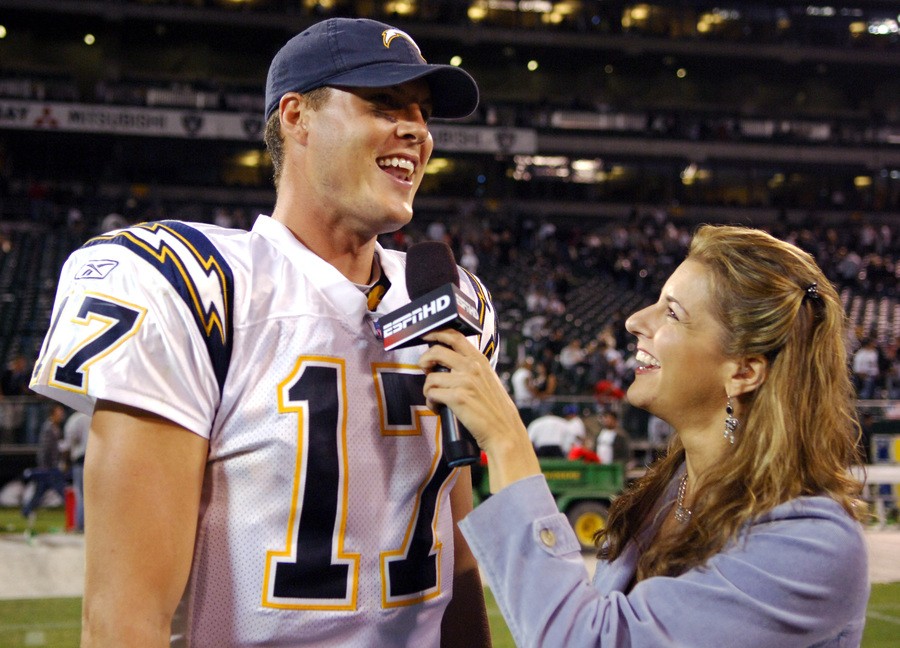 While she worked at Sports desks in Maryland and Delaware, Bonnie became the first female sports anchor in Reno at NBC's affiliate station. Over at ESPN, she covered Michael Jordan as the Chicago Bureau Chief, where she hosted many momentous shows like "The Dan Patrick Show," "Jim Rome is Burning," and also the "NFL Live."
Ashley Russell
Nowadays, women in sports media often branch out to other interests. The most common is modeling. This sideline reporter has featured on the cover of many magazines, including but not limited to "Men's Fitness," "Southern Living," and "Premiere Bride." Well-known for her role as the sportscaster for Yahoo!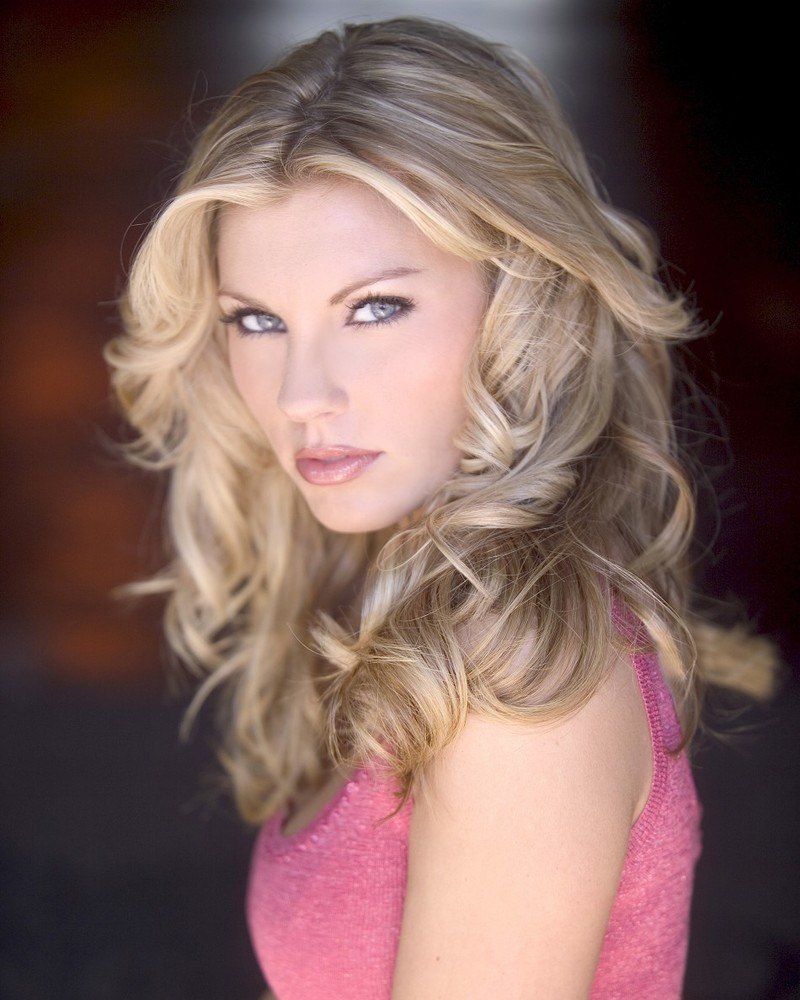 Having also appeared on Big Ten Network, Yahoo! Sports Minute, and as the host on Rivals.com, an online sports site for reporting news. As a successful model herself, Russell was the former owner and Director for a Model and Talent Agency at Nashville called AMAX.
Robin Roberts
She became a sports broadcaster at ESPN, the 2016 Sports Broadcasting Hall of Famer Robin Roberts was a young, enthusiastic, and passionate college athlete with a strong passion for sports.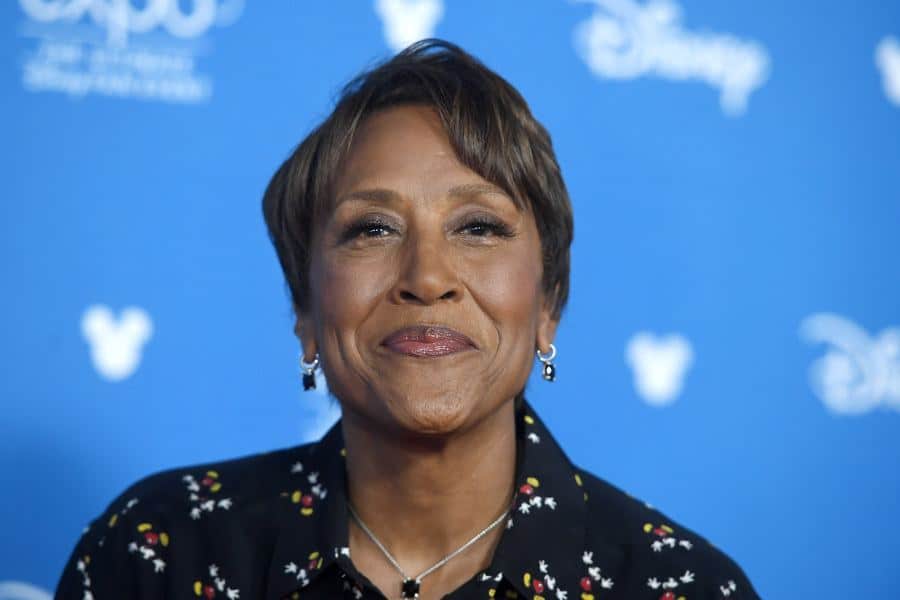 Roberts boasts of having covered the Original Dream Team at the 1992 Olympic games. The Wimbledon was a personal goal she needed to attain. Moreso, she has reported from the Women's Soccer Team's 1999 World Cup Victory. Roberts got promoted to ABC's "Good Morning America" in 2002 while remaining at ESPN.
Leeann Tweeden
This sideline reporter, host, sportscaster, and model have a track record of excellence. Her passion and drive for journalism are second to none. Leeann Tweeden has anchored the " McIntyre in the Morning" radio talk show on KABC in Los Angeles. Now, Leeann graces our screen as an on-screen host.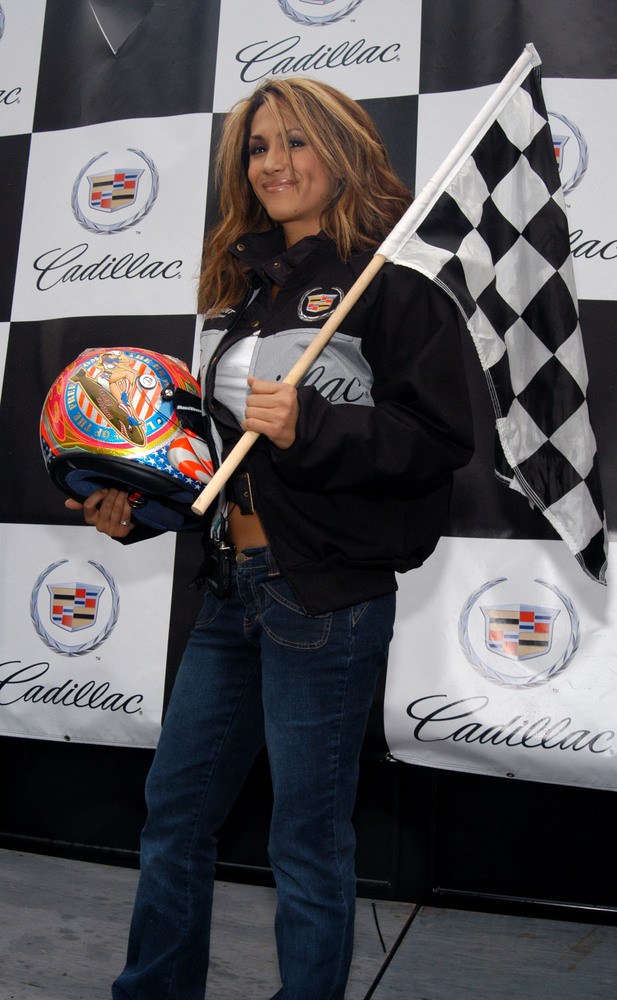 Leeann won first place in the Venues International model search. She then featured in the famous "Playboy" magazine and other magazines such as "Fitness Beach." She was a correspondent for FOX Sports for quite a while. When she served there, she reported pre-and-post-game coverage of the Los Angeles Angels on Fox Sports West.