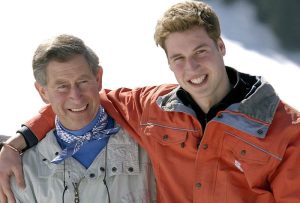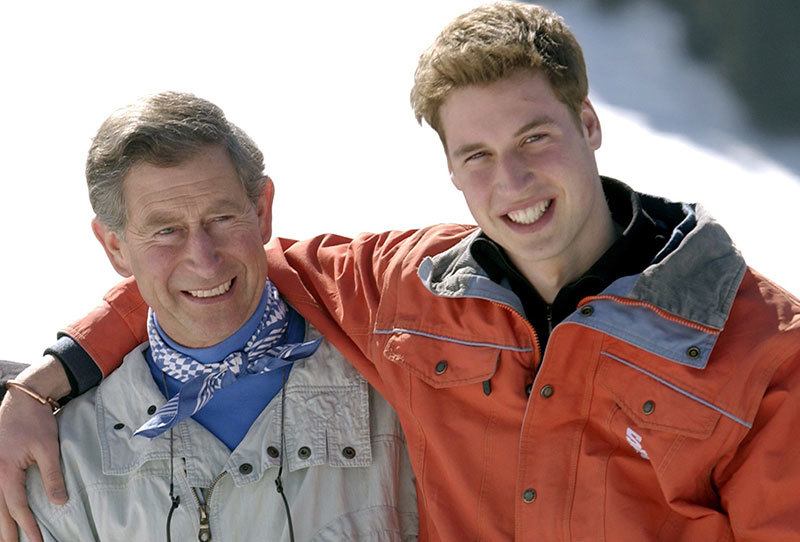 The Apple Doesn't Fall Far: Celebrities & Their Sons at the Same Age
By Yuri S.
---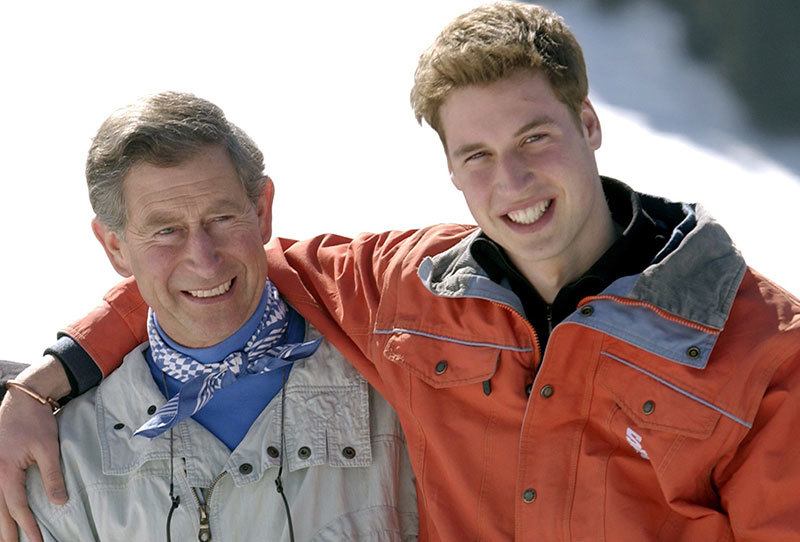 Let's face it, Hollywood has produced a lot of handsome men. But who are the sexiest in Hollywood? The list goes on and on. Of course, there's no mystery as to why there are so many gorgeous male celebs. When it comes to Hollywood, celebrities' faces are their money makers, so it's no surprise that these handsome actors, singers, and sportsmen are as attractive as they come.
It's no secret that Hollywood has some fine-looking men, and they obviously have some decent genes. Some of these great sons choose to follow in their father's footsteps into stardom, while others want to avoid it. Here are some of our favorite famous fathers and their doppelgänger kids at the same age, from Tom Hanks and his actor son, Colin, to Bob and Ziggy Marley.
Will Smith and Jaden Smith
Age: 21 Willard Carroll Smith Jr. is an actor, rapper, and film producer from the United States. Smith has won four Grammy Awards and has been nominated for five Golden Globe Awards and two Academy Awards. At age 21, Will Smith was an up-and-coming actor, but he hadn't yet landed his breakout role in "The Fresh Prince of Bel-Air."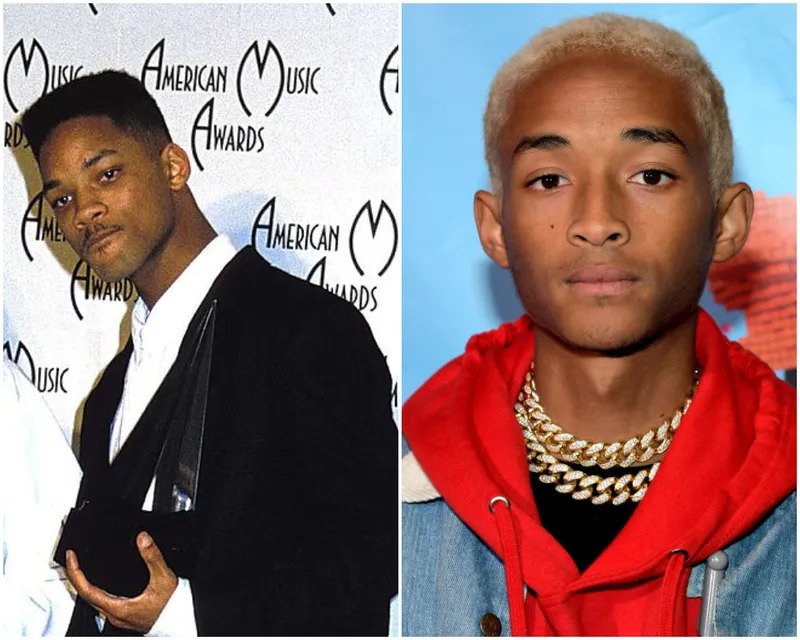 His son Jaden (a play on Will's wife's name, Jada) was following in his father's footsteps and seeking a career in music by the time he was the same age. Will is the father of Jaden, now 23, Willow, 21, and Trey, 29, whom he welcomed into the world during his first marriage to Sheree Zampino. Along with his passion for music, Jaden has built a name for himself in the fashion industry and has become a powerful influence.
Henry Fonda and Peter Fonda
Age: 37 Jane and Peter Fonda are members of the Fonda family of Hollywood royalty. Henry Fonda, their father, was a legendary actor in his day and is still recognized as a Hollywood icon. Henry Jaynes Fonda was an American film and stage actor who worked in Hollywood for five decades.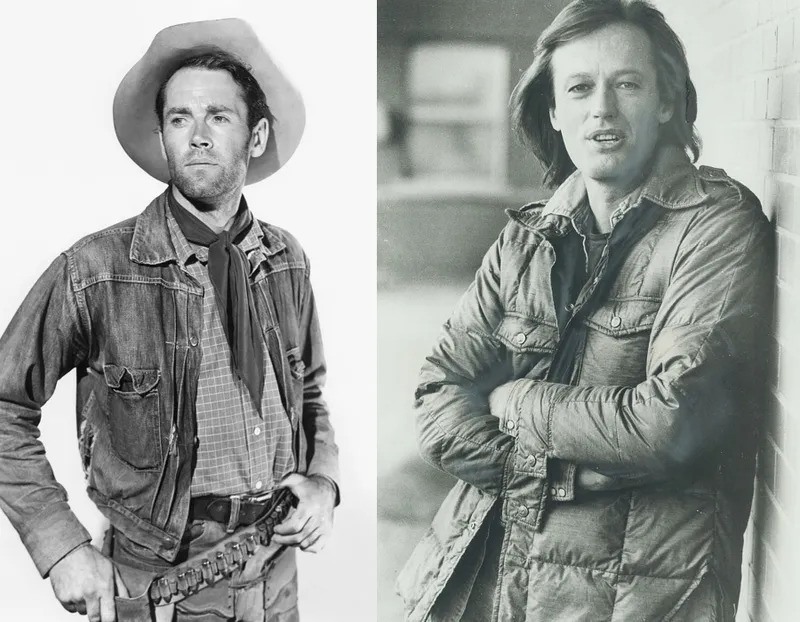 In 1960, Peter carved out a name for himself in Hollywood, becoming a symbol of the counterculture. In 1963, he made his feature film debut as the romantic lead in "Tammy and the Doctor" before joining the ensemble cast of "The Victors", a World War II story. "Easy Rider", a 1969 hit, was one of his biggest pictures and one for which he received critical praise. Sadly, Peter passed away from lung cancer in 2019.
David Cassidy and Beau Cassidy
Age: 28 David Cassidy was one of the biggest pop performers and heartthrobs of the 1970s, as many who grew up in that era will recall. This was all because of his leading role in "The Partridge Family" as Keith Partridge. He died of organ failure on Nov. 21, 2017, at 67 years old. He did, however, declare he had dementia many months before his death.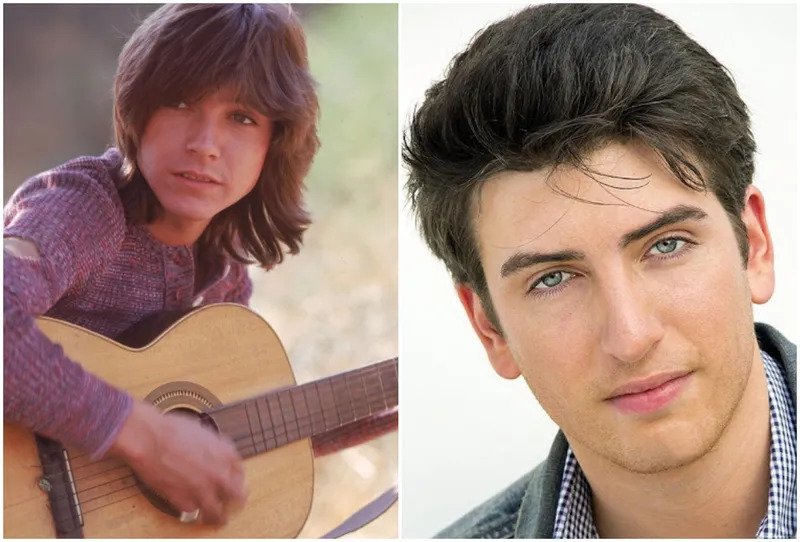 Beau, his son, has walked in his parents' footsteps. He is a New York and Los Angeles-based singer, composer, and actor. He received a delayed start, debuting as an actor in 2014. Though he hasn't had the same level of success as his father, he is slowly but steadily demonstrating that brilliance runs in the Cassidy family. He played Freddy in the Netflix Original horror film "Mama Claus: Deck the Halls with Guts" after graduating from the Boston University School of Theatre.
David Bowie and Duncan Jones
Age: 47 Duncan Jones was born in 1971, at the height of his father's success, to David and Angie Bowie. We won't go into detail about how amazing the late David Bowie was; instead, we'll focus on his son, who has established himself as one of Britain's best filmmakers. Duncan Zowie Haywood Jones is also a writer and a musician.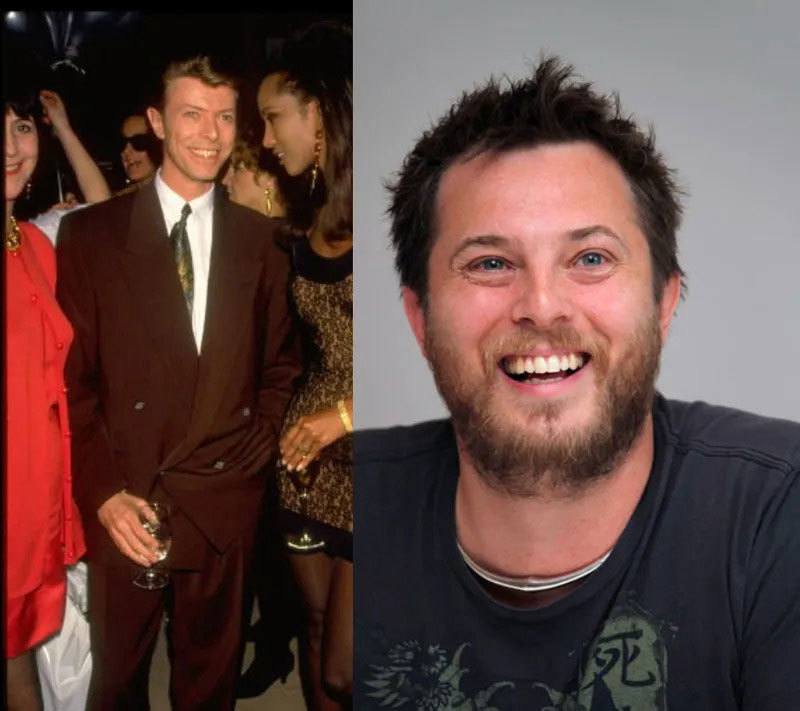 A screenwriter, producer, and director from the United Kingdom, Duncan's best-known works are "Moon", "Source Code", "Warcraft", and "Mute", among others. His work on "Moon" earned him the BAFTA Award for Outstanding Debut by a British Writer, Director, or Producer.
Stevie Wonder and Kwame Morris
Age: 28 Stevie Wonder is one of the most successful singers and composers in the world, with several hit singles to his credit. His kid has also discovered his calling in the sector. Kwame Morris inherited a lot more than his father's enticing grin. Not everyone is as fortunate as a celebrity child, but they also suffer a barrage of criticism.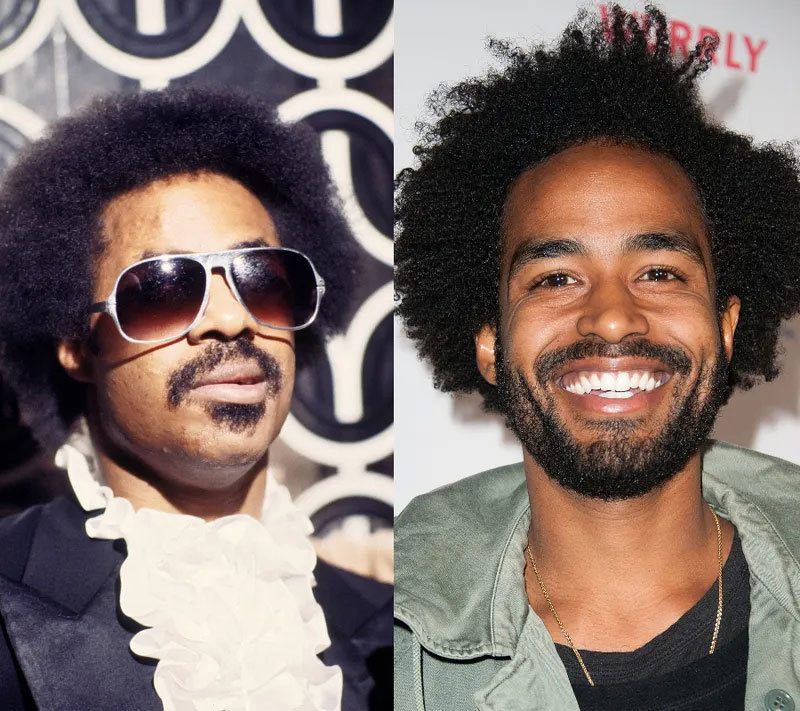 Kwame is a well-known celebrity child, the third child of Wonder, the famed American singer-songwriter, and an undisclosed spouse. He has made a name for himself in the music world at the age of 31. If you believe he has squandered that amazing face, think again. Kwame is also a successful model.
James Brolin and Josh Brolin
Age: 29 Acting as the son of famed actor James Brolin is a risky business. How could you ever fill the shoes of such a talented actor? Josh Brolin, on the other hand, has done just that! Josh Brolin, the son of actor James Brolin, has had success with rugged looks and natural charisma. He's acted as a cop, a hunter, and even the President of the United States.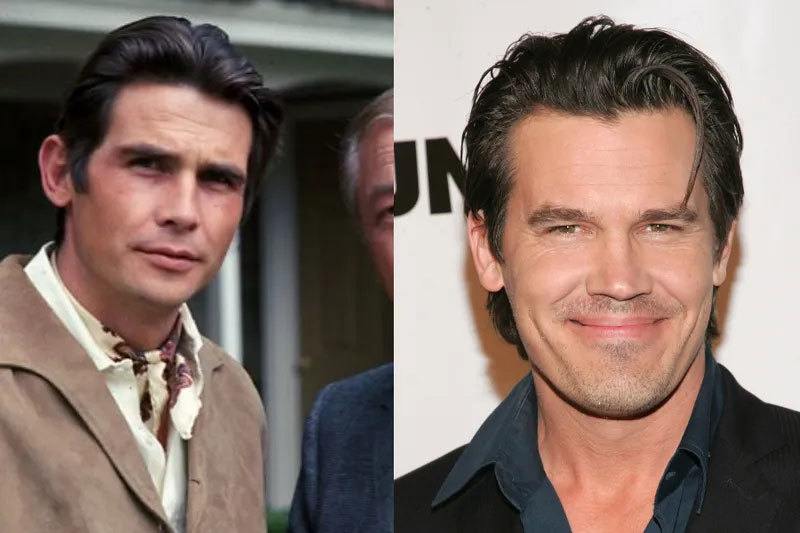 Josh was initially uninterested in the entertainment industry because of his parents' divorce and the fact that both were performers. He did, however, take an acting class during his junior year of high school to experience what it was like. Josh has been acting for nearly three decades and has been in a wide range of films, from "The Goonies" to "Deadpool 2."
Tommy Lee and Brandon Thomas Lee
Age: 23 You know you're destined for greatness when your parents are Tommy Lee and Pamela Anderson. At the age of 23, Brandon Thomas Lee chose a different path than his father, who was a member of Mötley Crüe. As a result, Brandon had the distinct benefit of navigating stardom and the Hollywood lifestyle with two people who have been there and done it.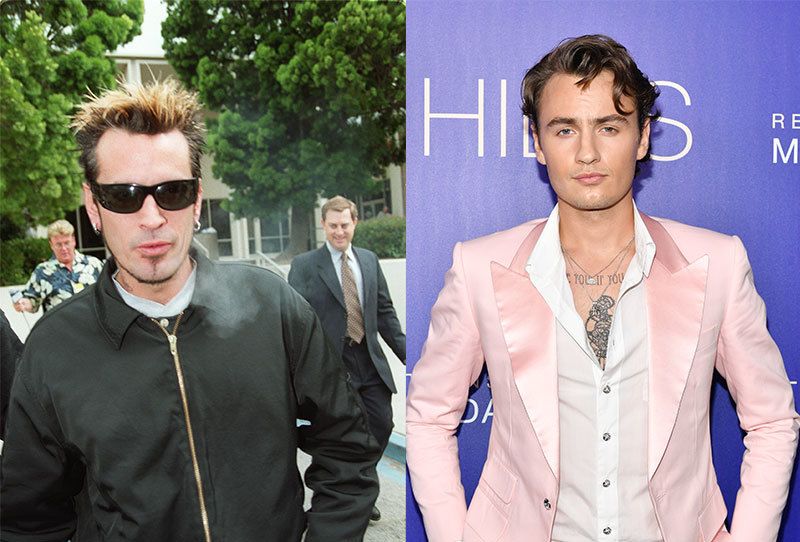 That doesn't mean his parents aren't proud of him, and Anderson recently expressed her delight at her son's decision to pursue a career of his own. Brandon, one of the newbies on "The Hills: New Beginnings," has decided to pursue an acting career rather than follow in his father's footsteps in music. Brandon's mother appears to be close to him, but it seems that the 24-year-old has had trouble with his father.
Arnold Schwarzenegger and Patrick Schwarzenegger
Age: 23 Arnold Schwarzenegger, former Mr. Universe and Governor of California, and his son, Patrick, with then-wife Maria Shriver, demonstrated that the fruit doesn't always fall from the tree. Patrick Schwarzenegger was born on Sept. 18, 1993, in Santa Monica, California, at St. John's Hospital. He grew up in Los Angeles and attended high school there. He's the co-founder of "Project 360," a trendy modern clothing line that contributes a percentage of its profits to good causes.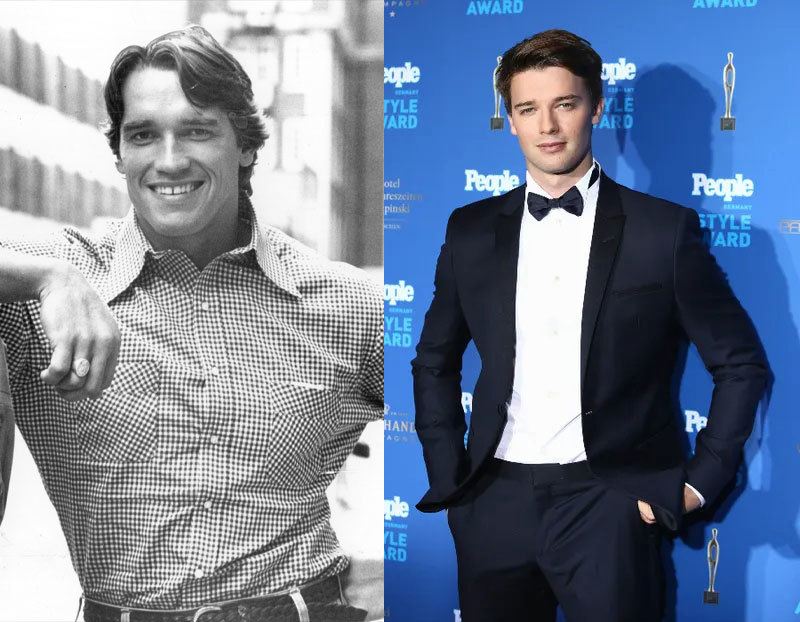 Patrick had worked as a model and an actor by the age of 23, and while he appears to be following in his father's footsteps in terms of celebrity, it doesn't look like he'll be running for governor anytime soon. "The Benchwarmers" was his debut film, and since then, he has acted in films such as "Stuck in Love", "Grown Ups 2", "Scouts Guide to the Zombie Apocalypse", and "Midnight Sun", with the latter being his first leading role.
Jack Nicholson and Ray Nicholson
Age: Early 20s Ray Nicholson has more in common with his father, Jack, than simply his appearance. One of our time's most renowned actor's children works as an assistant and second director in Hollywood and has even dabbled in acting. In Hollywood, there's a new Nicholson to look forward to! Ray Nicholson is a rising talent and the son of Oscar-winning actor Jack Nicholson, who is 84 years old.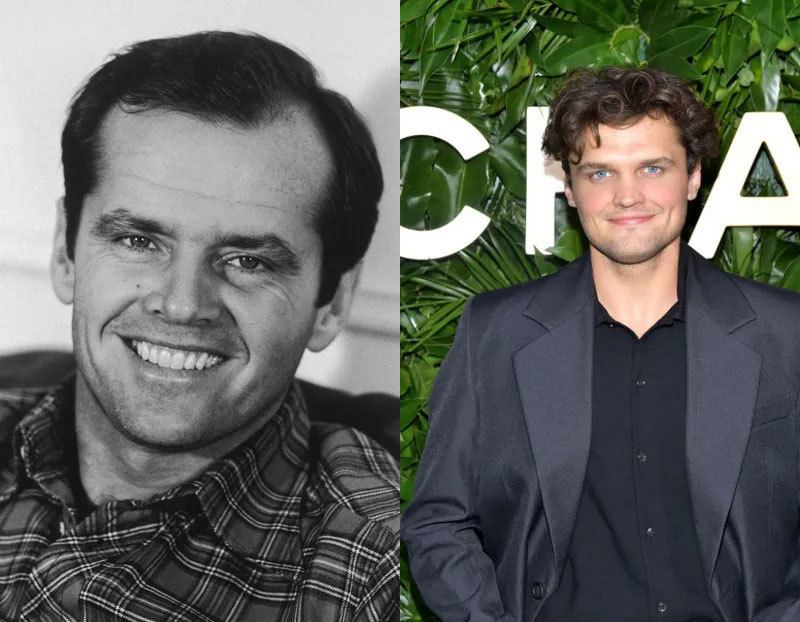 Ray, who is 29, has begun to take steps into the performing field. Ray offers five facts you should know about him, from his new program, "Panic", to his family life, to his social media. Jack should be proud of his son for charting his course and gaining experience both in front of and behind the camera. Ray, we're looking forward to seeing you again!
Jean-Claude Van Damme and Kristopher Van Varenberg
Age: 30 Jean-Claude Van Damme is a retired martial artist and Belgian actor, producer, screenwriter, director, and fight choreographer best known for his martial arts action films. Kristopher Van Varenberg, his son, has followed in his father's footsteps into the world of action movies. The father and son have worked together on projects such as the 1996 film "Quest."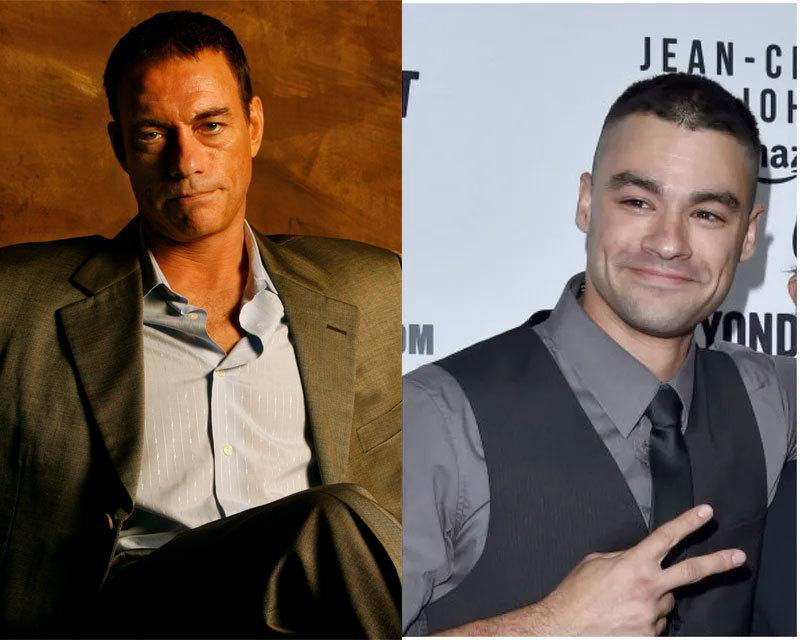 Kristopher made his film debut as a young Luc Deveraux in "Universal Soldier" (His father played the adult Deveraux). Kristopher made his acting debut in "Derailed", followed by roles in "Universal Soldier: Regeneration" and "Full Love", both directed by Jean-Claude Van Damme. In an exclusive interview with the International JCVD Forum, Kristopher revealed that, in addition to acting, he enjoys writing and directing.
Rob Lowe and John Owen Lowe
Age: 24 Rob Lowe was one of the top heartthrobs of the 1980s when he was a teenager. He's most known for his appearances in blockbuster sitcoms like "Brothers & Sisters" and "Parks and Recreation" in recent years. While his son, John, did not spend his adolescent years in the spotlight, he has gradually begun to feature in a few projects alongside his father, including "The Lowe Files," a reality television series.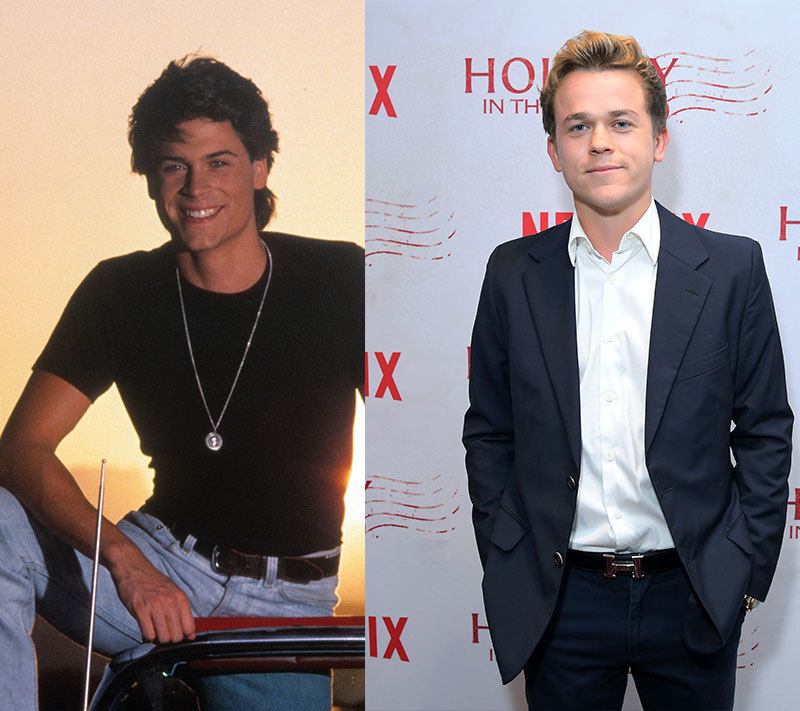 Rob Lowe's participation in "9-1-1: Lone Star" has turned into a family affair. Rob recently told ET that he's had a fantastic time working with those closest to him, as his son is a writer on the emergency drama series and his brother, Chad Lowe, directed an episode.
Martin Sheen and Emilio Estevez
Age: 29 Emilio Estevez, the son of legendary actor Martin Sheen, has inherited some major acting genes. Sheen, who gained popularity in the late 1960s, has two renowned sons, but Emilio, his firstborn, is his carbon copy. In the 1980s, Estevez was a part of the Brat Pack and has since created a name for himself in the business.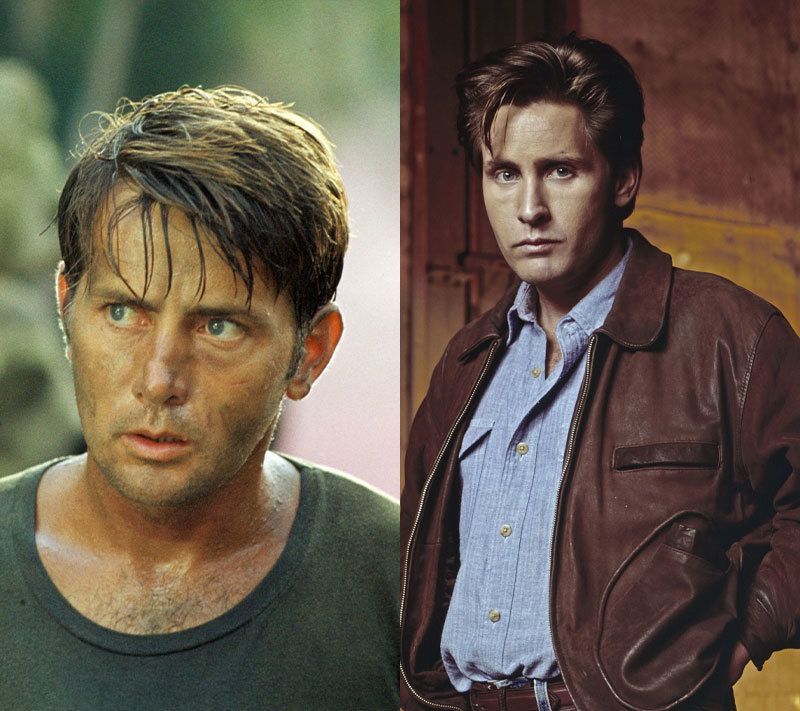 Because they have the same last name, Martin Sheen is readily distinguishable from actor Charlie Sheen (at least in their acting credits). He is, however, Estevez's father. According to The Things, Estevez chose to preserve his father's original surname and pursue his own way in Hollywood, putting him further apart from Martin and his brother Charlie.
Bill Hudson and Oliver Hudson
Age: 24 Oliver and Kate Hudson's relationship with their biological father, musician Bill Hudson, hasn't always been easy. The two stars were born into a renowned family, with Goldie Hawn, an actress, and Bill, a musician, writer, and actor, as their parents. Bill and Goldie divorced in 1980, and he didn't have much contact with his children after that.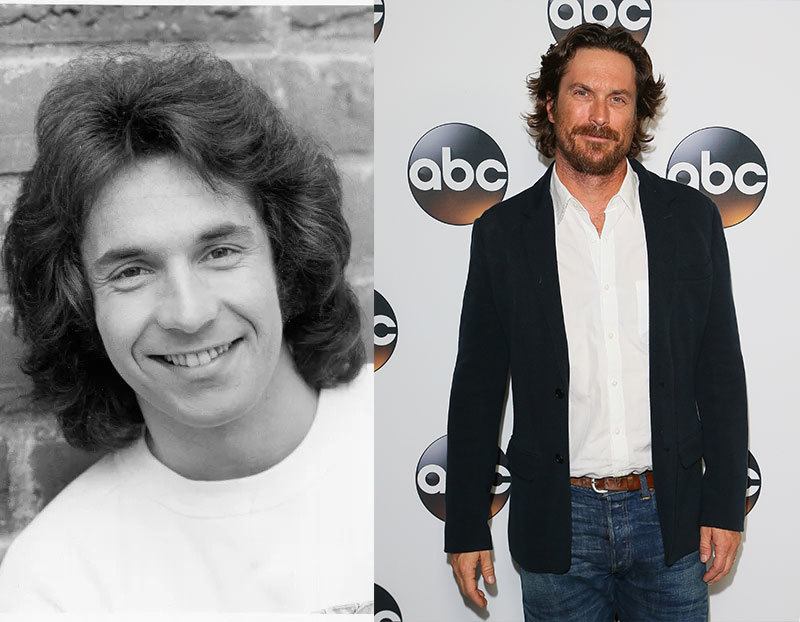 Even though he looks exactly like his father, Oliver has little affection for him, which might explain why, like his renowned mother and sister, he pursued a career in acting. Along with Kate, he co-hosts the podcast "Sibling Revelry." In a sequence of images he uploaded, Oliver said, "It doesn't really matter which one of these men is my father. When I was 6 years old, my pa stepped in and groomed me into the guy I am today."
Jeremy Irons and Max Irons
Age: 33 It appears that beautiful looks aren't the only trait passed down in the Irons family. When you look into Max's flashing eyes, you can see Jeremy, his renowned father. Jeremy Irons, a British actor who has been in practically everything, is most known for his part in "Watchmen." Max, his son, is likewise a rising star in the profession, with appearances in films such as "The Wife" and "Terminal."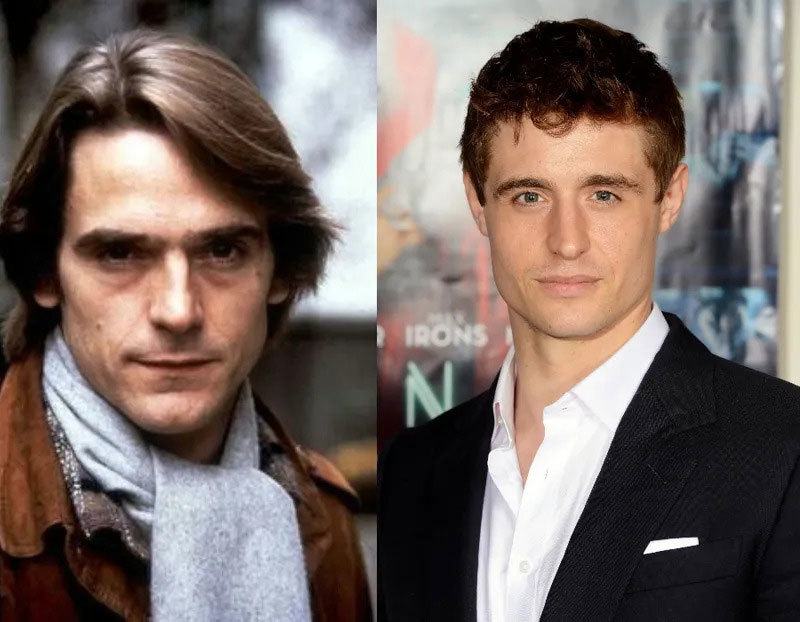 Max, the son of actors Jeremy Irons and Sinéad Cusack, has established a successful modeling and acting career. His father discouraged him from pursuing a career as an actor, but he nevertheless allowed him to accompany him to premieres. However, he had poor beginnings and worked as a bartender while pursuing tiny parts.
Tom Hanks and Colin Hanks
Age: 41 Colin Hanks, the son of Oscar winner Tom Hanks, is following in his father's footsteps. He shared with HL some of his father's finest life advice. Tom Hanks is adored by everybody. His career was thriving by the time he was 41, and he had already won two Academy Awards for best actor in back-to-back years. Colin is well-known in Hollywood for both his television and film credentials.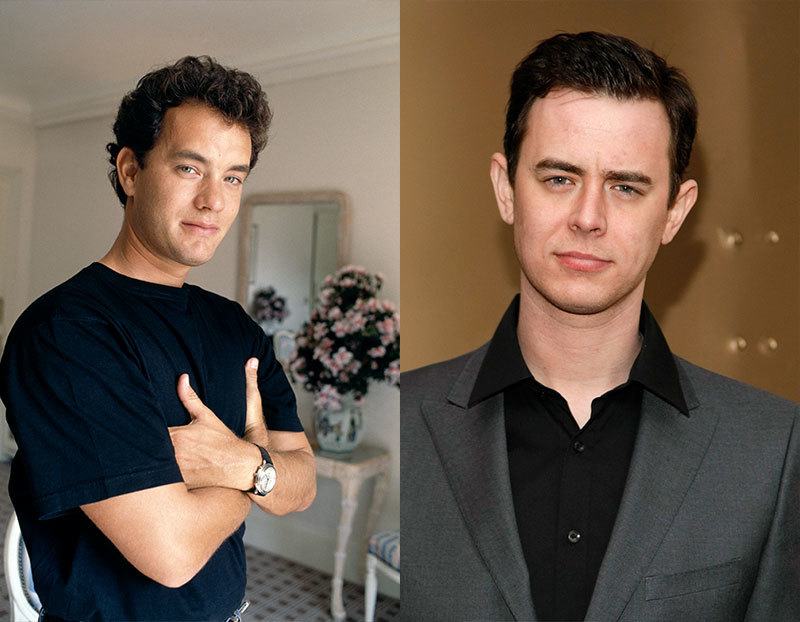 Colin was born to Tom and actress Samantha Lewes in Sacramento, California. Colin is most recognized for his roles in "The Good Guys" as Jack Bailey and "Roswell" as Alex Whitman. The teen film "Orange County", starring Jack Black and John Lithgow, may be Colin's most well-known film performance. Among them are "King Kong," "Fargo," and "Dexter." Colin is on his way to a successful Hollywood career, even though he is still a long way from being as famous as his father.
Val Kilmer and Jack Kilmer
Age: 25 Jack Kilmer has already achieved more than many actors his age and has starred in several critically acclaimed films. Jack Kilmer is an American actor, most known for his role as Pelle "Dead" Ohlin in the 2018 Norwegian black metal drama "Lords of Chaos", as well as his portrayal of Ozzy Osbourne in Ozzy's "Under the Graveyard."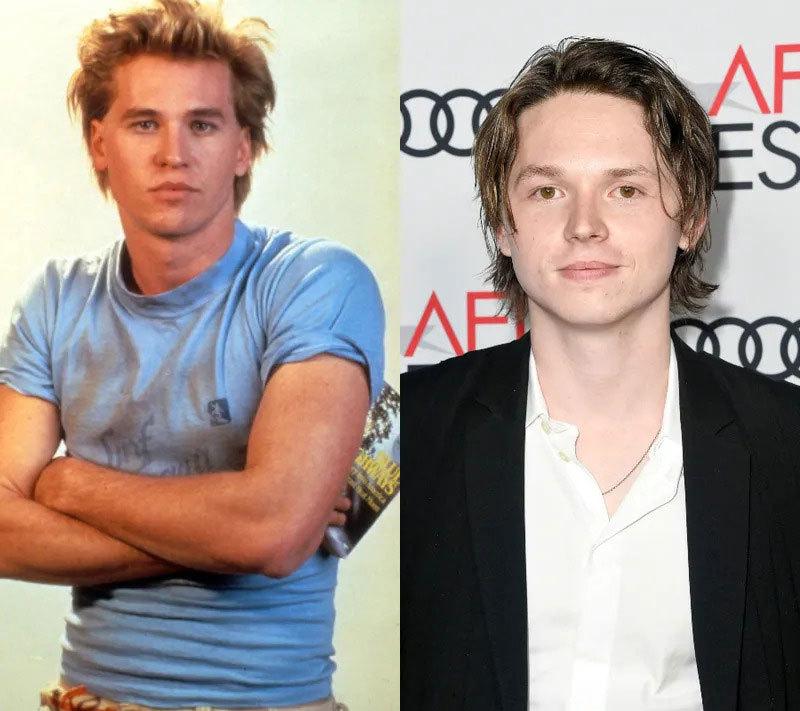 When you consider that he is the son of the one and only Val Kilmer, Jack's accomplishments seem unsurprising. The Batman actor in "Batman Forever" began his career as a stage actor in the mid-1980s but following a run of performances in everything from comedies to fantasy flicks, Val swiftly found his way into cinema.
Damon Wayans and Damon Wayans Jr.
Age: 36 One of Hollywood's most renowned comic families, the Wayans siblings, and their progeny, are continuing in their wake. Damon Wayans and his son have such a similar appearance and demeanor that it's difficult to tell them apart. Damon, under the alias Kyle Green, braved the world of stand-up comedy in 2005, following in his father's footsteps.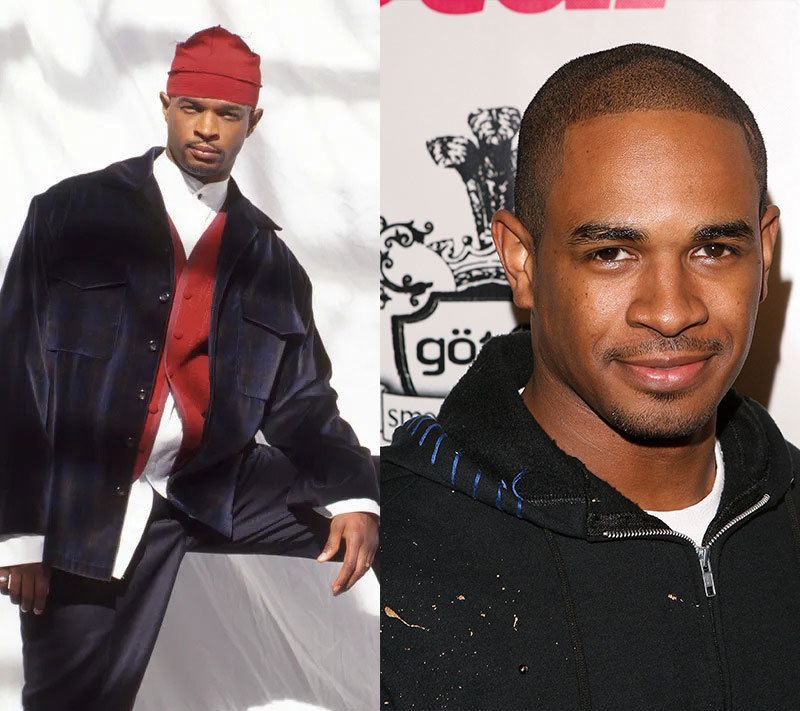 They even have the same name! Damon Wayans Jr. starred in blockbuster shows including "New Girl" and "Happy Together." At the age of 11, he made his cinematic debut as little Kevin in the 1994 film "Blank Man." Damon later continued his early love of fine arts and animation in high school before enrolling at the Otis School of Art and Design.
Dustin Hoffman and Jake Hoffman
Age: 39 Jake Hoffman's startling resemblance to a particular silver screen superstar with whom he shares a surname isn't the only reason he seems familiar. The 33-year-old — who, yes, is Dustin Hoffman's son — has been acting since he was 7 years old when he appeared in his father's legendary film "Rain Man" as an extra eating pancake in a diner.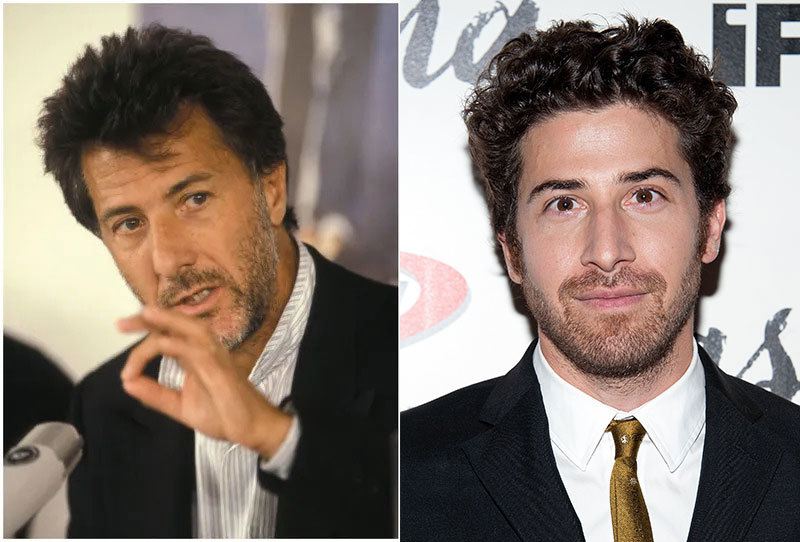 Dustin Hoffman's son followed him into the film industry after graduating from NYU's prestigious film school. Jake has appeared in, directed, and written for many films. "Asthma," Jake's first feature film, was released in 2014. You might remember him from movies like "Click" and "The Wolf of Wall Street."
Prince William and Prince George
Age: 5 It appears that having a sense of style is a must for being the next King of England! Prince William and his son, George, wore the same sweater 31 years apart and, at age 5, had more taste than most people we know! When it comes to height, Prince George looks to be following in the footsteps of his parents, Kate Middleton and Prince William. Prince William is 6-foot-3, while Kate is 5-foot-9, and George appears to be catching up swiftly.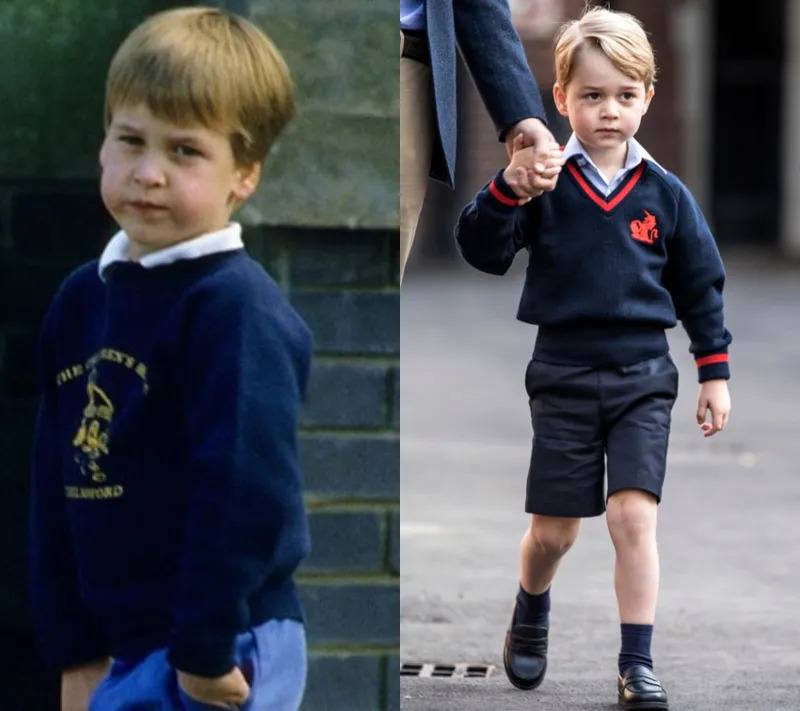 Since his birth in 2013, George has shared a great relationship with his father, and he's certainly followed in William's footsteps as a big football enthusiast. One of pop culture's favorite activities has been watching Prince George grow up, and we can't wait to see what more the world (and his stylist) has in store for him!
Nicolas Cage and Weston Coppola Cage
Age: 29 Weston Coppola Cage comes from a long history of industry greats, so it's no wonder that he'd follow in his father's footsteps. Nicolas Cage's son was conceived as a result of his relationship with Christina Fulton. Weston, the Oscar winner's eldest son, was born in December 1990.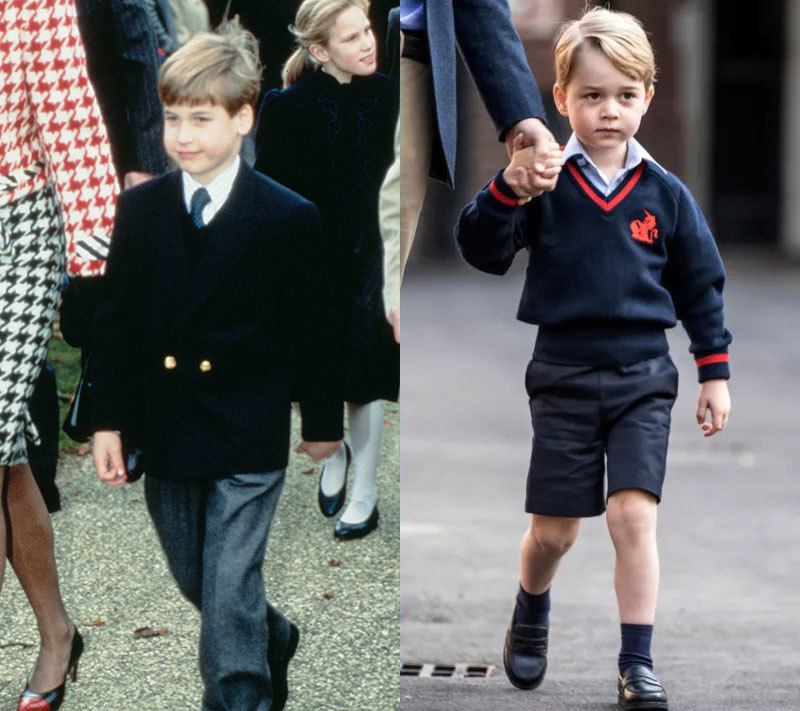 In addition to his acting career, Weston was also a lead vocalist who rose to prominence as the main singer of the death metal band Eyes of Noctum, which he founded in high school but disbanded in 2012. Following that, he established the black metal band Arsh Anubis.
Sean Penn and Hopper Penn
Age: 26 When one's parents are renowned Hollywood characters whose every action is extensively scrutinized by the press and just about everyone, it's difficult to have a normal upbringing. In his early twenties, Sean Penn was just getting his acting career started. His son, Hopper, on the other hand, had a steady start to his acting career by his early twenties.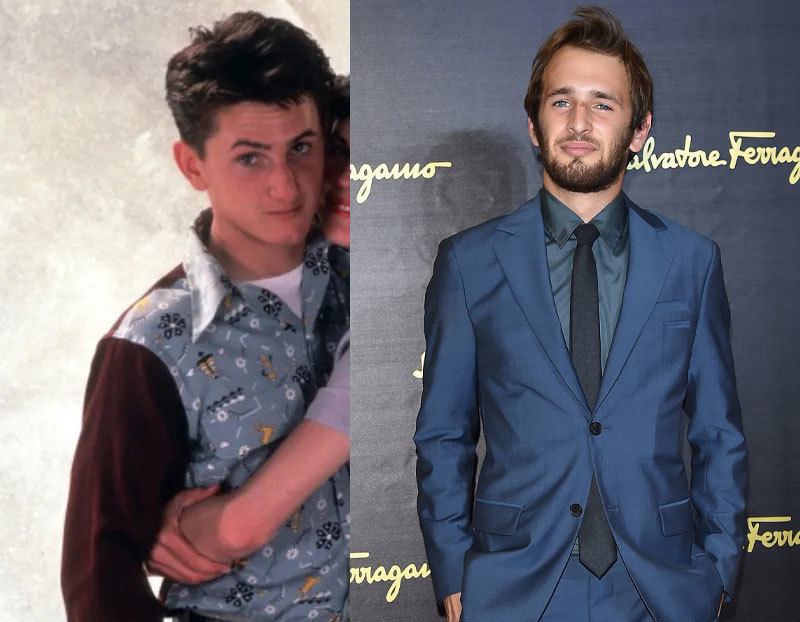 While most Hollywood kids have grown to enjoy the spotlight, Hopper Penn was carved from a different cloth. When Hopper was arrested in 2018, he found himself in legal peril. If you're wondering where the other half of Hopper's outstanding good features came from, it's from his mother, Robin Wright, the one and only amazing actress.
Bob Marley and Ziggy Marley
Age: 36 Bob Marley, a Jamaican cultural icon, and singer, died at the age of 36. Although the musical prodigy had 11 offspring, one stood out: Ziggy, his practically identical son. Ziggy, Bob's oldest son, is a Grammy Award-winning performer in his own right.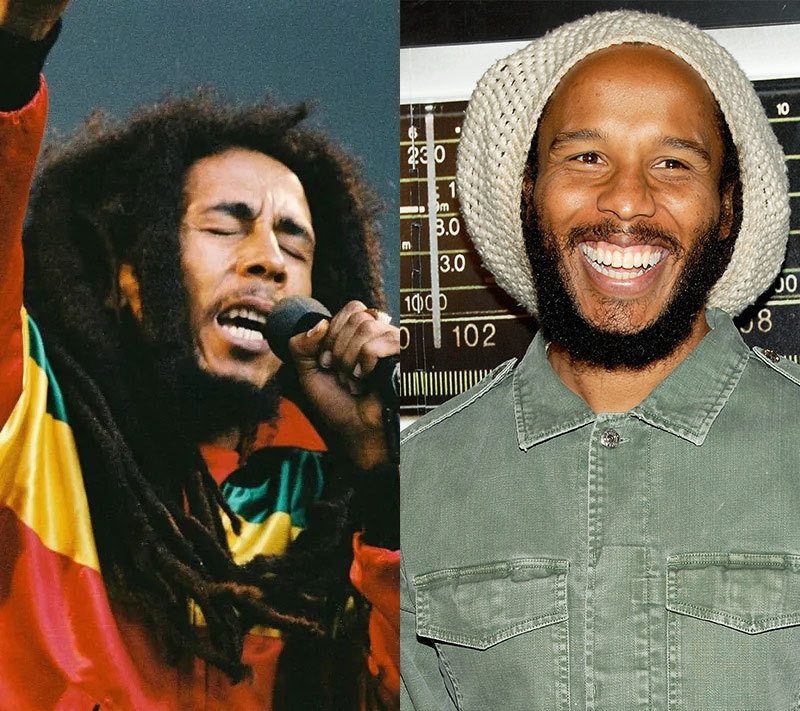 As his father's doppelganger, Ziggy proudly carries on his reggae legendary father's legacy as a musician while still managing to carve out a name for himself. Ziggy built a reputation for himself as a major reggae performer as the son of reggae superstar Bob Marley. In 2006, the icon's son launched a solo career and went on to record numerous Grammy Award-winning albums, including his self-titled debut.
Pierce Brosnan and Dylan Brosnan
Age: 22 Like his famed father, Pierce Brosnan, Dylan Brosnan appears to have gotten the acting bug. Of course, father and son have walked the red carpet together on several occasions. Dylan is most known as the son of Pierce Brosnan, a well-known actor, film producer, and campaigner. Nevertheless, he is much more than simply a celebrity kid. He is a model, actor, and cameraman who has worked for prestigious companies such as Burberry and Yves Saint Laurent.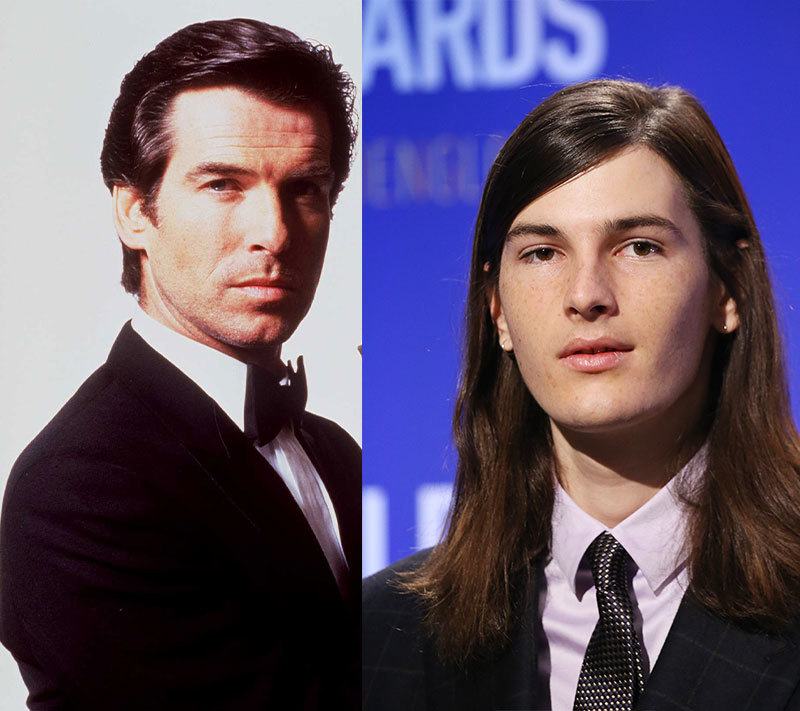 Dylan began his career as a model before transitioning to acting and making his cinematic debut in 2019 with the film "Iconic." Surprisingly, his father was only getting started when he was about the same age. We're excited to watch Dylan's acting career take off; if he acts like his father, he'll be bound for greatness!
Ice Cube and O'Shea Jackson Jr.
Age: 23 Your youngster may look so much like you that he ends up playing you in a movie. O'Shea Jr. played his father's N.W.A. character. In the 2015 documentary "Straight Outta Compton," about Ice Cube's 1980 music group, O'Shea Jr. played his rapper-turned-actor father. At the age of 23, Ice Cube was a well-known rapper, and his kid began appearing in films about the same time.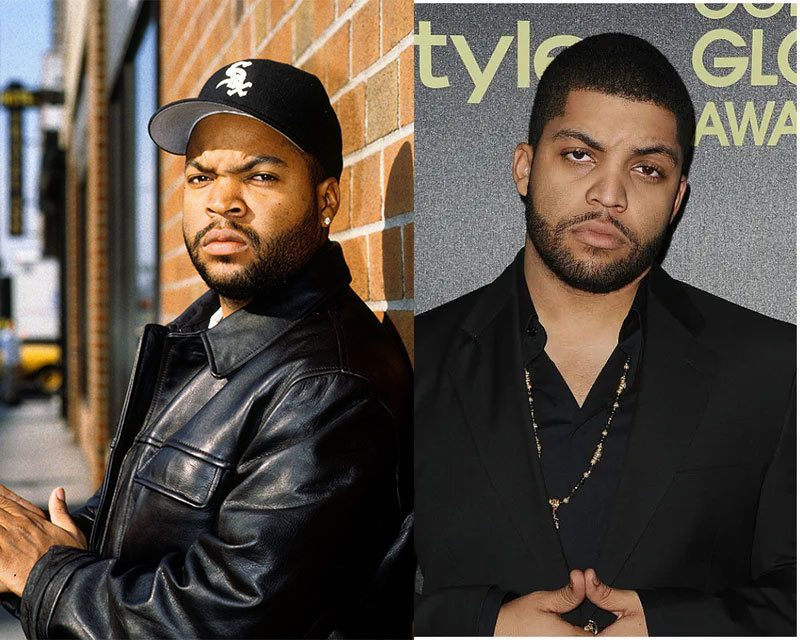 Not only does the 24-year-old have an uncanny resemblance to his father, but he's also picked up on his mannerisms and emotions, which he exploited. Since then, O'Shea Jr. has appeared in many films, including "Ingrid Goes West" and "Den of Thieves."
Michael Keaton and Sean Douglas
Age: 34 Michael Keaton will always be remembered as one of his generation's greatest actors. Keaton is the father of one child from his marriage to actress Caroline McWilliams. That son, Sean Douglas, has stayed out of the spotlight. Instead of following in his father's footsteps into the film industry, he pursued a career as a singer-songwriter.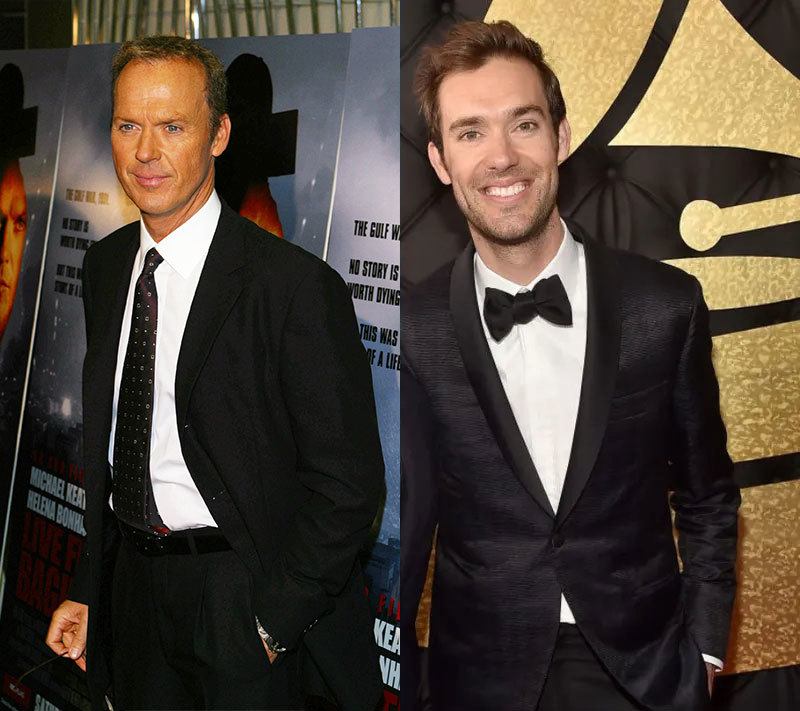 Much like his Golden Globe Award-winning father, Sean has gained critical recognition for his work. It's an understatement to say Sean is a gifted songwriter. He's responsible for some of the most surprising hits in almost every genre of music. He even won a Grammy for Best Country Song for "Die A Happy Man", a song he co-wrote.
Jerry Stiller and Ben Stiller
Age: 44 If you've ever wondered why Ben Stiller is one of comedy's biggest names, just look at his father. Jerry Stiller, the late comedian, enjoyed a successful career that spanned more than 70 years. But Ben said show business wasn't something his parents left at the front door. Ben and his sister, Amy, who's also an actress and comedian, grew up in a house where comedy was the family business.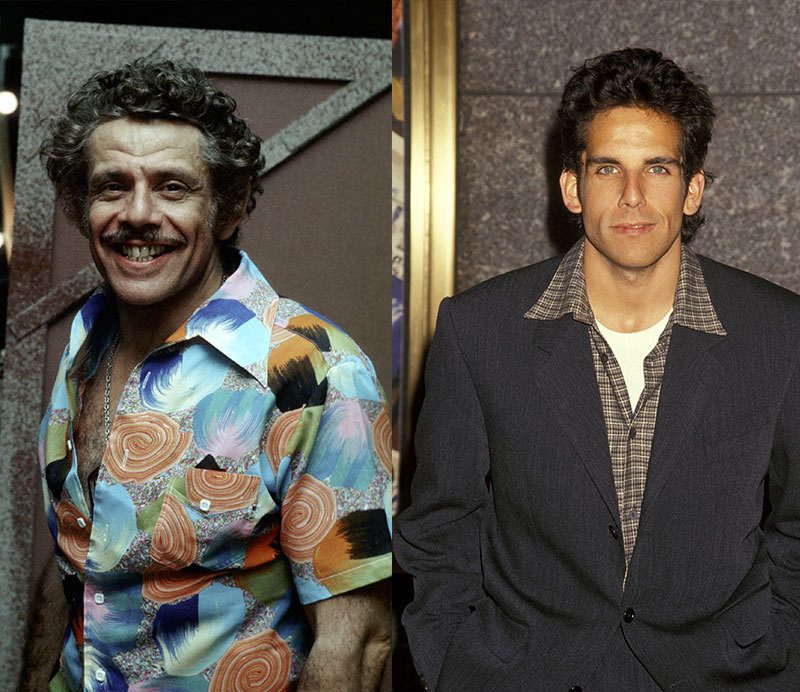 Ben Stiller is best known for his roles in "Meet the Parents" and "Zoolander." The Stiller son is a part of the group of comedic actors colloquially known as the Frat Pack, and both he and his father were well-known in Hollywood by their mid-40s. As a kid, Ben said, he was always attracted to performing and directing and noted that his parents guided him in different ways. He described his dad as "very overprotective" but nurturing and more than willing to offer heaps of advice.
Lloyd Bridges and Jeff Bridges
Age: 39 It's difficult not to want to follow in the footsteps of a father who has been in over 150 films. Lloyd Bridges' acting career was inspired by Jeff and Beau Bridges. Jeff has been acting since the early 1960s, and his most well-known appearances include "True Grit" and "The Big Lebowski." At this rate, Jeff may wind up outperforming his father in terms of representing the Bridges name!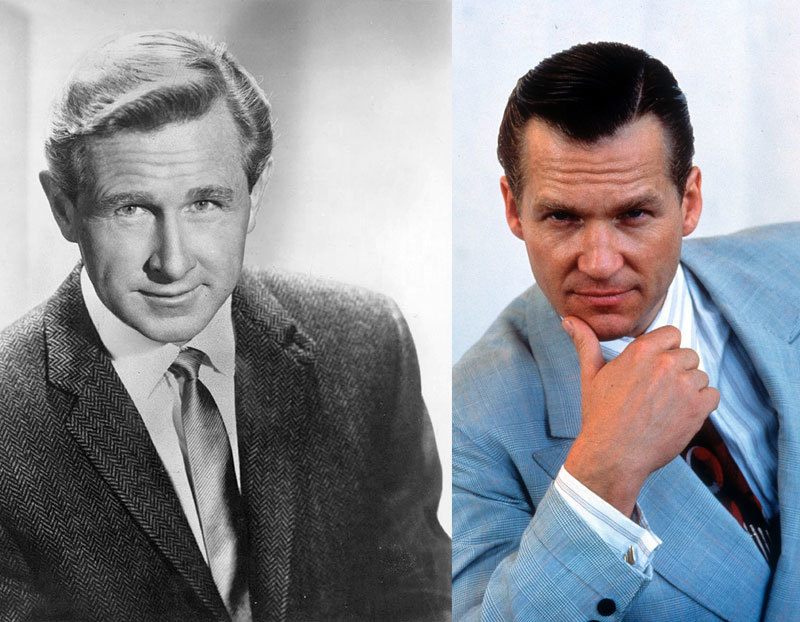 Bridges, the son of actor Lloyd Bridges, had his acting debut at the age of 8 in the 1958 television series "Sea Hunt", in which his father also appeared. He joined the Coast Guard reserves after graduating from University High School in Los Angeles and then traveled to New York City to pursue acting at the Herbert Berghof Studio.
Mel Gibson and Milo Gibson
Age: 28 Mel Gibson is a well-known actor, film producer, director, and screenwriter from the United States. He is well-known for his work as a director and actor in action films. He is not just one of Hollywood's most successful and wealthy actors, but he is also a family guy with exceptional parenting abilities. Mel Gibson is such a well-known actor that it's difficult to believe he was once in his twenties.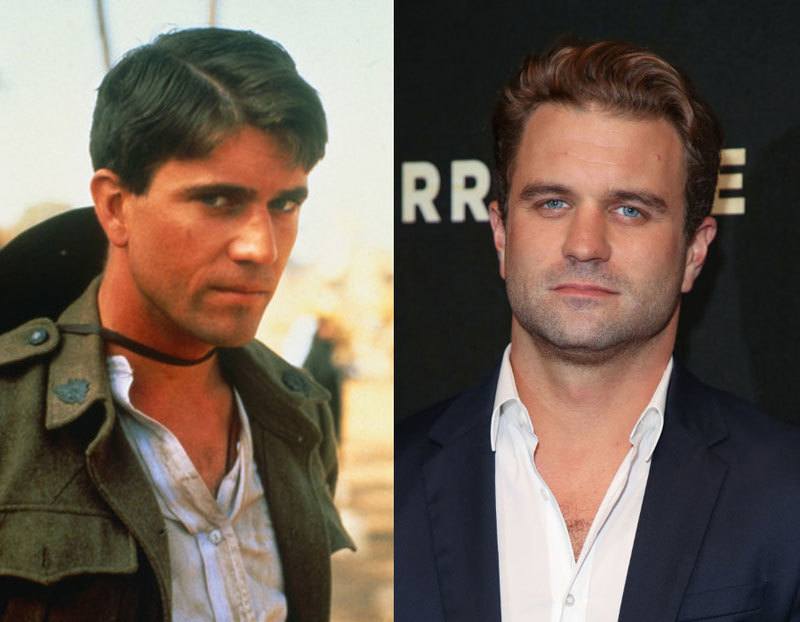 He had just finished starring in "Gallipoli," which is still considered one of the actor's best films. Milo Gibson, Gibson's son, hasn't been in as many films as his father, but he has appeared in some notable films, like "Hackshaw Ridge" and "All the Devil's Men." In "Under the Stadium Lights" and Manifest West, Milo will play Chad Mitchell and Dave Hayes, respectively. He tries to keep his audience entertained for as long as possible.
Kurt Russell and Wyatt Russell
Age: 33 Goldie Hawn and Kurt Russell certainly know how to raise a brood of ridiculously handsome kids. Wyatt Russell might be a few years late to the acting game after playing ice hockey, but with a lengthy list of films under his belt, he appears to be on his way to eternal glory.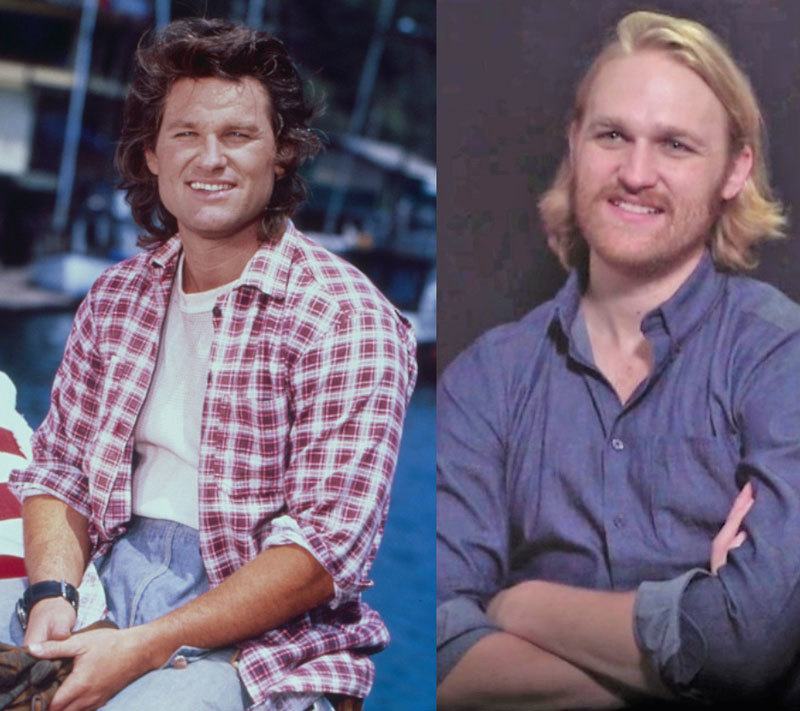 Wyatt had minor roles in his father's films as a child, including "Escape From L.A." and "Soldier", but he worked his way up the Hollywood ladder to get to where he is now. Looking at Wyatt at 33 and then looking at Kurt at 33 is a mind-boggling experience for us; Wyatt is a carbon copy of his father!
Jude Law and Rafferty Law
Age: 22 Jude Law was just a developing actor at the age of 22, and he hadn't yet gotten any of his more significant parts, but he was known as an up-and-coming actor to keep an eye on. Rafferty, who rose to prominence at the same age as his father, is currently modeling and pursuing a career as a singer. We're guessing Rafferty will age like a great wine!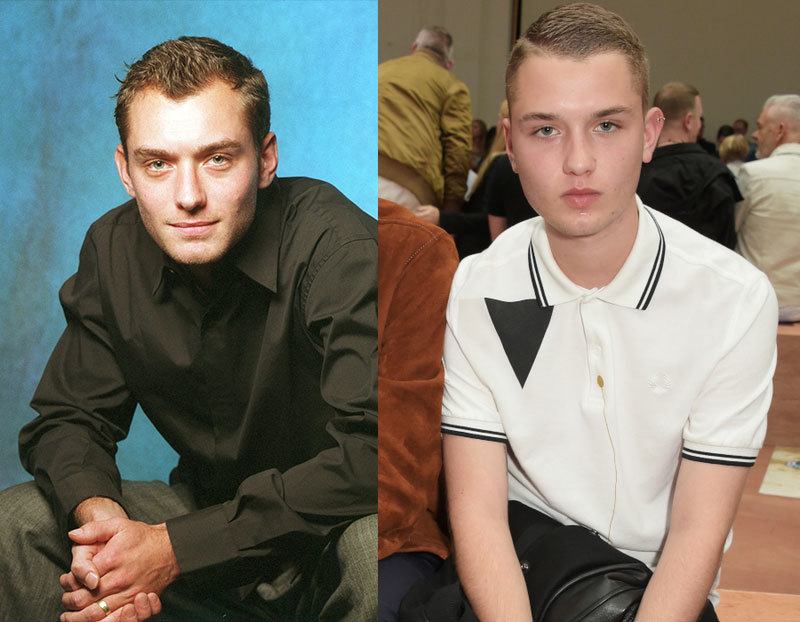 Jude Law's eldest son followed his father's footsteps into the world of acting. Rafferty, who is 24 years old, has already been in several short films and will soon be seen in "Twist", a new version of Charles Dickens' Oliver Twist (whom Rafferty will portray), which also stars Rita Ora, Lena Heady, Michael Caine, and Noel Clarke.
David Beckham and Brooklyn Beckham
Age: 18 Being David and Victoria's eldest son has many advantages, but it also comes with a lot of strain. After all, both of your parents have achieved legendary status in their respective fields. At the age of 18, David Beckham was just beginning his career as a soccer player. Remarkably, Brooklyn waited until he was an adult to launch a modeling and acting career, given that the Beckham children have been in the spotlight since they were youngsters.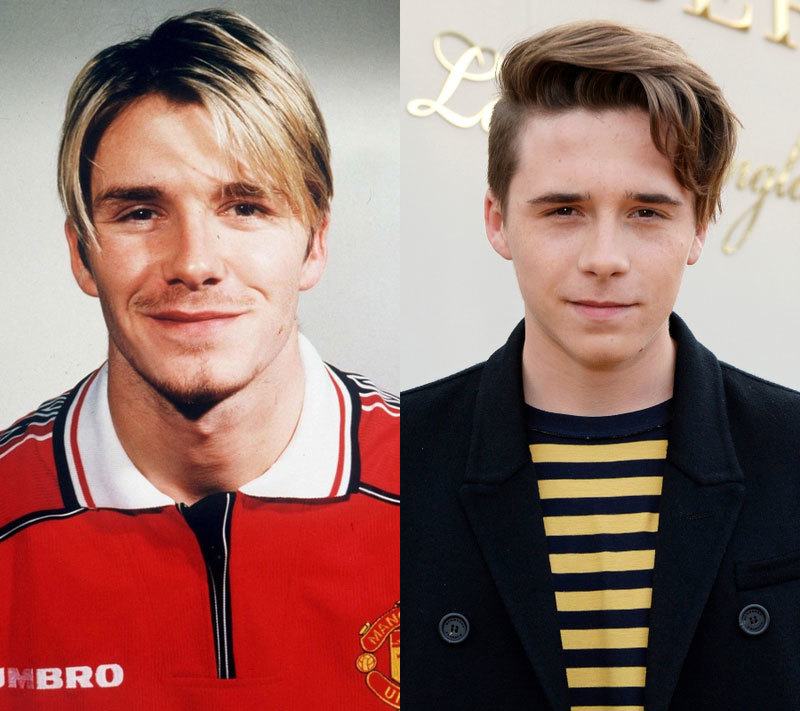 Brooklyn is a well-known soccer player and the son of Victoria Beckham, a former Spice Girl. He is also a model and a skilled photographer. He has been featured in several editorials and has been covered by magazines such as Dazed, Miss Vogue, and Rollacoaster.
Mick Jagger and James Jagger
Age: 33 When he sneers, sings, and pouts, the likeness is unmistakable. With his large lips, sharp cheekbones, and feline sex appeal, James Jagger could only be the son of Rolling Stone Mick, as seen on TV for the first time in the big-budget new series "Vinyl". It appears that something about artists' sons inspires them to pursue acting and vice versa.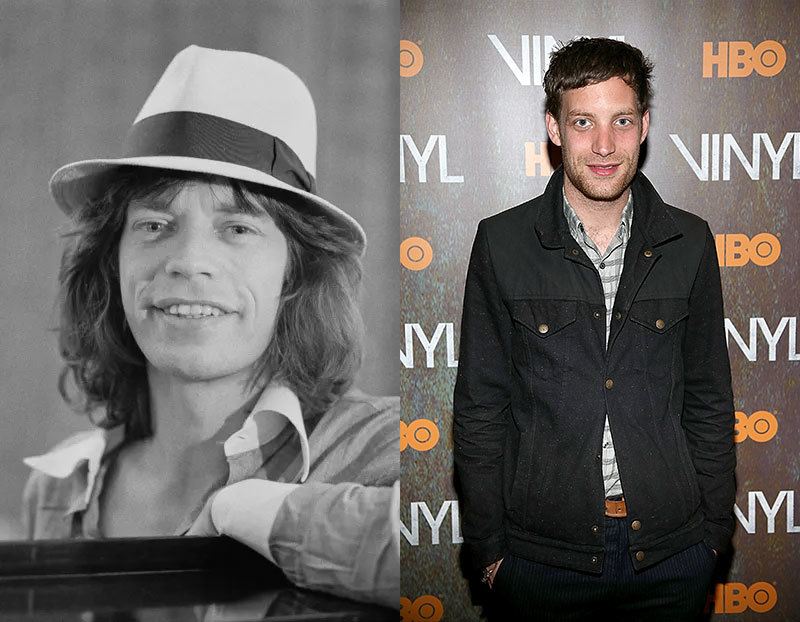 Despite being born into rock 'n' roll royalty, James Jagger chose to pursue a career in acting rather than music. The son of Rolling Stones vocalist Mick Jagger and supermodel Jerry Hall, James has appeared in films such as "Vinyl" and "The Unravelling." The musician-turned-actor, now 30, has never had the public prominence of his vivacious, attractive sisters, Lizzie and Georgia May, who went into modeling after Hall died.
Donald Trump and Donald Trump Jr.
Age: 41 Donald John Trump Jr. is an American politician, businessman, author, and former television host. He is the eldest child of Donald Trump, the 45th president of the United States, and Ivana Trump, his first wife, a businesswoman. This fruit did not fall far from the tree: Donald Trump's eldest son, Donald Trump Jr., works for his father at The Trump Organization.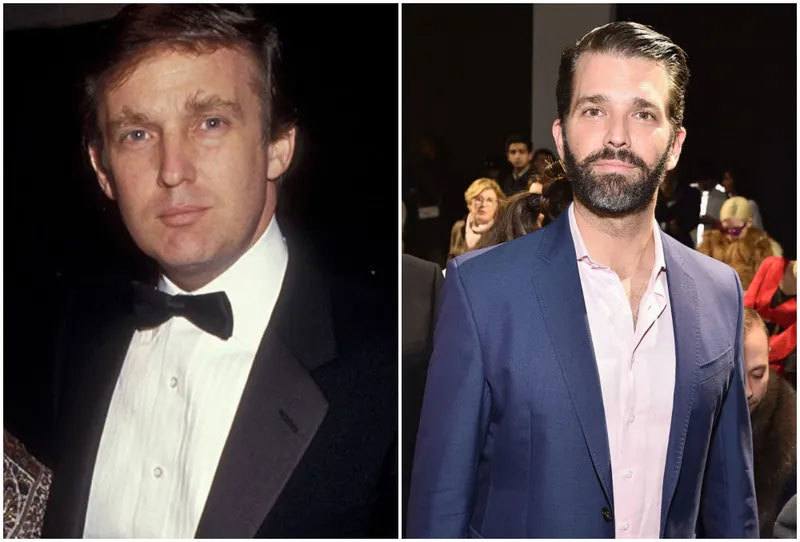 On the Trump father's reality television show, "The Apprentice," the billionaire also acted as a boardroom judge. Trump Jr. has a long history of being involved in his father's political activities. During their father's administration, Donald Jr. and his brother Eric pursued transactions and investments in foreign nations. Even though he doesn't have Donald Sr.'s colors, Donald Jr. looks a lot like him.
Prince Charles and Prince Harry
Age: 35 A few years before his 35th circuit around the sun, Prince Charles and Princess Diana welcomed their first son and heir. Charles' youngest son, Harry, was a few years older than his father when he had his first son, Archie, at the age of 35. Even though they don't look much alike at age 35, Harry is without a doubt Charles' son.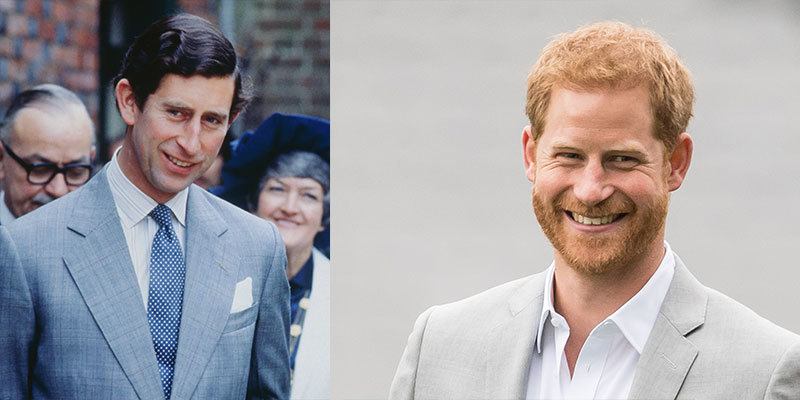 We've received a thorough rundown of Meghan Markle and Prince Harry's choices to quit their royal jobs in early 2020, as well as how it damaged their relationships with the rest of the family, particularly Prince Charles and Prince William, during the previous few years. Even though Harry took a stroll with his father and brother at Prince Philip's funeral in April, it's been difficult for him to tell if the relationships are on the mend.
Bill Pullman and Lewis Pullman
Age: 27 Bill Pullman's career took off in the early 1980s, and he went on to have a long and successful acting career. He was most recently seen in "The Sinner," an anthology thriller. Lewis, his son, has established himself in Hollywood and just won a role in "Top Gun: Maverick," the "Top Gun" remake.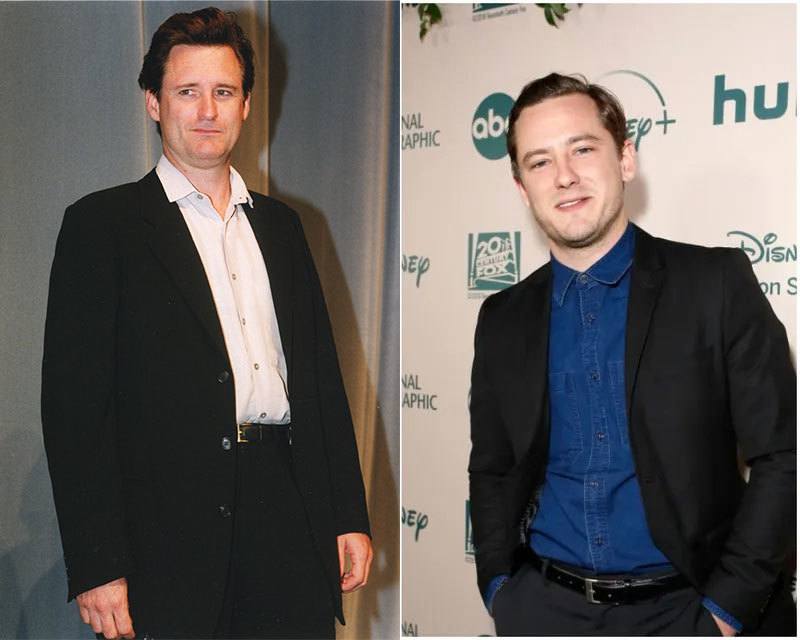 Lewis Pullman is an American actor who rose to prominence as the son of "While You Were Sleeping" and "Independence Day" actor Bill Pullman. When he was cast in the part of Luke in the 2018 horror film "The Strangers: Prey at Night," he became well-known in his own right.
Eugene Levy and Dan Levy
Age: 35 Aside from having similar eyewear tastes and beautiful brows, Eugene and Dan Levy were both well-known names on the silver screen by the age of 35. Big Levy was the star of "SCTV," but the climb to popularity was a bit more romantic for Little Levy. The masterpiece "Schitt's Creek" was written, produced, and starred by the Canadian father-son combination.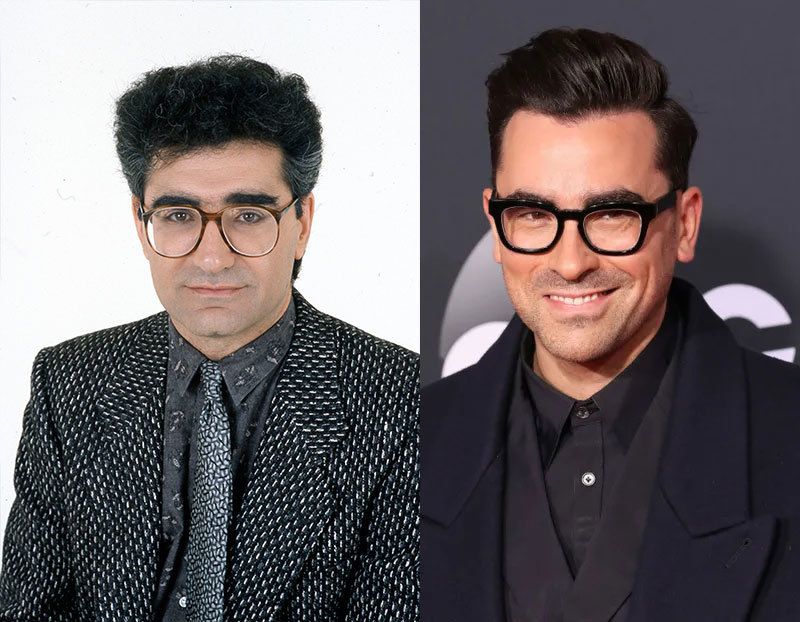 Since the premiere of Schitt's Creek in 2015, Dan Levy has become what can only be described as legendary. Not only did he develop and write the program, but Dan also appeared as the witty and quotable David. And his meteoric journey to superstardom shows no signs of slowing down. Schitt's Creek won nine Emmy Awards in its sixth and final season, setting the record for most wins by a comedy show in a single season.
James Caan and Scott Caan
Age: 40 James Caan is arguably best recognized for his part in "The Godfather," one of the actor's most well-known roles during a 40-year career. Scott, his son, inherited his father's handsome looks as well as a desire to perform. Scott's acting career has carried him to television, where he has appeared on programs such as "Entourage" and "Hawaii 5-0."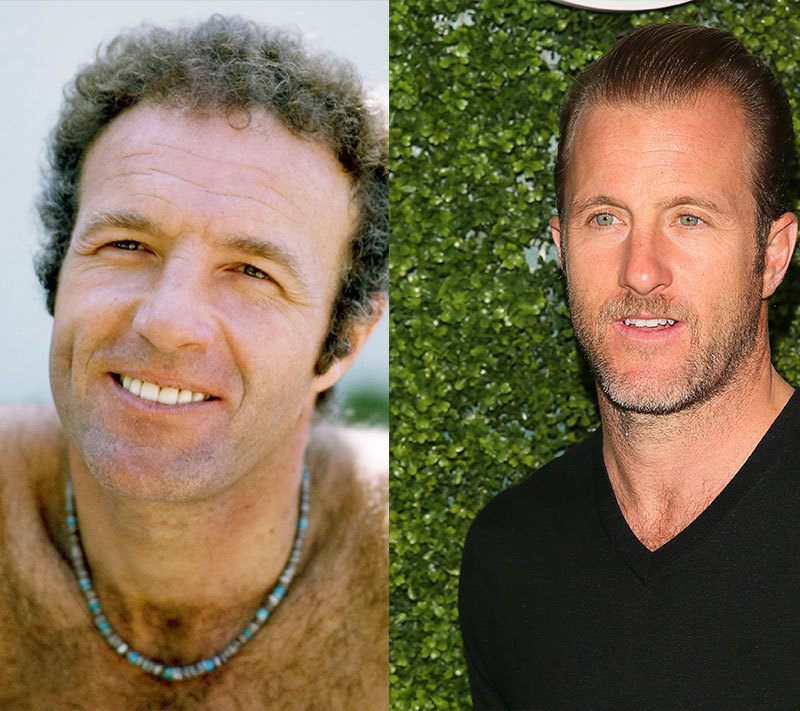 Scott Andrew Caan is a director, actor, writer, and photographer based in the United States. His portrayal of Scott Lavin, a manager in the HBO TV series "Entourage", was commendable. Caan is a volunteer with Surfers Healing, an organization that helps children with autism find joy and happiness. He also works for similar organizations such as Life Rolls On, Walks on Water, and Thera SURF.
Don Johnson and Jesse Johnson
Age: 38 Anyone looking for a lead for a revival of "Miami Vice" won't have to go far. Jesse Johnson, former TV star Don Johnson's son, is a carbon copy of his father. In addition, he wants to be an actor. But we're betting Jesse's performances haven't gotten the reaction his dad was looking for.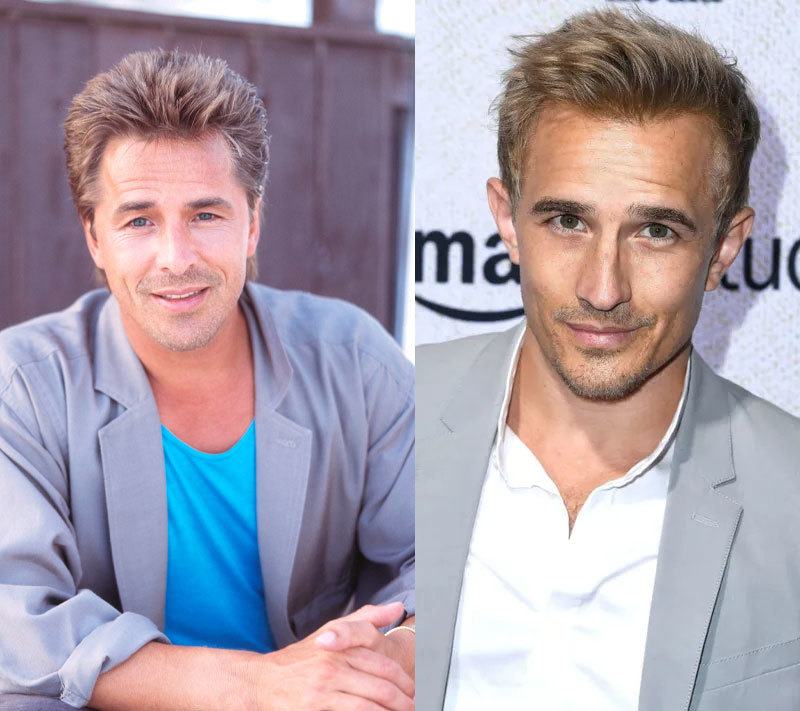 Jesse made his acting debut in a guest role on the CBS television series "Nash Bridges" in 2001, in the episode "Quack Fever." In the made-for-television film "Word of Honor", he played young Lt. Benjamin Tyson in 2003. Jesse attended Occidental College in Los Angeles, where he majored in drama and graduated in 2004. When he made his debut in the 2007 picture "Redline," the critical response was very negative. Hey, at least he got his dad's good looks!
Prince Harry and Archie Harrison Mountbatten-Windsor
Age: 6 Months We're still amazed by how much alike Prince Harry and his 6-month-old son Archie seem. Now that Harry and his wife, Meghan Markle, have gone to Canada, they are certain to have had quite different childhoods, but that doesn't mean they don't look alike! Prince Harry and Markle had their first child, Archie Mountbatten-Windsor, on May 6, 2019.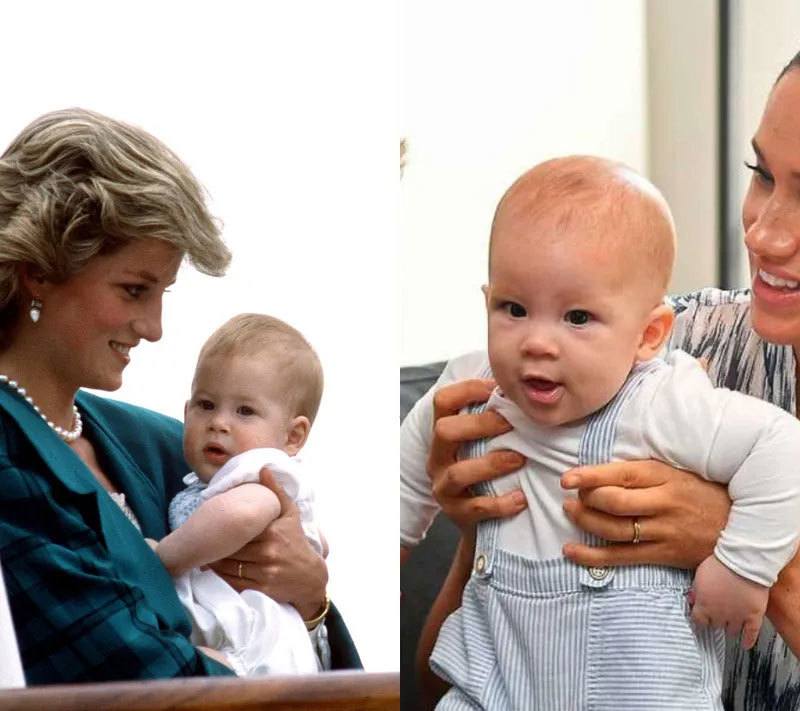 Archie is the great-grandchild of Queen Elizabeth II and the grandson of Prince Charles. Prince George, Princess Charlotte, and Prince Louis are his cousins, and Prince William is his uncle. Prince Harry's son attended his first royal engagement in South Africa during his parents' royal tour, and we had to do a double-take to make sure it wasn't the same baby!
Alan Thicke and Robin Thicke
Age: 42 Throughout his late 30s and early 40s, Alan Thicke played America's favorite sitcom parent on "Growing Pains." You'd think that the actor's son would have followed in his footsteps in the entertainment business, but Robin Thicke forged his own path in the entertainment industry and as a singer and songwriter. Because of his son's success, the late Alan Thicke is either the star of "Growing Pains" or the father of Robin Thicke, depending on one's age.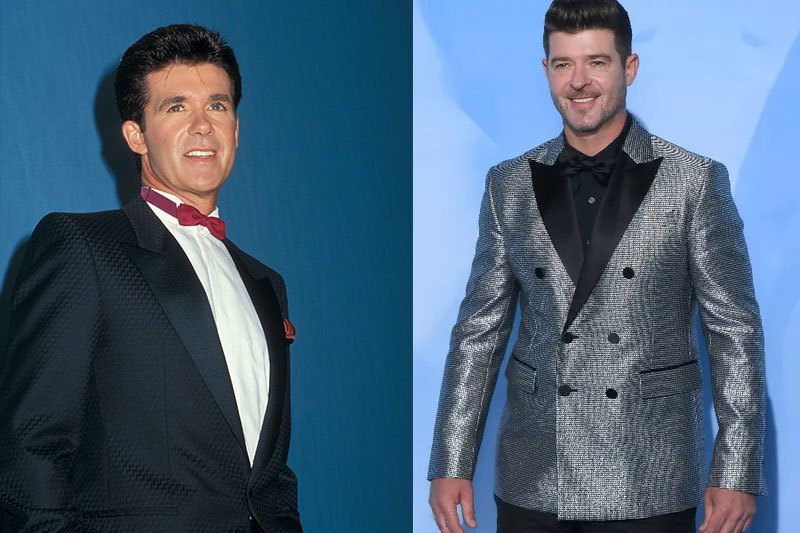 Robin, who carved his own way in music, has had a difficult career in recent years, from controversial hit songs to his private issues being exposed. He's had a string of hits, including the divisive "Blurred Lines." The Thickes might not have followed the same professional path in business, but their smiles say it all.
Stellan Skarsgård and Alexander Skarsgård
Age: 42 Stellan Skarsgård has earned a reputation for himself as one of Sweden's most well-known performers. With roles in films like "Mamma Mia," he subsequently became a Hollywood sensation.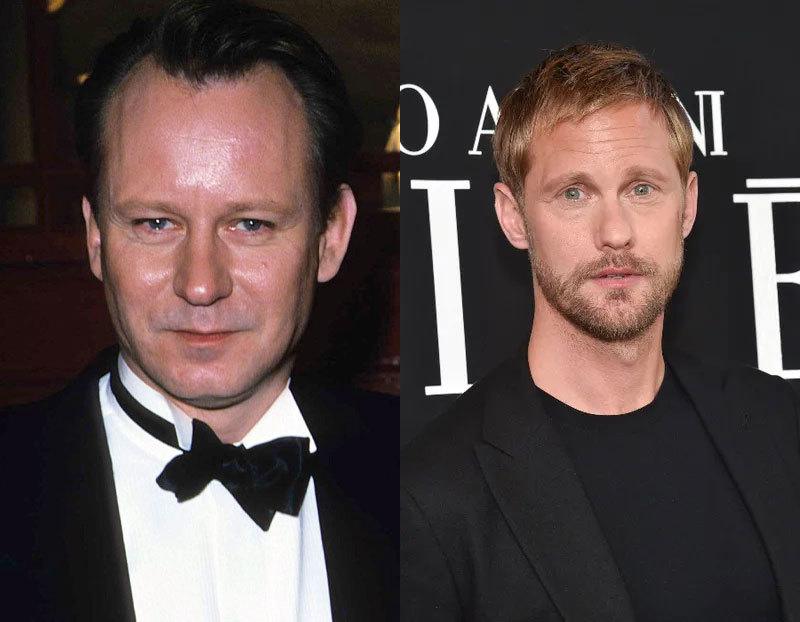 Stellan Skarsgard has been in several major motion pictures, including "Thor" and "Avengers: Age of Ultron," as well as the popular musical "Avengers: Age of Ultron." Alexander, his son, has won major parts on both the big and small screens in recent years, including one of the main characters on HBO's critically praised series "Big Little Lies." Like father, like son!
Prince Charles and Prince William
Age: 37 Prince Charles and Prince William had radically different lives in their mid-30s, even though they were both princes. Prince Charles and Princess Diana were reaching the end of their marriage and had recently had their second son, Prince Harry. Charles' son, Prince William, had been married for eight years and had three children with the Duchess of Cambridge, Kate Middleton, by the time he was 37 years old.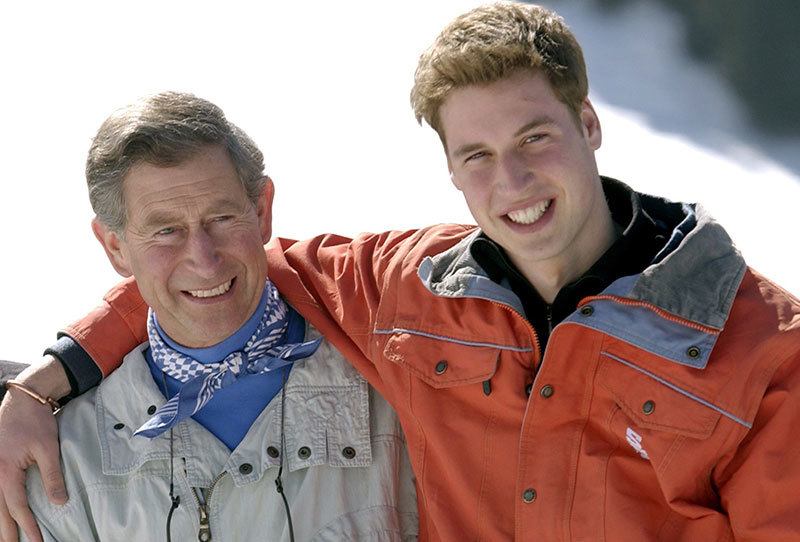 Prince William's life appears to be plucked from the pages of a fairy tale. Not only does he have a gorgeous wife in Middleton and a lovely family, but he is also a handsome prince who is beloved all over the world. However, royal life isn't always simple, especially when you're second in line to the throne.
Alain Delon and Alain-Fabien Delon
Age: 26 In the 1960s, Alain Delon rose to prominence as a French film actor. Alain-Fabien Delon, his son, shares half of his father's renowned name and has followed in his footsteps as an actor. He worked as a waiter, a porter, a secretary, and a sales assistant over the years. During this period, he met actress Brigitte Auber and went on a trip to the Cannes Film Festival with her, where his film career began.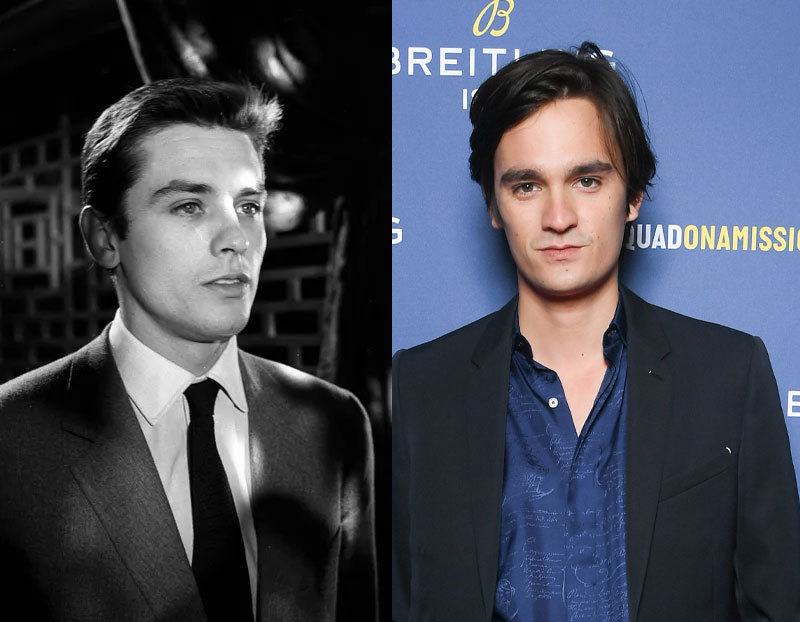 It's no wonder that Alain-Fabien had a successful modelling career and became the face of Dior Homme because he was such a showstopper. The young actor made his acting debut in the 2001 film "Fabio Montale" and most recently appeared in the 2019 film "Golden Youth."
Clint Eastwood and Scott Eastwood
Age: 28 Clint Eastwood is without a doubt one of Hollywood's most well-known and respected figures. The actor and filmmaker has been a classic cinema star since the 1960s. Clint Eastwood is one of the few names that spring to mind when we think of traditional Hollywood. During the mid-1960s, he became well-known for his appearance in the film "Man with No Name."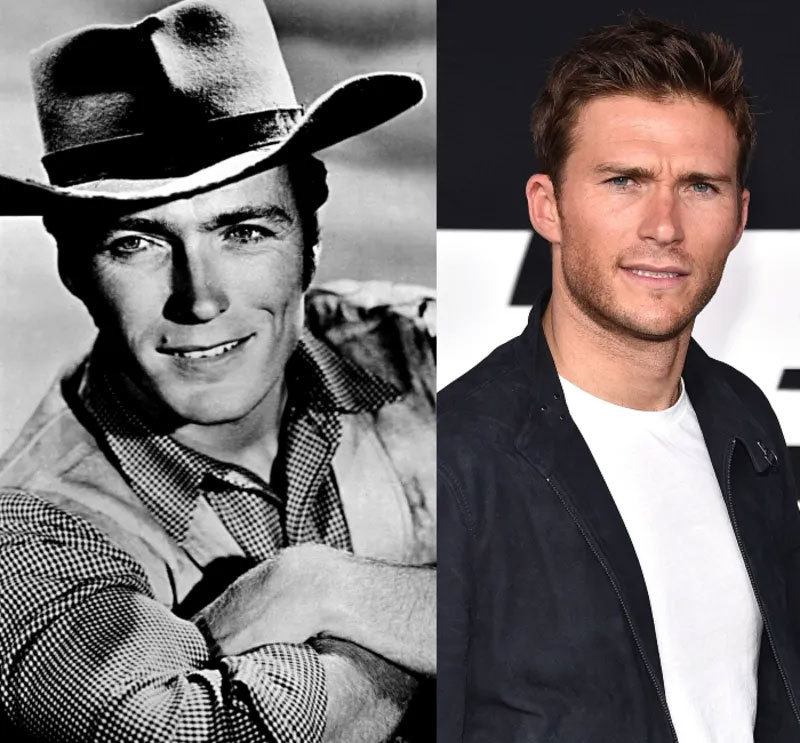 Scott, his eerily similar son, followed in his famous father's footsteps and pursued a career as an actor. He was cast in 2015's "The Longest Ride" and 2016's "Suicide Squad" by the time he was 28. Scott, unlike his brothers, auditioned using his mother's maiden name, Reeves. Along the way, he started several side businesses.
John Lennon and Sean Lennon
Age: 40 Of course, John Lennon's son would have a name that rhymed with his own. Sean Lennon, the son of the Beatles legend who was slain in 1980 at the age of 40, has kept his father's name and reputation. Sean's first recorded performance was a squeaky rap on a Yoko Ono tribute album, Every Man Has a Woman, in 1984, when he was 9 years old.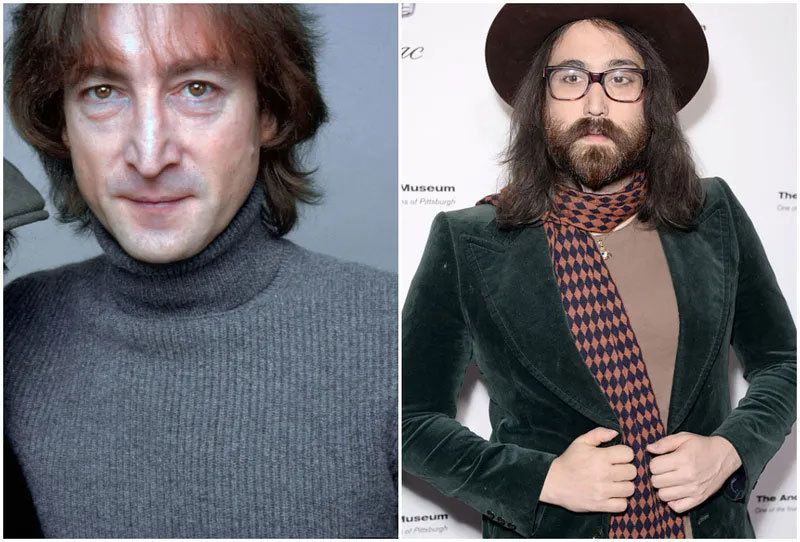 Sean Lennon is a guitarist, composer, and musician. He was born on his father's 35th birthday, which suggests that the universe knew he would carry on his father's legacy long after he died. But Sean understands he will always be remembered as the son of a Beatle by many. And he isn't shy about the benefits that come with it.
Daniel Day-Lewis and Gabriel-Kane Day-Lewis
Age: Mid-20s Daniel Day-Lewis is widely regarded as one of the best and most enigmatic performers of all time. One of the finest method actors of our time, he has earned three Academy Awards for his performances. You'd think that being a wonderful performer, his offspring would be able to fill his shoes, wouldn't you? Yes, we did as well.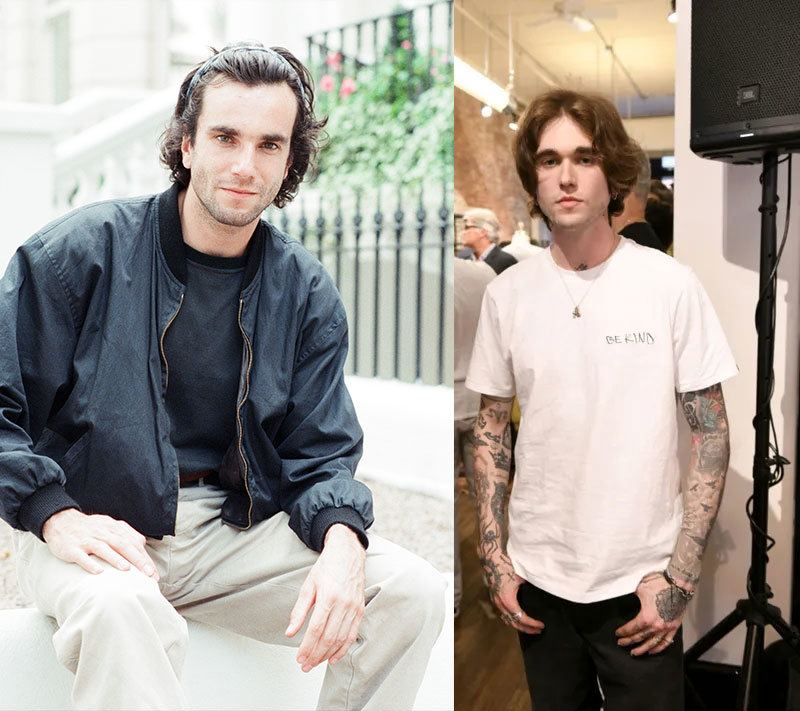 Gabriel Kane Day-Lewis, on the other hand, has chosen to detach himself from his father and has discovered a passion for music. He is presently pursuing a career as a musician in New York City. Gabriel-Kane Day-Lewis is clever, compassionate, deeply tattooed, and addicted to his craft, just like his Oscar-winning father. As the fashion and music sectors are discovering, he wears his soulfulness well.
Denzel Washington and John David Washington
Age: 35 It's unlikely that telling folks your father's name is Mr. Washington will raise an eyebrow. But if you go by his first name, Denzel, that's a different story. For John David Washington, one of the famous actor Denzel Washington's children, this is the truth. Denzel had been working in the film industry for almost 10 years by the time he was 35.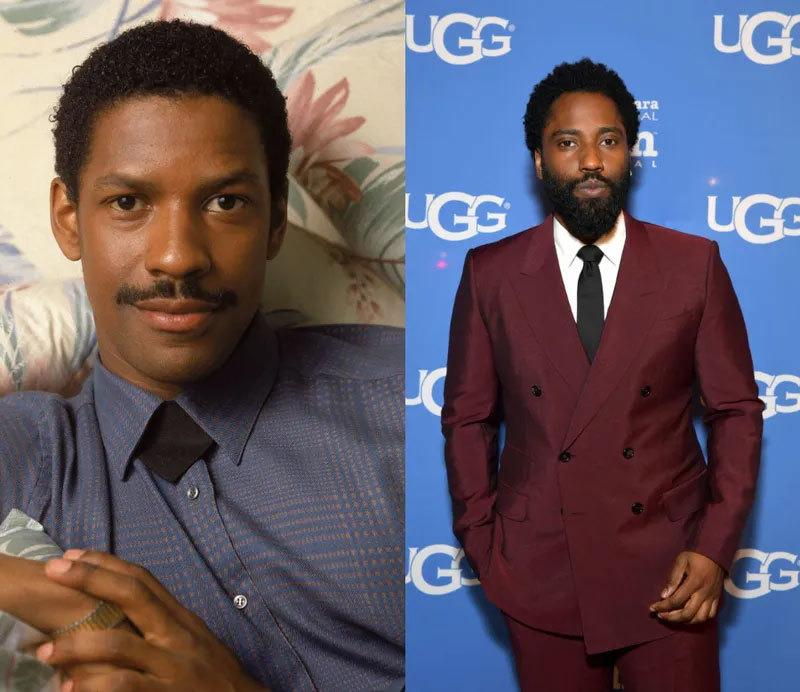 John David Washington, Denzel's son, has opted to follow in his father's footsteps into Hollywood, paving the way with spectacular performances. Among his most notable works are "BlacKkKlansman," "The Book of Eli," and the popular television sitcom "Ballers." Keep an eye out for John David Washington; trust us when we say he'll be huge!
Marlon Brando and Tuki Brando
Age: Mid-20s You can tell who Tuki Brando's family is just by looking at his jawline. Though he is not an actor, the Godfather's grandson works as a model for companies such as Versace, carrying on the renowned actor's tradition of magnificent looks. Marlon is also the estranged father of the late French Polynesian model Cheyenne Brando.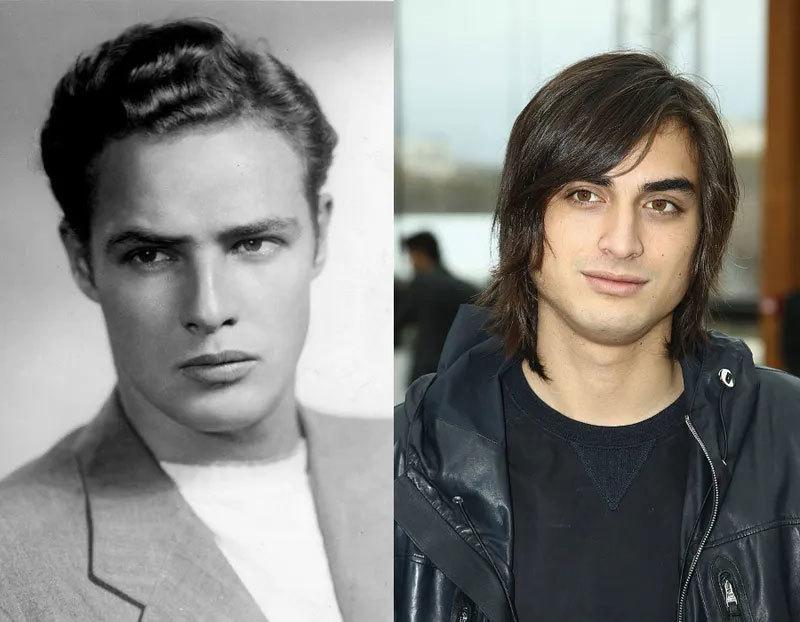 Tuki not only lurked in the shadows of his renowned relatives, but he also pursued a career as a model. Bruce Weber's All-American Series was shot with Tuki's grandmother in 2006. This signified the start of a new chapter in his life, one that was far removed from the tragic events of his childhood. Later, Weber photographed Tuki for the February issue of L'Uomo Vogue in 2007.
Rance Howard and Ron Howard
Age: 22 Ron Howard rose to prominence in Hollywood after starring in "Happy Days." In recent years, directing has been a stronger suit of his. His father worked in the industry as well. Rance Howard was an actor who starred in more than 100 films from the mid-1950s to his death in 2017. By the age of 22, father and son had each established prosperous profession.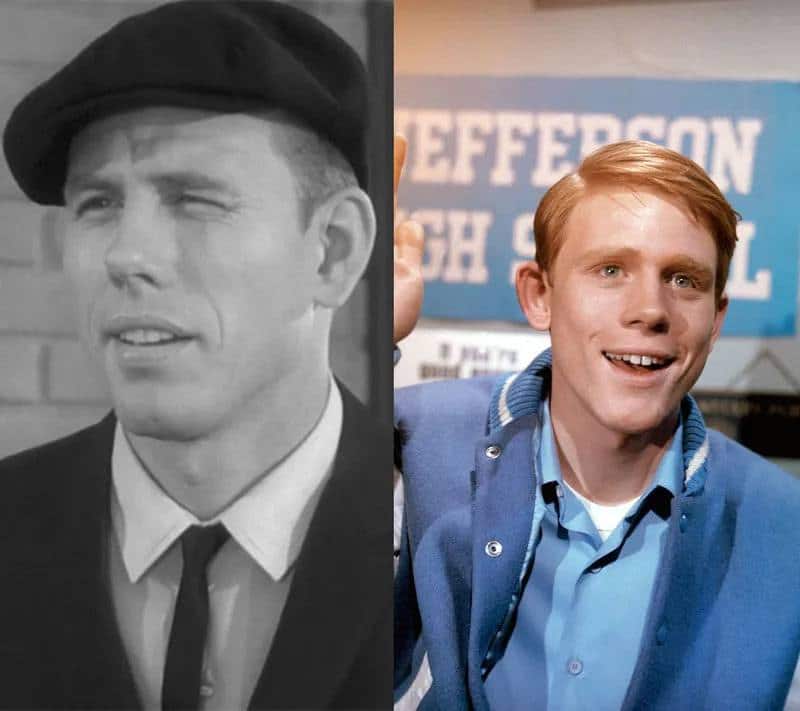 Ron Howard has refused to be boxed in, and his determination to push boundaries and attempt new things has resulted in a successful acting and directing career. He started his start as a young actor when he earned his first role in the film "The Journey".
Ryan Phillippe and Deacon Phillippe
Age: 16 Permit us to admire Ryan Phillippe and his son, Deacon. In the history of father-son look-alikes, we don't believe we've ever seen a father and son who appear so similar. Ryan got his start in the profession as a youngster on "One Life to Live." He married Reese Witherspoon, his "Cruel Intentions" co-star, and the pair had two children before divorcing.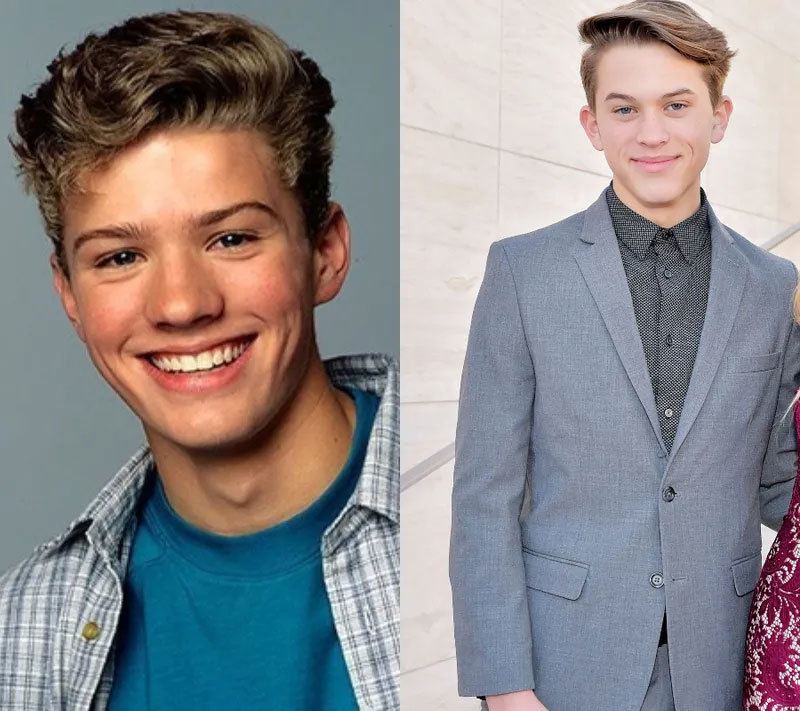 Thanks to his wealthy parents, Ryan Phillippe and Reese Witherspoon's son lives a luxurious lifestyle. Aside from that, people have been wondering whether Deacon is following in his parents' footsteps. He certainly has the looks!
Kirk Douglas and Michael Douglas
Age: 30 Kirk and Michael Douglas had outstanding acting careers and are considered two of Hollywood's greatest. When Kirk was 30, he landed his first role, in the film, "The Strange Love of Martha Ivers," and kickstarted his career into what it is today. When his son, Michael, was the same age, he was busy starring in the show, "The Streets of San Francisco."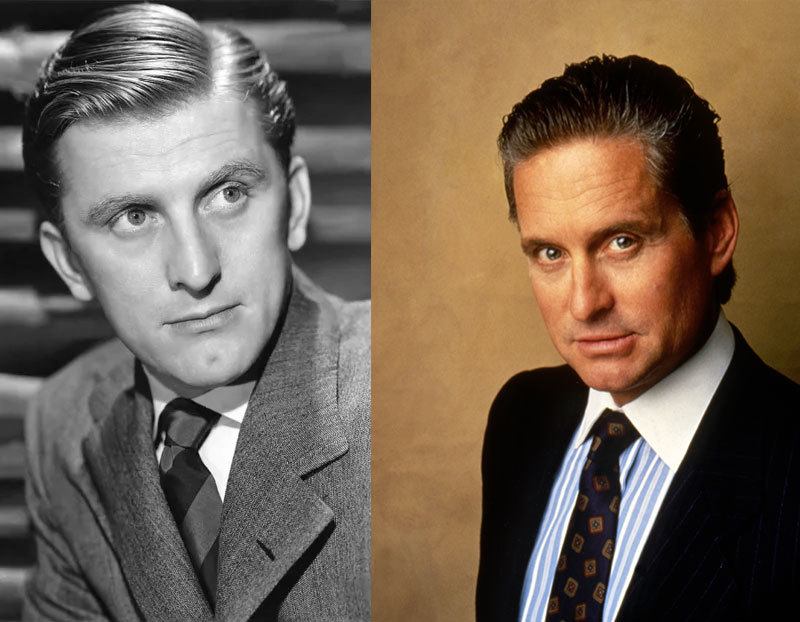 Though the two actors were popular in different generations, it's safe to say that they're on the same level of greatness in Tinseltown. Michael is one of Hollywood's most recognizable stars. Like a lot of long-running actors, he has a type of character he's best known for: morally ambiguous and cutthroat. Of course, he has a greater range than people sometimes give him credit for.
Donald Sutherland and Kiefer Sutherland
Age: 52 Donald Sutherland rose to prominence in television dramas such as "Dirty Dozen" and "M.A.S.H.," but his film appearances in "Ordinary People" and "1900" cemented his place in the business. Kiefer, his son (and twin), shot to popularity in the 1980s after starring in the film "The Lost Boys." For his main role as Jack Bauer in the Fox drama series "24," Keifer earned an Emmy, two Golden Globes, and two Screen Actors Guild Awards.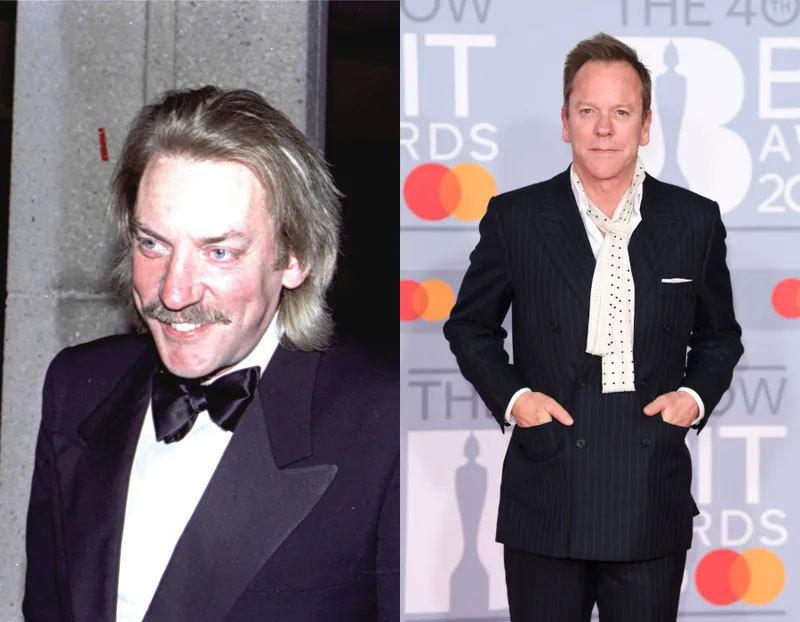 For more than 30 years, Kiefer has been one of the most dramatic, moody, and gravelly-voiced performers in the entertainment world. He's also a dependable and adaptable performer, constantly giving his all and even altering his appearance to blend into his roles.
Dennis Quaid and Jack Quaid
Age: 27 Dennis Quaid and Meg Ryan were married once upon a time, and while their marriage collapsed, one nice thing came out of it: their son, Jack. Even though Dennis' most significant performances came later in life, by the age of 27, he had a rather remarkable resume. Children of Hollywood's nobility have a reputation for being aloof and privileged, but that may not be the case with Jack.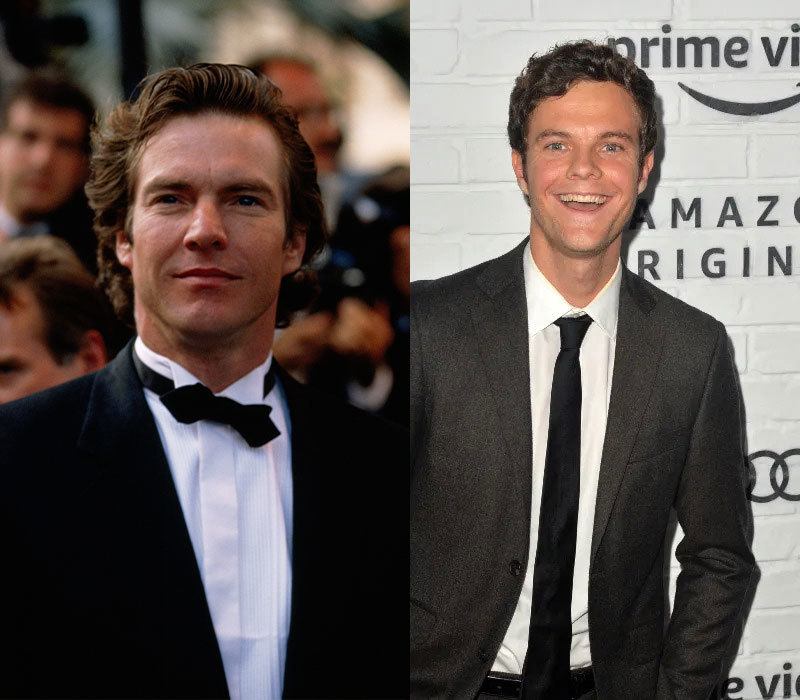 Jack was their first and only child together (they both had older children), making him the only heir to their inheritance. Now fast forward to the present, and the younger Quaid is crushing it in his chosen field. Jack chose to try his hand at acting: He has acted in films such as "The Hunger Games," and was most recently a star in the critically acclaimed show "The Boys."
John Ritter and Jason Ritter
Age: 29 On television, at least two generations grew up watching John Ritter act, talk wittily, and take some incredible pratfalls. John didn't just pass on his million-watt smile to his son, Jason. Papa Ritter is most remembered for his role in the 1970s comedy "Three's Company," which he began when he was just 28 years old.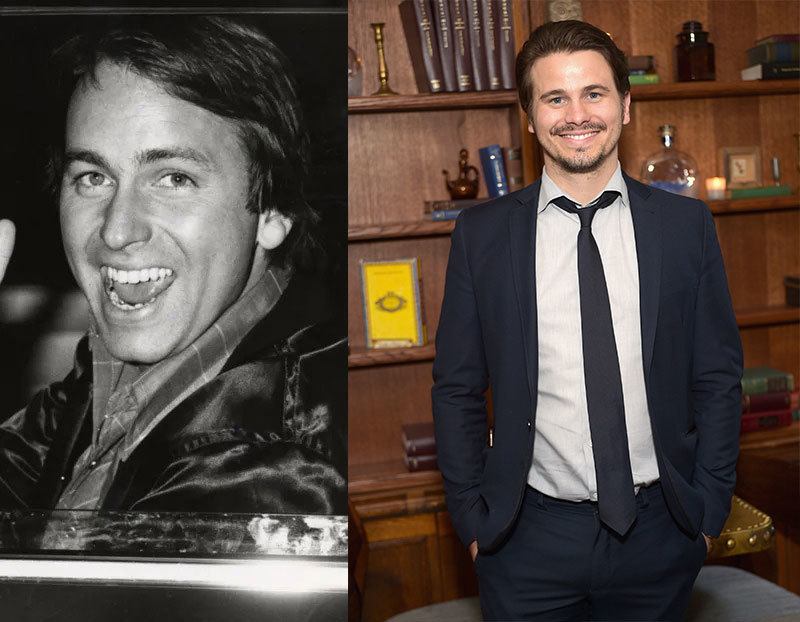 Jason, his son, followed in his father's footsteps and, by his late twenties, had been in several television series and films. Fans throughout the world mourned John's untimely death in 2003, but luckily for us, we can go to Jason anytime we miss the late actor! Jason is most recognized for his appearances as Kevin Girardi in "Joan of Arcadia," Ethan Haas in "The Class," and Sean Walker in "The Class."
Robert Downey Jr. and Indio Falconer Downey
Age: 26 Robert Downey Jr. is unquestionably one of Hollywood's most popular actors. With a phenomenal five-decade career, the actor's innate talent and magnetism have cemented his position. Other than the beard and long hair, Robert Downey Jr.'s oldest kid virtually looks like his father's sibling.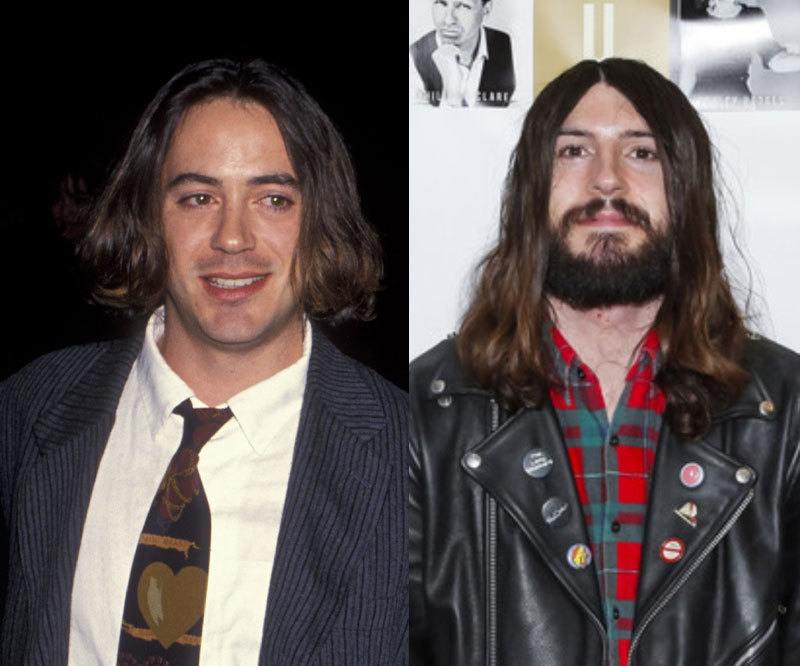 Indio Falconer Downey has been in the spotlight since he was a child. He is a musician, drummer, and actor, and the co-founder of the rock band The Dose. Indio, like his father, wanted to pursue a career in the entertainment industry. Indio made his acting debut in his father's film "Kiss Kiss Bang Bang" in 2005.
Jackie Chan and Jaycee Chan
Age: 30 The guy recognized across the globe as actor/director/death-and-logic-defying stuntman Chan Kong-sang was born in 1954. Jackie Chan is one of the most well-known actors in the world, and he was the first to fully bridge the gap between Hong Kong action films and big-budget Hollywood blockbusters.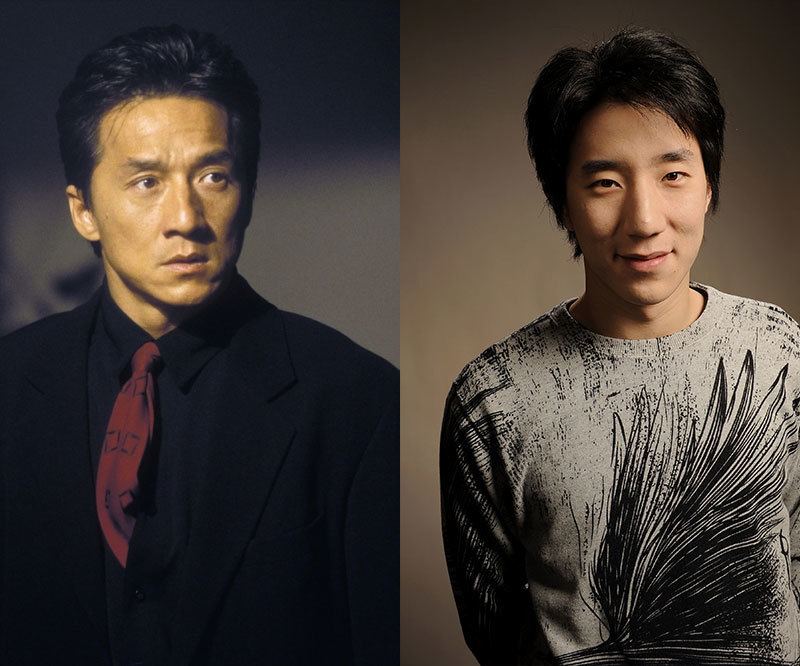 In 2003, Chan's son, Jaycee, dropped out of school and relocated to Hong Kong to pursue his profession. Jaycee began his music career in Hong Kong, where he published his debut Mandarin CD album, before moving to Taiwan to continue his career. Before breaking into the Western market, Jaycee established himself in Asia and became a successful artist, much like his father.
Gary Busey and Jake Busey
Age: 47 Gary Busey had a fantastic career in the 1970s and 1980s, especially after his portrayal in "The Buddy Holly Story" earned him critical praise. After a knee injury ruined his aspirations to pursue a career in sports, Busey began studying theater. In 1971, he made his cinematic debut in "Angels Hard as They Come", followed by "The Buddy Holly Story" in 1978. He went on to star in several action pictures, but his personal life was turbulent.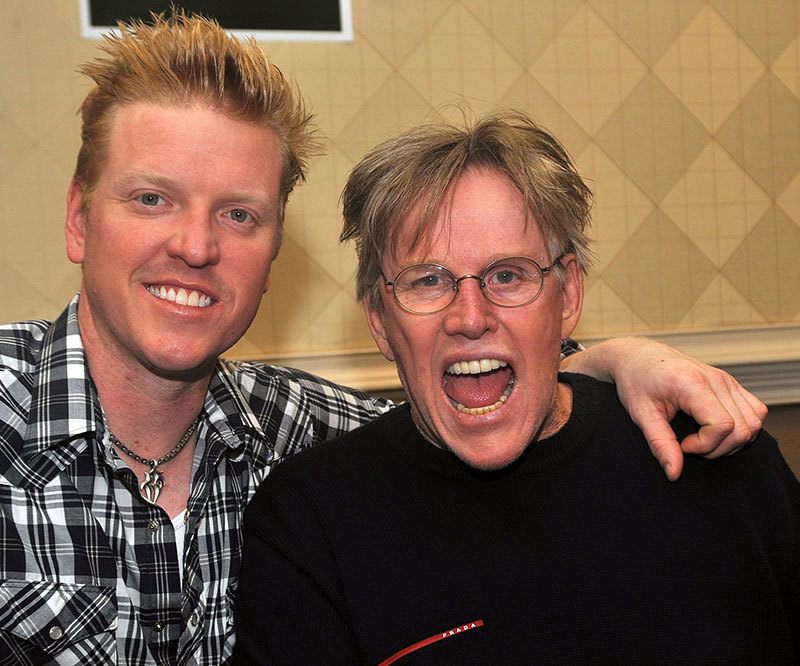 Jake Busey, his son, has continued in his father's footsteps, starring in films such as "Starship Troopers," "Identity," and, most recently, the Netflix series "Stranger Things." Jake made his cinematic debut at the age of 7, playing Henry Darin in the crime thriller film "Straight Time," which was released in 1978.
Will Smith and Trey Smith
Age: 23 Will Smith is one of the world's most well-known and well-liked actors, if not public personalities and celebrities. What's astonishing about Smith's dominance of popular films is that he's been one of Hollywood's top stars for more than 25 years, and he did it on a route no one else has taken.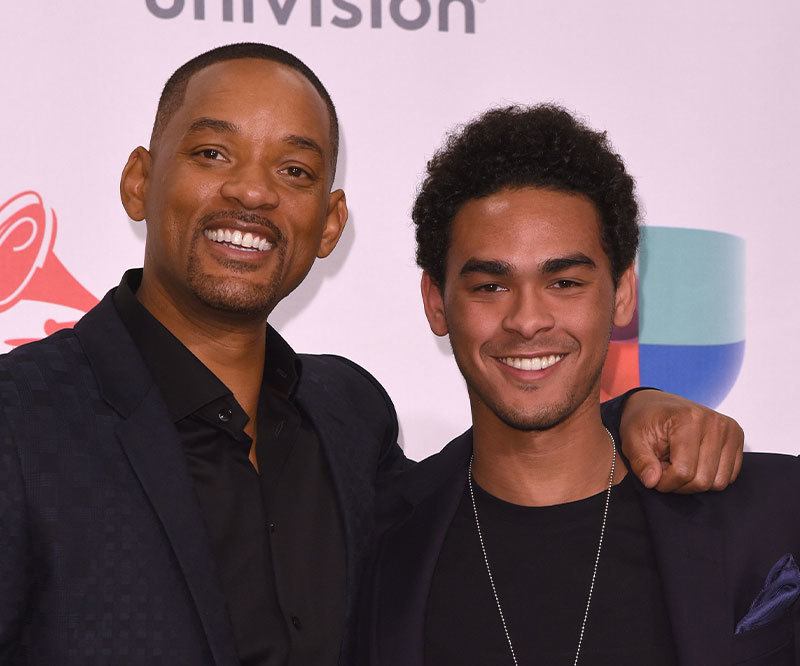 Trey Smith is best known as Will Smith's quieter son, and also his eldest. Trey inherited his father's outrageous good looks and amazing grin. We haven't seen much of Trey yet; he's only featured in a few minor parts, but we can't help but wonder if he'll share his father's insatiable intensity.
Michael J. Fox and Sam Michael Fox
Age: 24 Seeing Michael J. Fox with his son, Sam, gives us hope that a "Back to the Future" revival will happen someday! Despite a little height difference, Sam is following in his father's footsteps and looks just like him. Michael was one of the greatest stars of the 1980s, with a lucrative career as an affable boy-next-door figure thanks to his perfect comedic timing and clean-cut good looks.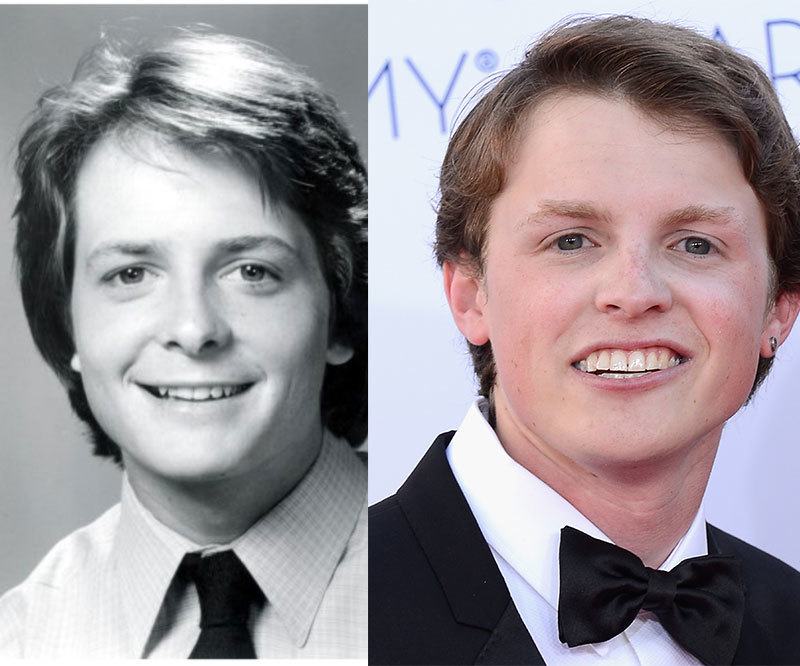 Sam dabbled in acting when he was younger, making a brief appearance on his father's sitcom, "Spin City". He most recently produced "Good Grief," a short film featuring his mother. Sam now works as a coordinator for the film business 72 Street Productions, although he's dabbled in a variety of other fields.
Alan Arkin and Adam Arkin
Age: 42 During the 1950s Red Scare, Alan Arkin, an artist and writer who worked as a teacher, was fired simply for refusing to answer queries about his political membership. Alan was a gifted performer who could readily switch from comedy to drama.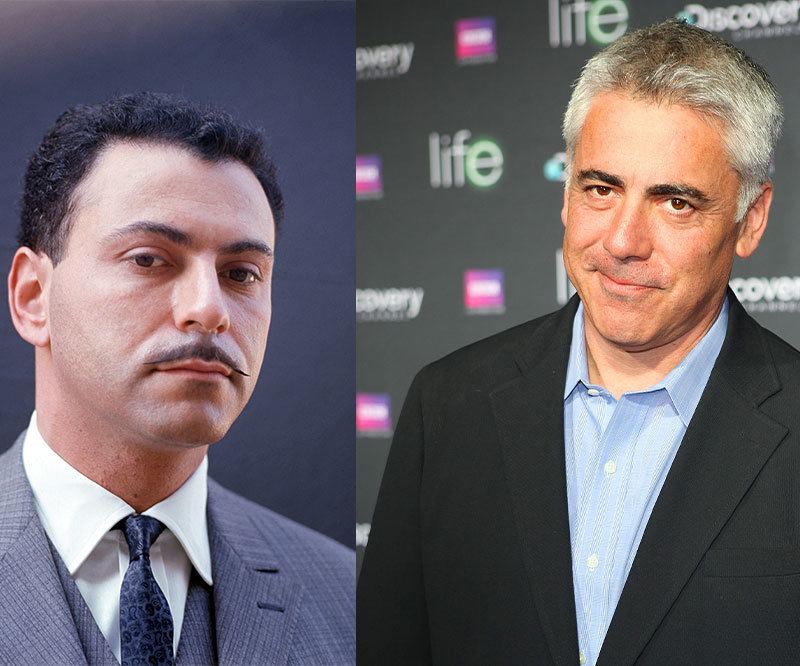 Alan's son Adam, like many other actors, began his career as a child actor and rose to stardom in the werewolf comedy "Full Moon High." Adam was most famous for his roles on "The West Wing," "Sons of Anarchy," and "Masters of Sex." Adam was nominated for an Emmy for his recurring performance on "Northern Exposure" as the barefoot, potentially wild chef Adam.
David Beckham and Romeo Beckham
Age: Early 20s David became the most famous and sought-after British athlete of his day thanks to his chiseled jaw and sports savvy. In 2020, Romeo Beckham, David's middle son, celebrated his 18th birthday with his family. David was only starting his soccer career in Manchester United's youth squad at the time.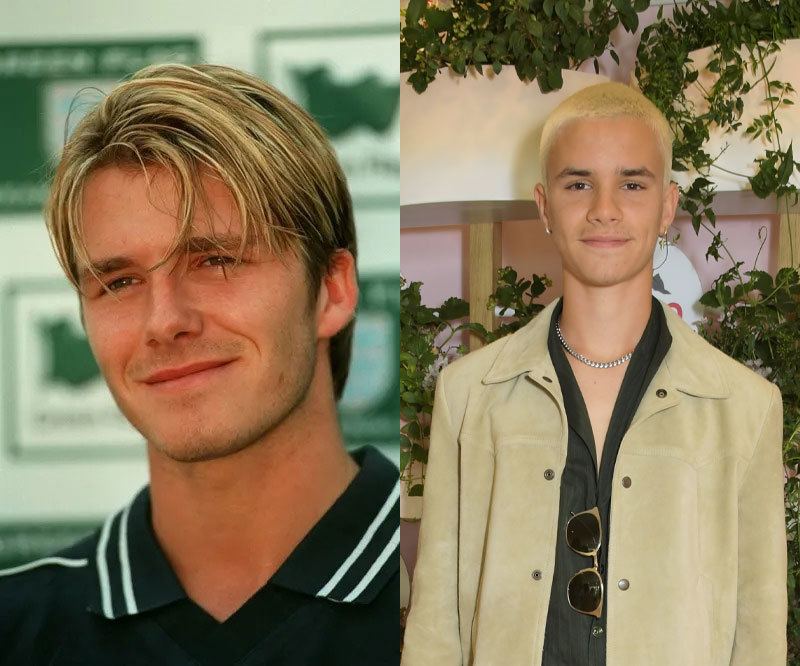 Romeo is now a British model, Instagram star, and social media celebrity who has appeared in several magazines, including "British Vogue," "Vogue Me China," "Burberry Holiday," and others. He has appeared on several television shows, including "Wimbledon," "Wimbledon 2day," "Victoria Beckham: Coming to America," and others.
Carl Reiner and Rob Reiner
Age: 52 Rob Reiner, the famous comedian, actor, and filmmaker grew up in the shadow of his father, Carl Reiner, and went on to become one of Hollywood's most successful directors. But his role as Michael "Meathead" Stivic on the sitcom "All in the Family" sealed his position in television history.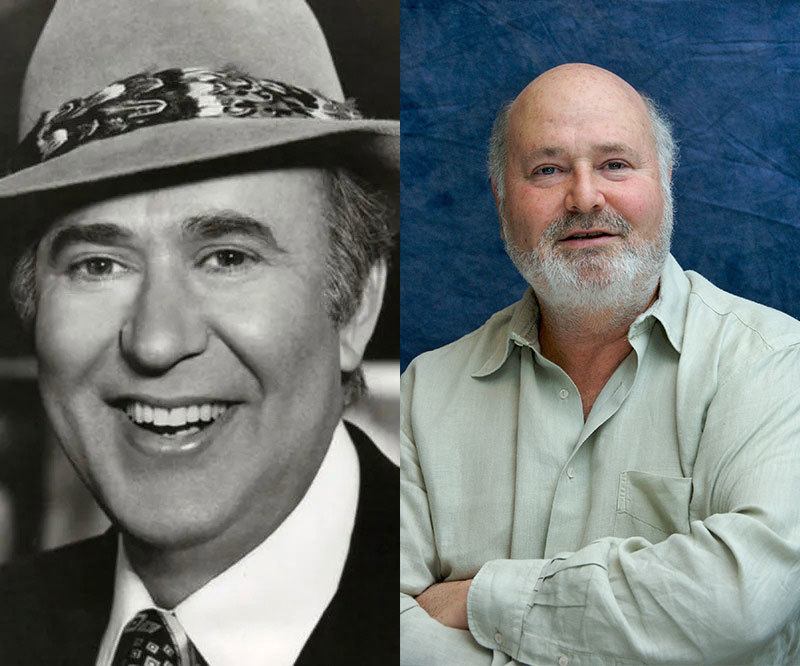 Reiner was the eldest of two sons who worked in the entertainment industry. Carl Reiner, the creator of The Dick Van Dyke Show (1961–66), was his father, and Estelle Reiner, an actress and jazz singer, was his mother. "Hey, Landlord", "The Andy Griffith Show", and "The Beverly Hillbillies" were among Rob's first television appearances. His first movie appearance was in his father's directorial debut, "Enter Laughing," in 1967.
James Marsden and Jack Marsden
Age: in their early 20s James Marsden is an actor, singer, and model from the United States. Marsden originally intended to be a broadcast journalist and had even enrolled in a program, but he changed his mind and focused all of his efforts on being an actor. A handsome leading man, Marsden burst onto the scene in the late 1990s as a young actor who wowed critics and audiences with a succession of humorous performances a decade later.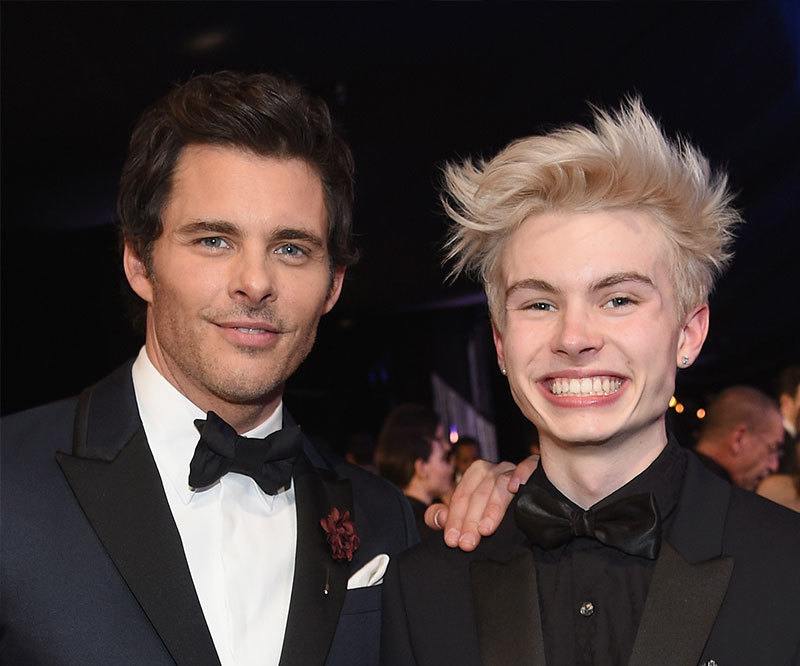 His oldest son, Jack, followed his father into the entertainment world as a great musician and model, in addition to their extremely similar appearances. In 2016, Jack began starring in the Netflix series "Chasing Cameron".
Humphrey Bogart and Stephen Bogart
Age: 43 Humphrey Bogart was the epitome of the term "film icon," and he and his wife, Lauren Bacall, enjoyed one of Hollywood's most famous love tales. During the 1940s and 1950s, he was a top box-office draw and became a prominent motion picture "tough man." He conveyed the picture of a worldly-wise, independent explorer with a touch of idealism concealed under a toughened exterior in his performances.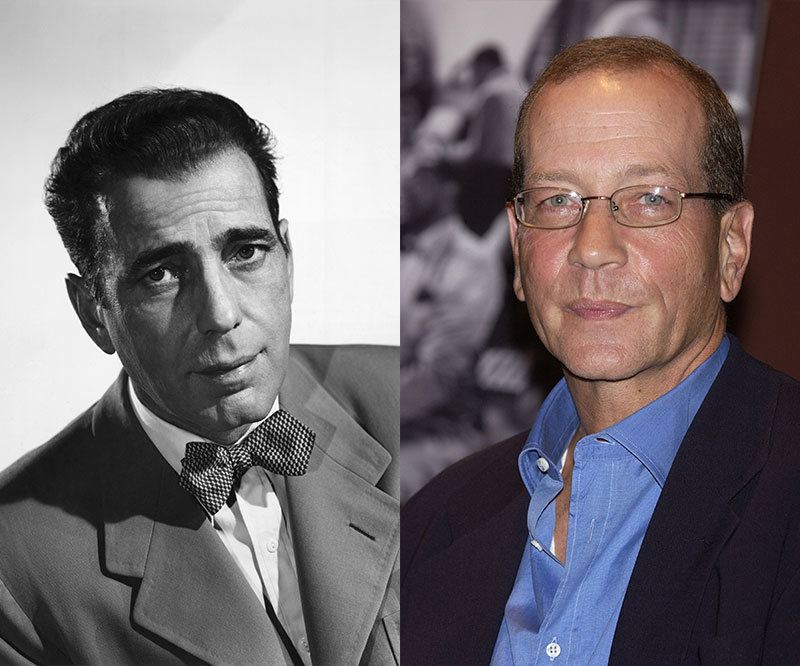 The couple produced two children during their marriage, including a boy, Stephen, who looks a lot like his father. Stephen, a former producer at Tampa's WFLA-Ch. 8, has little knowledge of his father. He was 8 years old when his father died 40 years ago, and he admits that he has been spending a lot of time thinking about trying to extract himself from Humphrey's long shadow.
Julio Iglesias and Enrique Iglesias
Age: 38 Julio Iglesias, a Spanish singer, is larger than life. The musician has had various singles throughout his career, including "Starry Night," "Non Stop," "Calor," "Crazy," and "To All The Girls I've Loved Before." To say the least, Iglesias' life has been eventful. Many fans might be unaware, though, that the singer's journey has been rather unorthodox.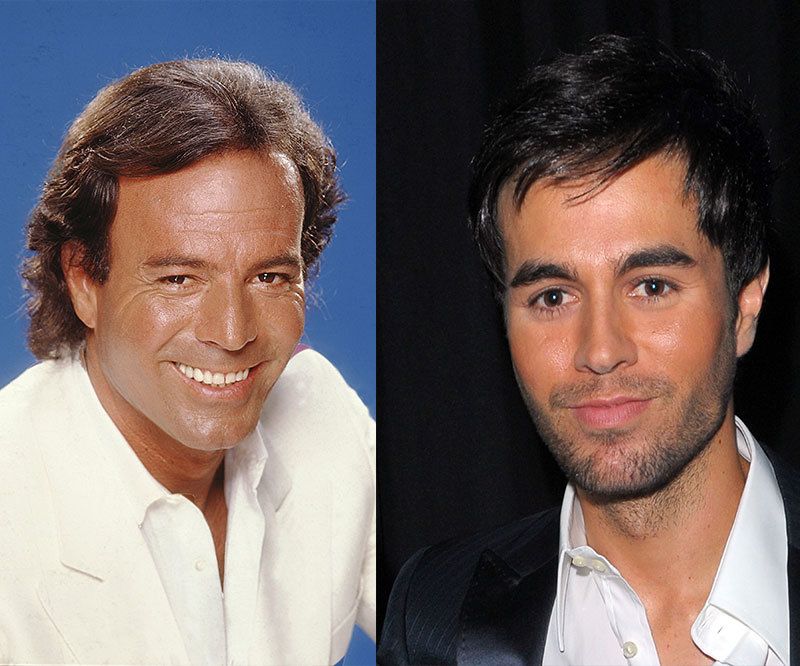 Enrique Iglesias, Julio's son, finally exceeded his father's fame with a multilingual body of work that relied on his Spanish background while also embracing current pop trends. Enrique's desire to take on everything guaranteed that he would remain a Billboard chart regular.
Nick Clooney & George Clooney
Age: 41 Actor George Clooney came into popularity with his depiction of charming but troubled physician Doug Ross on the critically acclaimed medical drama "ER," after years of toiling on the small screen, largely in forgettable roles. Nick Clooney, his father, was a television personality and journalist who worked in the 1960s. George exudes an alluring charisma that is difficult to define and much more difficult to discover. He's also done a good job of advancing his profession.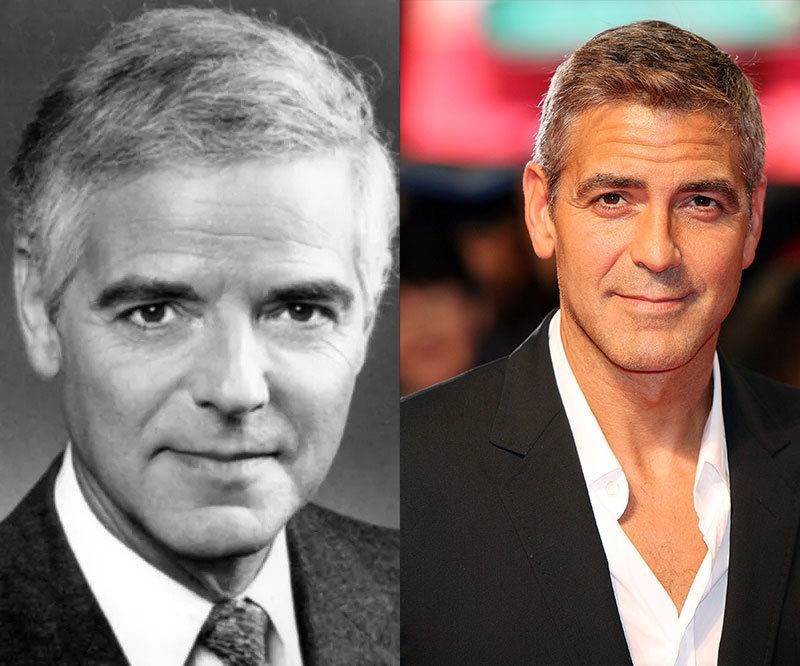 Although he began his career on television, George left a sure thing on "ER" to take a chance on the big screen. It paid off, and he now has an Academy Award to show for it. There might be a reason why George has managed his career so well: He had a fantastic role model throughout his life as Nick also made a successful career for himself.
Robert Pine and Chris Pine
Age: 36 Chris Pine inherited his movie-star looks from his father, Robert Pine, the star of "CHiPs," though he might be unfamiliar to younger generations. Chris, Robert's only son, was born in Los Angeles, California, on Aug. 26, 1980. Like his father, Chris is an actor who rose to international prominence when he played James T. Kirk in the highly popular "Star Trek" remake.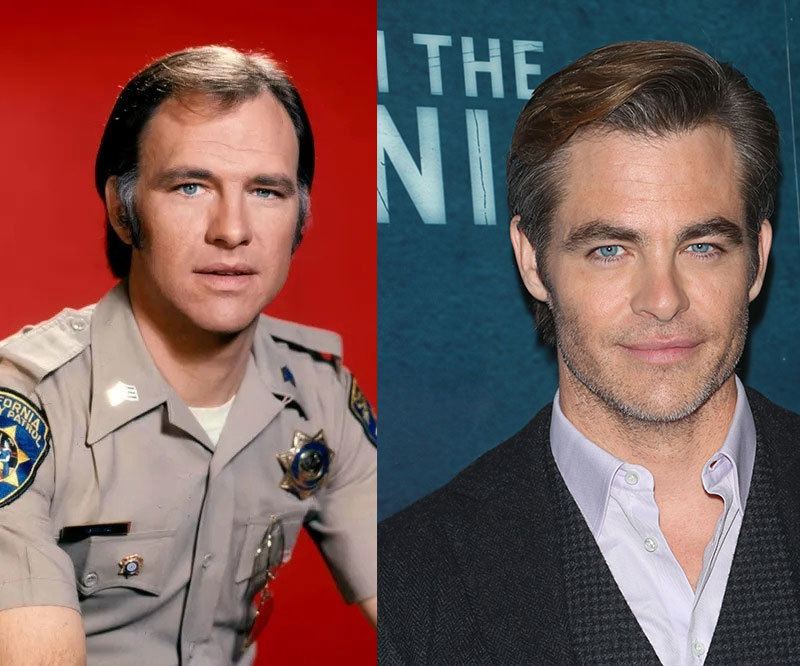 From 2009 to 2016, Chris played Captain Kirk, Steve Trevor in "Wonder Woman," and starred in the critically acclaimed independent thriller "Hell Or High Water," solidifying his reputation as one of the most captivating performers of his generation.
Ethan Hawke and Levon Thurman-Hawke
Age: 19 Despite his star-making potential in films such as "Dead Poets Society" and "Reality Bites," Ethan Hawke opted to be a Renaissance Man, acting in eccentric films, writing novels, directing independent films, and even founding his own theatrical company. In 2020, his son, Levon, will make his television debut in the fourth season of "Stranger Things."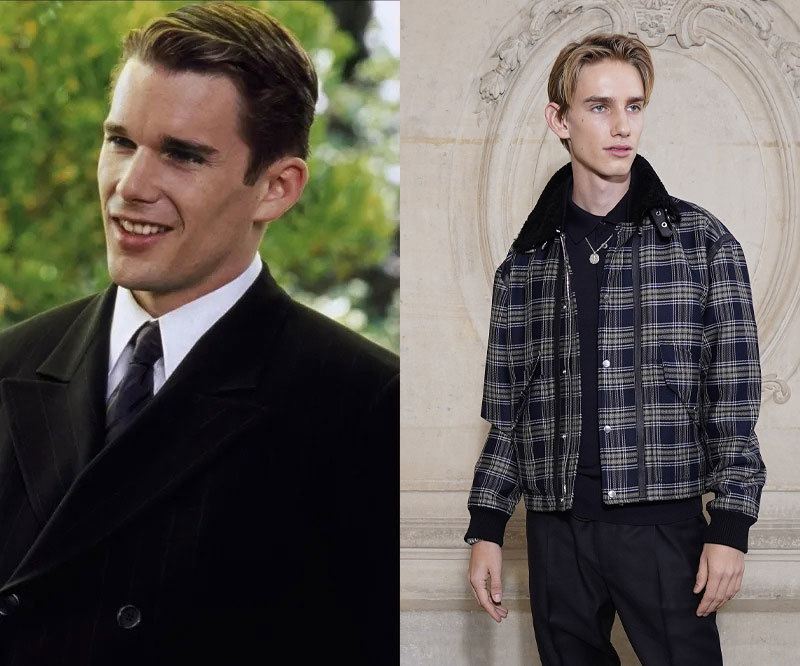 Levon is an actor and social media celebrity from the United States. He is the younger brother of Maya Hawke, who plays Robin Buckley in the third and fourth seasons of "Stranger Things" and is a newcomer to acting. Levon likes to keep his daily agenda uncomplicated. It's unknown if he's single or married due to a lack of transparency about his personal life.
Gregory Peck and Stephen Peck
Age: 46 Gregory Peck played Atticus Finch in "To Kill a Mockingbird," a part that became inextricably linked to his career and garnered him an Academy Award for Best Actor while inspiring generations of viewers. Despite having his father's jawline, Stephen Peck did not pursue a career in show business. Instead, he became the president and CEO of the non-profit organization, U.S. Vets.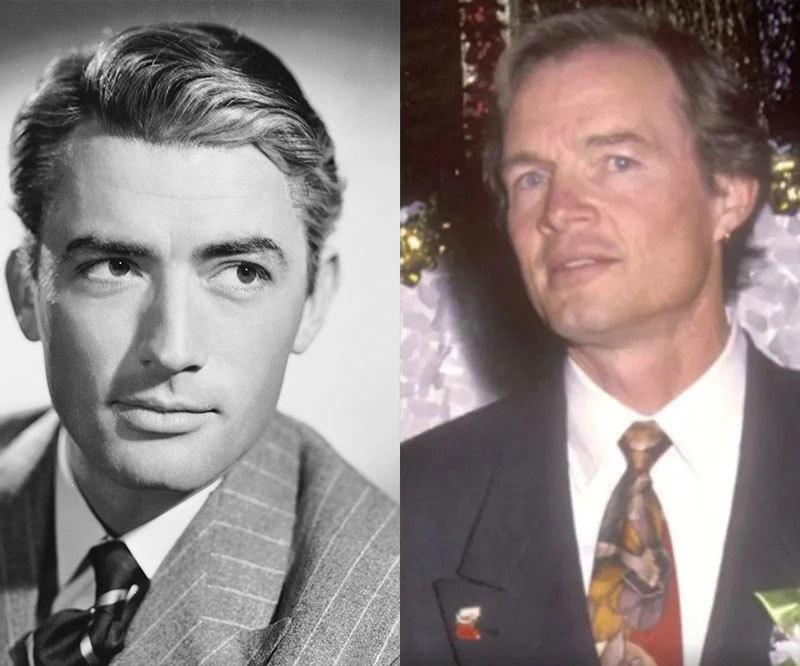 The son of the Oscar winner formerly lived the Hollywood dream and worked in the film industry. He leads U.S. Vets, the nation's biggest non-profit provider of comprehensive assistance for at-risk and homeless veterans and families. Stephen served in the Marines during the Vietnam War.
Bruce Springsteen and Evan Springsteen
Age: 24 Bruce Springsteen, one of rock 'n' roll's most famous figures, developed songs known for their emotionally touching depictions of ordinary people struggling in America. Bruce and his wife, Patti Scialfa, are the parents of three children in addition to being the writers of some of the most memorable songs of all time. These outstanding children have carved out successful lives for themselves.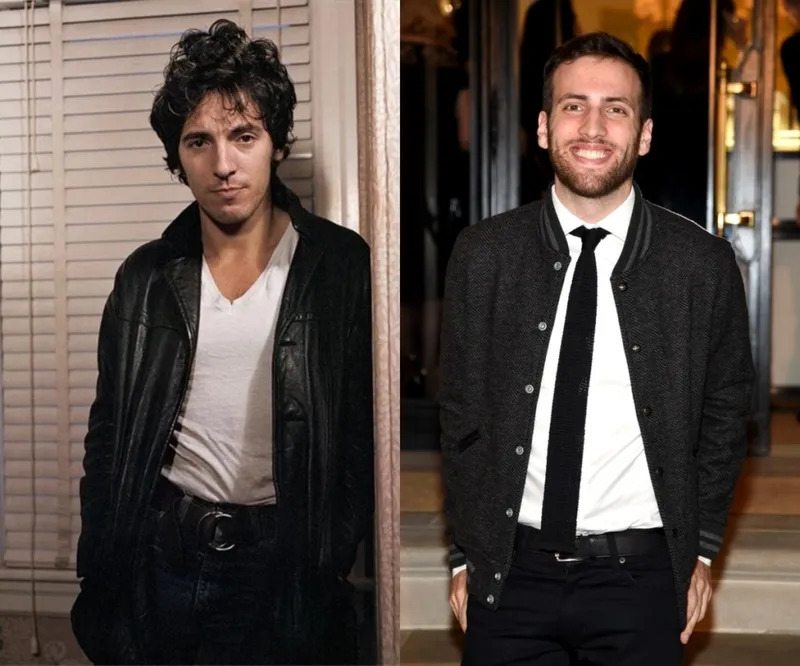 Bruce's oldest son, Evan, followed in his father's footsteps and became a musician as well. In 2008, Bruce's fellow guitarist's children even joined him on stage. Evan is the only one of the three who has followed in his father's footsteps. Has he, however, been able to leave a legacy comparable to his father's?
Bob Dylan and Jakob Dylan
Age: 33 Although Bob Dylan is well-known as the most influential figure in folk music over the past 50 years, many people are unaware that his son, Jakob Dylan, is also well-known. The Wallflowers' leader, Jakob Dylan, who was born into rock royalty, initially followed in his father's footsteps as the leader of the '90s alt-rock stalwarts before launching a successful solo career.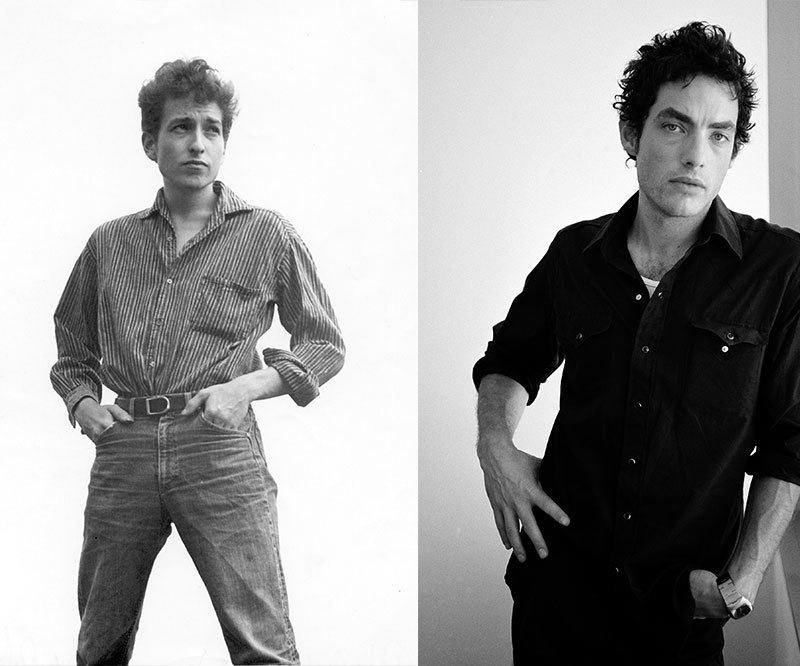 Jakob participated in several bands as a youngster, and his interest in music grew over time, with a particular fondness for American folk music and blues. Woody Guthrie, a folk singer, was one of his idols. He was also influenced by early Beat Generation authors, as well as modernist poets.
Christopher Reeve and Will Reeve
Age: Early 20s For years, Christopher Reeve had been the quintessential Superman. His son, Will, also appears to have inherited his father's good looks! Will lost his heroic father when he was just 11 years old, and his mother, Dana, two years later. He had a difficult time as a teenager, but he persevered and completed his education.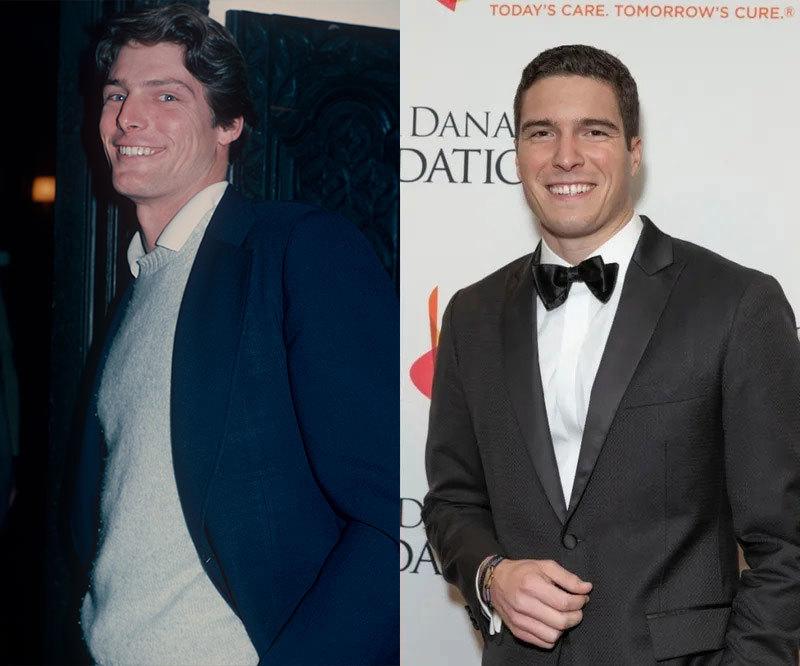 Will, Christopher's youngest child, has amassed quite an outstanding career in recent years. The son of Superman has spent most of his life out of the spotlight, enjoying a successful career in broadcasting for sources such as ESPN and ABC, rather than following in his renowned father's footsteps.
Stephen King and Joe Hill
Age: Stephen in his 50s; Joe is in his early 30s It's tempting to suggest that Stephen King is experiencing a rebirth, with many film and television adaptations in the works. But it's not like he's disappeared—the man has been terrifying us for over 40 years, and in the past decade alone, he's written nine novels and two short story collections. As we prepare for the onslaught of fantastic King-related material, it seems like a good moment to go a little more into the life of the trader of horrors.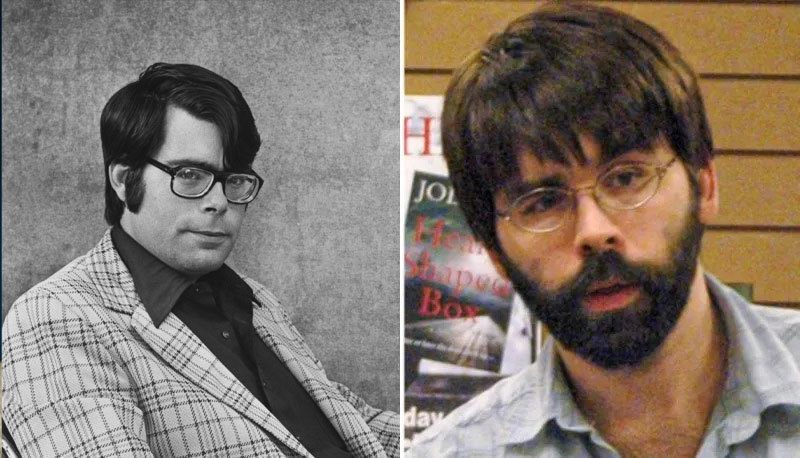 Under the alias Joe Hill, Stephen King's son creates novels. Joseph King is his true name. Joe Hill began writing horror stories while still in college. Later, he published many full-fledged books, and movie studios snapped up the rights to adapt them for the big screen. Hill's works are frequently included in "The New York Times" bestseller lists.
Gordon Ramsay and Jack Ramsay
Age: Gordon was in his early 30s; Jack is in his early 20s now It's all about the hair! Gordon Ramsay and his son, Jack, a celebrity chef, share an uncanny resemblance. It's clear that the fruit doesn't fall far from the tree, given their golden curls and passion for jogging. Gordon's family migrated from Scotland to England when he was a child, and he grew up in Stratford-upon-Avon.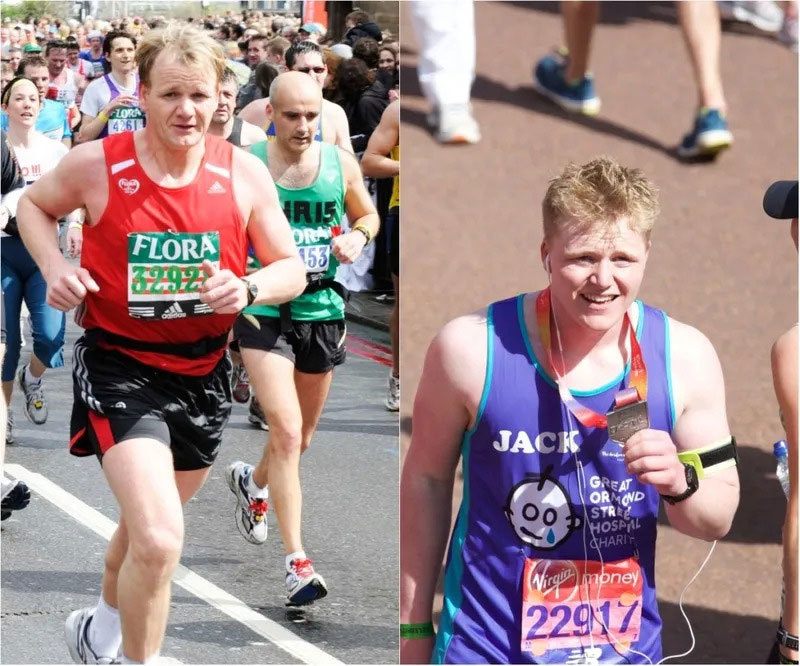 Even though his father is one of the world's most well-known chefs, Jack is said to wish to leave the family company and join the Royal Navy's elite squad. Jack was the general manager of a Philadelphia 76ers team without a coach in 1968. The previous one had quit due to a feud with Wilt Chamberlain, the team's main player.
Mark Consuelos and Michael Consuelos
Age: Early 20s Mark Consuelos is a well-known actor who has appeared in a variety of roles. Fans of soap operas may recognize the actor as Mateo Santos Sr. on the ABC series "All My Children", which he played from 1995 to 2010. Mark met his wife, Kelly Ripa, on the set.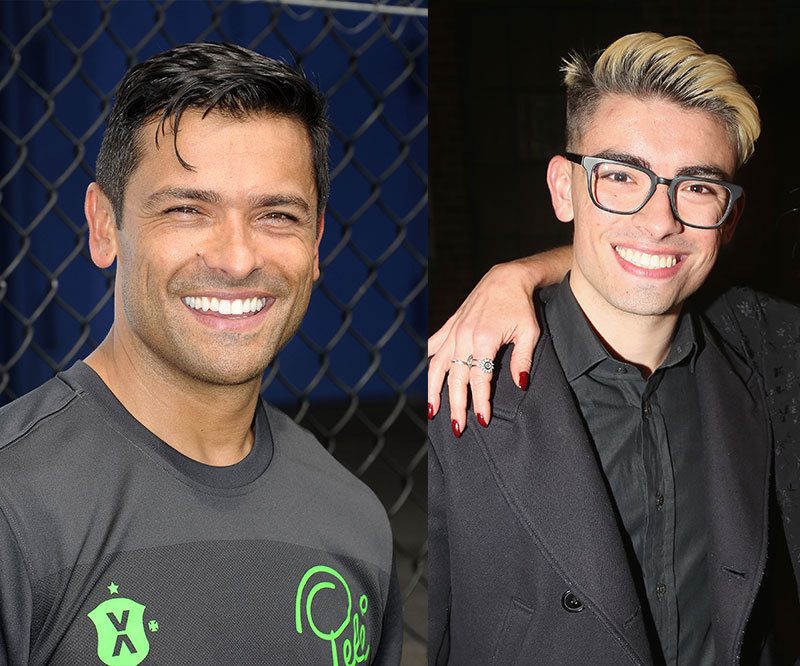 It's now his son's turn, more than two decades later. Braverdal is the stage name of Michael Joseph Consuelos. He also worked as a short-time comedian and as a supporting producer. Michael graduated from high school at 17 and enrolled at New York University in New York. He has appeared on many TV shows, including "The Goldbergs."
Jon Bon Jovi and Jesse Bongiovi
Age: Jon Bon Jovi is in his 40s; Jesse is in his 20s Jon Bon Jovi, the vocalist and principal composer for the rock band Bon Jovi, was the quintessential Jersey guy who made it big but never forgot his roots. His band ruled the 1980s because of its captivating stage presence and enormous hair. Although Jesse Bongiovi did not adopt his father's mullet, the two look very similar. Jesse decided to pursue his dream of being an entrepreneur and founded his own business.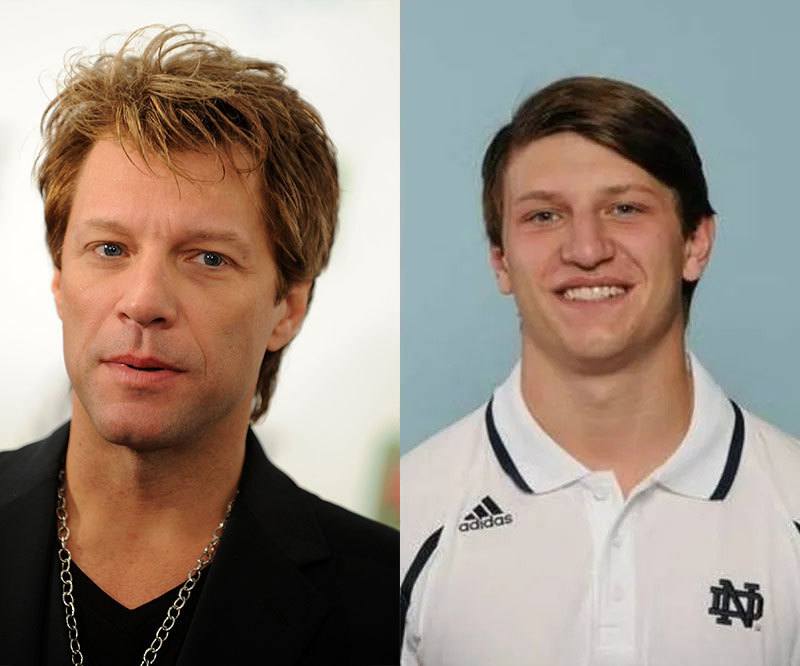 Romeo Jon Bongiovi is Jon Bon Jovi and wife Dorothea Hurley's youngest son. His parents had been together for decades and were high school sweethearts. Romeo has avoided the media because he is a celebrity child, although he does attend numerous events with his family.
Jon Voight and James Haven
Age: 36 It should go without saying that James Haven is Jon Voight's son; many people will remember him because of his sister, Angelina Jolie. Although he doesn't appear on screen very often, James has acted in films such as "Original Sin" and "CSI."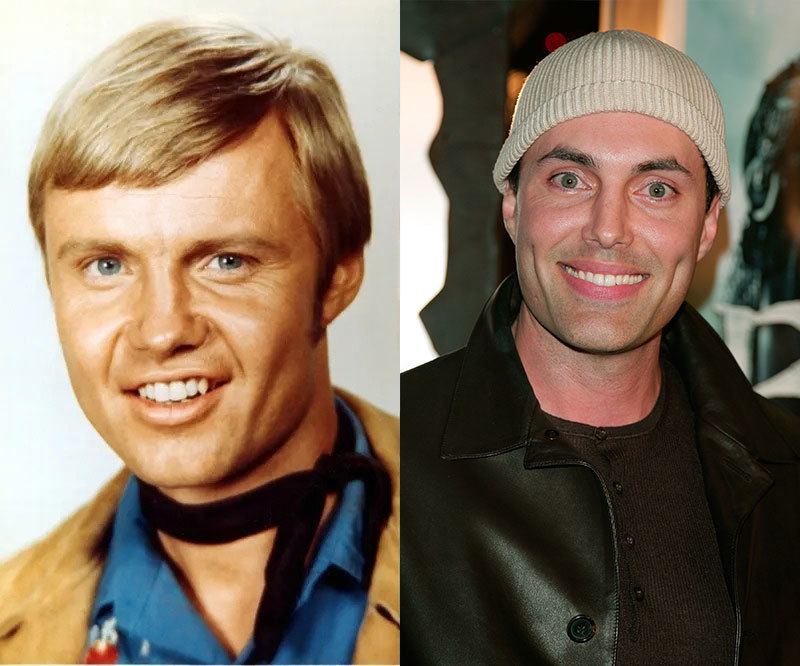 James Haven may not be as well-known as his sister, but he is no stranger to the entertainment industry. Keep reading to learn the top 10 fascinating facts about this great actress's brother. His identity is a matter of debate. Some individuals believe James Haven is a moniker rather than his given name.
George Harrison and Dhani Harrison
Age: 20s We prefer to think of the Beatles as one of the most renowned rock bands of all time, yet each member of the group had a unique identity while they were performing. The cute one was Paul, the smart one was John, the funny one was Ringo, and the quiet one was George. Dhani Harrison, George's only child, worked on his father's musical legacy before going on to become a musician in his own right.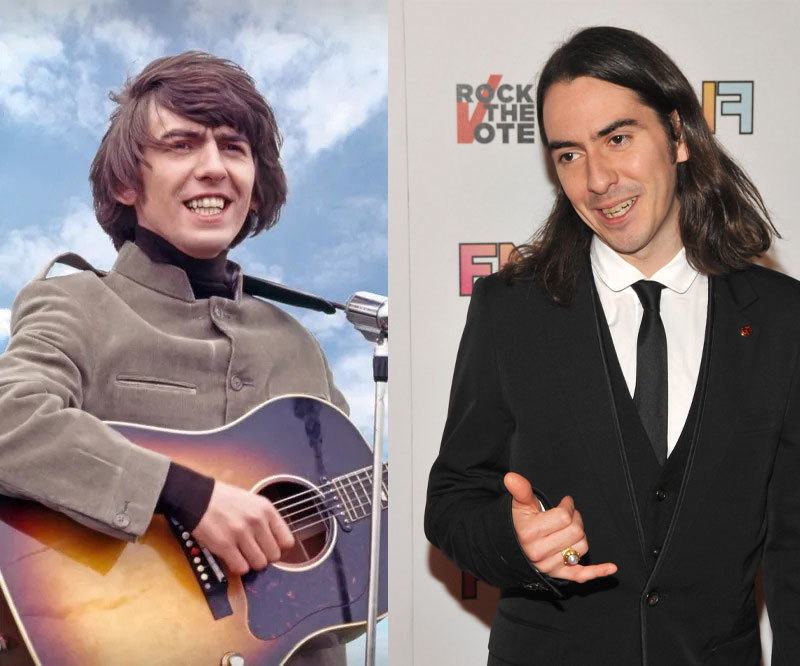 Dhani and drummer Oliver Hecks formed The New No. 2, which blends Beatlesque vocals with current loops. Dhani's solo debut combined trance-hop elements with evident Beatles influences to convey Dhani's version of psychedelia.