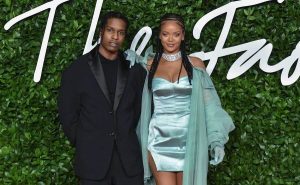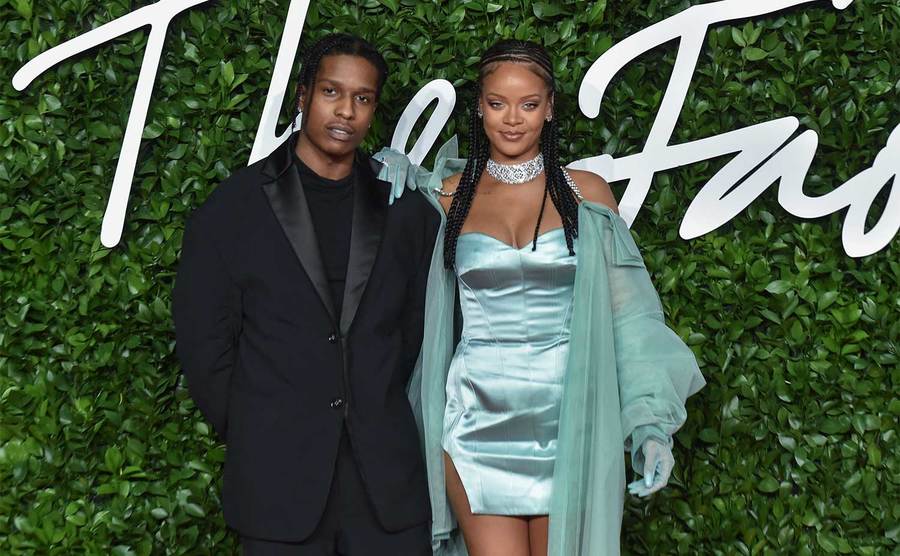 The Ins and Outs of Rihanna and A$AP Rocky's Relationship
By Yuri S.
---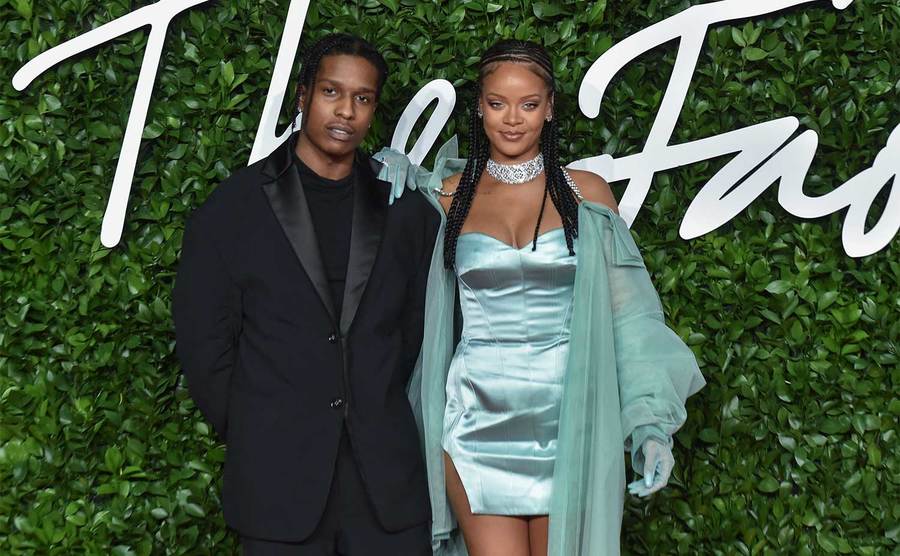 After months of speculation and dating rumors, Rihanna and ASAP Rocky confirmed their relationship in early 2021. Their relationship blossomed from a friendship, and this power couple will go down in history. Rihanna and Rocky couldn't fight their feelings for each other, but they kept everyone guessing.
The two stars are notoriously private about their personal lives, but they have shared glimpses of their love for one another. The couple recently welcomed their first child, and everyone is wondering what's next. Do we hear wedding bells in the future? Here's everything we know about Rihanna and ASAP Rocky's relationship.
A Friendship Begins
ASAP Rocky and Rihanna's relationship began way back in 2012 when they first collaborated in the studio. He was featured in the remix of her song "Cockiness (Love It)," and the two performed it on the VMA stage. At the time, Rihanna gave Chris Brown a second chance to work on their relationship.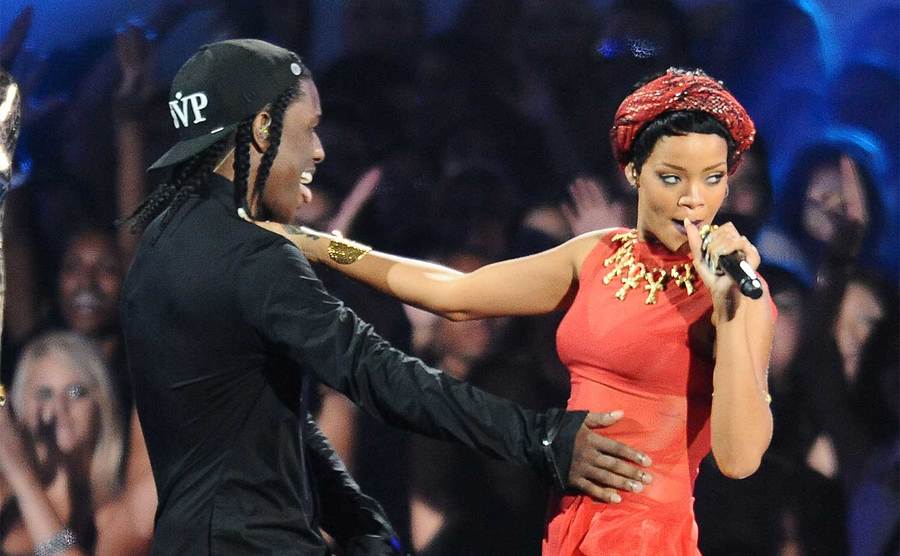 Although she was in a relationship, Rihanna and Rocky started to form a friendship. They enjoyed working together, and the collaboration opened the door for future projects together. Rocky was also in a relationship with Chanel Iman at the time. Rocky was also focused on his rising career.
Spending More Time Together
Rocky and Rihanna were dating other people, but they started to spend more time together in 2013 because he joined the North American leg of her Diamonds World Tour. Rocky was her opening act, and being on the road gave Rihanna a chance to get to know the rapper.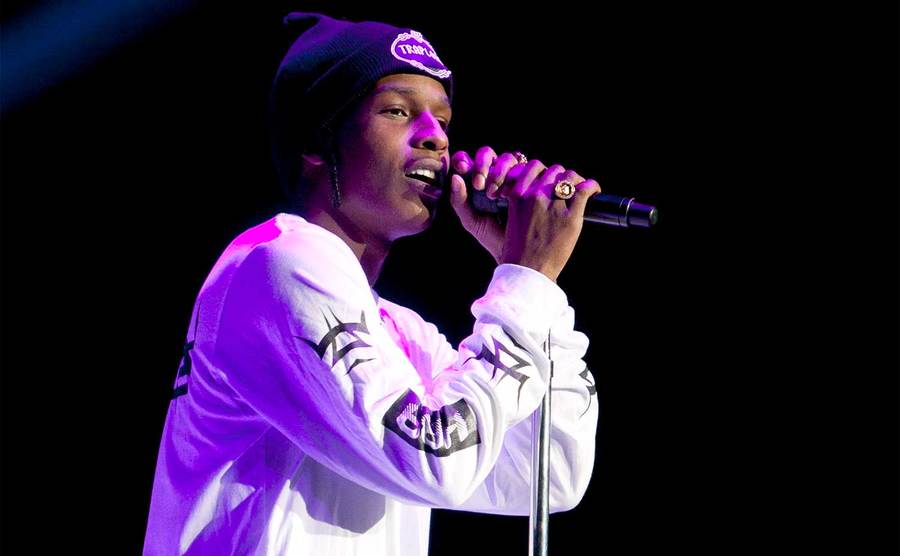 The same year, Rihanna starred in Rocky's music video for his single "Fashion Killa'." The pair got pretty close on screen, sparking romance rumors. However, he was still in a relationship with Iman. Rocky shut down the rumors, saying, "I don't even look at her like that. She's sexy, but I'm good."
They Had Chemistry
Even though Rihanna and Rocky denied dating rumors, the two clearly had chemistry. Many thought they were secretly in a relationship because Rihanna and Rocky seemed so comfortable around each other when they were on stage or playing around in a music video. Everyone knew they would make a gorgeous couple.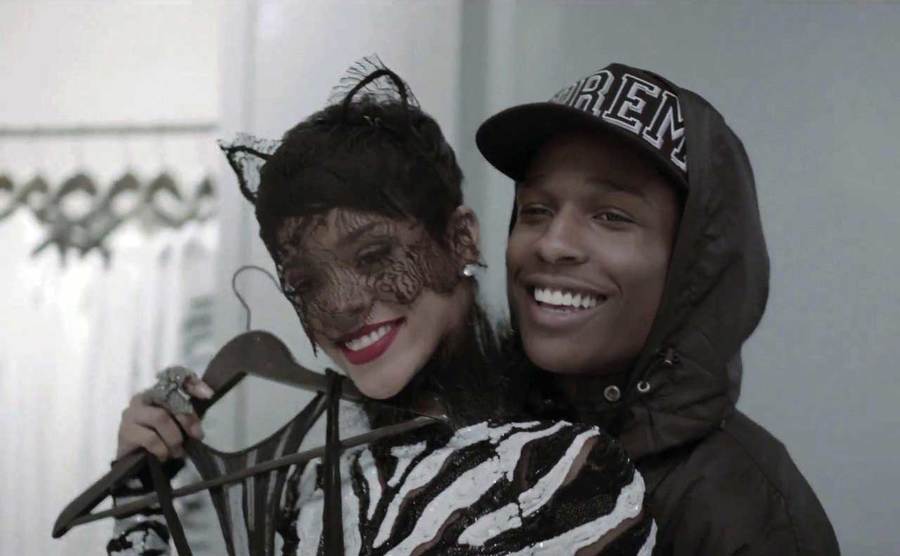 While they were only friends, there was a definite spark between them. Rihanna and Rocky just needed to wait for the timing to be right. They were both busy growing their careers, so they didn't have much time to see each other, even as friends. Eyes for Other People The two remained friends over the years, but around 2017, they both got into relationships with other people. Rihanna entered into a serious relationship with Hassan Jameel, and Rocky was romantically linked to Kendall Jenner. Although Rihanna and Jameel kept a low profile, they moved fast and spent a lot of time together.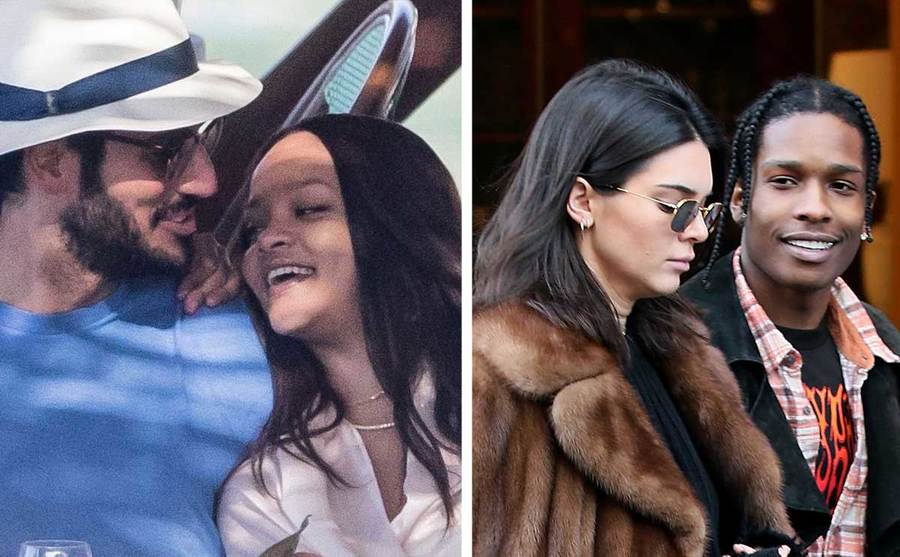 Meanwhile, Rocky and Jenner were spotted getting cozy. They hung out at Coachella together and were spotted going to dinner in LA. Both Rihanna and Rocky were happy in their respective relationships, but something always drew them back to one another. Whenever they weren't in relationships, they hung out.
Maintaining Their Friendship
Although Rihanna was still in a relationship, she tried to keep that part of her life out of the public eye. She didn't attend events with her boyfriend, but she always had a friend in the crowd. In 2018, she and Rocky sat front row together at Paris Fashion Week.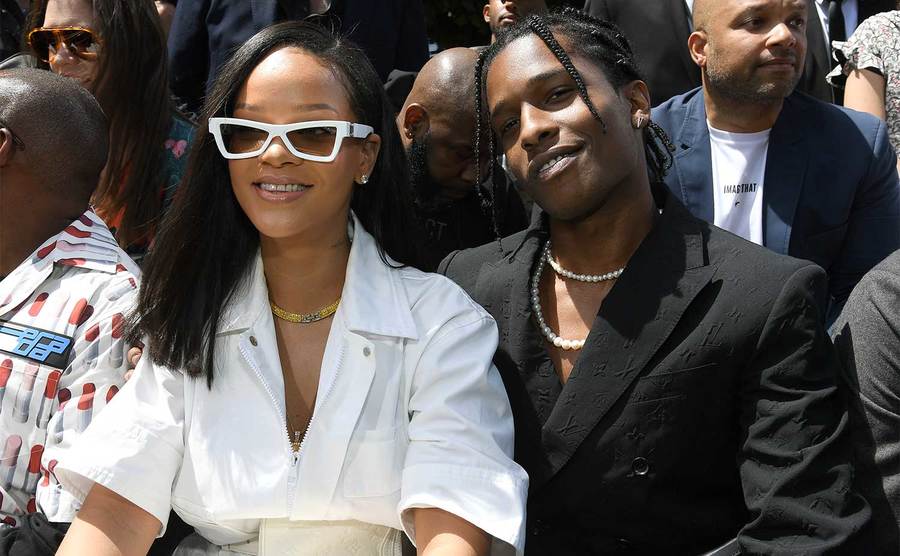 They chatted before the show began and posed for photos. A few months later, Rocky showed his support by attending Rihanna's Diamond Ball charity gala. He always showed up for Rihanna.
Not Fooling Anyone
Romance rumors about Rihanna and Rocky picked up again in late 2019. Rihanna was reportedly still dating Hassan, but she and Rocky walked the red carpet together at the Fashion Awards in London. They looked like a couple but denied they were anything more than friends.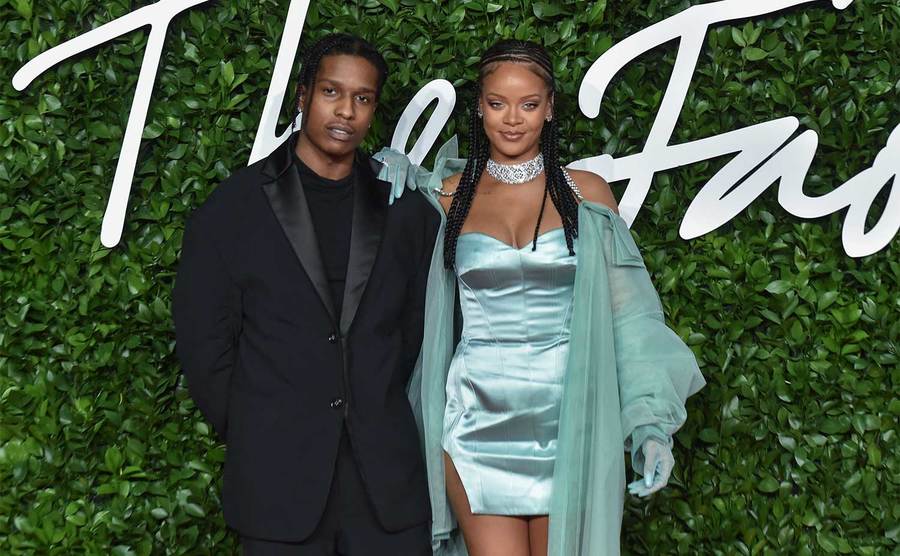 Rocky supported Rihanna by wearing a black suit from her fashion line, Fenty. They posed together on the red carpet and looked comfortable. While Rihanna's boyfriend was nowhere to be found, Rocky was moving in on his girl because Hassan gave him the space.
Going Their Separate Ways
After nearly three years together, Rihanna and Hassan broke up. They came from two different worlds and weren't the right match. It didn't take long for rumors about Rihanna and Rocky to swirl. Some sources said the two were "keeping it casual."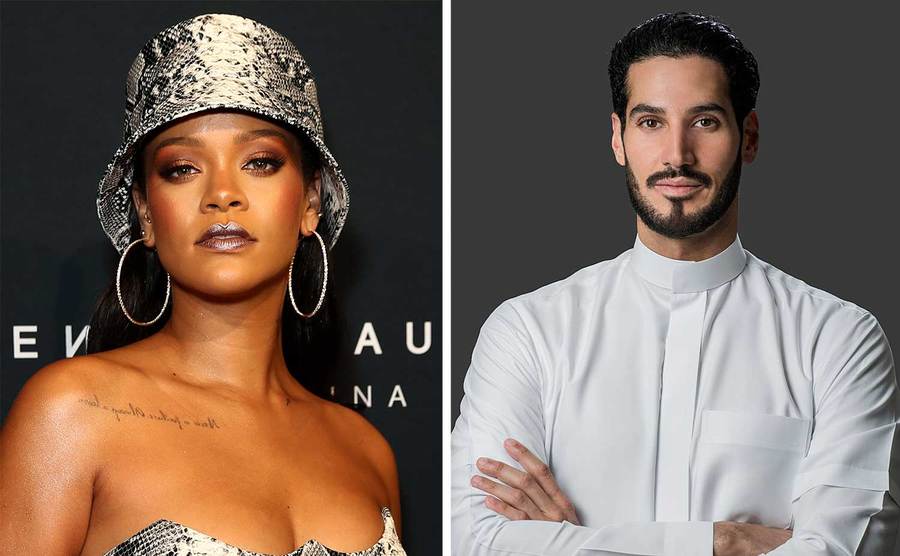 However, Rihanna's close friends were quick to shut down the rumors, saying, "Rihanna is single. She just got out of a long, intense relationship with Hassan. She's hanging out with ASAP Rocky, but she is not dating him." The subject remained a mystery to most.
Helping a "Friend"
They might have claimed they were just friends, but Rihanna and Rocky weren't shy about working together. Rihanna recruited Rocky to help promote her skincare line, Fenty Skin. They joked around with each other in videos for Vogue and GQ to promote the brand.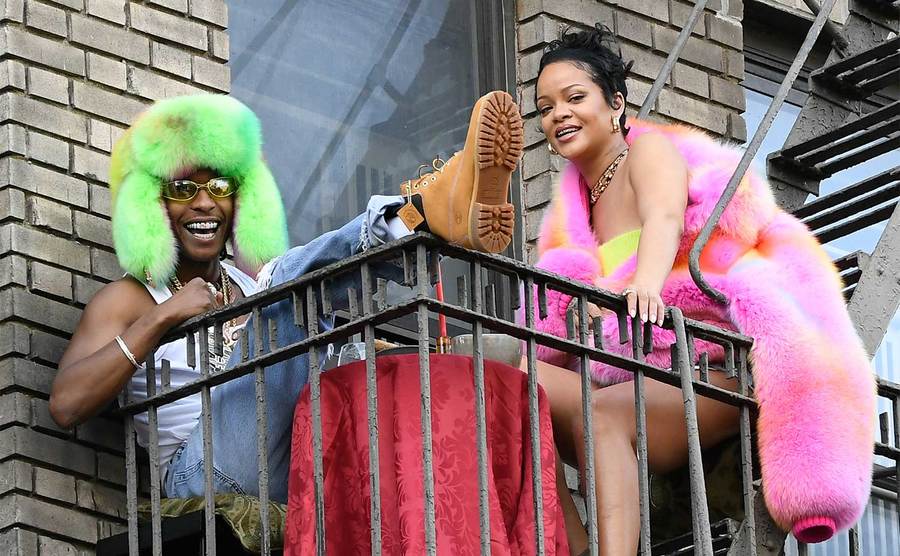 The two posed for promo shots for the new line, and they looked flawless as usual. Over the next few months, Rocky and Rihanna got closer than before. Even though she had just gotten out of a relationship, it seemed Rihanna was ready for love again.
Making It Official
In late December 2020, Rihanna and Rocky were spotted having a romantic dinner in New York City. The two seemed to confirm they were an official couple. Although they never made an official statement, Rihanna and Rocky looked happy strolling around the city together.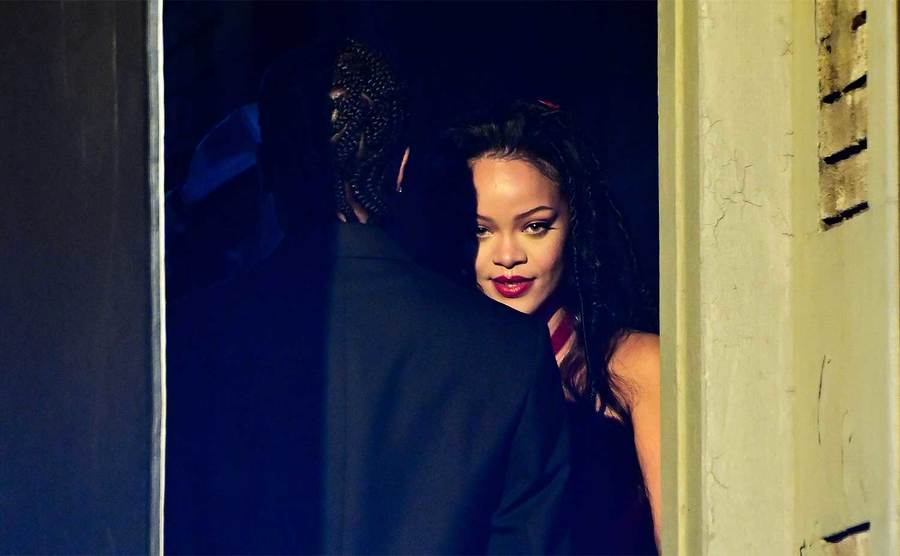 Unlike her last relationship, things were easy with Rocky. They always had a great time together, and it was a smooth transition from friends to lovers. Rocky and Rihanna had a lot in common, which helped make the early days of their romance fun.
Getting Serious
When you bring your boyfriend to meet your family, it usually means that things are getting serious. So, when Rocky joined Rihanna and her family in Barbados for Christmas, it confirmed their budding romance. He met her whole family and celebrated a special holiday.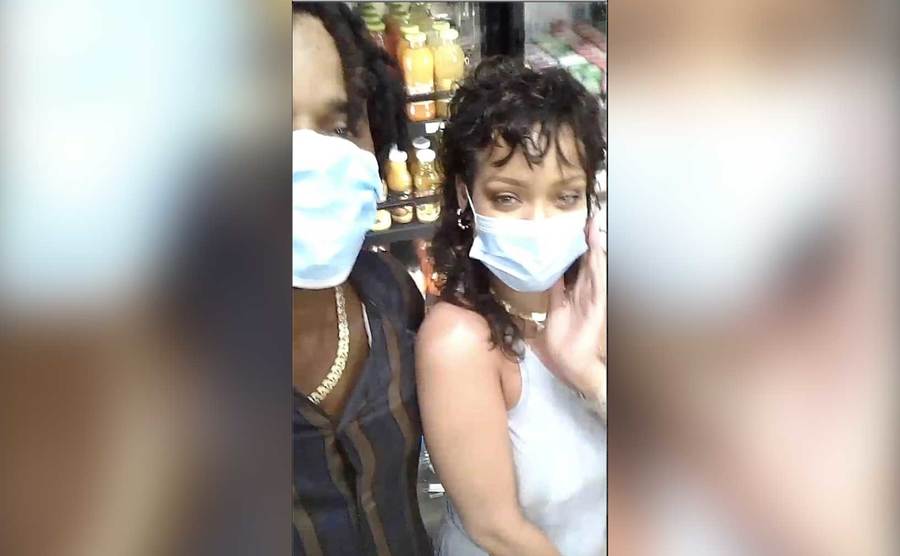 A source close to the couple told ET, "They've known each other for so long as friends and in a work setting, which makes it so easy for them to get along, travel together, and be involved in each other's lives to the full extent."
Keeping a Low Profile
Although Rocky and Rihanna are two of the biggest celebrities, they tried to keep their relationship as private as possible. Rihanna subtly hinted that they were an item on social media by posting a picture of herself wearing shoes designed by Rocky.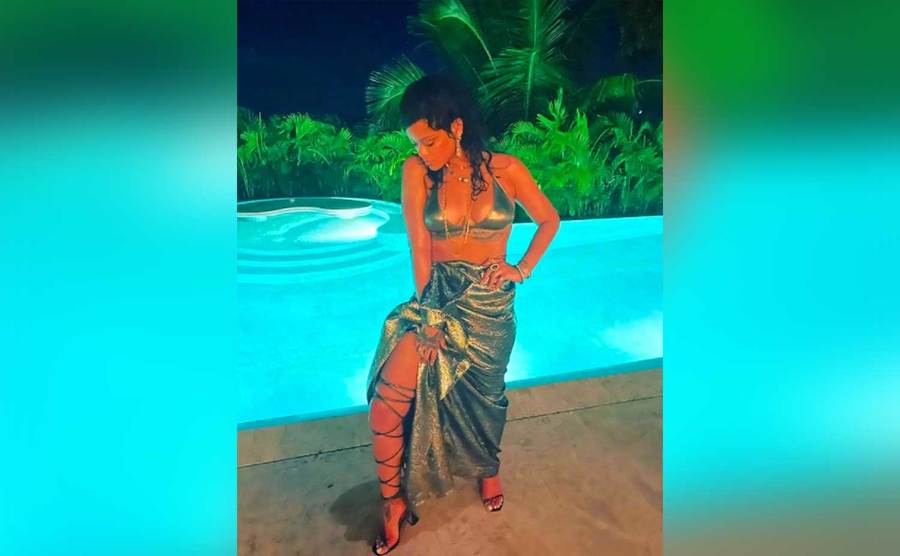 It was a small gesture to show her support for him. Even though the two weren't posting photos together, Rihanna and Rocky were spotted on several dates. They couldn't hide the status of their relationship, so they decided to embrace it and make their feelings known.
Can't Fight This Feeling
After months of speculation, Rocky publicly confirmed his feelings for Rihanna. In a May 2021 GQ interview, he clarified that Rihanna was his girlfriend and the two were smitten. Rocky called Rihanna his "lady" and said she was the love of his life.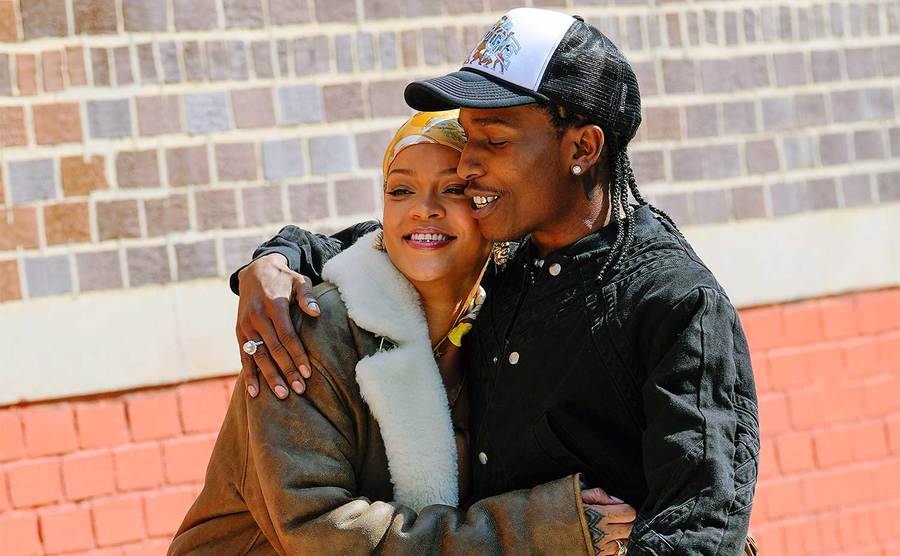 Rocky shared that he and Rihanna rented a tour bus during the summer of 2020 and embarked on a "Great American Road Trip." He said it strengthened their bond, adding, "She amounts to a million other ones (past girlfriends). I think when you know, you know. She's the one."
A Strong Foundation
By the middle of 2021, Rocky and Rihanna made it clear that they were in it for the long haul. They had a strong foundation because they had spent so many years as friends before the romance evolved. The couple already knew and respected each other.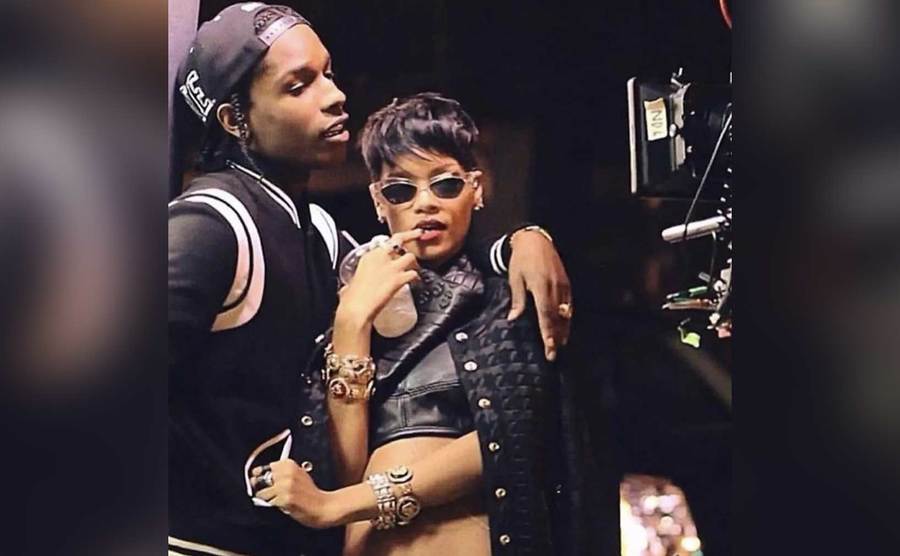 Rihanna and Rocky always loved to laugh and have fun together before they dated. It helped them build a solid romance. While there were no talks about an engagement, Rocky and Rihanna didn't try to hide their relationship anymore. Everyone knew they were in love.
Talks About the Future
In the same GQ interview, Rocky shared his thoughts about their future. He said he wanted a family and thought he would be a good father. Rocky was already thinking about settling down with Rihanna, and she was on the same page.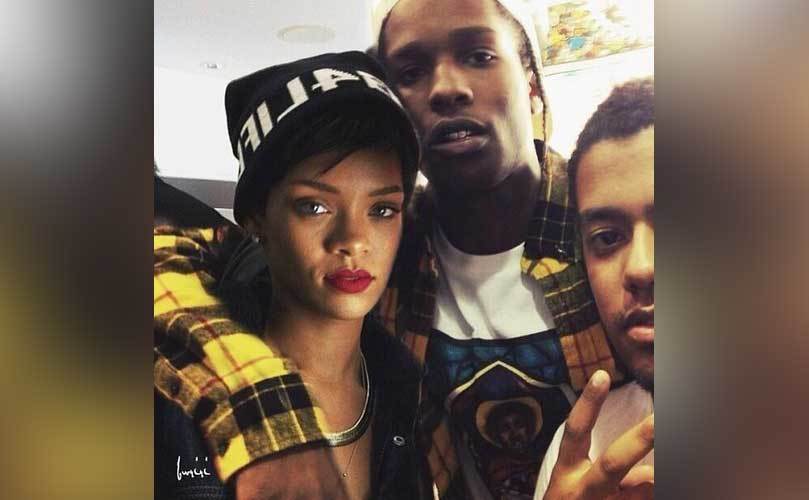 A year earlier, Rihanna told British Vogue she wanted kids "without a doubt." She shared that she wanted three or four children and would raise them as a single mother if there wasn't a man in her life. Rocky and Rihanna were ready to take their relationship to the next level.
Their Social Debut
In Hollywood, a couple is not official until they walk the red carpet together. Rihanna and Rocky chose fashion's biggest night to make their debut. The two wore coordinating outfits to the 2021 Met Gala, officially making them one of Hollywood's power couples.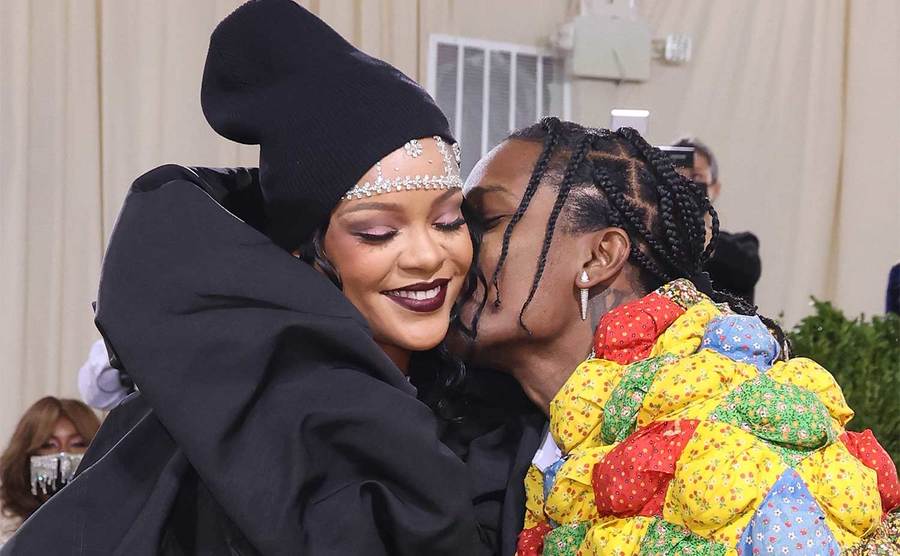 Although they looked bizarre in their blanket-like outfits, the two might have been hiding something under the bulky coats. It was the perfect event to make their debut because they are one of the most stylish couples, even if this picture doesn't represent that.
Baby on the Way
Rihanna and Rocky's talks about children must have been more serious than we thought because they announced Rihanna's pregnancy in January 2022. Rihanna debuted her baby bump in photos shared online. Looking back, that bulky Met Gala look might have been hiding a growing bump.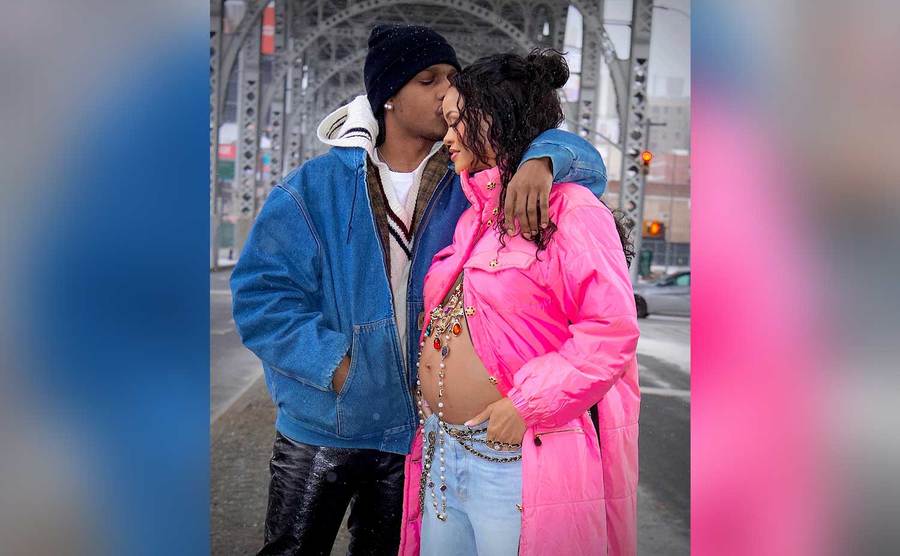 She posed in a hot pink puffer coat and body jewelry adorning her stomach to emphasize her belly. Rihanna and Rocky looked happier than ever. She also set the tone for a new era of pregnancy style.
It Wasn't Planned
The couple couldn't have been happier to be expecting their first child. However, Rihanna said it was unplanned, adding, "That always happens to us." Even though they weren't expecting it, Rihanna and Rocky embraced her pregnancy and made the most of the experience.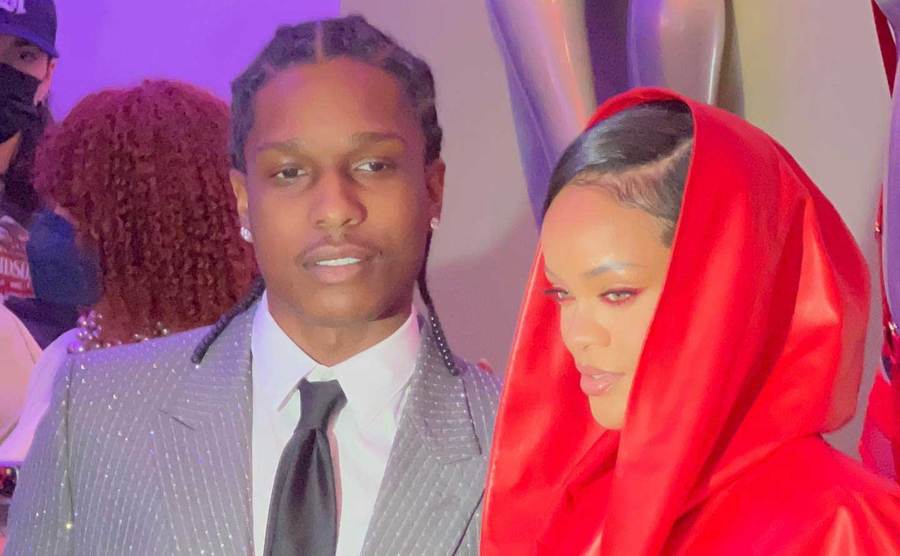 Once they announced the news, the two weren't afraid to be out and about with her bump on full display. In February 2022, they surprised lucky shoppers at Rihanna's Savage X Fenty store in LA. The two posed for pictures with fans and the mannequins.
An Exciting Time
Rihanna and Rocky were excited to welcome their baby and spent time buying high-end outfits for their bundle of joy. In March, the couple was spotted at Baby Dior in Paris. They bought a few items while attending Paris Fashion Week.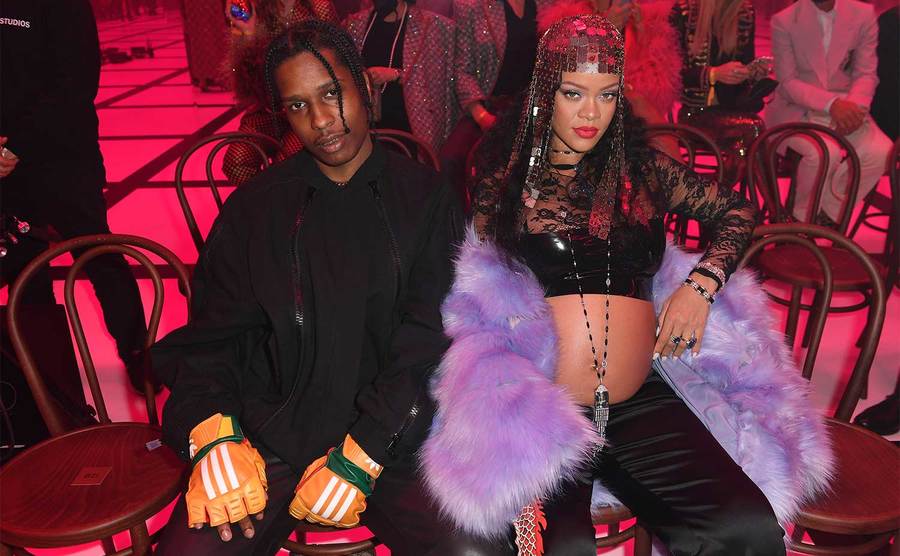 Although she has plenty of money, Rihanna kept her pregnancy style casual. She was often seen strolling in the city with Rocky in a casual T-shirt and jeans. The two looked so happy and in love whenever they were spotted out and about. It was such a joyous time.
Embracing the Changes
When women are pregnant, their bodies go through many changes. It can be scary, but Rihanna loved all the changes to her body. She has always celebrated pregnant women in her runway shows for Fenty. Rihanna was confident about her decision to have a child with Rocky.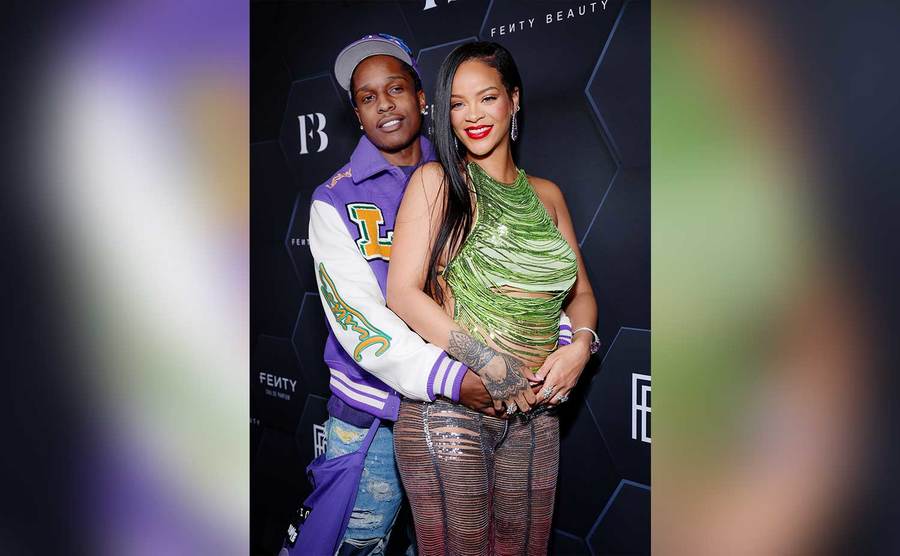 She never felt obligated to rush the process because having a baby was never something Rihanna focused on. Being with Rocky opened her mind to the idea of having children. A friend of the singer said, "Everything Rihanna does, she does it her own way."
Low-Key Celebrations
A few months before she gave birth, Rocky and Rihanna threw a private rave-themed baby shower. The couple flew friends and family from Barbados to LA to join the intimate celebration. A source said Rihanna and Rocky always planned to throw a shower together.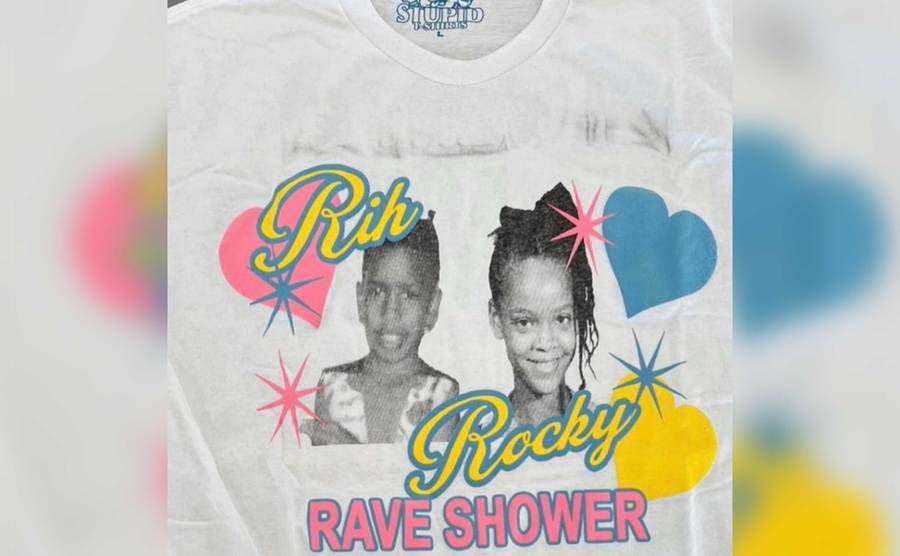 Rihanna wanted to share the experience with Rocky instead of having a party just for the ladies. The two gave T-shirts as party favors with their childhood photos on them. The couple has a great sense of humor and loves to have fun.
Rumors of an Affair
In April 2022, cheating rumors threatened to ruin Rihanna and Rocky's relationship. Someone on Twitter claimed Rihanna broke up with Rocky after catching him cheating with shoe designer Amina Muaddi. The rumor spread like wildfire, but Muaddi set the record straight.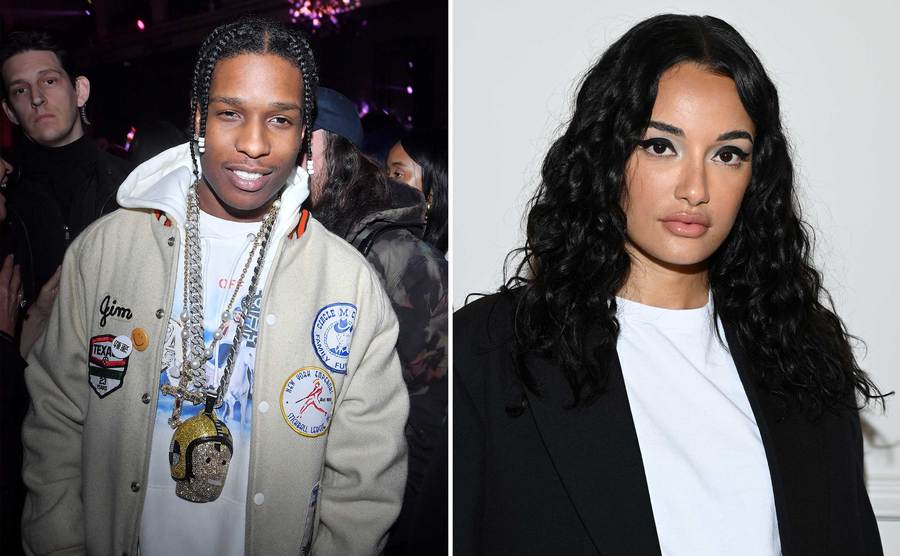 Muaddi released a statement on Twitter saying she was horrified by the rumors and felt the need to address them. She said the rumors weren't true and said she had nothing but love and respect for Rihanna and Rocky. Muaddi was shocked that people would try to ruin their relationship.
More Trouble in Paradise
Just days after cheating rumors rocked their world, Rocky was arrested by the LAPD in connection with a shooting that occurred in November 2021. Officers apprehended him at LAX after he returned from a vacation with Rihanna in Barbados. Rihanna was also present during the arrest.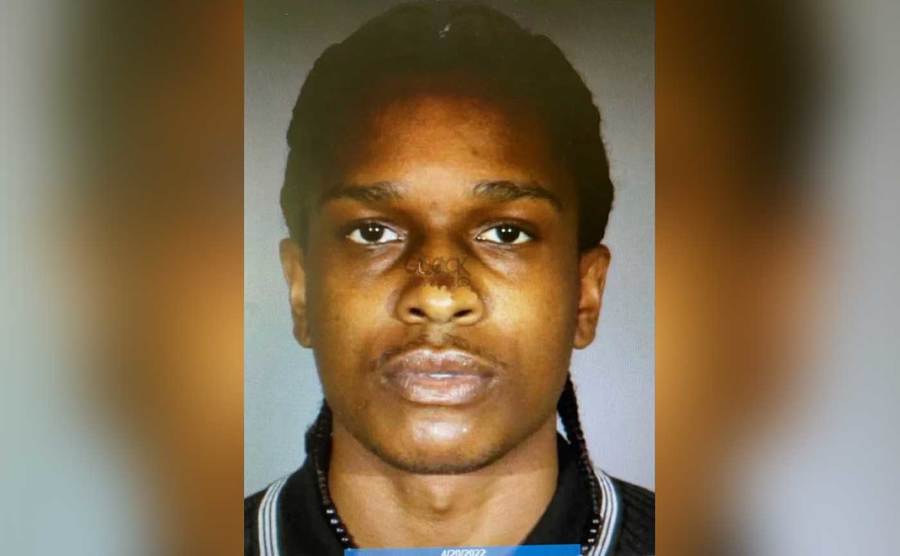 Rocky was charged with a felony for assault with a deadly weapon. His bail was set at $550,000 because the rapper allegedly shot a man after an argument. The victim claimed Rocky fled the scene with two other men. However, Rocky was released from jail later that day.
Brushing It Off
A few days after Rocky's arrest, he and Rihanna enjoyed a night out in Santa Monica. They were joined by a small group of friends and acted as if nothing had happened. The group seemed relaxed and happy even though Rocky was facing serious charges.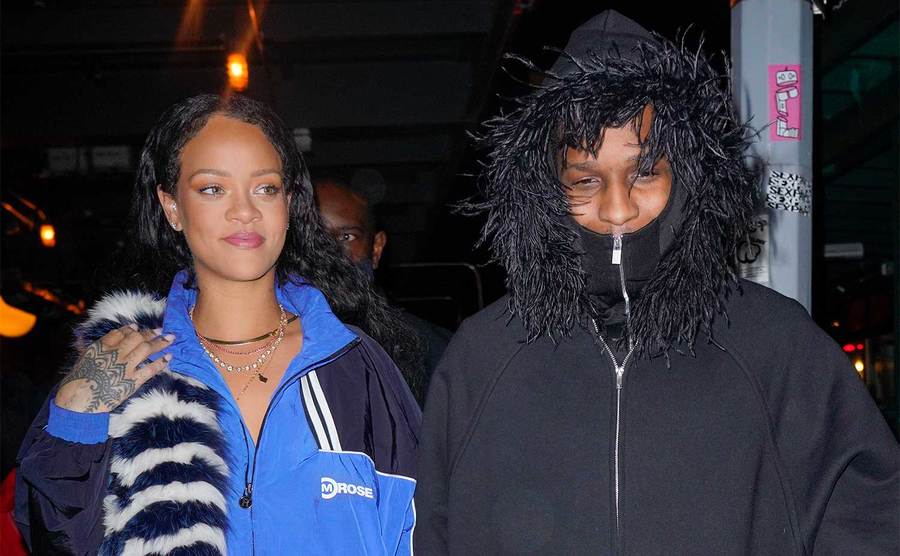 Rocky focused on Rihanna, and the couple was affectionate toward each other. They sat for a few hours, focusing mainly on Rihanna and the baby. Their friends tried to make the couple happy instead of focusing on the negative stories.
Wedding Bells
In May 2022, Rocky released a music video for his single "D.M.B." The video featured Rihanna as an "ode to a classic love story." Rocky wrote, directed, and produced the video in which the couple appeared to be getting married.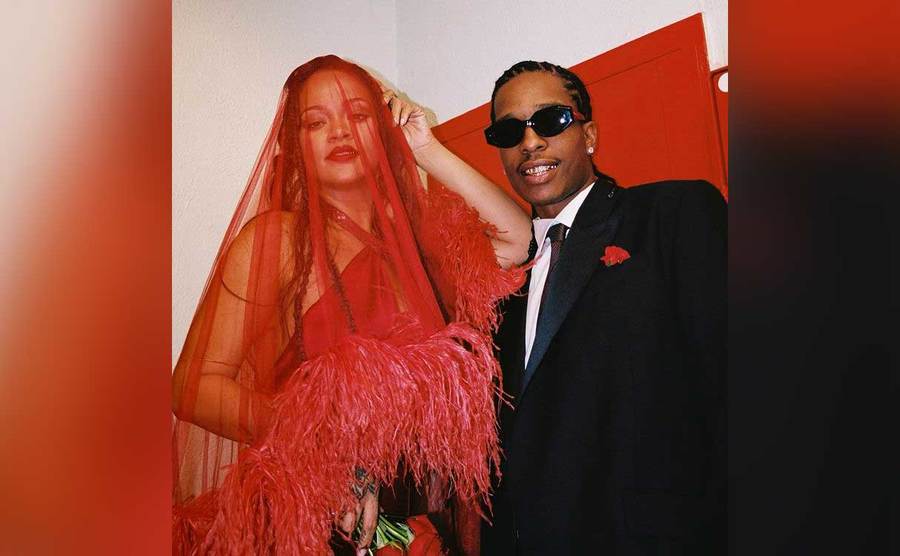 Rihanna donned a red gown with a matching veil as Rocky rapped, "I was lost, but I found you/I was slim thick with a bounce too/It's your tough love that I'm bound to." People wondered if it was a hint that the couple had secretly tied the knot.
Welcoming Their Son
On May 13, 2022, Rihanna gave birth to the couple's son. The two were delighted to welcome their child finally, but they decided not to share an announcement on social media. TMZ was the first outlet to report the birth a week after their son was born.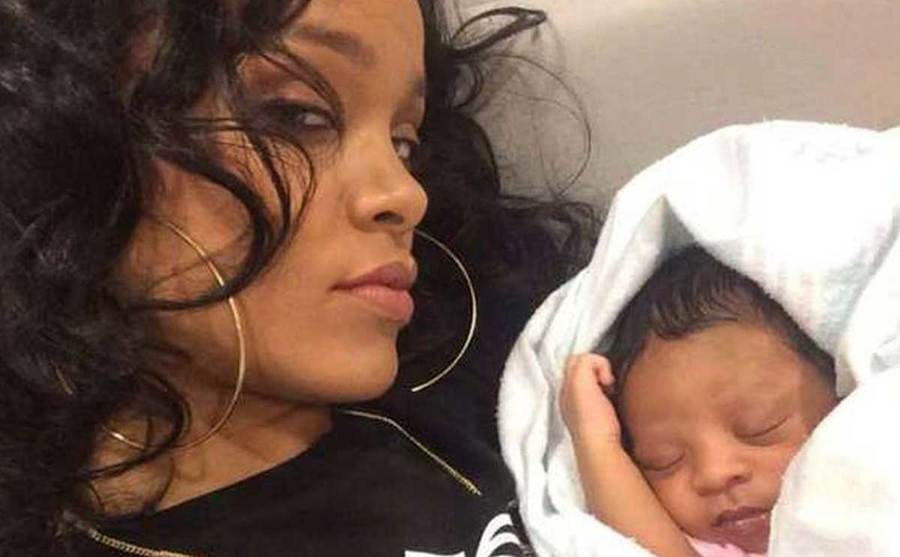 Rihanna and Rocky decided they would not share their son's name until they felt it was the right time. During her pregnancy, the couple discussed keeping their child's life private. Although the two were frequently in the spotlight, they didn't want their son to deal with that.
Loving Parenthood
In an interview with Dazed magazine, Rocky opened up about fatherhood. He said, "I will always remind my children to never lose their imagination, even as adults, no matter what." Although it had only been a few weeks since their son was born, they were loving parenthood.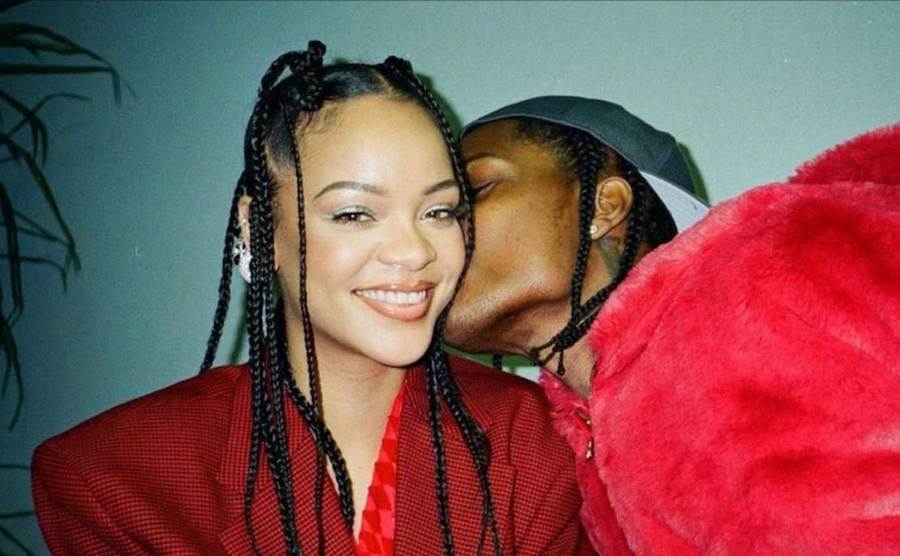 Rocky added that he hopes to "raise open-minded children and not people who discriminate." He revealed, "And I'm not trying to describe a saint, but, realistically, I just want a cool child with cool parents." Rocky was just happy that his son was healthy.
Keeping His Life Private
Since he was born, Rihanna has been protective of her son. She only let a select group of close friends and family meet him. Rihanna has never been the type to share her personal life on social media, so she wants to keep her son's life private too.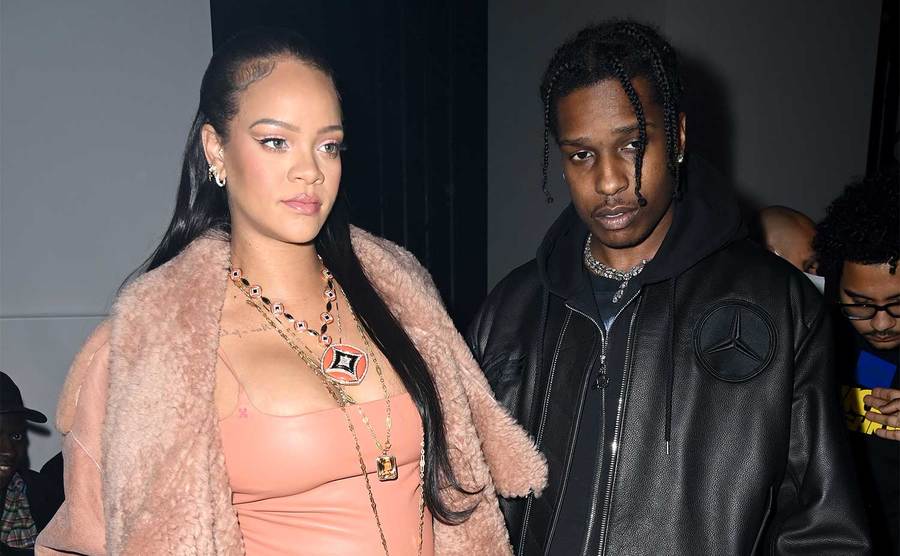 She and Rocky haven't shared pictures of their son, and they don't plan to anytime soon. Rihanna has plenty of help, but the couple has decided to be very hands-on. They don't want to rely on nannies, but the couple has them to help manage their busy schedules.
Going Strong
Despite Rocky's legal issues, he and Rihanna are thriving and embracing parenthood. Their bond has strengthened since their son was born, and Rihanna has seen a different side of Rocky. She has fallen more in love with him since becoming parents.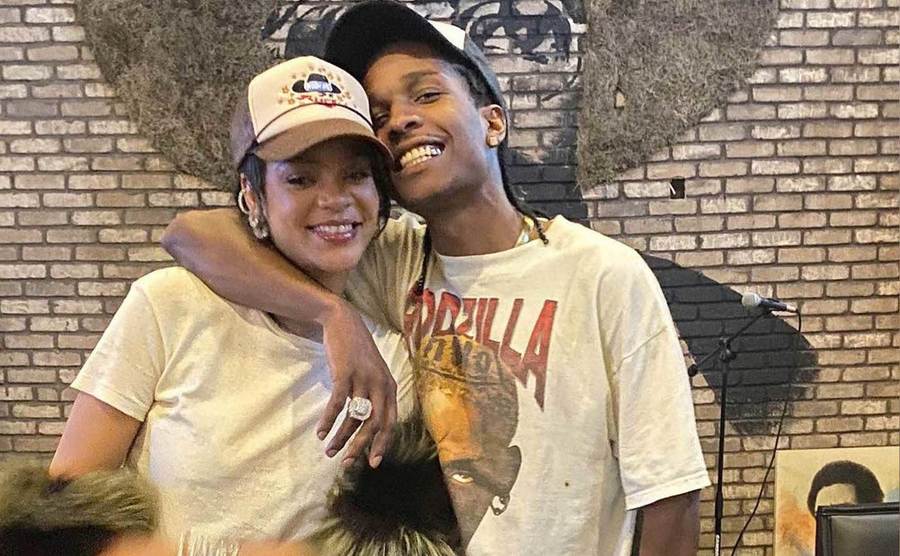 Rihanna reportedly loves watching Rocky with their son and cherishes bonding with him. Although no one has seen photos of the baby, close family and friends say he is a cross between the two and so tiny. He reportedly has Rihanna's eyes. The couple wants to raise him in Barbados.
Legal Woes
The couple has spent most of their time in Barbados since the baby was born, but Rocky had to appear in court in August 2022. He pled not guilty to two counts of assault with a firearm. The judge issued a restraining order stating Rocky has to stay 100 yards away from the victim.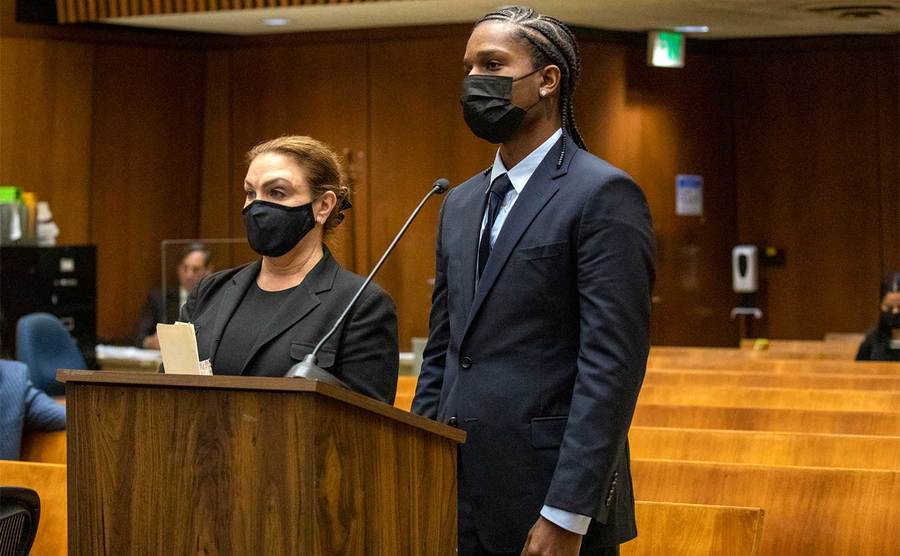 Rocky remains free now, but he has to return to court in November for a preliminary hearing. If he is found guilty, the rapper could face jail time. The police searched Rocky's home and found multiple guns, but they were legally registered and not connected to the shooting.
What Happened?
Rocky is facing felony charges in a civil suit filed by a former ASAP Mob member, Terell Ephron (ASAP Relli). Ephron filed the suit for assault, battery, and emotional distress after claiming Rocky lured him to an obscure location to discuss their disagreement.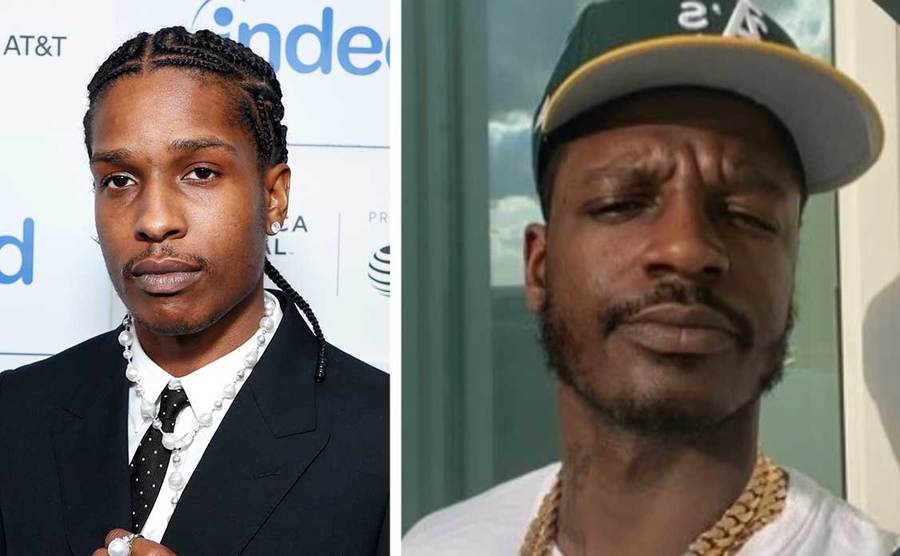 Ephron said Rocky came armed with a semi-automatic handgun. The two had a conversation, and Rocky allegedly pulled out his gun and fired two shots at Ephron when it got heated. Ephron said he sustained minor injuries to his left hand. The altercation was caught on camera.
Not the First Time
Unfortunately, this is not Rocky's first run-in with the law. Rocky was previously charged with attempted murder after firing a gun at a man who attempted to intimidate him when he was a 16-year-old drug dealer. Rocky confessed to the charges, saying he thought the man had a weapon.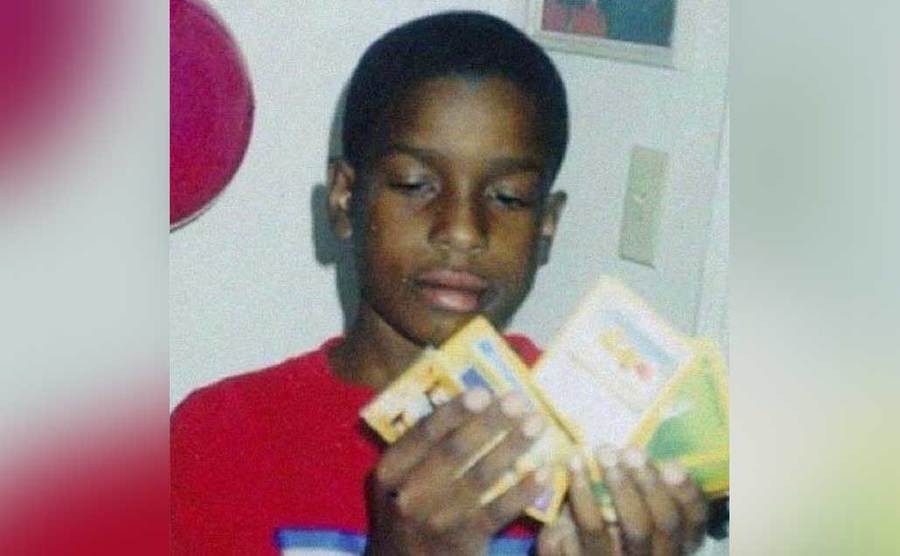 Rocky served jail time, and his charges were eventually reduced. He explained, "He tried to come at me in front of some ladies. And I was little. He was a little older than me." Rocky thought the man would pull out a weapon, so he shot first.
Detained in Sweden
Years later, Rocky was arrested in Sweden in 2019. He was detained for getting into an altercation with Mustafa Jafari and held for six weeks in Stockholm. Two months later, the rapper was convicted, serving a suspended sentence and paying a $1,270 fine.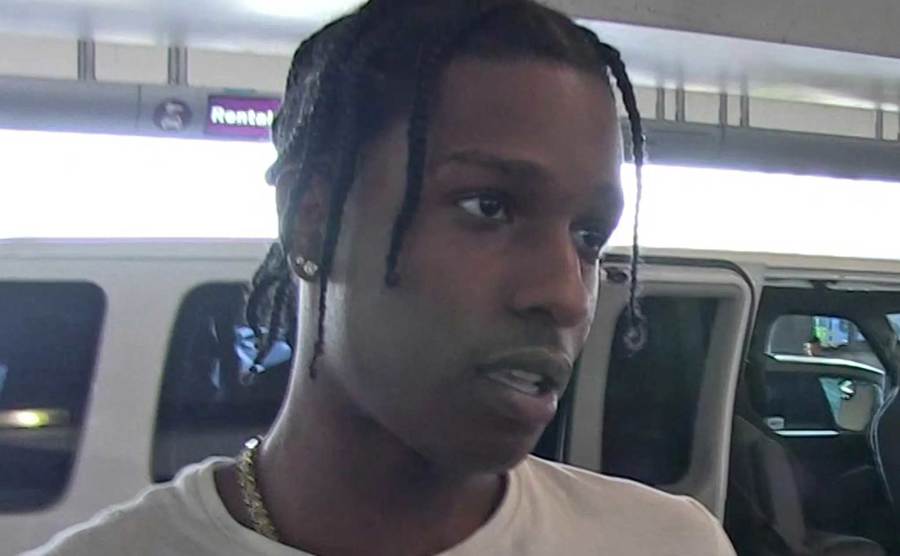 In his recent arrest, his defense attorney, Slobodan Jovicic, said, "The question is whether he'll have the energy and stamina to do this one more time given the circus around it. Rocky was disappointed that he was not acquitted of the felony charges.
She Knew About His Past
Although Rocky had a troubled past, Rihanna knew who she was starting a family with. She knew he was a good man despite his legal troubles and didn't let that stop her from having a child with him. They had been friends for several years, so they talked about his past.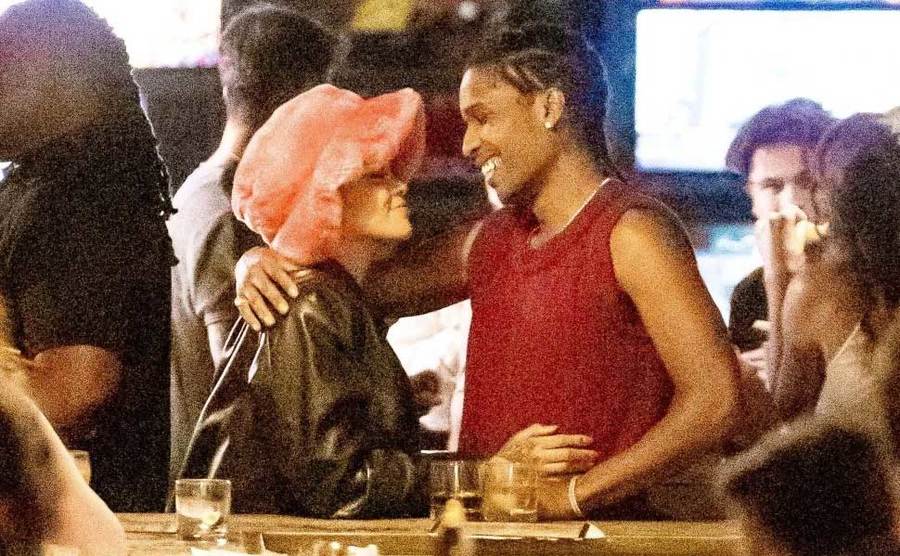 Rihanna is no stranger to dating people with arrest records. However, she was more concerned with how Rocky treated her. She was previously in an abusive relationship with Chris Brown, so she didn't want to be with someone like that again, and Rocky has always been gentle with her.
A Rough Childhood
Rocky wants to give his son a better life than he had as a child. The rapper grew up in Harlem with two older siblings. Like Rihanna, he had roots in Barbados because his father was born there. However, unlike Rihanna, he had a rough childhood.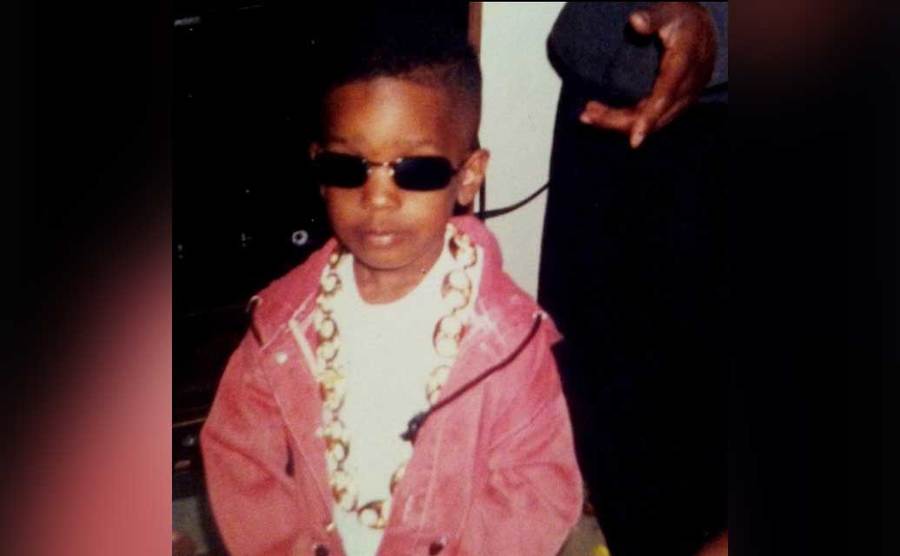 He started rapping at age nine after his family moved to Harrisburg, Pennsylvania. Rocky learned to rap from his older brother, who also wore the cornrows hairstyle that Rocky later adopted. When he was 12, his father went to jail in connection with selling drugs.
A Tough Loss
A year after his father went to jail, Rocky's older brother was killed in Harlem. His death inspired Rocky to start rapping more seriously. When his brother and father were gone, Rocky, his mother, and his sister spent years moving to different homeless shelters.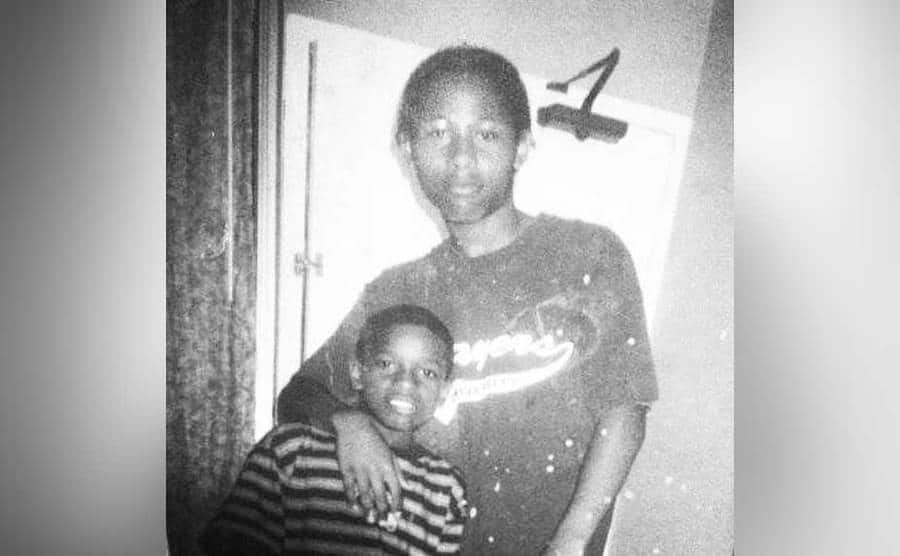 Rocky lived with his mom in a New York shelter before he moved to Midtown Manhattan. Moving around so frequently was difficult because he never had a place to call home. It impacted the way Rocky wanted to raise his son.
Making a Name for Himself
Rocky spent most of his teens working on his rap skills, and in 2007, he joined the ASAP Mob crew. The Harlem-based group of rappers, producers, music video directors, fashion designers, and bikers helped Rocky get his start in the industry.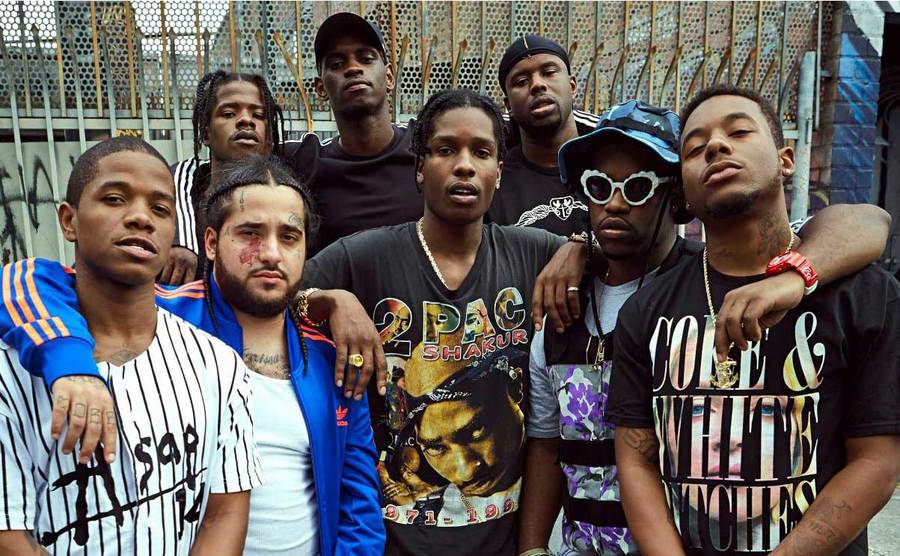 In 2011, Rocky released his first single, "Purple Swag," which helped him receive attention from record labels. He landed a $3 million record deal with Polo Grounds Music and started his own label, ASAP Worldwide. The next few years saw Rocky rising to stardom.
Past Loves
Before dating Rihanna, Rocky was quite the lady's man. One of his first publicized relationships was with Iggy Azalea in 2011. The two dated for a few months before they hit it big. After they broke up, Rocky moved on with singer Rita Ora in 2012.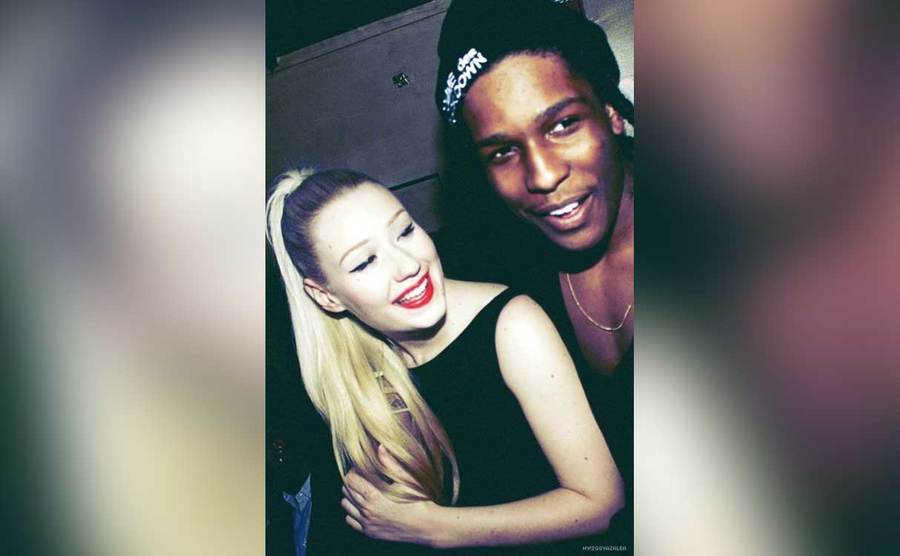 Rocky and Ora only dated for a few months and kept their relationship private. However, he wasn't afraid to diss her in his song, "Better Things." He rapped, "I swear that b**ch Rita Ora got a big mouth/Next time I see her might curse the b**ch out."
Too Busy for Love
Rocky's next serious relationship was with Chanel Iman. The pair started dating in 2013 but broke up a year later because their busy schedules got in the way. Rocky and Iman had no hard feelings for each other, and he only had nice things to say about her.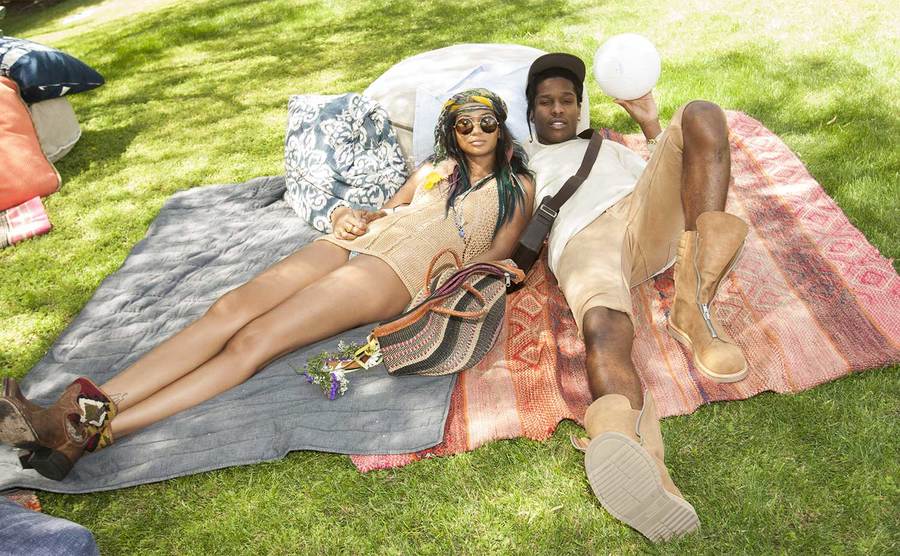 He then had a casual, low-key relationship with Tahiry Jose from 2014 until 2017. It overlapped with Rocky's relationship with Kendall Jenner. He and Jenner were friends before they started dating in 2016. It was never serious, but the two were exclusive.
Making It Work
Rocky might have been a player back in the day, but he has changed since he started dating Rihanna. The rapper has settled down and wants to make his relationship with Rihanna last. The two are so happy, and everyone is rooting for them.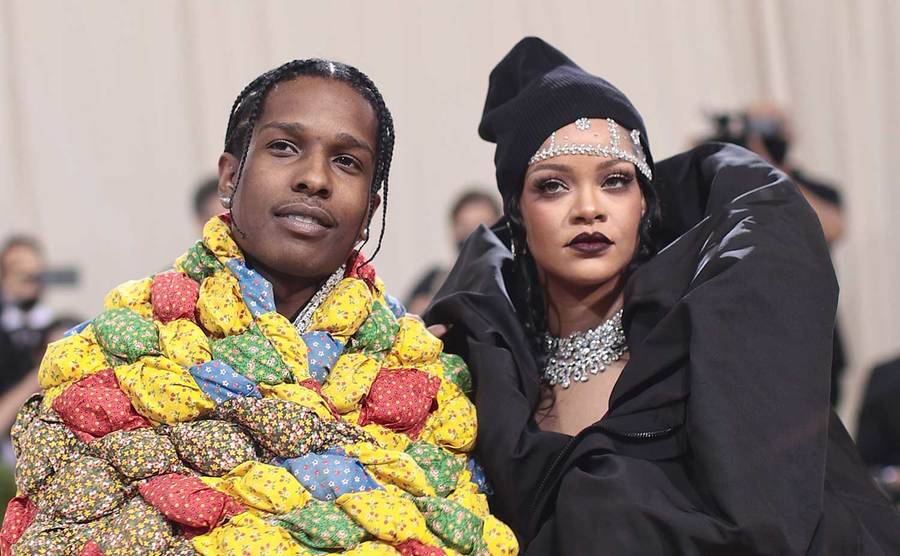 The two are loving their life as parents and dealing with Rocky's legal issues in the best way possible. Rocky and Rihanna hope the charges will be reduced or dropped, but they won't know until his next court date in November. Regardless, she will support him through the tough time.