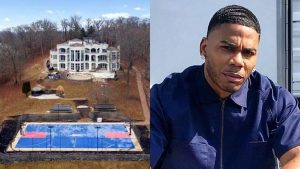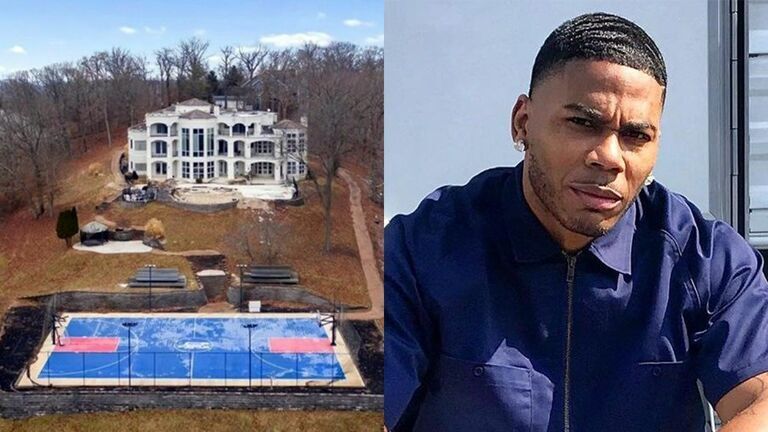 The Strange Tale of Nelly's Abandoned Mansion
By Yuri S.
---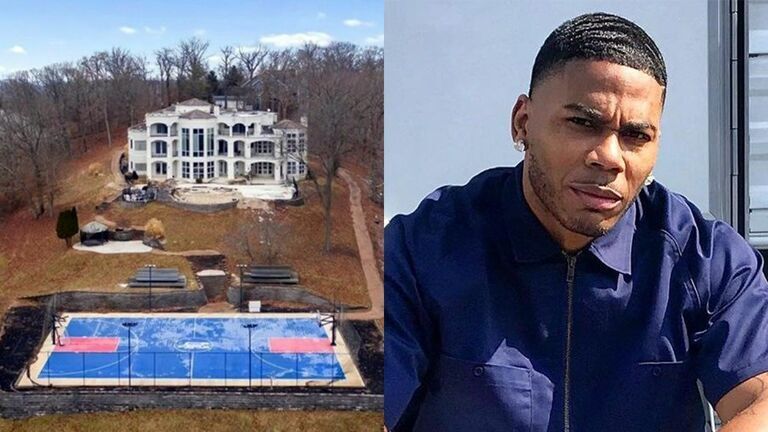 Everyone expresses themselves in their own unique manner. Some people choose to express themselves through music and dance, while others compose poetry and prose. On the other hand, architecture is one of the most underappreciated forms of art. Imagine hiking through the Missouri forests and coming across an abandoned home. Would you flee for your life if you thought there was a crazed serial murderer inside?
Would you peer through the windows in hopes of finding nothing horrible inside? Surprisingly, if you had the opportunity to tour this house, you would be more inclined to ask for an autograph than flee. Although this house may seem abandoned, it is rapper Nelly's pet project.
Isolated Mansion
Have you ever fantasized about living in a secluded location? A home where you could get away from the city and immerse yourself in nature? Are you shocked or perplexed? We understand. Why would a wealthy performer and musician buy a home smack dab in the middle of an ominous Missouri forest?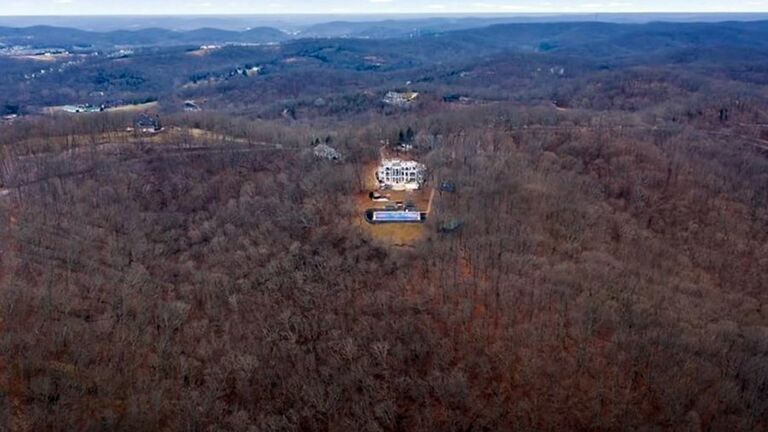 The solitude is scary enough, with no neighbors to contact for help if something goes wrong, like if wild creatures are chasing you in the dead of night, a lunatic institution escapee is seeking his next victim, and so on. Aside from the psychological horrors that one's imagination might concoct, there are also pragmatic concerns, such as running out of toilet paper.
Middle of Nowhere
A house is a refuge–a place to get away from it all, to be alone, to recharge, to unwind with friends–and Nelly took this to heart. The massive mansion is situated on top of a hill and is entirely encircled by a sprawling forest with trees as far as the eyes can see, as you can tell from the images. It's breathtakingly gorgeous, but it's also about as far away as you can get from civilization.
Apart from its seclusion, the home has never been occupied. Parts of it are still in disarray after the restoration, and the property would be pitch black at night if no one were there. While midnight hiking isn't actually a thing, this isn't exactly a pleasant sight for someone who gets lost in the woods.
In Between the Wild Woods
For some, a single apartment among many in a building surrounded by other buildings is enough of a haven. For others, this is different. Now that we've established that the house is located in Missouri, let's get a little more precise. The secluded home and surrounding grounds are located near Wildwood, Missouri, about 30 minutes west of St. Louis.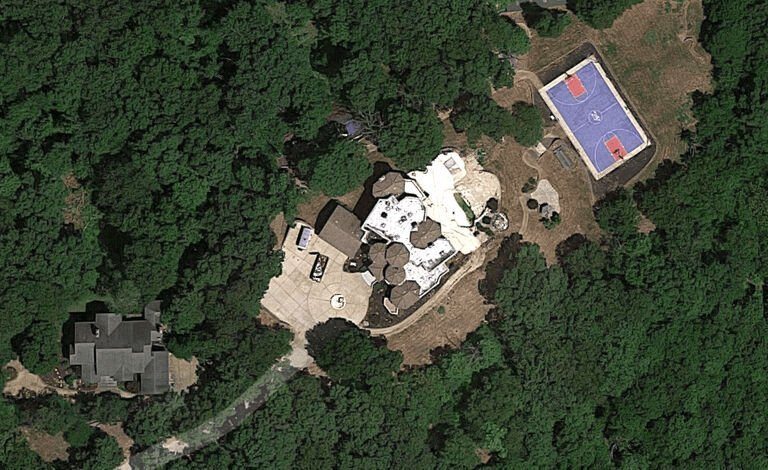 Have you ever heard of it? Most people haven't. As a teenager, Nelly relocated to St. Louis with his mother. He and several buddies founded the hip hop group St. Lunatics when he was in high school, and they played throughout St. Louis and the surrounding areas. This might be one of the reasons he was drawn to this.
Signing the Ownership Document
Purchasing a new home is an exciting journey, but it also comes with a slew of documentation, contracts, and other paperwork to review and sign. In 2002, Nelly signed on the dotted line. With keys in hand, he devised an ambitious refurbishment plan. Bear in mind that the home was just a few years old at the time as it was built in 1998.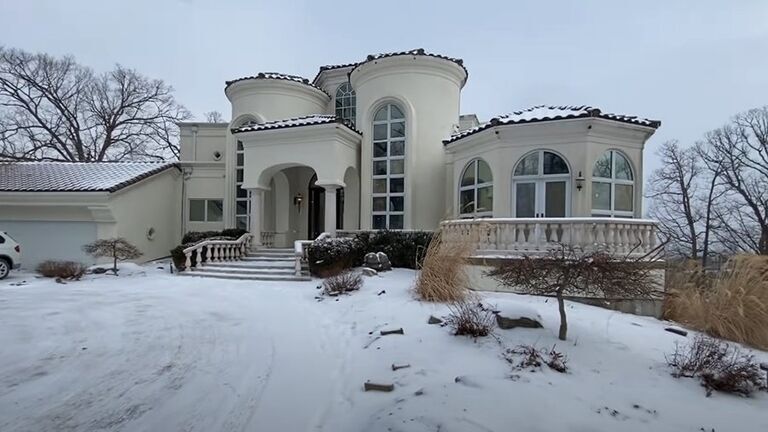 Most considered this to be a massive structure in 1998 (and it probably still is), and it was built with only the best materials, so the purchase price was relatively high. The property was on the market for $2.5 million, but Nelly hasn't revealed how much he actually paid for it. It's worth noting that in Missouri, the real estate market is cheaper than California or New York.
Not Your Average House
The method for calculating the actual cost of a real estate property varies by location. Regardless of how luxurious the house is, the median price range for mansions differs from state to state. According to Zillow, the $2.5 million price tag is out of the ordinary for Missouri, where the average property sells for around $183,000.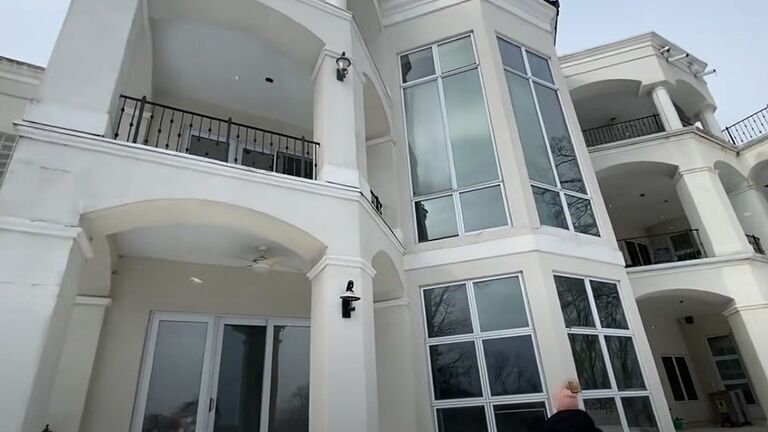 But this isn't your typical house, is it? The average home in Missouri is relatively incomparable in terms of square footage, neighboring land, amenities, and materials utilized. So, given that the property is one-of-a-kind, why has it been effectively abandoned? And why is Nelly so enthralled by the prospect of owning a home like this?
Intended For Profit
It turns out that when Nelly bought the house, he wasn't feeling nostalgic. Instead, he bought it intending to refurbish it and then sell it with the aid of a qualified contractor buddy. Thanks to reality television shows, the idea of "flipping" a house has grown more appealing to many people.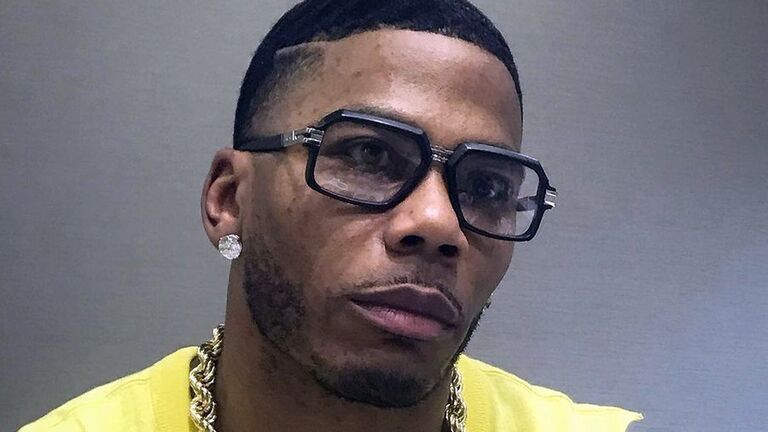 Renovations are a terrific way to add charm to a property, but older homes sometimes have issues. As work began, expenses began to pile up, and the remodeling timeframe continued to lengthen, as is typical of a remodel. The building eventually came to a standstill, and the house was left incomplete. It has been approximately 20 years since it was last occupied.
A Career in California
The money to remodel a house needs to come from somewhere. We must all remember that Nelly works for a living and that his daily activities are far from Missouri. His career had reached new heights the year he bought the property, so it's safe to presume he was quite busy composing songs.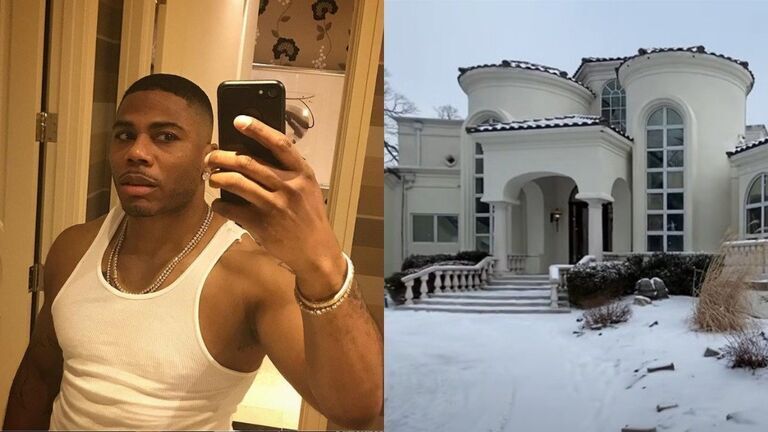 In 2002, the rapper released his second album, Nellyville, which debuted at number one on Billboard's Top 200 music albums within the first week. That record was so popular that it went platinum six times, so you can bet Nelly had better things to do in 2002 than be occupied on his Missouri house. He needed to focus on his career.
A Fantastic Year
While Nellyville was a huge hit, the album's first track, "Hot in Herre," was even bigger, playing in every club worldwide. It earned the rapper a Grammy for Best Male Solo Rap Performance. He probably had no idea it would be such a big hit. But here he was, basking in his celebrity.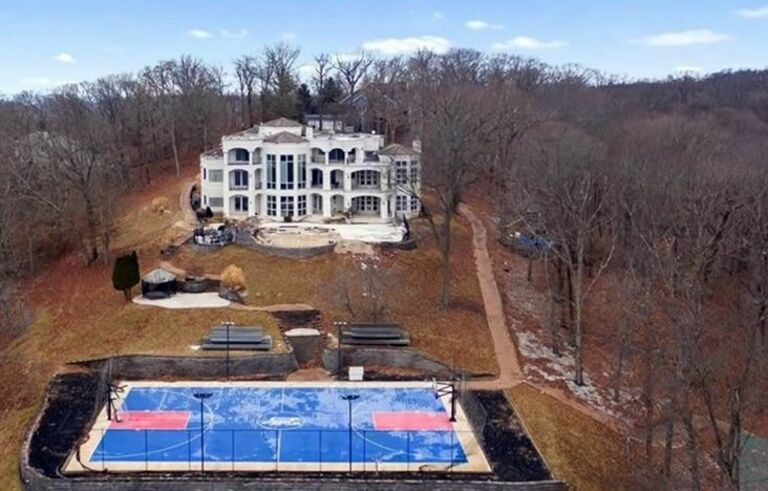 He proceeded to record and release albums for the following two years in order to capitalize on his huge popularity. As if that wasn't enough to keep him occupied, Nelly also contributed to soundtracks for Bad Boys II and Disney's The Haunted Mansion. In his leisure time, he was also a guest performer at the 2004 Super Bowl halftime performance.
The Golden Age of Cinema
It might be tough to focus on so many tasks at once. But, Nelly didn't think he was busy enough, so in 2004, he decided to try his hand at acting. However, his actual cinematic debut was in 2001, when he played Prolifik, a well-known rapper (not by a long shot) in the indie film Snipes.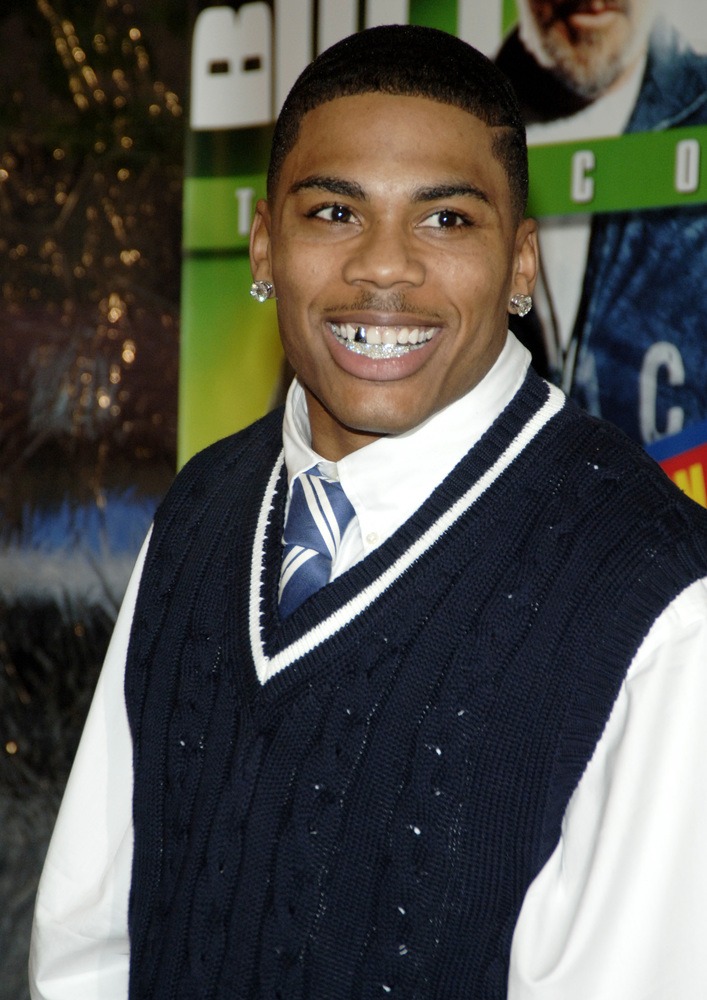 In 2005, the rapper was cast with comic icons Adam Sandler and Chris Rock in the comedic adaptation of The Longest Yard. In 2008 and 2009, he appeared in episodes of CSI: NY, indicating that he loved the acting experience.
Projects After the Project
The rapper took a few years off from acting, but he was far from bored. Brass Knuckles, 5.0, and M.O. were released in 2008, 2010, and 2013, respectively. Pitbull, Fergie, and Gloria Estefan, to mention a few, were among the musicians with whom he collaborated. He wasn't in the mood for a break.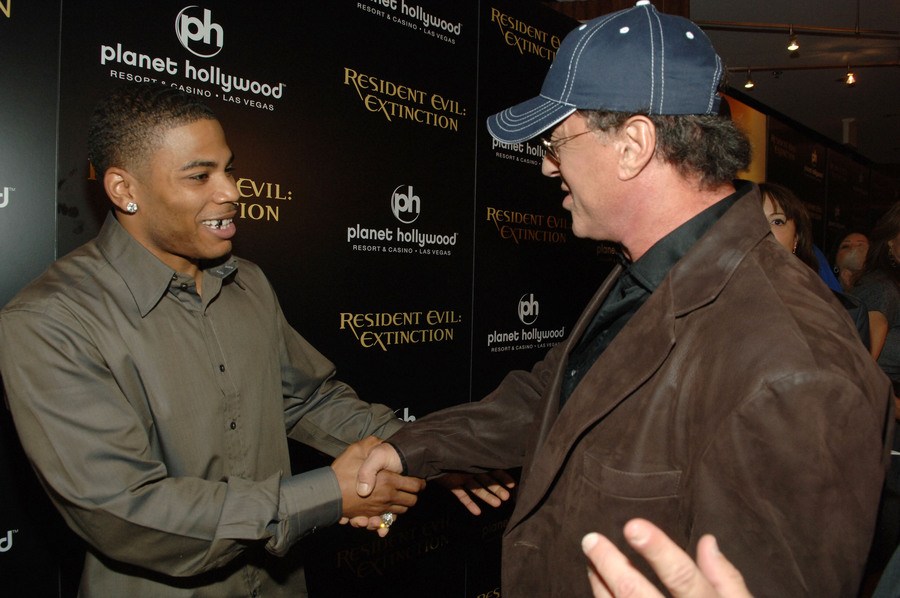 By 2014, Nelly had free time and decided to try his hand at acting again, signing up for a supporting part in the indie drama Reach Me. Nelly played the role of E-ruption opposite Sylvester Stallone, Kyra Sedgwick, and Kelsey Grammar in the film. It's easy to see why the home in Missouri was the last thing on his mind.
Reality Television
As previously said, this rapper is incapable of giving up. Nelly is never satisfied with his efforts. Meanwhile, he decided to try reality television when he was back at the ranch. In 2013, he joined the cast of the mockumentary series Real Husbands of Hollywood and remained for the whole five-season run.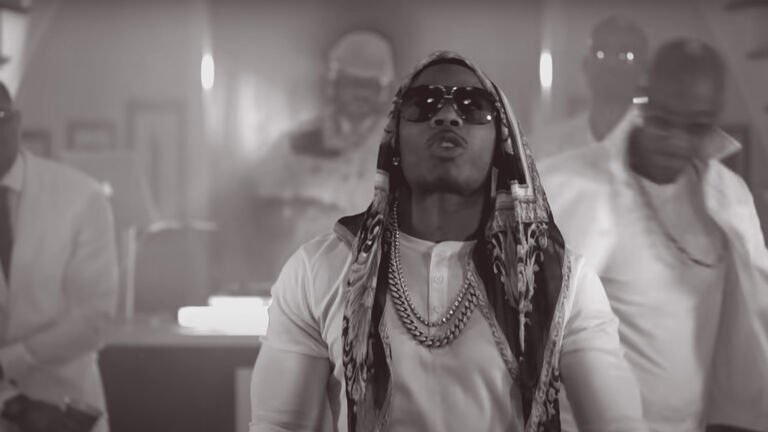 Reality television may have agreed with him since, in 2014, he produced Nellyville, a show about Nelly's life and his four children. The program was based on his second album and lasted two seasons. Trying to keep up with all of Nelly's endeavors is difficult! I'm hoping it doesn't get old.
Always a Competitor
You could wonder why not finish the mansion during the pandemic's downtime? Despite the limitations and precautions, Nelly has kept himself occupied (safely, of course). Nelly competed in the 29th season of Dancing With the Stars along with professional dancer Daniella Karagach in 2020.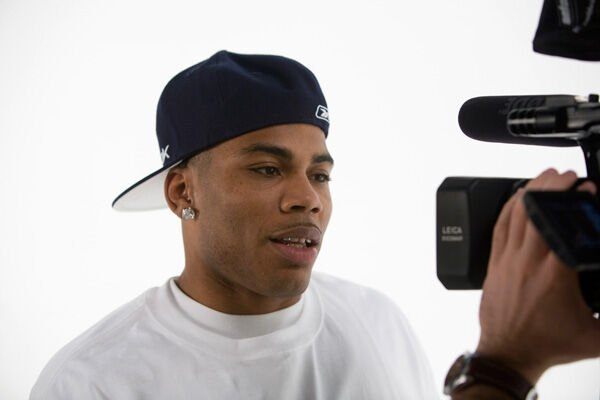 Who would have guessed that a well-known rapper would enter a dancing competition? Though reluctant initially, this endearing underdog proved his mettle by making it to the finals, where he finished third behind Nev Schulman and Kaitlyn Bristow. That's rather remarkable!
Taking on the Role of a Legend
It appears that Nelly had no time to care for his house in 2021 since he signed on to play renowned figure Chuck Berry in the forthcoming film Clear Lake. Colin Hanks and Diane Guerrero will also star in the movie about Buddy Holly's life.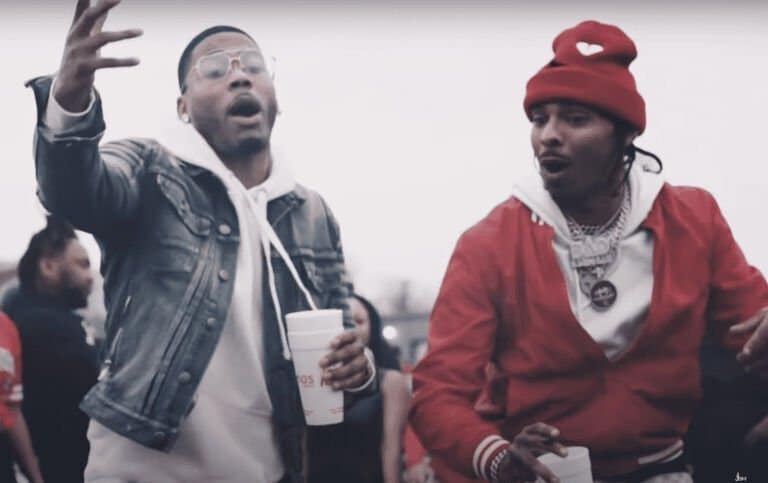 An artist spends a lot of time in the company of their own thoughts. While some people may enjoy the sound of silence, it's difficult to fathom spending a long day in the studio without a good soundtrack. Music hasn't been put on hold either. In March of this year, Nelly released the new track "Fully Loaded," leading fans to speculate that another album is coming.
Nelly's Moral Troubles
The tone of Nelly's popularity has continued to evolve over the decades. Nelly has remained silent for the past few years. His gradual decline sparked a slew of scandals and controversies. To name a few, Nelly was hit with a $2,412,283 federal tax lien, was accused of rape by fans in 2017, and had a string of poor musical releases.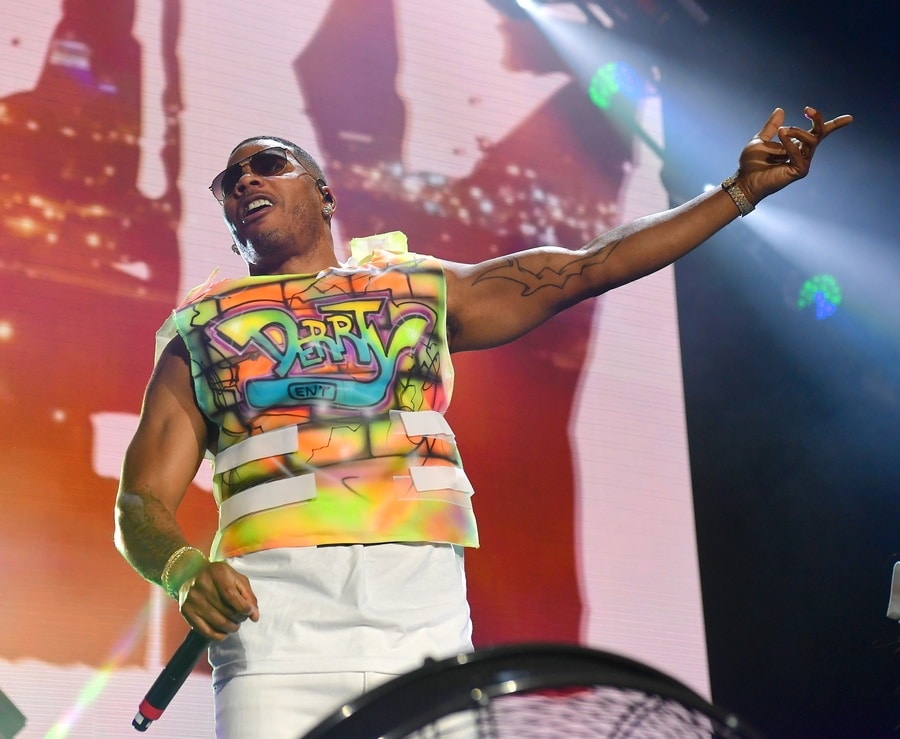 According to People magazine, Nelly was also charged with narcotics possession when police discovered drugs in his car. Nelly was sentenced to 11 months of probation after completing a diversion program. It's possible that Nelly's attention was elsewhere throughout these crises and controversies, causing the work on the home to be halted.
Time to Cut the Cords
It's not uncommon to find abandoned properties, residences, or even business places, despite the passage of time and distance between the good and bad periods. With everything going on in Nelly's life, it's understandable that the home hasn't been his first concern. The rapper reached a decision nearly 20 years after purchasing the house in the woods.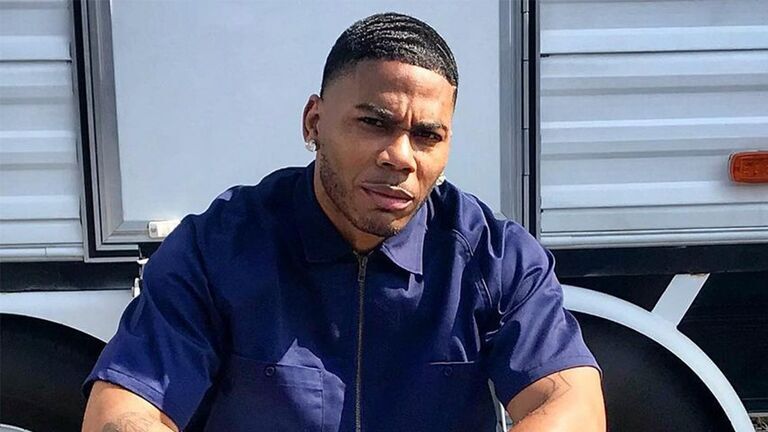 He had decided that it was time to sell the old mansion. Managing a project as large as the mansion in a distant section of Missouri no longer makes sense for him, given his business and family roots in Calabasas, California. All he needs to do now is find a buyer. Nelly, we are crossing our fingers for you.
Selling A Property This Grand
Selling a property can take a long time and be emotionally draining, especially if you've never done it before. You might want to learn a little something about the house now that it's on the market. To say this home is enormous is an understatement. The six-bedroom, seven-bathroom home is 10,799 square feet and sits on a 12-acres of land.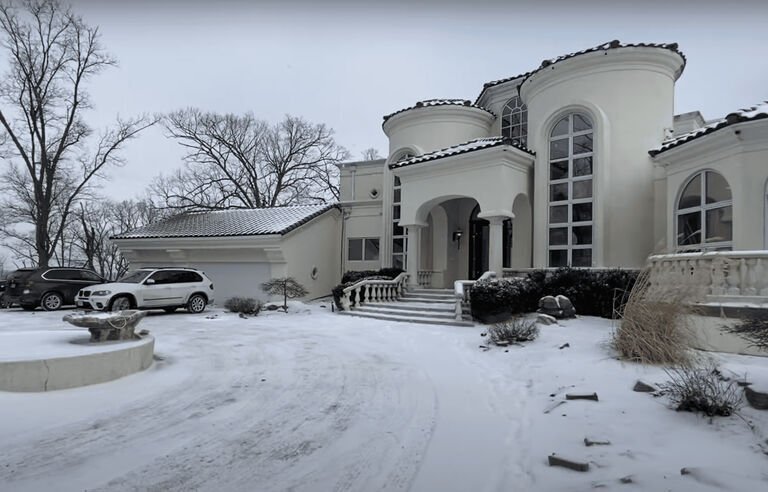 The 12 acres surrounding the estate provide both solitude and a panoramic view of the Missouri woodland. The mansion's many amenities are a basketball court, a three-car garage, a pool, and plenty of open spaces for hiking, snowshoeing, or cross-country skiing. Have you made up your mind?
A Mediterranean Villa
Of course, who wouldn't want to look at a home like this? Money is the only thing that stands in our way. Are you ready to investigate Nelly's abandoned mansion? The photographs demonstrate how bleak a winter day in the Midwest can be, so think how lovely it would be in the spring.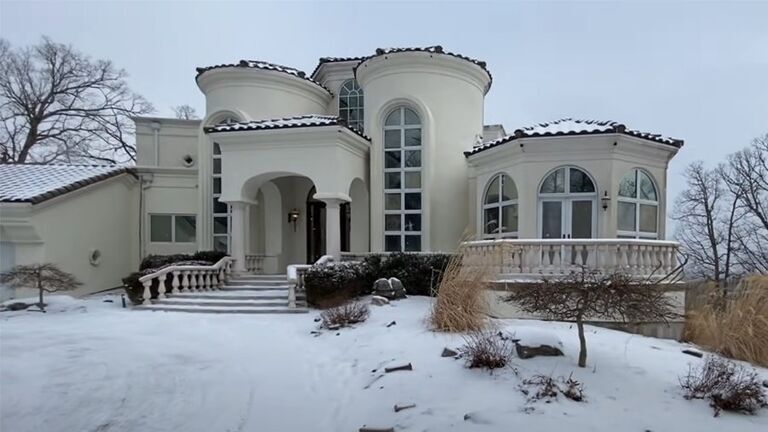 The home was built in the Mediterranean style, as you can see. The arched windows, tiled roof, and charming veranda are all evocative of houses along the Spanish coast. Although the snow and gray sky no longer support the illusion, you can see what the architect attempted to do.
An Appealing Exterior
Let's have a look around the rest of the house. A huge garage with a workshop is located on the left side of the home. It can hold three automobiles. The large front stairs and circular driveway lead to a tiny porch with potted plants and a porch swing. Can you envision yourself here?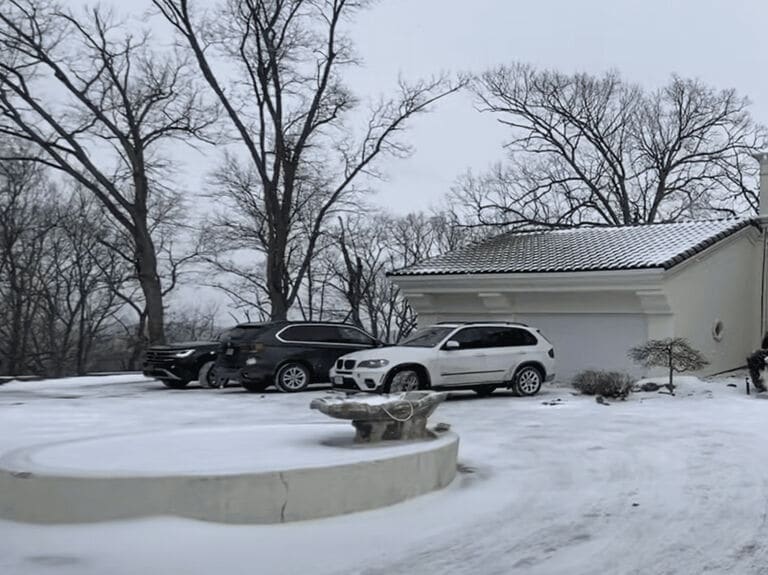 While the modest veranda on the right side of the home is attractive, the windows are the main selling factor in curb appeal. The abundance of windows ensures that the home's interior receives lots of natural light, but you must also consider your heating expenses. Maybe the windows are double-paned.
A Window Cleaner's Fantasy
The windows alone must have cost the builder a small fortune. The two massive pillars flanking each side of the entry have floor-to-ceiling windows, a window above the porch, wrap-around windows, and French doors leading to the veranda. It's unquestionably a window cleaner's dream home.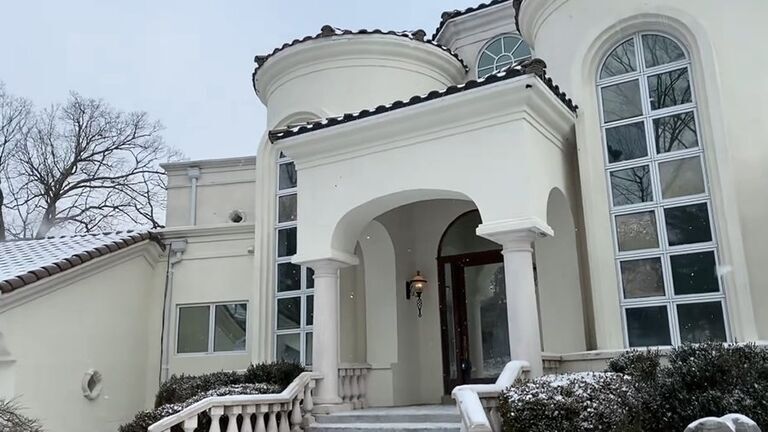 Natural home décor has long been fashionable. Using nature as décor in the home is ageless, stylish, and relaxing. The landscaping in front of the house is a little drab. But it is the middle of winter, so there isn't much to see. Planting perennials to liven up the curb appeal in the spring may be an excellent idea.
A Bold Arrival
When you walk in the front door, you're pleasantly surprised by how much good work has already been done. The arches and marble floors in the entrance are very magnificent. You'll also notice the abundance of natural light streaming in via the front and rear windows.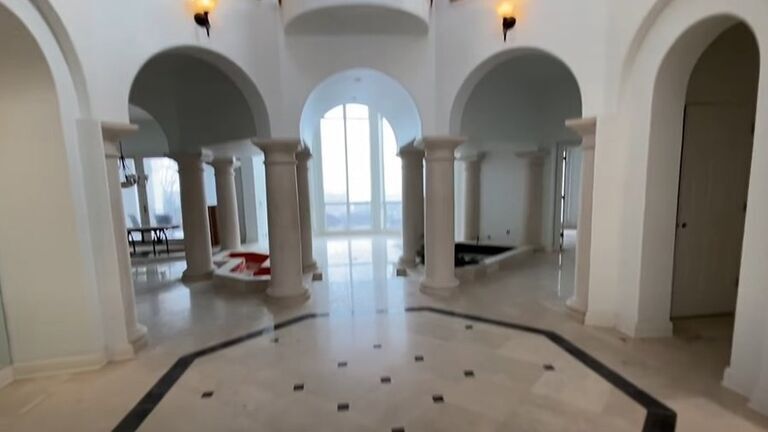 It's was a beautiful choice now that minimalist aesthetics are front and center in today's design trends. So far, everything has gone well, right? It appears that they completed more work than we anticipated. Remarkably, the house has held up beautifully after nearly two decades of inactivity.
The Devil Is in the Details
When you go through the door, draw your attention to what is above you. That little balcony shouts Romeo and Juliet to me. Take note of the archways, high ceilings, woodwork, and little windows near the ceiling. These are the kinds of things that will entice a buyer.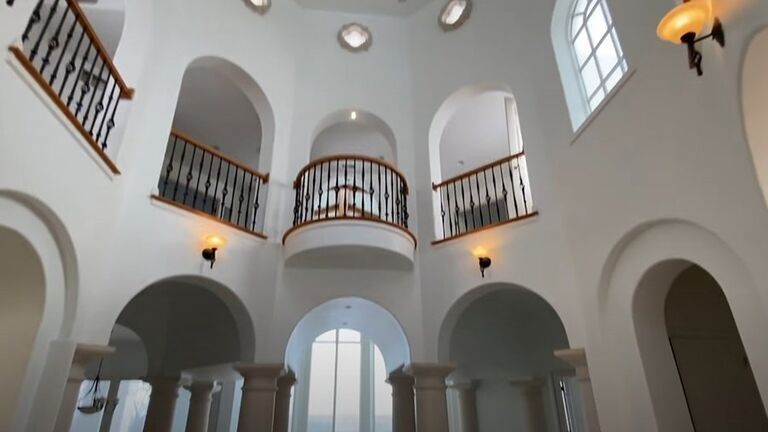 However, how can you keep the cobwebs off the ceiling from a practical standpoint? Do you have a small crane or a scissor lift on hand? These are also factors to consider while purchasing a home, right? Or are these issues only experienced by those who can afford such a home? We're merely looking for a companion.
Unique Features
Now that we've passed through the entryway, we can see how the space is divided into three living rooms, each of which is wide and open to the others. I imagine the area in the corner would be ideal for a breakfast nook, the area to the left for a gaming room, and the bright spot in front of the large windows for a formal living room.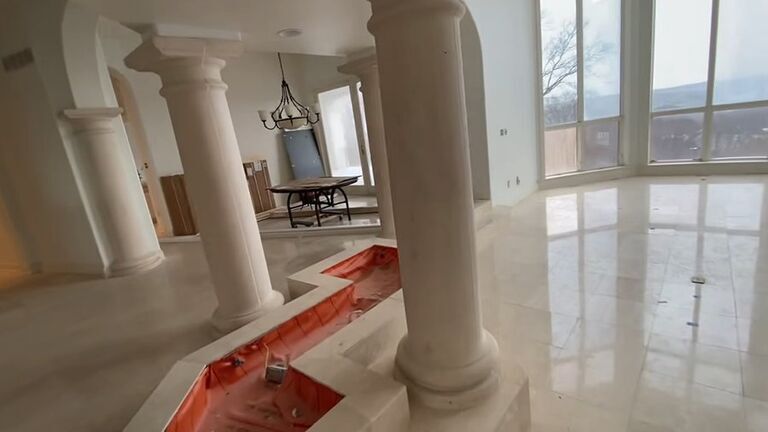 Do you think you've seen enough of this estate's opulent interior? Maybe not. Let us now address the elephant in the room. What are the red recessed dividers, you think? What about a water feature? Is it possible to have a koi pond indoors? Is there a water slide for Nelly's Barbie? It's intriguing, to say the least.
A Comfy Spot
It's still amazing how this artist has managed to abandon this property with all of its enticing features for the last two decades. Moving further into the section that appears to be a suitable match for the formal living room, you'll notice a gorgeous fireplace with a mantle that's excellent for displaying family photographs or hanging stockings.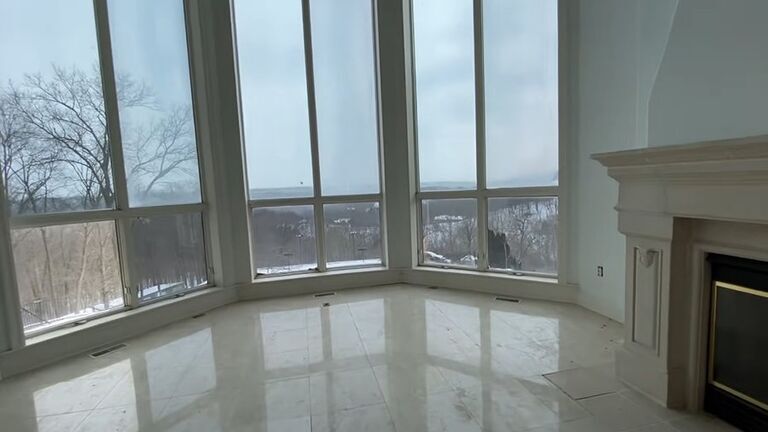 The fireplace is a terrific focal point, but the floor-to-ceiling windows are the real show stoppers. The panorama is equally impressive, with trees and more trees stretching as far as the eye can see. It looks like a fantastic place to curl up in front of the fire with a glass of wine.
So Far, Everything Has Gone Well
When I say "floor-to-ceiling windows," I mean just that. You must, however, pay attention to the ceiling. The wooden beams add to the room's geometric form and make it seem snug and pleasant. These small details help to explain Nelly's choice to purchase this home.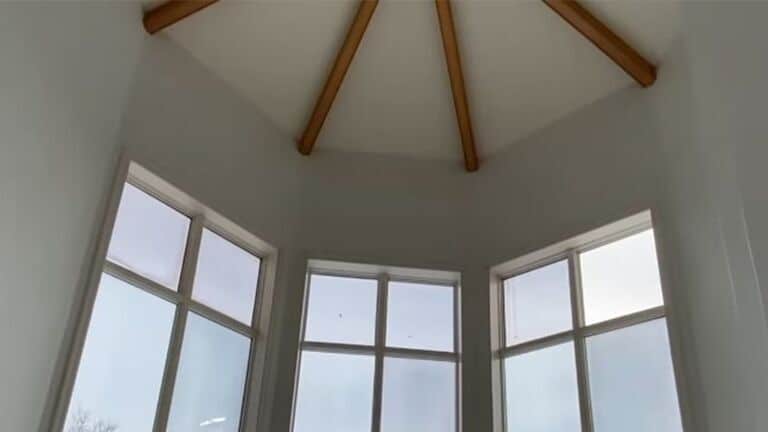 What makes a luxury living room might vary greatly depending on the location, but this home is the epitome of elegance. So far, everything appears to be in good working order. The light fixtures are in place, the floors and moldings are in perfect condition, the room has been painted, and the windows are stunning. There isn't much that needs to be done on the bottom level. Let's see how things look upstairs.
Realization of What's Upstairs
When you walk inside the first bedroom, you can tell there's still a lot of work to be done on this floor. The fireplace, windows, and sliding doors are all beautiful, but that's all there is to it. The carpet has been torn out, and part of the tile will need to be replaced.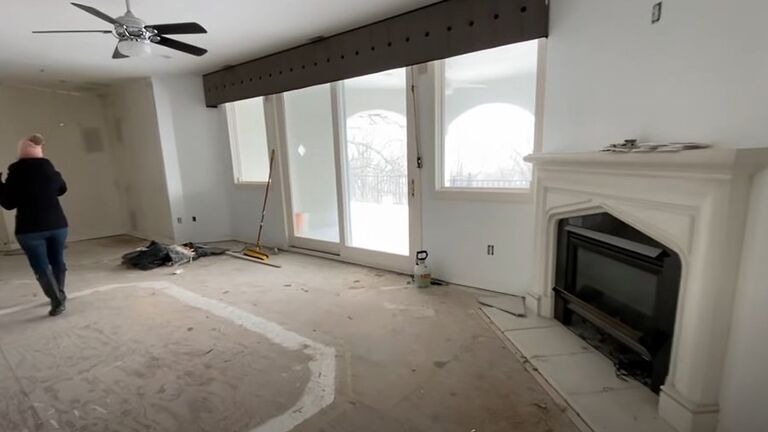 The room is in desperate need of a few coats of paint because portions of the walls have been patched, most likely for electrical work. Even on a rainy day, the natural light in the room is remarkable. The ceiling fan is a bit antiquated, most likely the original from 1998, but the natural light in the room is undeniable.
First And Foremost, Safety
Small areas are typically the ones that cause people the most problems when it comes to designing, and they definitely demand more consideration than larger rooms. The master suite, of course, is in desperate need of repair. The sub-floor, as well as what appears to be a rather robust safe, are visible in this area.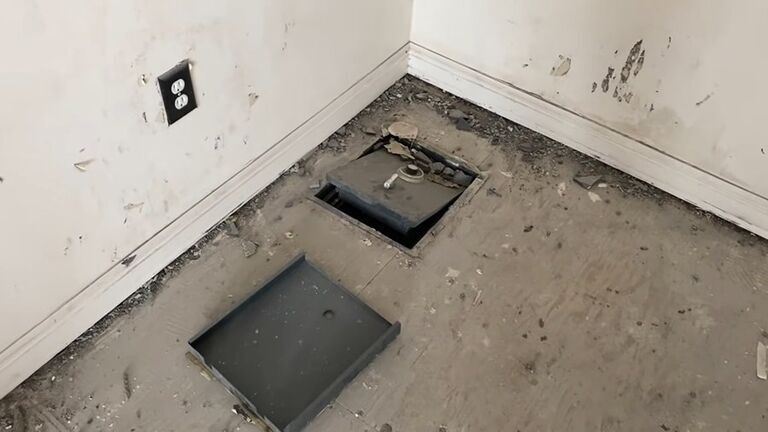 They were either removing the old one or attempting to plunder the house; let's hope it wasn't the latter. Yes, there is a lot of dirt, and the walls and flooring could use some love and, more crucially, paint, but bear in mind that much of the work that needs to be done is aesthetic, so updating these areas may not be too costly.
A View from Your Closet
After a long, stressful day, the bedroom is where one can rest and recover, so there's no reason why it shouldn't feel like a getaway. It's all about the closet when looking at a possible master bedroom, and this one appears to be in fantastic shape. A closet organizer system has been constructed, providing lots of space and rods for the new owner to keep their belongings.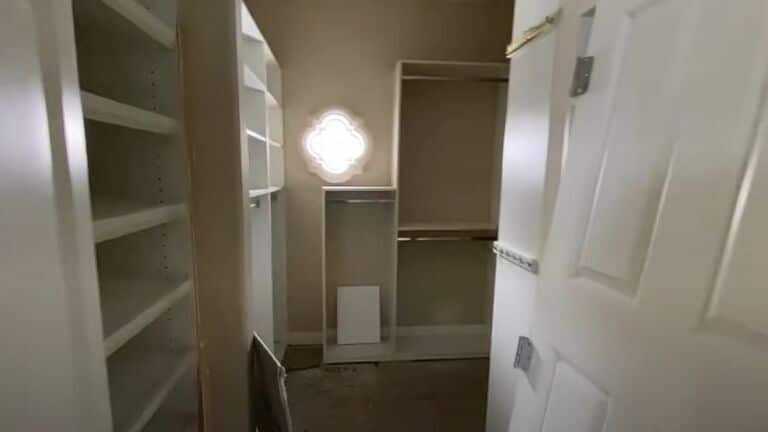 The master bedroom, regardless of size, has a lot of creative opportunities. Even if it isn't large enough to carry all of Nelly's hip hop brands, it is roomy. The charming flower-shaped window, built to let in some natural light, is the most valuable aspect of the walk-in.
No Expense Was Spared Here
A prospective buyer should pay special attention to the bathroom upgrades because they can be costly, so they should be in good condition. Let's hope that the contractors prioritized the restrooms for Nelly's sake. Surprisingly, the master suite's en-suite appears to be almost finished. Cabinets, countertops, and sinks have all been installed, and the bathtub and shower have been fitted, tiled, and grouted.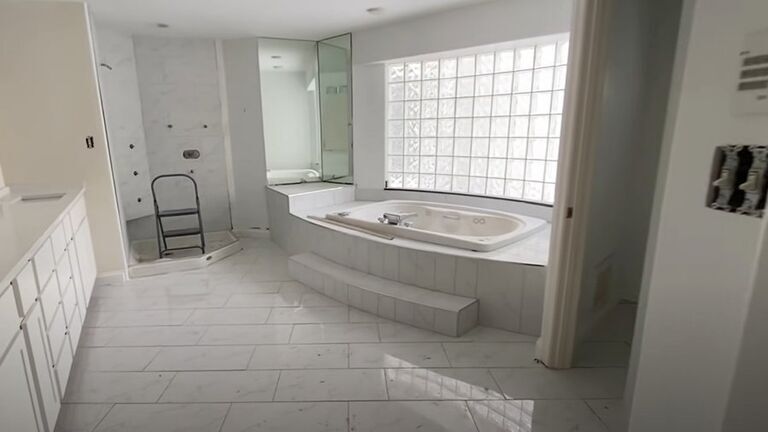 As you can see, they chose high-end marble floors, which look great and add a lot of value to the space. All that appears to be required is the installation of the shower cubicle, allowing the new owners to check this major item off their to-do list.
Don't Let Your Hopes Get the Best of You
A bathroom remodel may drastically improve the look and feel of a house. While the master en-suite is stunning, the next bathroom shows that there is still a lot of work to be done. Aside from the clutter and dust, it appears that some plumbing improvements are required.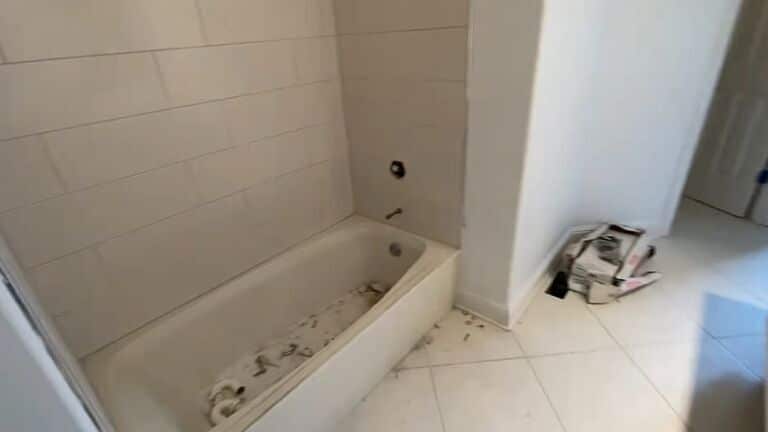 A little elbow grease will save the bathtub, but it isn't much use without a faucet. The two bathrooms are as different as night and day. Let's look at the second-floor outside space while it's still daylight. A balcony is a must with the views this property has to offer.
The View from Your Room
While the main bedroom has plenty of space, it also has the added benefit of a large balcony. Though the wrought iron railing is lovely, it is the vista that captures your attention. There is an aerial picture of the massive basketball court below, with trees as far as the eye can reach.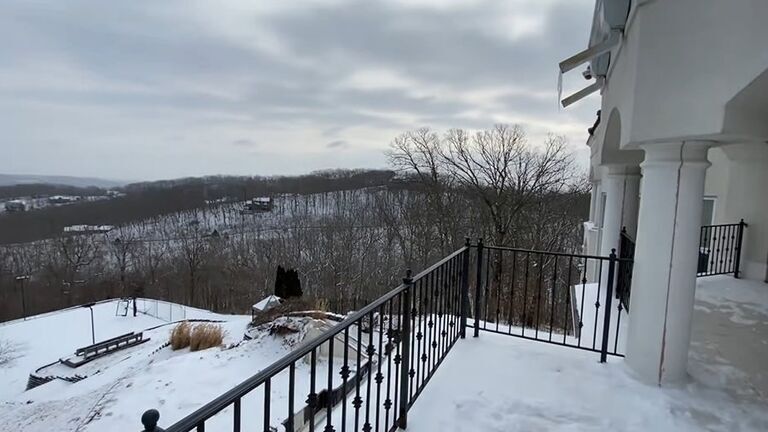 If you wanted to construct an outside living space, the balcony itself has plenty of room for a set of tables and chairs, a couple of chaise lounges, and even a couch. While winter may not be the ideal time to appreciate the balcony, it is the ideal spot to unwind on a lovely summer evening.
Garage for Three Cars
Let's take a break from the vista and walk downstairs to the garage. Anyone who has lived through a Missouri winter understands the importance of parking your automobile indoors. There will be no ice on the glass, no need to warm up the car for 15 minutes, and no extra wear and tear on your automobile.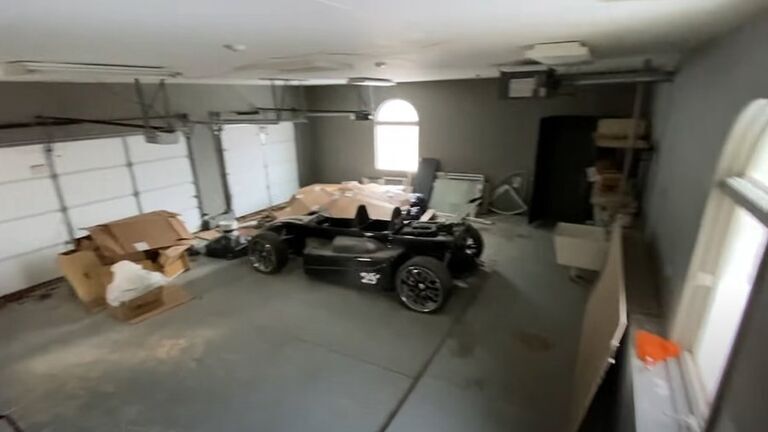 This garage not only has enough space for three cars, but it also has enough room for a workshop. As you can see, Nelly is storing one of his toys in this location, but it appears that this area may also require some attention. You should be okay if you recycle the cartons and clean them well.
Doing the Laundry
There appears to be a designated laundry area just inside the garage entry. This room, in particular, is showing its age and may scare off potential buyers. While the damaged window frame can easily be repaired, the area with missing tiles behind the plumbing fittings appears to be in danger of becoming moldy.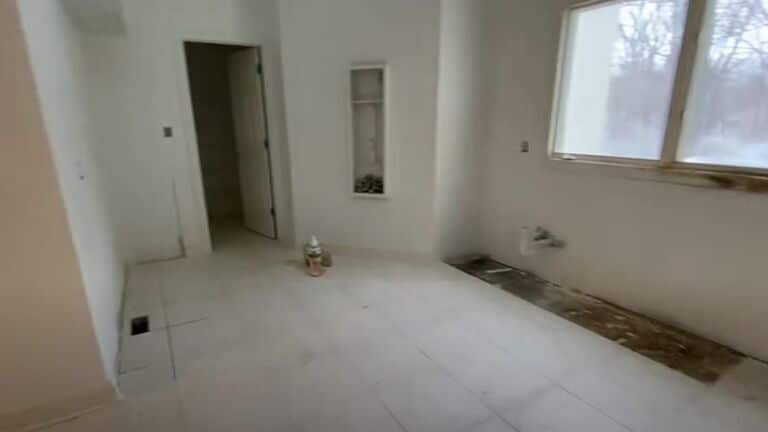 On the plus side, the room is enormous. There is plenty of room if the buyer wants to install a washing machine, dryer, folding table, and storage cupboards. Another advantage is that you can look out the window while washing your clothes. It's most likely an example of creative thinking to avoid the boredom of washing laundry.
The Center of the House
The washroom is connected to the kitchen by a door. The kitchen is not only the heart of the home, but it can also make or break a potential buyer's decision. Looking at Nelly's, it appears like they have made some progress; the cabinets are in place, as is this magnificent marble island.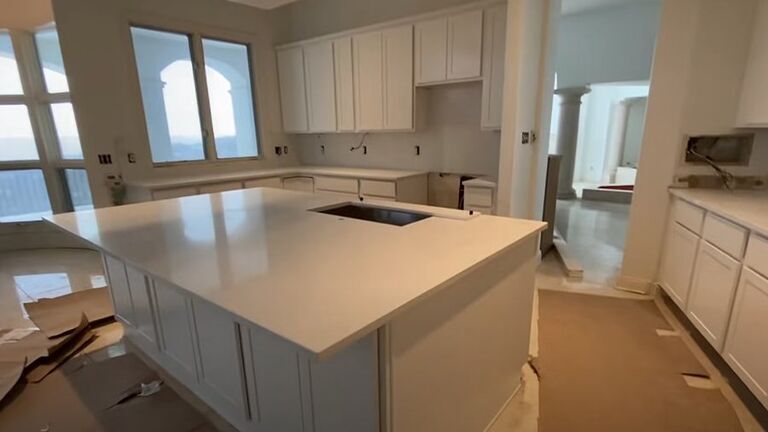 Upon a closer study, they may not be as far ahead as we first imagined. You'll see that there are no electrical outlets, no hardware has been put in, and no appliances have been installed. Even still, when you add all of those things together, you end up with a substantial price tag.
Make Use of Your Imagination
Most homes have sections that are in desperate need of revitalization. The placement of doors and windows can make it challenging to use the space, and some rooms have structural elements that are tough to work around. As you exit the kitchen, you reach a space where there appears to be a potential water feature.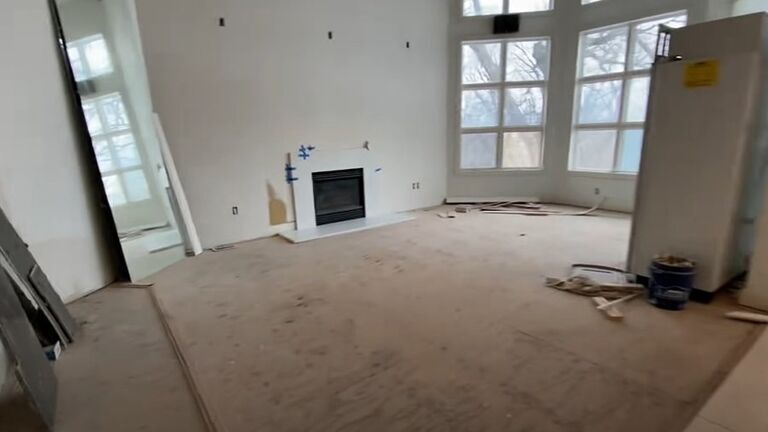 A fantastic place for a family room is to the left. Because most of the room is incomplete, you'll have to use your imagination. The family room boasts a fireplace and those huge windows, as well as a fair amount of space. You should be ready to go after you lay some flooring, add a mantle to the fireplace, and get rid of those outrageously enormous mirrors.
Stunning Ceiling Designs
With some careful design, you can make those unused areas as practical and visually beautiful as any other area in your house. Yes, the family room might need some repair, but if you glance above, you'll see these incredible wooden beams highlighting the architectural geometric pattern once again.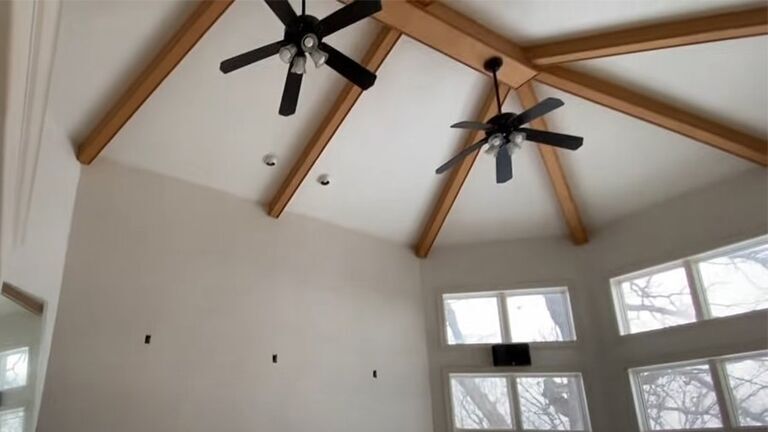 We have no way of knowing if the beams are original to the home, but whoever opted to install them made a fantastic choice. The wonderful thing about this home is that there is something spectacular to behold every time you glance up. Is it true that it erases all of the tasks that need to be completed from our minds? No, I'm afraid.
No Dark and Dreary Basement Here
Okay, now it's time to check out the basement. There's no need to be concerned: this isn't a dark and dreary basement. A spiral staircase leads to this magnificent room. When you get to the bottom, you'll be delighted to discover not just a completed basement but also a space that's ideal for entertaining.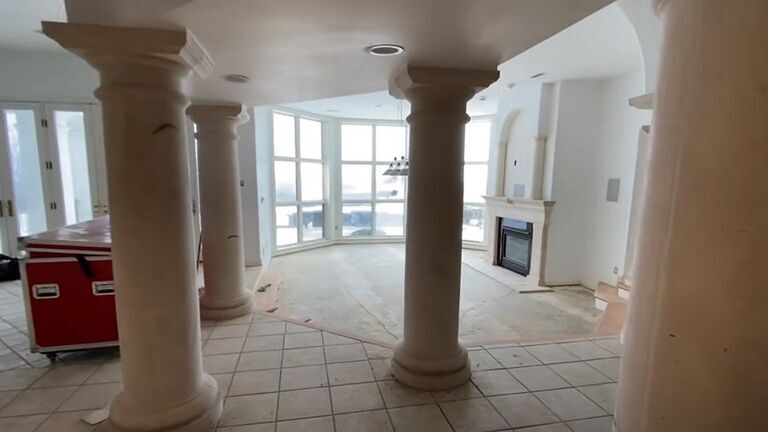 This is one of the most well-thought-out basements we've seen in a long time. As soon as you walk in, you realize how enormous the area is. There are two fireplaces and a wet bar nestled behind one of the walls. A pool table, dartboard, foosball table, or even shuffleboard would be ideal in this space.
Every Turn Reveals a New Surprise
As you make your way around the basement floor, you begin to realize the house's great grandeur, as there is still another living room around every curve. This space appears to be designed for a home theater. On the other hand, a home theater room is more than a couch and a television.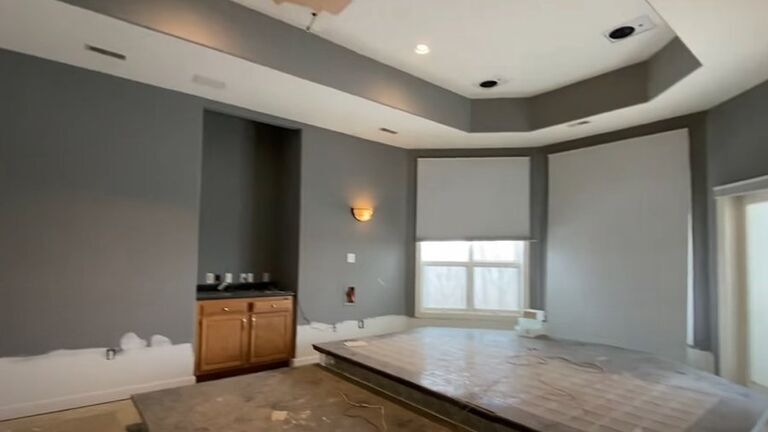 Several characteristics must be satisfied to call this an actual home movie theater, including being able to cast a large enough picture. A screen is installed over the wide window, and a cabinet and countertop are provided for storing the popcorn machine and sweets. It's easy to visualize Nelly and his kids enjoying The Longest Yard in their recliners.
A Display Case Made at Home
A little room or a huge closet can be found tucked away in one of the basement's corners. It's difficult to say what this room is supposed to be. In any case, there are glass shelves throughout the house, even over the front entrance (a bit of overkill in our humble opinion).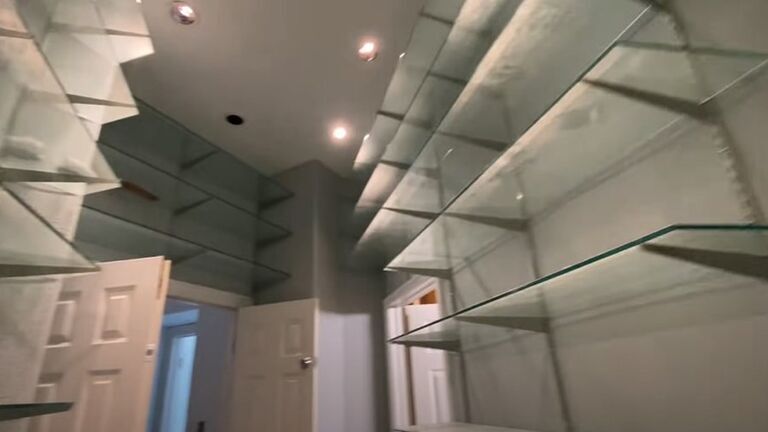 While this area would have been perfect as a larger-than-life display case for Nelly's Grammy Awards, it may also have been used as a wine cellar or overflow pantry. It's not that the house is short on storage; there is literally more space than could be used; yet, spaces like this are intended to be utilitarian and should be clearly defined for a future buyer.
Several Extra Features
Let's have a look at the grounds now that we've seen much of the home and its unfinished projects. As previously said, the estate sits on 12 acres of property, much of which is covered in lush woodland. On the other hand, the backyard is a large open space with a lot of possibilities and facilities.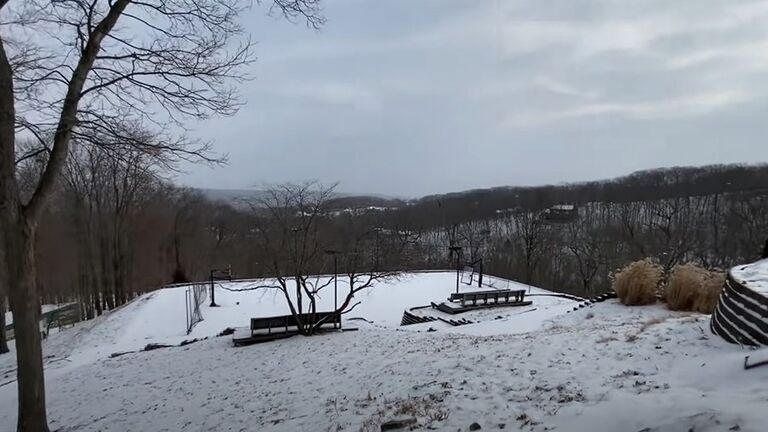 A beautiful swimming pool is located in the rear, right above the basketball court, which is located down the hill. The quantity of area surrounding these two attractions has limitless possibilities. Even if the home is a little run-down, the garden may be enough to persuade a buyer.
Sale of a Lifetime
Though the estate may fetch millions in California or New York, it is located in a small Missouri town, so the location has to be considered when determining the purchase price. Because Nelly wanted to sell the house quickly, he reduced the price to $599,000 and classified it as a "short sale," which implies he was selling for less than the amount owing on the mortgage.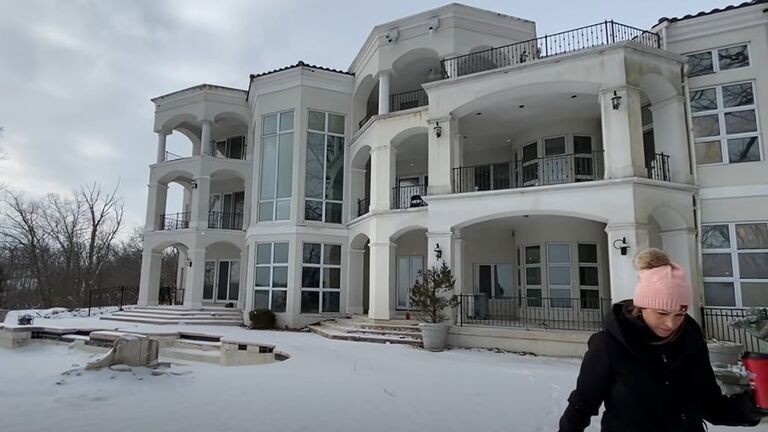 His method paid off, as he received an offer just one week after posting the ad. Nelly didn't reveal the purchase price, but this comes as no surprise. Although the house needs minor repairs and finishing work, most of the renovations are complete and just require aesthetic upgrades. This house was a steal for whoever bought it.